These Aldi dinner ideas will be a lifesaver for busy weeknights. Aldi has long since been my favorite grocery store. They save every family money and time. Creating easy dinner recipes that use only ingredients from Aldi stores has become so popular with readers. The weekly meal plan and free printable meal plan come with a printable shopping list to make dinners easier.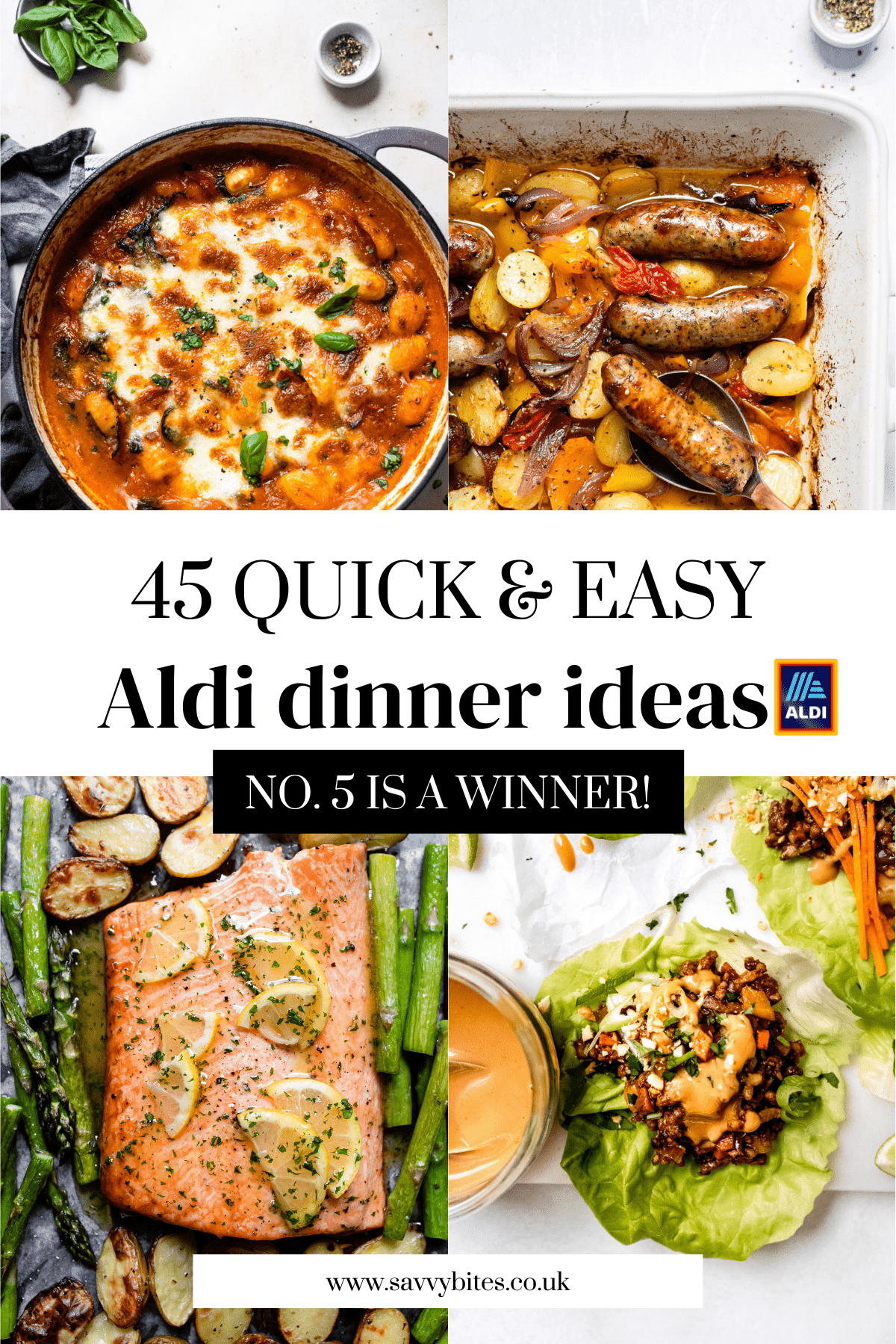 As a website that creates Aldi recipes, I'm very familiar with the struggle that is having to come up with a weekly Aldi meal plan, which I do every week. But there are a few key steps that you need to follow when meal planning.
The first one is to always be well-stocked with pantry staples
Sit down once a week and do some meal planning- this should only take you about 30 minutes
Gather all the easy meal ideas that you've either thought of or seen- Pinterest is a great place to search for simple meal ideas
Use one of the meal plans on here that have the free printable shopping list
Set a grocery budget and stick to it!
Jump to:
Get all the Aldi meal plans and printable shopping lists here!
Pantry staples to always have on hand
olive oil
soy sauce- Aldi doesn't sell fish sauce so I often use a mix of soy and Worcestershire to add that umami flavor you get from fish sauce
rice- brown rice, basmati, or quick-cooking white rice are all good choices
tinned beans- black beans, kidney beans, and garbanzo beans (chickpeas)
canned tomatoes- either chopped or whole- I prefer chopped and all the recipes here only use chopped
chicken stock and vegetable stock cubes- these are so great because they're so cheap and last forever!
sugar- white and brown
pasta- penne or another short noodle, spaghetti, tortellini (you can get stuffed tortellini in the dried pasta aisle and it lasts for months without being in the fridge. Aldi ingredients pasta is such great quality and the dried pasta has a very long shelf life.
peanut butter- it's great for adding to Asian style sauces, in baking, and just generally as a great pantry staple
spices- chili powder, taco seasoning or Cajun seasoning, cumin, curry powder, and hot sauce
kosher salt or sea salt- it seasons much better than regular table salt which is good for things like seasoning your pasta water
flour tortilla- great for wraps, burritos or making your own tortilla chips
Why You'll Love These Aldi dinner ideas
They're all quick and easy to make.
Great recipes for adding to your weekly meal plan
Budget-friendly recipes that are guaranteed to save you money
These are simple dinner recipes that make the most out of pantry staples
Fresh ingredients add to your weekly grocery list
chicken breast whole chicken- great as a whole Sunday roast, or to breakdown and use in parts for different meals
ground beef (mince) or turkey mince- great for meatballs, stir fry, chili, and so many other meals
sweet potato or regular potatoes- I tend to choose one or the other but not both
cheddar cheese feta or another cheese for salads
This is just a brief rundown of the basics that I look out for on my weekly grocery shopping trip. My local Aldi gets lots of different items each week and not everything is available all the time. The basics I've listed above are part of the core stock and are usually in every store all year round. When I have these items in my fridge, freezer, or pantry all these Aldi dinner ideas come together effortlessly
Aldi dinner ideas
This easy crockpot lamb tagine is a perfect weeknight dinner. Tender slow-cooked lamb, nutty buttery chickpeas, and lots of Moroccan spices in a rich tomato sauce.
This easy sausage and pepper pasta is the perfect weeknight dinner. It's got spicy Italian sausage, sweet bell peppers, and crushed tomatoes that simmer to a rich and hearty sauce. The best part is that it only takes 30 minutes.
This pork yuk sung is an absolute dream dinner. It's easy and only takes 30 minutes, it's healthy and full of Asian flavors and makes the best pork lettuce wraps ever.
Italian chicken in tomato sauce
One-pan Italian chicken in tomato sauce is a dinner savior. Tender golden chicken in a rich creamy tomato sauce baked under a blanket of bubbling golden cheese.
This creamy baked mushroom pasta is not for the faint-hearted. It's creamy, it's cheesy, rich, and full of umami mushrooms and a very generous flavoring of truffle. And it only takes 30 minutes from start to finish.
This hearty comforting ham and lentil soup is so easy to make and so delicious. No heavy cream just healthy ingredients and a slow cooker are all you need.
Tender beef that falls apart, rich ale broth and hearty vegetables make this steak and ale stew the perfect dinner for a winter night.
This hearty comforting ham and lentil soup is so easy to make and so delicious. No heavy cream just healthy ingredients and a slow cooker are all you need.
These stuffed pasta shells will be the highlight of your week! Sweet roasted red pepper sauce mixed with creamy mascarpone and earthy spinach all stuffed into perfectly chewy al dente pasta shells and baked with cheese.
These Asian pork meatballs are a weeknight saviour. They're made with lean meat so we're keeping it healthy, but that sticky Asian sauce is drinkable! Baked or fried the choice is yours. Either way, they'll be on repeat all winter long.
This chunky beef chilli recipe gets slow-cooked in a Dutch oven or slow cooker (instructions for both) with herbs and spices until the beef is meltingly tender. An amazing cold-weather dinner that is budget and family-friendly, but also really easy and next level using stewing beef.
Amatriciana is a classic pasta that is simple but pure comfort. Crispy smoked bacon, sauteed onion and garlic all in a smooth tomato sauce with silky pasta. Add chilli flakes and parmesan to make this the perfect 30-minute pasta.
Cozy mildly spicy chorizo gnocchi baked over with mozzarella is an amazing way to get dinner on the table. Soft and fluffy gnocchi snuggled into a rich tomato and grilled pepper saucy with crispy bits of chorizo all baked under a blanket of bubbling golden mozzarella!
This sausage traybake is the best weeknight dinner. An all-in-one meal with juicy pork sausages, tender flavourful veggies, and golden potatoes all baked in one tray.
This easy pork curry recipe is made with some simple Indian and Thai flavors and lean pork loin. It cooks in only 30 minutes and will be your new weeknight go-to recipe.
The filling is a combination of your main ingredient (in this case mushrooms and spinach), cheese, and a little bit of sour cream to make everything extra creamy and delicious. That little bit of sour cream really takes the quesadillas to the next level!
This incredibly simple dish features a rich and luxurious Parmesan cream sauce, tender shrimp, and hearty fettuccine noodles. The simple creamy alfredo sauce is made with butter, garlic, heavy cream, and Parmesan, and it comes together in minutes.
The classic "cabbage soup diet" cabbage soup has taken many forms over the years, but they all have one thing in common—they're stuffed full of non-starchy vegetables swimming in a flavorful herb-filled broth.
Just coat the chicken with your favorite seasoning, toss them in the oven, and then focus on your side dishes or whatever else you have going on in your life while the drumsticks cook themselves.
Salmon with garlic cream sauce
Perfectly pan-seared salmon served with the most irresistible garlicky cream sauce with sneaked in spinach!
A quick and easy sheet pan dinner that can be assembled ahead of time and baked right before serving. Easy peasy!
Sautéed shallots and thyme, a splash of white wine, creamy chicken, peas, and carrots all baked under a homemade biscuit topping. It's rich with lots of layers of flavor, but it's humble and old-fashioned in all the right ways. It just goes straight to the heart.
These spicy prawn tacos are served with avocados, lots of lime juice and the plumpest tender prawns tossed in a spicy cajun spice blend. Drizzle it all with cooling Greek yoghurt lime sauce and a sweet and spicy pineapple salsa.
Easy crispy chilli chicken is the new weeknight menu rescue plan. Soy marinated chicken that goes deep golden and crispy when pan-fried all coated in a spicy Chinese honey sauce that will make you question the necessity of all other condiments. It's all ready in 30 minutes.
The most addictive golden pan-fried halloumi with silky pasta noodles all in a rich Mediterranean style tomato sauce with sundried tomatoes and chargrilled peppers. Tossed with aggressive amounts of basil and parsley and some lemon zest to give it all bright freshness.
Only 30 minutes and simple ingredients make up with this creamy tomato sauce that clings to golden tender chicken and hugs all those silky pasta noodles. Finish it off with some parmesan cheese and fresh basil.
Mince (ground) turkey stir fry with broccoli is not only easy to make but incredibly tasty. It requires only 10 ingredients and 15 minutes! our new favorite low-carb recipe using simple ingredients.
These curry chicken thighs are the easiest curry chicken recipe. It uses a simple spice mix of curry powder, coconut milk, and some tinned tomatoes. to make a gorgeously fragrant curry sauce. Serve these chicken thighs over basmati rice and let the rice soak up all that sauce.
This easy prawn rice only takes 30 minutes to make and is a gorgeous Spanish-style dinner that uses one pot. Plump juicy prawns, ripe tomatoes, and sweet peppers all come together to make this simple dish perfect for a weeknight, but fancy enough for a date night.
This beef in oyster sauce is an amazing simple dinner that you can have on the table in about 20 minutes. A crispy beef stirfry with a thick and savory oyster sauce with sweet peppers all served over noodles. The perfect weeknight dinner.
This oven-baked salmon is a healthy 30-minute dinner. Tender boneless salmon, crispy roast potatoes and roasted asparagus all get baked on a tray and then drizzled with a super-easy honey garlic butter sauce.
This one-pan dinner is crispy pan-fried gnocchi simmered in a simple cream sauce with lots of healthy spinach, salty parmesan and crispy prosciutto and all it's already in 30 minutes! The perfect budget-friendly dinner using only ingredients from Aldi.
Packed with added vegetables this one-pot dinner is perfect served with rice. No premade sauces or additives. Just some lean chicken breast, a simple homemade seasoning mix, and a drop of cream to bring it all together in 30 minutes flat!
These roast pork belly slices are the perfect takeaway alternative. Sticky, sweet and sour sauce slathered over crispy crackling and tender meat. And all ready in about 30 minutes.
Thick and rich vegetarian pasta sauce
There is nothing as comforting as a homemade pasta sauce. This tomato sauce is hearty, but still quick and easy. It goes totally against convention and uses pretty much only pantry ingredients with just some fresh onions and garlic. But, guaranteed, it will become your favorite spaghetti sauce!
This roasted tomato pasta is the perfect 30minute pasta. Fancy enough for date night in, but quick and easy enough for even the busiest night of the week. Add in some grilled chicken or prawns or make it vegetarian. This pasta recipe is so easy and so adaptable. A new family classic!
Slow cooker maple glazed gammon
This slow cooker gammon joint is slow-cooked with apple cider and apples, then glazed with a maple mustard sauce and the crackling is crisped up under the grill. This is the perfect ham to make for a lazy Sunday.
Rich and hearty cottage pie is a thing of beauty for most of us. Deep rich red wine gravy, tender beef, sauteed carrots, onion and garlic all snuggled under a fluffy blanket of mashed potatoes baked to golden crispy perfection. These are the days!
This cheeseburger pasta is quick and easy to make and is all the best parts of a cheeseburger. What's not to love?! Smooth and creamy cheddar cheese, juicy tomatoes and flavourful minced beef. All tossed with noodles.
These meatballs in tomato sauce are the perfect quick and easy dinner. Juicy and tender homemade meatballs cooked in a simple rustic Italian style tomato sauce. They're easy to make!
This cheesy baked tortellini is made with a rich but simple tomato sauce with the slightest hint of cream, fragrant Italian herbs all baked under a blanket of cheese until bubbling and golden. It's an easy 30-minute pasta bake that will have you in dinner heaven.
This coconut chicken curry is a 30-minute dream dinner. A rich tomato and onion base with creamy coconut milk and tender chunks of chicken. This recipe is easy, packed with flavor, and is so comforting you'll probably make it every week.
Classic chicken and black bean enchiladas for those busy weeknights! Easy to assemble with a quick homemade enchilada sauce!
Make your favorite Thai take-out dish right at home! The leftover sauce is also perfect to spoon over rice for another meal!
This salmon is baked with a sweet, salty, and just a little bit spicy crust that seals all the moisture into the salmon. No dry salmon here! And that homemade Thai curry sauce that just brings everything together in the most creamy, fragrant, way that only a comforting curry can do.
Need help with meal planning? You can find our (Aldi ingredients only) weekly meal plans here! Sign up to receive them free every week or take our quick meal planning course and grab the blank meal planner and use all these recipes to create your own meal plans. Follow along on Pinterest, Instagram and Facebook.