Immerse your senses in the rich flavours of the Orient with these Asian Pork Meatballs, complemented by a sweet and spicy Ginger Honey Sauce. Gluten-free and easy to make in less than 1 hour, these meatballs are delicately flavoured yet incredibly satisfying. They are an excellent choice for a quick dinner or as a standout dish for your next gathering.
For more Asian-inspired dinner recipes try these Thai red curry meatballs or this honey garlic pork belly recipe. And this crispy beef in oyster sauce is always a hit!
Jump to:
⭐️ Why You'll Love These Sticky Asian Meatballs
Bursting with Flavour: These meatballs offer a delightful fusion of sweet, spicy, and savoury notes that dance on your tongue.
Quick and Easy: No extensive cooking experience? No problem! This recipe is straightforward and ready in a jiffy.
Versatility: These meatballs can be served as an appetizer, main course, or party food, suiting all occasions.
Diet-Friendly: This gluten-free recipe is perfect for those with dietary restrictions or preferences.
🧾 Ingredients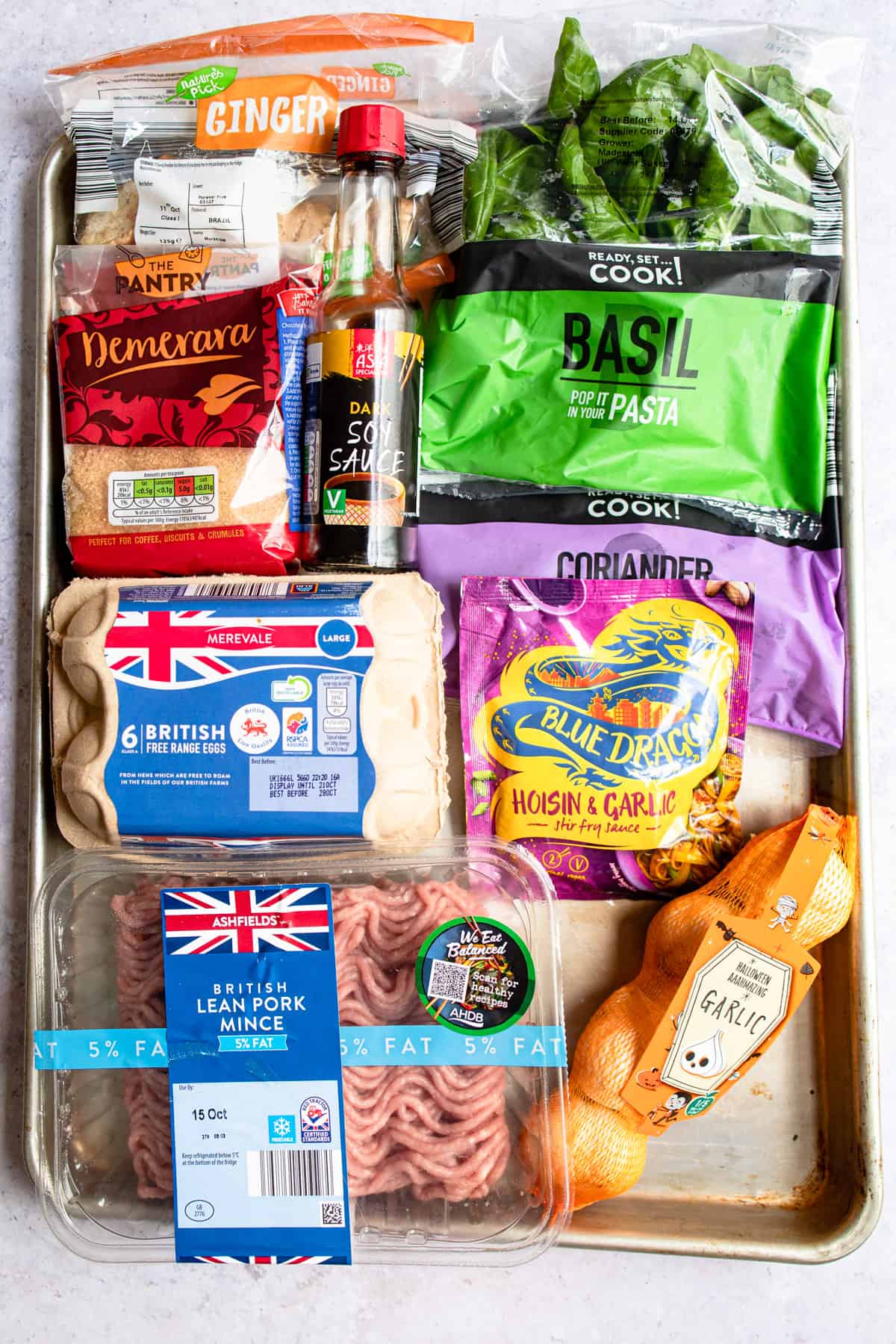 Mince/Ground Pork: The foundation of our meatballs, providing a juicy and tender texture.
Ginger and Garlic: Crucial for the aromatic base that defines this dish's character.
Sesame Oil: This imparts a nutty flavour to the meatballs, enhancing their savoury appeal.
Red Onion: Lends a subtle sweetness that contrasts and balances the savoury elements.
Honey: Sweetens the Ginger Honey Sauce, providing a counterpoint to the spice.
Wine Vinegar: Adds a tart edge to the sauce, brightening the overall flavour.
Hoisin or Chilli with Garlic Sauce: This brings heat to the dish. Adjust to your preference.
Cornstarch: This acts as a thickening agent, ensuring the sauce generously coats each meatball.
Coriander: This fresh herb provides a vibrant garnish and a refreshing taste contrast.
See recipe card for quantities.
📖 Substitutions & Variations
Recipe Variations

To infuse a different twist into your meatballs, consider incorporating bacon or swapping coriander for green onion.
Teriyaki Pork Meatballs: For a twist on the flavour profile, you could swap the Ginger Honey Sauce for a homemade Teriyaki Sauce. This would involve using soy sauce, brown sugar, minced garlic, and minced ginger, and simmering these ingredients until they form a glossy sauce. Once your meatballs are cooked, you can toss them in the Teriyaki Sauce for a sweet and savoury version of the original recipe.
Ingredient Substitutions

If ground pork is not available, you can replace it with ground chicken or turkey.
👩🏻‍🍳 Step-by-step guide to Asian pork meatballs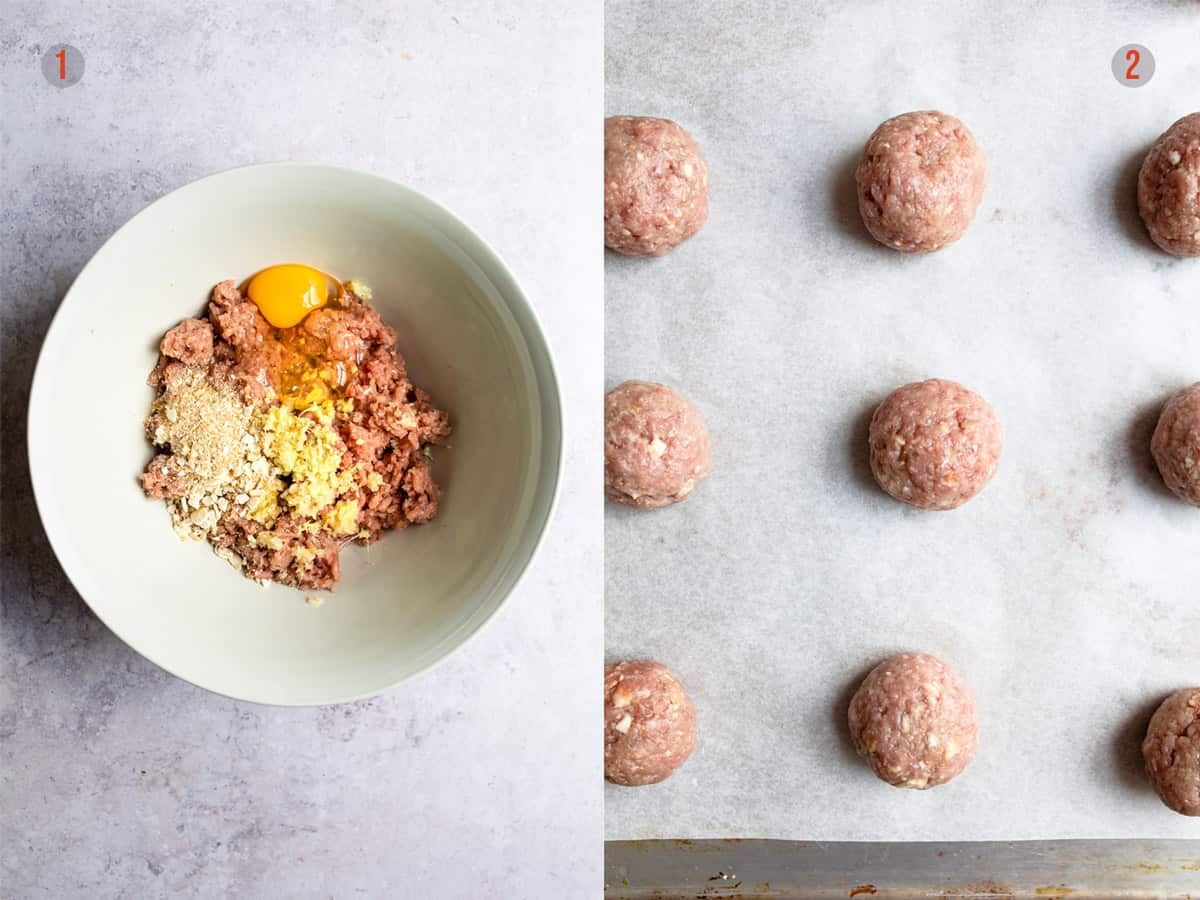 Combine all meatball ingredients. In a large bowl, mix together ground pork, minced onion, garlic, ginger, egg, sesame oil, and salt and pepper. Mix gently to avoid creating tough meatballs.
Allow the mixture to rest in the refrigerator for 30-60 minutes, permitting the flavours to fully develop.
Roll the mixture into meatballs and arrange them on a baking sheet.
Preheat your oven to 175ºC (350ºF) degrees.
Pan-fry the meatballs in oil until they take on a rich brown colour.
Transfer the meatballs to your baking sheet and bake for an additional 10 minutes until thoroughly cooked.
💡 Top tip
Mixing the meatball ingredients gently ensures they remain tender and juicy.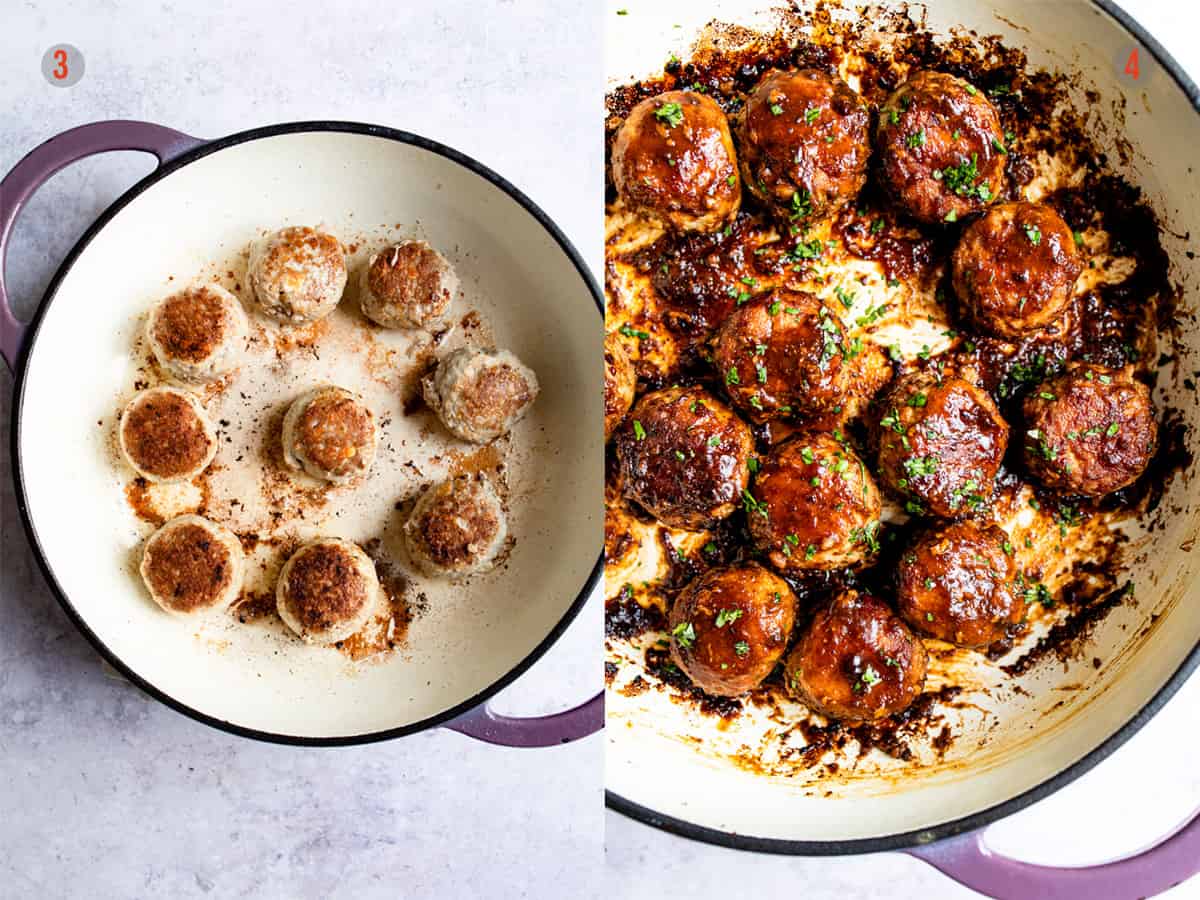 Spicy Ginger-Honey Sauce Preparation
Heat sesame oil, garlic, and ginger in a frying pan until fragrant.
Incorporate vinegar, honey, and Chili with Garlic Sauce to the pan and bring the mixture to a boil.
Stir in cornstarch and whisk the sauce until it thickens to the desired consistency.
Immerse the meatballs in the sauce, ensuring they are well-coated, and then garnish with cilantro leaves. To achieve a saucier result, consider doubling or tripling the sauce recipe.
Hint: Use a Cookie Scoop for Uniform Meatballs: Consistency is key when making meatballs. Using a cookie scoop can ensure that all your meatballs are the same size, which leads to more even cooking.
💡 Top tip
Preparing the sauce ahead of time allows the flavours to meld more effectively.
🍯 Storage
Fridge: Place any leftover meatballs in an airtight container and refrigerate for up to four days.
Freezer: For long-term storage, freeze the uncooked meatballs on a baking sheet before transferring them to a freezer bag.
Reheat: To reheat, place the meatballs in a preheated oven at 350 degrees until they are thoroughly heated.
❓FAQ
Can I make these meatballs ahead of time?
Yes, you can prepare the meatballs and sauce in advance. They can be refrigerated for up to a day before cooking.
What's the difference in texture and flavour between baking and frying the meatballs?
Frying gives a nice crispy exterior to the meatballs while baking provides a more even, juicy interior. Both methods are delicious and can be chosen based on your preference.
Do the meatballs continue to cook in the sauce?
Yes, the meatballs will continue to cook slightly in the sauce, so it's best to add them when they're just about done.
Related
Looking for more Asian-inspired recipes? Try these:
These Asian Pork Meatballs with Ginger Honey Sauce provide an indulgent flavour adventure. They are perfect for game days, family dinners, or any occasion calling for a delicious meal. Enjoy this taste of the Orient from the comfort of your kitchen! Happy cooking!
If you tried this Recipe or any other recipe on my website, please let me know in the comments below. I love hearing from you. Also, please leave a star rating whilst you're there!
You can also follow along on Pinterest, Facebook, and Instagram and join our private Facebook Group Facebook group to share more recipe ideas and all your photos!
Need help with meal planning? You can find our (Aldi ingredients only) weekly meal plans here! Sign up to receive them free every week or take our quick meal planning course and use all these recipes to create your own meal plans.
Sticky Asian Pork Meatballs
Savour the delectable flavours of these tender and succulent Asian Pork Meatballs, glazed with a homemade Ginger Honey Sauce. An enticing dish that's both easy to make and gluten-free.
Print
Pin
Rate
Ingredients
For the Meatballs:
680

grams

of ground pork

30

grams

of minced sweet or red onion

2

large cloves garlic

,

minced

1

teaspoon

minced ginger

1

egg

large size

½

tablespoon

sesame oil

Salt and pepper to taste
For the Spicy Ginger-Honey Sauce:
3

tablespoons

sesame oil

1

teaspoon

minced garlic

1

tablespoon

minced ginger

1 ½

tablespoons

rice wine vinegar

2

tablespoons

honey

1-2

tablespoons

Chili with Garlic Sauce

,

adjust based on preference for heat

½

teaspoon

cornstarch

Coriander for garnish
Instructions
Preparing the Meatballs:
In a large bowl, combine the ground pork, minced onion, minced garlic, ginger, egg, sesame oil, salt, and pepper. Mix until the ingredients are well combined.

Form the mixture into balls about the size of a golf ball and place them on a baking sheet lined with parchment paper.
Cooking the Meatballs:
Preheat your oven to 175 degrees Celsius (350 degrees Fahrenheit).

In a large frying pan, heat a little bit of oil over medium heat. Add the meatballs, and fry until they are nicely browned on all sides. This should take about 5 minutes.

Transfer the browned meatballs to your preheated oven and bake for an additional 10 minutes, or until the meatballs are cooked through.
Preparing the Spicy Ginger-Honey Sauce:
In the same frying pan, add the sesame oil, minced garlic, and minced ginger. Sauté these until they are fragrant, which should take about 1-2 minutes.

Add the rice wine vinegar, honey, and Chili with Garlic Sauce to the pan, and bring the mixture to a boil over medium heat.

Sprinkle in the cornstarch, whisking continuously until the sauce thickens.
Glazing the Meatballs:
Return the cooked meatballs to the pan and toss them in the sauce until they are thoroughly coated.

Transfer the glazed meatballs to a serving platter and garnish with fresh cilantro leaves. Serve warm.
Notes
These meatballs are delicate due to the absence of breadcrumbs, so handle them with care when frying.
If you prefer a stronger flavour, consider doubling or tripling the amount of sauce. This recipe can be easily customized.
Feel free to add finely chopped vegetables to the meatball mix or use homemade Teriyaki Sauce instead of Ginger Honey Sauce for a different flavour profile.
Nutrition
Calories:
39
kcal
|
Carbohydrates:
4
g
|
Protein:
1
g
|
Fat:
2
g
|
Saturated Fat:
1
g
|
Polyunsaturated Fat:
1
g
|
Monounsaturated Fat:
1
g
|
Trans Fat:
1
g
|
Cholesterol:
10
mg
|
Sodium:
295
mg
|
Potassium:
20
mg
|
Fiber:
1
g
|
Sugar:
2
g
|
Vitamin A:
15
IU
|
Vitamin C:
1
mg
|
Calcium:
6
mg
|
Iron:
1
mg