This is the easiest turkey stir fry! Tender minced turkey, colourful vegetables, and fluffy rice all come together with savoury garlic, spicy ginger, and a sweet and spicy sauce to create an incredible, easy dinner that your family will love. The vibrant colours and textures of this easy recipe will please even your pickiest eaters!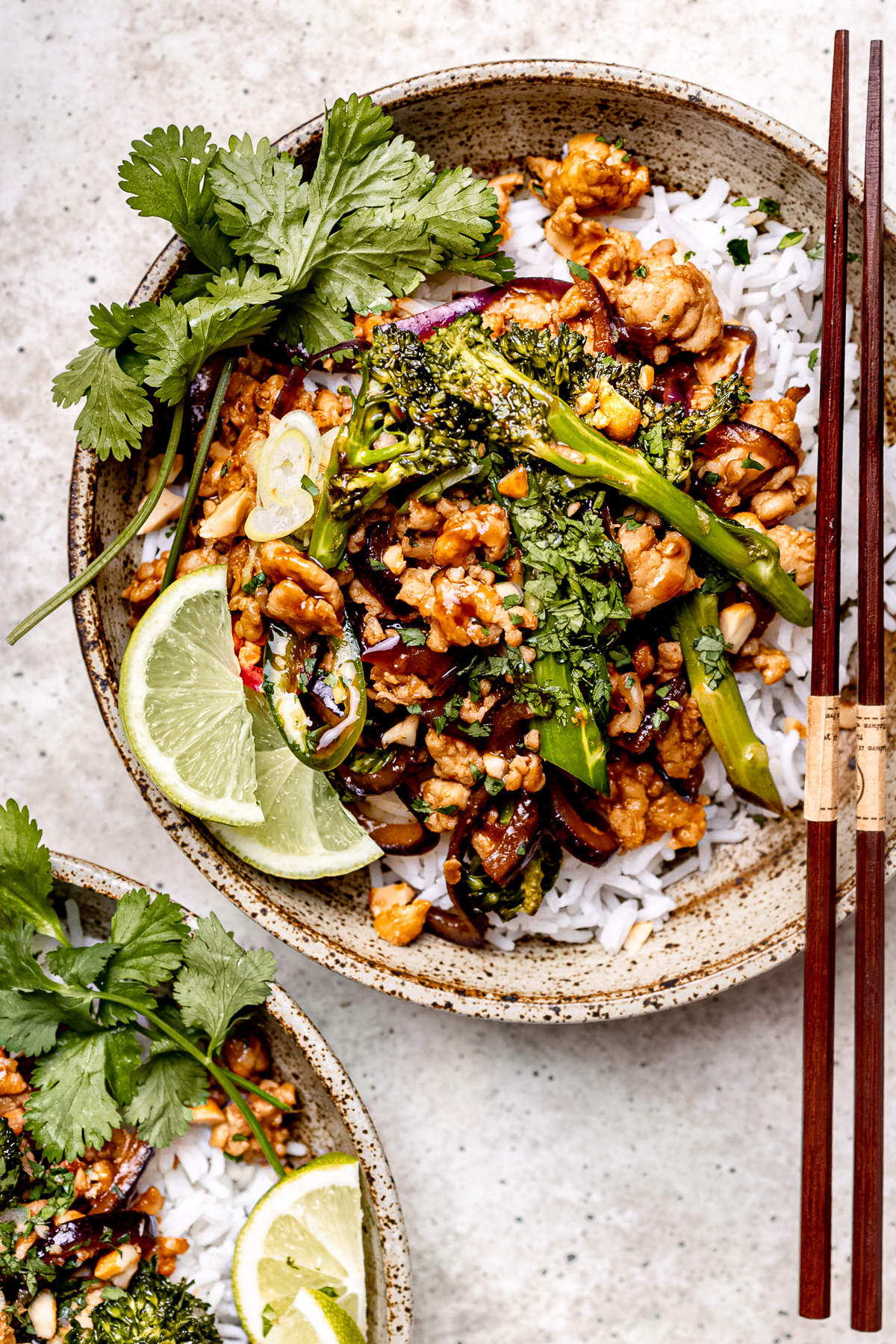 When it comes to quick and easy family dinners nothing beats a stir fry. You can try some other favourites like this beef stir fry, or salmon stir fry. You'll want to add them to your one pan and budget dinner recipe rotation.
Jump to:
⭐️ What you'll love about this turkey stir fry recipe
It only takes 15 minutes from start to finish, including a bold and tangy homemade stir-fry sauce.
Really easy to customize with extra vegetables or protein.
You only need a few cheap ingredients that you probably already have. And the leftovers are better the next day!
🧾 Essential stir fry ingredients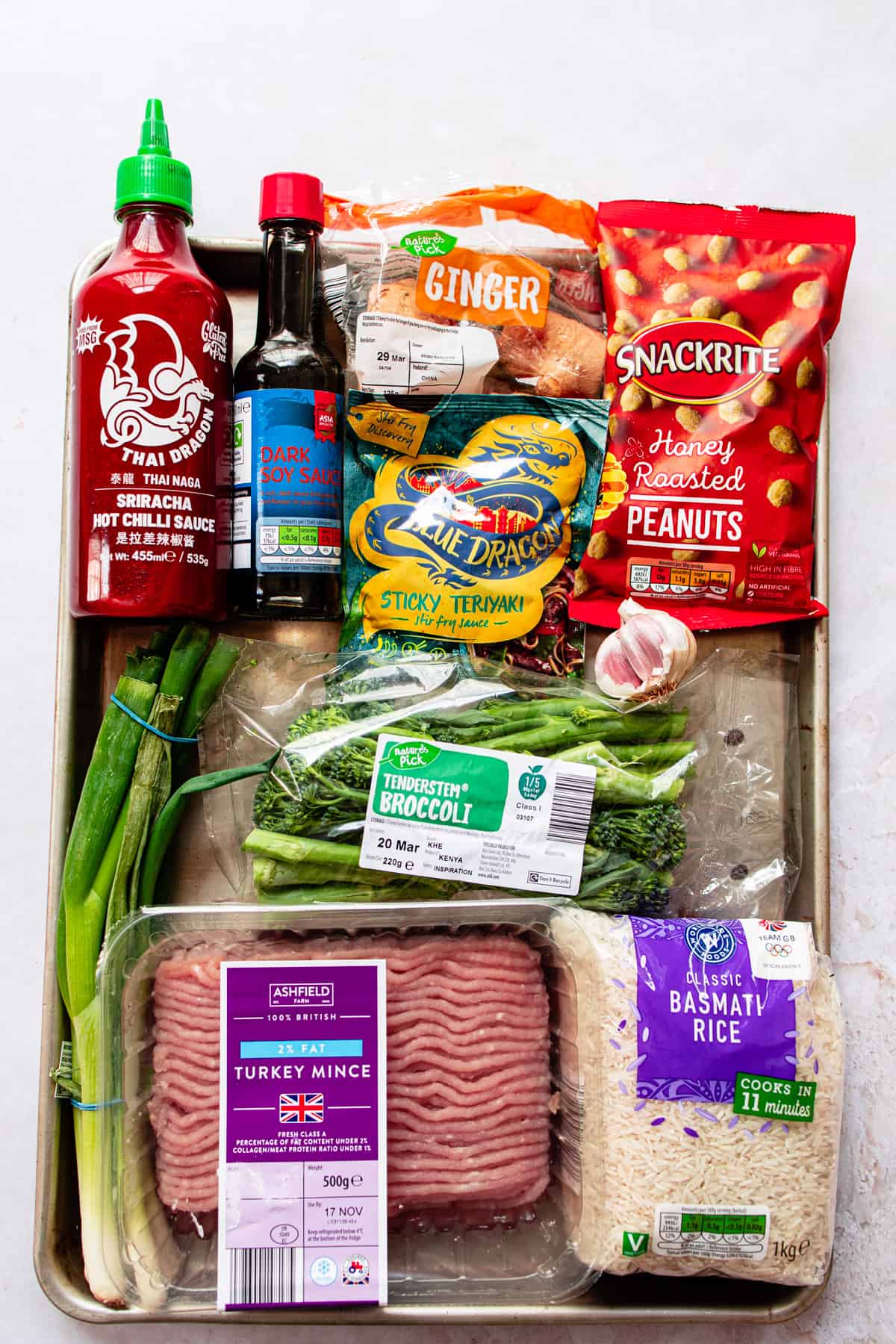 Protein- turkey mince is low in fat and high in protein and has a very mild flavour making it a great choice for stir fry where it pairs with bold flavours.
Sauce- The perfect stir fry sauce has a balance of spicy, salty, sweet, and sour. This homemade Asian-style sauce uses soy sauce, teriyaki sauce, chili paste, and lime juice, to get a perfect balance and fresh garlic and ginger for aromatics.
Vegetables- you can use any vegetables for stir-frying, red onion and broccoli being two of the most popular.
Rice- or noodles. You can serve them on the side and mix them as desired or add them directly to the stir fry like this 15-minute vegetable noodle stir fry.
Garnish- the choices here are endless, but my favourite toppings are chopped nuts like honey-roasted peanuts or, cashews for crunch, spring onions and chopped coriander for freshness, sliced chili peppers, and some lime wedges.
⭐️ Top Tip-Add vegetables that need more time to cook first, such as broccoli florets, mushrooms, snow peas, green beans, water chestnuts, sugar snap peas, and baby corn. Add softer vegetables—such as bok choy, courgette, bell peppers, and bean sprouts—toward the end of the cooking process.
See recipe card for quantities.
📖 Substitutions & Variations
Stir fry is an incredibly versatile recipe, allowing you to create unique combinations of flavours and textures and it's great for using up leftovers!
vegetables - add in some baby corns, cauliflower, or bell peppers. Shredded cabbage is also a really great cheap way to add more veggies and stretch this recipe further.
protein - this recipe uses lean turkey mince, but you can easily use ground chicken or pork, or even halloumi.
grains - because of it's sauciness, stir fry is the perfect vehicle for plain grains. Serve it with rice, couscous or noodles.
Seasoning a recipe
I never specify the amount of salt in a recipe because it's completely subjective to your personal taste and possible health requirements, but here are some general guidelines.
Start with a small amount of seasoning and taste as you go. It's always easier to add more seasoning than it is to try to fix a dish that is overly seasoned. *If you are accidentally heavy-handed with the salt, try adding some lemon juice to balance it out. In this case of this turkey stir fry use lime to balance out the saltiness.
Balance the flavours. Add in some more lime juice to brighten the sauce or more chili for some extra heat.
Be mindful of the proportions of the ingredients. If a dish has a lot of strong-flavoured ingredients, you may need to use less seasoning. *This turkey mince recipe has a lot of very bold flavoured ingredients and will require much less seasoning than many other recipes.
👩🏻‍🍳 How to make stir fry in 4 easy steps
Step 1 Prepare the vegetables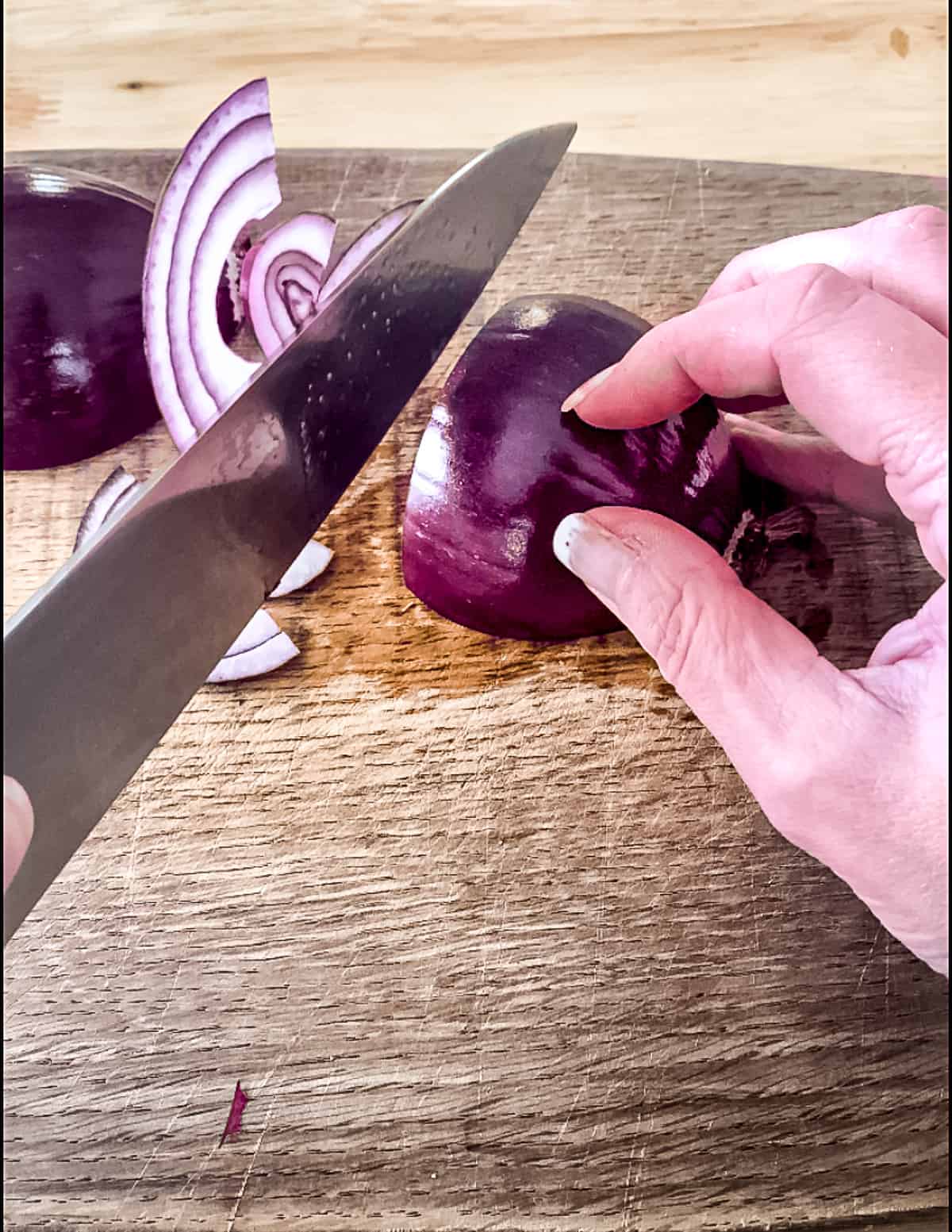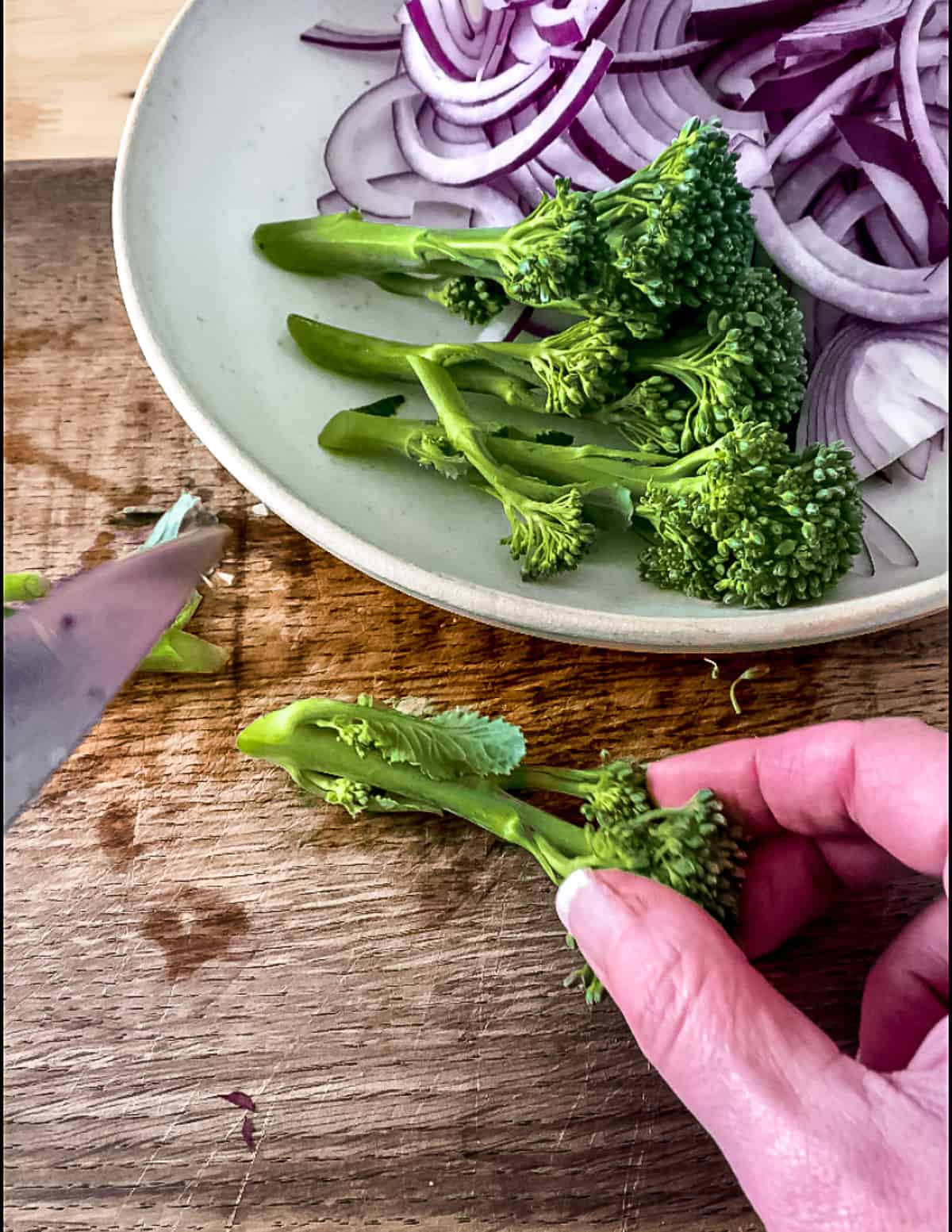 Start by thinly slicing the onion and trimming the broccoli or tenderstem. When making stir fry, it's important to cook the ingredients quickly over high heat. This ensures that the ingredients stay crisp and retain their flavour.
Trim the broccoli (and any other veggies) to bite-sized pieces, so that everything cooks quickly and retains it's texture.
2- Make the sauce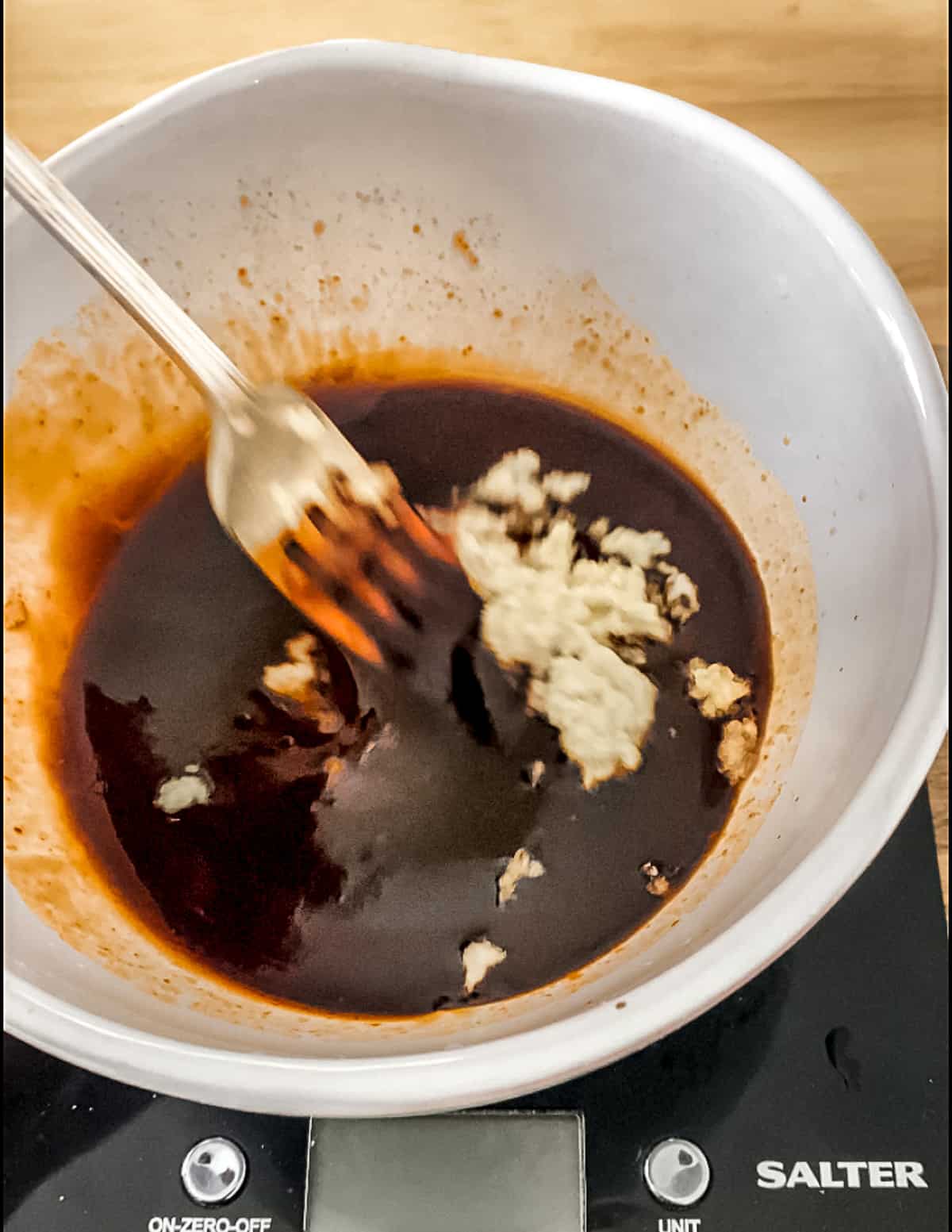 Start by measuring the stir-fry sauce ingredients into a small bowl and whisk them well to combine. *You can use light or dark soy sauce.
Taste the sauce and adjust the flavours to suit your taste. Add more chilli sauce or lime juice to balance out any saltiness, or add in some more soy sauce, garlic or ginger for a bolder flavour.
*Adding ginger and garlic to the sauce rather than directly to the pan ensures that it won't burn and ruin the dish.
The perfect stir-fry sauce should be a thick coating consistency like runny honey. It should be a balance of spicy, salty, sweet, and sour.
3- Start with protein (turkey)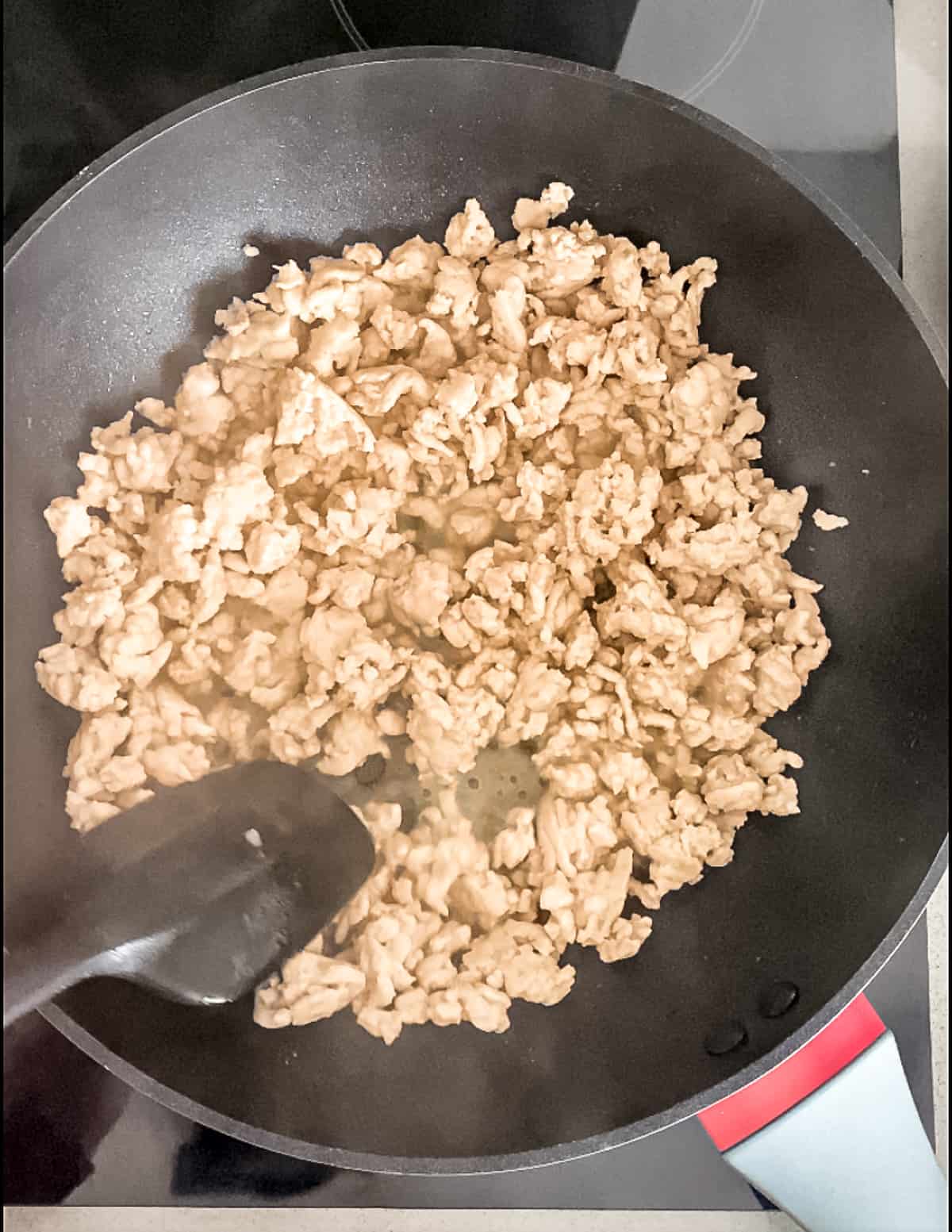 Preheat your pan or wok over medium-high heat and add some vegetable oil. Be sure to have all of your ingredients ready to toss in the pan before you start cooking.
Add the turkey to the hot pan and use a spatula or spoon to break up the meat to ensure it cooks evenly.
Top tip- preheat your pan or wok before you start the cooking process. Once the pan is hot add in the oil and let it coat the bottom of the pan before adding the turkey.
4- Cook the vegetables and add the sauce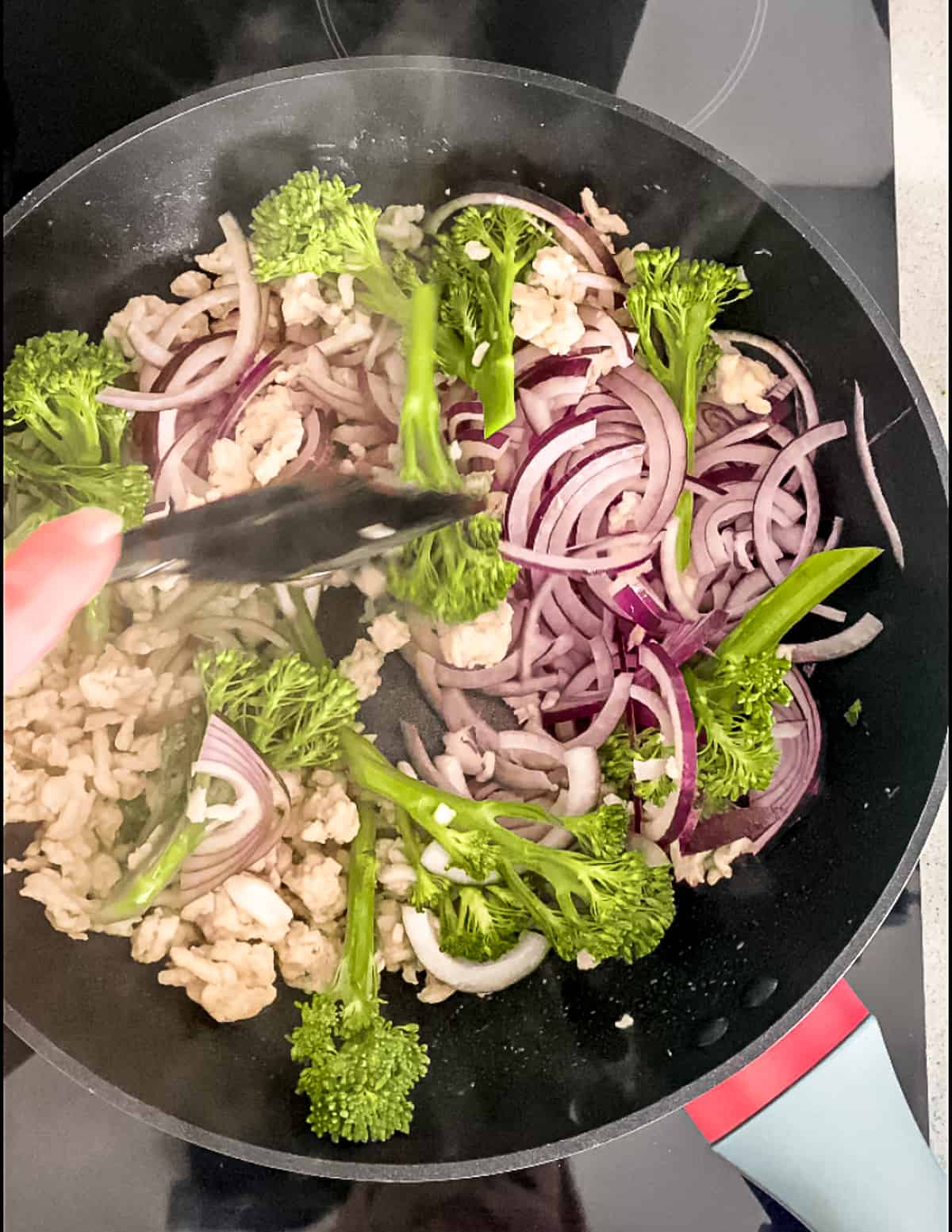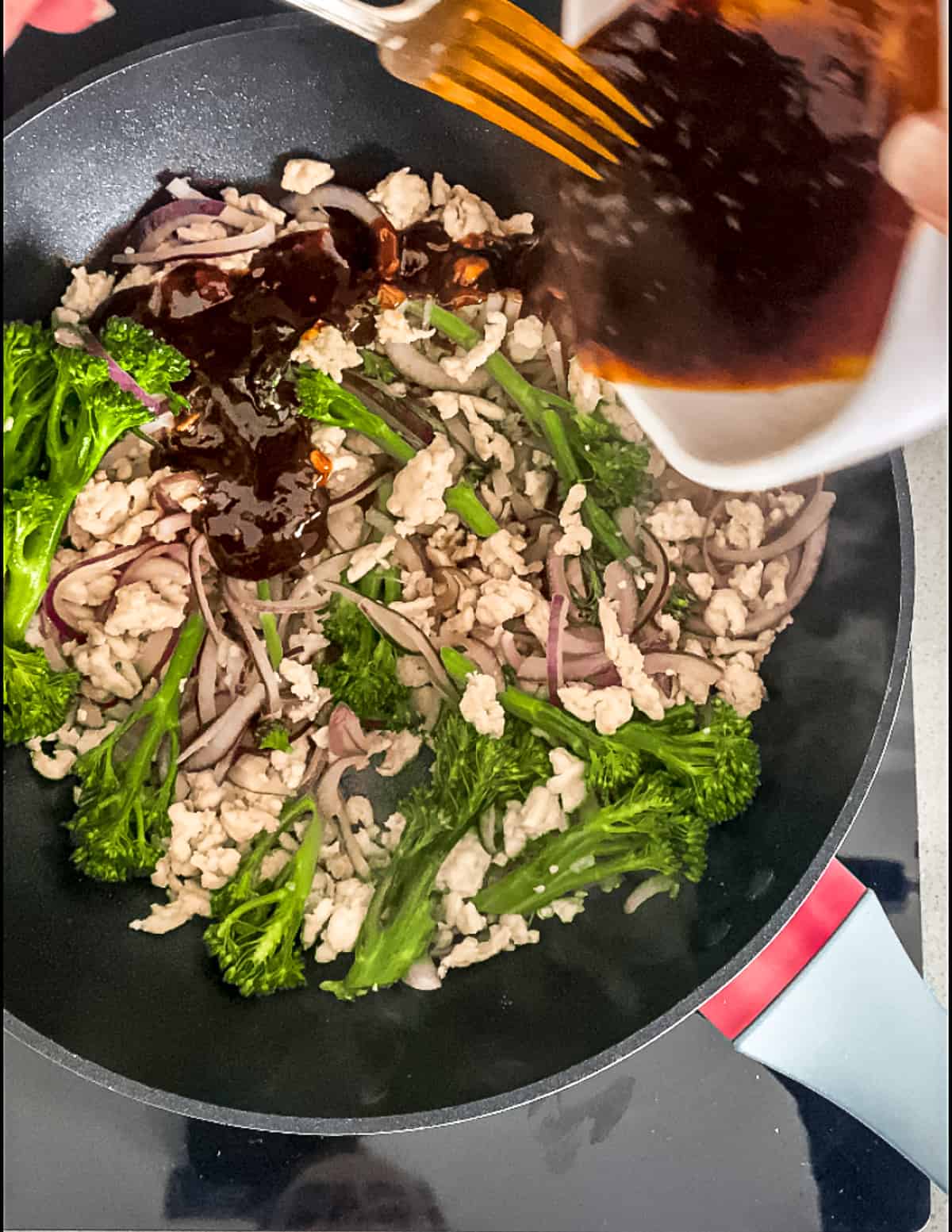 Once the turkey has cooked, this should only take about 8-10 minutes, add in the vegetables and continue to stir fry for a further 3-4 minutes.
Pour in the stir-fry sauce and mix well until the turkey and vegetables are coated in the sauce. *Test the broccoli for tenderness. Continue to cook for a further 2-3 minutes if required, until the broccoli is tender but still has some texture.
Top tip: If the vegetables start sticking to the bottom of the pan or the sauce becomes too thick, add in some water a tablespoon at a time until you have the perfect saucy consistency.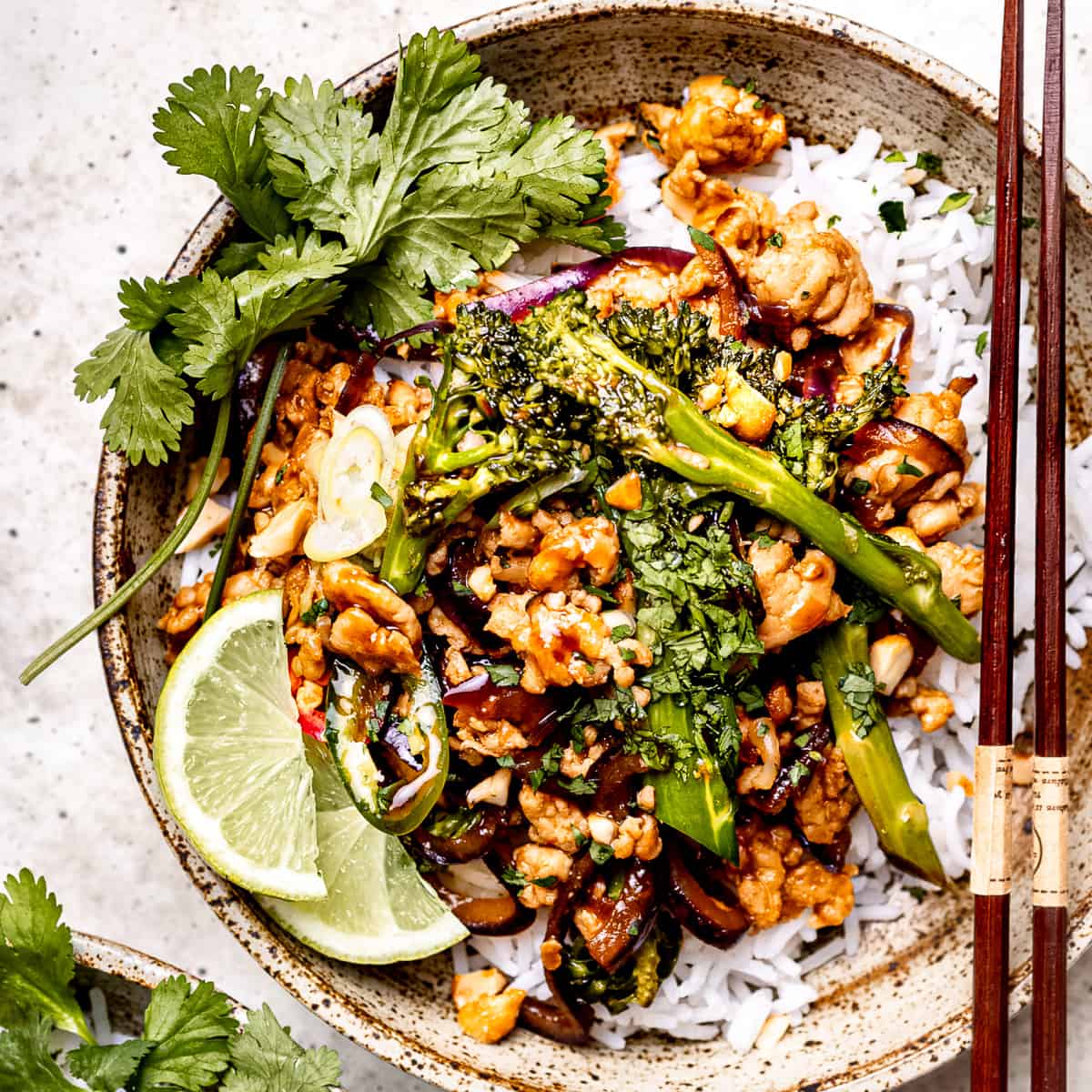 🔪 Top tips for the perfect stir fry
Use a wok. A wok is ideal because the heat is centralized at the bottom of the pan, so it sears stir-fry ingredients quickly. When you stir-fry in a wok, you can push any ingredients that need to be on low-heat up the sides so they don't overcook. *If you don't have a wok, a non-stick frying pan will work, too.
Avoid overloading your wok. The key to stir-frying is to constantly stir. Your veggies must have enough room to move around in the pan. Adding too much and overcrowding your wok will result in everything steaming rather than frying and will be mushy.
Add water. If your meat and veggies are starting to stick to the pan or wok, add some water to loosen them up. You can also add a splash of chicken or vegetable stock to add some extra flavour—especially if you are not using a really bold flavoured sauce.
Thicken your stir-fry sauce. Sometimes the stir-fry sauce can end up being watery after you add it to the meat and veggies. To thicken the stir-fry sauce, make a cornstarch slurry by dissolving a tablespoon of cornstarch in two tablespoons of cold water. Add the mix to the stir-fry, tossing it until the stir-fry sauce has thickened.
Choose fresh vegetables, lean proteins, and flavourful sauces to create a delicious base.
Cook the ingredients quickly over high heat. This will ensure that the vegetables stay crisp and retain their flavour and colour.
Use a bold and flavourful sauce that balances, spiciness, sweetness, salt, and citrus along with fresh ginger and garlic.
🍯 Storage
Fridge- in an air-tight container for up to 3 days in the fridge.
Freezer- for up to 1 month in the freezer in an air-tight container. *Be sure to let the stir fry thaw in the fridge before reheating. Trying to reheat from frozen will result in mushy vegetables.
Reheat from the fridge- in the microwave in 30-second bursts until it's hot all the way through.
❓FAQ
What is the best oil to use for stir frying?
The best oil to use is one with a high smoke point, such as canola, peanut, or vegetable oil. Because it's important to stir fry on medium-high heat, olive oil and sesame oil with a low smoke point won't work.
How do you add more flavour to stir fry?
Stir fries usually have very bold sauces but add in extra spices, aromatics or veggies to add more flavour.
1. spices- coriander, cumin, cardamom
2. aromatics- lemongrass, extra citrus, and dried chilies
3. herbs- basil, coriander, curry leaves
4. Liquids- use chicken stock, beef stock, mirin and dark soy sauce
Do I have to marinate the meat before stir frying?
For this particular recipe, it's not necessary. The purpose of marinating is to not only add extra flavour, but to also tenderize the meat. Turkey mince is not a tough protein, so we wouldn't marinate this.
Tough cuts of meat like flank steak or braising steak would benefit from marinating.
If you tried this Recipe or any other recipe on my website, please let me know in the comments below. I love hearing from you. Also, please leave a star rating whilst you're there!
You can also follow along on Pinterest, Facebook, and Instagram and join our private Facebook Group Facebook group to share more recipe ideas and all your photos!
Need help with meal planning? You can find our (Aldi ingredients only) weekly meal plans here! Sign up to receive them free every week or take our quick meal planning course and use all these recipes to create your own meal plans.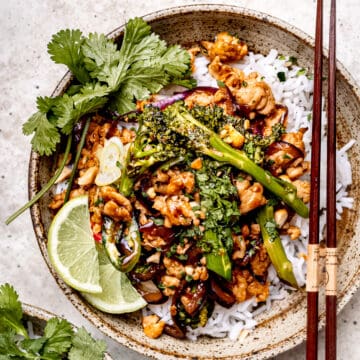 15 Minute Turkey Stir Fry
Tender turkey, colour vegetables, and a spicy, tangy homemade Asian-style sauce team up in this easy 15-minute turkey stir-fry. An easy and cheap dinner for any night.
Print
Pin
Rate
Ingredients
500

g

(

1

pound

)

turkey mince

2

tablespoons

(

2

tablespoons

)

vegetable oil

1

(

1

)

red onion

,

thinly sliced

220

g

(

2 ¼

cups

)

tenderstem or broccoli

,

leaves trimmed and florets cut to bite-sized pieces
For the sauce
120

g

(

½

cups

)

teriyaki sauce *see notes

2

tablespoons

(

2

tablespoons

)

Sriracha sauce *see notes

2

tablespoons

(

2

tablespoons

)

dark or light soy sauce

1

(

1

)

lime

,

juice and zest

3

cloves

(

3

cloves

)

of garlic

,

minced

1 ½

tablespoons

(

1 ½

tablespoons

)

ginger

,

minced

1-3

tablespoons

(

1

tablespoons

)

water

,

depending on your desired consistency *see notes
For serving
Basmati rice for serving- amount depends on servings needed

4

tablespoons

(

4

tablespoons

)

honey-roasted peanuts

,

chopped

3

(

3

)

spring onions

,

sliced

4

tablespoons

(

4

tablespoons

)

chopped coriander

1

(

1

)

red chilli

,

thinly sliced (optional)
Instructions
Instructions

Before you start- Cook the rice according to the package instructions. While the rice is cooking, make the stir fry.

To make the stir fry sauce- whisk the Sriracha, soy sauce and teriyaki sauce in a bowl. Squeeze in the lime juice and stir in the minced garlic and ginger. Check the consistency and add some water if the sauce is too thick. It should be like runny honey.

Browning the meat- Heat the vegetable oil in a wok or pan over medium heat. Add the turkey mince to the hot oil and use a spatula or spoon to break it up. Continue to cook the turkey until it starts to brown all over. This will only take about 8-10 minutes.

Making the stir fry- Once the turkey is browned, add in the sliced red onion and tenderstem and stir fry for about 3-5 minutes. You want the broccoli to have some texture still and not be overdone. Once the tenderstem or broccoli is tender, pour in the stir fry sauce and toss to coat everything in the pan and get the sauce hot.

Serve over rice or with noodles. Top with chopped peanuts and green onions, chopped coriander and sliced red chilies.
Notes
You can use oyster sauce, black bean, or your favourite stir fry sauce in place of teriyaki.
If you don't have sriracha sauce you can use chilli paste that comes in tubes. They can usually be found in the spice aisle.
Add the water to the sauce one tablespoon at a time until you have your desired consistency.
The nutrition info does not include rice.
Nutrition
Calories:
392
kcal
|
Carbohydrates:
18
g
|
Protein:
32
g
|
Fat:
22
g
|
Saturated Fat:
5
g
|
Polyunsaturated Fat:
9
g
|
Monounsaturated Fat:
7
g
|
Trans Fat:
0.2
g
|
Cholesterol:
93
mg
|
Sodium:
1984
mg
|
Potassium:
580
mg
|
Fiber:
3
g
|
Sugar:
8
g
|
Vitamin A:
1278
IU
|
Vitamin C:
81
mg
|
Calcium:
110
mg
|
Iron:
3
mg