This succulent, boneless smoked gammon, slow-cooked to perfection for 6-8 hours, effortlessly becomes the centrepiece of your festive meals and Sunday roasts. Finished with a honey or maple glaze, it offers an irresistible blend of tender ham and crispy crackling.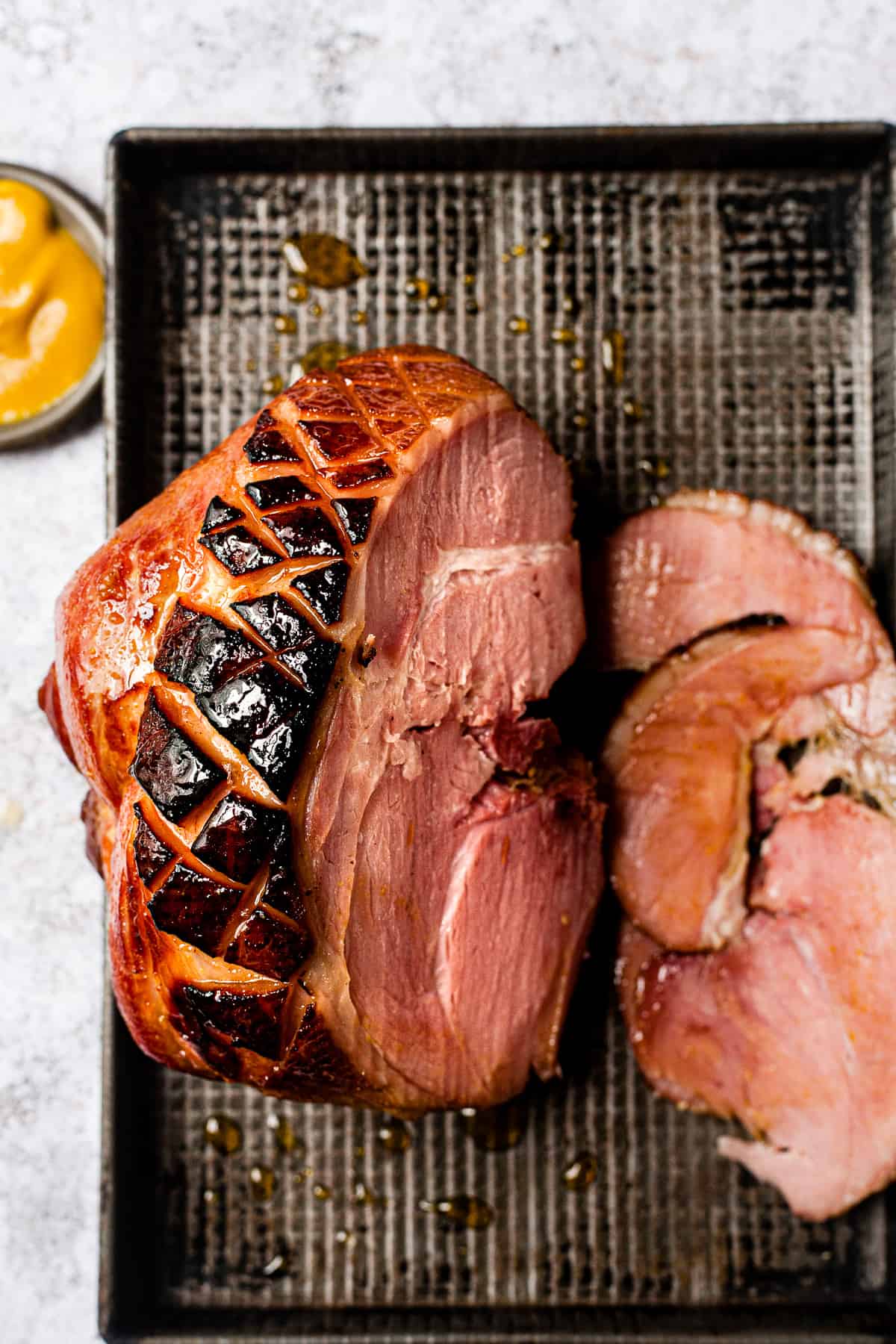 Gammon or ham are always popular for the holidays, and it helps tremendously that it's a budget-friendly cut of meat that works wonders when feeding a crowd. You can also try this spiced slow-cooker ham for another great holiday feast. The terms gammon and ham are used interchangeably.
Pair this glazed gammon with my boulanger potatoes and these air fryer Brussels sprouts for the perfect Christmas ham or Sunday roast.
Use leftovers in this ham and lentil soup, or substitute the chicken for ham in this chicken pie, or toss it into this creamy pasta with peas recipe.
Jump to:
⭐️ Why you need to make this show-stopping slow cooker gammon!
Effortless Cooking: Slow cooking means less hands-on time in the kitchen.
Versatile Dish: Perfect for both festive occasions like Christmas and casual Sunday dinners.
Budget-Friendly: Gammon offers a cost-effective option for feeding a crowd.
Leftover Potential: Great for sandwiches, salads, or as part of other meals.
Foolproof Recipe: Simple steps ensure perfect results every time, ideal for novice cooks.
🧾 Essential glazed ham ingredients
In this section, I've outlined the key ingredients and why they're essential in the recipe. For precise measurements, refer to the recipe card at the bottom of the page.
Smoked Gammon, Deboned: The star of the dish, provides rich, smoky flavor.
Apples: Add natural sweetness and complement the gammon's smokiness.
Onion: Offers a savoury depth to the overall flavour profile.
Garlic Cloves: Enhance the dish with their pungent, aromatic qualities.
Carrot: Contributes to the savory base and adds subtle sweetness.
Cider or Apple Juice: Brings a fruity acidity, tenderising the meat.
Chicken Stock (with Stock Cube): Adds richness and depth to the cooking liquid.
Maple Syrup or honey: Provides a sweet, robust glaze.
English Mustard: Adds a tangy kick, balancing the sweetness.
Mixed Spice: Infuses warmth and complexity into the glaze.
👩🏻‍🍳 How to make glazed gammon in 2 easy steps
We're using two steps for this easy recipe- slow cooking and glazing.
Preparing the Gammon:

Unwrap the gammon, keeping the strings tied for structural integrity.
Place the gammon in your slow cooker.
Tip: Tying helps maintain the shape and even cooking.

Adding Vegetables for Flavour:

Roughly chop onions, carrots, and apple; arrange around the ham.
These ingredients are crucial for infusing the cooking liquid with a rich, aromatic flavour.
Cooking the Gammon:

Pour cider and chicken stock into the slow cooker.
Cook on high for about 3 hours, or on low for 5-6 hours.
Trick: Longer, slower cooking on low enhances tenderness.

Preparing the Glaze:

Mix maple syrup, mustard, and mixed spice in a small bowl; whisk well.
Tip: Whisking ensures an even blend for a consistent glaze.

Glazing and Grilling the Gammon:

Remove gammon from the slow cooker; place on a baking tray.
Remove the strings and score the skin for better glaze penetration.
Apply half the glaze and grill for 5 minutes. Then, re-glaze and grill for another 5 minutes.
Tip: Scoring the skin helps the glaze adhere and penetrate, enhancing flavour.
Serving the Gammon:

Slice the gammon and serve with additional mustard.
Drizzle with the remaining glaze for a flavourful finish.
Trick: Slicing against the grain ensures tender pieces.

Pro-Tip: Optimal liquid level for slow cooker gammon - When slow cooking your gammon, aim to cover at least two-thirds of the joint with liquid. This ensures that the gammon is sufficiently submerged for even cooking and flavour absorption, while the top portion steams gently, resulting in a perfectly tender and juicy ham. Whether you're using cider, apple juice, or broth, maintaining this liquid level is key for optimal results.
💡Can I cook the gammon without a slow cooker? Absolutely!
Place the gammon on the stovetop in a large pot and bring it to a gentle simmer, not a boil. You'll need to cook it for 30 minutes per pound (500g), plus an extra 30 minutes at the end. This slow, gentle cooking method ensures the gammon stays tender and moist.
Once cooked, transfer the gammon to a baking tray. *Line it with foil for quick cleanup. Apply the glaze and then place under a hot grill (broiler). Grill for a few minutes until the glaze is caramelised and bubbly, but be cautious to avoid overcooking the ham. This final step adds a deliciously crispy and flavourful outer layer to the gammon.
🍯 Leftovers: storing, reheating, and reinventing
Cooking a larger gammon joint than needed allows you to creatively use leftovers for delicious meals throughout the week. Here are some tips for optimising those extra portions.
Storing: Quickly cool and refrigerate leftover gammon within two hours in airtight containers; it stays fresh for up to three days.
Reheating: Reheat to at least 74°C (165°F) for safety. Only reheat what you'll consume to preserve quality and ensure food safety.
Reinvention Ideas:

In soups: Add cubed gammon to split pea or potato leek soup for a smoky flavour. Make ham and leek soup by substituting the chicken in this leek soup recipe.
Ham and leek pie: Dice gammon for a pie filling with creamy sauce in pastry.
Sandwiches & dishes: Thinly slice for sandwiches or chop for pasta, omelettes, or savoury pancakes.
✏️Tips for making glazed gammon ahead
Cook in Advance: Slow cook the gammon a day before you plan to serve it. This allows the flavors to meld and deepen.
Refrigerate Overnight: After cooking, let the gammon cool and then store it in the fridge overnight. This step is perfect if you're serving the gammon cold.
Final Glazing and Heating: On the day of serving, apply the glaze and heat the gammon in the oven to crisp up the outer layer. This step rejuvenates the gammon, making it taste freshly cooked.
Serving Cold: If you're serving it cold, the advance preparation ensures the gammon is well-settled and easier to slice.
Safety Tip: Always ensure the gammon is cooled quickly and stored at a safe temperature in the fridge to maintain food safety.
💡 Chef's pro tips for recipe success
Leveraging years of experience in Michelin-starred kitchens and Cordon Bleu training, I offer straightforward, effective tips to ensure your culinary success.
Slow Cooking: Cook on a lower setting for a longer time to achieve maximum tenderness.
Scoring the Gammon: Score the gammon skin before cooking for better flavour absorption and a crispier finish.
Vegetable Bed: Use a bed of roughly chopped onions, carrots, and apples under the gammon in the slow cooker for an aromatic and flavorful cooking base.
Glazing Technique: Apply the glaze in multiple layers, allowing each to caramelize under the grill for a richer flavor.
Resting Before Serving: Let the gammon rest after cooking and before slicing to retain its juices.
Refrigeration for Cold Serving: If serving cold, refrigerate the gammon overnight to enhance its flavor and texture.
Reuse Cooking Liquid: Consider using the leftover cooking liquid as a base for soups or sauces.
❓Recipe FAQ's
What's the best way to score the gammon skin?
Make shallow diagonal cuts in a crisscross pattern across the skin.
How do I know when the gammon is fully cooked?
Use a meat thermometer to ensure an internal temperature of at least 74°C (165°F).
How long should I let the gammon rest before slicing it?
Let the gammon rest for about 20-30 minutes before slicing to retain its juices. Cover it with foil so that it stays hot.
Can I use a different type of liquid instead of cider or apple juice?
Yes, you can use broth, wine, or even water with herbs for flavour.
👉 What to serve with honey-glazed gammon/ ham
Enjoyed this honey-glazed ham? Share your thoughts and star rating in the comments – I'd love to hear from you!
For more recipe ideas, follow us on Pinterest, Facebook, and Instagram, and join our exclusive Facebook group.
For meal planning assistance, check out our weekly Aldi-only meal plans, free for subscribers. Or, learn to craft your own plans with our quick meal planning course featuring these recipes.
Craving more comfort food? Visit our sister site, Salted Mint, for easy, delicious recipes with everyday ingredients.
Slow Cooker Gammon (Maple Glazed) Recipe
Savour the rich flavours of this exquisitely tender and juicy slow-cooked gammon, beautifully complemented by a sweet and savoury maple and honey spice glaze. An ideal centrepiece for an effortless and impressive Christmas feast or Sunday dinner.
Print
Pin
Rate
Ingredients
1.5

kg

(

3 ⅓

lb

)

smoked gammon

,

deboned (about 1.5kg)

2

(

2

)

apples

,

roughly chopped *no need to peel them

1

(

1

)

onion

,

peeled and roughly chopped

2

cloves

(

2

cloves

)

garlic

,

peeled

1

(

1

)

carrot

,

roughly chopped

330

ml

(

1 ⅓

cups

)

cider

,

or apple juice

750

ml

(

3

cups

)

chicken stock

,

made by dissolving a stock cube in boiling water
For the glaze
115

ml

(

3 ⅞

floz

)

equal parts honey and maple syrup

,

or use just one of the two

2

teaspoons

(

2

teaspoons

)

mixed spice

1

tablespoon

(

1

tablespoon

)

English mustard
Instructions
Unwrap the gammon, but leave the strings tied. Place the gammon joint in the bowl of your slow cooker. Roughly chop the onions, carrots and apple and place around the ham. They're just used to flavour the cooking liquid for the gammon.

Pour the cider (or apple juice) and chicken stock into the slow cooker and cook on high for about 3 hours or on low for 5-6 hours. *See notes

Mix the maple syrup, honey (if using), and mustard and mixed spice in a small sauce bowl. Whisk well. Preheat the oven to 200ºC.

Remove the gammon from the slow cooker and place on a baking tray lined with foil. Remove the string from around the ham and use a sharp paring knife to score the skin. Pour half the glaze over the cooked gammon and place in the middle of the preheated oven for 15 minutes. Remove the tray and pour a little more of the glaze on the ham, and place it back into the oven for a further 10 minutes.

Once the skin is crispy and well glazed, remove it from the oven and cover lightly with some foil while you let the ham rest for 15-30 minutes before serving.

Slice the gammon and serve with more mustard and drizzle with the last of the glaze.
Notes
Liquid level: Ensure the liquid covers at least two-thirds of the gammon in the slow cooker for even cooking.
Stovetop alternative: Cook the gammon in a pot for 30 minutes per pound (500g) plus an additional 30 minutes, then finish in the oven as described.
Easy cleanup: Line your roasting tray with foil to simplify post-cooking cleanup.
Low vs high slow cooking: This ham recipe works great on the low and high setting, but the low setting yields a slightly more tender and juicy ham.
Nutrition
Calories:
415
kcal
|
Carbohydrates:
33
g
|
Protein:
45
g
|
Fat:
11
g
|
Saturated Fat:
4
g
|
Polyunsaturated Fat:
1
g
|
Monounsaturated Fat:
5
g
|
Cholesterol:
121
mg
|
Sodium:
3562
mg
|
Potassium:
1055
mg
|
Fiber:
2
g
|
Sugar:
22
g
|
Vitamin A:
1737
IU
|
Vitamin C:
5
mg
|
Calcium:
71
mg
|
Iron:
4
mg