Slow Cooker Chicken Korma is a velvety, rich, and aromatic dish that is so easy to make. Tender and juicy chicken thighs are slow-cooked in a warm and creamy sauce made from yogurt, coconut milk, and spices like turmeric, coriander, and garam masala. This mild curry is perfect for making ahead or saving leftovers.
Curries are usually cheap to make and maximize the use of your spice cabinet to bring aromatic flavour. Some of our favourite chicken curries to try are creamy coconut chicken curry, curried chicken thighs, or this amazing salmon curry with a brown sugar crust.
Serve these curries with pilau rice, and naan bread.
Jump to:
What is Korma curry?
The term "korma" originates from the Hindi language and it means "braise". It refers to a type of dish that is made by slow-cooking meat, vegetables, or both, in a creamy sauce made from yogurt, cream, or coconut milk, along with a blend of aromatic spices.
Korma is a staple dish in Indian, Pakistani, and Central Asian cuisine, and has been adapted in various ways as its traveled to different cultures.
⭐️ Here are four reasons why people should make Chicken Korma
Flavourful and Aromatic: a blend of warm spices, yogurt, and cream/ coconut milk creates a rich and flavourful sauce that the chicken cooks in.
Easy to Prepare: making chicken korma in a slow cooker or crockpot is a quick and convenient option for busy weeknights. Simply toss the ingredients into the slow cooker, and let it work its magic while you focus on other things.
Healthy and Nutritious: chicken korma is a healthy and nutritious dinner that's high in protein and low in carbs.
Versatile: Chicken Korma can be served with a variety of sides, including rice, bread, and vegetables. This versatility makes it a great option for a variety of meals, from casual family dinners to more formal gatherings.
🧾 Key ingredients for Crockpot Chicken Curry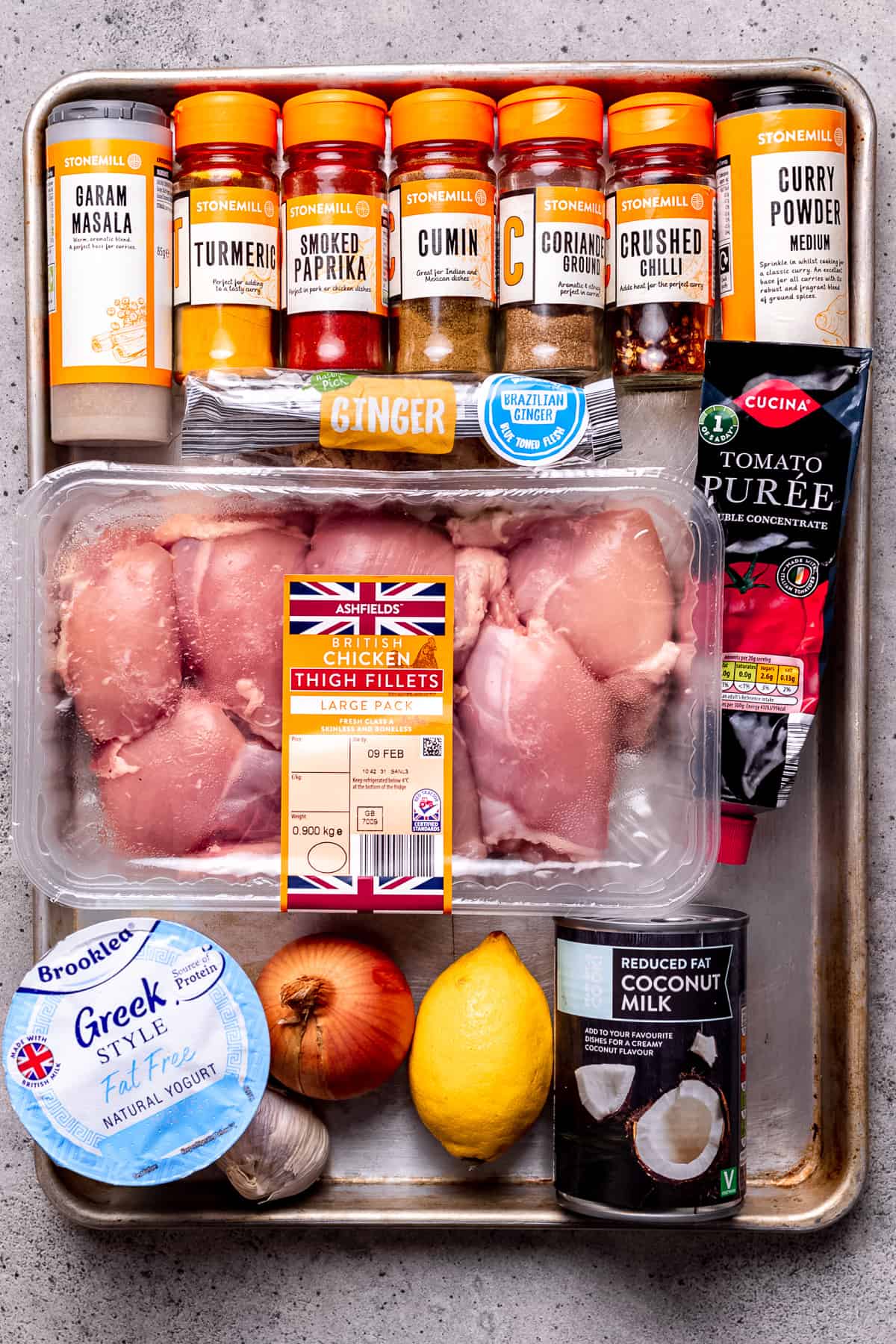 Chicken: Typically boneless chicken breasts or thighs are used in this dish. *My preference is for boneless skinless thighs.
Aromatics: Chopped onions, minced garlic, and minced ginger form the base of the sauce and add depth of flavor to the dish.
Yogurt and Coconut milk: These ingredients create a creamy and rich sauce that provides a balance of tang and richness. *I've used fat-free yogurt and low-fat coconut milk, but you can use regular coconut milk and natural yogurt if you prefer.
Spices: A blend of spices, such as garam masala, paprika, turmeric, coriander, and cumin, are used to flavour the dish. *Add in some chili flakes for some extra heat.
Fresh Coriander (cilantro): For garnish (optional). Note: The specific ingredients and quantities may vary based on personal preference and regional variations.
See recipe card for quantities.
📖 Substitutions & Variations
Chicken: If you don't have chicken breasts or thighs, you can use boneless chicken legs or drumsticks. You can also use boneless lamb, beef, or tofu for a vegetarian version of the dish.
Yogurt: If you don't have Greek yogurt, you can use regular yogurt or even sour cream.
Coconut milk: If you don't have coconut milk you can use heavy cream, half-and-half, or even evaporated milk.
Spices: If you don't have garam masala, you can use curry powder or a combination of ground cumin, coriander, and turmeric.
Fresh herbs: Fresh parsley, mint, or basil can be used as a substitute for fresh cilantro. Note: The substitutions may affect the flavour and texture of the final dish, so adjust to your personal preference.
🧂Seasoning a recipe
I never specify the amount of salt in a recipe because it's completely subjective to your personal taste and possible health requirements, but here are some general guidelines.
Start with a small amount of seasoning and taste as you go: It's always easier to add more seasoning than it is to try to fix a dish that is overly seasoned. *If you are accidentally heavy-handed with the salt, try adding some lemon juice to balance it out.
Be mindful of the proportions of the ingredients: Stronger flavours will require less seasoning. Creamy flavours and textures dilute seasoning so recipes like this creamy and mild chicken curry will require a little bit more salt.
Consider the cooking method: Different cooking methods can affect how much seasoning a dish needs. Grilling or roasting tends to bring out the natural flavours of ingredients, so you may need to use less seasoning and a moist cooking method (like this braised chicken curry) will require more seasoning.
👩🏻‍🍳 Step By Step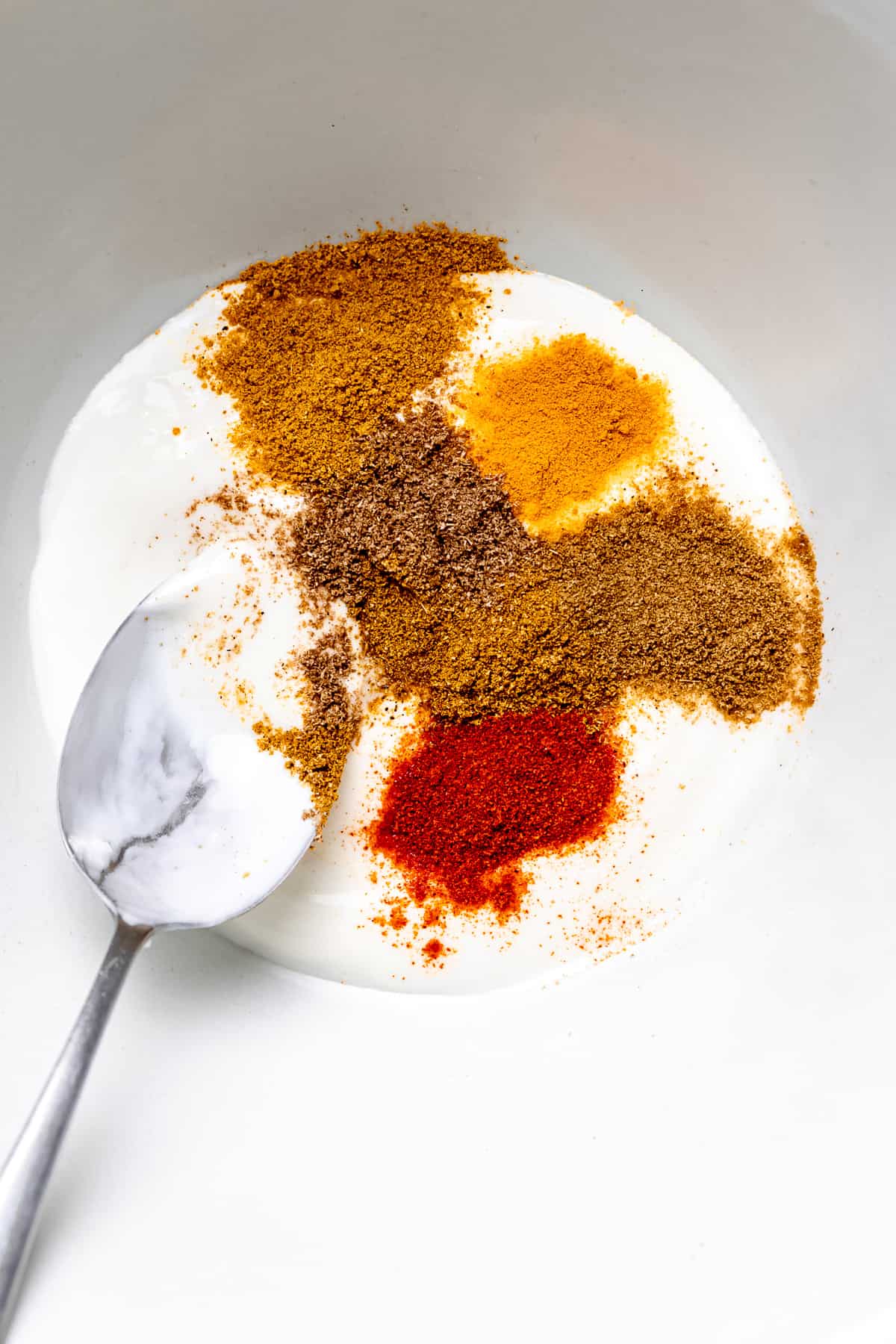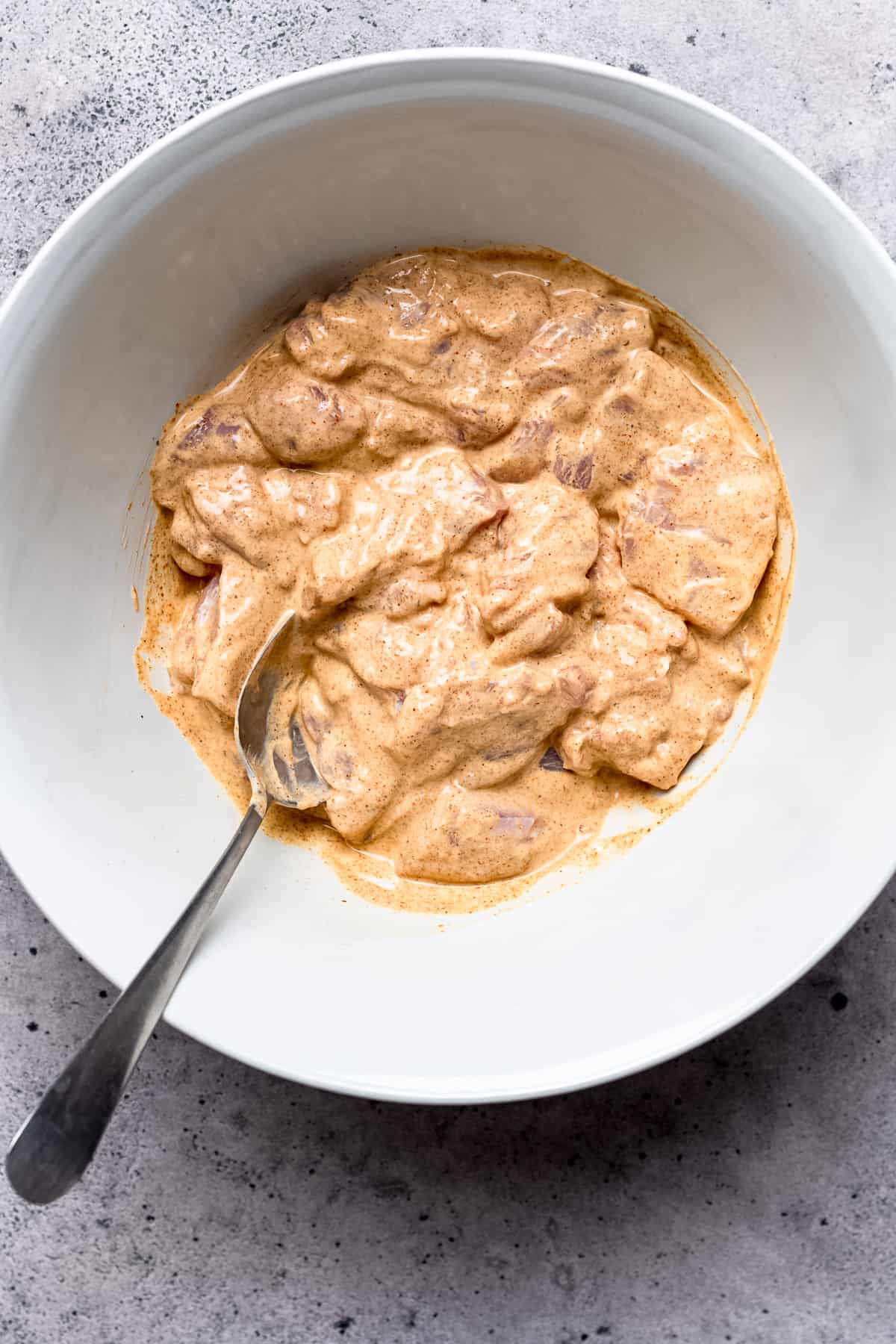 Prepare the chicken: Cut the chicken into bite-sized pieces and season with salt.
Make the marinade: In a bowl, mix together the yogurt, cream, and spices. Mix the chicken pieces into the marinade and leave for 30 minutes or you can place this in the fridge overnight.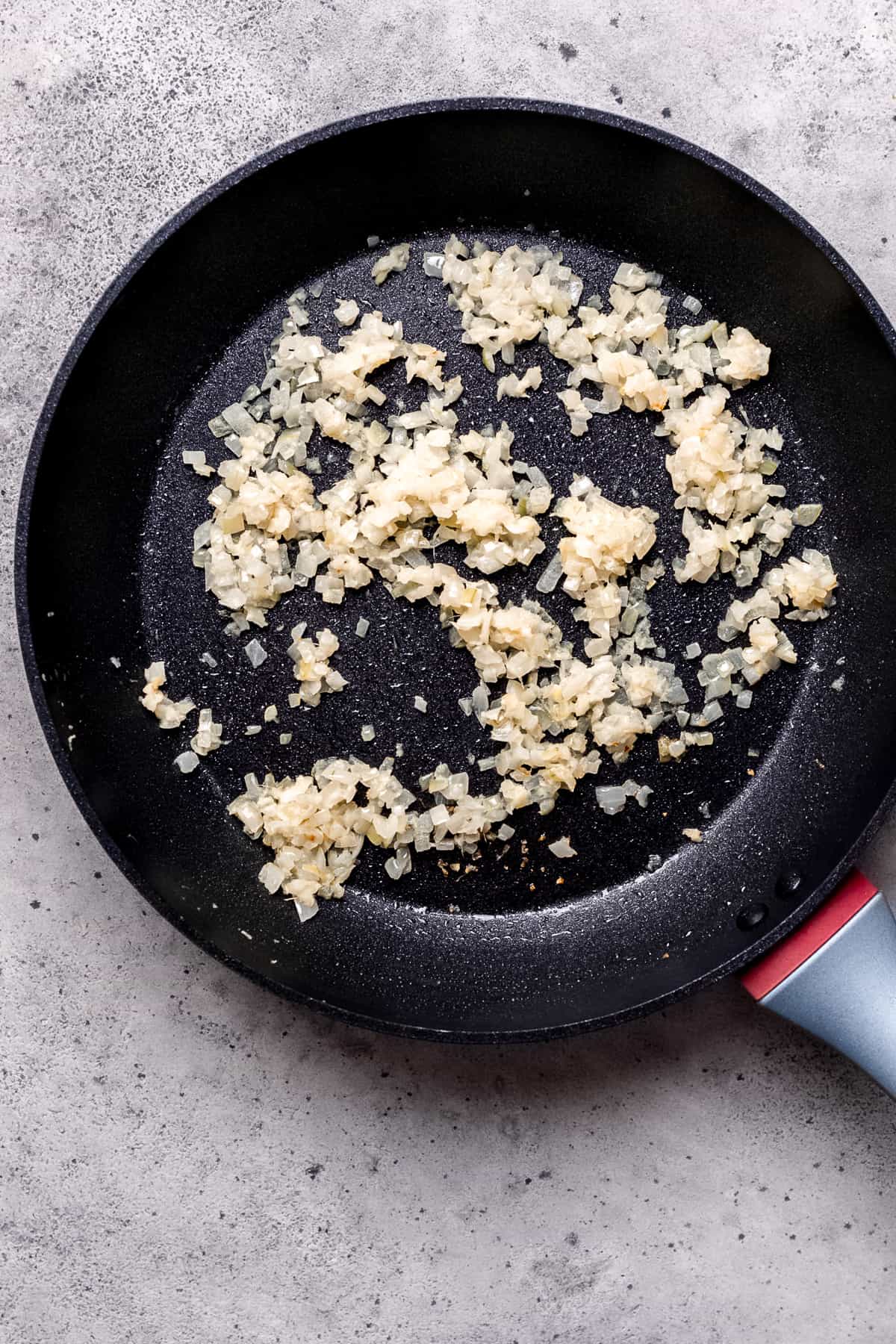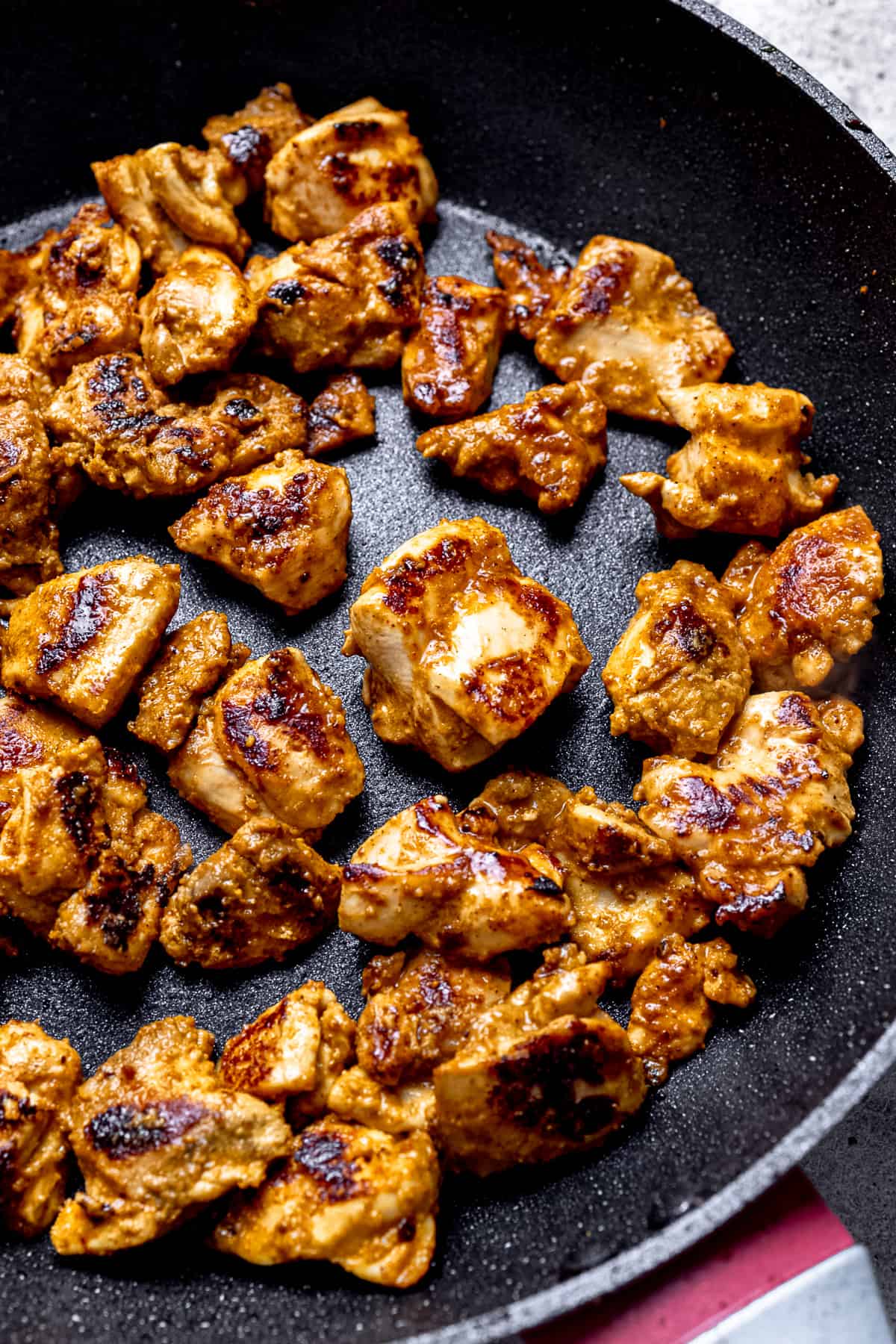 Sauté the aromatics: Heat some oil in a nonstick pan, and sauté the onions, garlic, and ginger until softened. Add this to the slow cooker.
Brown the chicken: In the same pan heat a little more oil if required and brown the chicken on both sides. Transfer the browned chicken to the slow cooker.
*Note- you can absolutely skip the browning process if you don't have time. Just add the marinated chicken to the slow cooker and proceed with the recipe as usual.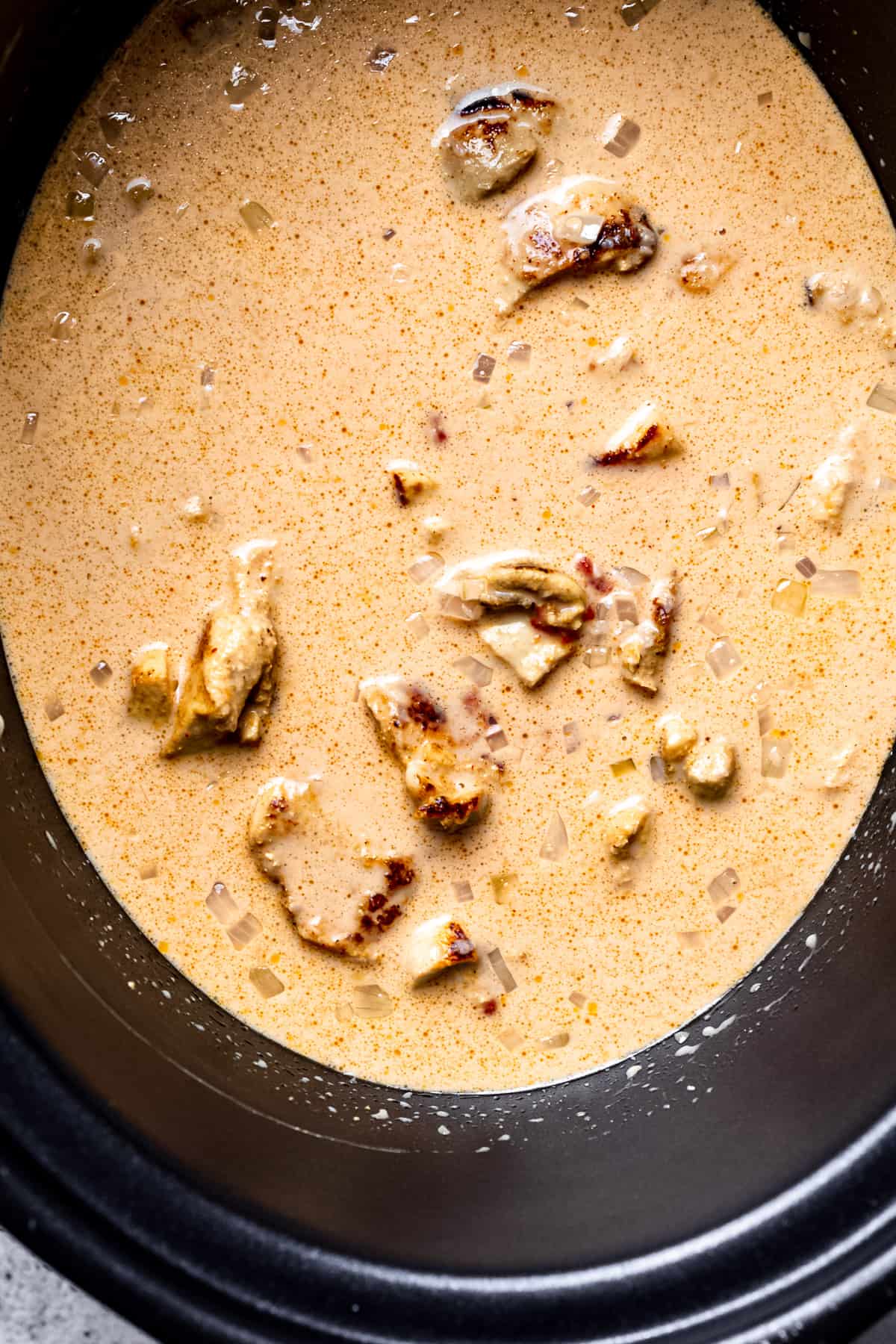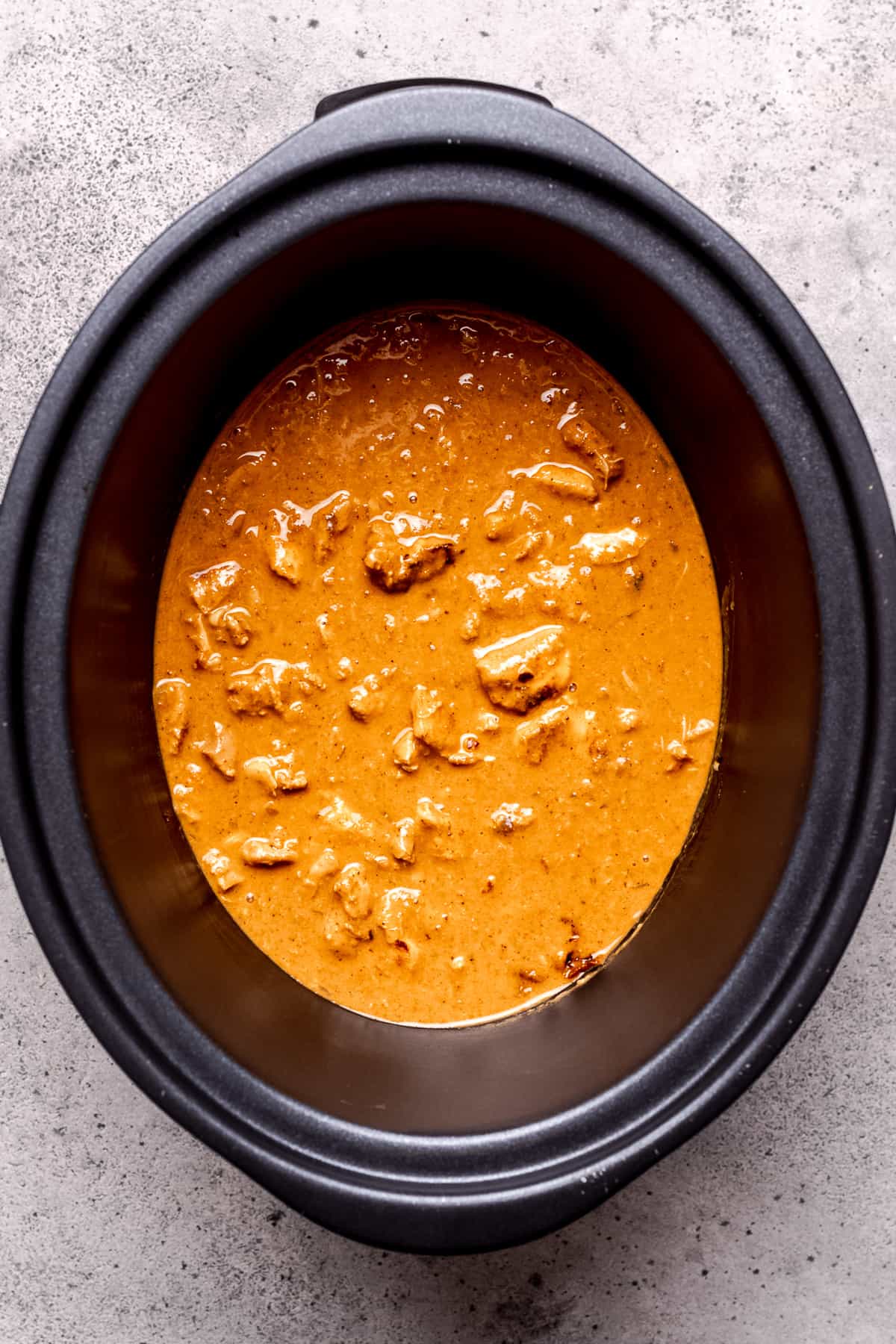 Combine the ingredients: Pour the coconut milk and tomato purée (tomato paste) over the chicken and aromatics in the slow cooker. Stir to combine.
Cook: Cover the slow cooker and cook on low heat for 4 to 6 hours, or until the chicken is tender and the sauce has thickened. *If the sauce hasn't thickened to your desired consistency, remove the lid of the slow cooker for the last 30 minutes of cooking time.
Serve: Serve the chicken korma over rice or with naan bread, garnished with fresh cilantro (optional). Note: The specific cooking times may vary based on your slow cooker and personal preference. Adjust the ingredients and spices to your liking, and enjoy!
Chicken thighs vs chicken breast for korma
You can use any cut of chicken, but boneless, skinless chicken breast or chicken thighs are most commonly used.

Chicken breast provides a leaner option, while chicken thighs have more flavour and moisture, making them great for slow cookers.
If using chicken thighs, you can remove the skin but leave the bones in. Or use boneless skinless thighs if available. Whatever cut you choose, the important thing is to make sure it is fully cooked before serving.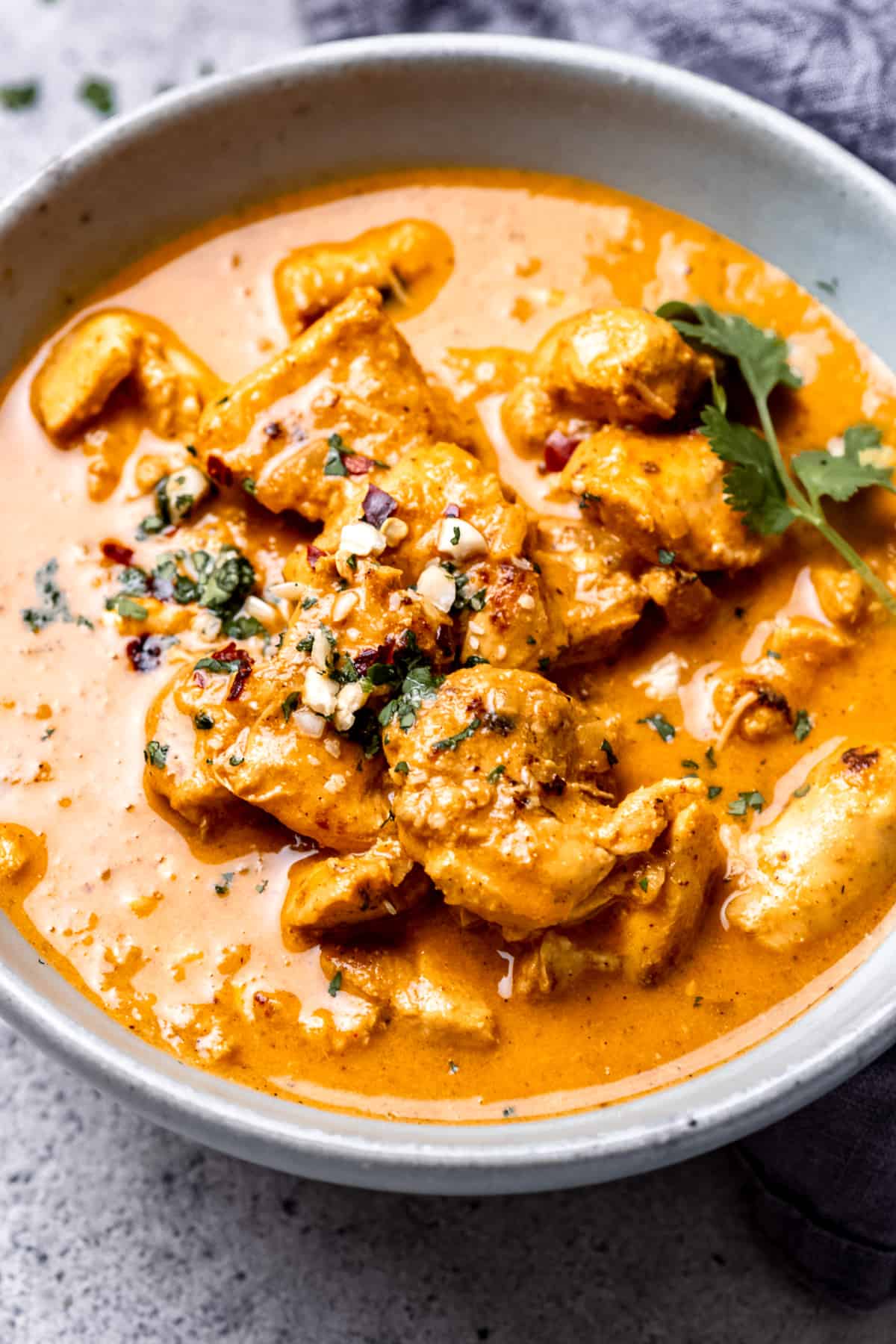 🍯 Storage
Fridge (3 days)- let the curry cool at room temperature before placing it in a container with a tight-fitting lid.
Freezer (3 months)- place the chicken curry in a freezer safe container for freezer bag and freeze for up to 3 months.

Reheating- thaw in the fridge overnight before reheating in a pan on the stove until the curry is piping hot. *You can also reheat it in the microwave but use a low setting as aggressive microwaving can make chicken rubbery.
💡 Tips for making the absolute best chicken korma
Toast the spices: In a dry frying pan over medium heat for a minute or two until they start to smell fragrant. This will enhance their flavor and add depth to the dish.
Marinate the chicken: Marinating the chicken in yogurt and spices for at least 30 minutes before cooking. This will help the chicken absorb more flavour and stay tender.
Brown the chicken: Before adding it to the slow cooker helps to add colour and depth of flavour to the dish.
Cook on low heat: This helps to develop the flavours and ensures that the chicken stays tender and juicy.
❓FAQ
Is Korma spicy?
The level of spiciness in Chicken Korma can vary, but it is generally considered to be a mild to medium-spiced dish. You can adjust the level of spiciness to your personal preference by using more or less of the spices.
What can I serve with Chicken Korma?
It's usually served with rice or naan bread. You can also serve it with other Indian breads, such as roti or paratha.
Can I make Chicken curry in a pressure cooker?
Absolutely! Simply follow the steps for making Chicken Korma, and cook for about 15 minutes in the pressure cooker.
Is Korma a healthy curry?
Chicken Korma can be considered a healthy dish as it is made with lean protein (chicken) and spices that are known to have health benefits. However, the addition of coconut milk and yogurt can add a significant amount of fat to the dish if you don't use fat-free.
If you tried this Recipe or any other recipe on my website, please let me know in the comments below. I love hearing from you. Also, please leave a star rating whilst you're there!
You can also follow along on Pinterest, Facebook, and Instagram and join our private Facebook Group Facebook group to share more recipe ideas and all your photos!
Slow Cooker Chicken Korma Recipe
Slow cooker chicken korma is an easy mild curry that makes a great weeknight dinner. Make the most of your spice cabinet by making your own korma spice blend and let the slow cooker do the work.
Print
Pin
Rate
Ingredients
1

kg

(

2

pounds

)

chicken thighs

,

boneless, skinless, cut into chunks

1

(

1

)

medium yellow onion

,

chopped

4-6

cloves

(

4-6

cloves

)

garlic

,

minced

2

inch

(

2

inch

)

piece ginger

,

minced
For the marinade
120

ml

(

4

floz

)

Greek yogurt

,

regular or fat-free

1

teaspoon

(

1

teaspoon

)

garam masala

½

teaspoon

(

½

teaspoon

)

smoked paprika

½

teaspoon

(

½

teaspoon

)

cumin

½

teaspoon

(

½

teaspoon

)

ground coriander

½

teaspoon

(

½

teaspoon

)

curry powder

,

mild or medium

¼

teaspoon

(

¼

teaspoon

)

turmeric

1

teaspoon

(

1

teaspoon

)

chilli flakes

zest of 1 lemon

salt

,

to taste
For the sauce
1

(

1

)

can coconut milk

,

regular or low fat

4

tablespoons

(

4

tablespoons

)

tomato purée (tomato paste)
Instructions
Mix the yogurt with the spices and lemon zest. Place the yogurt mix in a large bowl or a ziplock bag and add in the chicken. Rub the marinade into the chicken and leave for 30 minutes at room temperature or in the fridge overnight.

If your slow cooker has a searing setting or can go on the hob, then heat it over medium heat and add in a tablespoon of olive oil. Otherwise, heat a tablespoon of olive oil in a skillet. Remove the chicken from the marinade and brown the chicken on all sides.

Once the chicken is browned remove it from the pan and set aside.

Heat a little more oil in the skillet or the slow cooker. Add in the onion, ginger, and garlic. Gently fry for about 3-5 minutes until the onions are soft and translucent and the garlic is fragrant.

Place the browned chicken, sautéed garlic, and onions in the slow cooker and add any Greek yogurt mix left in the bowl, along with the tomato paste, and coconut milk.

Cook on high for 3 hours or low for 6
Notes
You can use chicken breast for this recipe if you prefer.
Korma is generally a mild curry. To add extra spice sprinkle in some extra chilli flakes or a pinch of chilli powder.
To thicken the sauce more, remove the lid of the slow cooker for the last 30 minutes of cooking time.
Nutrition
Calories:
733
kcal
|
Carbohydrates:
12
g
|
Protein:
40
g
|
Fat:
60
g
|
Saturated Fat:
31
g
|
Polyunsaturated Fat:
8
g
|
Monounsaturated Fat:
16
g
|
Trans Fat:
0.2
g
|
Cholesterol:
210
mg
|
Sodium:
199
mg
|
Potassium:
817
mg
|
Fiber:
3
g
|
Sugar:
5
g
|
Vitamin A:
449
IU
|
Vitamin C:
6
mg
|
Calcium:
81
mg
|
Iron:
4
mg