Honey garlic roast pork belly slices are the ultimate quick and easy family dinner. Better than takeout and much cheaper, these pork belly slices are finished with a sticky honey garlic sauce everyone loves!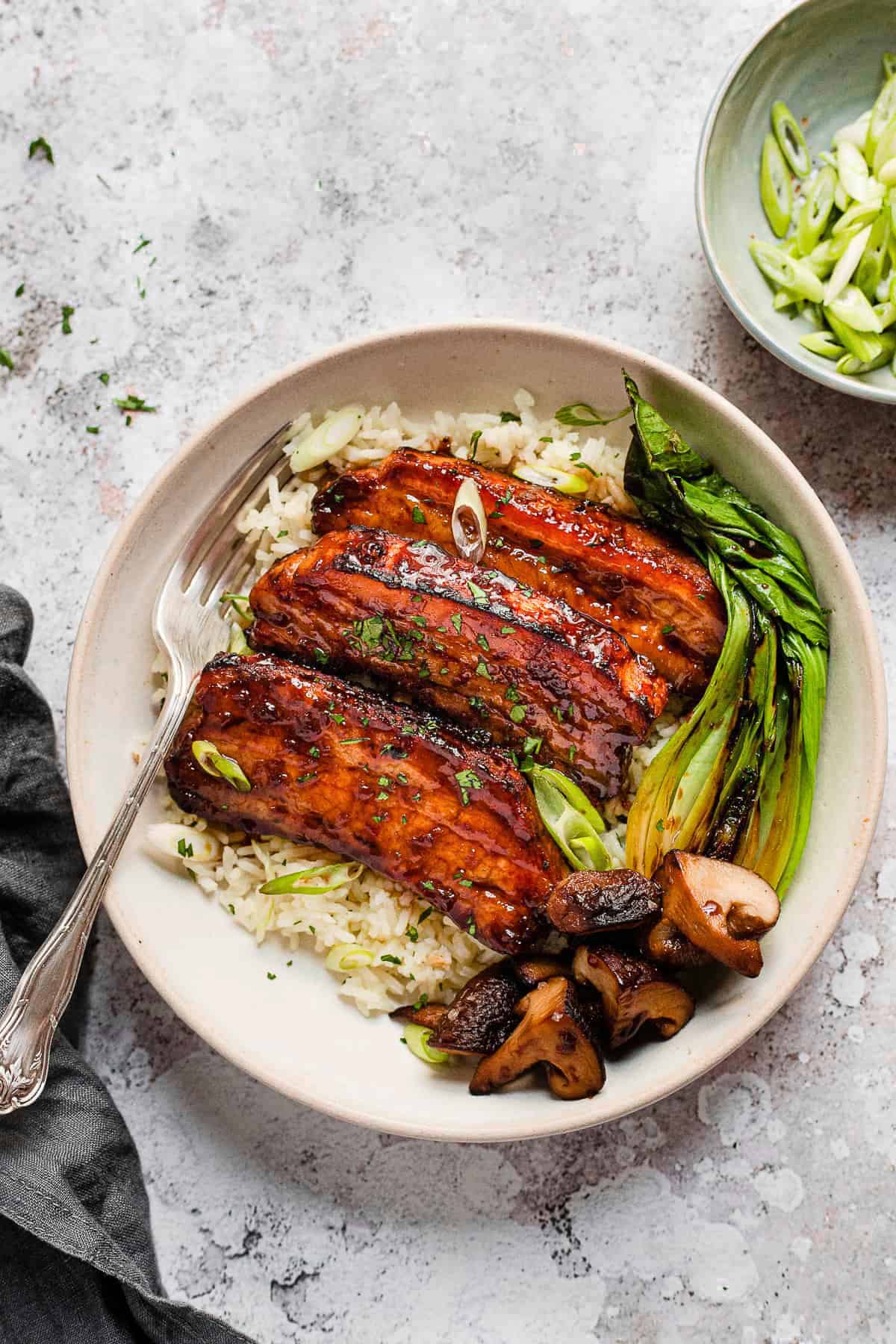 This pork belly recipe is the most popular on the website, and it's easy to see why. Everyone loves quick and easy dinner recipes with bold flavours! It's a similar recipe to these brown sugar pork chops, but a little more of a take-away-inspired recipe. This quick pork recipe also features in some of our weekly meal plans, that you'll definitely want to check out.
For more Asian-inspired recipes, you may want to try my sweet n sour chicken recipe or this crispy honey chilli chicken. They're both fantastic!
And if you're smart and make a double batch of the honey garlic sauce, it's perfect for using as a stir fry sauce for this beef stir fry.
⭐️ Why this pork belly recipe is a must-make!
Quick and easy to make: It only takes 30 minutes to make this recipe, which includes a homemade honey glaze.
Unmatched homemade flavour: The rich, deep flavours of homemade honey garlic glaze offer a far superior taste that can't be found in store-bought versions, elevating your home cooking. *It can also be used in the glaze for slow cooker honey garlic chicken, so feel free to make a double batch of sauce and save some.
Budget-friendly family meal: Pork belly is an affordable and versatile meat that pairs incredibly well with great flavours, especially with our rich honey garlic sauce.
🧾 Ingredients you need
This is a brief overview of the ingredients you need to make this recipe and a few notes about them if required.
The exact quantities can be found in the recipe card below.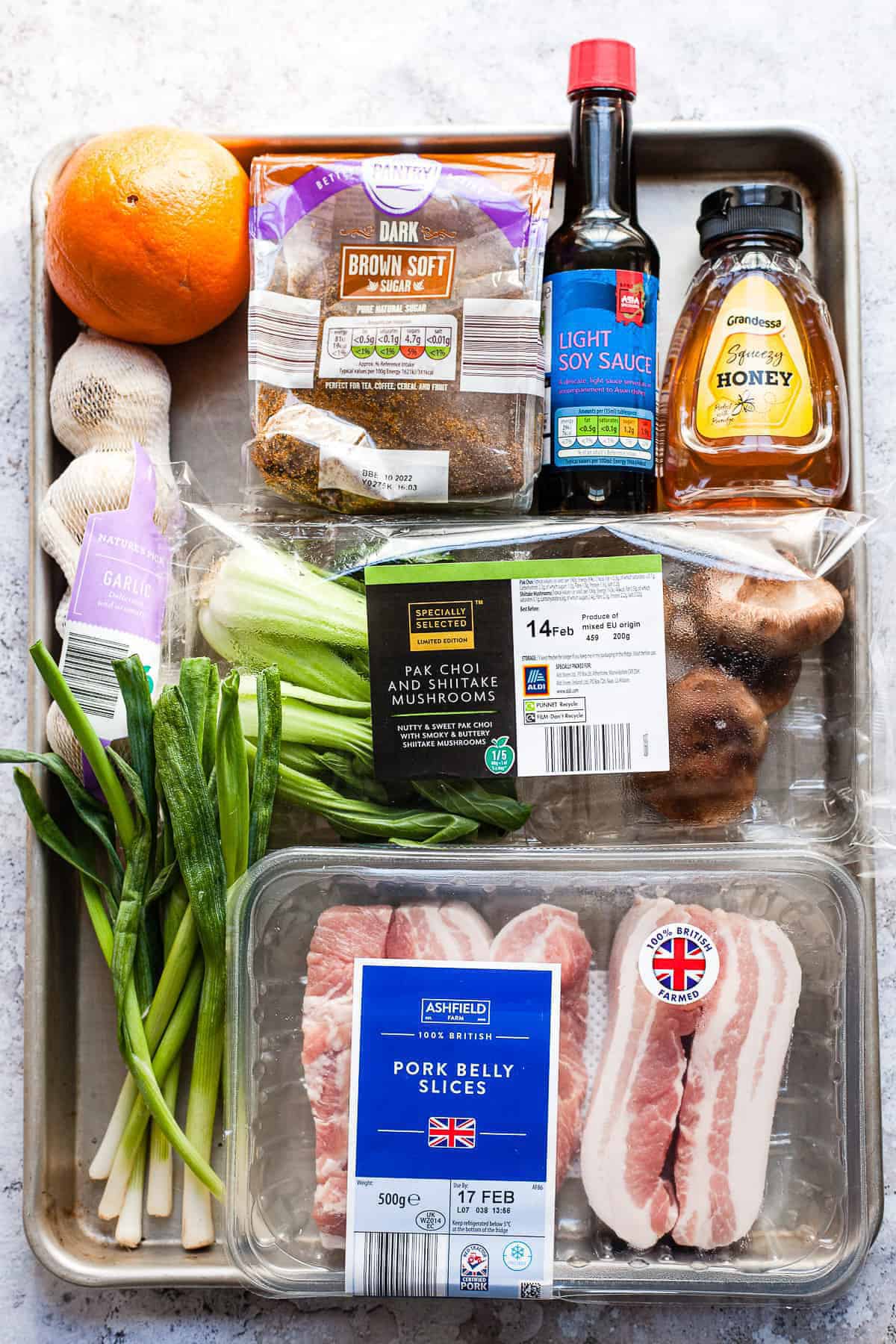 Pork Belly Slices: The main ingredient, providing rich flavour and a tender texture when cooked properly.
Sea Salt: Enhances the natural flavours of the pork and helps in the caramelization process during cooking.
For the Sticky Honey Garlic Sauce:
Light Soy Sauce: Adds umami and a salty depth to the sauce, balancing the sweetness.
Orange Juice: Introduces a citrusy tang and natural sweetness, complementing the richness of the pork.
Honey: Contributes to the sticky texture and sweet flavour of the sauce.
Brown Sugar: Adds sweetness and helps create a glaze-like consistency when heated.
Cider Vinegar: Provides acidity to balance the sweetness and adds a subtle fruity note.
Garlic, Minced: Infuses a pungent, aromatic flavour essential to many savoury dishes, especially in Asian cuisine. *You can use garlic powder or granules in a pinch, but it won't have the same depth of flavour.
👩🏻‍🍳 Honey garlic pork belly slices in 3 easy steps
Preparing the Pork Belly

Preheat and Prep: Preheat your oven. Line a roasting tray or baking sheet with aluminium foil for easy cleanup.
Score the Fat: Place the pork belly slices fat side up. Use a sharp knife to score the fat, aiding in rendering and ensuring crispiness.
Seasoning: Season lightly with sea salt, mindful of the natural saltiness of pork belly and the soy sauce in the sauce.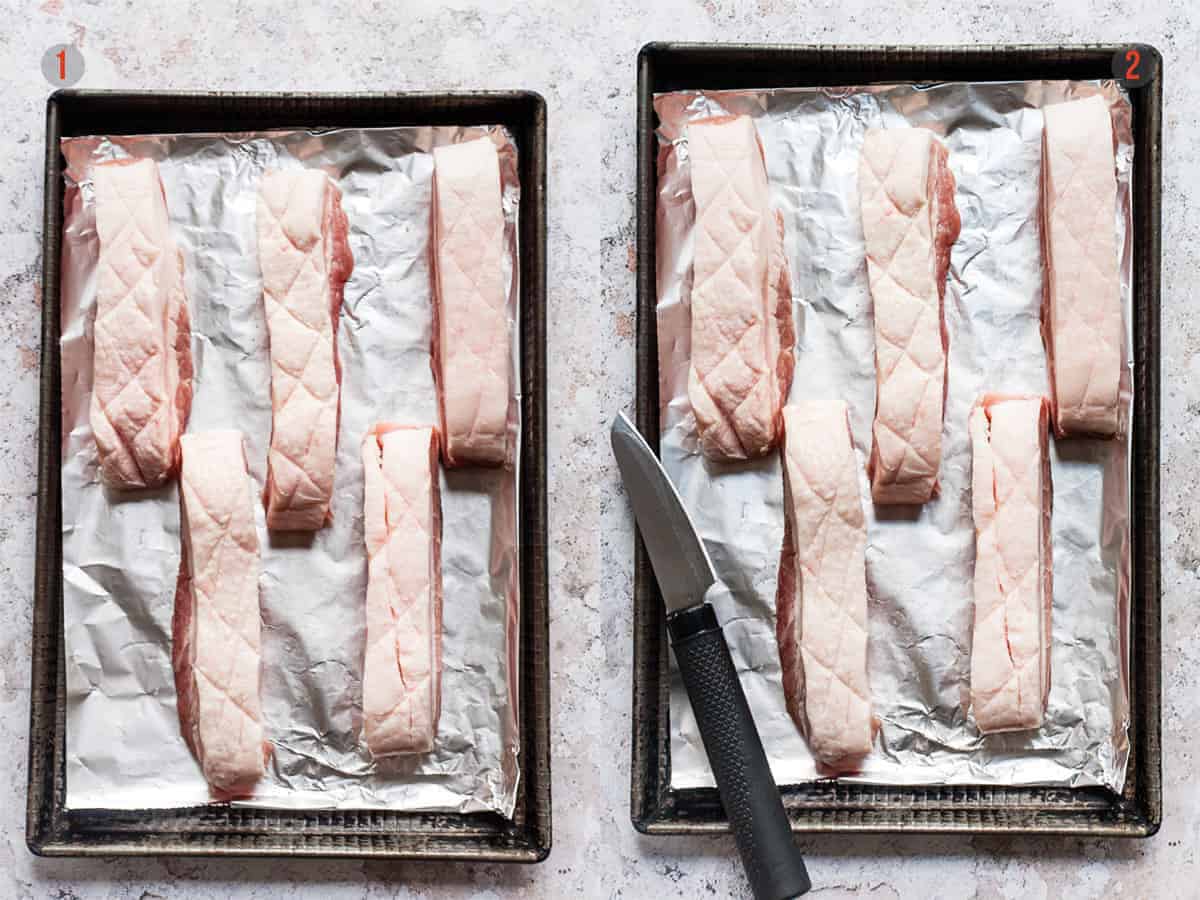 Cooking to Perfection

Initial Roasting: Lay the pork belly slices in a single layer on their sides to brown evenly. This method ensures an even cooking and texture.
Final Crisp: After the initial roasting, stand the slices against each other and switch to a broil setting to achieve that perfect crackling.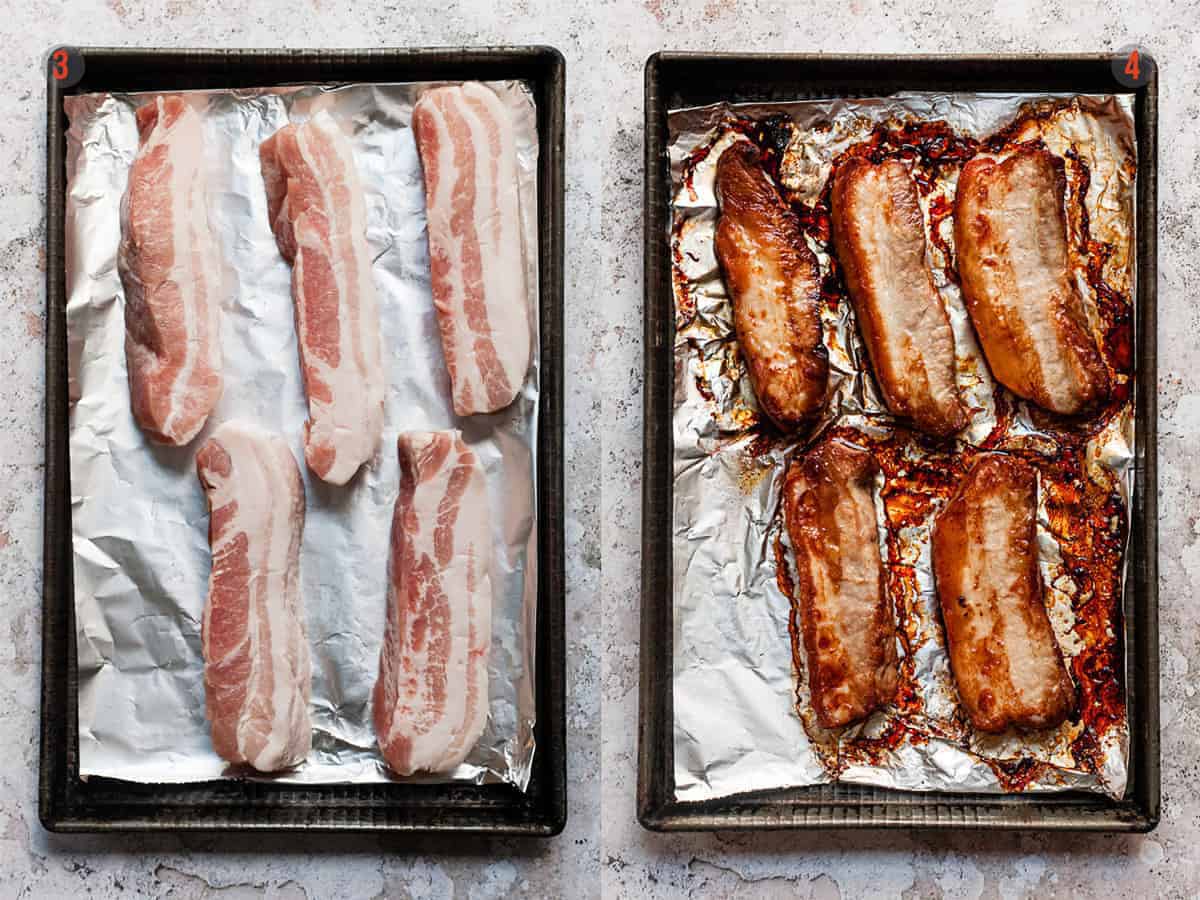 Mastering the Honey Garlic Sauce

Simple Simmer: Combine all sauce ingredients in a saucepan and bring to a boil. Simmer until it reaches a honey-like consistency.
Finishing Touch: Drizzle the sauce over the pork belly after it's out of the oven to prevent burning due to the sugar content.
💡 Chef's guide: pro tips for the best honey garlic pork belly
Fixing Glaze Consistency:

If Too Thick: Thin out the glaze by adding a small amount of water or extra citrus juice, stirring well until the desired consistency is reached.
If Too Runny: Simmer the glaze on low heat, allowing it to reduce and thicken.

Ensuring Crispy Pork Belly:

Not Crisping Up: Increase the oven temperature for the last few minutes of cooking or use the broiler setting, watching closely to avoid burning.
Pre-Cook Drying: Pat the pork belly dry before cooking and season well to help the skin crisp up in the cooking process.
📖 Variations and Substitutions
While having a "tried and true" go-to recipe is comforting, eating the same thing can get monotonous. I've listed some easy variations below to help you mix things up without the learning curve of an entirely new dish. This way, you can refresh your favourite meal whenever you need a change.
Meat Substitutes: Use chicken thighs for a leaner option or beef strips for a different flavour.
Sauce Variations:

Substitute honey with maple syrup.
Use lime juice instead of orange juice for tanginess.
Replace soy sauce with tamari for a gluten-free option.
Add minced ginger for extra zing.

Spicy Addition: Include chilli flakes or hot sauce for heat.
🍯 Storing and reheating leftovers
In the Fridge: Place in an airtight container and refrigerate for 3-4 days. The airtight container keeps the pork belly moist and prevents absorbing other flavours from the fridge.
In the Freezer: Freeze in airtight containers or heavy-duty freezer bags for up to 2 months. Freezing is ideal for more extended storage and preserves the quality.
Reheating Leftovers:

Oven Method: Reheat in the oven at 350°F (175°C) until warmed through. This method helps maintain the texture and prevents drying out.
Stovetop Method: Warm gently in a skillet over medium heat. The skillet method allows for crisping up the edges if desired.
Microwave Method: Use a microwave-safe dish and cover loosely. Heat in short intervals, stirring in between. This method is quick but will slightly alter the texture.
❓Recipe FAQ's
Do you roast pork belly fat side up or down?
Fat side up! This way, the drippings will coat the meat as the fat renders and protect the surface from drying out. That creates meat that is ultra moist and flavourful.
Why is my pork belly not crispy in the oven?
The skin wasn't dry enough. Make sure to pat the pork completely dry before roasting, as excess moisture will stop it from crisping up. It's essential to score the skin if you want it really crisp. You'll need a sharp paring knife for this.
Do you rinse pork belly before cooking?
Washing any raw meat before cooking is not recommended. Bacteria in raw meat and poultry juices can be spread to other foods, utensils and surfaces. We're also trying to get these pork belly slices dry so that we achieve great crackling!
How do you know when pork belly is done?
If cooking pork belly without a thermometer, these are the signs to look out for: the pork will be ready when the juices run clear, and the flesh is tender when pierced with a knife. If the skin hasn't crisped up, try putting it under a hot grill for a few minutes – but remember to keep an eye on it to avoid burning. When using a thermometer, you're looking for a temperature of 74ºC or 165ºF.
More Asian-Inspired Dinners
Looking for other recipes like this? Try these:
Enjoyed this recipe? Share your thoughts and star rating in the comments – I'd love to hear from you!
For more recipe ideas, follow us on Pinterest, Facebook, and Instagram, and join our exclusive Facebook group.
For meal planning assistance, check out our weekly Aldi-only meal plans, free for subscribers. Or, learn to craft your own plans with our quick meal planning course featuring these recipes.
Craving more comfort food? Visit our sister site, Salted Mint, for easy, delicious recipes with everyday ingredients.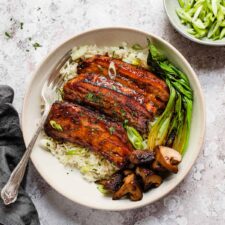 Honey Garlic Roast Pork Belly Slices Recipe
This easy crispy but still tender Asian style pork belly will have you skipping takeaway. Crispy crackling, tender belly meat and a sweet and sour sticky glaze.
Print
Pin
Rate
Ingredients
500

g

(

1

lb

)

pork belly slices

sea salt
For the sticky honey garlic sauce
115

ml

(

3 ⅞

floz

)

light soy sauce

juice of 1 orange

1

tablespoon

(

1

tablespoon

)

honey

2

tablespoons

(

2

tablespoons

)

brown sugar

1

tablespoon

(

1

tablespoon

)

cider vinegar

1

clove

(

1

clove

)

garlic

,

minced
Instructions
Preparing the Pork Belly
Preheat and Prep: Set your oven to 170ºC (fan) or 180ºC (conventional). Line a roasting tray with aluminum foil for hassle-free cleaning.

Score the Fat: Position pork belly slices with the fat side up. Gently score the fat using a sharp knife to enhance fat rendering and crispiness.

Seasoning: Lightly sprinkle sea salt on the pork belly. Remember, pork belly is naturally salty, so a little goes a long way.
Cooking Perfect Pork Belly
Initial Roasting: Once you've scored the skin, place the pork belly slices on their sides to evenly brown and cook. Roast in the preheated oven for about 12 minutes, then turn the slices and continue roasting for another 10-12 minutes, until they are golden and fully cooked.

Final Crisp: After roasting, lean the slices against each other for stability. Switch to the grill (broiler) setting and broil until the crackling is bubbly and crispy, approximately 5 minutes.
Making the Honey Garlic Sauce/Glaze
Simmer: Add all sauce ingredients to a saucepan, bringing them to a boil. Reduce to a simmer and cook until the sauce thickens to a coating consistency, which should take about 2-3 minutes. If you prefer a thicker glaze consistency continue to simmer the sauce for another 1-2 minutes.

Finishing Touch: After removing the pork belly from the oven, drizzle it with the prepared sauce/ glaze. This ensures the sauce doesn't burn in the oven's high heat.
Notes
Watch the Pork Belly Closely: Keep a close eye on the pork belly slices during broiling. They can quickly go from crispy and golden to burnt. Remove from the oven once the crackling is golden, and then drizzle with the sauce. Drizzle post-oven to avoid burning the sugary sauce.
Checking Sauce Thickness: To assess the sauce's consistency, take the pan off the heat and dip a metal spoon. The sauce should coat the spoon well, similar to honey consistency. Metal spoons work best for this test, as they clearly indicate the sauce's thickness.
Adjusting Over-Reduced Sauce: If the sauce reduces too much, gently add boiling water, a teaspoon at a time, until it reaches the desired honey-like consistency.
Nutrition
Serving:
4
g
|
Calories:
706
kcal
|
Carbohydrates:
12
g
|
Protein:
15
g
|
Fat:
66
g
|
Saturated Fat:
24
g
|
Polyunsaturated Fat:
7
g
|
Monounsaturated Fat:
31
g
|
Cholesterol:
90
mg
|
Sodium:
1617
mg
|
Potassium:
308
mg
|
Fiber:
0.3
g
|
Sugar:
11
g
|
Vitamin A:
13
IU
|
Vitamin C:
1
mg
|
Calcium:
19
mg
|
Iron:
1
mg