Indulge in this irresistibly cheesy gnocchi bake, a one-pan marvel that's perfect for a weeknight dinner or entertaining guests. With its homemade creamy tomato sauce and a touch of smoky flavour, you can create this ultimate comfort food in just 30 minutes.
If you love my gnocchi recipes you'll definitely love this chorizo gnocchi or this artichoke gnocchi. You can find more vegetarian versions like this broccoli gnocchi or this butternut squash gnocchi.
Jump to:
⭐️ Why You'll Love This Baked Gnocchi
One-Skillet Dish: Minimal cleanup required!
Quick to Make: Just 30 minutes from start to finish.
Rich Flavour Profile: Infused with garlic and a subtle smokiness.
Versatile: Perfect for both casual family meals and special occasions.
No Pre-Boiling Required: The gnocchi cooks directly in the tomato sauce, absorbing all the rich flavours and cutting down your cooking time.
🧾 Key Ingredients
Gnocchi: The star ingredient, provides the hearty base.
Tomato Sauce: Gives the dish its Italian character.
Ricotta cheese: Mixes into the tomato sauce for the perfect creamy consistency.
Mozzarella Cheese: Adds a cheesy layer that melts to perfection.
Garlic: Infuses the dish with aromatic depth.
Seasonings like Smoked Paprika and Parsley: Elevate the dish to restaurant quality.
Optional Add-Ins: Corn, peas, bell peppers, or different types of meat to make it your own.
See recipe card for quantities.
📖 Substitutions & Variations
Use mascarpone or cream cheese instead of ricotta.
Add in some Parmesan Cheese for a more mature flavour.
Add fresh basil for an aromatic lift.
👩🏻‍🍳 Making Baked Gnocchi in 4 Easy Steps
Sauteeing the Onion and Garlic
Begin by preheating your oven to 375°F (190°C).
Heat a tablespoon of Olive Oil in a large, oven-proof saucepan over medium heat.

Pro Tip: Choose a saucepan that's big enough to fit all the ingredients, as this will be your one-pot wonder.

Sautee Onion and Garlic in the oil until they become translucent and aromatic.
Building the Tomato Base
Add tomato passata to the sautéed onion and garlic.

Why Passata?: Tomato passata gives the dish a smoother texture, and it readily absorbs all the flavours we're infusing into it.
Incorporating Spinach and Ricotta
Stir in spinach and ricotta cheese into the tomato base.

Flavour Fusion: The ricotta adds a creamy texture while the spinach provides a burst of colour and nutrients.
Adding the Gnocchi
Incorporate the gnocchi and stir to combine.

Time-Saving Hack: No need to pre-boil the gnocchi; it will cook perfectly in the sauce, absorbing all the delicious flavours.
Effortless Mixing: Make sure the gnocchi and spinach are well-coated with the tomato and ricotta sauce for even flavour.
Final Touches Before Baking
Top the mixture with mozzarella cheese.

Special Note: For a golden, crispy top, you can broil the dish for the last 3-5 minutes of baking.
Baking Gnocchi
Bake for 20-25 minutes, or until the cheese is melted and bubbly and the gnocchi is cooked through.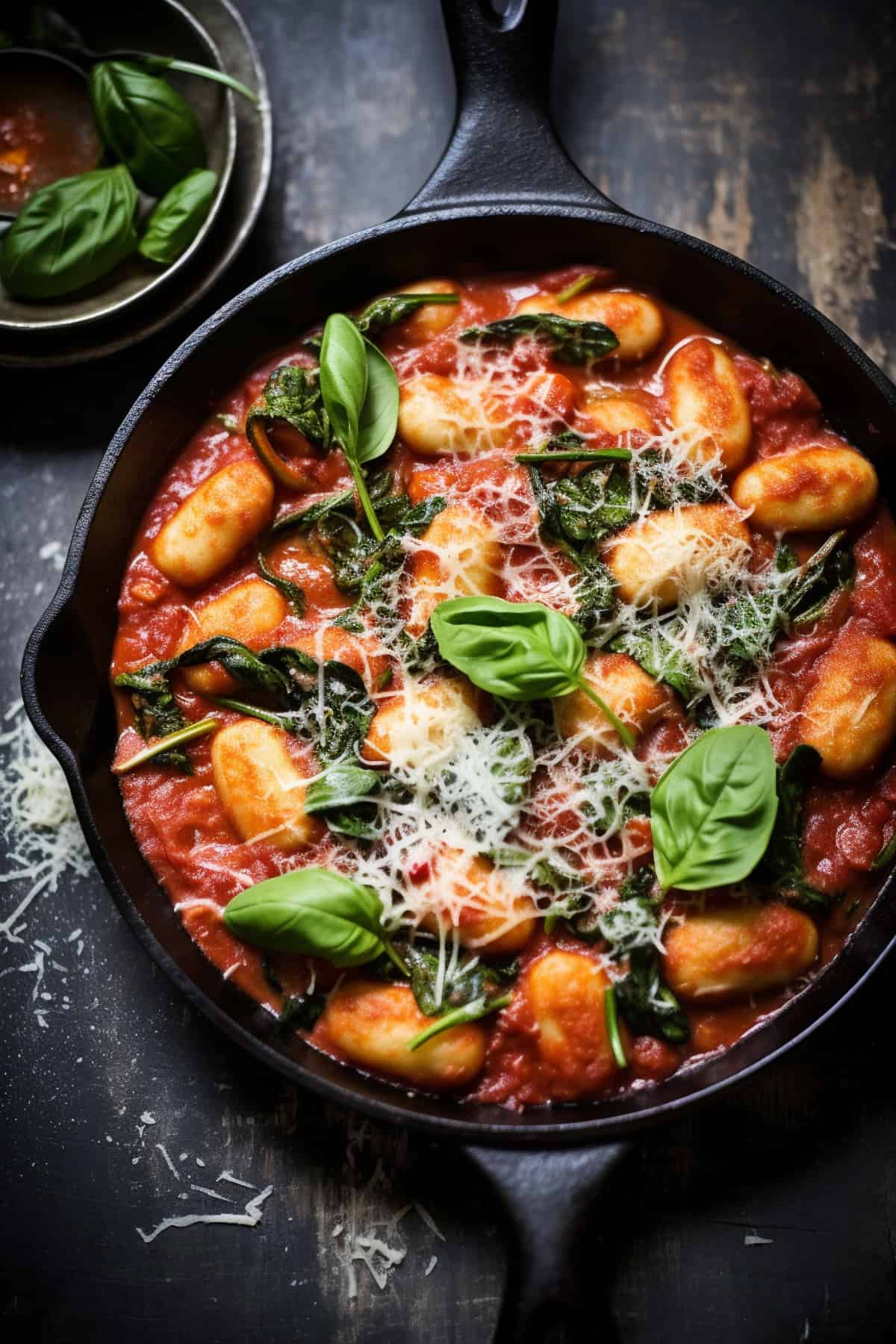 🍯 Storage
Fridge

Store in an airtight container for up to 3-4 days.

Freezer

Freezing is not recommended as it affects the texture.

Reheat

Reheat in the oven at 350°F until warmed through.
💡 Top Tips for Making the Perfect Gnocchi Bake
Quality Ingredients Matter: While this is a straightforward recipe, using high-quality ingredients can elevate the dish. Opt for high-quality passata, fresh spinach, and artisanal ricotta for the best flavour and texture.

Why It Works: Quality ingredients bring out the best flavours and can make a noticeable difference in the end result.

Gnocchi Test: If you're uncertain whether the gnocchi are fully cooked, you can take one out and taste it. It should be soft but still have a bit of a bite, similar to al dente pasta.

Safety First: Remember to use a fork or spoon to remove one piece, allowing it to cool for a few seconds before tasting.

Customize Your Cheese: While mozzarella is classic, don't hesitate to mix it with some Parmesan, Gruyère, or even smoked gouda for a unique flavour profile.

Get Creative: A blend of cheeses can add layers of flavour and texture to your Gnocchi Bake.

Stir Gently But Thoroughly: When mixing in the gnocchi and spinach, be gentle to avoid breaking the gnocchi. However, make sure to stir thoroughly to ensure that all the gnocchi pieces are coated with the sauce.

Perfect Balance: A gentle yet thorough stir ensures that each piece of gnocchi soaks up the flavours without compromising the dish's integrity.
❓FAQ
Can Cooked Gnocchi Be Frozen?
Yes, cooked gnocchi can be frozen, but it's best to do so in the sauce to maintain the texture and flavour. Store the baked gnocchi in an airtight container, separating layers with parchment paper to prevent sticking. Freeze for up to 2-3 months. To reheat, you can place the frozen gnocchi bake directly in the oven at a lower temperature, like 160°C, until warmed through.
How To Know When Gnocchi Is Cooked?
When gnocchi are cooked, they will generally float to the top of the sauce or water they are being cooked in. For this gnocchi bake recipe, you don't have to worry about this visual cue since the gnocchi will cook in the sauce in the oven. However, if you want to be extra sure, you can remove a piece and taste it. Properly cooked gnocchi should be soft but still have a slight bite, similar to "al dente" pasta.
Can I Bake Gnocchi Without Boiling First?
Absolutely! One of the perks of this Gnocchi Bake recipe is that you don't have to pre-boil the gnocchi. They cook directly in the sauce, soaking up all the flavors while saving you an extra step and pot to wash. It makes this dish even more convenient for a busy weeknight dinner.
Related
Looking for other recipes like this? Try these:
Meal Plans
Add this gnocchi to one of our weekly meal plans:
If you tried this Recipe or any other recipe on my website, please let me know in the comments below. I love hearing from you. Also, please leave a star rating whilst you're there!
You can also follow along on Pinterest, Facebook, and Instagram and join our private Facebook Group Facebook group to share more recipe ideas and all your photos!
Need help with meal planning? You can find our (Aldi ingredients only) weekly meal plans here! Sign up to receive them free every week or take our quick meal planning course and use all these recipes to create your own meal plans.
You can also find more comfort food recipes using everyday ingredients over on our sister site Salted Mint.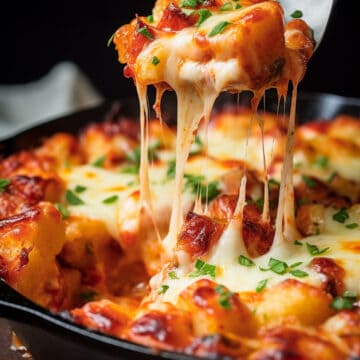 The Best And Easiest Gnocchi Bake
Enjoy a quick and satisfying meal with this Gnocchi Bake. A one-pan wonder with a creamy tomato-ricotta sauce and melted mozzarella, ready in just 40 minutes. Perfect for weeknights or special occasions!
Print
Pin
Rate
Ingredients
500

g

2 cups potato gnocchi

30

ml

2 tablespoons olive oil

1

medium onion

,

finely chopped

2

cloves

garlic

,

minced

500

g

2 cups passata

250

g

approx. 9 oz ricotta

3

sprigs rosemary

,

finely chopped

½

bag washed baby spinach

140

g

5 oz fresh mozzarella, sliced

200

g

2 cups Parmesan, grated (optional)
Instructions
Preheat the Oven
Preheat your oven to 200°C (approximately 390°F).
Prepare the Sauce
In a medium, oven-safe, hob-safe pan or dish, heat the olive oil over medium heat.

Sauté the finely chopped onion until it becomes soft and translucent, about 5 minutes.

Add the minced garlic and rosemary, continuing to cook until the garlic is soft.
Create the Creamy Tomato Base
Pour in the passata and bring the mixture to a gentle simmer.

Whisk in the ricotta until your sauce is smooth and creamy.

Season with salt and pepper to taste.
Assemble the Dish
Add the baby spinach and gnocchi to the pan, stirring to coat the gnocchi and wilt the spinach.

If using, grate the Parmesan cheese over the mixture.

Layer the sliced mozzarella evenly on top.
Bake to Perfection
Place the pan in the preheated oven and bake for about 25 minutes, or until the cheese is bubbling and turns golden.
Notes
This dish is excellent for leftovers and will keep in the fridge for up to 4 days. However, it doesn't freeze well due to the texture of cooked gnocchi.
If you prefer, you can substitute the rosemary with other herbs like basil or oregano for a different flavour profile.
For a protein boost, consider adding some cooked chicken or sausage into the mix.
Enjoy your delicious Gnocchi Bake!
Nutrition
Calories:
489
kcal
|
Carbohydrates:
42
g
|
Protein:
27
g
|
Fat:
25
g
|
Saturated Fat:
13
g
|
Polyunsaturated Fat:
1
g
|
Monounsaturated Fat:
9
g
|
Cholesterol:
62
mg
|
Sodium:
1022
mg
|
Potassium:
489
mg
|
Fiber:
4
g
|
Sugar:
5
g
|
Vitamin A:
1037
IU
|
Vitamin C:
11
mg
|
Calcium:
637
mg
|
Iron:
5
mg