This hearty and cheesy one-pan chorizo gnocchi bake is an easy 30-minute dinner that is perfect comfort food. It's also a cheap family meal that everyone loves.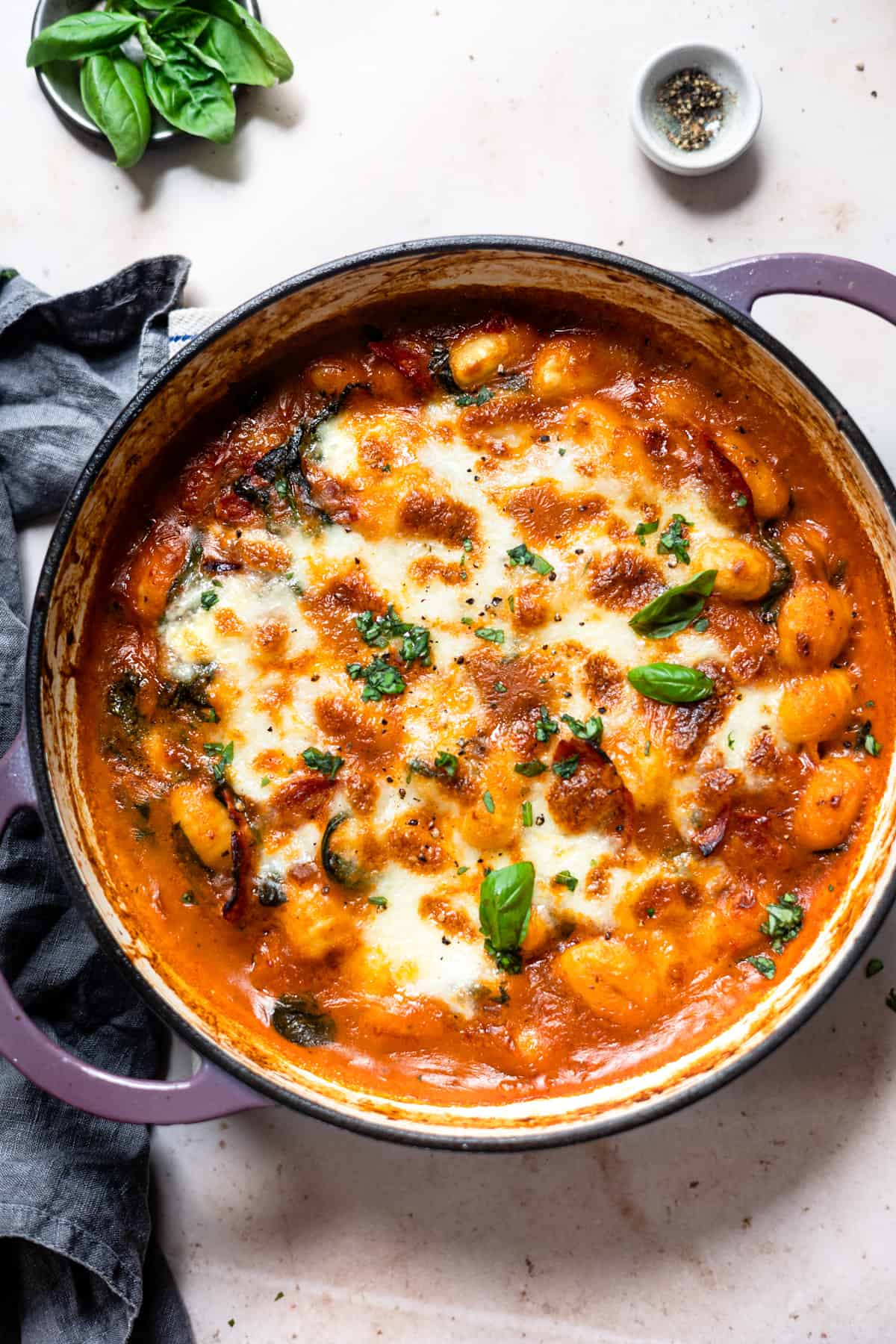 As far as quick and easy recipes go, gnocchi meals are one of the best! It's filling, affordable, and absolutely delicious! Vegetarian versions like this broccoli gnocchi, baked spinach, and tomato gnocchi or this spinach and artichoke gnocchi are always popular.
And my favourite- butternut squash gnocchi is an absolute dream dinner! If you're in a real pinch for time and money, you can just pan-fry gnocchi with some butter and dried herbs.
Chorizo gnocchi bake is an incredible combination of textures and flavours. The soft, pillowy gnocchi is perfectly complemented by the spicy and flavorful chorizo sausage and the creamy mozzarella. So, whether you're having a cozy night in or entertaining friends, chorizo gnocchi is perfect!
Jump to:
⭐️ Why You'll Love This Recipe
This gnocchi bake only takes 30 minutes from start to finish.
The whole recipe gets made in one pan making prep and clean-up so easy!
You need 9 simple ingredients, making this recipe really cheap to make and it can feed a crowd.
Tomatoes, mozzarella, and basil are classic flavours that make this gnocchi anything but boring!
🧾 Key gnocchi ingredients
Just a few really cheap and basic ingredients are all you need to get dinner on the table in 30 minutes.
gnocchi- either shelf-stable or from the fridge section. Shelf-stable is recommended because a package will last months.
chorizo- I've used slices in this recipe because they're cheaper than buying a large ring and quick to cook and get crispy.
sauce- this recipe makes the most of a jar of pesto or ready-made sauce, but you can easily use a tin of chopped tomatoes or passata to make a smooth sauce.
fresh mozzarella- is a very soft and creamy cheese that has a mild but slightly acidic flavour and it's perfect for topping any pasta or gnocchi bake because it melts really well.
lemon- the lemon isn't required but it really helps to cut the fat of the chorizo and compliment the peppery flavour of the basil.
See recipe card for quantities.
📖 Substitutions & Variations
Because this simple gnocchi recipe only requires 9 ingredients there aren't too many substitutions that you'll need to make, but you can make some variation.
cheese - instead of the soft mozzarella you can use grated cheddar or regular grated mozzarella.
sauce - this gnocchi is simmered in a tomato sauce, but you can swirl in some cream to the tomato sauce to give you a rose cream sauce.
Vegetarian - skip the chorizo and keep this recipe vegetarian if you're really watching your budget or if you want to skip the meat.
Seasoning a recipe
I never specify the amount of salt in a recipe because it's completely subjective to your personal taste and possible health requirements, but here are some general guidelines.
Start with a small amount of seasoning and taste as you go. It's always easier to add more seasoning than it is to try to fix a dish that is overly seasoned. *If you are accidentally heavy-handed with the salt, try adding some lemon juice to balance it out.
Balance the flavours. A good dish will have a balance of sweet, sour, salty, and bitter flavours.
Be mindful of the proportions of the ingredients. If a dish has a lot of strong-flavoured ingredients, you may need to use less seasoning.
Consider the cooking method. Different cooking methods can affect how much seasoning a dish needs. For example, grilling or roasting tends to bring out the natural flavours of ingredients, so you may need to use less seasoning and a moist cooking method (like this gnocchi recipe) will require more seasoning.
👩🏻‍🍳 Step By Step
Step 1 & 2 Cooking the chorizo
Start with an oven-safe pan and add a drop of olive oil. Once the oil is hot, add the chopped chorizo to the pan and cook for about 10 minutes. Once the chorizo is crispy, remove it from the pan and set it aside.
Add the diced onions and garlic to the pan and saute until they're tender and fragrant. *The onions will turn a deep golden brown from some of the fat from the chorizo left in the pan.
*Drain the chorizo on a paper towel to help remove some excess fat.
3 & 4 Making the sauce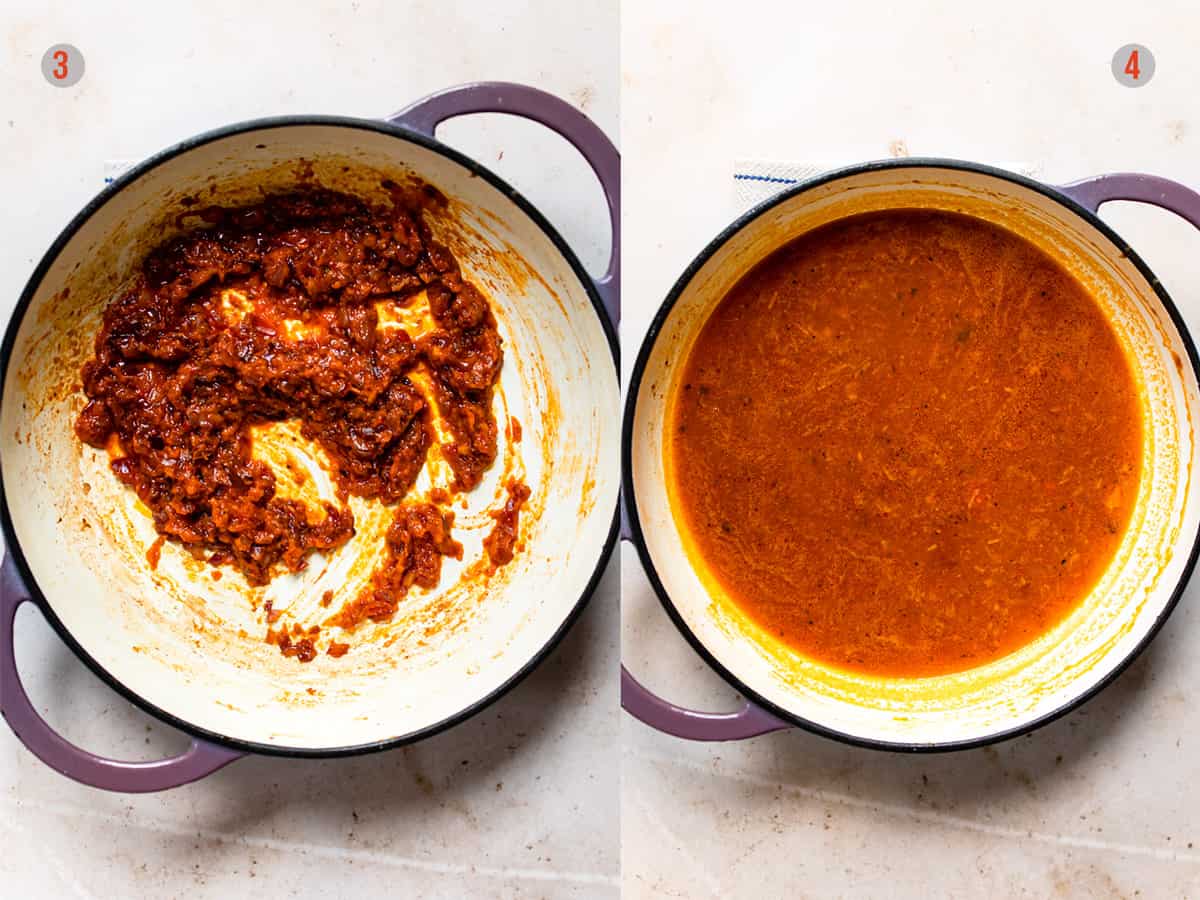 Add the sauce to the pan and stir to coat the onions. *At this stage the stock will be a thick paste.
Pour the chicken stock into the pan and whisk until you have a thin tomato sauce.
*The gnocchi cooks directly in the sauce so it needs to be quite thin in order for the gnocchi to absorb the liquid.
Step 5 & 6 cooking the gnocchi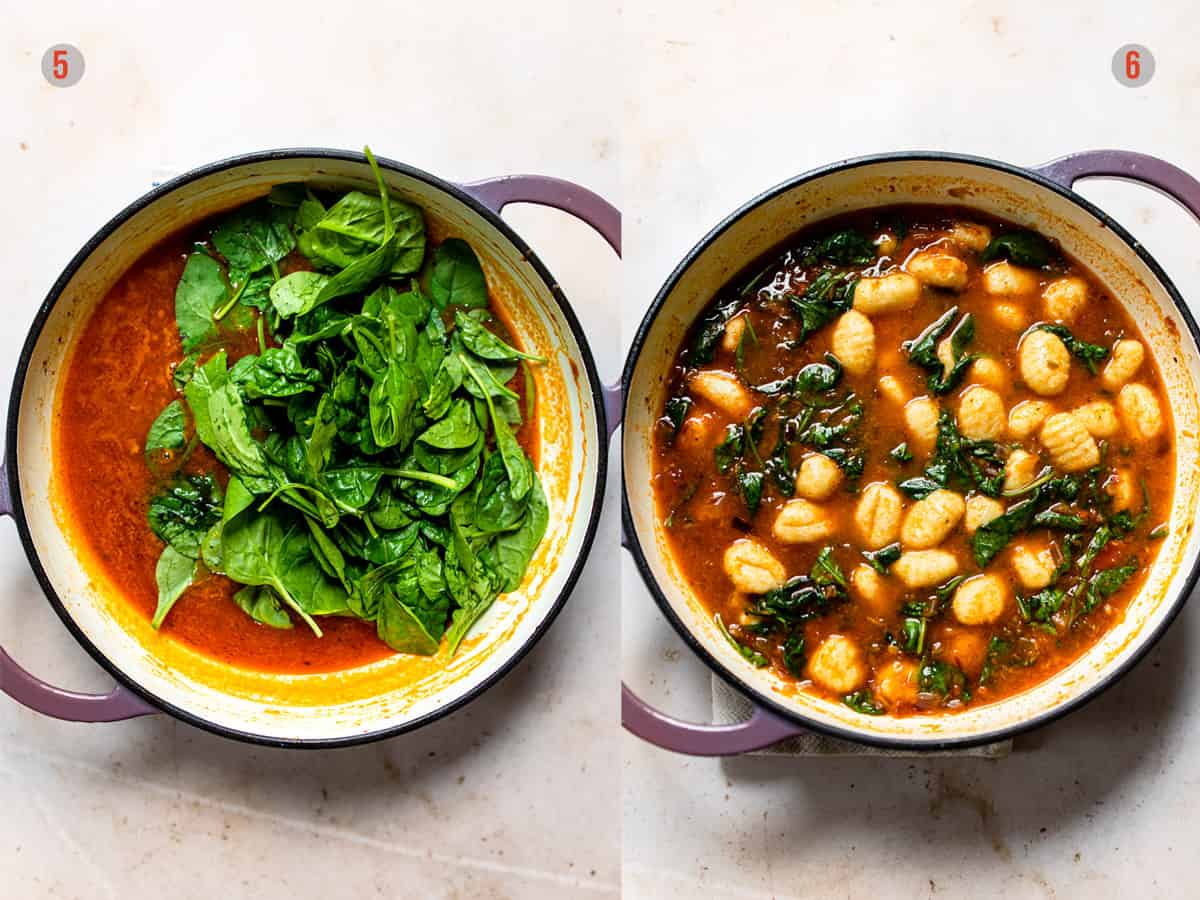 Once the sauce has come together, stir in the spinach and then add the gnocchi.
Let the gnocchi simmer in the sauce for about 3 minutes. That's how long gnocchi takes to cook, ie no time at all!
⭐️ Chef's Pro Tips ⭐️
The gnocchi will absorb lots of the liquid in the pan, the simmering process will evaporate some of it and the potato starch from the gnocchi will mix into the sauce. All of these things lead to the sauce becoming nice and thick!
7 & 8 Baking the gnocchi
Stir the chorizo back into the pan and drain the ball of fresh mozzarella from the liquid.
Tear the cheese into chunks and divide evenly over the gnocchi. * The sauce will continue to thicken as the cheese melts as it bakes in the oven. Bake for about 15 minutes until the cheese is golden and bubbling. Top with some basil leaves and serve.
🔪 What is gnocchi
Gnocchi are small dumplings that are made from potatoes, flour, and egg. They're similar in texture to pasta but have a softer, more delicate taste. Gnocchi can be served with a variety of sauces, including tomato sauce, pesto, and cream-based sauces, or they can be simply pan-fried until crispy.
🥫 Gnocchi Sauce
Gnocchi sauce is required to be thinner than pasta sauce because the dumplings are often cooked directly in the sauce. This makes meals much quicker and easier.
🍯 Storage
This chorizo gnocchi keeps well in the fridge for up to 3 days in an air-tight container.
To reheat, simply place in a microwave-safe bowl and heat until hot throughout.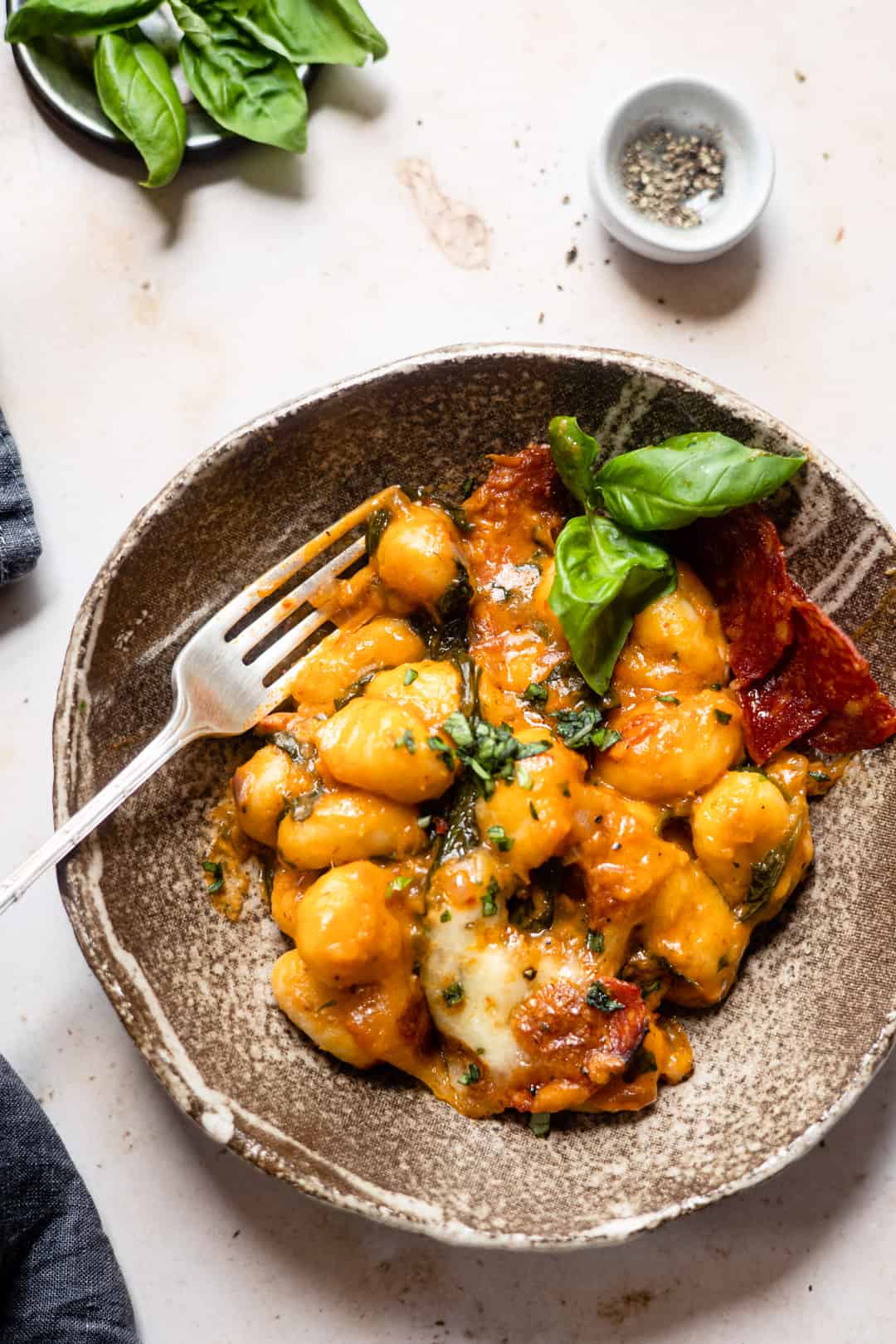 ❓FAQ
Can I us something else instead of chorizo?
Absolutely. You can use up any leftover roast chicken or ham that you may have. Proscuitto would also work really well here too.
Can this be made in advance?
Normally, I'm all about creating recipes that are super flexible, but this really is best when made and eaten fresh. So, no. It's not advised to make this in advance, sorry!
What kind of cheese can I use instead of mozzarella?
Anything that's really great for melting. So, something like a Gouda or Emmental can work, if that's what you have.
If you tried this Recipe or any other recipe on my website, please let me know in the comments below. I love hearing from you. Also, please leave a star rating whilst you're there!
You can also follow along on Pinterest, Facebook, and Instagram and join our private Facebook Group Facebook group to share more recipe ideas and all your photos!
Need help with meal planning? You can find our (Aldi ingredients only) weekly meal plans here! Sign up to receive them free every week or take our quick meal planning course and use all these recipes to create your own meal plans.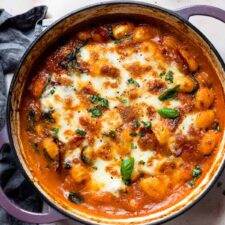 Chorizo Gnocchi with Mozzarella
This chorizo gnocchi is the perfect cheap and easy comfort food. Rich tomato sauce, mildly spicy chorizo, and pillowy soft gnocchi. All in 30 minutes. A quick and easy dinner that's budget-friendly and absolutely delicious. All ingredients from Aldi.
Print
Pin
Rate
Ingredients
2

tablespoons

(

2

tablespoons

)

olive oil

80

g

(

2 ⅚

oz

)

chorizo slices

,

cut into strips

1

(

1

)

red onion

,

diced

4

cloves

(

4

cloves

)

garlic

,

minced

500

g

(

2

cups

)

bag gnocchi

90

g

(

3 ⅙

oz

)

½ jar tomato and roasted red pepper sauce

,

*See notes

350-400

ml

(

1 ⅖

cups

)

chicken broth made from a stock cube

150

g

(

4 ¾

cups

)

spinach

½

(

½

)

bunch basil

1

(

1

)

ball fresh mozzarella

1

(

1

)

lemon zest only
Instructions
Preheat the oven to 180ºC or 350ºF.

Heat the olive oil in the pan and place it over medium heat. Once the oil is hot, add in the slices of chorizo. Once the chorizo slices are crispy, remove them to a plate and set aside. Pour out all but 1 tablespoon of the chorizo fat.

To the remaining chorizo fat, add the diced onion and the minced garlic. Cook over medium heat until the onions are soft, fragrant and just starting to turn golden.

Add the tomato and red pepper sauce to the pan and stir into the onions and garlic really well. Make the chicken stock using the stock cube and dissolving in boiling water. Pour the stock into the pan and stir well. Bring to a gentle simmer for about 5 minutes until the sauce and stock are well incorporated.

Stir the spinach into the stock and remove the pan from the heat. The spinach will wilt naturally in the heat of the sauce. Add in the gnocchi and stir everything really well so that the gnocchi are well coated in sauce.

Add the chorizo back into the pan and mix it into the sauce and stir in the lemon zest and chopped basil. Tear the mozzarella into large chunks and place it on top of the gnocchi. Bake in the preheated oven for about 20 minutes, or until the mozzarella is golden, bubbling and melted.
Notes
Store any leftovers in the fridge for up to 3 days and reheat in the microwave at 30-second intervals.

If you're using chopped tomatoes or passata instead of a jar of sauce, add about 25ml less stock to make up for the passata being thinner.
Keep the measurements of chopped tomatoes or passata at 90g.
Nutrition
Calories:
234
kcal
|
Carbohydrates:
33
g
|
Protein:
7
g
|
Fat:
9
g
|
Saturated Fat:
2
g
|
Polyunsaturated Fat:
1
g
|
Monounsaturated Fat:
3
g
|
Cholesterol:
8
mg
|
Sodium:
677
mg
|
Potassium:
221
mg
|
Fiber:
3
g
|
Sugar:
1
g
|
Vitamin A:
2395
IU
|
Vitamin C:
13
mg
|
Calcium:
54
mg
|
Iron:
4
mg