Welcome to budget meal plan 132! Our cosy 7-day plan has easy recipes that won't break the bank. We have a whole week of tasty family dinners lined up without the hefty price tag. And I'm making things even easier with a free shopping list to grab all you need in one go. Plus, I've thrown in a tip sheet to show you how to give a second life to leftovers.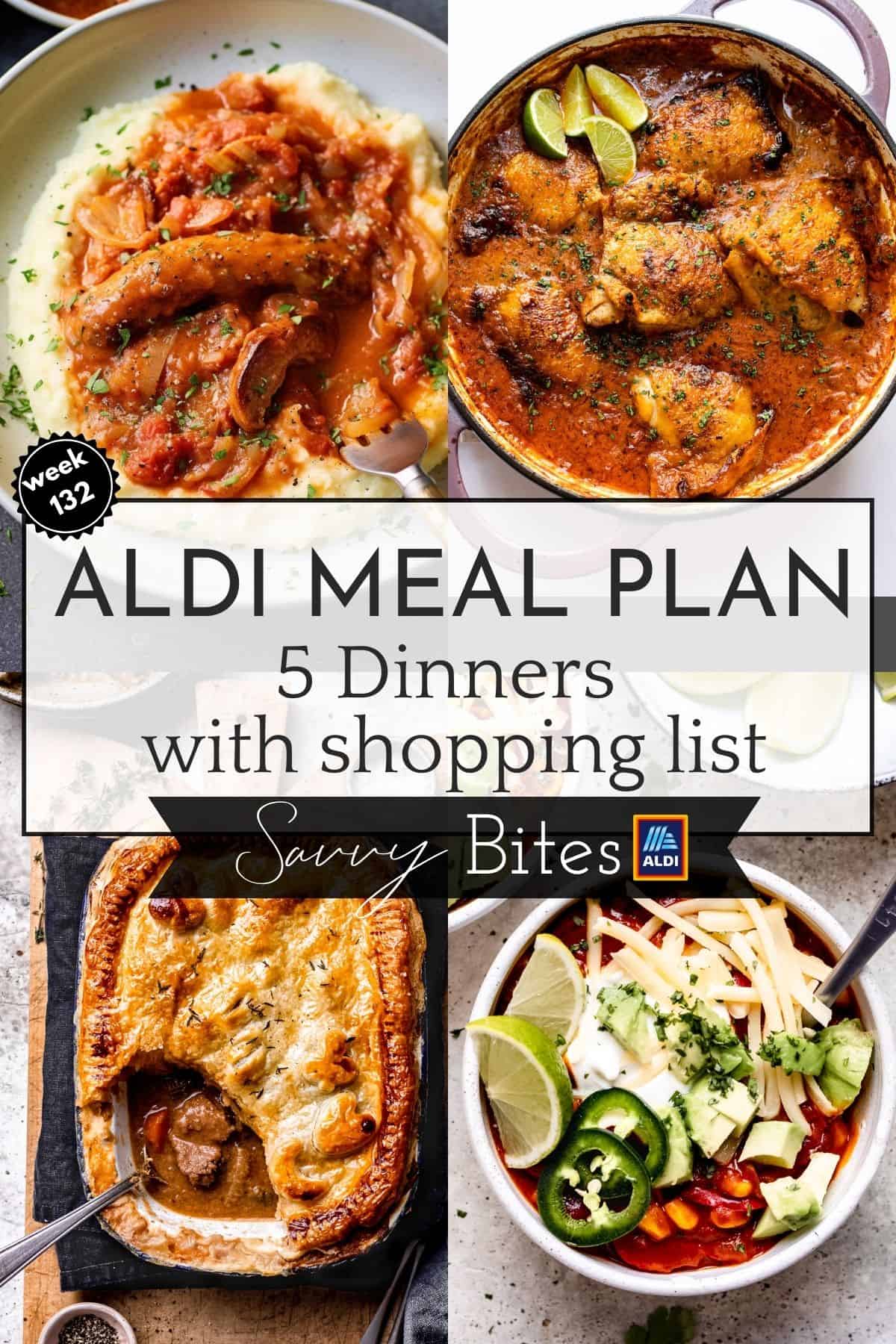 Jump to:
A Full Week of Yummy Dinner Ideas for the Family!
Our family meal planner is designed to provide easy healthy dinner ideas that cater to every palate in your household. From easy chicken stroganoff to an incredible fish pie, our dinner ideas for the family are both nutritious and delicious. You can find our other budget meal plans here.
And we're very big fans of simple homemade desserts, too! Try this easy chocolate mousse or this homemade lemon drizzle cake.
Aldi Budget Meal Plan Like this recipe? Pin it to your Meal Planning pinboard! Follow SavvyBites on Pinterest
---
More Options, More Pennies Saved
Dive into our regular meal plans or try our pocket-friendly £25 budget plans. Whatever you pick, be ready for delightful dinners that won't have you digging deep into your pockets...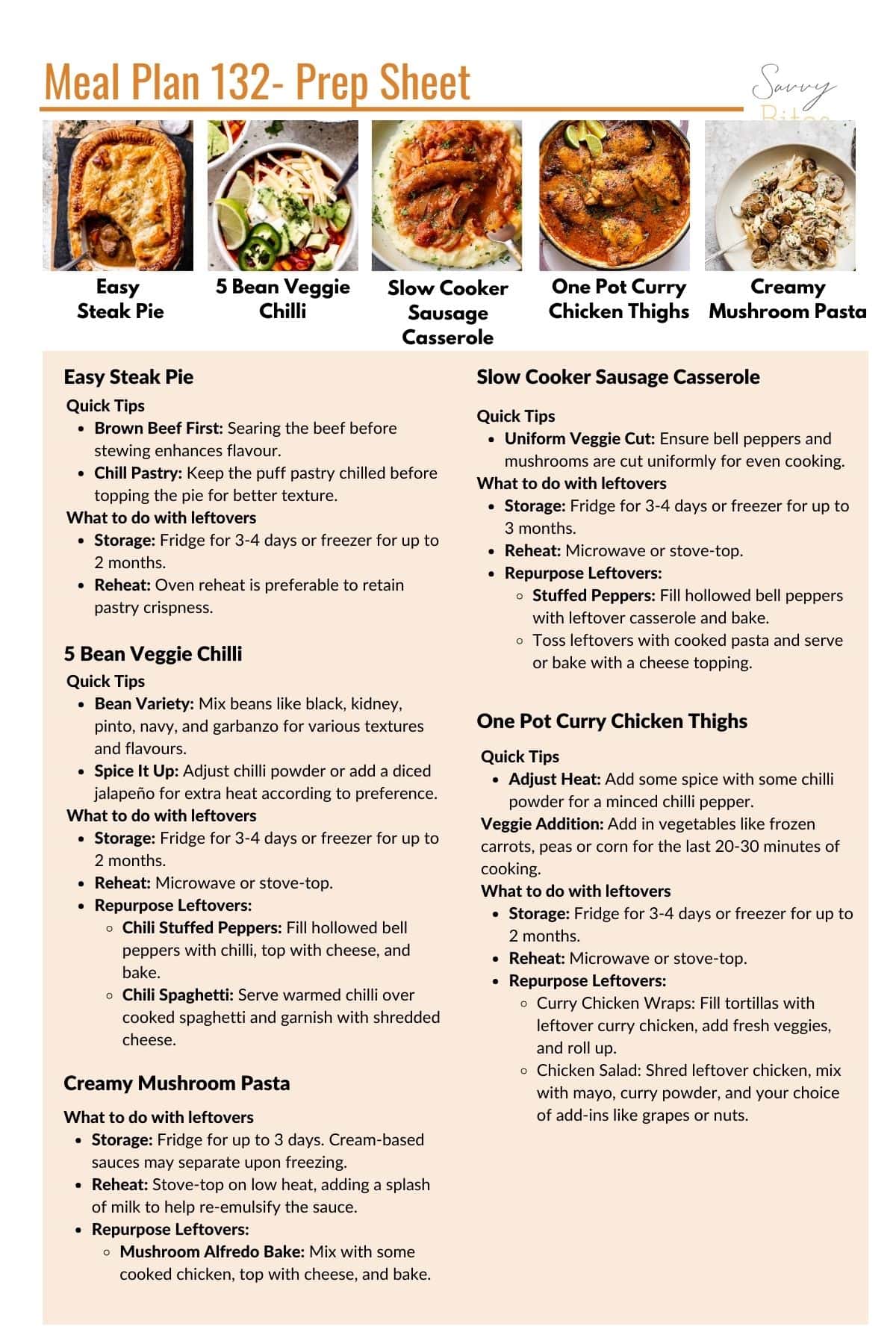 Having some pantry and freezer staples on hand is always helpful to help get dinners on the table quickly. Below, I've listed some staples that I always have to pull together healthy and easy dinners quickly.
You can also check out our other recipe collections, like these easy slow cooker recipes, vegetarian recipes, or easy curry chicken dinners. And for something a little special, these date night recipes are amazing (but still cheap and easy)!
Healthy Family Recipes: Pantry Essentials
Having some pantry staples is beneficial to whip up these quick, healthy family meals. Here are some essentials I always stock up on from Aldi:
olive oil
brown rice
white rice or basmati
tinned beans- black beans, kidney beans and chickpeas (garbanzo beans)
soy sauce- light and dark
small flour tortilla- great for making tortilla chips or wraps
coconut oil- please don't even ask me why it is so expensive everywhere else, but for some reason, it's a fraction of the price in Aldi. It's also great for skincare and a great pantry item.
tinned tomatoes- or you can use passata, which is a smooth tomato sauce. Perfect for making this cheeseburger pasta.
peanut butter- honestly, the smooth pb from Aldi is on par with any high-end brand name. It's a key ingredient in the peanut sauce for these lettuce wraps, or use it to make the peanut sauce for these quick and easy Chinese noodles or this peanut butter chicken.
Fresh Ingredients for the Week:
Fresh vegetables, fruits and whole foods ground beef (mince)
chicken breasts
grape tomatoes
green onions
feta cheese
cottage cheese or Greek yoghurt- I change it up weekly
sour cream or creme fraiche
Cheese- usually depends on what types of cheese feature in that week's Aldi meal plan I'm creating.
Healthy Meal Plan for a Week:
Bonus Features: To simplify your meal planning ideas, we offer a free shopping list and a prep guide cheat sheet. These tools will ensure you have everything you need to create healthy, easy dinner recipes throughout the week.
Our budget dinner ideas constantly evolve, featuring a mix of classic Savvy Bites recipes and new additions each week. Each recipe specifies the number of servings and provides nutritional information. Most recipes serve a family of 4 with leftovers, while slow cooker recipes typically cater to up to 6 people. Plus, we offer tips on storing and reheating leftovers to minimize food waste.
Join us to create delightful, inspiring, healthy meals without breaking the bank.
Related
Looking for more easy recipe collections? Try these:
If you love these budget meal plans, please let me know in the comments below. I love hearing from you. You can sign up to have them delivered weekly.
You can also follow along on Pinterest, Facebook, and Instagram and join our private Facebook Group Facebook group to share more recipe ideas and all your photos!
Need help with meal planning? You can find our (Aldi ingredients only) weekly meal plans here! Sign up to receive them free every week or take our quick meal planning course and use all these recipes to create your own meal plans.
You can also find more comfort food recipes using everyday ingredients over on our sister site Salted Mint.