This creamy mushroom pasta recipe is a delicious and easy weeknight meal that is made with simple ingredients that you probably already have on hand. It's ready in just 30 minutes and can be easily customized to your liking. Adding different types of mushrooms, vegetables, or cheeses to create your own unique variation. This recipe is sure to become a family favourite! Learn how to create a decadent dish with fresh mushrooms, velvety sauce, and al dente pasta.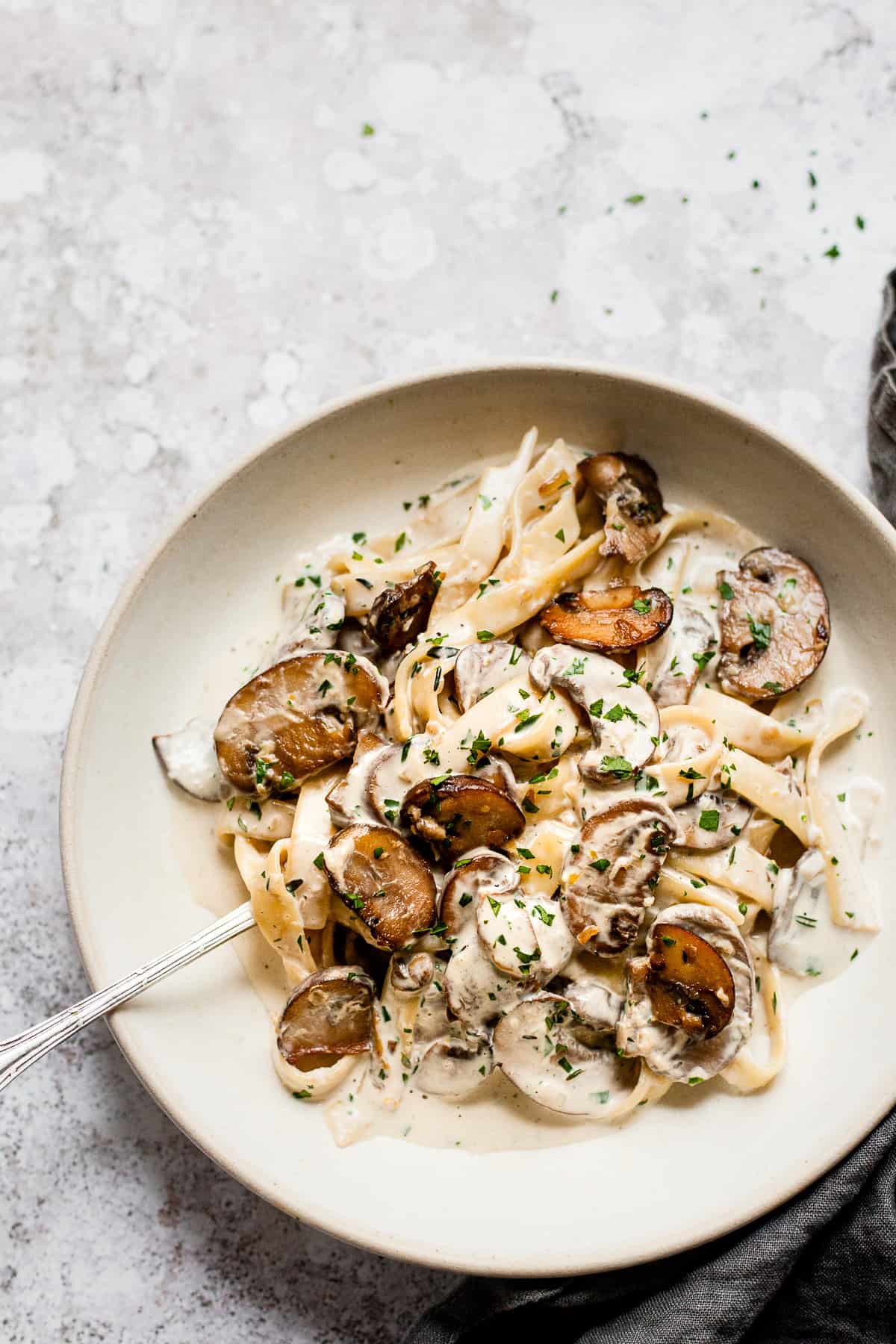 This creamy pasta recipe can have some white wine added to it as an optional addition. It's very similar to my mushroom stroganoff recipe but has a lighter sauce.
If you just can't get mushroom pasta recipes then you should definitely try my mushroom pasta bake, too!
Jump to:
⭐️ Why you need to make this garlicky creamy mushroom pasta
Irresistible Creaminess: The velvety, creamy sauce coating the pasta creates a luxurious and indulgent dinner.
Versatile and Customizable: This creamy mushroom pasta recipe provides a solid foundation for customization. You can add your favourite herbs, proteins like chicken or shrimp, or even experiment with different types of mushrooms to suit your taste.
Quick and Easy: With easy preparation steps and basic ingredients, this recipe is perfect for a quick and easy dinner without spending hours in the kitchen.
Comfort Food at Its Finest: Creamy mushroom pasta is the epitome of comfort food. It brings warmth and coziness to your plate, making it ideal for comforting evenings, family gatherings.
🧾 Key ingredients and why
Pasta: any kind will work but a long shape like tagliatelle, fettuccine or linguini are the best because the sauce will cling to them. But penne works too.
For the mushroom cream sauce
Cream: single cream in the UK or heavy cream if you live in North America
Fresh mushrooms: I've used brown chestnut (cremini) but you can use white mushrooms or a mix if you like. Just be sure that they are well cleaned before slicing them.
Aromatics: Garlic- large plump cloves are garlic are the perfect pairing with mushrooms. Shallots or onion- They are an integral flavour builder in any cream sauce.
Herbs: parsley and thyme- The thyme is an earth pairing with the mushrooms and the parsley brings brightness to the finished dish.
Lemon and parmesan: The lemon lifts the flavour and cuts through the richness of the cream to balance the sauce. The parmesan adds creaminess.
See recipe card for quantities.
👩🏻‍🍳 How to make this creamy mushroom pasta in 4 easy steps
Cook the pasta according to the package instructions. Before draining, be sure to save a cup of pasta cooking water to adjust the consistency of the cream sauce.
Clean and slice the mushrooms into cm-thick slices. You don't want them too thin or they will shrink too much. We want them to keep their shape and add texture.
💡Top tip: It's really important to clean mushrooms well before cooking them. See this mushroom cleaning guide for the fastest and safest way to clean mushrooms.
Add some olive oil to a non-stick pan or cast iron skillet (you can also add in a teaspoon of butter for flavour, but this is optional). Once the oil is hot, it will shimmer.
Add the sliced mushrooms to the pan and sauté until the mushrooms are golden on both sides. This should take about 5-8 minutes. Add some thyme leaves for the last 2-3 minutes of sautéing.
Making the creamy mushroom sauce
Add the garlic and sliced shallots to the pan with the mushrooms and continue to cook for a further 3-5 minutes, until the garlic is fragrant and the shallots are soft and translucent. *You can add a splash of white wine at this stage if you like.
Stir in the cream and some parmesan. Taste and adjust the seasoning and squeeze in some lemon juice. Stir in some pasta water to loosen the sauce if necessary. Toss the cooked pasta with the sauce and add extra cheese. Serve and enjoy!
⭐️Top tip: finish the pasta with fresh chopped herbs like parsley, and thyme along with a fresh sprinkle of parmesan before serving.
📖 Variations
Mushrooms: Add different types of mushrooms, such as portobellos, shiitakes, or cremini.
Vegetables: Add other vegetables, such as spinach, broccoli, or asparagus. Serve with a side of bread or salad.
Spicy: Add some chilli flakes for a spicy kick.
Greens: Wilt some spinach into the sauce for a healthier version.
Protein: Serve with some grilled chicken or fish to add in extra protein.
🥡 Storage
Allow the creamy mushroom pasta to cool completely before storing. Transfer any leftovers to an airtight container or sealable freezer bag. Store in the refrigerator for up to 3-4 days.
Reheating Instructions:
Stovetop: In a saucepan, heat a small amount of olive oil or butter over medium heat. Add the leftover creamy mushroom pasta to the pan and stir occasionally to heat evenly. Cook until the pasta is heated through, usually 5-7 minutes. If the pasta seems dry, you can add a splash of water, broth, or cream to moisten it.
Microwave: Place the leftover pasta in a microwave-safe container. Heat in the microwave on medium power in 1-minute increments, stirring in between, until heated thoroughly.
Note: The texture of the pasta may slightly change upon reheating, as creamy sauces tend to thicken. Adding a small amount of liquid while reheating can help restore the desired consistency.
💡Top ways to make your creamy pasta incredible!
Mushrooms release too much liquid- mushrooms contain a lot of water and if they aren't sautéed properly they can make the sauce watery. To prevent this sauté the mushrooms until they are a deep golden brown and have slightly reduced in size.
Sauce is too thin- turn the heat up and simmer the sauce until it has reduced to the deisred consistency.
Sauce is too thick- If your sauce is too thick, slowly add some of the reserved pasta water until your desired consistency is reached.
Lack of flavour- Be sure to season the sauce well with salt and pepper. Add in a squeeze of lemon to brighten the sauce and cut through the creaminess to balance the flavours.
💭 FAQ
Can I make this pasta recipe vegan?
Absolutely. Just use a plant-based cream alternative and use vegan parmesan cheese in place of the regular parmesan.
Can I use different types of mushrooms?
Of course! Any type will work and you can experiment with different combinations.
What kind of pasta should I use?
Any pasta will work, but a long shape like spaghetti, fettuccine, or tagliatelle is the best. They help the sauce cling to the pasta and create a more satisfying dish.
More creamy pasta recipes
Try these:
Get these recipes are part of the weekly meal plan
If you tried this Recipe or any other recipe on my website, please let me know in the comments below. I love hearing from you. Also, please leave a star rating whilst you're there!
You can also follow along on Pinterest, Facebook, and Instagram and join our private Facebook Group Facebook group to share more recipe ideas and all your photos!
Need help with meal planning? You can find our (Aldi ingredients only) weekly meal plans here! Sign up to receive them free every week or take our quick meal planning course and use all these recipes to create your own meal plans.
Easy Creamy Mushroom Pasta
Creamy mushroom pasta recipe! A decadent dish with fresh mushrooms, velvety sauce, and al dente pasta. The perfect 30-minute dinner.
Print
Pin
Rate
Ingredients
500

g

(

1 ½

cups

)

pasta

,

cooked according to package instructions

250

g

(

3

cups

)

brown mushrooms

,

sliced

2

(

2

)

sprigs thyme

,

leaves picked

3

cloves

(

3

cloves

)

garlic

,

minced

1

(

1

)

shallot

,

finely diced

300

ml

(

1 ¼

cups

)

single cream

,

heavy cream in North America

25

g

parmesan cheese

,

grated + extra for serving

½

(

½

)

bunch parsley

,

chopped

1

(

1

)

lemon

,

juice

salt

pepper
Instructions
Cooking the pasta
Bring a pot of salted water to a boil and add in the pasta. Cook according to the package instructions. Reserve a cup of the starchy cooking water before draining the pasta and setting aside.
Browning the mushrooms
Wash and slice the mushrooms. Heat 1 tablespoon of olive oil in a nonstick frying pan. Once the oil is hot (it will shimmer) toss the sliced mushrooms into the pan with the thyme leaves and sauté until the mushrooms are golden. Add in the diced shallot and minced garlic and continue to cook for another 5 minutes, until the shallots and garlic are soft. *Add white wine at this stage of the cooking process, is using.
Making the cream sauce
Gently pour the cream into the pan and bring to a gentle simmer and let thicken. If you need to adjust the consistency of the sauce pour in some of the reserved pasta water and stir. Whisk the parmesan cheese into the sauce and adjust the seasoning with salt and pepper. Toss the cooked pasta into the sauce and sprinkle in the parsley and extra parmesan cheese.

Divide between bowls and serve with salad and crusty bread.
Notes
Be sure to sauté the mushrooms really well to ensure that they release all their liquid so that you don't end up with a watery sauce.
If the sauce is too thin let it simmer for a few extra minutes to thicken up.
Mushrooms need quite a bit of salt to enhance their flavour so start out with a generous seasoning at the beginning. This also helps to release the water from the mushrooms.
Nutrition
Calories:
306
kcal
|
Carbohydrates:
16
g
|
Protein:
8
g
|
Fat:
26
g
|
Saturated Fat:
16
g
|
Polyunsaturated Fat:
1
g
|
Monounsaturated Fat:
7
g
|
Cholesterol:
88
mg
|
Sodium:
724
mg
|
Potassium:
801
mg
|
Fiber:
3
g
|
Sugar:
7
g
|
Vitamin A:
1398
IU
|
Vitamin C:
26
mg
|
Calcium:
171
mg
|
Iron:
2
mg