Welcome to a recipe that's guaranteed to transform your weeknight dinners: our Chicken Lettuce Wraps. These wraps are your ticket to a quick, easy, and healthy meal, boasting flavours that rival even P.F. Chang's celebrated version. Imagine a crunch of fresh lettuce, a juicy burst of ground chicken, and a tangy sauce that ties everything together brilliantly.
If you've been loving my Asian-inspired recipes, you'll find these chicken lettuce wraps with ginger-garlic infusion to be another incredible recipe to add to your collection.
They share the easy-to-follow steps and bold flavours that characterize our pork yuk sung lettuce wraps and easy sticky chicken.
For those who love to explore the spicier side of Asian cuisine, our spicy Korean chicken never fails to impress.
Jump to:
⭐️ Why You'll Love These Easy Lettuce Wraps
Better than P.F. Chang's: These Asian chicken lettuce wraps have a unique blend of flavours that stand tall against famous alternatives.
Quick and Easy: A healthy dinner option at your table in no time.
Versatile: Perfect as a main course, an appetizer, or a snack.
Dietary-friendly: This gluten-free and dairy-free recipe caters to various dietary restrictions.
🧾 Lettuce wrap key ingredients overview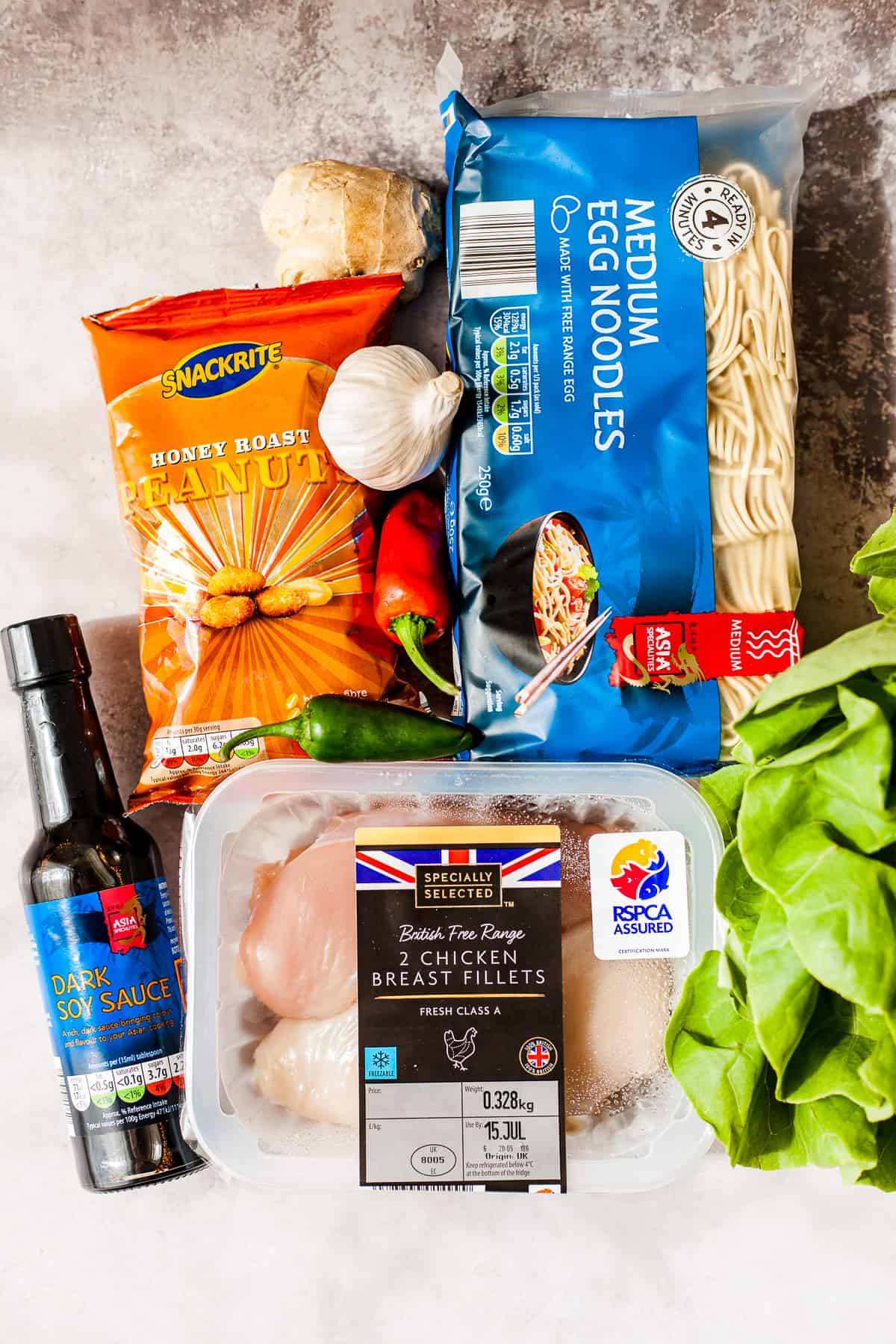 Ground Chicken or chicken breast: This lean protein acts as the base for our filling.
Lettuce(Butterhead, Green Leaf, or Romaine): Offering a fresh and crunchy wrap, lettuce provides a healthy and low-carb alternative to traditional bread wraps.
Fresh Vegetables: These bring colour, texture, and an extra dose of nutrients, adding a satisfying crunch and freshness to every bite.
Peanut butter: The creamy and flavourful base of our sauce, adds depth and a hint of nuttiness.
Soy Sauce: Lends a rich, savoury, umami flavour to our sauce, accentuating the taste of the chicken and vegetables.
Sriracha Sauce: Infuses a spicy kick into our dish, balancing the creamy peanut butter and savoury soy sauce.
Aromatics: Fresh garlic & fresh ginger: Adds a depth of flavour to the dish and a warm spicy undertone to the chicken.
Garnishes: Use them all, or pick your favourites- green onions, fresh coriander, crushed peanuts, lime wedges
Optional add-ins: water chestnuts, mushrooms, baby corn and sugar snap peas.
See the recipe card for full ingredients and quantities.
📖 Substitutions & Variations
If you're unable to use some ingredients, consider these options:
Protein: Ground chicken can be substituted with diced chicken breasts, ground turkey, or ground beef.
Oil: Peanut, olive, or avocado oil can be used as per your preference.
Sauce: For a soy or wheat allergy, coconut aminos or tamari can replace soy sauce.
Other nut or seed butter can be used instead of peanut butter.
Serving: If you would like to add some carbs to this recipe you can add some noodles or rice to the lettuce wrap before filling it with the saucy chicken.
👩🏻‍🍳 How to make Asian lettuce wraps step by step
Make the Asian-style peanut sauce
Begin by whisking together the sauce ingredients. This key step brings together flavours that define our chicken lettuce wraps. *Add in some chilli flakes or an extra spicy kick.
For a sweeter sauce use a combination of hoisin sauce and sweet chilli sauce until you have the flavour and consistency that you're looking for.
Cook the chicken lettuce wrap filling
Use a wok or skillet over medium heat to brown the ground chicken. Ensure thorough cooking. *A cast iron skillet is a great choice here. They help create crispy chicken.
Dice the fresh vegetables quite small so that they blend well into the chicken. We don't want large chunky vegetables here. They add a beautiful crunch to the wraps.
Stir in the prepared sauce to the chicken and vegetables mix. Let it simmer until everything is well-coated.
💡 Top tip: Crispy chicken
Be sure to get the chicken nice and crispy before adding the sauce. This not only adds so much flavour but really creates incredible texture, too.
Serving the Asian lettuce wraps
Make sure that the lettuce has been washed, dried and trimmed. Scoop a large spoon full of the saucy chicken and vegetable mixture and place it in a lettuce cup.
Top with chopped peanuts, spring onions and freshly chopped coriander. Serve with lime wedges.
🔪 Equipment
If you don't have a wok to make these lettuce wraps, don't even worry about it. A frying pan or cast iron skillet will do the job just as well. Cast iron gets very hot and retains its heat making it perfect for getting that chicken mince extra crispy.
🍯 Storage
Fridge: Store leftovers in the fridge by separating lettuce and filling to prevent sogginess.
Freezer: Although best eaten fresh, the chicken filling can be frozen for future use for up to 3 months.
Reheat: Reheat the chicken filling in a skillet or microwave before serving.
💡 Top tip: the best lettuce to use!
Choosing the right lettuce for wraps is crucial. Opt for Butterhead, Green Leaf, or Romaine lettuce.
❓FAQ
What is the best lettuce for lettuce wraps?
Butterhead, baby gem, and romaine lettuce varieties work well for their crisp texture and pliability.
Can I use other meats instead of chicken?
Absolutely! You can replace ground chicken with diced chicken breasts, ground turkey, or ground beef.
Can I store leftovers for later?
Yes, you can. However, remember to store the lettuce and filling separately to maintain the best texture.
Related
Looking for more Asian-inspired recipes? Try these:
Pairing
These are my favourite dishes to serve with these chicken lettuce wraps:
If you tried this Recipe or any other recipe on my website, please let me know in the comments below. I love hearing from you. Also, please leave a star rating whilst you're there!
You can also follow along on Pinterest, Facebook, and Instagram and join our private Facebook Group Facebook group to share more recipe ideas and all your photos!
Need help with meal planning? You can find our (Aldi ingredients only) weekly meal plans here! Sign up to receive them free every week or take our quick meal planning course and use all these recipes to create your own meal plans.
Asian Chicken Lettuce Wraps Recipe
These light and healthy Asian-inspired Chicken Lettuce Wraps are perfect for a quick weeknight dinner or a flavorful lunch. Bursting with flavour and satisfying crunch, these wraps are a delicious answer to "What's for dinner?"
Print
Pin
Rate
Ingredients
500

g

(1 pound) ground chicken or boneless skinless chicken breast

1

head of lettuce

,

Butterhead, Green Leaf, or Romaine, leaves separated

75-100

g

(1 cup) mixed vegetables (carrots, bell peppers, and cucumbers), finely diced

60

ml

(¼ cup) peanut butter *see notes

2

tablespoons

soy sauce

1

tablespoon

Sriracha sauce

2

tablespoons

oil

,

peanut, olive, or avocado oil

2

cloves

garlic

,

minced

1

teaspoon

fresh ginger

,

minced

2

green onions

,

thinly sliced

Fresh cilantro for garnish

Crushed peanuts for garnish

Lime wedges for serving
Instructions
Making the sauce
In a small bowl, whisk together peanut butter, soy sauce, and Sriracha sauce to make the tangy peanut sauce. Set aside.
Cooking the chicken
In a large skillet or wok, heat the oil over medium-high heat. Add the garlic and ginger and sauté for about 1 minute, until fragrant.

Add the ground chicken to the skillet. Cook, breaking it into small pieces, until it is fully cooked and browned, about 5-7 minutes.

Lower the heat to medium and add the mixed vegetables to the skillet. Cook for an additional 2-3 minutes, until the vegetables are slightly tender.

Pour the prepared peanut sauce over the chicken and vegetables. Stir well to combine, and cook for an additional 2 minutes.
Serving the lettuce wraps
To serve, spoon the chicken and vegetable mixture into the lettuce leaves. Garnish with green onions, fresh cilantro, and crushed peanuts. Serve with lime wedges on the side.
Notes
For a gluten-free option, replace soy sauce with tamari or coconut aminos.
If you prefer a vegetarian option, you can replace the ground chicken with tofu or tempeh.
For a crunchier texture, add some chopped water chestnuts or bean sprouts to the chicken mixture.
Be careful not to overcook the vegetables; they should retain a slight crunch.
You can store leftovers in the refrigerator, but storing the filling and lettuce separately is best to avoid sogginess.
Reheat the filling before assembling the wraps.
if your peanut butter is very thick microwave it for 10 seconds to warm it up a bit. This helps to make it slightly looser in consistency.
Nutrition
Calories:
352
kcal
|
Carbohydrates:
6
g
|
Protein:
27
g
|
Fat:
26
g
|
Saturated Fat:
5
g
|
Polyunsaturated Fat:
6
g
|
Monounsaturated Fat:
13
g
|
Trans Fat:
0.1
g
|
Cholesterol:
108
mg
|
Sodium:
744
mg
|
Potassium:
828
mg
|
Fiber:
1
g
|
Sugar:
2
g
|
Vitamin A:
203
IU
|
Vitamin C:
5
mg
|
Calcium:
29
mg
|
Iron:
2
mg