It can sometimes seem like a challenge to create cheap healthy meals for a family. But with these budget-friendly recipes, you'll be able to feed your family incredible meals that not only taste amazing but are good for them and good for your bank account. All 30 of these are Aldi recipes. So, not only will you be saving lots of money, but you'll be able to save lots of time shopping in only one place!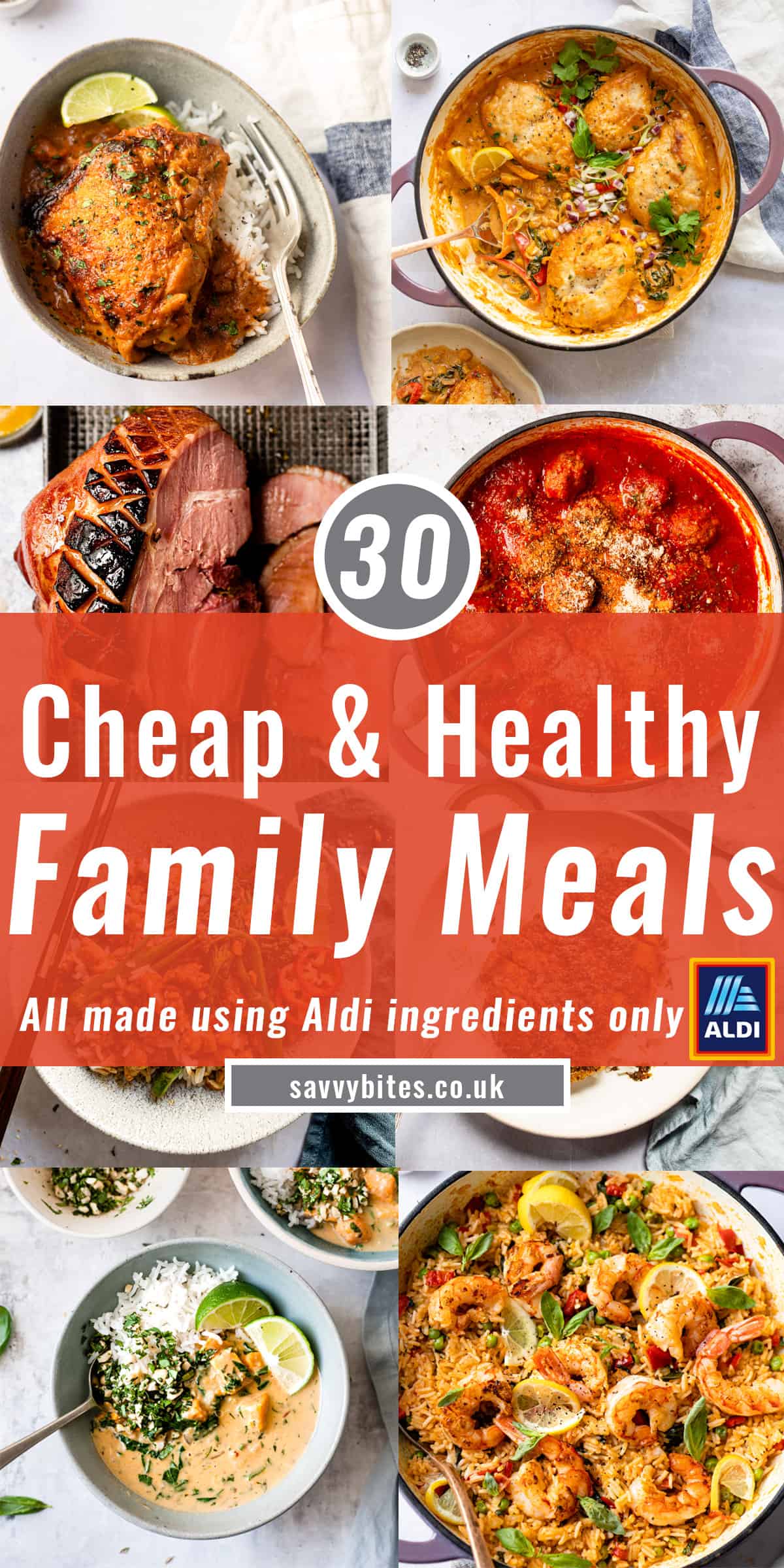 These recipes are mostly weeknight dinner recipes because that's usually when people struggle the most with quick and healthy meal ideas. See the Quick and easy chicken pasta collection and the 45 healthy dinner recipes collection for more dinner inspiration!
---
Cheap Healthy Meals
Like this recipe? Pin it to your Dinner pinboard!
Follow SavvyBites on Pinterest
---
Pork is a great protein to serve when trying to keep to a budget. And being lean meat, it fits in perfectly with these healthy dinner ideas. Sweet and spicy brown sugar pork chops are covered in a quick and easy homemade spice rub then seared to a golden brown and finished off baking in the oven in a simple and rich brown sugar glaze. This quick weeknight dinner only takes 30 minutes and truly, your whole family will absolutely love this one!
This easy pasta is one of the most popular recipes on Savvy Bites! A firm reader favourite, it's only 7 ingredients. You can use whole wheat pasta in place of the white if you prefer. It only takes one pan and less than 30 minutes to get this pasta ready.
Lean beef, lots of vegetables and a simple sauce bring this foolproof dinner together. Serve it over brown rice or whole-wheat noodles. *Just remember to cut the beef across the grain to make sure that it is as tender as can possibly be.
Full of vegetables, and low-fat chicken, this cheesy bake is the perfect dinner. It's can be made ahead of time, makes amazing leftovers and can be frozen. This is a true weeknight dinner classic. One of the original "cheap healthy meals" and a staple in my home growing up!
This vegetarian curry is a healthy dinner dream. It's the perfect balance of tangy, fragrant curry and sweet coconut/ squash goodness. Healthy, cosy dinners in about 30 minutes.
This one-pot creamy Cajun Chicken Pasta is dinner goals. Spicy perfectly juicy Cajun chicken, snuggled into ridged noodles that are coated in the most delicious creamy tomato sauce. The best part of this one-pot pasta dinner is that it's only 9 ingredients.
It's all about a quick and easy dinner that only requires basic larder ingredients and some fresh herbs. But don't be fooled by the simplicity of this vegan style curry. It's all about texture and depth of flavour with crunchy chopped cashews, creamy sweet potatoes, spicy Thai red curry paste, sweet coconut milk and bright citrusy lime juice.
Marinated cherry tomatoes stuffed with fragrant lemon rice and topped with feta. These stuffed peppers are a simple and light dinner, perfect for spring and summer.
Easy Italian Meatballs are juicy homemade meatballs cooked in a simple tomato sauce. You will not believe how quick these are to make - all from scratch! Full of healthy real food ingredients and absolutely kid-friendly.
Rich and hearty cottage pie is a thing of beauty for most of us. Deep rich red wine gravy, tender beef, sauteed carrots, onion and garlic all snuggled under a fluffy blanket of mashed potatoes baked to golden crispy perfection. And it's always a great situation when the slow cooker takes care of dinner for us.
This slow cooker gammon joint is slow-cooked with apple cider and apples, then glazed with a maple mustard sauce and the crackling is crisped up under the grill. This is the perfect ham to make for a lazy Sunday. This joint will easily feed 6 people making each portion cost about £1!
Tinned tuna is the ultimate pantry staple. It is so versatile and such a healthy protein to get creative with. This tuna pasta bake is one of the best ways to really stretch your budget. One tin of tune in this pasta bake will easily feed a family of 4!
Only 9 ingredients this is a true pantry staple recipe. Tinned tomatoes, olives and some fresh herbs are all you need. And only 15 minutes to get on the table. Add in some chicken to get some extra protein if you want to.
Salmon is one of the healthiest things you can eat for dinner. Full of omega 3 fats, it's an oily fish that delivers dinner time ease. These salmon fillets are simply pan-fried in about 10 minutes. Serve with crispy smashed potatoes and a green salad for the perfect cheap healthy dinner.
The easiest one pot Mexican chicken will be in heavy rotation all week long. It only takes 30 minutes to get until you've got crispy golden chicken snuggled into a creamy spicy sauce. Packed with added vegetables this one-pot dinner is perfect served with rice. No premade sauces or additives. Just some lean chicken breast, a simple homemade seasoning mix and a drop of cream to bring it all together in 30 minutes flat!
This easy prawn rice only takes 30 minutes to make and is a gorgeous Spanish style dinner that uses one pot. Plump juicy prawns, ripe tomatoes and sweet peppers all come together to make this simple dish perfect for a weeknight, but fancy enough for a date night.
These curry chicken thighs are the easiest curry chicken recipe. It uses a simple spice mix of curry powder, coconut milk and some tinned tomatoes. to make a gorgeously fragrant curry sauce. Serve these chicken thighs over basmati rice and let the rice soak up all that sauce and some greens on the side. You will absolutely love this 30-minute simple chicken dinner.
Full of healthy veggies and protein, turkey stir fry is light and filling with a simple soy sauce teriyaki stir fry sauce using basic ingredients. Extremely addictive AND cheap, say goodbye to boring turkey mince recipes! Serve it with rice or noodles or as a lettuce wrap to keep it keto-friendly!
These vegetarian enchiladas are the answer to your veggie prayers. Pretty much the best vegetarian enchiladas you'll ever make. Saucy, cheesy, loaded with roasted vegetables, sweet corn and beans all topped with fresh chopped herbs and creamy avocado. And of course, they're budget-friendly.
Lean chicken in a homemade sauce with vegetables and noodles all wrapped in a lettuce leaf! You can skip the noodles and keep it keto.
Creamy tomato sauce with spinach, herbs sausage meat browned to perfection and enough spinach and peppers to make sure you get your veggies. This recipe only takes 30 minutes and it's a great way to get the most out of a pack of sausages!
Lots of veggies, and lean chicken on this one. A slow cooker dinner that makes everything easy and healthy. Spices, tinned tomatoes and lots of avocados, truly make this one amazing dinner!
The spicy mix of cheese, beans, corn, cilantro, and onion makes an incredibly flavorful quesadilla that's perfect for dipping in some cool sour cream or salsa. Make up an entire batch and freeze some for later!
This particularly awesome sauce is a mix of honey, Dijon mustard, a little mayo for creaminess, and a few spices. Smear that awesome sauce on some pan-seared pork chops, pop them in the oven to heat through, and then finish them off with a few minutes under the broiler. The end result is creamy, caramelized, honey mustard madness.
This super quick Creamy Pesto Pasta with Chicken and Broccoli combines the vibrant flavours of basil pesto with tangy cream cheese to make a deliciously rich sauce to smother the pasta, chicken, and broccoli. The pesto provides all the garlic and herbal flavour needed, so there's no need to even dice an onion, mince garlic, or measure any herbs and spices—it's already in the sauce!
Turkey Meatloaf – made with lean ground turkey and flavoured with onions, garlic, herbs, parmesan and those classic staple sauces. It's juicy, tender and absolutely delicious!
It's bright, fresh, healthy, and ready on your table in 20 minutes. Easiest meal of all time, right here, right now. Let's talk juicy, delicious, barely-breaded, pan-fried chicken soaked in peppery lemon flavour and served with tender bites of asparagus and honey butter-ish sauce. Or, let's not, and just go ahead and start making it for dinner.
Sticky-sweet pork with that caramelized pan-fry goodness, the juicy chunks of pineapple, a handful of fresh herbs, slices of jalapeño, and crispy onions (yes, crispy onions! so underrated!) is all getting served over a hot pile of super luscious coconut rice. I hope you actually got your fork already because this is not a bad situation. Not at all. The rich flavour, the caramelized texture, the totally indulgent and fragrant coconut rice… I mean, this is hands-down one of my favourite meals of the season.
A warming delicious slow-cooked chicken casserole with fall-apart meat, lovely veggies and a seasoned creamy sauce. Most of the work is done in the slow cooker, so you can look forward to a hearty family dinner when you get home from work. Serve it with mashed potato to soak up that delicious sauce. The king of comfort food.
We're about to change that with this carby-licious dinner! Simple spaghetti tossed together with golden fried garlic-bread-crumbs, plus a hint of chilli and lemon, all finished off with a sprinkling of parmesan. A revelation of a dinner - ready in 20 minutes.
More recipe collections
Need help with meal planning? You can find our (Aldi ingredients only) weekly meal plans here! Sign up to receive them free every week or take our quick meal planning course and grab the blank meal planner and use all these recipes to create your own meal plans.


THANKS SO MUCH FOR READING AND COOKING ALONG WITH ME! IF YOU MAKE THIS RECIPE OR HAVE A QUESTION, I'D LOVE IT IF YOU LEFT A COMMENT AND A RATING. YOU CAN ALSO FOLLOW ALONG ON PINTEREST, FACEBOOK AND INSTAGRAM TO SEE WHAT WE'RE EATING, PINNING AND A LITTLE BEHIND THE SCENES TOO!