Everyone loves a good chicken curry recipe. Some good reasons to make one? They're usually very quick and easy and they are so adaptable. From Indian curries to traditional Jamaican curry there is something that everyone in your family will love.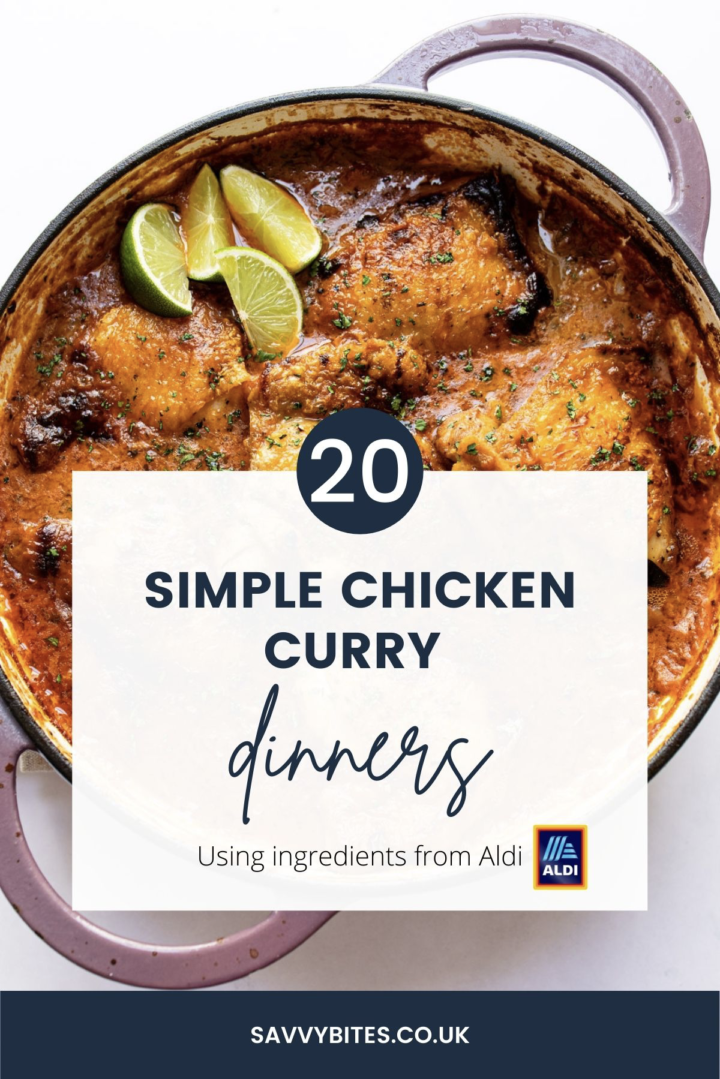 These recipes use traditional ingredients like sweet coconut milk, garam masala and chicken pieces. Thai curries are usually very fresh and bright in flavour and they're so amazing served with noodles or rice.
Some tips to get the best chicken curry
Use full-fat coconut milk
Make to use fresh spices and fresh produce
Use the best cut of chicken for the cooking method. Eg. slow-cooked use dark meat, quick-cooking, use chicken breasts or chicken tenders
All curries are best served over a bed of rice with some fluff naan for the perfect dinner!
What makes these recipes so great is that you can really dial up (or down) the spice level. Chicken curries can be simple or complex but one thing is certain, they are always a delicious dish! And you know I'll give you all the tips and tricks to make these recipes budget friendly using ingredients from my favourite grocery store, Aldi!
This Jamaican curry chicken recipe uses curry powder and skinless chicken thighs. It also uses an all-purpose spice mix but to make it Aldi friendly you could use some ground coriander and cinnamon instead.
This curry recipe marinates the chicken for 1 hour and takes 40 minutes to cook, so it's not the quickest recipe out there, but it's great for making in a big batch and freezing some for another day. This recipe would also be great made with a whole chicken that you've cut up.
This easy Jamaican curry only takes 1 hour from start to finish making it a great choice for a weeknight dinner. It uses 2 pounds of chicken cut into large chunks.
My preference would be for chicken breasts, but you can use dark meat like chicken thighs. It's a stovetop recipe so it's quick and easy and doesn't require any fancy equipment.
This is a very simple Indian curry that you would find in any Indian restaurant anywhere in the UK. Simple spices and quick to make.
The recipe uses plain yoghurt, but you could even substitute sour cream for extra richness.
This chicken curry is always a reader favourite. It's really easy to make and served over a fluffy pile of basmati rice it's the perfect dinner.
\It's already Aldi friendly with ingredients like tomato paste and fresh ginger and turmeric this resembles a butter chicken recipe but is less involved and quicker to make. The perfect delicious recipe for dinner.
These pan-seared chicken thighs are cooked in a simple coconut curry sauce. A large skillet is exactly what you need for this recipe so the thighs sink into the curry sauce leaving only the crispy skin visible.
So you end up with tender juicy curry chicken thighs and the perfect crispy skin.
Butter chicken is a mildly spiced Indian style curry that's best served with white rice and lots of naan bread. It's perfect in the slow cooker because all the spices have time to really develop and get richer as time goes on.
I like to add in some bell pepper for some extra veggies but you can always just serve with some spinach on the side.
Thai curries are a bright and fresh style of curry that usually starts with a curry paste and a good helping of fish sauce. They can be red, yellow or green. I've included one of each in this collection so you have a wide variety to choose from.
Red or yellow Thai curries are my favourites but a light green curry is also nice sometimes. Thai green curries are the mildest with red being the hottest and yellow in the middle.
To adapt for Aldi skip the fish sauce and use dark soy sauce instead. It's not quite the same, but it's a good substitute when we're limited.
Cashews are a very common ingredient in Indian cuisine. They're often ground up and included in recipes. For this one though it's a topping with fresh cilantro. I love this recipe because it's so simple.
Yellow curry powder and some cumin are mixed with chicken stock and coconut milk for the perfect easy dinner. And it will be great the next day for leftovers. Aldi friendly- no substitutions required.
Jamaican curry powder is usually a key component in Jamaican chicken curry. However, not everyone can find Jamaican curry powder. So we're using Madras curry powder instead.
It is hotter than regular yellow curry powder due to its high red pepper content. It is darker in colour rather than bright yellow like the regular curry powder. So, be sure to limit your use of scotch bonnet pepper or jalapeno. You can also add in a little extra turmeric.
So, here we are. The hottest Thai curry of them all. Most people buy jars of Thai curry paste but it is very easy to make your own. It will more than likely require a trip to the Asian market to get items like dried shrimp paste.
You can make it simple and pick up a jar of paste or one of the Thai curry kits from Aldi. They come with everything you need including rice noodles.
And now the mildest of the Thai curries. I tend to prefer Thai green curry more in spring and summer due to its mild and fragrant flavour. Kaffir lime leaves, lots of fresh lime of lemon juice and green onions usually feature heavily in this style of curry.
The chicken also gets poached rather than seared making for a very mild flavour. To make it Aldi friendly simply use one of the Thai green curry kits and add extra veggies.
This recipe may be unfamiliar to you, but I can assure you, its a "must make". One of the key ingredients in brown stew chicken is the browning sauce. Of course, this is not available in Aldi or most of the UK but you can use a teaspoon of Marmite.
I'm not a Marmite lover but in this Jamaican chicken stew recipe its a winner. Some green pepper and fresh garlic round out the rest of the ingredients. This recipe also calls for white pepper but you can use black pepper instead.
I absolutely love this recipe for incorporating extra veggies! Instead of the regular potatoes try using sweet potatoes for something different. The addition of bay leaf to this Thai yellow curry will bring a real aromatic kick.
You can use dried or fresh just be sure to pick it out once the curry is cooked otherwise it gets too overwhelming for the other flavours. Aldi friendly- use extra soy sauce or Worcestershire sauce in place of fish sauce.
I love this recipe because it uses skin-on chicken thighs meaning they get nice and crispy while the meat gets fall off the bone tender.
This recipe is a good choice if you would like to try something you may have never made before but don't want to use whole spices that you have to grind yourself of find ingredients other than your regular grocery store.
Love the idea of a curry meatball! They get browned to golden perfection then finished in a creamy coconut curry sauce. This recipe is great because you can use ground turkey too.
Now, the recipe states to saute your veggies in coconut oil first, however, I suggest vegetable oil or olive oil instead. Coconut oil is not only expensive but has a very low smoke point and if it gets too hot it will ruin your curry.
This chicken curry from Kerala is what's referred to as a dry curry, meaning that it's not cooked in sauce. It's whole chicken cut into small pieces and cooked in a very hot red chilli paste.
I'm going to leave this as a stand-alone recipe with no Aldi substitutions. It's worth it!
A classic takeout dinner this healthier version is so much better and better for you! It's crusted with flaked almonds. Just use a food processor to grind them.
The rest of the dinner will take you less than 60 minutes. Aldi friendly substitutions- a tiny pinch of mixed spice and coriander in place of the star anise. Or just leave it out.
One of the most comforting noodle bowls ever. A curry chicken broth made of red or yellow Thai curry paste and fresh chili peppers. This is exactly what you need when you have a cold.
This recipe uses bean sprouts but do make sure you use them quickly. They are really only good the next day and not much longer than that. Aldi friendly- no substitutions.
This laksa bowl has the heat turned up! To make it Aldi friendly skip the dried shrimp (you can add in some fresh shrimp if you like) and instead of galangal just use fresh ginger.
When you're really in a hurry to get dinner on the table nothing makes it happen like the speed of a pressure cooker.