There's something undeniably comforting about a hearty sausage casserole. Whether you're a beginner in the kitchen or an experienced home cook, you'll find this slow cooker sausage casserole so easy! Requiring minimal preparation and a total cooking time of 5 to 7 hours, it's a set-and-forget kind of dinner. Plus, it's perfect for making ahead of time; the flavours intensify upon reheating, making it an ideal choice for leftovers.
My popular recipe for sausage tray bake inspired this slow cooker version of sausage casserole. They're both easy recipes that are a complete meal in one. You can also try my sausage and bean casserole. Another one-pot dinner.
You can find all my one-pot recipes here if you'd like to simplify dinner time. And my meal plans are always a helpful tool for making weekly dinner planning easier.
Jump to:
⭐️ Why this slow cooker sausage casserole is a must-try.
Rich and Flavourful: The variety of spices and herbs meld together to create a deep, hearty flavour that's hard to resist.
Quick and Easy Meal Prep: Using ready-to-go ingredients slashes your kitchen time, letting the slow cooker handle the slow and steady cooking for you. Perfect for busy weekdays!
Delicious Leftovers for Days: The casserole's complex flavours continue to meld and improve, making it a prime choice for effortless and tasty midweek dinners. Plus, it reheats like a dream, ideal for meal prepping or batch cooking.
🧾 Ingredient notes and substitutions
Here, I provide an overview of the key ingredients and what you may want/ need to use as a substitute for dietary requirements, accessibility or preference. As always, the exact quantities can be found in the recipe card below.
8-12 thick sausages: Preferably Lincolnshire or Cumberland.

Substitution: Pork and apple sausages are a tasty alternative. Chicken sausages or vegetarian options work well, too. Check for gluten-free sausages if needed.

Red onion and fresh garlic cloves: Adds aromatic flavours and depth to the casserole.

Substitution: Garlic paste can be used as a quicker alternative.

Red bell peppers: Adds a pop of colour and the sweetness balances out the savoury elements.
Tinned chopped tomatoes and tomat puree: For a rich casserole sauce.
Dried mixed herbs: Brings complex flavours to make the dish stand out.

Substitution: Dried thyme can be used if mixed herbs aren't available.

Beef stock cube: For making the beef stock that enriches the casserole.

Substitution: You can use chicken or vegetable stock cubes instead, resulting in a milder flavour, not a typical robust casserole.

Worcestershire sauce: Adds a richer flavour to the casserole. This is especially helpful if you don't plan on searing the sausages.
Chestnut mushrooms: Adds an earthy flavour and meaty texture.

Substitution: Regular button mushrooms or presliced can also be used here too.

Optional: Cannellini or Navy Beans: These can be added to bulk out the recipe.

Note: If you add beans, you may want to adjust the seasoning and cooking time accordingly.
📖 Variations
While having a "tried and true" go-to recipe is comforting, eating the same thing can get monotonous. I've listed some easy variations below to help you mix things up without the learning curve of a completely new dish. This way, you can refresh your favourite meal whenever you need a change.
Spice Lovers: Incorporate a dash of red pepper flakes or a teaspoon of cayenne for an extra kick.
Vegetarian-Friendly: Replace regular sausages with high-quality plant-based ones and switch to vegetable bouillon. *Skip the Worcestershire sauce for this version, or find a veggie-friendly brand, as the traditional contains anchovies.
Added Vegetables: Toss in additional vegetables like courgette, carrots, or even some spinach to increase the nutritional value without altering the core flavours of the dish. *Root vegetables like parsnips, sweet potatoes, and swede are also great choices.
👩🏻‍🍳 5-Step slow cooker sausage casserole
1 & 2 Brown the Sausages and make the stock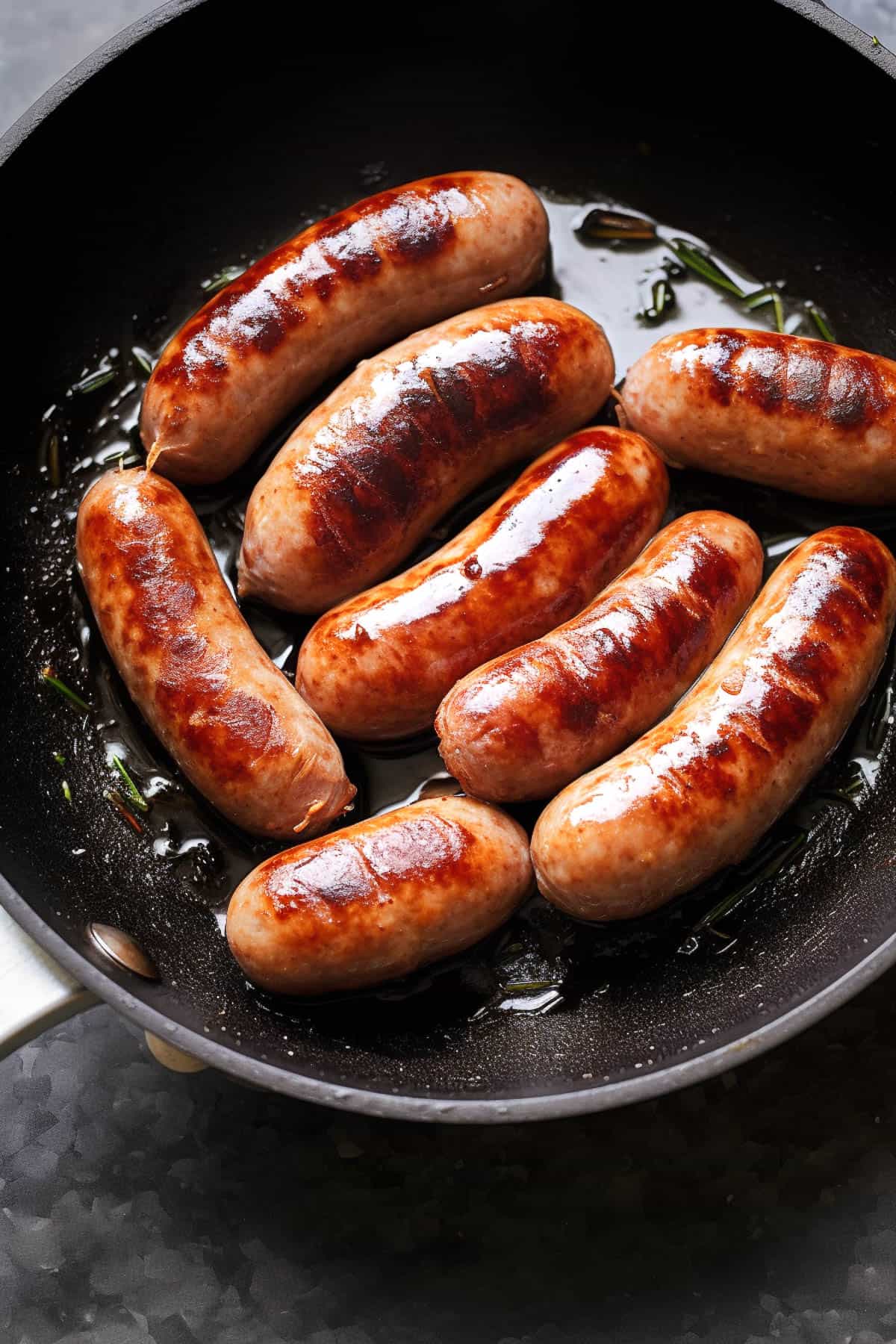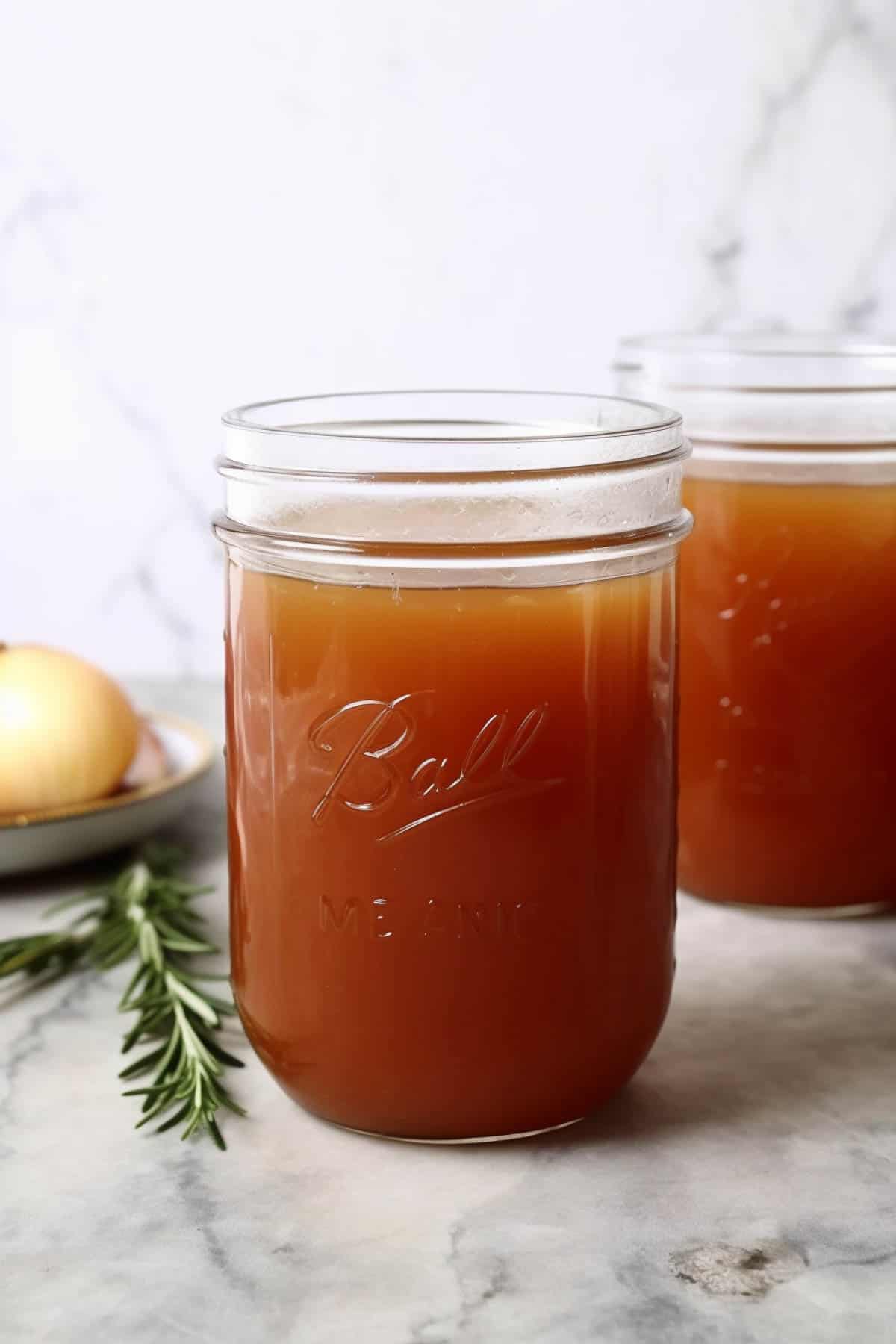 Lightly pan-fry the sausages until they take on a golden-brown hue. Once done, place them in the bowl of your slow cooker.
Place the beef stock cube into a measuring jug and dissolve with 500ml boiling water. Stir until the stock cube has dissolved and set aside.
Helpful Tip: The browning process caramelizes the meat's natural sugars, adding complexity to the dish's overall flavour. *But you can add the sausages without browning. Just be sure to be generous with the seasoning.
3 & 4 Chop vegetables and add liquids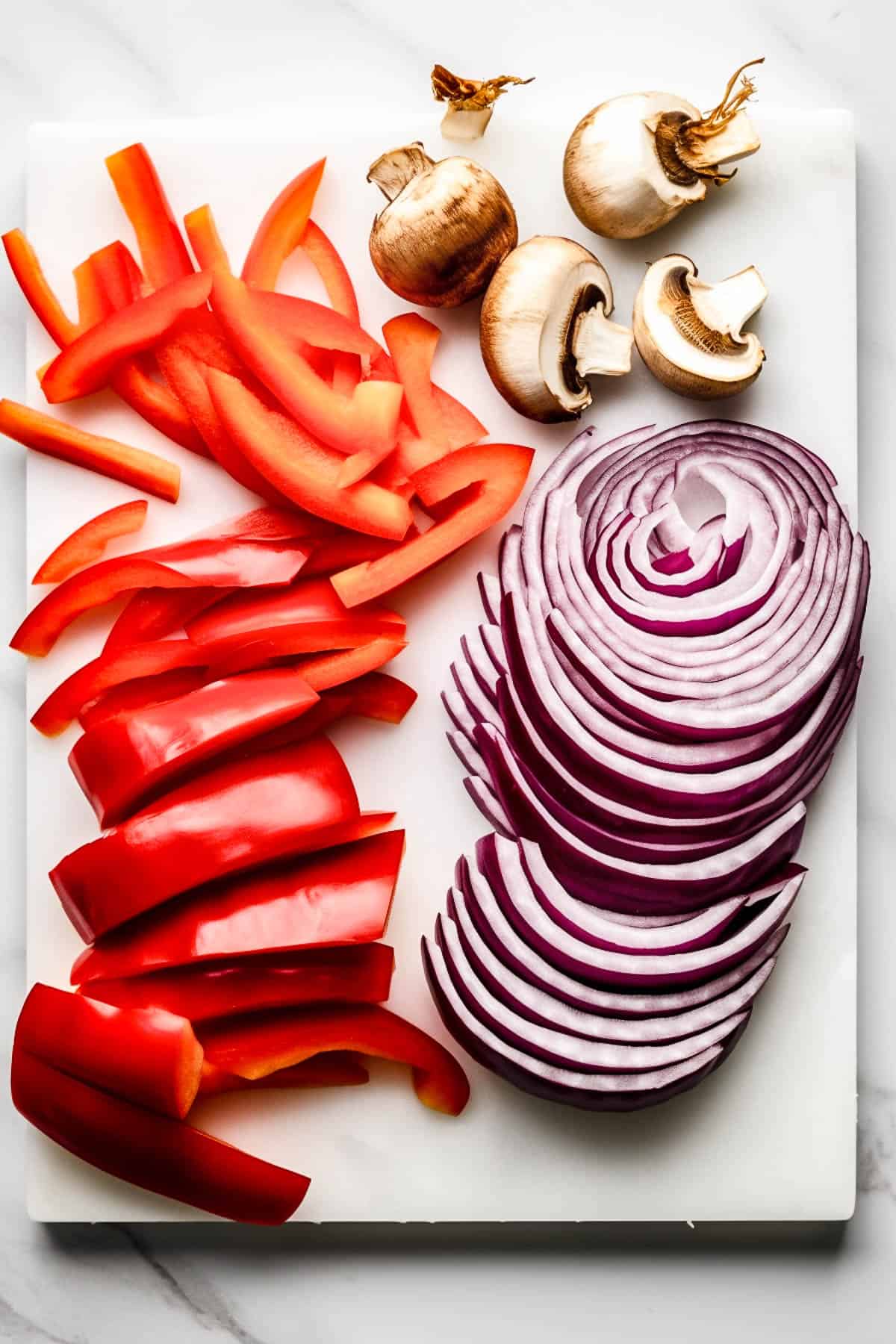 Chop the peppers and mushrooms and accurately measure out your herbs and seasonings. Add these to the slow cooker.
Pour the beef stock, tinned tomatoes, tomato puree (paste) and Worcestershire sauce over the vegetables.
Helpful Tip: Mixing everything thoroughly ensures uniform flavour distribution. *If using, add the drained beans during the last 30 minutes of cooking.
5 Cook the casserole for 5-8 hours
Once the cooking time is up, remove the lid from the slow cooker and taste, adjust the seasoning and check for consistency. The casserole should be the consistency of gravy.
How to thickening your casserole: steps and tips
Using Corn Starch:

Combine cornstarch and Water: In a separate bowl, blend 1-2 tablespoons of cornstarch with an equivalent volume of cold water. Mix until you achieve a smooth, lump-free paste. Note: Using cold water prevents the corn starch from clumping when added to hot liquids.
Allow to Simmer: Replace the lid and cook the casserole for 15-30 minutes. Note: This step activates the corn starch, thickening the casserole's liquid.
Leaving the Lid Off:

Raise the Temperature: Set your slow cooker to its high-heat option and remove the lid. This lets the steam escape, thereby allowing the liquid to reduce and thicken the casserole. Gently stir the casserole occasionally to prevent sticking at the bottom.
Monitor Consistency: Vigilantly observe the casserole to ensure it doesn't become overly thick or overly reduced. This technique might require some time, especially in a slow cooker; allow some time for noticeable results.
🍯 How to store and reheat leftovers
Fridge:

Container: Airtight
Duration: 3-4 days
Tip: Label with date

Freezer:

Container: Airtight or heavy-duty freezer bags
Portions: Individual
Duration: Up to 3 months
Tip: Date label

Reheating:

Thaw: Defrost in fridge if frozen.
Stovetop: Low-medium heat, stir occasionally.
Microwave: Low setting, covered dish.
Temp Check: Ensure 165°F (74°C) internal temp.
Tips for making sausage casserole (slow cooker)
💡 Chef's Guide: Pro Tips for Recipe Success
Drawing from a decade in Michelin-starred kitchens and Cordon Bleu training, I'm sharing simple yet impactful tips for recipe success.
Sausage Selection: Choosing the proper sausage can change how your casserole tastes. If you use sausages like apple and pork or those with extra herbs, consider using less extra seasoning to keep the flavours balanced.
Stock Concentration: The beef stock cube is the cornerstone of your casserole's flavour profile. To dissolve it, use boiling water and strive for a well-balanced liquid that neither dilutes nor overpowers the other ingredients. *You can use two stock cubes for a flavourful broth, but adjust the seasoning accordingly.
Cookware Preheating: While slow cookers are built to handle the bulk of the cooking, warming them up as you prep can give you an edge. This quick step helps the cooker reach a steady temperature faster, leading to more consistent cooking results.
Monitoring Liquid Levels: Slow cookers are great at keeping things moist, but here's a pro tip: always check your liquid levels at least once, especially if you're cooking on high. If things look dry, pour in a little stock (or water). And if it's too soupy? Just leave the lid open for the last 30 minutes.
❓Recipe FAQ's
Can I use frozen sausages?
You can use frozen sausages but thaw them completely before browning. This ensures they cook evenly in the slow cooker. *Adding frozen sausages to the slow cooker is not recommended because they stay in the danger zone temperature for too long.
Do I have to brown the sausages before adding them to the slow cooker?
While it's not absolutely necessary, browning the sausages adds an extra layer of flavour through the Maillard reaction. Skipping this step may result in a less flavorful dish.
Can I use a different type of stock?
Beef stock is recommended for a richer, meatier flavour, but you can use chicken or vegetable stock as an alternative.
Can I make this recipe on the stovetop instead?
Certainly, but you will need to adjust the cooking time. Simmering on a stovetop usually takes 1-2 hours on low heat. Make sure to stir occasionally to prevent sticking.
Can I prepare the ingredients the night before?
Yes, you can chop the vegetables and brown the sausages the night before. Store them in separate airtight containers in the fridge. Assemble everything in the slow cooker when you're ready to start cooking.
Can I use pre-made beef stock instead of a beef stock cube?
Yes, pre-made beef stock can be a good alternative to beef stock cubes. You'll need approximately 500ml of pre-made beef stock to replace the stock cube and water.
What if I don't have Worcestershire sauce?
If you don't have Worcestershire sauce, you can substitute it with a mix of soy sauce, ketchup and a splash of apple cider vinegar for tanginess. See this guide for how to do it.
Can I use other types of beans?
Certainly, kidney beans, black beans, or chickpeas can be used to bulk the recipe. Remember to adjust seasoning and cooking times accordingly.
How can I make this recipe gluten-free?
To make this recipe gluten-free, use gluten-free sausages and replace the beef stock cube with a gluten-free alternative.
Can I freeze the leftovers?
Absolutely, this dish freezes well. See the storage instructions above.
More Slow Cooker Favourites
Looking for more slow cooker recipes? Try these:
If you tried this slow cooker sausage casserole or any other recipe on my website, please let me know in the comments below. I love hearing from you. Also, please leave a star rating while you're there!
You can also follow along on Pinterest, Facebook, and Instagram and join our private Facebook Group Facebook group to share more recipe ideas and all your photos!
Need help with meal planning? You can find our (Aldi ingredients only) weekly meal plans here! Sign up to receive them free every week, or take our quick meal planning course and use all these recipes to create your own meal plans.
You can also find more comfort food recipes using everyday ingredients on our sister site, Salted Mint.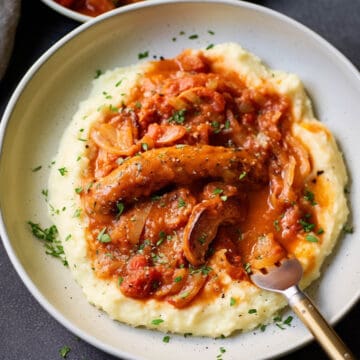 Slow Cooker Sausage Casserole: The Ultimate Comfort Food
Slow Cooker Sausage Casserole! A perfect blend of succulent pork sausages, aromatic herbs, and nourishing vegetables. This easy dinner recipe is a cosy, home-cooked meal with minimal fuss. Ideal for both weekday dinners and weekend get-togethers.
Print
Pin
Rate
Ingredients
8-10

thick-cut pork sausages *see notes

1

red onion

,

cut in half and thinly sliced

2

cloves

garlic

,

minced *see notes

2

red bell peppers

,

deseeded and chopped

120

g

brown

,

chestnut mushrooms, chopped *see notes

2

teaspoons

mixed dried herbs *see notes

1

tablespoon

tomato puree

1

x 400g tin chopped tomatoes

1

tablespoon

Worcestershire sauce

400-500

ml

beef stock made with a stock cube

Salt and pepper to taste

Optional: 1 x 400g tin cannellini beans or navy beans

,

drained
Instructions
Brown the Sausages: Heat a tablespoon of oil over medium heat in a frying pan. Add sausages and brown on all sides. Move browned sausages to the slow cooker. *This is an optional step but enhances the sausage flavours.

Prepare Vegetables: Thinly slice the red onion, mince the garlic, and chop the red bell peppers and mushrooms. Add the vegetables to the slow cooker.

Wet Ingredients: Add tomato puree, tinned tomatoes, Worcestershire sauce, and beef stock into the slow cooker. Mix well.

Season: Add mixed dried herbs, salt, and pepper. Stir to combine all ingredients.

Slow Cook: Cover and set the slow cooker on low for 6-8 hours or on high for 4-5 hours.

Optional: If using, add cannellini or navy beans 30 minutes before cooking is complete. Stir well.

Serve: Stir the casserole well, taste and adjust the seasoning before serving. Serve over mashed potatoes.
Notes
Sausages: Cumberland or Lincolnshire are the preferred choice, but you can substitute with pork and apple or Italian-style sausages.
Garlic: Fresh minced garlic can be replaced with garlic paste.
Mushrooms: White closed-cup mushrooms are fine here too. They just lack the depth of flavour that brown mushrooms have. Pre-sliced mushrooms are a time-saving option here if you need it.
Herbs: Mixed dried herbs can be replaced with dried thyme.
Nutrition
Calories:
573
kcal
|
Carbohydrates:
24
g
|
Protein:
27
g
|
Fat:
41
g
|
Saturated Fat:
13
g
|
Polyunsaturated Fat:
6
g
|
Monounsaturated Fat:
18
g
|
Trans Fat:
0.3
g
|
Cholesterol:
108
mg
|
Sodium:
1232
mg
|
Potassium:
830
mg
|
Fiber:
3
g
|
Sugar:
5
g
|
Vitamin A:
1452
IU
|
Vitamin C:
61
mg
|
Calcium:
59
mg
|
Iron:
3
mg