These are 10 of the absolute best cheap vegetarian meals. They're quick and easy to make, most of them only take 30 minutes to cook and require minimal ingredients. A couple of them are naturally vegan, too. They're great dinner ideas for vegetarians or anyone wanting to reduce meat in their diet.
---
10 Cheap Vegetarian Meals That Are Easy And Delicious
Like this recipe? Pin it to your Vegetarian or Meal Planning pinboard!
Follow SavvyBites on Pinterest
---
Jump to:
8 Ingredients, 30 Minutes
This mushroom stroganoff is the perfect garlicky, creamy, savoury vegetarian dinner. All served over silky noodles with a hefty helping of parsley to finish it all off. Only 8 ingredients and 30 minutes until you can be relaxing with a giant bowl of this creamy mushroom dinner.
16 Ingredients, 25 Minutes
This Mexican rice is relatively traditional but with a few twists to ensure we hit maximum flavour! It all starts with cumin, chilli powder, onion and garlic. And ends up with a mildly spicy, fluffy tomato-y rice dish that will have you adding it to your meal plan every week. And you're not even gonna think about serving this without avocado, tortilla chips and fresh lime wedges are you? Because they may not be traditional, but they should absolutely be included!
12 Ingredients, 30 Minutes
This sweet potato curry is a weeknight saviour. It's all about a quick and easy dinner that only requires basic larder ingredients and some fresh herbs. But don't be fooled by the simplicity of this vegan style curry. It's all about texture and depth of flavour with crunchy chopped cashews, creamy sweet potatoes, spicy Thai red curry paste, sweet coconut milk and bright citrusy lime juice.
12 Ingredients, 35 Minutes
Pillowy soft potato gnocchi bake, tossed in a creamy pesto infused artichoke and spinach sauce and baked under a bubbling golden blanket of melted cheese.
15 Ingredients, 35 Minutes
If you could create your dream dinner I'm fairly certain it would be this vegetarian Butternut Squash and Chickpea Curry. It's the perfect balance of tangy, fragrant curry and sweet coconut/ squash goodness. Healthy, cosy dinners in about 30 minutes.
10 Ingredients, 35 Minutes
Rich and hearty tomato sauce swirled with creamy ricotta and tossed with fluffy potato gnocchi. All of this baked under a blanket of golden bubbling cheese and topped with herbs. This is the cosiest and heartiest vegetarian dish ever. All ready in 35 minutes!
5 Ingredients, 40 Minutes
This is the creamiest, silkiest butternut squash pasta you will ever taste. It's only 5 ingredients and all of it available from Aldi UK. That means that anyone can make this dinner in about 40 minutes!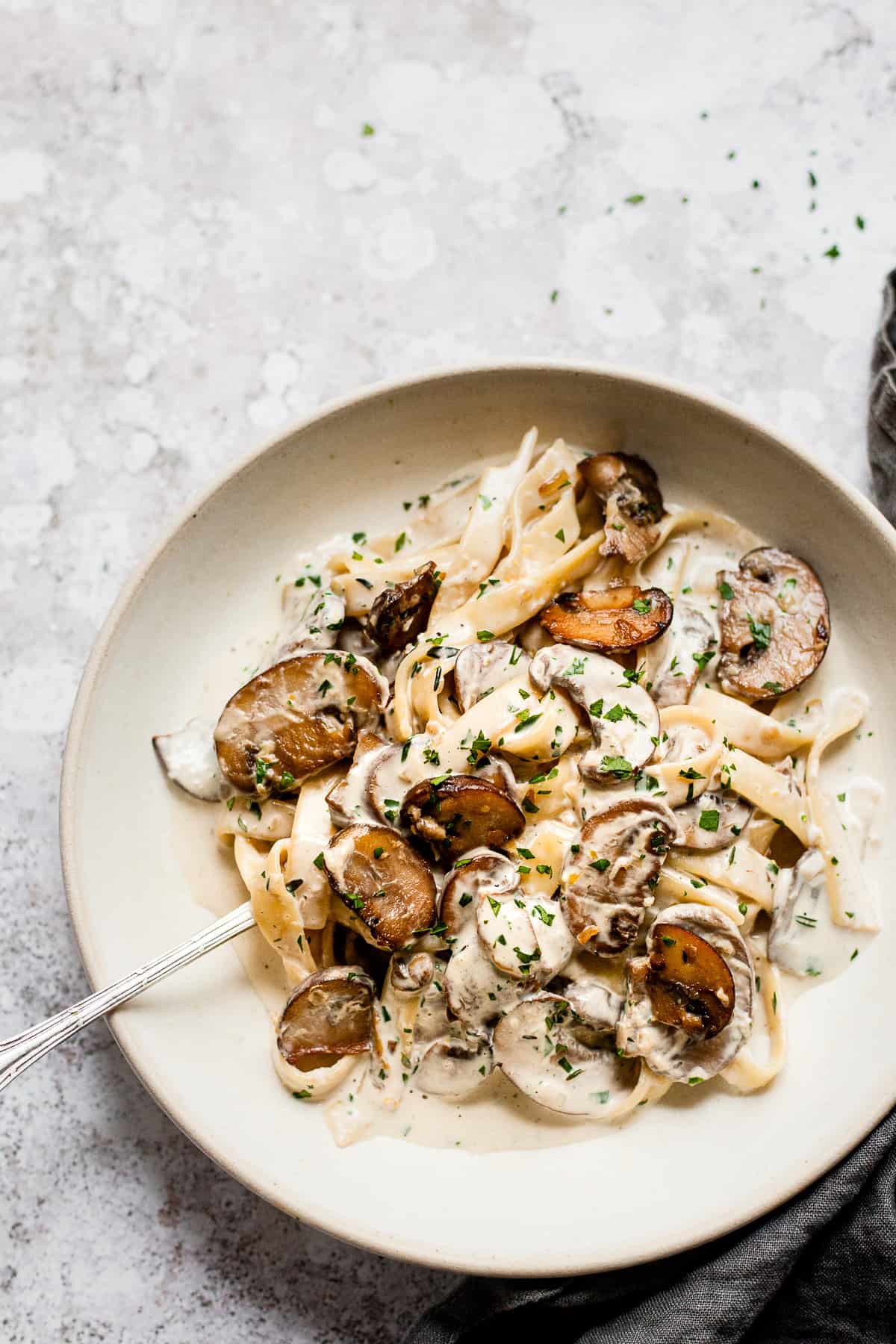 8 Ingredients, 15 Minutes
This is a super simple creamy mushroom tagliatelle recipe that you will make over and over again. A 15-minute (vegetarian) garlicky creamy mushroom sauce tossed with silky noodles and finished with a squeeze of lemon and a sprinkle of parsley.
11 Ingredients, 40 Minutes
These stuffed peppers with rice are a bright and vibrant change from the usual stuffed pepper situation. Keeping it cosy but still nice and light using rice and basil marinated tomatoes. Topped with feta and olives.
12 Ingredients, 30 Minutes
Rice and peas is a staple of Jamaican cooking and loved by everyone. It's warm and comforting but also really healthy and happens to be vegan by nature rather than adaptation.
More Recipe Collections
Tools used
THANKS SO MUCH FOR READING AND COOKING ALONG WITH ME! IF YOU MAKE THIS RECIPE OR HAVE A QUESTION, I'D LOVE IT IF YOU LEFT A COMMENT AND A RATING. YOU CAN ALSO FOLLOW ALONG ON PINTEREST, FACEBOOK AND INSTAGRAM TO SEE WHAT WE'RE EATING, PINNING AND A LITTLE BEHIND THE SCENES TOO!
Need some help creating a useable weekly meal plan? I've got a free one for you!