This 5 bean chilli is a hearty, comforting, and satisfying dinner perfect for cold nights. Rich, bold spices, like cumin and chilli powder, add depth and warmth, while vegetables, like red bell pepper and onions, add a burst of freshness and crunch. Each spoonful is warm and comforting as well as being healthy and easy to make.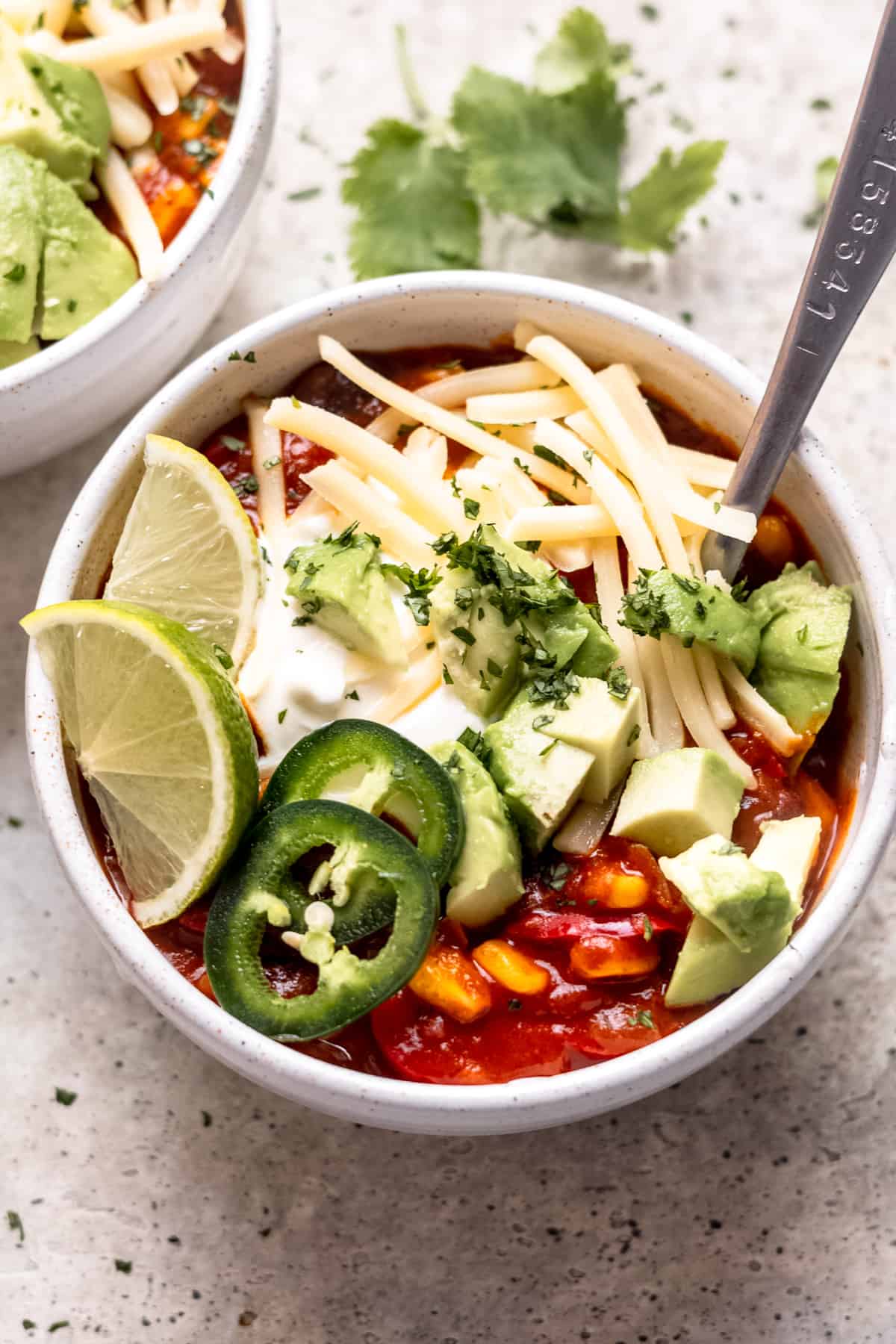 This easy mixed bean chilli is part of the £25 meal plan- week two. Check out week one. You can also check out my slow cooker con Carne chilli if you'd prefer a meat version.
Jump to:
⭐️ Why you need to make this vegetarian bean chilli
Hearty and filling- The mix of beans and vegetables mean that this is a really healthy chilli thats high in fibre and protein making it a satisfying and filling meal.
Comforting- The hearty texture of the beans and the warming spices make this the perfect dinner for a cold night.
Budget friendly- beans are such an amazing and cheap source of nutrition. All you need for this recipe are a couple of tins of beans and tomatoes to make this recipe that will give you leftovers or feed a crowd.
Easy to make- All you really need to make this chilli are a couple of tins of vegetables, some spices you probably already have, and a few vegetables. This is so versatile; it can be made on the stovetop or in a slow cooker depending on how much cooking time you have available.
? Must-have ingredients to make a hearty veggie bean chilli
Vegetables- bell peppers, sweet corn, onions and garlic.
Beans- Mixed beans in tomato sauce are great for helping to add flavour, but you can use plain mixed beans if you prefer. *If using tinned beans on water, be sure to drain and rinse them first before adding to the chilli.
Tomatoes- I've used a tin of chopped tomatoes for a thick chunky style chilli, but you can use passata if you prefer a thinner style chilli.
Spices- cumin, smoked paprika, and chilli powder (substitute cayenne if you prefer)
Toppings- shredded cheese, sour cream, avocado, red onion, lime wedges, chopped fresh coriander and tortilla chips. Choose one or two or add them all!
See recipe card for quantities.
???? Adapt and make it your own
Experiment with your spice blend- add in some extra paprika or cumin for smokiness
Get extra veggies in- by adding in sweet potatoes use frozen veggies instead of tinned corn.
Vegetarian protein- add in some Quorn mince to give this chilli even more texture and nutrition while keeping it vegetarian.
???? 6 chef secrets to an incredible vegetarian chilli
Variety of beans- this is a 5 bean chilli so we're already ahead of the game there. We're using a mix of kidney, pinto, black, cannellini beans, and pea beans. The mix of beans brings extra flavour and texture that would otherwise not be there if you're just using kidney beans.
Spice blend- this is arguably the most important element of any chilli. What you need is a balance of spice and smoke to create a chilli that has depth and flavour. Cumin has a warm earthy flavour with a hint of citrus, chilli powder or cayenne for heat, and smoked paprika for smokiness.
Adding umami ingredients- Vegetarian chilli can often lack the depth that comes from browned and slow simmered meat. So we need to add some of that depth using ingredients that are rich in umami while still being vegetarian and vegan. Some great choices are mushrooms, or a teaspoon of soy sauce or vegemite will bring a deep rich flavour that will make everyone request seconds and thirds!
Flavourful base- Using vegetable stock cubes or stock pots in this 5 bean chilli help to bring added flavour, along with lots of garlic, onions, and bell peppers. Soften them in some olive oil to help release their natural sugars and oils and caramelize them to build flavour.
Acidity- Every dish will benefit from some acidity and this spicy smoky bean chilli is no exception. Use a splash of apple cider vinegar, or lime juice to brighten the flavours and balance out the richness.
Simmer- a great chilli benefits from time and heat. Let this chilli simmer over low heat for an hour (or more) to develop depth and give the flaovurs time to blend and marry.
????????‍???? Step By Step- How to make the best veggie chilli
1 & 2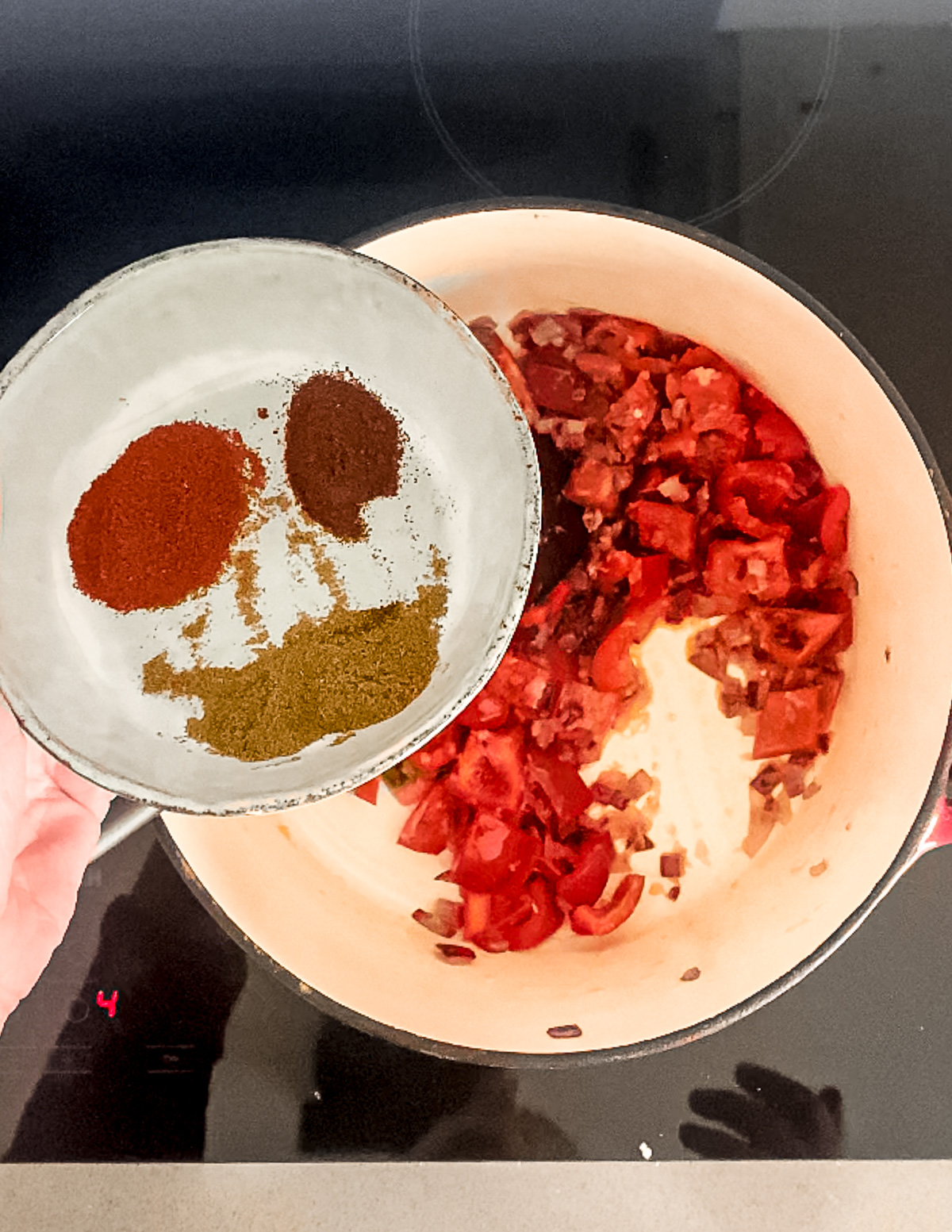 Start by heating some oil in a large pot over medium heat. Once the oil is hot, you will see it shimmer, add the chopped onions to the pan. Soften the onions for about 5 minutes until they're translucent. Add in the garlic and continue to sauté until it's fragrant. This should take another 5 minutes.
Add in the chopped fresh bell pepper and chopped chargrilled peppers, and the spice blend. Continue to cook for a further 5-10 minutes until the fresh pepper and onion are just starting to colour and the spices are toasty and fragrant.
3 & 4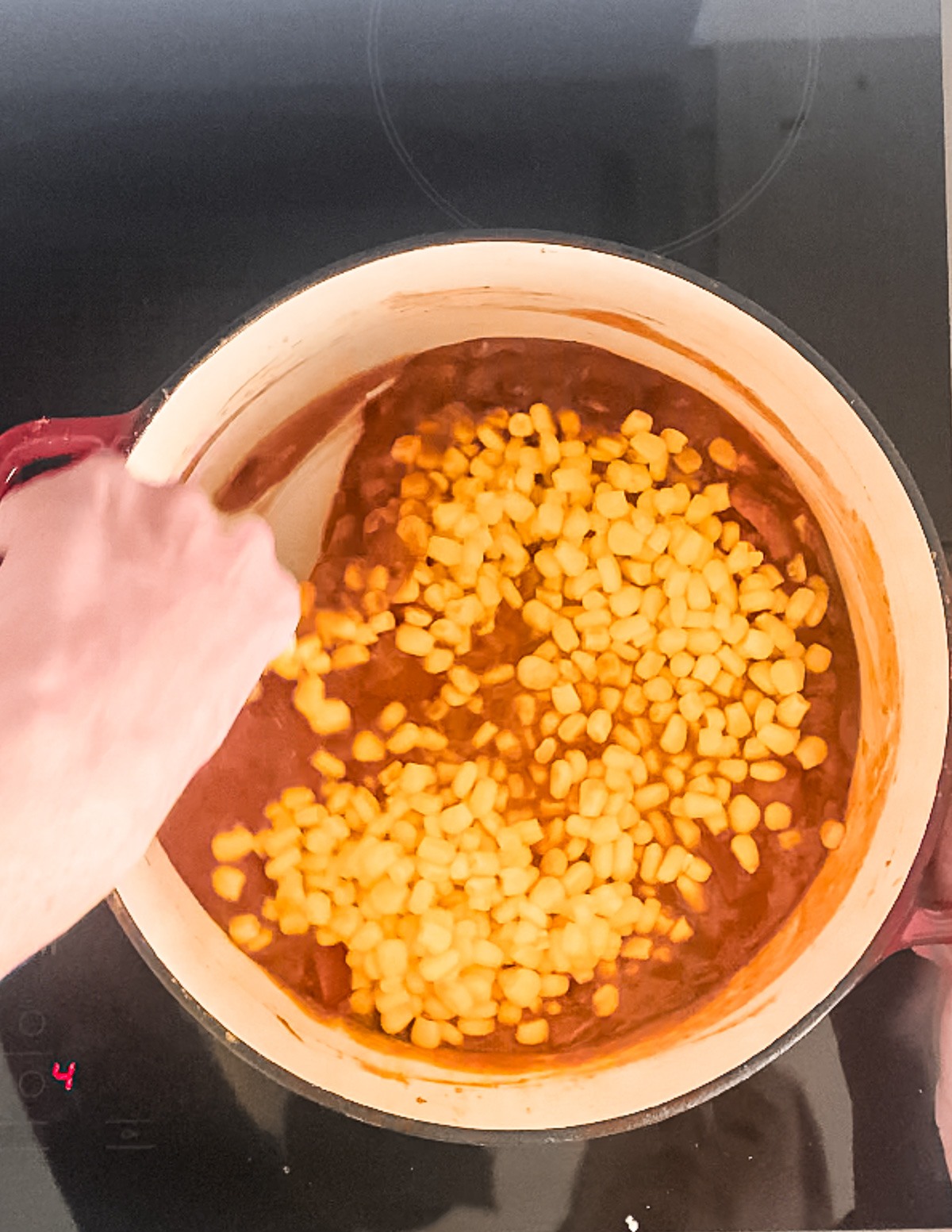 Add the beans and tomatoes to the pot and stir really well to combine everything. *This chilli is very thick. You can add in some water or some vegetable stock if you would like it a little bit less thick.
Stir in the sweet corn and simmer for about 1 hour to give the flavours time to develop. Once the chilli has simmered stir in the cinnamon, cocoa powder, and soy sauce. Stir well and adjust the seasoning. Pour in a splash of vinegar or lime juice for some acidity.
Chef's tip- How to thicken chilli
Turn the heat up and simmer uncovered for a few minutes until the liquid has reduced.
Remove some of the beans and mash them with a fork before adding them back to the pot.
I never specify the amount of salt in a recipe because it's completely subjective to your personal taste and possible health requirements, but here are some general guidelines.
Start with a small amount of seasoning and taste as you go. It's always easier to add more seasoning than it is to try to fix a dish that is overly seasoned. *If you are accidentally heavy-handed with the salt, try adding some lemon juice to balance it out.
Balance the flavours. A good dish will have a balance of sweet, sour, salty, and bitter flavours.
Be mindful of the proportions of the ingredients. If a dish has a lot of strong-flavoured ingredients, you may need to use less seasoning. *This chilli will need less seasoning because of all the rich and spicy flavours.
Consider the cooking method. Different cooking methods can affect how much seasoning a dish needs. For example, grilling or roasting tends to bring out the natural flavours of ingredients, so you may need to use less seasoning and a moist cooking method will require more seasoning.
⭐️The ULTIMATE secret chilli ingredients you MUST add
Three surprising ingredients that take your chilli from good to OMG!
1. Cinnamon- it's a warm, earthy spice that can add depth and complexity to chilli. It also helps to balance out the acidity of the tomatoes and enhance the sweetness of the vegetables.
3. Soy sauce- is a source of umami, which is a savoury taste often associated with meat. When added to vegetarian chilli, soy sauce can help to mimic the taste of meat and make the flavour more satisfying and filling. *Add soy sauce sparingly because it can quickly become overpowering. If you're gluten-free add tamari instead.
2. Dark chocolate- The chocolate can add a subtle sweetness and a rich, almost smoky, flavour to the chilli. It also adds a hint of bitterness that can balance out the heat of the chili and give it a more complex flavor.
*Be sure to use dark chocolate with at least 70% cocoa solids. Anything less will be too sweet. Both ingredients need to used in small amounts, so they complement the chilli without overpowering it.
Add these secret ingredients to the chilli at the end of the cooking process, so the flavours are preserved and still prominent. Use one or all of them. Your chilli will go from great to award-winning!
The best toppings for spicy chilli
sour cream or creme fraiche- cools down the heat from the spices Fat free Greek yogurt works here for a calorie-reduced diet.
Cheese- shredded cheddar is an amazing choice because it starts melting into the hot chilli.
Tortilla chips- bring a salty crunch factor and also is great for scooping up big mouthfuls of chilli.
Freshly chopped coriander- (cilantro) brings a fresh brightness that pulls all the other flavours together and gives that unmistakable Tex-Mex flavour.
? Storage
Fridge- for up to 3 days in an airtight container with a tight-fitting lid.
Freezer- for up to 3 months in a freezer bag or a container.
Reheat- in the microwave on medium in 30-second intervals until hot. stove-top: in a medium pan over medium-low heat until the chilli is hot.
❓FAQ
Can I make 5-bean chilli in a slow cooker?
You sure can! Just combine all the ingredients in the slow cooker, and cook on low for 6-8 hours.
How to can I add more spice to my chilli?
Add in some extra chilli powder or cayenne pepper.
Top with sliced jalapenos.
If you tried this Recipe or any other recipe on my website, please let me know in the comments below. I love hearing from you. Also, please leave a star rating whilst you're there!
You can also follow along on Pinterest, Facebook, and Instagram and join our private Facebook Group Facebook group to share more recipe ideas and all your photos!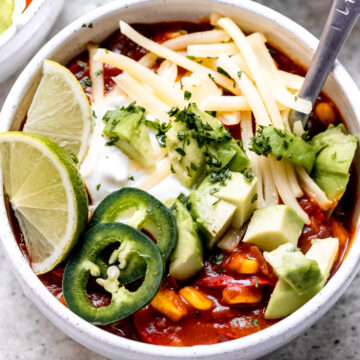 Easy One Pot Smoky 5 Bean Chilli- Vegetarian
Smoky 5 bean chilli is a hearty, flavourful dish combining five types of beans simmered in a rich, smoky chilli sauce. Perfect for a comforting, nutritious meal.
Print
Pin
Rate
Ingredients
2

tablespoons

olive oil

1

red onion

,

diced

4

cloves

garlic

,

minced

2

bell peppers

,

seeds removed and chopped

1

x 400g tins mixed beans in tomato sauce *see notes

100

g

chargrilled peppers

,

drained *see notes (optional)

340

g

sweet corn

,

tin or frozen

1

x 400g chopped tomatoes

1

teaspoon

soy sauce *see notes

1

teaspoon

vinegar or lime juice
Spice mix
2

teaspoons

ground cumin

½

teaspoon

smoked paprika

1 ½ - 2

teaspoons

chilli powder

,

depending on how spicy you like your chilli

Reserve the cinnamon and cocoa powder for the end of cooking

½

teaspoon

cinnamon *see notes

¼

teaspoon

cocoa powder *see notes
To serve
Fresh chopped coriander

Avocado

Sour cream

Grated cheddar
Instructions
Heat the olive oil in a large saucepan over medium heat. Add the onions and garlic and saute for about 5 minutes until they're soft and fragrant.

Add in the chopped fresh bell pepper and chopped chargrilled peppers. Continue to cook for a further 5-10 minutes until the fresh pepper and onion are just starting to colour.

Add the spices to the pan and stir to coat the peppers and onions. Add in the beans and tomatoes and bring to a gentle simmer. Add in the sweet corn and continue to simmer for about 30 minutes. Taste and adjust the seasoning.

Once the chilli has simmered stir in the cinnamon, cocoa powder, and soy sauce. Stir well and adjust the seasoning. Pour in a splash of vinegar or lime juice for some acidity.

Divide the chilli between bowls and top with chopped avocado, coriander, sour cream and shredded cheese.
Notes
If you can find mixed beans in tomato sauce, be sure to rinse the regular beans from the tin before adding them to the pan.
The chargrilled peppers should be just removed from the oil in the jar. They don't need to be rinsed. They're packed in oil and it adds so much flavour.
Soy sauce gives this veggie chilli a rich umami flavour that can sometimes be absent from meat-free versions.
If you would like to have a chilli that is not quite as thick, add 150ml of water or vegetable stock.
Nutrition
Calories:
136
kcal
|
Carbohydrates:
20
g
|
Protein:
4
g
|
Fat:
6
g
|
Saturated Fat:
1
g
|
Polyunsaturated Fat:
1
g
|
Monounsaturated Fat:
4
g
|
Sodium:
179
mg
|
Potassium:
413
mg
|
Fiber:
4
g
|
Sugar:
7
g
|
Vitamin A:
1914
IU
|
Vitamin C:
62
mg
|
Calcium:
44
mg
|
Iron:
2
mg