This comforting and delicious fish pie recipe is not only mouthwatering but also a breeze to prepare. In just about 40 minutes, you'll have a creamy, flaky fish pie topped with cheesy mashed potatoes. This pie is freezer-friendly meaning you can make it ahead of time, or keep leftovers for your busiest nights!
Need more cosy pie recipes? Then our chicken and mushroom pie, or the steak pie will be just what you need. Or our very popular slow cooker cottage pie is another one topped with mashed potatoes!
Jump to:
⭐️ Why This is The Best Fish Pie Recipe
Family-Friendly: One of the key strengths of this recipe is its flexibility. Whether you're serving it to toddlers, teenagers, or adults, the recipe can be adjusted to suit all tastes and nutritional needs.
Convenience: With a reasonable preparation and cook time, this fish pie recipe is perfect for a mid-week dinner when you want something comforting but don't have hours to spend in the kitchen.
Freezer-Friendly: This fish pie is great for meal prepping. Make a large batch and freeze individual portions for quick, home-cooked meals on busy days.
Comfort Factor: Last but not least, this fish pie offers the ultimate comfort food experience. The creamy sauce, flaky fish, and smooth mashed potato topping combine to create a dish that's soul-soothing and deeply satisfying.
🧾 Key Ingredients
Maris Piper potatoes: They provide a fluffy texture, for the mashed potato topping.
Milk: For that velvety, creamy filling.
Butter: Adds rich flavour and helps to make the sauce smooth.
Plain flour: Acts as a thickening agent in the fish pie sauce. *Use gluten-free flour if required.
Fish pie mix (cod, salmon, smoked haddock, etc.): Offers a seafood mix, adding a variety of textures and flavours. *Usually much cheaper than buying all the fish individually.
Dijon or English mustard: To give the pie a tangy kick. *Leave this out if you're cooking for little ones!
Grated cheddar: For topping the mashed potatoes. *You can skip this, or use a different cheese.
Optional add-ins

Frozen sweetcorn
Petits pois: These veggies add colour and nutrition.
Spring onions: For a mild onion flavour that doesn't overpower.
See recipe card for quantities.
📖 Substitutions & Variations
Spring Onions: You can use leeks instead for a different flavour profile.
Brighten It Up: Add lemon zest for a citrusy touch.
Different Fish: Feel free to switch up the fish choices for your personal preference.
👩🏻‍🍳 Making Fish Pie Step By Step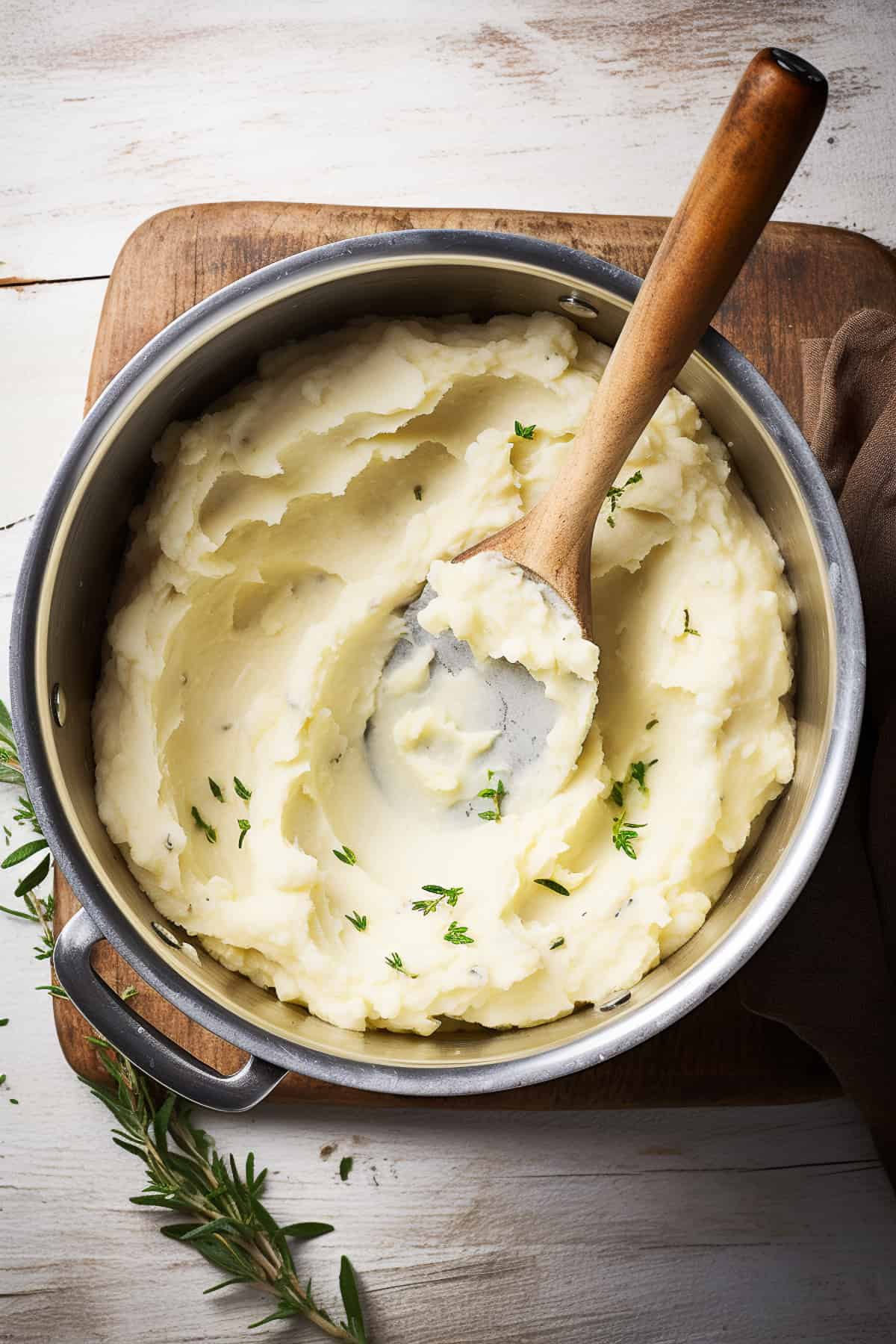 Mashed Potato Topping: Place peeled potatoes in a large pot filled with water. Boil them until they're soft, which usually takes 15-20 minutes. Drain well, then mash together with 50g of butter and a splash of milk. Set this delicious mash aside for later
Fish Pie Filling: If your fish isn't already cut, now's the time. You want bite-sized pieces. Next, in a saucepan, melt some butter and add flour to create a roux. Gradually pour in milk while continuously whisking to make sure your sauce is lump-free. Season with mustard, salt, and pepper to taste. Finally, fold the cut fish into the sauce you just made. Add in any veggies that you'll be using.

Special Tip: Add milk very gradually and keep that whisk moving for a creamy, lump-free sauce.

Assemble the Pie and Bake: Pour your fish filling into a baking dish, making sure it's evenly spread.

Special Tip: Give it a gentle stir to evenly distribute the sauce and ingredients throughout the filling.
Spoon your mashed potatoes over the fish filling. Smooth it out, and use a fork to create a pattern on the surface. This creates extra crispy edges when baking. Sprinkle some grated cheddar cheese on top.
Place your assembled pie into the preheated oven. Bake it for 25-30 minutes, or until you see a golden, crispy layer forming on top.

Special Tip: For that golden seal of perfection, switch the oven to broil for an additional 3-5 minutes.
Allow the pie to rest for about 5 minutes before diving in. This lets the sauce thicken up a bit, making it easier (and neater) to serve.
💡 Top Tip: How To Tell When Fish Pie is Cooked.
The pie is done when the mashed potato topping turns golden brown, and the filling is bubbling around the edges. The internal temperature should reach at least 74°C (165°F).
🍯 Storage
Fridge

Good for up to 2 days when stored in an airtight container.

Freezer

Can be frozen in individual portions for up to 3 months.

Reheat

If frozen, defrost completely and then bake for an additional 15-20 minutes.
💡 Top Tip: What To Do With Leftover Fish Pie Filling
Top Tips for Using Leftover Filling:
Fish Tacos: Use the filling as an incredible base for fish tacos. Just warm it up and scoop into tortillas. Top with slaw and a drizzle of spicy mayo.
Seafood Pasta: Mix it with cooked pasta for a quick seafood pasta dish. Add a sprinkle of Parmesan and you're golden!
Seafood Risotto: Incorporate the filling into a basic risotto recipe for a seafood spin.
❓FAQ
Can I cook and then freeze the pie?
Absolutely, just make sure to thaw it properly in the fridge overnight before reheating.
What can I use instead of mashed potatoes for the topping?
For a lighter version, consider using mashed sweet potatoes or a cauliflower mash as a substitute. Both work well and add a unique twist.
Is it essential to add cheese on top?
While cheese adds extra flavour and a lovely crust, it's optional. You can also try bread crumbs or crushed crackers for a different texture.
How can I lower the calorie count for this fish pie?
To reduce calories, you can use low-fat milk, as well as a lighter cheese option. Also, consider using a cauliflower mash instead of regular mashed potatoes.
More Dinner Pie Recipes
Looking for more cosy comfort food dinners? Try these:
If you tried this Recipe or any other recipe on my website, please let me know in the comments below. I love hearing from you. Also, please leave a star rating while you're there!
You can also follow along on Pinterest, Facebook, and Instagram and join our private Facebook Group Facebook group to share more recipe ideas and all your photos!
Need help with meal planning? You can find our (Aldi ingredients only) weekly meal plans here! Sign up to receive them free every week or take our quick meal planning course and use all these recipes to create your own meal plans.
You can also find more comfort food recipes using everyday ingredients over on our sister site Salted Mint.
The BEST Fish Pie Recipe
Dive into the ultimate comfort zone with this Fish Pie. A delectable medley of seafood swims in a creamy sauce, all under a cozy blanket of mashed potatoes. Truly a British comfort food classic!
Print
Pin
Rate
Ingredients
500

g

white fish

,

e.g., cod or haddock *Or use a bag of frozen fish pie mix.

200

g

salmon

200

g

prawns

,

peeled and deveined

1

kg

potatoes

,

peeled and diced

100

g

butter

200

ml

cream *Can replace the cream with milk

200

ml

milk

40

g

flour

150

g

cheddar cheese

,

grated

2

tablespoon

fresh parsley

,

finely chopped

Salt and pepper to taste
Instructions
Preparing the Mashed Potatoes:
In a large pot, place potatoes, cover with water, and bring to a boil.

Boil for 15-20 minutes or until soft.

Drain and mash the potatoes using 50g of butter and a splash of milk. Set aside.
Making the Creamy Fish Pie Filling:
In a saucepan, melt 50g of butter over medium heat.

Stir in flour to form a roux, cooking for 1-2 minutes.

Gradually whisk in milk and cream (if using), stirring constantly until thickened.

Add the parsley and season with salt, and pepper.

Mix in white fish, salmon, and prawns into the saucepan, coating them well in the creamy sauce and remove the pan from the heat.
Assembling and Baking:
Preheat your oven to 200°C (400°F).

Pour the creamy fish pie filling from the saucepan into a large casserole dish.

Smoothly layer the mashed potatoes on top of the filling.

Sprinkle the surface with grated cheddar cheese.

Bake for 25-30 minutes or until the top turns golden brown.
Notes
Fish: Using frozen fish is fine, but make sure to fully thaw it first.
Cheese: For a lighter option, consider using low-fat cheddar.
Sauce Thickness: If the sauce feels too thick, add a splash of milk to thin it out; too thin, and a little more flour can help thicken it.
Cheese Alternatives: If you're not a fan of cheddar, Gruyère or Parmesan also work well as a cheesy topping.
Oven Temperatures: Ovens can vary. Keep an eye on the pie during the last 10 minutes of baking to avoid over-browning.
Gluten-Free: To make this dish gluten-free, use gluten-free flour for the roux and ensure all other ingredients are gluten-free.
Make-Ahead: The fish filling can be prepared a day in advance and stored in the fridge, covered. Assemble and bake the next day for an easy meal prep.
Nutrition
Calories:
567
kcal
|
Carbohydrates:
38
g
|
Protein:
40
g
|
Fat:
28
g
|
Saturated Fat:
16
g
|
Polyunsaturated Fat:
2
g
|
Monounsaturated Fat:
7
g
|
Trans Fat:
1
g
|
Cholesterol:
171
mg
|
Sodium:
554
mg
|
Potassium:
1295
mg
|
Fiber:
4
g
|
Sugar:
5
g
|
Vitamin A:
969
IU
|
Vitamin C:
35
mg
|
Calcium:
319
mg
|
Iron:
3
mg