This easy 30-minute Asian beef stir fry is made with tender rump steak, bell peppers, onions, garlic, and ginger to make a bold-flavored healthy dinner with an addictive sticky Asian stir fry sauce.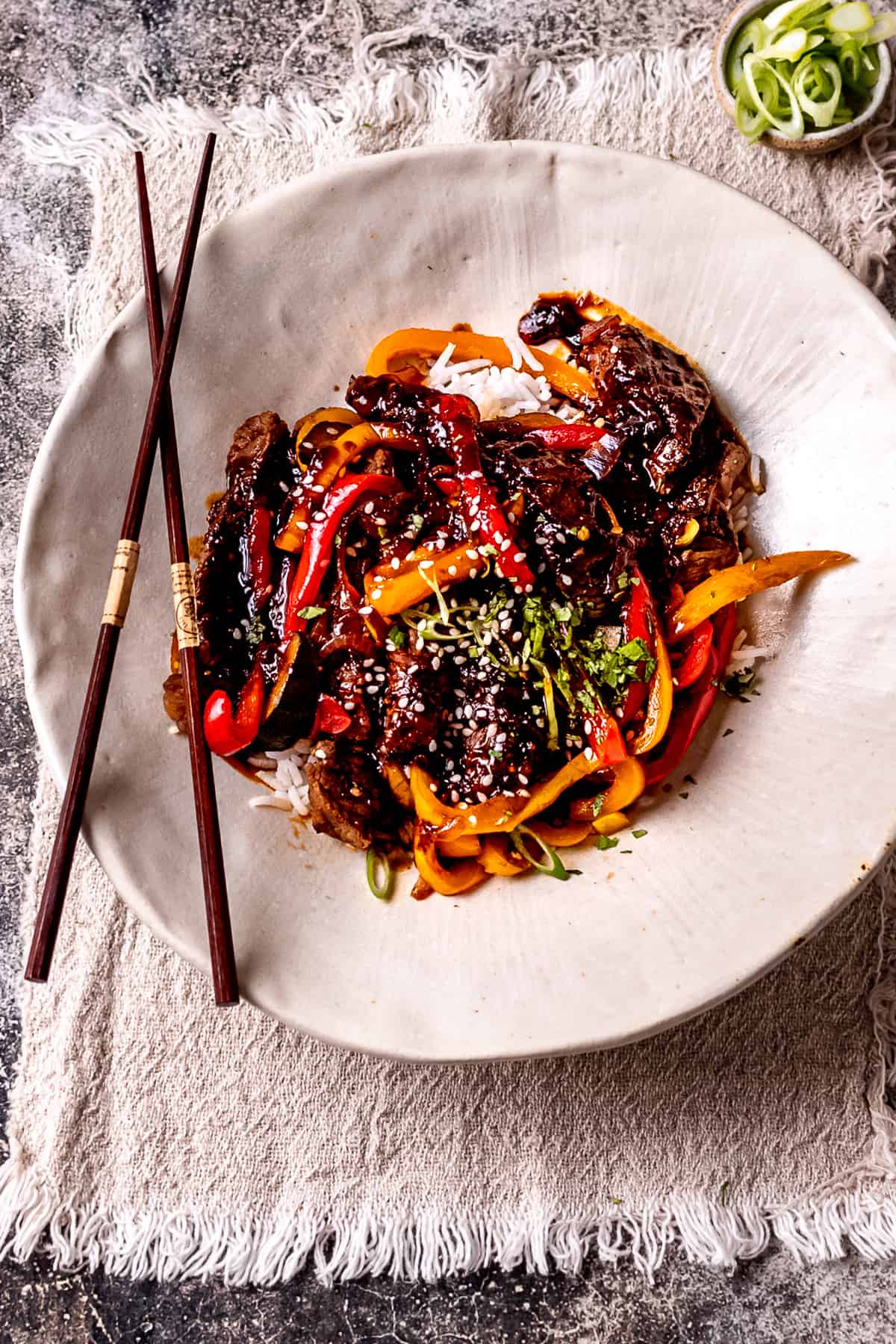 Everyone can use another quick and easy 30-minute dinner, especially if it only uses one pan, like this beef dinner recipe.
You can find more easy stir fry recipes like this salmon stir fry, or this 15-minute turkey stir fry, or keep it veggie with this noodle stir fry.
Jump to:
⭐️ Why You'll Love Rump Steak Stir Fry
The stir fry sauce is full of flavour and coats all the vegetables with the exact right consistency.
Rump steak is a great budget-friendly cut of beef that stays tender when quickly cooked.
Stir fries are endlessly customisable by adding in extra vegetables and really being able to stretch a smaller amount of beef to feed more people.
Quicker, cheaper and more delicious than any take out you can find.
🧾 Ingredients
You're gonna hit the produce aisle pretty hard with this stir fry. But there are some quick swaps you can make to ensure everyone at your table (even the pickiest eaters) will devour this.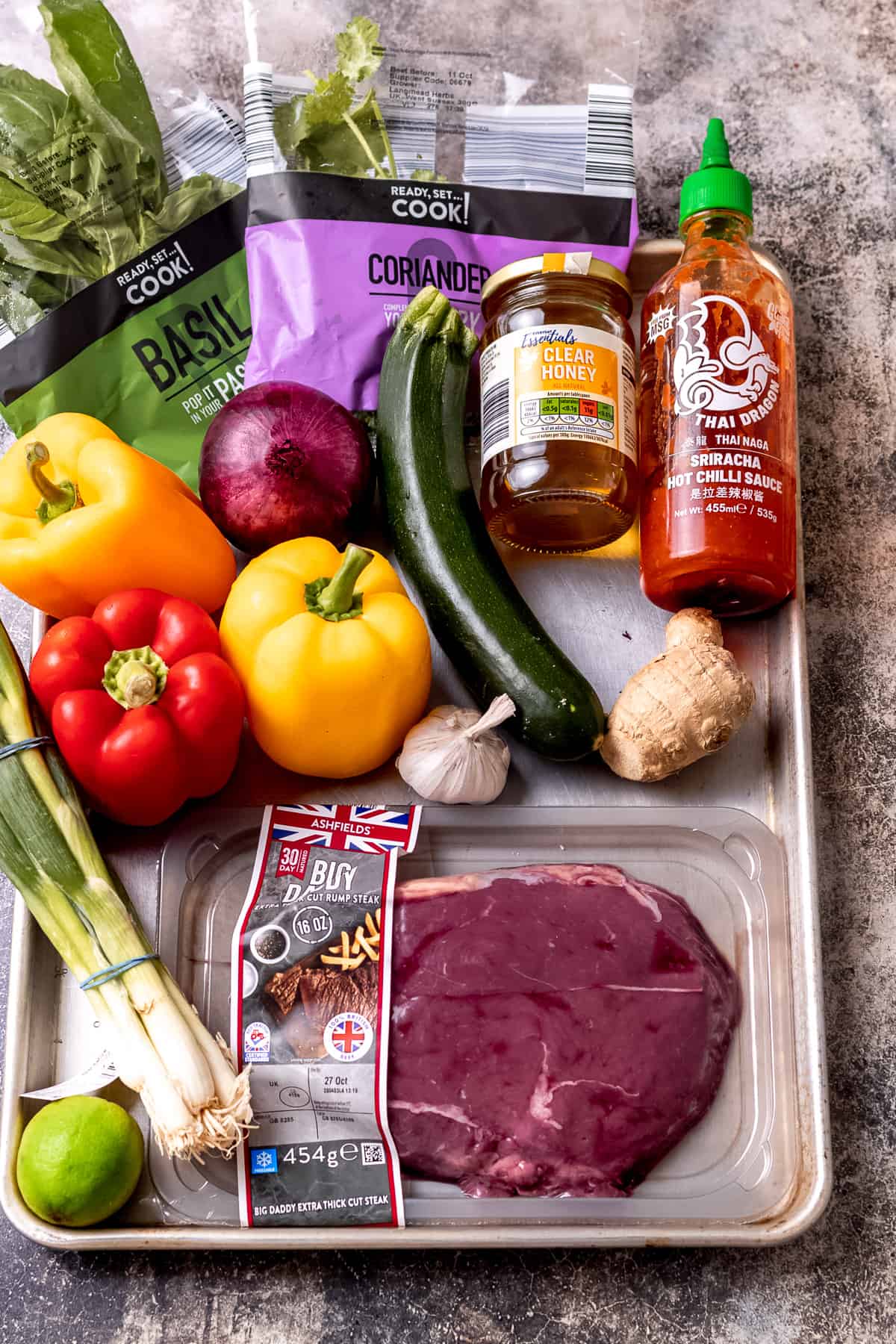 beef- rump steak is cut from the back of the cow, it is a less meltingly tender cut but it is full of flavour. This makes it a great piece of beef for quick cooking, like in stir fries and it's great for marinating too.
vegetables- this is where you can get really creative. I've opted for simplicity and affordability with courgette (zucchini) and a 3 pack of bell peppers. But you can add in broccoli florets, cauliflower and bean sprouts.
sauce- the sauce is usually what ties every stir fry together and this one is no different. It has all the elements required to create flavour balance- salty, sweet, acid, and heat. The best part of this sauce is that you can adjust each element to create exactly what you like.
See recipe card for quantities.
📖 What cut of beef is the best for stir fry
As with any recipe, there is always more than one good choice. So I've listed a couple of top steak stir fry choices and explained why they're the best ones.
rump- rump steak is from the back end so it's a muscle that has been frequently used, making it very lean. This is great because it means is a cheaper cut of beef, has less fat making it healthier, and is excellent for quick cooking and marinating.
hanger steak (butcher's steak)- cut from the underside meaning it's incredibly tender. So it does well being cooked at high heat for 2-3 minutes for medium-rare. Making it great for a quick cooking stir fry.
sirloin- cut from between the rump and the ribs, it has a good amount of marbling and flavour. It's best cooked on high heat and rested to ensure tenderness.
Sirloin can be a good choice, but only if you find it on a great sale. It starts to get a little pricey for using in an everyday stir fry recipe and it best saved for more special occasions, or where the beef/steak will be the star of the dish.
👩🏻‍🍳 How to make stir fry with rump steak
Because stir fry is an extremely quick cooking recipe, it's important to get all of your ingredients prepared before you even begin. In restaurants, we call that mis en place or "everything in place".
1 & 2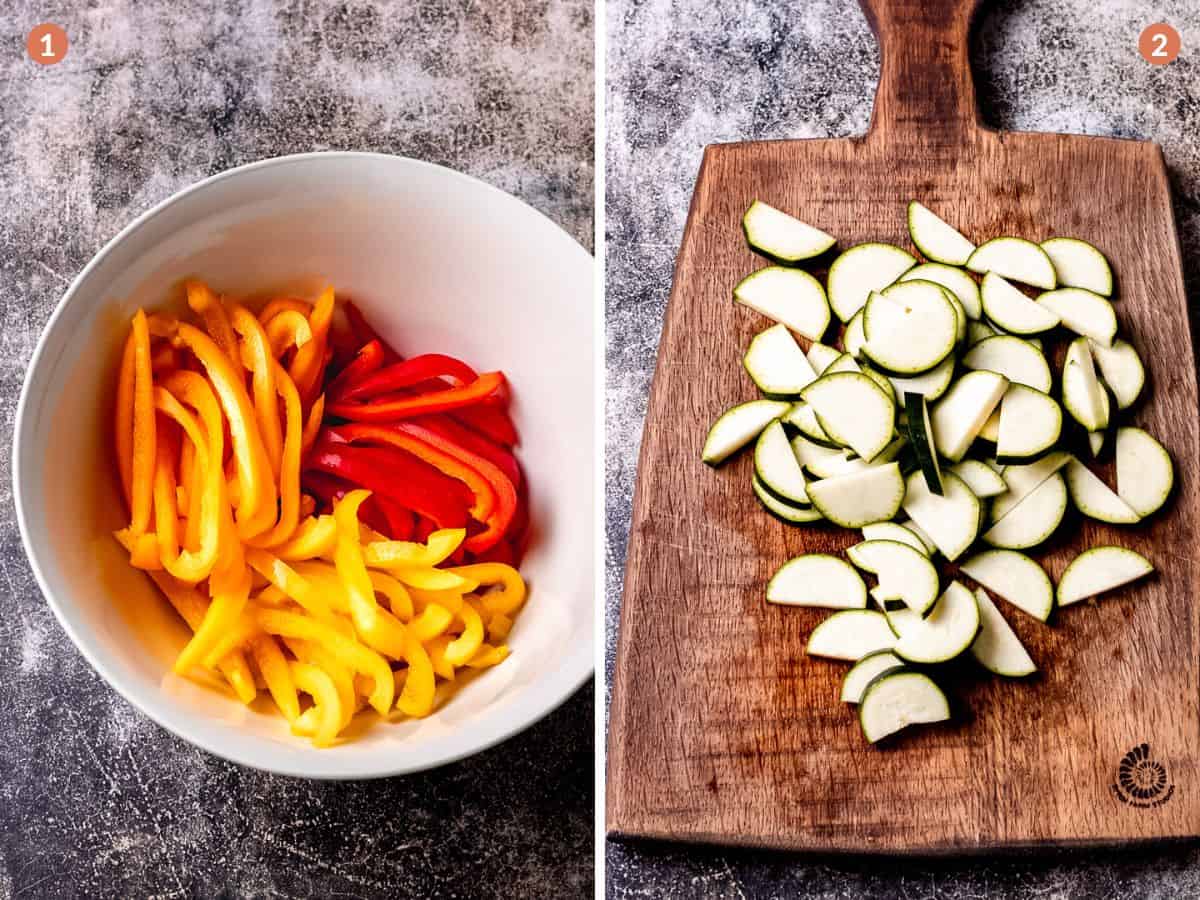 Start by thinly slicing the peppers and courgettes. Because they take different lengths of time to cook it's important to keep them separate for now.
Cut the steak into ¼ inch slices (just under 1cm) thick. Set aside while you continue with the next steps.
Vegetable add-ins- snap peas, cauliflower, bok choi, you could also use a bag of pre-cut or even frozen stir-fry vegetables.
*Be sure to cut the beef across the grain.
3 & 4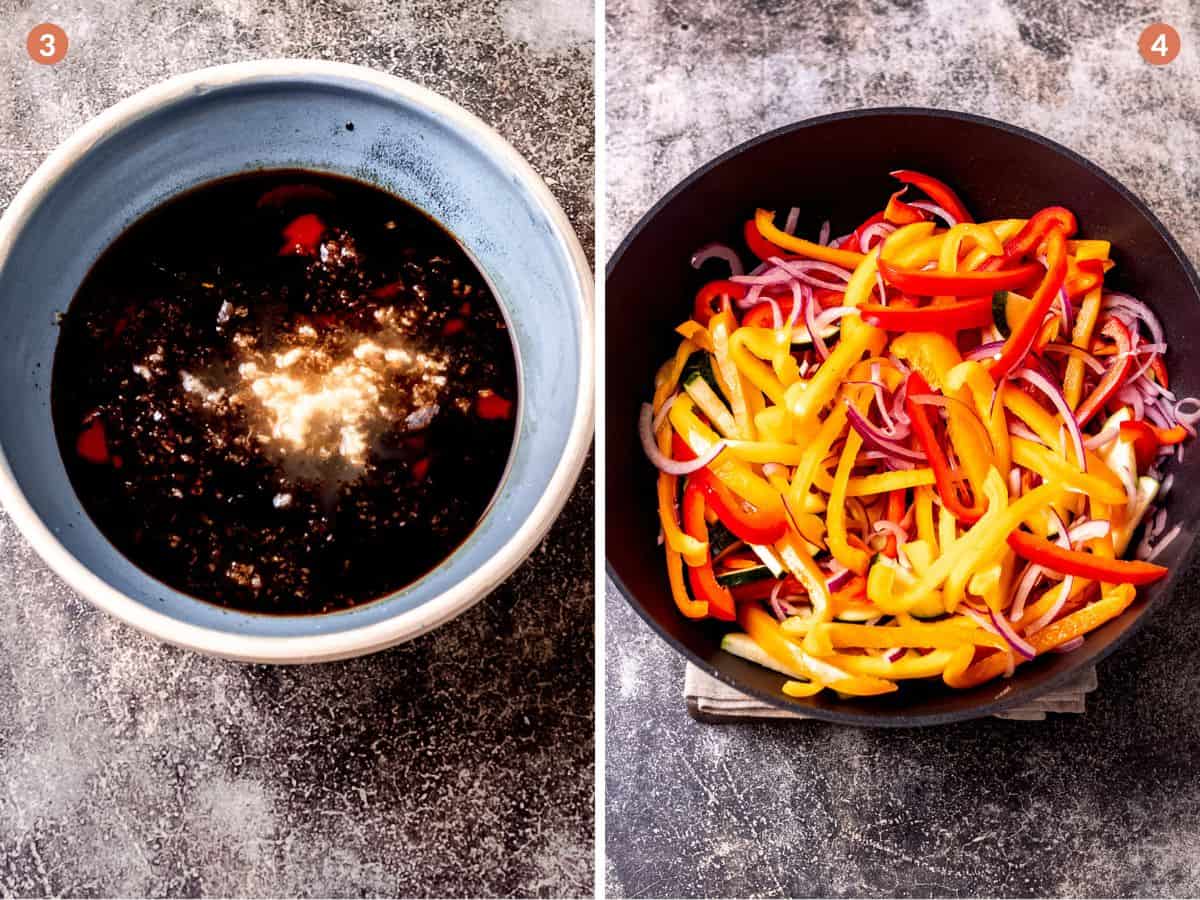 Mix the sauce ingredients together in a small bowl. Taste it and adjust any flavours that you want eg. more lime juice for acid, more ginger etc.
Heat the oil in a wok (or frying pan) over medium-high heat. Once it's hot, it will shimmer, quickly add in the onion and pepper slices. Season well and stir fry for about 2 minutes. Add in the courgette slices and stir fry for another 3 minutes. Remove to a plate.
5 & 6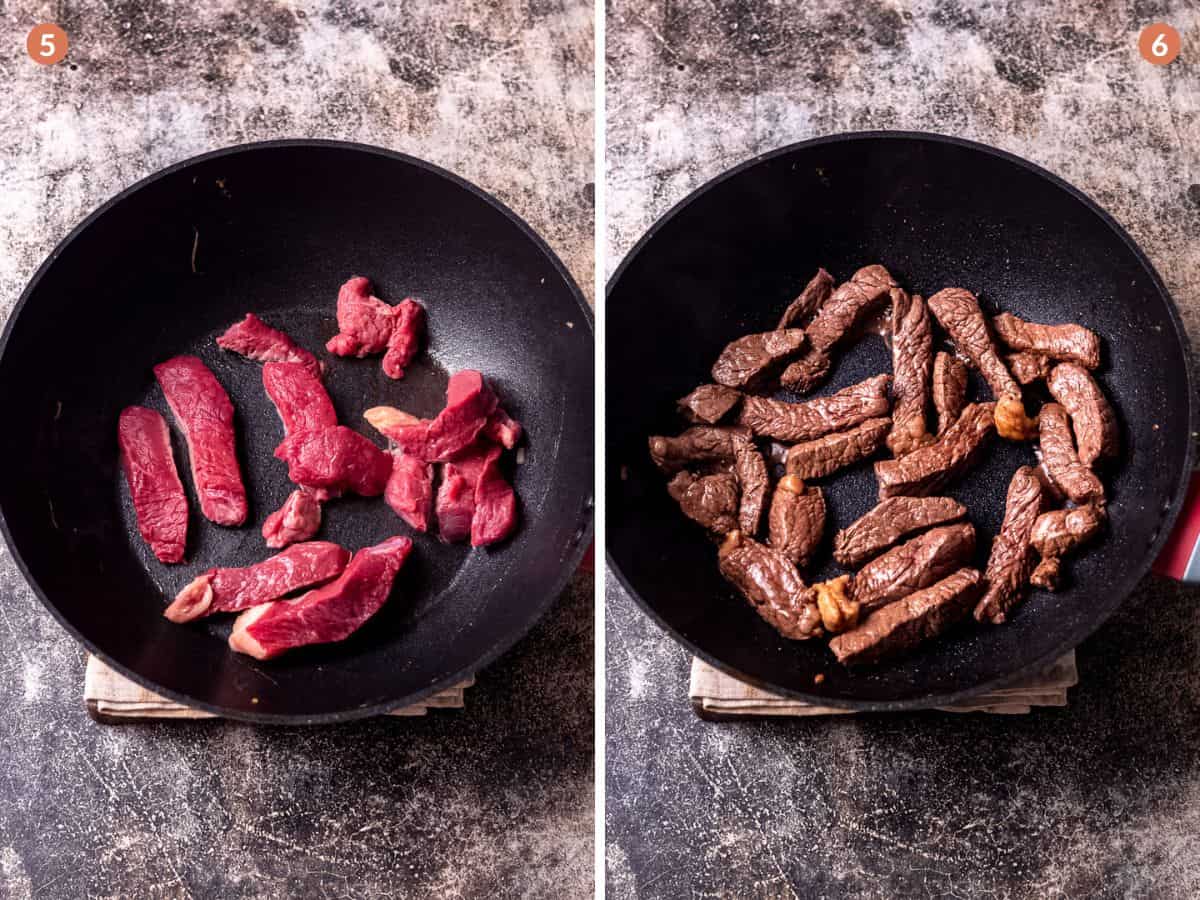 Add another drop of oil to the hot pan and stir-fry the steak until deep golden on both sides, about 4 minutes.
Add the vegetables back to the pan and pour in the stir-fry sauce. Bring the sauce to a simmer and cook just until it's thick enough to coat the vegetables and steak. This will only take about 2 minutes.
Hint: Be sure to not overcook the vegetables. They should be tender but still, have some texture and firmness to their bite.
What makes a great stir fry sauce
There are a few elements that a stir fry sauce has to have to be considered good. The base of your stir-fry sauce is very important. I've used soy sauce for this one. So, we're not seasoning very much throughout because soy has a fair amount of sodium. *Use light soy sauce.
It has to be thick enough to coat the vegetables and beef, but thin enough that it's still "saucy"
A great sauce should have some sweetness to it, but also have some heat and spiciness. Honey and Sriracha are the perfect sweet and spicy pairing.
Add the ginger and garlic to the stir-fry sauce rather than adding them to the pan at the beginning of cooking. This ensures that they keep a bright and fresh flavour and there's no chance of burning.
🍯 Storage
Meal prep- doing some slicing and dicing a day or even two days before making stir fry is a great way to get this dinner on the table in about 15 minutes. Slice the vegetables and keep them in separate containers until you're ready to cook.
Make the stir-fry sauce and leave it in a jar in the fridge ready for cooking. Just give the jar a good shake before pouring the sauce into the pan.
Cooked stir-fry- can be stored in the fridge for 2 days and reheated in the microwave. Any longer and the salt and acid from the sauce will make the vegetables mushy and the steak tough.
Do not freeze!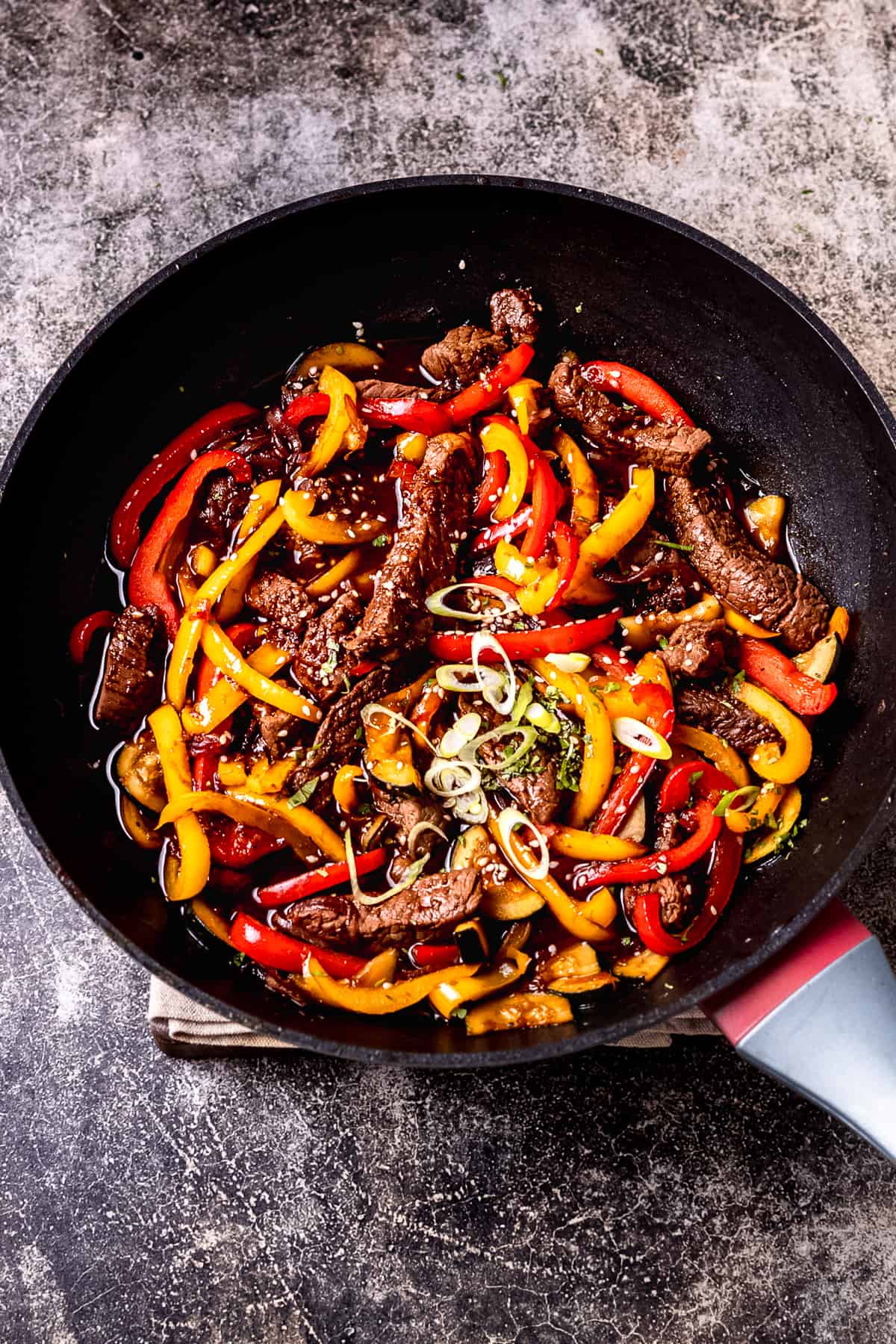 ❓FAQ
Can I use a different cut of beef besides rump steak?
Absolutely! See above for the cuts that I would recommend.
What else can I use as a base besides soy sauce?
Oyster sauce can also make a great base for stir-fry sauce, just skip adding the honey because the base sauce will be sweet enough.
The Ultimate Beef Stir Fry In A Sticky Asian Sauce
This easy beef stir-fry recipe is quick and easy to make with any vegetable you like! Lean tender rump steak, fresh ginger, garlic, and Sriracha add a kick of heat.
Print
Pin
Rate
Ingredients
For the sauce
125

ml

Soy Sauce

75

ml

Honey

2

tablespoons

Sriracha

1

inch

piece Fresh Ginger

2

cloves

garlic

,

minced
For the Stir Fry
Olive Oil

3

bell peppers Red

,

yellow, orange

1

courgette

,

chopped

600

g

rump steak

,

skirt steak, stir fry steak

½

bunch spring onions

½

bunch fresh basil
Instructions
To make the sauce combine the soy sauce, honey, sriracha, ginger and garlic in a mixing bowl or measuring jug.

Heat 1 tablespoon of olive oil in a large non stick skillet over a medium heat. When the oil is hot, add the pepper and courgette. Fry until golden and tender. Remove from the pan and place on a plate. Set aside.

Return the skillet to the heat and add another tablespoon of oil. Add the sliced steak and cook without turning for 2-3 minutes. Turn and cook undistrubed for another 2-3 minutes. Pour the sauce into the pan and simmer for about 5 minutes, until the sauce has thickened and coats the beef. Add the peppers and courgette back in and toss to coat in the sauce.

Stir in the spring onions and the basil.

Divide the rice into 4 bowls and spoon over the beef and peppers. Serve with extra spring onions and basil.
Notes
You can prepare the ingredients ahead of time. Slice the veggies and keep them in separate containers.
Store any leftover sauce in an empty jam jar and add to fried rice or noodles for a quick meal.
Be sure to slice your steak across the grain to ensure it stays tender.
Nutrition
Calories:
317
kcal
|
Carbohydrates:
25
g
|
Protein:
38
g
|
Fat:
7
g
|
Saturated Fat:
3
g
|
Polyunsaturated Fat:
1
g
|
Monounsaturated Fat:
3
g
|
Cholesterol:
92
mg
|
Sodium:
2014
mg
|
Potassium:
921
mg
|
Fiber:
3
g
|
Sugar:
21
g
|
Vitamin A:
2903
IU
|
Vitamin C:
128
mg
|
Calcium:
67
mg
|
Iron:
4
mg