Chorizo pasta is a bold and savoury dish with a smoky flavour and a hit of spice. The chorizo sausage, with its rich and deep taste, is perfectly complemented by the tangy and bright tomato sauce that sticks to the chewy pasta. A perfect easy pasta recipe for a night in with friends or family! All made in one pan and in 30 minutes!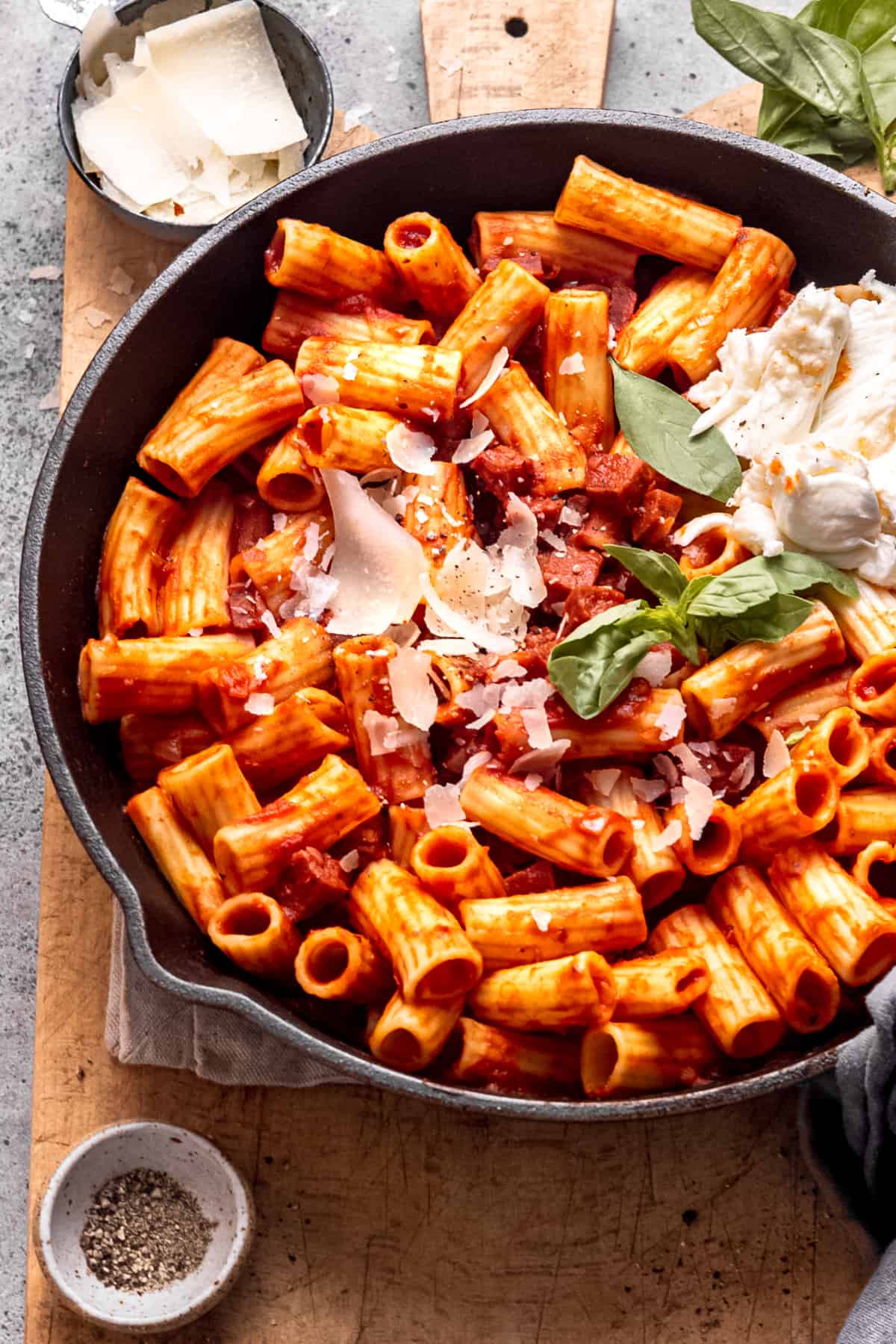 This easy pasta recipe is one of the first recipes I ever published on this site and it quickly became popular.
Easy pasta recipes are a bit of a specialty around here. The Cajun chicken pasta, and slow cooker bolognese are ones to add to your weekly meal rotation.
And this ricotta and spinach pasta is a vegetarian pasta dream.
Jump to:
⭐️ Why You'll Love This Recipe
The smoky spicy flavours of chorizo will bring depth and flavour to your dinner time.
You can add in extra vegetables and unique pairings so this easy pasta will be a winner no matter what you have in the fridge.
It's an easy pasta recipe that you can make in 30 minutes (or less) making it a comforting and satisfying dinner for any night of the week.
Spanish chorizo vs Mexican chorizo
Chorizo is a type of sausage that is made from pork, but the recipe and style can vary depending on the region. The two main types of chorizo are Spanish and Mexican.
Spanish chorizo- is a cured sausage made from pork, garlic, paprika, and other spices. The sausages are air-dried and can be eaten as is or cooked. It has a hard texture and a strong smoky and spicy flavor.
Mexican chorizo- is a fresh sausage that is made from ground pork, chilli powder, and a variety of other spices. It is sold in bulk and needs to be cooked before eating. It has a soft texture and a strong spicy flavor.
The Mexican variety tends to render quite a bit of fat as it cooks, so it's best to drain that fat off before adding anything else to the pan. Both styles can be used in this recipe, depending on what's available to you.
🧾 Ingredients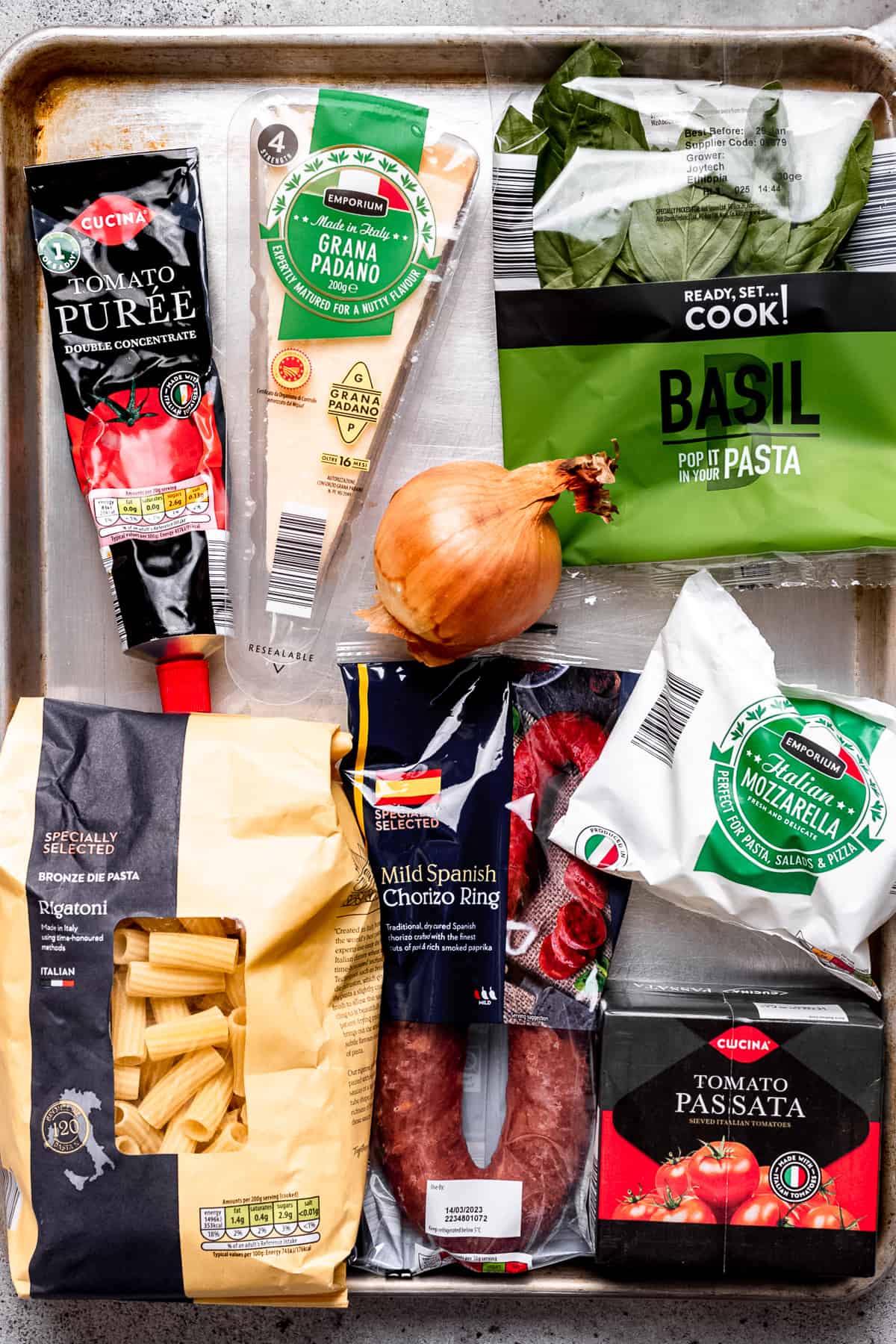 Chorizo: a spicy, cured sausage that is made with pork, paprika, and other spices. It is an essential ingredient that gives the dish its bold and complex flavor.
Pasta: any type of pasta can be used, but it's mostly paired with short or tube-shaped pasta such as penne or rigatoni.
Tomatoes: tins of crushed or diced tomatoes or passata for a smooth sauce. Skip using fresh tomatoes. Tinned tomatoes are all you need here.
Onion and Garlic: these ingredients add depth of flavor and aroma to the dish.
Olive Oil: used for cooking the ingredients and adding a nice fruity and slightly bitter taste.
Herbs: basil, oregano, parsley, and thyme are great herbs to add to this pasta to really customise the flavour. Add dried herbs at the beginning of cooking and stir in fresh herbs at the end.
Optional ingredients: you can add other ingredients such as bell peppers, mushrooms, olives, capers or white wine to the dish for added texture and flavor.
See recipe card for quantities.
🧂Seasoning a recipe
I never specify the amount of salt in a recipe because it's completely subjective to your personal taste and possible health requirements, but here are some general guidelines.
Start with a small amount of seasoning and taste as you go. It's always easier to add more seasoning than it is to try to fix a dish that is overly seasoned. *If you are accidentally heavy-handed with the salt, try adding some lemon juice to balance it out.
Balance the flavours. A good dish will have a balance of sweet, sour, salty, and bitter flavours.
Be mindful of the proportions of the ingredients. If a dish has a lot of strong-flavoured ingredients, you may need to use less seasoning.
Consider the cooking method. Different cooking methods can affect how much seasoning a dish needs. For example, grilling or roasting tends to bring out the natural flavours of ingredients, so you may need to use less seasoning and a moist cooking method (like this gnocchi recipe) will require more seasoning.
👩🏻‍🍳 Step By Step
1 & 2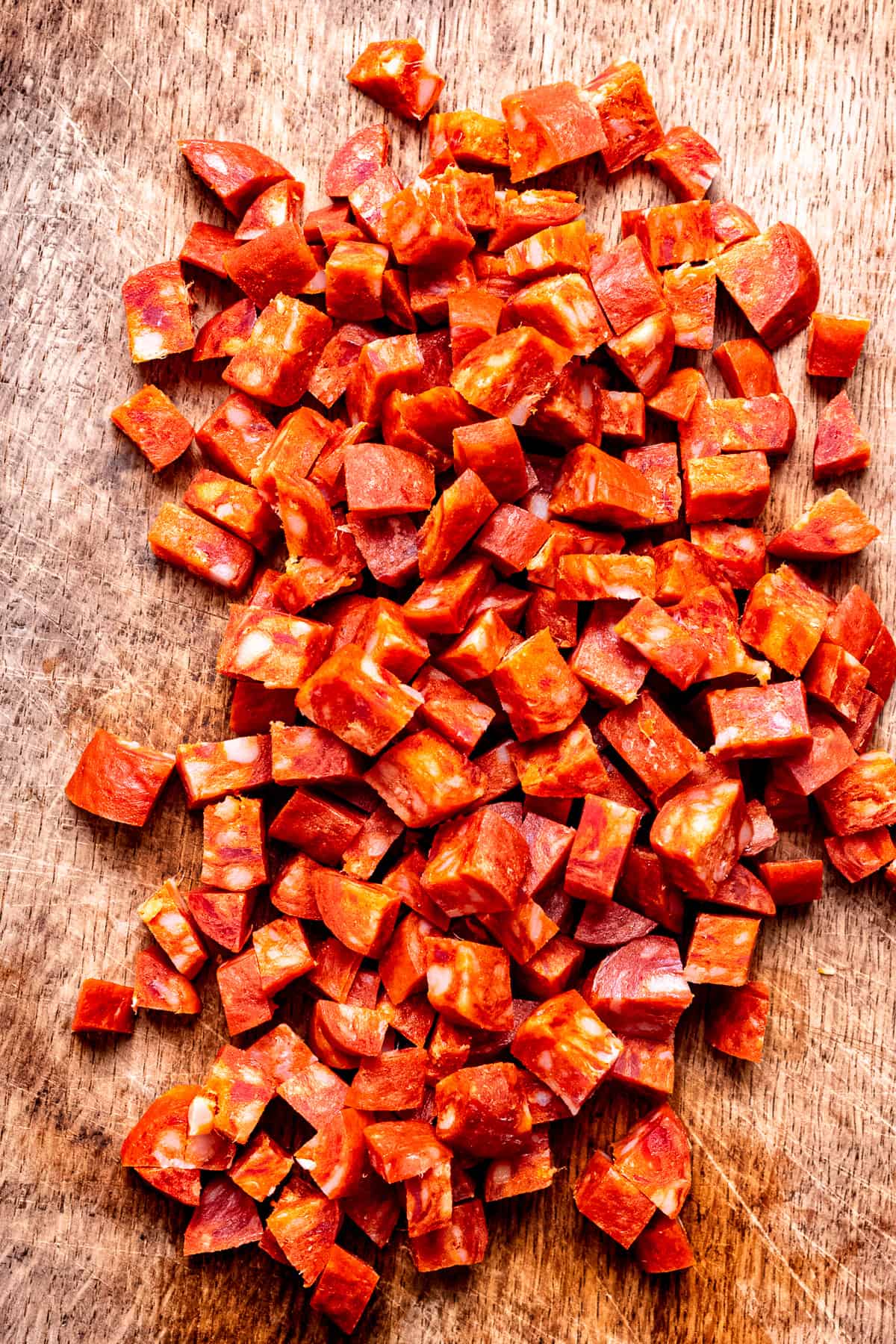 Remove the thin outer skin from the chorizo and dice into small cubes.
Heat the oil in a nonstick pan and brown the chorizo until it's golden and the fat has rendered out. Remove the chorizo from the pan and place it in a bowl while you sauté the onions.
*Drain off all but 1 tablespoon of the chorizo fat.
3 & 4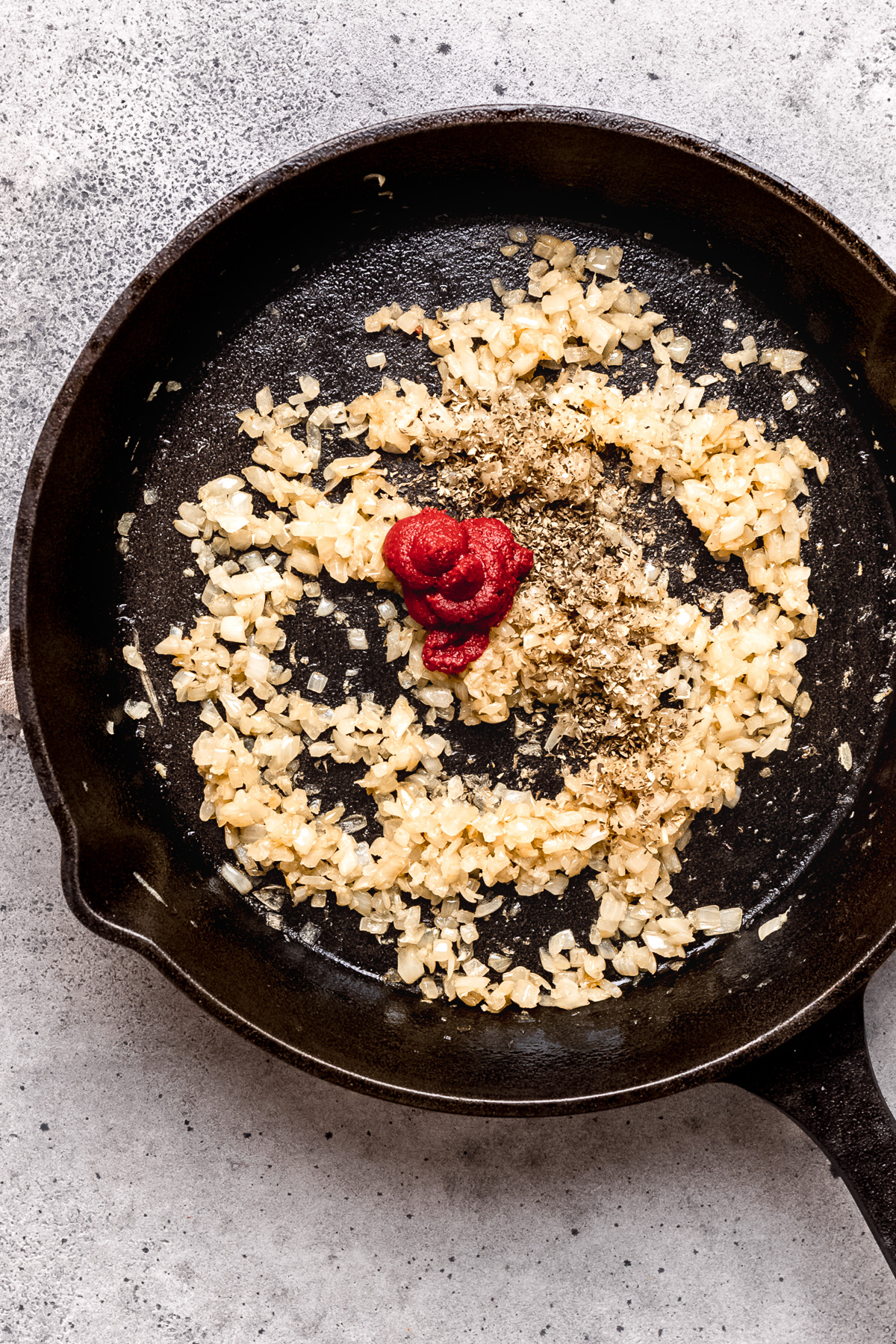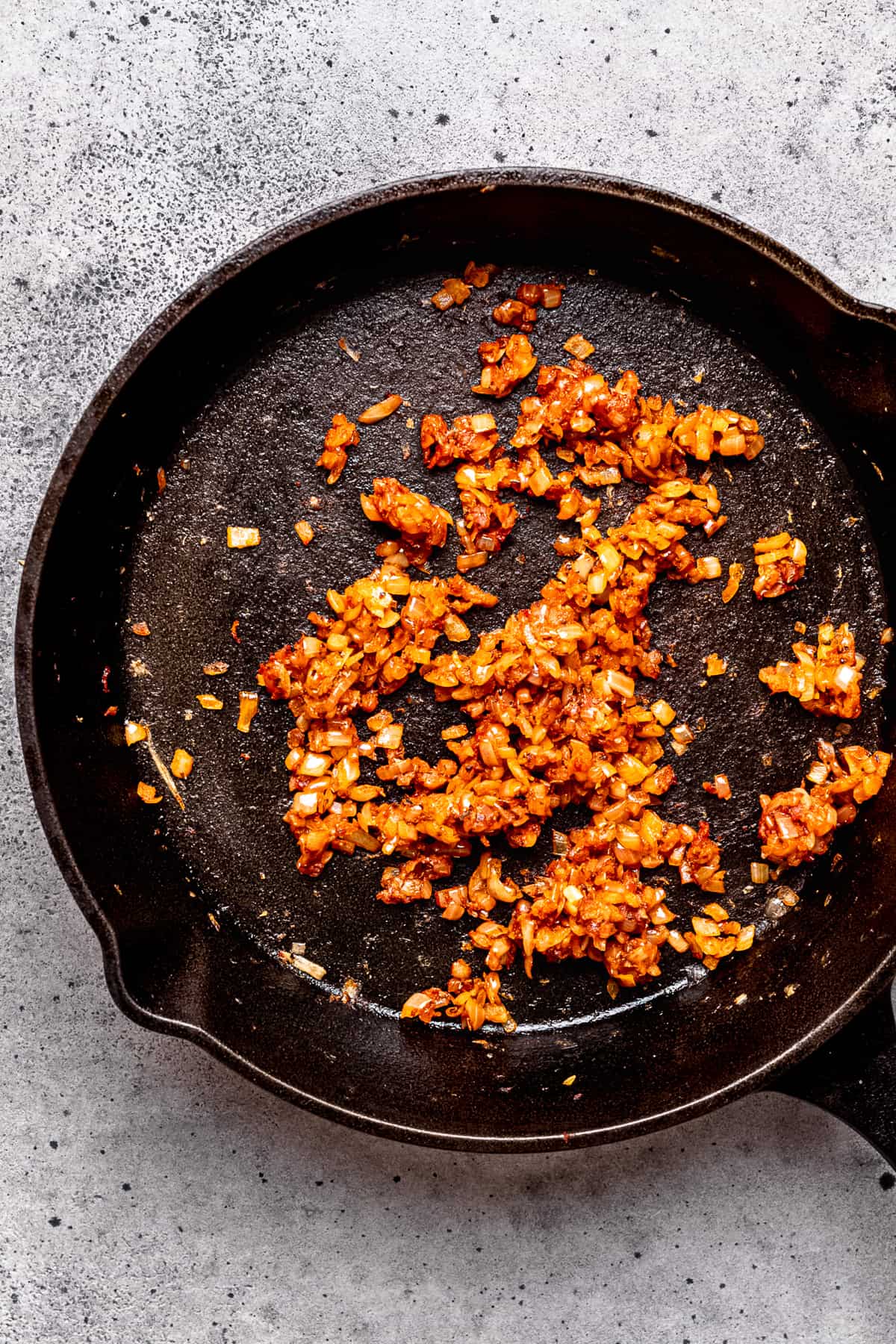 Add in the onion, and garlic, and cook until softened.
Spoon on the dried oregano and the tomato purée. Mix it so the onions are coated in the paste, and let it cook for about 2 minutes.
5 & 6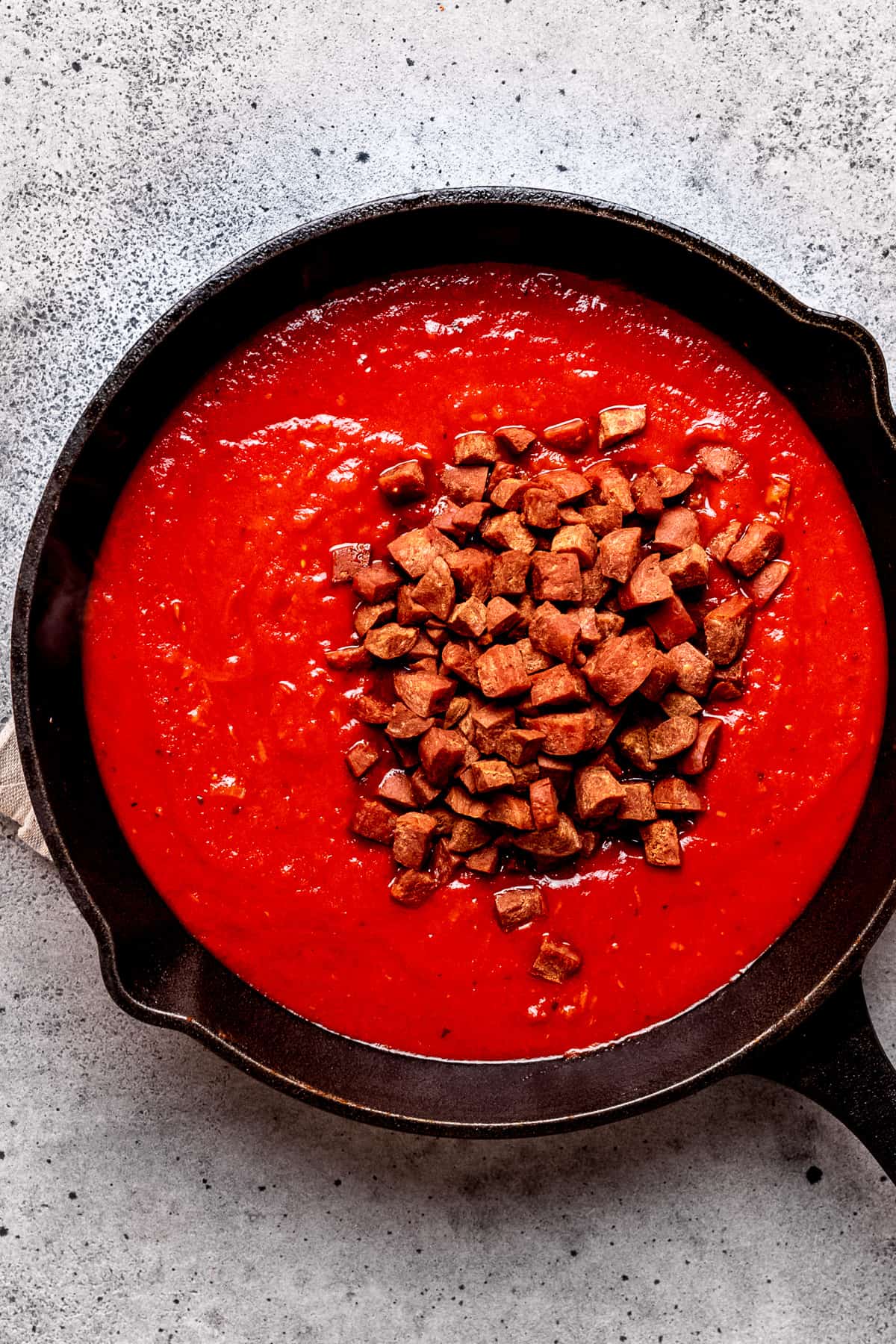 Pour in the tomato passata and let it all simmer for 5 minutes.
Pour in the water and stir in the rigatoni. Bring the pan to a boil. Reduce the heat to a simmer and cook the pasta covered for about 12-15 minutes. Until the pasta is al dente.
Making chorizo pasta bake or creamy sauce
Creamy chorizo pasta- Stir in 150ml single cream to the chorizo pasta once the pasta is cooked. Doing so earlier will result in the cream reducing too much and becoming too thick.
To make this a chorizo pasta bake- make the recipe as instructed. Once the pasta is cooked top it with mozzarella and bake for 20-30 minutes in an oven preheated to 170ºC. Bake until the cheese is melted and starts to turn golden and the sauce is bubbling around the edges of the baking pan.
💡 Using the right pasta shape with the correct sauce
The pasta shape and the sauce should complement each other. Here are some general guidelines for pairing pasta shapes with sauces:
Long, thin pasta shapes- go with light sauces.

Spaghetti, angel hair, and vermicelli are best paired with light sauces such as marinara, aglio e olio (garlic and oil), or pesto.
Short, wide pasta shapes- cream-based sauces

fettuccine, pappardelle, and linguine are best paired with alfredo, carbonara, or vodka sauce.
Tube-shaped pasta- both light and heavy sauces

penne, rigatoni, and ziti can be paired with meat sauces, chunky vegetable sauces, or creamy sauces.
Spiral-shaped pasta- vegetable sauces, meat sauces, or light seafood sauces

fusilli and rotini are best paired with chunky sauces.
Small pasta shapes- light broths, creamy sauces

orzo, farfalle (bow-tie), and ditalini are great for soups and salads, and can be paired with flavourful dressings.
Stuffed pasta- light or creamy sauces

ravioli, cannelloni, and tortellini are typically filled with meat, cheese, or vegetables, and are best paired with a sauce that complements the filling.
Keep in mind that these are just guidelines and you are free to experiment with different pasta shapes and sauces to find your own personal preference.
🍯 Storage
In the fridge for up to 3 days.
Not suitable for freezing.
❓FAQ
Can you use other types of sausage in chorizo pasta?
Yes, you can use other types of sausage in chorizo pasta, such as andouille or kielbasa. These sausages may have a different flavor profile than chorizo but will still bring a nice flavor to your pasta.
Can you make chorizo pasta ahead of time?
Yes, you can make chorizo pasta ahead of time and reheat it when you're ready to eat. It's actually a great dish to make in advance, as the flavors often intensify as the dish sits.
If you tried this Recipe or any other recipe on my website, please let me know in the comments below. I love hearing from you. Also, please leave a star rating whilst you're there!
You can also follow along on Pinterest, Facebook, and Instagram and join our private Facebook Group Facebook group to share more recipe ideas and all your photos!
Quick And Easy One Pot Chorizo Pasta 7 Ingredients
A quick and easy chorizo pasta recipe using only 7 ingredients. Turn it into a pasta bake or a creamy pasta. Either way it's weeknight pasta perfection.
Print
Pin
Rate
Ingredients
400

g

(

1

pound

)

Rigatoni or similar noodle

1

(

1

)

small onion diced

2

cloves

(

2

cloves

)

garlic

,

minced

200

g

(

1 ⅔

cups

)

chorizo

,

casing removed, cut into chunks

500g

(

2

cups

)

passata

2

tablespoons

(

2

tablespoons

)

tomato purée

1

tablespoon

(

1

tablespoon

)

dried oregano

2

tablespoons

(

2

tablespoons

)

olive oil

50

g

(

1 ¾

oz

)

Parmesan

,

grated

1

(

1

)

fresh Mozzarella ball

,

drained

½ bunch

10g

fresh basil

,

chopped
Instructions
In a high sided skillet or a sauce pan, heat 2 tablespoons olive oil. Sautée the chorizo until the fat has rendered and the sausage is golden. Remove the chorizo to a bowl and drain all but 1 tablespoon of the fat. Add the diced onions to the pan and cook for about 5 minutes until they're soft and translucent. Add the garlic and sauté another 2 minutes.

Stir the tomato purée into the pan along with the dried oregano and whisk to coat the onions. Cook for another 2-3 minutes. Pour in the passata and about 300ml boiling water and add the chorizo back to the pan. Add the rigatoni to the pan and stir well to coat the pasta. Bring it to a boil. Turn the pan down to a simmer and cover it with the pan lid. Continue to cook for about 15 minutes or until the pasta is cooked al dente and the sauce is thick.

Divide between bowls and top with the cheeses and some fresh basil if desired.
Nutrition
Calories:
484
kcal
|
Carbohydrates:
37
g
|
Protein:
20
g
|
Fat:
29
g
|
Saturated Fat:
9
g
|
Polyunsaturated Fat:
3
g
|
Monounsaturated Fat:
13
g
|
Cholesterol:
49
mg
|
Sodium:
638
mg
|
Potassium:
328
mg
|
Fiber:
3
g
|
Sugar:
3
g
|
Vitamin A:
245
IU
|
Vitamin C:
5
mg
|
Calcium:
221
mg
|
Iron:
3
mg