These are the days for easy pasta recipes for all week long. This time between Christmas and New Year where you want simple pasta recipes with very few ingredients but that still delivers all the flavour and ideally are ready in 30 minutes (or less!). Thankfully we've got just the thing. 10 Super easy pasta recipes that you can whip up this week (or any week) in no time!
These recipes have 2 simple things at their core.
The list of ingredients for each of these recipes can best be described as minimal.
These recipes take 30 minutes or less.
And the bonus... (although not a bonus because it's the reason you're here) all the ingredients are from ALDI!
---
10 Easy Pasta Recipes
Like this recipe? Pin it to your Pasta pinboard!
Follow SavvyBites on Pinterest
---
Jump to:
30 Minutes, 10 Ingredients
Not much better than a one-pot pasta recipe that hits all of our favourite things on one go. Golden grilled chicken, salty bacon and garlicky cream sauce. It uses the one-pot method, meaning that your pasta is cooked right in with the sauce making sure the noodles soak up all that creamy garlicky goodness, and you only have 1 pan to wash up! You're welcome!
7 Ingredients, 20 Minutes
Look, I know that so many people think that minimal ingredients mean boring cooking and no flavour. If you're one of those people then maybe definitely this pasta is about to change your mind and ruin you for all other complex recipes forevermore. It's only 7 ingredients and it involves some sweet and spicy chorizo and aggressive amounts of cheese and basil. Never let it be said that simple pasta recipes are boring pasta recipes!
12 Ingredients, 30 Minutes
Is there anything more comforting than a pasta bake? Well, maybe, if we used cheese stuffed pasta in a rich and creamy tomato sauce and then baked the whole thing over with even more golden bubbling cheese. Maybe that would be more comforting! This baked tortellini is kinda like a hearty lasagna, but for people who only have 30 minutes and really can't be bothered layering anything! It's about simple pasta, people. Nothing else!
9 Ingredients, 15 minutes
Okay. For my mushroom haters, look away now. For my mushroom lovers, we need to talk! I know you think, what makes this creamy mushroom pasta so special? Well, it's creamy, but uses single cream so you don't get that typical cream sauce heaviness. And it only uses one type of mushrooms saving you from spending the fortune that is the "wild mixed mushrooms". The key thing to note here is to take your time in letting those mushrooms go really golden. That's where all the flavour comes in!
10 Ingredients, 30 Minutes
Continuously one of the most popular recipes on Savvy Bites. This cajun chicken pasta is the perfect family dinner. Kids love it, it's easy to make and it will definitely get you out of your dinner rut! It's so simple, the ingredients so basic that you'll wonder what magic has taken place to end up with such a knockout end result!
10 Ingredients, 15 Minutes
Just when you look in the fridge and think you have nothing for dinner. You see a half tub of ricotta and some spinach that you may or may not have bought this week! But that actually means you've got a super simple "curl up on the sofa" pasta dinner. This creamy, healthy 15-minute pasta demands to be eaten while you wear your comfiest clothes and binge-watch your latest Netflix series!
11 Ingredients, 30 Minutes
Date night, but make it at home! This prawn pasta is a little fancy. That's what happens to anything you put prawns on! But still so easy. Straight forward enough to make at home, but fancy enough to crack open a bottle of good wine and maybe dress up a little. It is date night after all! This is a tomato-based pasta sauce but if you really want to make it indulgent feel free to add a little splash of cream to the sauce.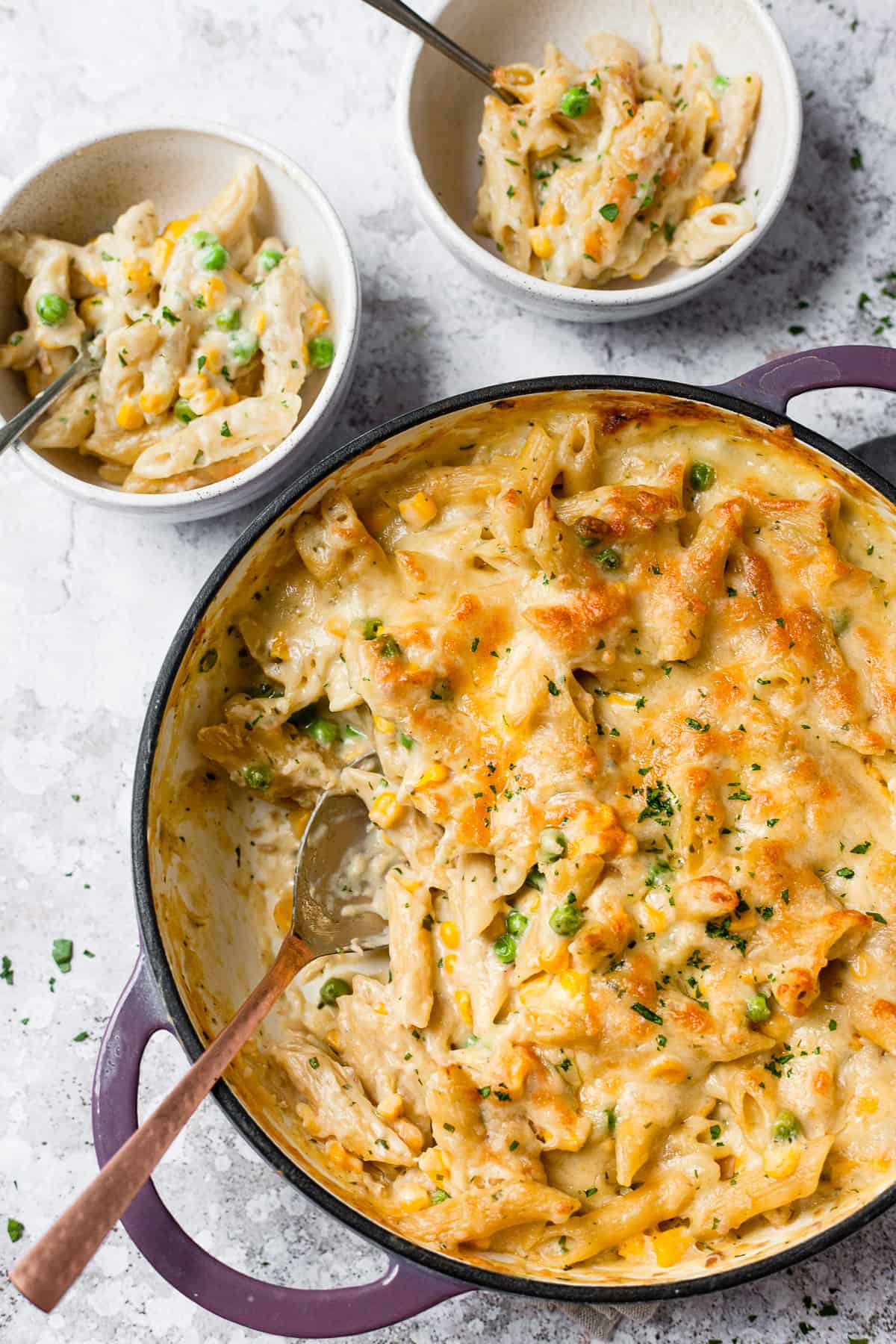 12 Ingredients, 40 Minutes
Pasta bakes are the food equivalent of a big hug and Lord knows we could all use more hugs this year! This tuna bake is a true pantry friend as well. Tinned tuna, a creamy sauce made with butter, flour and milk and some other pantry basics. This pasta bake takes 40 minutes, but the last 10 are totally hands-off oven time melting that golden cheese! Well worth the extra 10 minutes!
8 Ingredients, 20 Minutes
This creamy tomato pasta is the perfect stand-alone vegetarian pasta. Or, the perfect blank canvas for adding in leftover chicken, or turkey. Toss in extra veggies or turn it all into a pasta bake with some leftover cheese from your holiday cheese board. Also, fresh or tinned tomatoes work amazing in this recipe so it's perfect for the middle of winter or summer!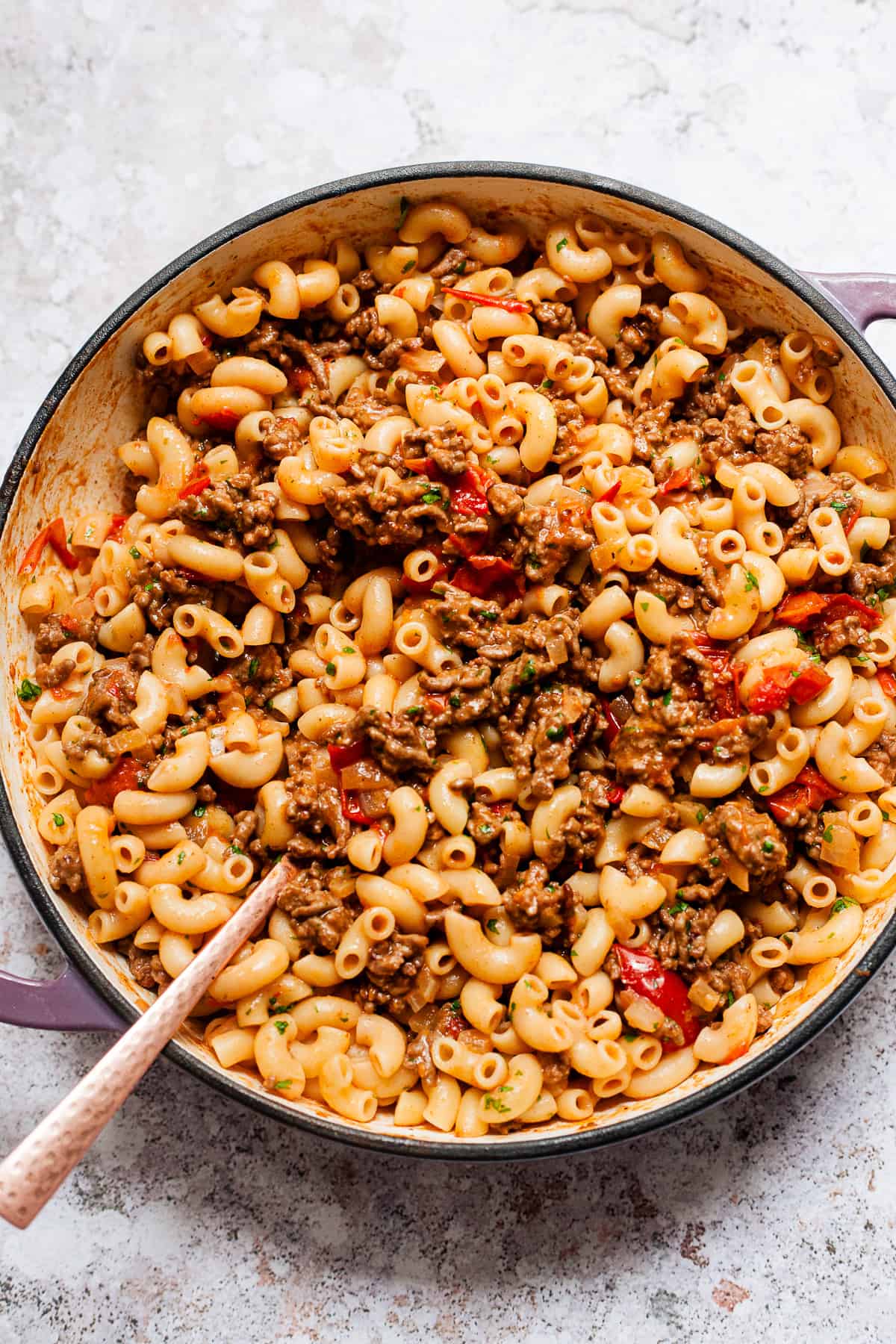 10 Ingredients, 30 Minutes
This pasta is a quick and easy dinner that comes together in under 30 minutes. Just imagine silky smooth cheddar sauce, caramelised onions and browned beef all tossed with crushed tomatoes and a little mozzarella to make it all extra cheesy. Only a few ingredients and just a few minutes and this can be on your dinner table!
A few tools for making all these perfect pasta dishes!
THANKS SO MUCH FOR READING AND COOKING ALONG WITH ME! IF YOU MAKE THIS RECIPE OR HAVE A QUESTION, I'D LOVE IT IF YOU LEFT A COMMENT AND A RATING. YOU CAN ALSO FOLLOW ALONG ON PINTEREST, FACEBOOK AND INSTAGRAM TO SEE WHAT WE'RE EATING, PINNING AND A LITTLE BEHIND THE SCENES TOO!
Need some help creating a useable weekly meal plan? I've got a free one for you!