One-pot meals are exactly what we all need right now. Let's be honest, the week between Christmas and New Year is a no (wo)man's land of leftovers, bits of cheese and if you're lucky, some stale crackers. But let's level up a little here. Not much though. It is time to rest and recharge. So, one-pot meals, but make them healthy. And super bonus points if they're 30 minutes or less! And of course... all ingredients are from Aldi.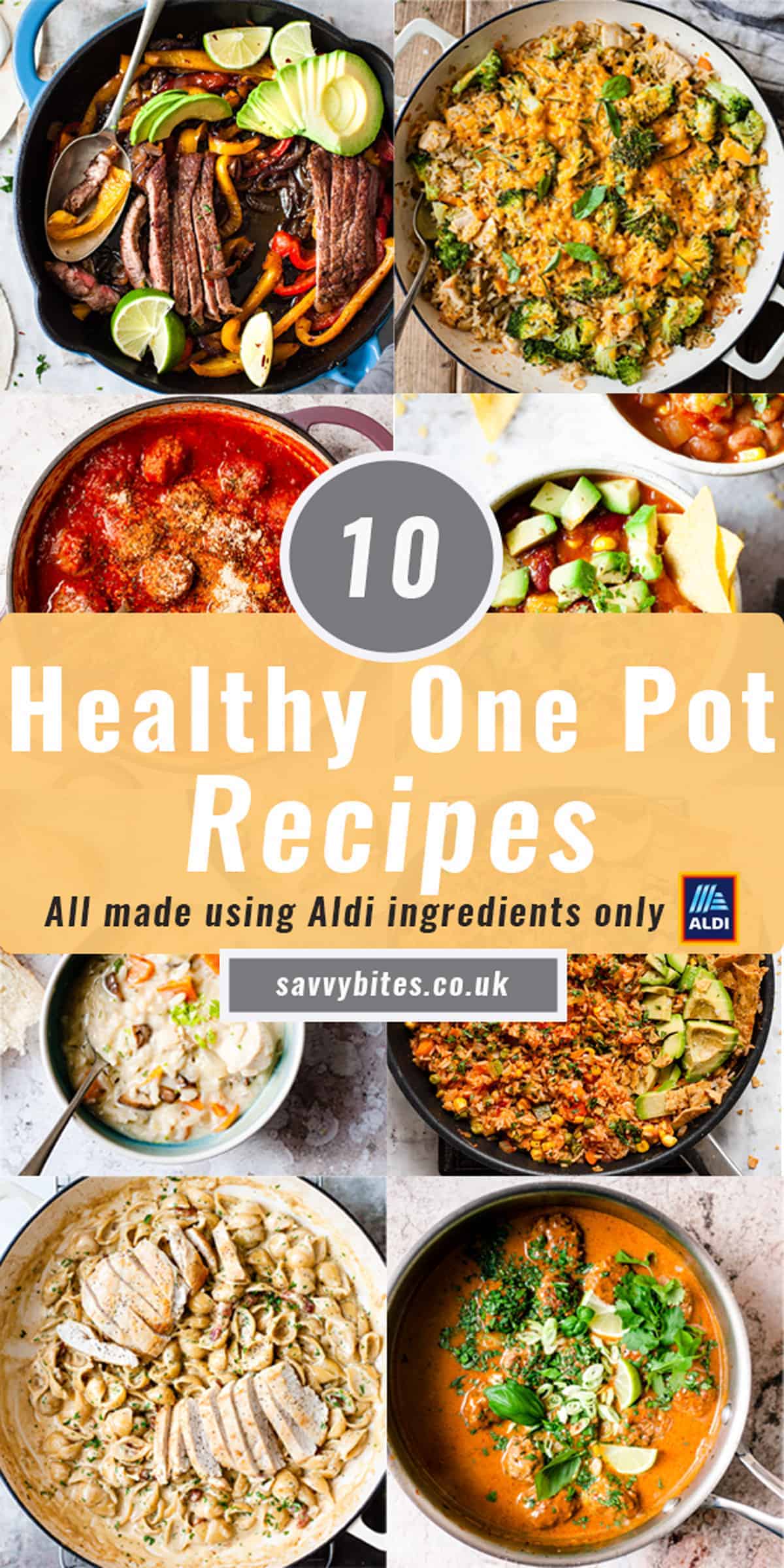 ---
10 Healthy One-Pot Meals
Like this recipe? Pin it to your Meal Planning pinboard!
Follow SavvyBites on Pinterest
---
Jump to: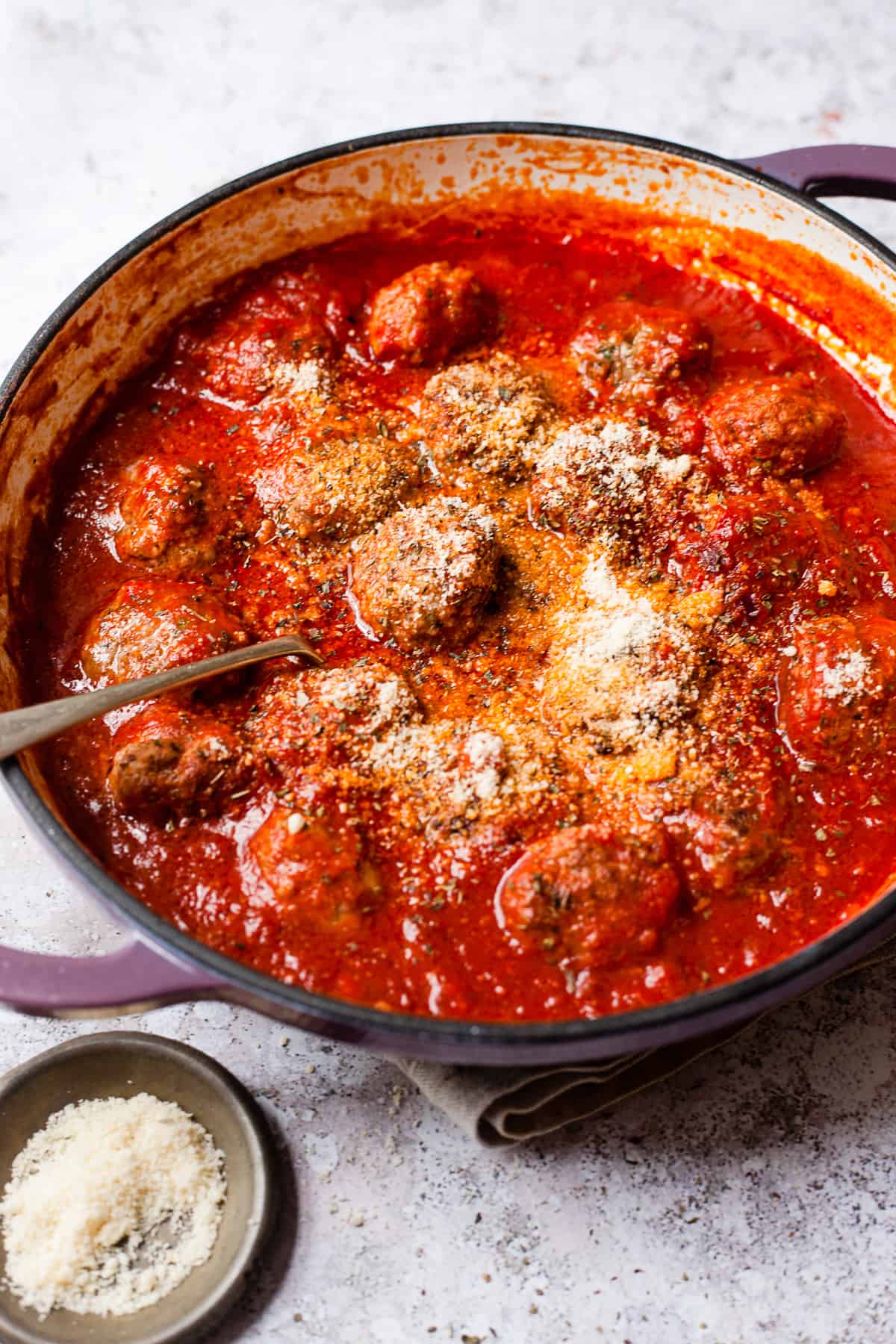 13 ingredients, 20 minutes
These meatballs are a dinner that would make an Italian Grandma proud. A mix of pork and beef seared golden before being finished off in a rich and hearty tomato sauce. You can definitely serve these with spaghetti (or any kind of pasta) but these meatballs are also perfect with nothing but a loaf of warm crusty bread and some garlic butter.
16 ingredients, 25 minutes
This one-pot Mexican rice is vegetarian, but feel free to add chicken or prawns or serve it alongside tacos or fajitas or just have it as a meal in itself. There are enough veggies to make it feel substantial and it's the perfect dish to add in some chicken or other protein. And of course, all ingredients are from Aldi UK making it totally budget-friendly!
13 ingredients, 45 minutes
Cosy, comforting and easy. This chicken and broccoli bake is made with rice instead of pasta and is the perfect healthy, but still cheesy dinner dream. Of course, all ingredients are from Aldi UK. You can also use up any leftover turkey that you might have!
14 ingredients, 25 minutes
This vegetarian 5 bean chilli is loaded with peppers, tomatoes and all the right spices to bring just the right amount of heat. But there's no need to worry about long lists of fancy ingredients and spices. It also makes the perfect reprieve from all the heavy holiday foods we've all just eaten all month long!
11 ingredients, 30 minutes
There is nothing more comforting than this chicken and rice soup. It is literally the equivalent of a warm hug. Full of vegetables and chicken (feel free to use turkey) all stirred into a creamy soup with fluffy rice. Perfect for leftovers too. The rice soaks up the soup the next day making for the perfect casserole-style dinner!
16 ingredients, 30 minutes
Quick and easy turkey meatballs in The BEST Thai Curry sauce. One pan, 30 minutes and a few ingredients from Aldi UK and you've got the perfect dinner! This is the definition of easy, healthy one-pan dinner.
11 ingredients, 30 minutes
Marinated sirloin steak seared to perfection with peppers, onions and all the avocado and lime! It's a quick skillet dinner that the whole family will love. Easy prep, big, bold flavours and all served in the pan for easy washing up afterwards.
8 ingredients, 30 minutes
Fresh tomatoes, a drop of cream (so it's still healthy) and fresh spinach make this the perfect easy pasta dinner. This sauce is a quick and fresh sauce that you'll make over and over again. And the whole recipe is made using only ingredients from Aldi UK. We ♥ One-Pot Dinners! You can certainly use tinned tomatoes for this recipe too if you want to.
12 ingredients, 30 minutes
Rice and peas is a staple of Jamaican cooking and loved by everyone. It's warm and comforting but also really healthy and happens to be vegan by nature rather than adaptation. We're improving and using the simple spices available at Aldi to bring this together and keep everything easy and fast with minimal ingredients.
10 ingredients, 25 minutes
This creamy chicken and bacon pasta the best one-pot pasta dinner going. Crispy bacon, golden chicken, sweet caramelised onions and a quick and easy cream sauce make this one indulgent but incredibly easy dinner. And all ingredients from Aldi, because one-stop shopping is life!
More Savvy Bites Recipe Collections
Tools used
THANKS SO MUCH FOR READING AND COOKING ALONG WITH ME! IF YOU MAKE THIS RECIPE OR HAVE A QUESTION, I'D LOVE IT IF YOU LEFT A COMMENT AND A RATING. YOU CAN ALSO FOLLOW ALONG ON PINTEREST, FACEBOOK AND INSTAGRAM TO SEE WHAT WE'RE EATING, PINNING AND A LITTLE BEHIND THE SCENES TOO!
Need some help creating a useable weekly meal plan? I've got a free one for you!