Healthy meal plans on a budget. That's what this Aldi meal plan is all about. This is a 7 day flexible, Aldi budget meal plan to take the guesswork out of making dinner. All the ingredients are from Aldi because I'm a big believer in a one-stop-shop and staying on a budget. The plan includes the recipes and an itemized shopping list to make it all really easy!
These recipes are focused to be simple, thrifty (ie cheap) and pantry and leftover friendly. These recipes are comforting but still healthy because I'm pretty sure that's what we all need right now.
All ingredients are from Aldi, so it's a budget-friendly meal that is perfect for meal planning and weekend meal prep.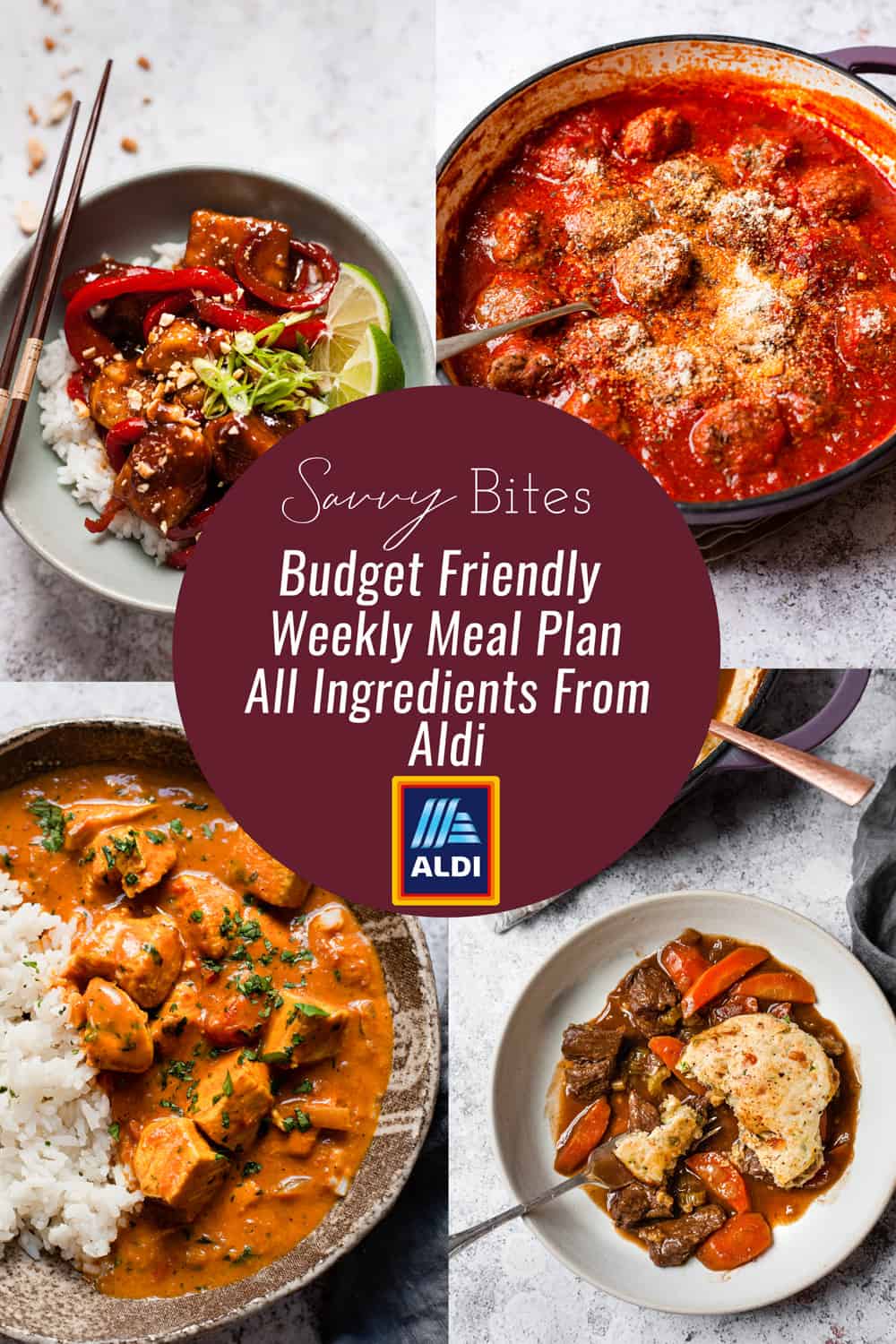 Coming up to Christmas this week, you probably won't need all of these recipes. However, I'm making a full meal plan anyway, to take some of the stress and pressure off for those that do still need a meal plan. Take what you need/want and leave the rest. The holidays can be stressful any time, but this year is far from normal, so please make sure that you take care of YOU and be gentle with yourself. Just know that if you've made it to this point of the year, you're doing a good job!
---
Aldi Budget Meal Plan
Like this recipe? Pin it to your Meal Planning pinboard!
Follow SavvyBites on Pinterest
---
Jump to:
Why Aldi
I know many people might be new here, so let me just explain a few things real quick. I don't work for Aldi, nor have I ever. I'm not affiliated with them in any way except that they are my favourite grocery store and I think what they do is remarkable. Like many of you, I'm sure, I used to do my primary shop at Aldi, and then go to one or two other shops for "bits and bobs". It was costing me too much time and too much money. So, I decided to use my chef training and get creative and disciplined about making recipes using only ingredients from Aldi. And so far, it's been a hit!
About the Aldi budget meal plan
Meal planning has been an integral part of my life since I was a kid. Being raised in a single-parent household on a fixed income, it was vital that we didn't buy more than we needed and certainly never wasted anything. All of that means that I know a tonne about sticking to a budget and making a lot out of not very much. In times like these, both skills have come in handy. So, these meal plans are a way that I can help you navigate some waters you may not have a lot of experience with.
Especially in these days of COVID and lockdown, I want to use my experience and knowledge to lighten your load in any way that I can. I'm including 6 recipes (all ingredients available at Aldi), so you can either do a takeaway one night or have some leftovers. Either way, you get 6 recipes and the shopping list.
I'm realising it's more important than ever for people to have simple recipes with accessible and affordable ingredients that are easy to find. I absolutely love doing these meal plans and hope that you all find them useful.
The Details
All these meals are designed to serve a family of 4. Some recipes make enough leftovers for two nights or lunch the next day. While I truly believe there is no one size fits all meal plan, I did my best to come up with something that appeals to almost everyone.
The shopping list is comprehensive and includes everything you need to make all meals on the plan. Because we're using only Aldi ingredients a lot of the condiments, sauces and spices are on repeat for most of these recipes. Cross-check your cabinets so you're not doubling up!
And last, but certainly not least, this meal plan is flexible and realistic. There's plenty of wiggle room for cocktails, healthy snacks, dessert and dinner out. And if necessary, you can move some things around to make it work with your schedule. Please let me know if you're using these plans, this will help me decide if I should continue sharing them!
The Recipes
Print the Aldi shopping list and meal plan
Print shopping list & tip sheet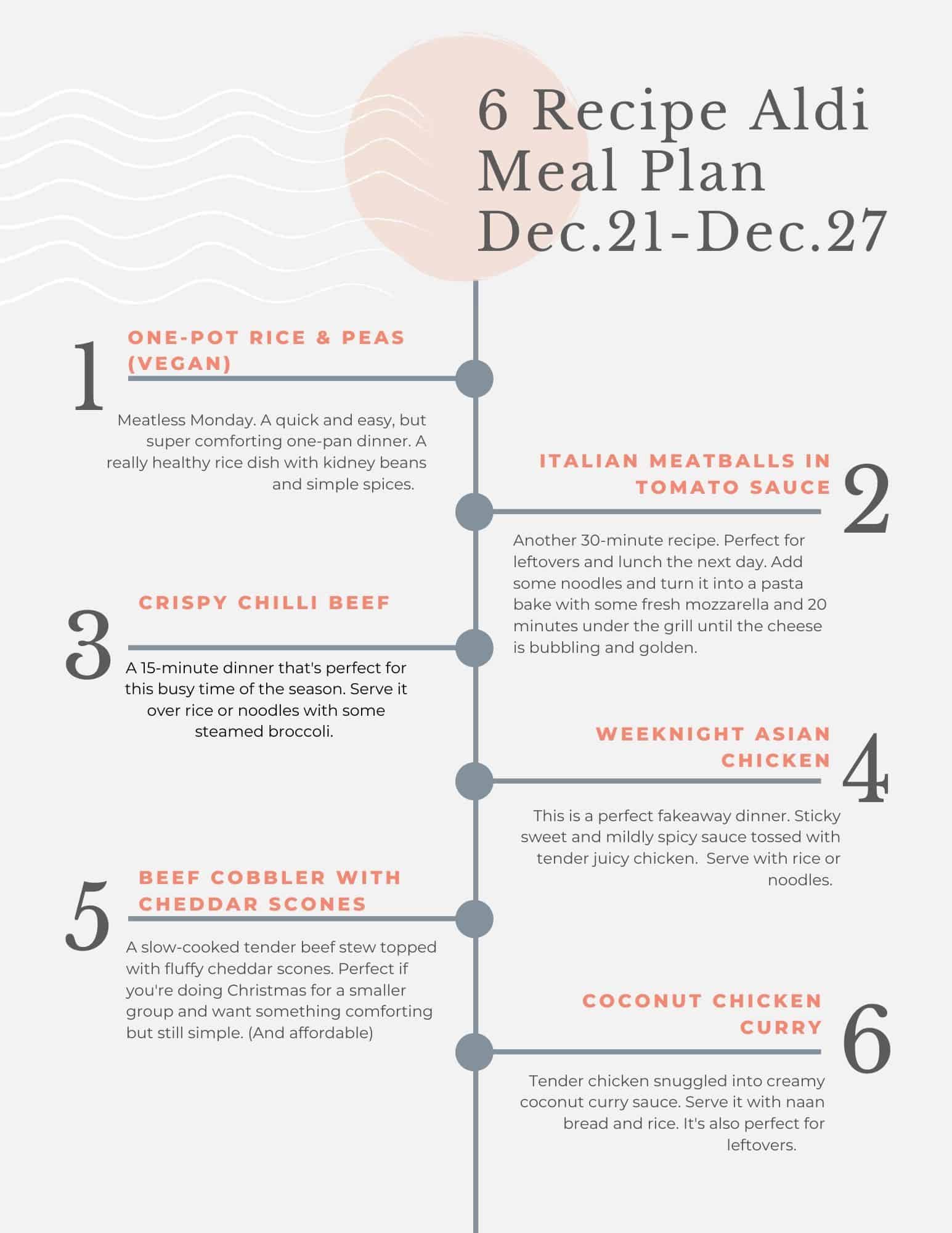 THANKS SO MUCH FOR READING AND COOKING ALONG WITH ME! IF YOU MAKE THIS RECIPE OR HAVE A QUESTION, I'D LOVE IT IF YOU LEFT A COMMENT AND A RATING. YOU CAN ALSO FOLLOW ALONG ON PINTEREST, FACEBOOK AND INSTAGRAM TO SEE WHAT WE'RE EATING, PINNING AND A LITTLE BEHIND THE SCENES TOO!