This creamy spinach and ricotta pasta is an easy 15-minute recipe that is perfect for a cozy family dinner but is elegant enough for a date night. Silky ricotta and spinach sauce with fresh parsley and tangy lemon, all tossed with tender silky pasta make this the perfect cheap and easy pasta recipe.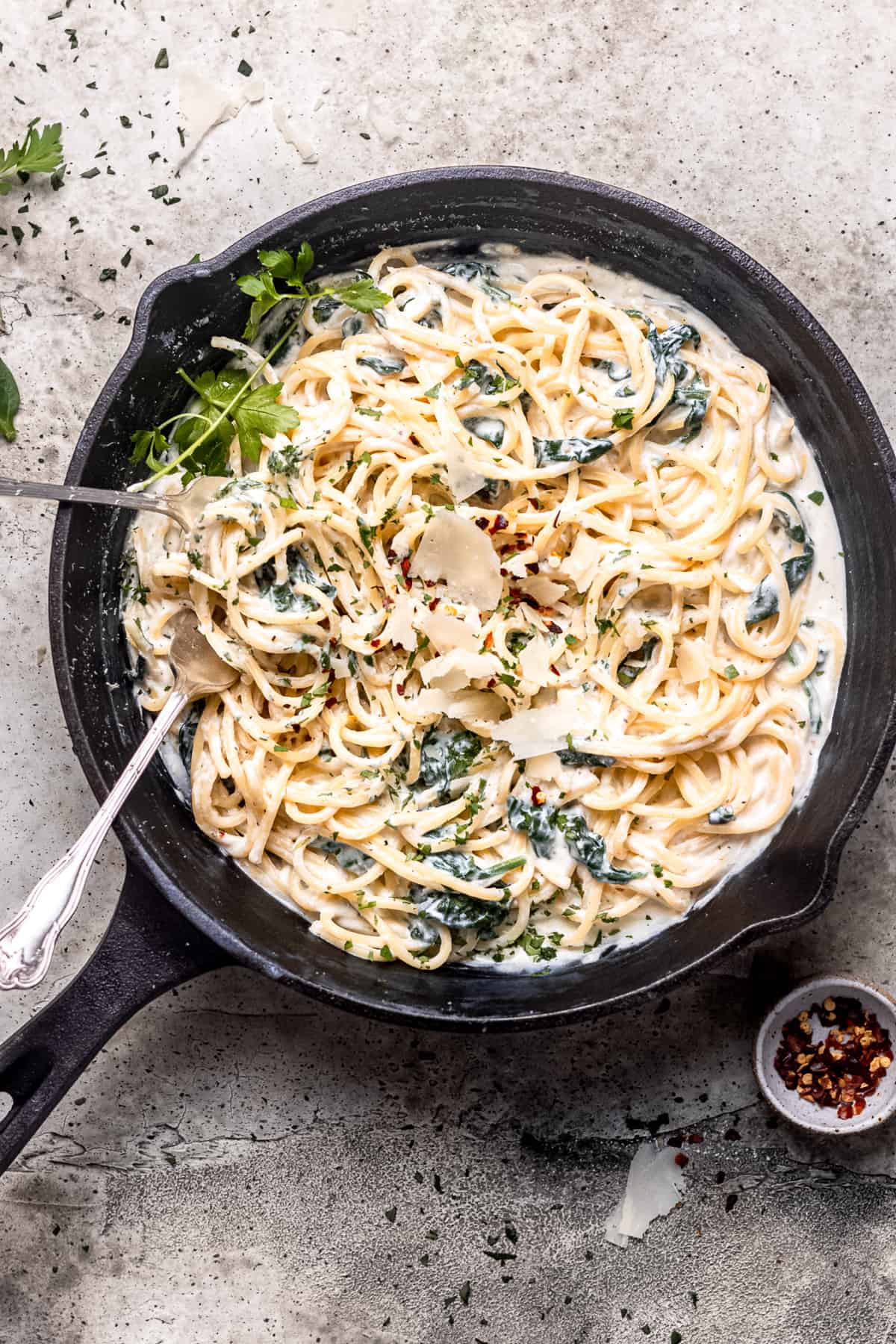 This is an easy-budget recipe you really need to add to your meal plan rotation. It's the perfect balance of lightness and indulgence, the freshness of spinach perfectly complements the richness of the cheese.
This lemony ricotta sauce is inspired by my lemony chicken pasta but is quicker and easier to make. It's also incredible when paired with a warm and crusty loaf of this no-knead bread.
Jump to:
⭐️ Why You'll Love This Recipe
It's creamy and still healthy making it the best of both worlds.
This easy pasta recipe can be on your table in 15 minutes!
The ingredients for this dinner are basic and cheap, so you can stay on budget while keeping everyone fed well!
🧾 Ingredients for lemony ricotta pasta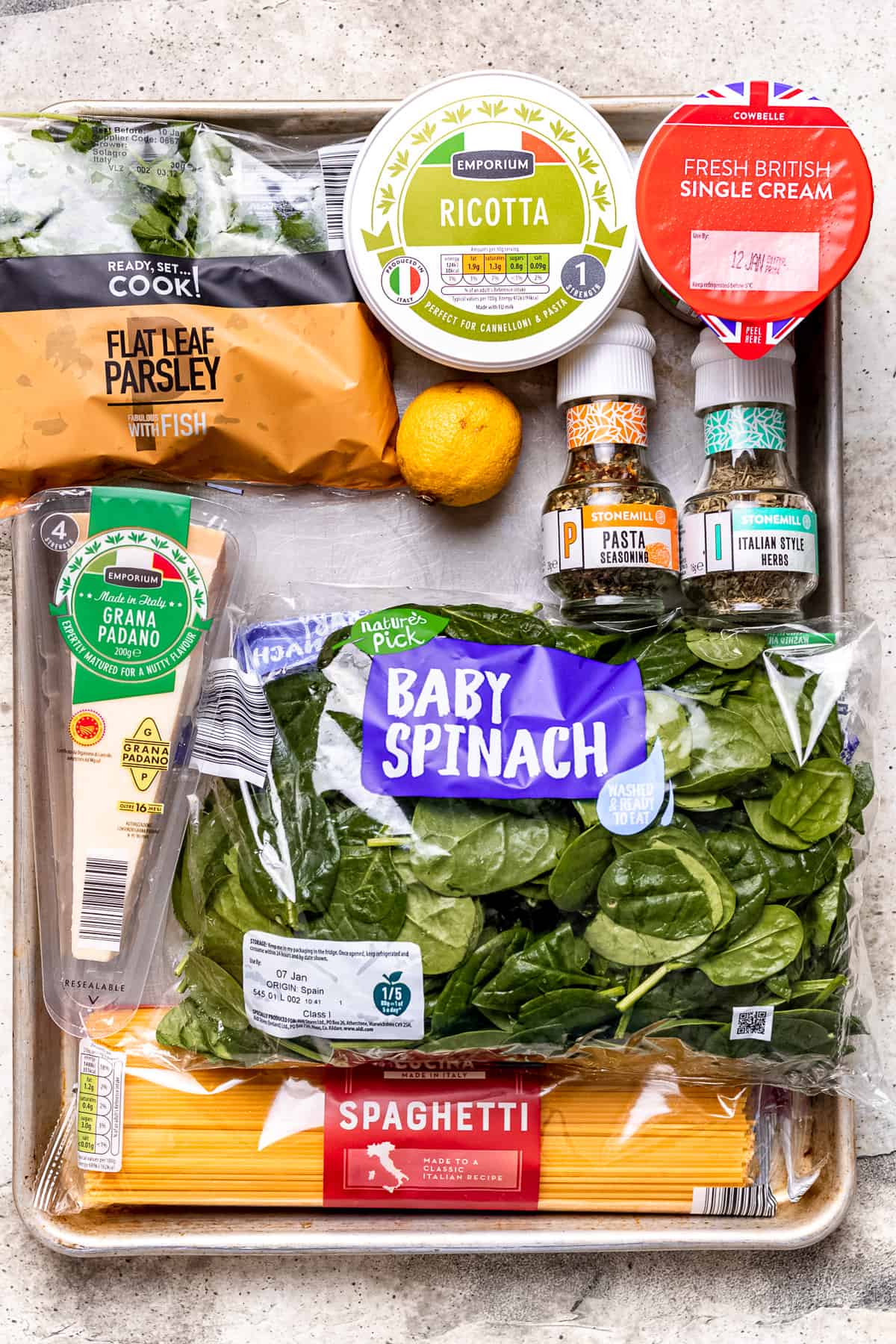 ricotta- use full-fat ricotta in this recipe to make sure that it doesn't split.
spinach- I've used ready-washed baby spinach, but you can use frozen spinach to get the cost of this recipe even lower.
single cream- I usually opt for single cream instead of double because it adds creaminess to the sauce without getting too thick, its also cheaper than double cream and keeps the calories and fat lower without sacrificing flavour or texture.
pasta- any pasta works in this recipe, but long thin noodles or short noodles with ridges for holding the sauce are preferable.
See recipe card for quantities.
📖 Substitutions & Variations
Lemon ricotta pasta is relatively easy to make and can be customized to suit your taste. Here are a few of my favourite add-ins and variations.
chicken - add in grilled chicken or even chicken leftover from your Sunday roast. Rotisserie chicken also works great if you're in a pinch.
sun-dried tomatoes - if you want to bring some more Mediterranean flavour to this pasta, stir in some chopped sun-dried tomatoes.
vegetarian - pan fry some halloumi until it's golden and toss through the pasta for some extra protein.
pasta- use whole-grain or gluten-free pasta to accommodate for any dietary requirements.
Seasoning a recipe
I never specify the amount of salt in a recipe because it's completely subjective to your personal taste and possible health requirements, but here are some general guidelines.
Start with a small amount of seasoning and taste as you go. It's always easier to add more seasoning than it is to try to fix a dish that is overly seasoned. *If you are accidentally heavy-handed with the salt, try adding some lemon juice to balance it out.
Balance the flavours. A good dish will have a balance of sweet, sour, salty, and bitter flavours.
Be mindful of the proportions of the ingredients. If a dish has a lot of strong-flavoured ingredients, you may need to use less seasoning.
Consider the cooking method. Different cooking methods can affect how much seasoning a dish needs. For example, grilling or roasting tends to bring out the natural flavours of ingredients, so you may need to use less seasoning and a moist cooking method (like this gnocchi recipe) will require more seasoning.
👩🏻‍🍳 How to make ricotta pasta step by step
The ricotta melts from the heat of the pan and turns creamy with the addition of single cream and parmesan cheese. The spinach wilts directly in the sauce meaning it doesn't overcook and lose its colour and nutrition.
1 & 2 Sautéing the garlic
Start by heating the olive oil over medium heat in a pan. Once the oil is hot (it will shimmer) add in the minced garlic and sauté for about 5 minutes until the garlic is soft and fragrant. Season well with sea salt.
Once the garlic has sautéd, pour in the single cream and bring to a very gentle simmer.
⭐️ Top Tip- Save about 250ml (1 cup) of water from the pasta before you drain it in a colander. This will help to get the perfect consistency of the sauce.
3 & 4 Making the ricotta pasta sauce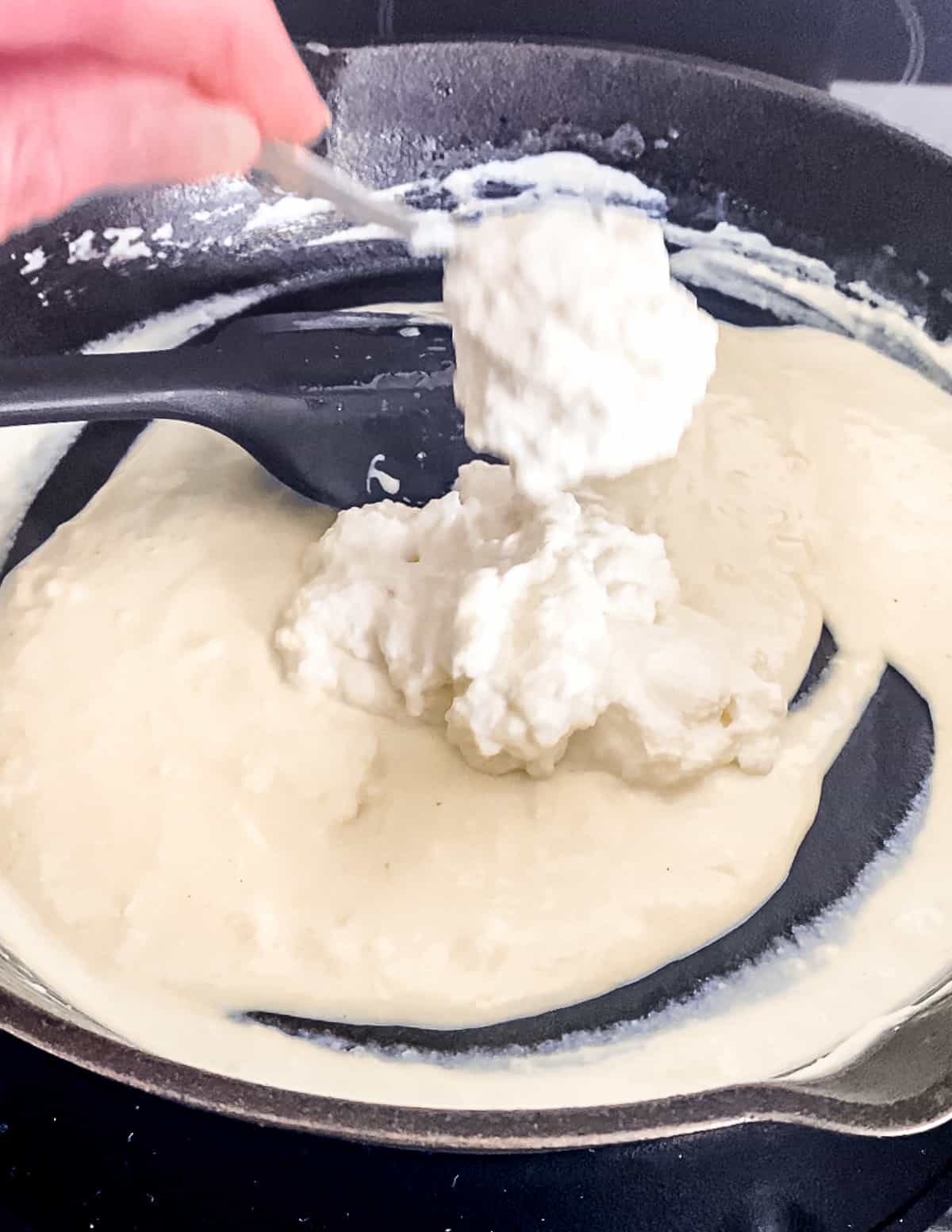 When the cream has started to simmer, stir in the grated parmesan and let it melt into the sauce.
Once the sauce has melted in, add the ricotta and use a whisk to stir it in. A whisk helps to mix the ricotta in quickly and smooth out any lumps that occur.
⭐️ Top tip- Keep the sauce from boiling so that it doesn't split.
5 & 6 Finishing the sauce
Once the sauce is smooth, taste and adjust the seasoning. This is where you add in the herbs and lemon juice.
Add in the spinach and let it wilt into the sauce.
7 & 8 Adding the pasta
Add the spaghetti to the pan and toss until all the pasta is coated in sauce.
If the sauce is a bit too thick, add in some of your saved pasta water. Sprinkle with fresh chopped parsley and serve with some salad and bread.
⭐️ Top tip- You can adjust the ingredients depending on what you like eg. more parmesan, less lemon, more seasoning, and pepper.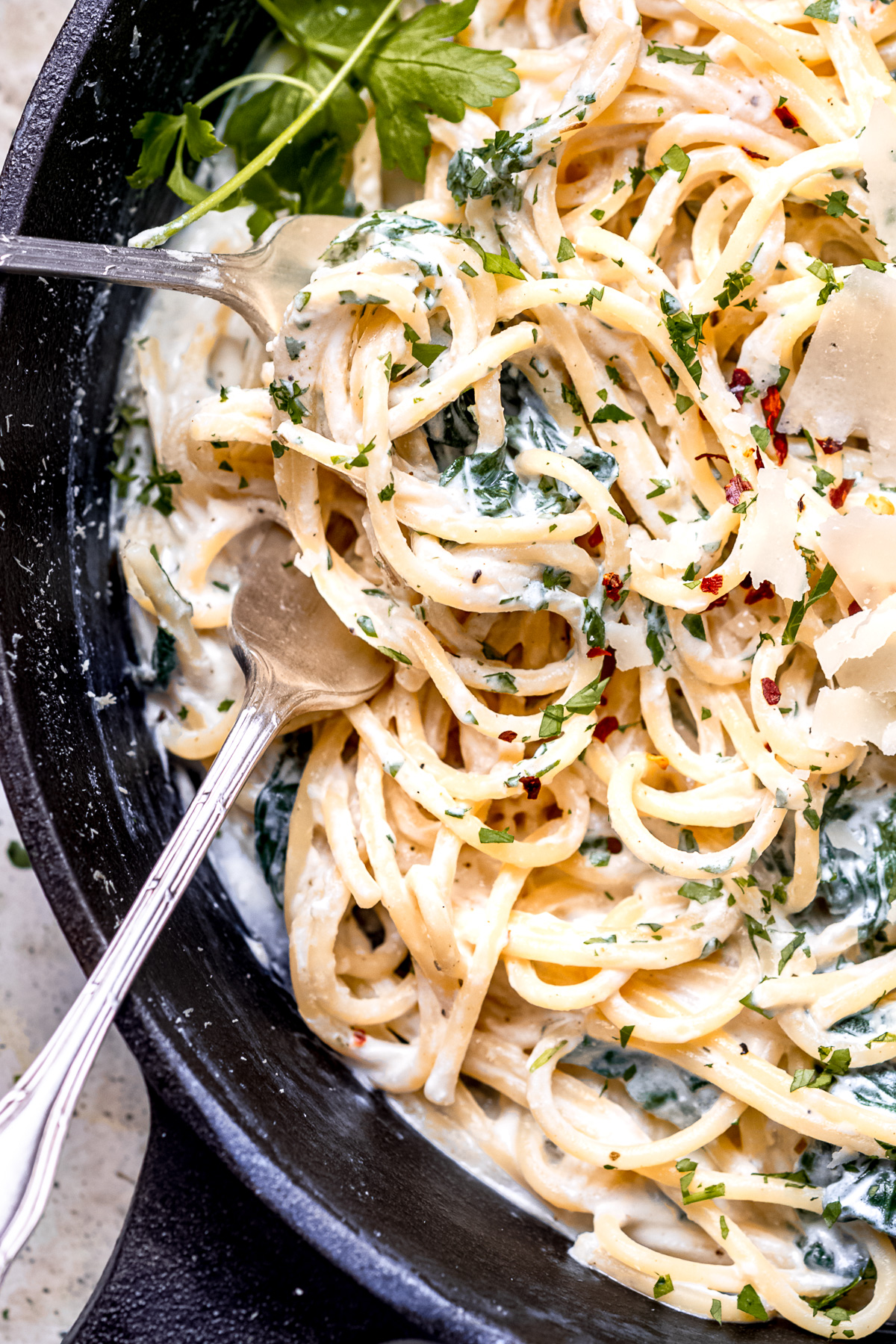 🍯 Storage
Fridge- for up to 3 days.
Freezer- not suitable.
Reheat- in the microwave for a couple of minutes until hot. *Add a splash of water to the pasta while reheating because the sauce thickens considerably as it cools.
❓FAQ
Do I need to cook the spinach first?
Nope! Add this spinach to the sauce and let it wilt directly in the pan. Just be sure that you wash the spinach first, or use pre-washed spinach.
What should I do if the sauce curdles?
If the sauce curdles, it will more than likely be because it's gotten too hot. So, remove the pan from the heat and slowly pour in some very hot (not boiling) water and gently whisk it in until the sauce comes back together and is smooth.
If you tried this Recipe or any other recipe on my website, please let me know in the comments below. I love hearing from you. Also, please leave a star rating whilst you're there!
You can also follow along on Pinterest, Facebook, and Instagram and join our private Facebook Group Facebook group to share more recipe ideas and all your photos!
Need help with meal planning? You can find our (Aldi ingredients only) weekly meal plans here! Sign up to receive them free every week or take our quick meal planning course and use all these recipes to create your own meal plans.
The Creamiest 15 Minute Easy Spinach Ricotta Pasta
This creamy spinach and ricotta pasta is a cheap and easy 15-minute family dinner. Lemony cream sauce and silky pasta is the perfect meal.
Print
Pin
Rate
Ingredients
500

g

(

2

cups

)

spaghetti

2

tablespoons

(

2

tablespoons

)

olive oil

2

cloves

(

2

cloves

)

garlic

175-225

ml

(

6

floz

)

single cream

250

g

(

8 ⅚

oz

)

full-fat ricotta

50

g

(

1 ¾

oz

)

grated parmesan

175

g

(

5 ½

cups

)

spinach washed

zest and juice of 1 lemon

1

teaspoon

(

1

teaspoon

)

pasta seasoning

¼

teaspoon

(

¼

teaspoon

)

chili flakes

2

tablespoons

(

2

tablespoons

)

chopped fresh parsley
Instructions
Boil the pasta according to the package instructions. Drizzle the noodles with a little olive oil to prevent them from sticking together and set aside. *Be sure to save some of the water before draining the pasta.

Heat the oil in a pan over medium-high heat. Once the oil is hot, add the garlic and sauté until it's soft and fragrant and just starting to turn golden. This will take about 5-7 minutes.

Once the garlic is very pale golden, pour in the cream and let it come to a very gentle simmer. Add all of the ricotta and gently use a whisk to break up the creamy cheese and let it melt into the sauce.

Stir in the grated parmesan, lemon juice, zest, and pasta seasoning, and chili flakes. Taste and adjust the seasoning. This is where you can add in some of the pasta water to thin out the sauce until you have the desired consistency.

When the sauce is at your desired consistency and you've balanced all the flavours this is where you add in the spinach and just let it gently wilt in the sauce. No need to bring the sauce to a boil. The heat from the sauce will wilt the spinach perfectly.

Toss the drained pasta with the sauce and top with the fresh chopped parsley. Divide between bowls and serve with extra parsley and chili flakes.
Notes
You can use frozen spinach in this recipe. Be sure to let it thaw first, before adding it to the sauce.
Use gluten-free or whole-grain pasta to accommodate for any dietary requirements.
If you're going to add in any grilled chicken or sun-dried tomatoes, be sure to stir them in just at the end until everything is hot.
Use basil in place of parsley if you prefer.
Nutrition
Calories:
830
kcal
|
Carbohydrates:
100
g
|
Protein:
29
g
|
Fat:
34
g
|
Saturated Fat:
17
g
|
Polyunsaturated Fat:
2
g
|
Monounsaturated Fat:
12
g
|
Cholesterol:
92
mg
|
Sodium:
331
mg
|
Potassium:
663
mg
|
Fiber:
5
g
|
Sugar:
4
g
|
Vitamin A:
4974
IU
|
Vitamin C:
13
mg
|
Calcium:
343
mg
|
Iron:
3
mg