In France, these easy Boulanger potatoes (pomme boulanger) are an impressive potato side dish that requires very little effort and few (and cheap) ingredients.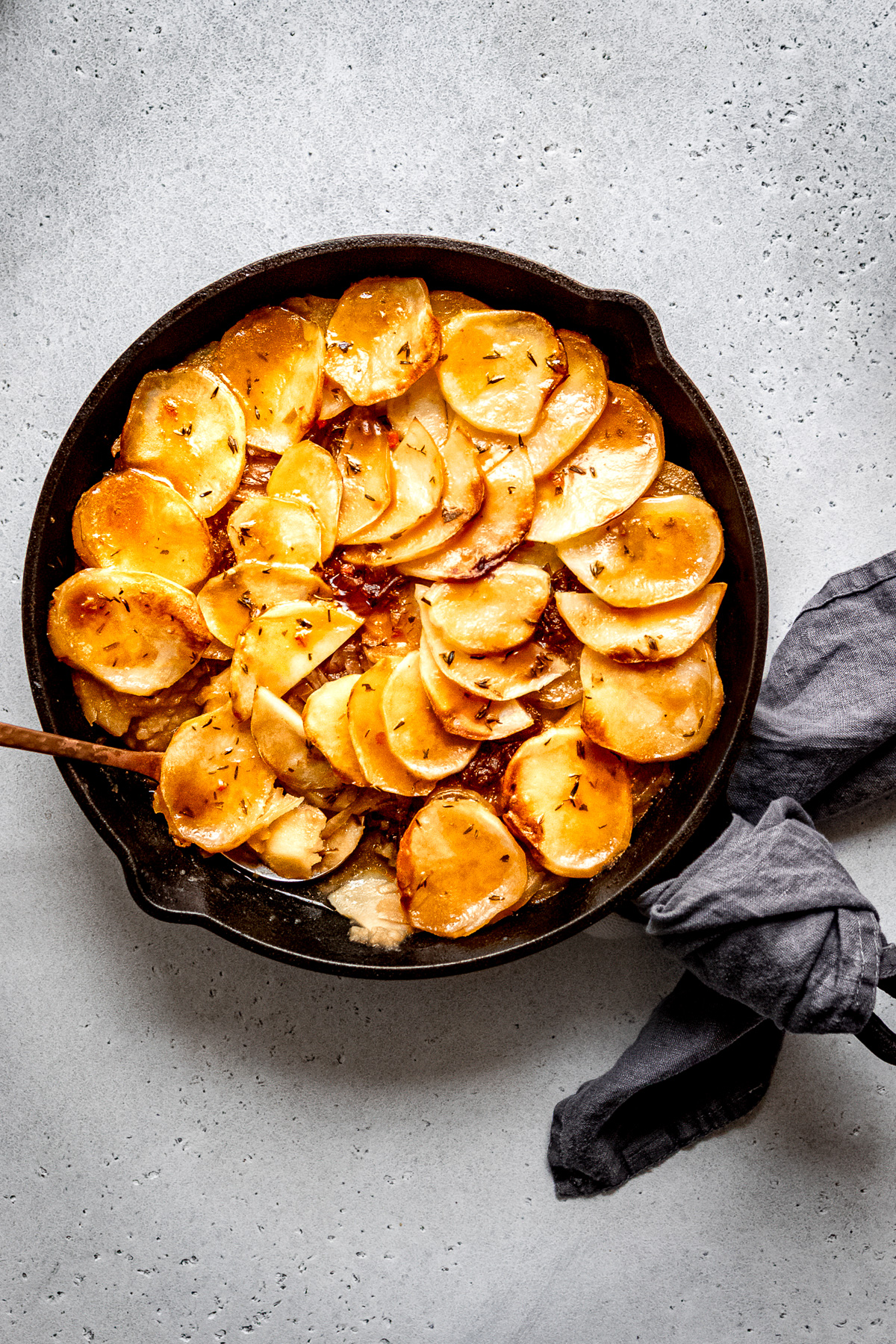 Boulanger potatoes are a sliced and layered roasted potato dish cooked in stock (broth). The dish consists of potatoes layered with sautéed onions and herbs (usually thyme) and originated in France.
It's an easy potato recipe that was made by peasants and taken to their local bakery to be cooked because most people in rural France did not have their own ovens. Boulanger in French means bakery. This potato side dish is best served with the maple glazed ham or the honey cider ham along with the balsamic glazed air fryer brussels sprouts.
Jump to:
⭐️ Why You'll Love This Recipe
Boulanger potatoes are very easy to make, and you only need one pan.
Cooking the potatoes in stock along with the herbs create a very flavourful side dish that is much lighter than potatoes gratin or dauphinoise.
This recipe is so cheap to make, so it's perfect for a budget-friendly holiday dinner or Sunday roast.
🧾 Ingredients
You only need a few key ingredients.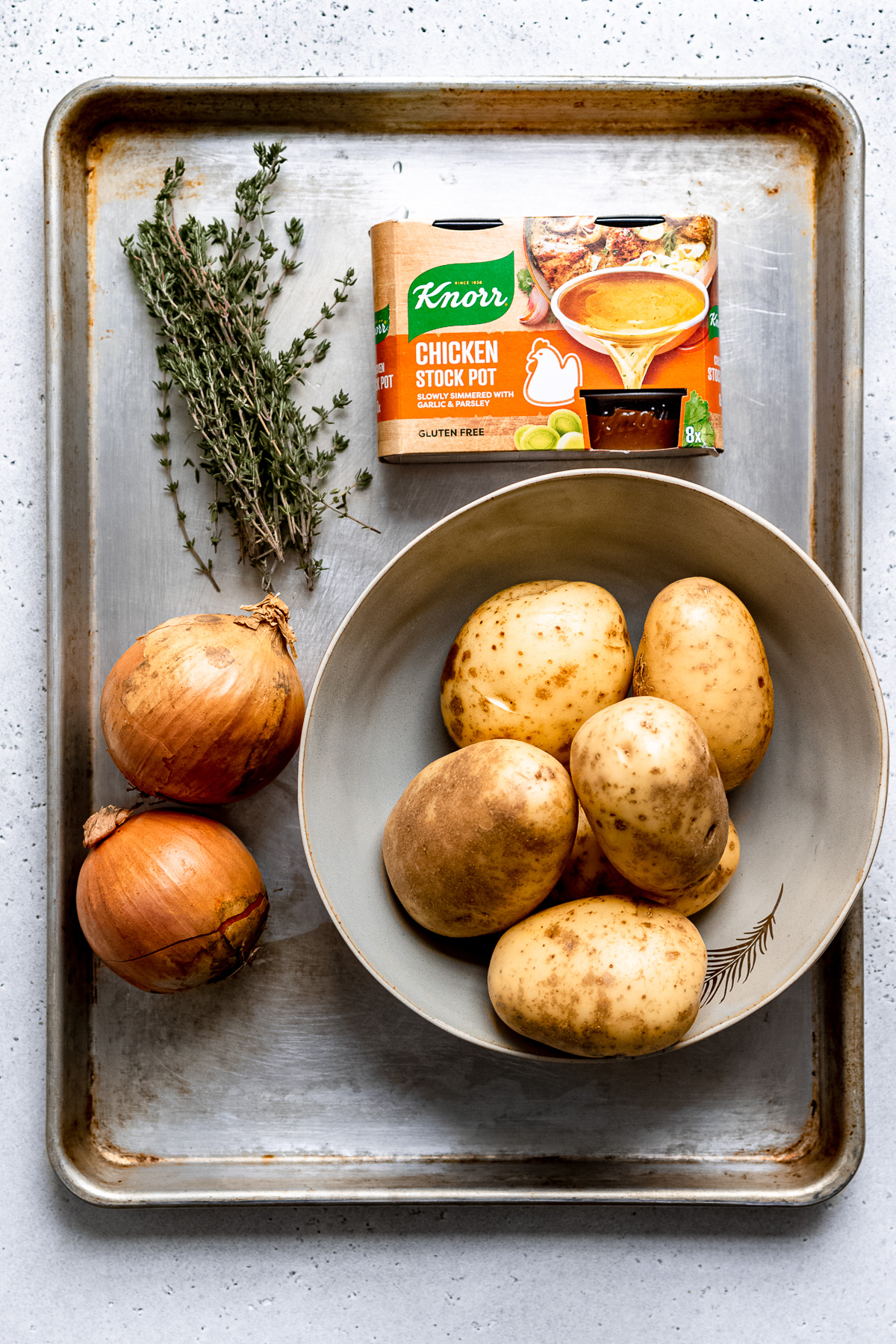 potatoes- large floury potatoes like Maris Pipers, or Yukon Gold in North America, are perfect for making pomme boulanger.
onions- yellow onions thinly sliced and sauteed until golden add a great depth of flavour.
herbs- I'm using fresh thyme, the traditional choice, but you can use rosemary or another earthy herb if you prefer.
stock- you can use vegetable, chicken or beef stock depending on what you're serving these potatoes with. The beef stock really does add a deep rich flavour.
See recipe card for quantities.
🧂Seasoning a recipe
A note on seasoning- Every recipe will require salt. I do not specify the amount because the seasoning is very subjective to taste, tolerance, and diet. The best way to use salt is to start early in the cooking process and taste and layer as you cook and as the dish develops.
👩🏻‍🍳 Step By Step
1 & 2
Thinly slice the onions and heat some olive oil and butter in a heavy-bottomed saucepan or a high-sided skillet. Once the butter is foaming add the onions to the pan. *We use butter for flavour and oil for its high smoke point.
Season with onions with some salt and continue to cook until they are golden, this will take about 40 minutes. *This may seem like a long time, but for the flavour that it brings, it's completely worth it. This recipe is essentially only 2 ingredients.
*Your pan will be very full of onions, but they are about 85% water, and they shrink down a lot as they cook and caramelize.
3 & 4
🧅 Browning the onions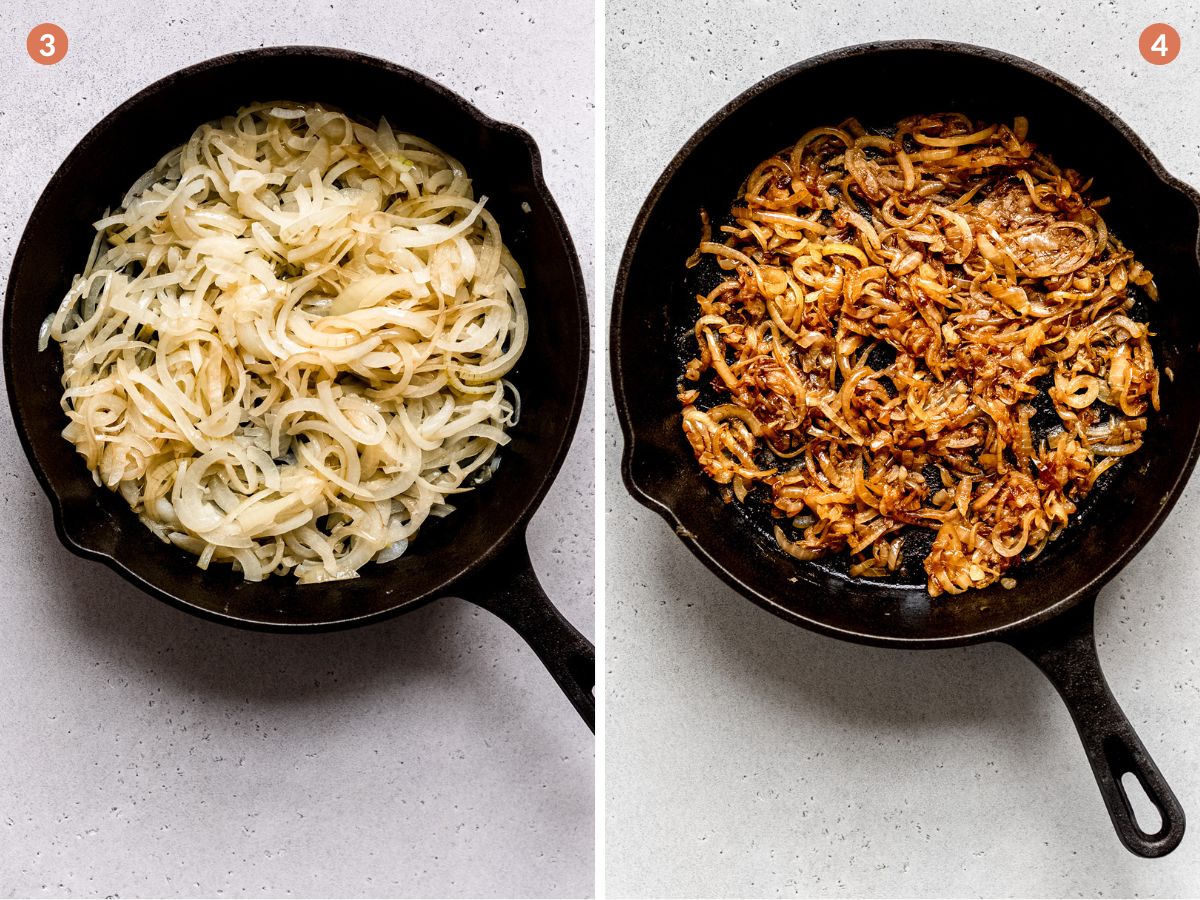 The onions will go soft and start to caramelize. As they continue to cook you may need to turn the heat down to keep the onions from browning too quickly, and burning.
We are looking for a deep golden brown like the onions on the right. Once the onions are golden, remove them to a bowl while you assemble the pomme boulanger. *Stir them every 5 minutes or so to make that they brown evenly.
9 & 10
Slicing the potatoes
While the onions are cooking, peel and slice the potatoes into ½ cm thick slices.
*Don't rinse the starch off of the potatoes because it will help to thicken the stock as the dish cooks in the oven.
*Chef's top tip- slice off a thin piece of potato length-wise to create a flat surface to make the potatoes easier to cut. *See the above right photo.
5 & 6
🍳 Assembling pomme boulanger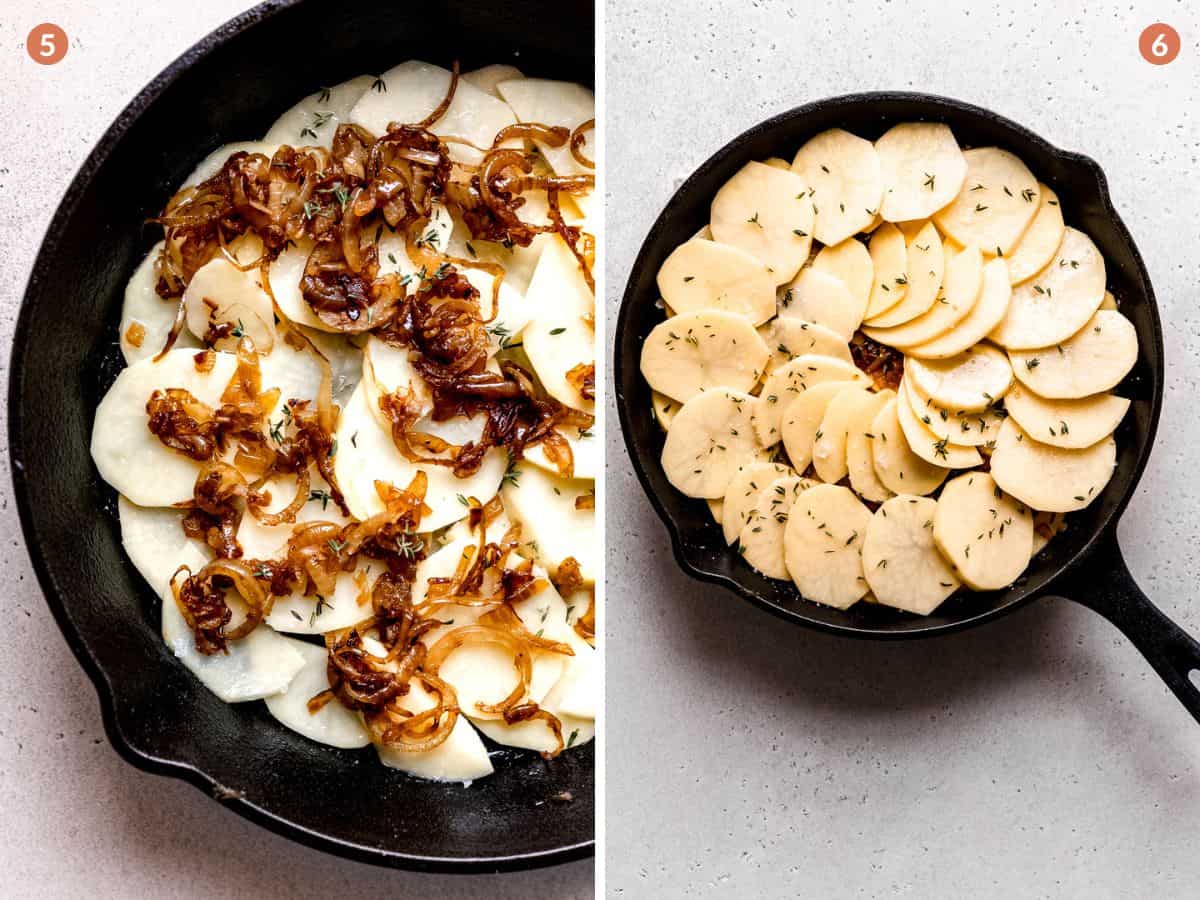 Lightly butter the bottom of the pan and start with a single layer of potatoes.
Layer with some of the caramelized onion, season well with salt, and sprinkle with some fresh thyme leaves.
Continue layering-
potatoes
caramelised onions
thyme
Season each layer of potatoes well with salt as you assemble the dish.
7 & 8
Once you have finished layering your potatoes dot the top of the dish with some butter. *This will help to turn them golden as they bake.
Make the stock with a stock cube or stock pot in boiling water. Pour the hot stock carefully into the pan.
*If you're using a skillet, the stock should reach just to below the top level of potatoes.
⏰ Cooking the potatoes
Preheat the oven to 180ºC. Cover the potatoes with some grease-proof baking paper and bake for about 30 minutes. Remove the paper from the potatoes and continue to bake for another 15 minutes until the top potatoes are golden and the potatoes are tender all the way through.
🍯 Storage
You can make this boulanger potato dish ahead of time and bake it. Let it cool completely before covering well and placing in the fridge overnight.
To reheat- cover with foil and reheat in a 180ºC oven for about 20 minutes.
*But it really is best when made the day you serve it.
💡 Top tip
Raw peeled potatoes discolour quickly when left uncooked, so it's best to make and assemble and bake this dish in one go.
Alternatively, you can caramelize the onions the day before and assemble the potato dish just before cooking.
❓FAQ
Do I need to boil the potatoes first?
Nope! The potatoes get cooked in the stock in the oven, so there's no need to cook the potatoes at all before layering with the onions in the pan.
What's the best dish to make pomme Boulanger in?
A skillet with high sides is a great option because they have a large surface area making it easier to cook the potatoes more evenly. But you can also use a small Dutch oven, just be sure that all the layers of potatoes are cooked through. The potatoes will take longer to cook if there are more layers.
A ceramic casserole or baking dish works great too. Anything that can go from oven to table is a great choice.
The BEST Easy Boulanger Potatoes
Pomme Boulanger! An easy layered potato side dish that's perfect for any holiday or roast dinner. A simple and cheap vegetable side dish everyone loves.
Print
Pin
Rate
Ingredients
1-2

yellow onions

,

peeled and thinly sliced *see notes

2

cloves

garlic

,

minced

2

tablespoons

fresh thyme

,

leaves picked

2

tablespoons

salted butter

1

kg

potatoes

,

peeled and thinly sliced *see notes

425

ml

hot stock made with a stock cube *see notes
Instructions
Preheat the oven to 180ºC or 160ºC fan.

Peel and thinly slice the onions and mince the garlic. Melt the butter in a skillet over medium heat. Sautè the onions and garlic, along with the thyme until they're soft and translucent about 10 minutes.

While the onions are sautèeing peel and thinly slice the potatoes. Place the softened onions and potatoes in alternating layers into a greased casserole dish. Pour the hot stock evenly over the potatoes and cover with foil.

Bake in the preheated oven for 45 minutes. Remove the foil and spread some melted butter over the top layer of potatoes. Place back in the oven and cook uncovered for 15 minutes until the potatoes are golden on top.
Notes
The number of onions you need will depend on how large the onions are and the amount of sautèed onion you would like between each layer of potato. In the photos above I've used 2 medium brown onions and had a perfect amount to go between each layer.
Use a floury type of potato like Maris piper or Desiree. Yukon gold also works well.
Ensure the stock is hot when you pour it over the potatoes. This ensures that potatoes will cook evenly and efficiently.
Nutrition
Calories:
294
kcal
|
Carbohydrates:
43
g
|
Protein:
16
g
|
Fat:
7
g
|
Saturated Fat:
4
g
|
Polyunsaturated Fat:
0.3
g
|
Monounsaturated Fat:
2
g
|
Trans Fat:
0.2
g
|
Cholesterol:
13
mg
|
Sodium:
17042
mg
|
Potassium:
1033
mg
|
Fiber:
4
g
|
Sugar:
12
g
|
Vitamin A:
235
IU
|
Vitamin C:
38
mg
|
Calcium:
79
mg
|
Iron:
3
mg