These crispy roasted air fryer brussels sprouts are the perfect vegetable side dish for any meal, especially a holiday side dish. They're golden and crisp on the outside and soft and tender on the inside. They're also ready in less than 30 minutes!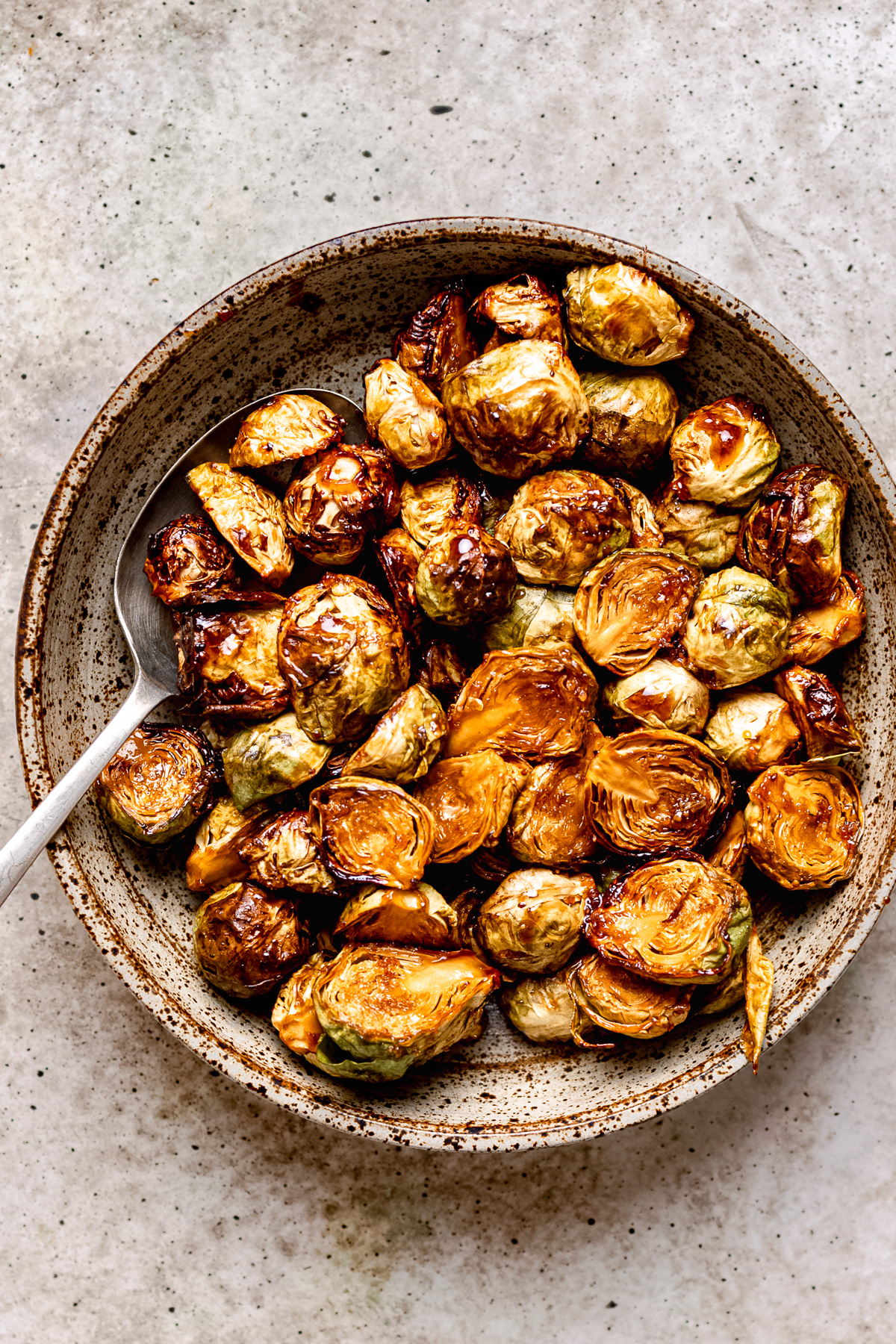 This easy side dish will quickly become your family's favourite vegetable recipe. Brussel spouts are also a cheap and easy side dish that can really be dressed up to create something special for your Sunday roast or your holiday table. It goes amazingly well with the Boulanger potatoes and the slow-cooker ham or sticky pork belly slices.
Brussel sprouts have a very bad reputation of being steamed or boiled until they're almost mush. We're giving these humble vegetables a fresh makeover.
These balsamic glazed Brussels sprouts are toasted, nutty, and glazed with sweet honey and balsamic vinegar with a touch of garlic powder to balance it all out. They are the BEST sprouts you will ever make!
Jump to:
⭐️ Why You'll Love This Recipe
Cooking the sprouts in high heat in the air fryer (or oven) will cut the bitterness as they caramelize and become crispy.
The depth of flavour from the balsamic vinegar mixed with the sweetness of honey and the savory flavour of garlic powder create a vegetable side dish that's so much more exciting than a boiled or steamed sprout.
The crispy outer texture contrasted with the tender interior creates an amazing texture.
No need to boil or steam the sprouts first.
🧾 Ingredients
All you need are a few pantry ingredients that you probably already have and a bag of sprouts.
Brussel sprouts
balsamic vinegar
honey
garlic powder
See recipe card for quantities.
Why Brussel sprouts should be one of your go-to side dishes
Like most varieties of the cabbage family, brussel sprouts are high in fiber, low in calories, and loaded with vitamins K and vitamin C. Most roast dinners and holiday tables are full of rich, high calorie and high-fat foods. So, these are a great addition that can help balance everything out.
They're also incredibly easy and cheap to make.
🧂Seasoning a recipe
A note on seasoning- Every recipe will require salt. I do not specify the amount because the seasoning is very subjective to taste, tolerance, and diet. The best way to use salt is to start early in the cooking process and taste and layer as you cook and as the dish develops.
Sprout buying tips
It's important to start out with a great vegetable to get amazing results.
Buy sprouts that are tightly compacted and feel very firm, almost hard, when squeezed.
Choose bright green vegetables without blemishes. Often you'll find sprouts with little black dots over the outer leaves. Skip those ones if you can, they tend to be more bitter.
Smaller sprouts taste sweeter.
👩🏻‍🍳 Step By Step
1 & 2
Start by trimming the sprouts' outer leaves and cutting larger ones in half. Leave smaller ones whole so that they don't overcook.
Mix the ingredients for the glaze in a medium bowl and toss with the sprouts.
Chef's tip- It may seem like the glaze is thin, but the honey and the balsamic vinegar both thicken as the sprouts cook turning into a glaze the consistency of honey.
3 & 4
Preheat the air fryer to 200ºc or 390ºf. Once the air fryer is hot, add the sprouts to the basket and spray with cooking oil spray.
Cook the sprouts for 20-25 minutes, being sure to shake the basket half way through the cooking process.
Chef's tip- Be sure to preheat your air fryer to make sure that the sprouts get hit with high heat right away. This helps to caramelize the balsamic glaze and to crisp the sprouts.
5 & 6
To get the best crispy air-fried Brussels sprouts place them in the roasting basket in a single layer with the cut side down. That gives the sprouts more surface area to roast.
When they are ready, the insides will be tender, the outer edges will be crispy and the glaze will have thickened and will coat the sprouts.
Place them in a warm bowl and serve immediately.
Hint: When washing sprouts, quickly run them under cold water to get any dirt off and dry them well. *Drying them well before roasting will ensure that they get crispy rather than steam.
🍯 Making ahead and storage
These sprouts really are best if they're served fresh from the oven, but you can prep them ahead of time.
To make ahead- wash and trim the sprouts and ensure that they are dry. Trimmed sprouts can keep in an airtight container in the fridge for a couple of days.
Make the glaze and place it in a container in the fridge for up to a few days before tossing with the sprouts and roasting.
Leftovers- Stored in an airtight container, leftovers will keep for up to 3 days in the refrigerator.
💡 Top tips
Dry the sprouts well- before tossing them with the glaze to ensure that the glaze not only sticks to the sprouts but that they get crispy instead of steam.
Start with a preheated air fryer- this makes sure that the sprouts start to crisp up right away and it helps to tone down the bitterness.
For extra caramelization- place the sprouts cut-side down in the air fryer for more surface area for browning.
❓FAQ
Do I need to soak the sprouts before cooking?
Not necessary at all. A quick spin under running water will get all the dirt off. You can use a paper towel or a clean tea towel to dry them, so they get crispy.
How do I reduce the bitterness of sprouts?
Make sure that the air fryer is preheated before adding the sprouts. The high heat helps to start caramelizing the sprouts right away and prevents them from steaming and becoming bitter.
THE BEST Easy Air Fryer Brussel Sprouts with Balsamic Glaze
Crispy, golden, and nutty air fryer roasted balsamic glazed Brussels sprouts. These sprouts are the perfect easy vegetable side dish for any holiday or roast dinner. And they're ready in 30 minutes!
Print
Pin
Rate
Ingredients
500

g

Brussels sprouts

2

tablespoons

balsamic vinegar

1

tablespoon

honey

1

teaspoon

garlic powder
Instructions
Rinse the sprouts under cold running water and dry them well. Trim the outer leaves, and cut the larger sprouts in half.

Mix the balsamic vinegar, honey, and garlic powder in a medium bowl. Toss the sprouts with the balsamic dressing and place them in the preheated air fryer for about 30 minutes, being sure to remove the basket and give it a shake after 15 minutes to ensure evenly cooked crispy sprouts.
Notes
Place the sprouts cut side down for a more crispy surface area.
Be sure to dry the sprouts well after washing.
Preheat the air fryer before adding the sprouts.
Nutrition
Calories:
80
kcal
|
Carbohydrates:
18
g
|
Protein:
4
g
|
Fat:
0.4
g
|
Saturated Fat:
0.1
g
|
Polyunsaturated Fat:
0.2
g
|
Monounsaturated Fat:
0.03
g
|
Sodium:
34
mg
|
Potassium:
507
mg
|
Fiber:
5
g
|
Sugar:
8
g
|
Vitamin A:
943
IU
|
Vitamin C:
106
mg
|
Calcium:
56
mg
|
Iron:
2
mg
Join the Facebook group to share more recipe ideas and all your photos!
Need help with meal planning? You can find our (Aldi ingredients only) weekly meal plans here! Sign up to receive them free every week or take our quick meal planning course and grab the blank meal planner and use all these recipes to create your own meal plans.