This creamy kale pasta is perfect for busy weeknights. Ready in just 20 minutes, this recipe combines simple, budget-friendly ingredients for a delicious and healthy dinner. With tender kale and a smooth, creamy sauce mixed with your favourite pasta, it's an ideal recipe for a fuss-free, healthy dinner.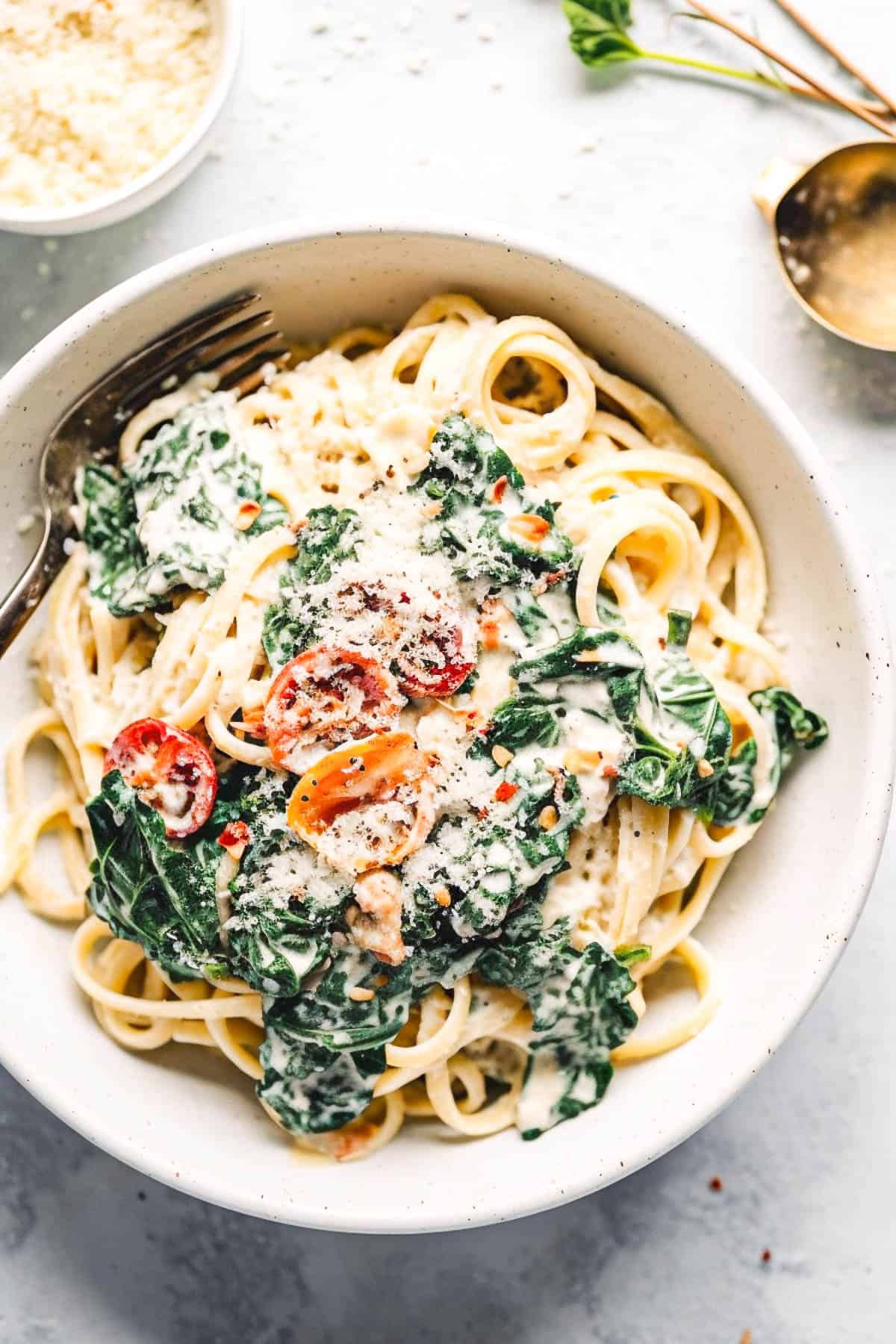 Love this creamy kale pasta? Try my adding my air fryer chicken thighs for a protein boost, or add some oven-roasted tomatoes for extra zing. If you're a pasta lover, don't miss my sun-dried tomato pasta, creamy ricotta pasta, or the veggie-packed pasta alla norma (aubergine pasta). And for more variety, explore my '10 Must-Make Pasta Recipes' for simple, tasty options perfect for any day, or checkout the whole pasta section of the website.
Jump to:
⭐️ Why this kale pasta should be on your weekly meal plan
Quick and Easy to Prepare: Ideal for busy schedules, this pasta can be whipped up in just 20 minutes, making it perfect for a fast weeknight dinner.
Budget-Friendly Ingredients: Utilizes affordable ingredients to create a delicious meal without breaking the bank.
Versatile and Customizable: Easily adaptable to suit different dietary needs or preferences - add your choice of protein or use gluten-free pasta to tailor it to your taste.
Family-Friendly: Its simple, tasty flavor profile appeals to both adults and children, making it a hit for the whole family.
🧾 Essential ingredients for creamy kale pasta
Kale: Use a large bag (ideal for adding to various dishes). Substitution: Spinach or Swiss chard can work as alternatives.
Single Cream: Forms the sauce base. Substitution: Double cream is fine (thin with water as needed).
Garlic: Fresh minced, adjust according to your taste. Substitution: Garlic powder can be used in a pinch.
Lemon: Adds freshness and cuts the richness of the cream. Substitution: Lime or a dash of white wine vinegar.
Pasta: Any type – short noodles, long strands, or penne. Substitution: Gluten-free pasta for a gluten-free version.
Olive Oil: Just enough for sautéing the garlic. Substitution: Any neutral-flavoured oil like canola or vegetable oil.
Parmesan: Incorporated into the sauce and as a garnish. Substitution: Pecorino or vegan cheese for a dairy-free option.
Walnuts: For added crunch. Substitution: Toasted pine nuts or almonds.
👩🏻‍🍳 20 Minute kale pasta in 4 easy steps

Preparing pasta and garlic:

Cook the pasta as per package instructions, adding salt to the water for flavor.
In a pan, heat olive oil and gently sauté minced garlic until fragrant, being careful not to brown it.

Cooking kale and creating sauce:

Add kale to the garlic and sauté until slightly wilted to enhance texture and flavor.
Pour in the single cream (or thinned double cream) to the pan, stirring well and allowing it to simmer gently.

Seasoning and combining with pasta:

Stir in freshly squeezed lemon juice to the sauce for freshness, adjusting the garlic and lemon to taste.
Add the cooked pasta to the sauce, tossing well. Reserve some pasta water to adjust the sauce's consistency if necessary.

Finishing touches and serving:

Stir in grated Parmesan cheese and sprinkle with crushed walnuts for added texture (use a dairy-free cheese substitute if needed).
Serve the pasta hot, garnished with additional Parmesan or herbs as desired.
Additional Tips:
Pasta choice: Use pasta shapes that hold the sauce well for maximum flavor.
Kale prep: Remove thick stems from kale for a better texture.
Creaminess: Adjust the sauce's creaminess with pasta water or more cream as needed.
📖 Variations
Protein-Boosted Kale Pasta: Add grilled chicken, shrimp, or tofu for a protein-rich meal. Cook the protein separately and mix it in with the pasta and sauce.
Spicy Kale Pasta: Introduce some heat by adding red pepper flakes or a dash of hot sauce to the sauce. This will give your pasta a spicy kick.
Creamy Mushroom and Kale Pasta: Sauté sliced mushrooms along with the garlic before adding the kale. Mushrooms will add a savoury depth to the dish. Or you can try my creamy mushroom pasta recipe.
Vegan Kale Pasta: Substitute the cream with coconut milk and use vegan cheese. Ensure all other ingredients are vegan-friendly.
Tomato-Based Kale Pasta: Add some oven-roasted tomatoes or a can of crushed tomatoes to the sauce for a tomato twist. This variation brings a tangy flavour that contrasts nicely with the kale. *In the photos, I've added some roasted cherry tomatoes.
Pesto Kale Pasta: Mix in homemade or store-bought pesto with the cream for a herby flavour. Pine nuts as a topping complement the pesto well.
🍯 Storing and reheating leftovers
Fridge:

Storage: Place any leftover creamy kale pasta in an airtight container. It can be stored in the refrigerator for up to 3 days.
Tip: If possible, store the pasta and sauce separately to maintain the best texture. This is especially helpful if the pasta is prone to absorbing too much sauce.

Reheating:

Microwave: For a quick option, reheat in the microwave. Sprinkle a bit of water or additional cream over the pasta to prevent it from drying out. Cover and heat on medium power, stirring halfway through.
Stovetop: Reheat on the stovetop over medium-low heat. Add a small amount of cream or water to the pan to help loosen the sauce. Stir gently until heated through.

Reinventing:

Pasta Bake: Transform leftovers into a pasta bake. Mix in some extra cheese, transfer to a baking dish, and bake until bubbly and golden on top.
💡 Chef's pro tips for recipe success
Leveraging years of experience in Michelin-starred kitchens and Cordon Bleu training, I offer straightforward, effective tips to ensure your culinary success.
Proper Pasta Cooking: Cook your pasta al dente to avoid a mushy texture when mixed with the sauce. Reserve some pasta water to adjust the sauce consistency later.
Balanced Flavours: Be mindful of balancing flavours. The acidity of the lemon should complement, not overpower, the sauce's creaminess. Taste as you go and adjust accordingly.
Sautéing Garlic: Sauté garlic over low heat to release its flavor without burning it. Burnt garlic can impart a bitter taste to the dish.
Sauce Consistency: Aim for a creamy, not runny, sauce consistency. If the sauce is too thick, thin it with pasta water. If too thin, let it simmer for a few more minutes.
Garnish and Presentation: Never underestimate the power of presentation. A sprinkle of finely grated Parmesan and a garnish of fresh herbs can elevate the dish's appearance and taste.
❓Recipe FAQ's
Can I use frozen kale instead of fresh?
Yes, frozen kale (or spinach) can be used as a convenient alternative. Just thaw and drain it well before adding to the recipe.
How can I add more protein to this dish?
Grilled chicken, shrimp, or tofu are great protein options to add to this dish.
Can I make this recipe vegan?
Yes, you can make it vegan by using dairy-free cream and cheese alternatives.
Can I add other vegetables to this pasta?
Certainly! Vegetables like mushrooms, bell peppers, or sun-dried tomatoes complement the flavours well.
Enjoyed this creamy kale pasta? Share your thoughts and star rating in the comments – I'd love to hear from you!
For more recipe ideas, follow us on Pinterest, Facebook, and Instagram, and join our exclusive Facebook group.
For meal planning assistance, check out our weekly Aldi-only meal plans, free for subscribers. Or, learn to craft your own plans with our quick meal planning course featuring these recipes.
Craving more comfort food? Visit our sister site, Salted Mint, for easy, delicious recipes with everyday ingredients.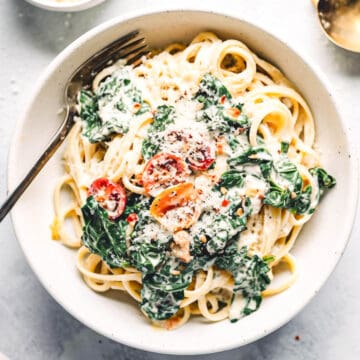 20 Minute Creamy Kale Pasta
This 20-minute creamy kale pasta is a one-pot wonder, made with just 8 ingredients. It's an easy, delicious choice for weeknights, featuring a light and lemony cream sauce.
Print
Pin
Rate
Ingredients
100

g

(

1 ½

cups

)

cups kale, washed and trimmed

350

g

(

¾

lb

)

5 ½ cups dried pasta

1 ½

tablespoons

olive oil

3

cloves

garlic

,

minced

300

ml

(

1 ⅓

cups

)

single cream

50-75

ml

(

¼

cups

)

pasta water (*see notes)

50

g

(

½

cups

)

Parmesan, grated

Fresh basil for serving

2

tablespoons

chopped walnuts or pine nuts
Instructions
Cook the pasta and prep the kale
Boil the pasta as per the package instructions. Remember to reserve a cup of the pasta water before draining.

Wash the kale and remove any large stems.
Sauté the garlic and make the sauce:
Heat olive oil in a non-stick skillet over medium heat. Once hot, add the minced garlic and sauté for 3 minutes until fragrant and golden. *Be sure not to overcook the garlic.

Add the cream to the pan and bring to a simmer. Stir in the grated Parmesan and whisk together.
Add Kale and lemon, combine and serve:
Incorporate the lemon zest and kale into the sauce. Let it simmer for a minute or two until the kale wilts. If the sauce thickens too much, add some of the reserved pasta water.

Toss in the cooked pasta and top with chopped walnuts or pine nuts. Garnish with fresh basil.
Notes
Storing and Reheating Leftovers: Store leftovers in the fridge for up to 4 days. Reheat in the microwave in 30-second intervals until hot. The sauce may thicken in the fridge; add water a tablespoon at a time to thin it out as needed.
Kale Prep: Make sure to wash the kale thoroughly and remove the thicker stems for a better texture in the pasta.
Nutrition
Calories:
687
kcal
|
Carbohydrates:
71
g
|
Protein:
19
g
|
Fat:
37
g
|
Saturated Fat:
18
g
|
Polyunsaturated Fat:
4
g
|
Monounsaturated Fat:
12
g
|
Cholesterol:
93
mg
|
Sodium:
245
mg
|
Potassium:
399
mg
|
Fiber:
4
g
|
Sugar:
3
g
|
Vitamin A:
3364
IU
|
Vitamin C:
25
mg
|
Calcium:
291
mg
|
Iron:
2
mg