Welcome to week 107 of your weekly family budget meal plan, featuring recipes using only Aldi ingredients. The meal plans are full of simple dinner recipes that are as delicious as they are economical. This week we're making the most of Easter leftovers like ham and lamb. This will help you create the quickest meals and keep the budget down.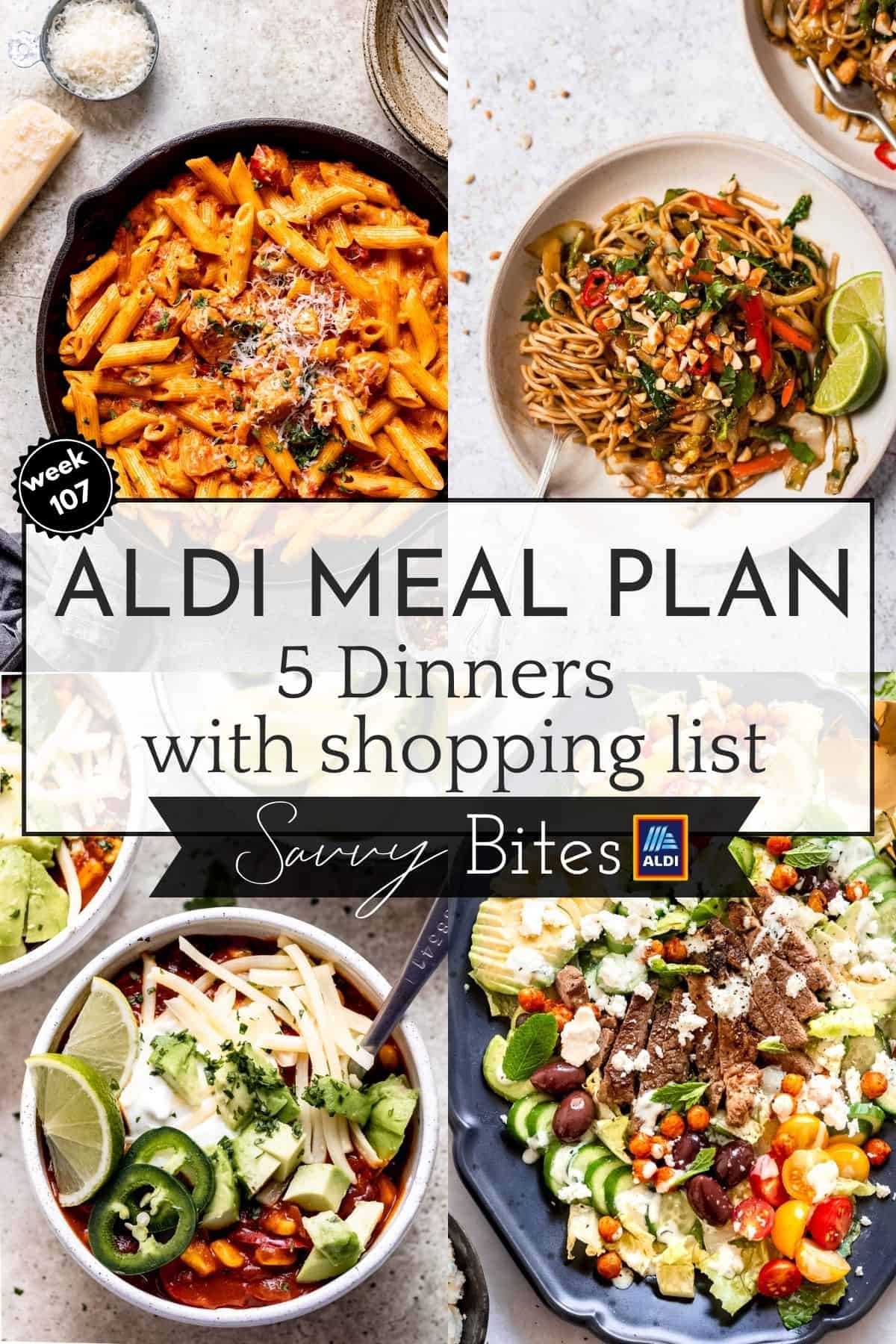 Aldi Budget Meal Plan Like this recipe? Pin it to your Meal Planning pinboard! Follow SavvyBites on Pinterest
---
We're back to the regular meal plans after doing a month of £25 budget plans. These meal plans come with a shopping list organised by recipe so you can skip certain recipes but know that you'll still be able to get all the ingredients without missing anything.
If you don't have any Easter leftovers, don't worry. The shopping list includes what you need if you're making it from scratch with a note of what to do if you do have leftovers.
Click here to print this week's meal plan and shopping list.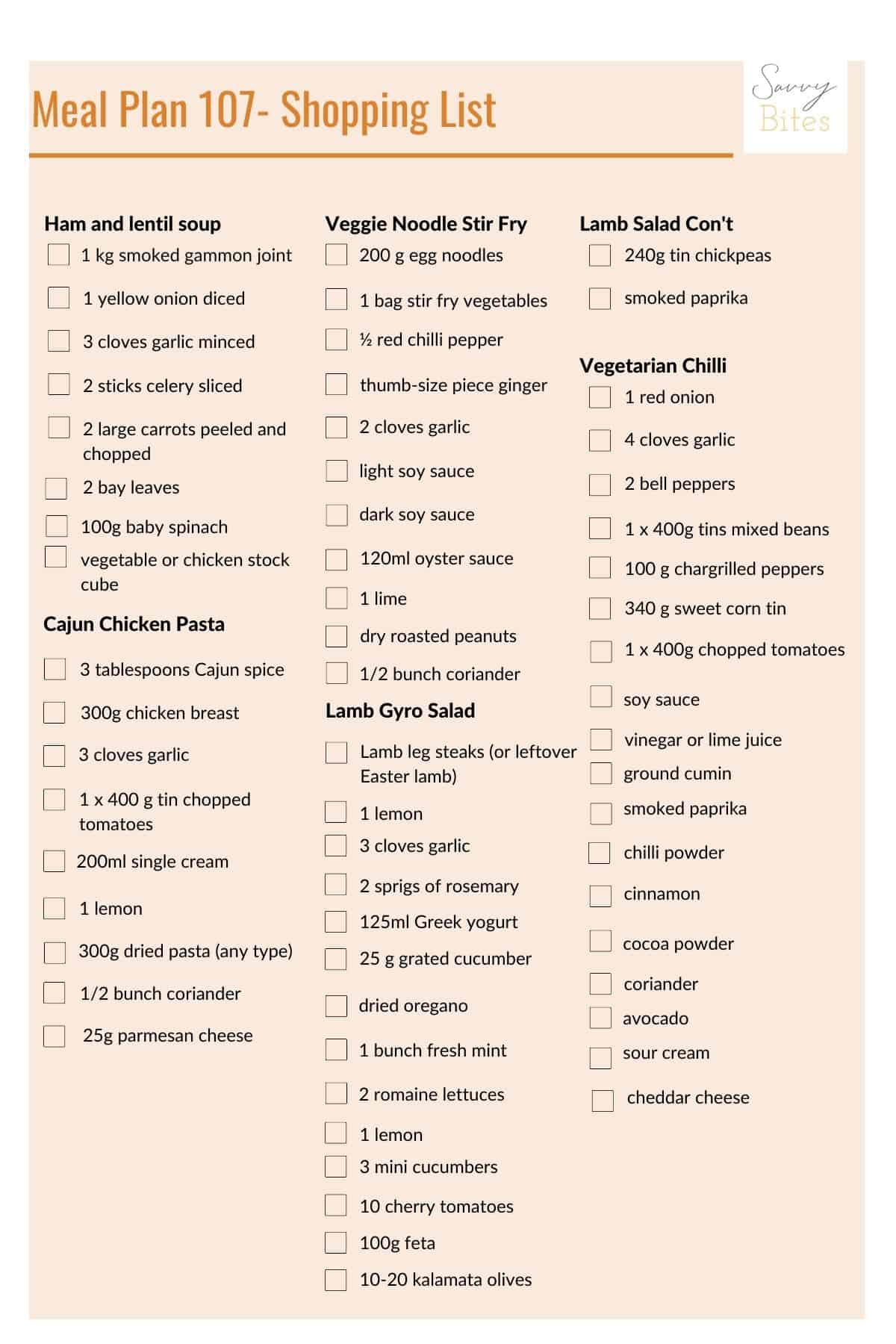 It's always helpful to have some pantry and freezer staples on hand to help get dinners on the table quickly. Below, I've listed some staples that I always have, in order to pull together healthy and easy dinners quickly.
You can also check out our other recipe collections like these easy chicken pasta recipes, vegetarian recipes, or these easy curry chicken dinners.
Pantry Staples
If you're new to Aldi or new to the website I'll give you a quick rundown of the pantry staples and favourite fresh food that I always like to have on hand.
olive oil
brown rice
white rice or basmati
tinned beans- black beans, kidney beans and chickpeas (garbanzo beans)
soy sauce- light and dark
small flour tortilla- great for making tortilla chips or wraps
coconut oil- please don't even ask me why coconut oil is so expensive everywhere else, but for some reason, in Aldi, it's a fraction of the price. It's also great for skincare, so it's a great pantry item.
tinned tomatoes- or you can use passata which is a smooth tomato sauce Perfect for making this one-pot chorizo pasta.
peanut butter- honestly, the smooth pb from Aldi is on par with any high-end brand name. And it's the key ingredient in these peanut butter cookies.
Fresh vegetables, fruits and whole foods ground beef (mince)
chicken breasts
grape tomatoes
green onions
feta cheese
cottage cheese or Greek yoghurt- I change it up weekly
sour cream or creme fraiche
Cheese- this usually depends on what types of cheese feature in that week's Aldi meal plan that I'm creating
About the budget meal plan
These simple budget dinner ideas are ever-changing and they feature a mix of both the Savvy Bites classics as well as new recipes every week. Each recipe has the number of servings it makes as well as the nutritional information for each recipe.
Most of the recipes in each plan are designed to serve a family of 4 and most will have leftovers. The exceptions will be the slow cooker recipes, like this special slow cooker meal plan, which will usually serve up to 6 people. Each recipe also gives tips on how to store and reheat leftovers.
With food waste such an important issue both economically and environmentally never has it been so important to be mindful of what we consume. But of course, it's still important to make delicious, creative, inspiring and healthy meals.
Join the Facebook group to share more recipe ideas and all your photos!
Need help with meal planning? You can find our (Aldi ingredients only) weekly meal plans here! Sign up to receive them free every week or take our quick meal planning course and grab the blank meal planner and use all these recipes to create your own meal plans.
THANKS SO MUCH FOR READING AND COOKING ALONG WITH ME! IF YOU MAKE THIS RECIPE OR HAVE A QUESTION, I'D LOVE IT IF YOU LEFT A COMMENT AND A RATING. YOU CAN ALSO FOLLOW ALONG ON PINTEREST, FACEBOOK, AND INSTAGRAM TO SEE WHAT WE'RE EATING, PINNING AND A LITTLE BEHIND THE SCENES TOO!