Thick, chewy and soft chocolate peanut butter cookies are the perfect easy baking project for the weekend. Simple ingredients (all from Aldi!) and just 40 minutes are all that stands between you and these gorgeous chocolate-drizzled cookies.
Everyone's favourite sweet/salty combo. Peanut butter and chocolate. perfect in a Reese's pieces, but even better when they're in homemade cookies. I take my cookie game pretty seriously. Okay. Really seriously. Level: Cookie Snob. There are not enough meals available in life to waste single bite on an "okay" cookie. When making cookies we go big, (we also go soft, and leaning towards salty) or we go home. And these are the kind of cookie we're willing to walk miles for. Trust.
---
Chocolate Peanut Butter Cookies
Like this recipe? Pin it to your Cookie pinboard!
Follow SavvyBites on Pinterest
---
Jump to:
Ingredients needed
First, let's talk peanut butter. Smooth or crunchy work in this recipe, however, I prefer to use smooth because I scatter the tops of my cookies with chopped peanuts for the texture factor. I like these cookies soft, fluffy and chewy. Like I said... cookie snob.
peanut butter
plain flour
caster sugar
demerara sugar (can substitute light brown sugar)
egg
butter
baking powder
dark chocolate
roasted salted peanuts
Step by step directions
As with all cookies, we're gonna start by creaming our butter and the sugars. Use an electric hand whisk for this process. It can be done with a wooden spoon if that's all you have, but you won't get the butter as fluffy. So, the cookies may not be quite as thick. But they will still taste like magic. *And a note on that demerara situation... when I went into Aldi to get a bag of brown sugar all they had was this gorgeous golden demerara. So we're going with it. And we have no regrets.
Once you've got fluffy butter and sugar that has lightened up in colour, you can add the peanut butter and the egg and mix again. It turns into a thick and creamy peanut butter dream. Try not to dip your finger in. There's raw egg in there.
Add in the flour and baking soda. We're not adding salt to this recipe because we're using salted butter and the peanut butter has a salty kick to it. AND we're going to be adding salted peanuts to the tops of these cookies. We love it salty, but not so much that we lose the sweet. It's all about balance, here.
To mix in the flour, do yourself a favour and switch to a wooden spoon or spatula here. If you use an electric whisk for this you will end up with a kitchen covered in flour. Save yourself the cleanup and use a spatula.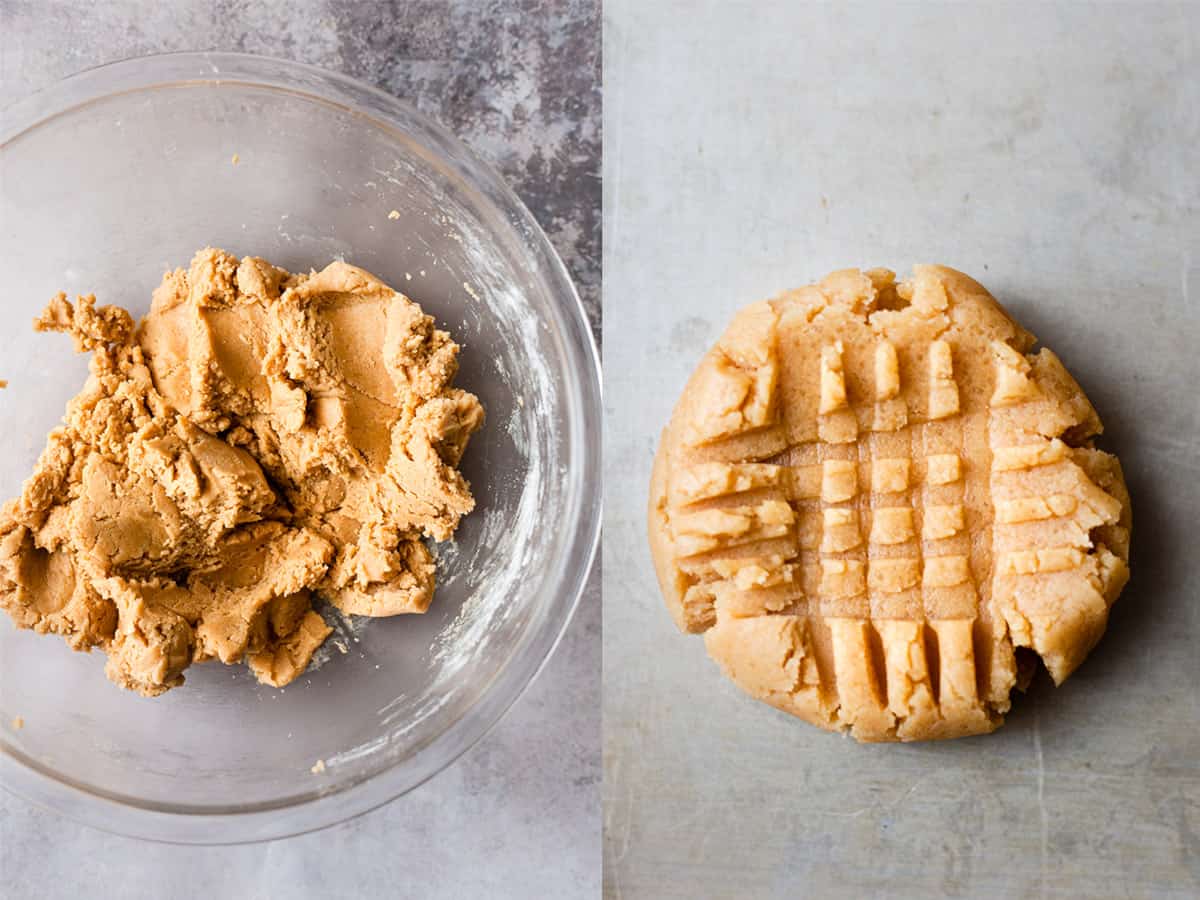 Baking perfect cookies
Use a scoop or a tablespoon to pick up small golf ball-sized pieces of cookie dough (about 3 tablespoons worth) and form them into rounds. We like BIG cookies around here. Using a small glass or your fingers, gently press down on the cookies to barely flatten the tops. Then using a fork press the criss-cross pattern into the cookies. This is a classic pattern for peanut butter cookies and I have absolutely no idea how it came about, but I've been making this pattern on them since I can remember and we're not stopping any time soon.
Some recipes may call for you to chill the dough before baking them off, but I've never been a fan of delaying the cookie satisfaction. These cookies can be baked as soon as the dough is ready.
Okay. Here's the deal. I may offend other cookie connoisseurs, but I don't use baking paper to line my baking trays. I use heavy-duty baking trays that are a light silver in colour and nothing ever sticks to them. You can also use a non-stick baking tray.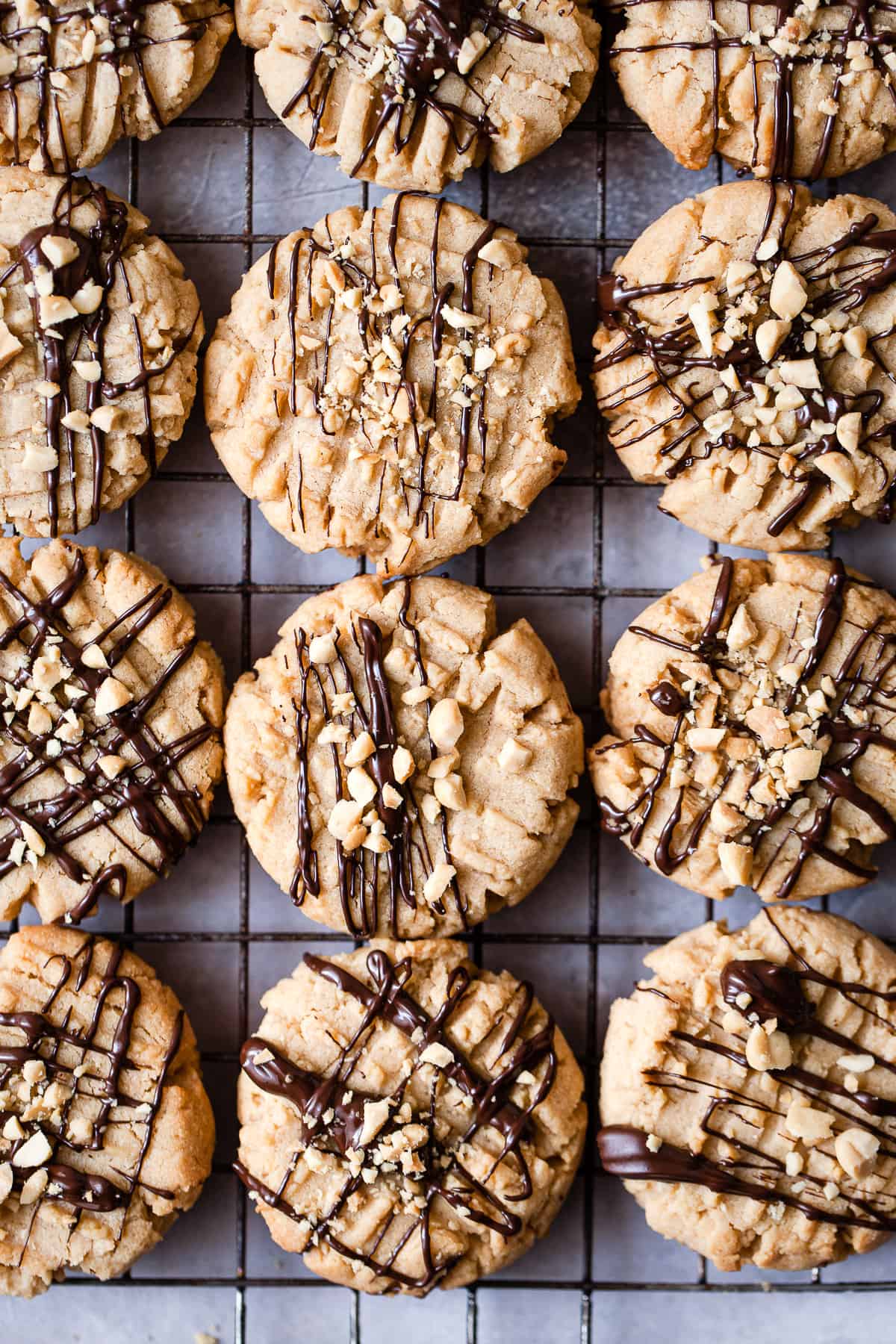 Peanut butter options
There are really only two options for this recipe. Smooth or crunchy peanut butter. Stay away from the natural peanut butter that splits and has the oil floating on the top. That will not yield the kind of cookie that we are going for.
These cookies can be rolled into balls and then frozen ready to bake whenever you need that cookie fix.
Chocolate peanut butter cookies
These cookies are perfect right out of the oven. They're thick, chewy, soft and full of peanut butter flavour. BUTTTTTT maybe definitely we want to drizzle these in chocolate and cover them in chopped peanuts. Here's how we do it! In a small bowl weigh out the chocolate. I used dark but you can use milk chocolate if you prefer it better. The cookies will just be a little bit sweeter. use a spoon to drizzle the chocolate over the cookies, or dip the cookies right into the chocolate and scatter with the chopped peanuts.
Whip a batch of these and go forth into the weekend. These cookies will love you in the best way, as only the perfect cookie can.
More easy baking recipes
chocolate chip cookies
easy banana bread
lemon blueberry cake
Chocolate Peanut Butter Cookies
The best flavor combination ever! These peanut butter chocolate cookies are soft and crumbly with a chewy center.
Print
Pin
Rate
Ingredients
105

g

(

3/7

cups

)

butter

100

g

(

½

cups

)

caster sugar

100

g

(

½

cups

)

demerara sugar

1

(

1

)

egg

250

g

(

1

cups

)

smooth peanut butter

215

g

(

1 ⅝

cups

)

plain flour

½

teaspoon

(

½

teaspoon

)

bicarb of soda

100

g

(

½

cups

)

dark chocolate melted

3

tablespoons

(

3

tablespoons

)

chopped peanuts
Instructions
Preheat to oven to 180ºC.

In a medium bowl using an electric hand whisk cream the butter and the sugars until light and fluffy.

Add in the egg and peanut butter and whisk again until completely incorporated. Pour the flour and bicarb of soda to the bowl and use a wooden spoon or spatula to stir in the flour to make the dough.

Use a cookie scoop or a tablespoon to measure out 3 tablespoons of dough and form into small golf ball size cookies. Leave 2 inches of space between each cookie. Gently flatten with your fingers, then using a fork imprint the dough with a criss cross pattern.

Bake in the preheated oven for about 10 minutes and remove when the cookies are light golden and just set in the middle. Let cool on the baking tray for about 5 minutes before removing them to cool on a cooling rack.

Melt the chocolate in the microwave or in a bowl over a pan of simmering water. Once the chocolate is melted, using a spoon, drizzle over the cookies and sprinkle with the chopped peanuts.
Nutrition
Calories:
220
kcal
|
Carbohydrates:
23
g
|
Protein:
5
g
|
Fat:
12
g
|
Saturated Fat:
6
g
|
Polyunsaturated Fat:
2
g
|
Monounsaturated Fat:
4
g
|
Trans Fat:
1
g
|
Cholesterol:
20
mg
|
Sodium:
132
mg
|
Potassium:
130
mg
|
Fiber:
1
g
|
Sugar:
13
g
|
Vitamin A:
144
IU
|
Vitamin C:
1
mg
|
Calcium:
25
mg
|
Iron:
1
mg
THANKS SO MUCH FOR READING AND COOKING ALONG WITH ME! IF YOU MAKE THIS RECIPE OR HAVE A QUESTION, I'D LOVE IT IF YOU LEFT A COMMENT AND A RATING. YOU CAN ALSO FOLLOW ALONG ON PINTEREST, FACEBOOK AND INSTAGRAM TO SEE WHAT WE'RE EATING, PINNING AND A LITTLE BEHIND THE SCENES TOO!