These cheese scones are light, fluffy and flaky. Perfect for all skill levels, from beginner to confident home cooks, these easy scones are ready in under 35 minutes. Serve them warm with butter, at breakfast or for afternoon tea. You will make this quick bread recipe over and over!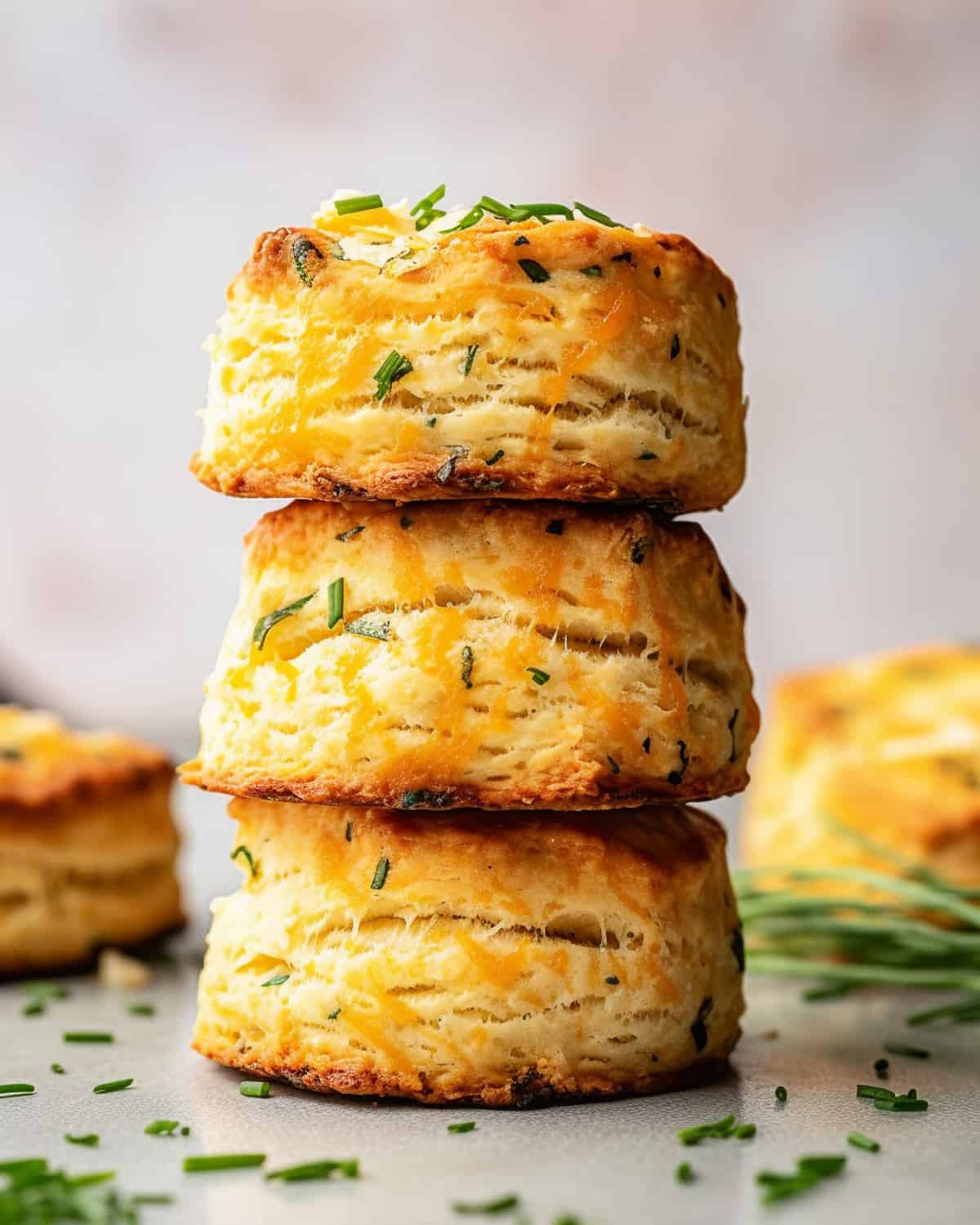 If you love these, you'll love our cheddar and bacon scones too. Or use these cheese scones as a topping for beef cobbler. They're also amazing served with soup, particularly this carrot and coriander soup or this creamy seafood chowder.
Jump to:
⭐️ Why These Cheese Scones Work
Family-friendly: Great baking project for kids
Versatile: Ideal for any meal or snack
Quick and Easy: Ready in under 35 minutes
Texture: Light and fluffy, unlike the store-bought kind
Flavour: Rich in cheddar cheese flavour, with optional herbs for a savoury twist
🧾 Key Ingredients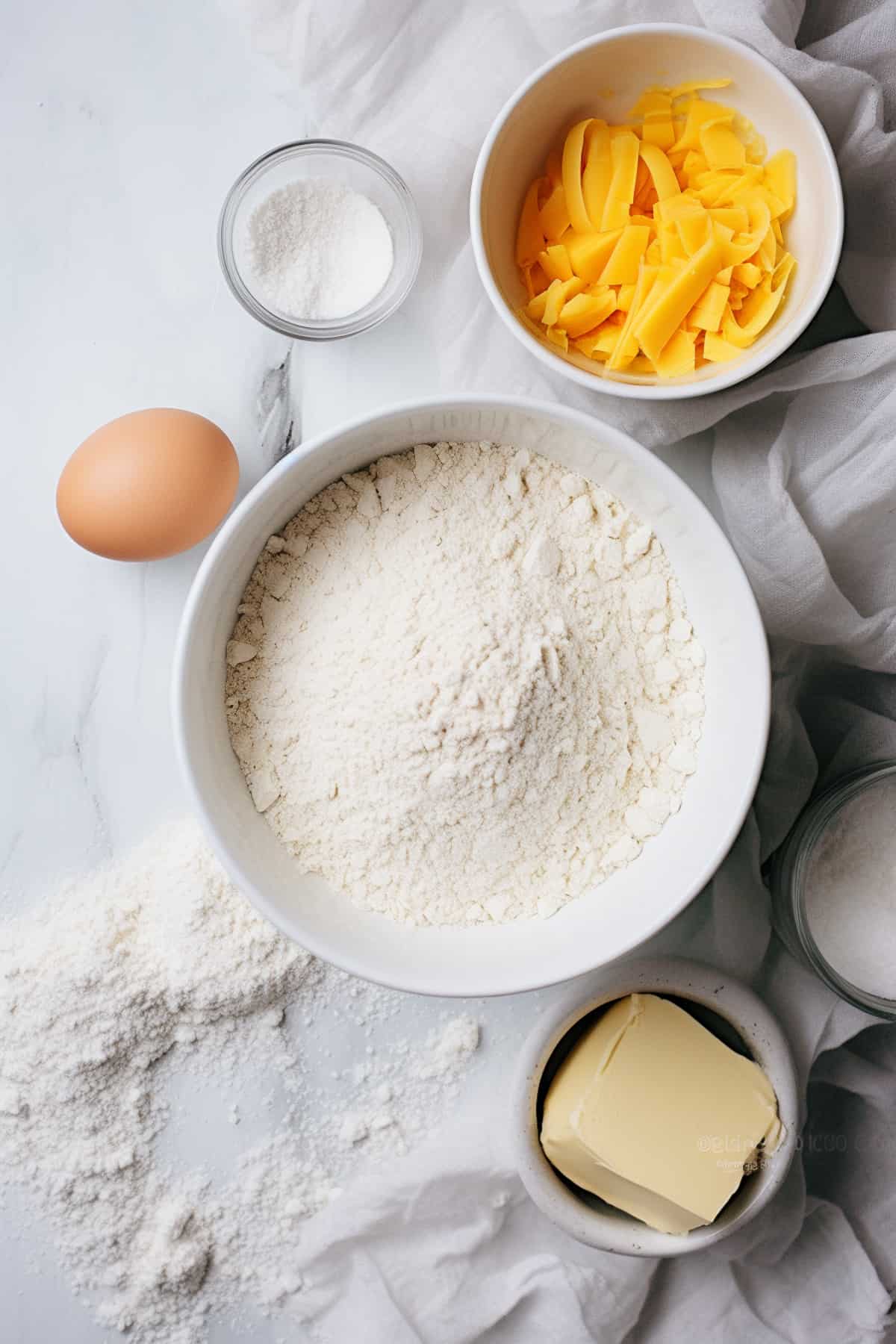 Self-Raising Flour: Provides the structure and base for the scones
Cold Butter: Creates the flaky texture we all love
Cheddar Cheese: Adds a rich, savoury flavour to the scones *You can use strong or mild cheddar depending on your preference.
Milk: Moistens the dough and enhances pastry-like quality
Egg: Acts as a binding agent
Mustard Powder: Optional, but adds a hint of warmth and depth
Baking Powder: Helps the scones rise and become fluffy
Salt and Cayenne Pepper: For seasoning and a bit of spice
See recipe card for quantities.
📖 Substitutions & Variations
Cheese: Use different cheeses like Red Leicester, Parmesan, or Smoked Cheddar
Herbs: Add fresh chopped rosemary, chives, or green onions
Seasoning: Omit mustard powder for a milder flavour
👩🏻‍🍳 Cheese Scones In 4 Steps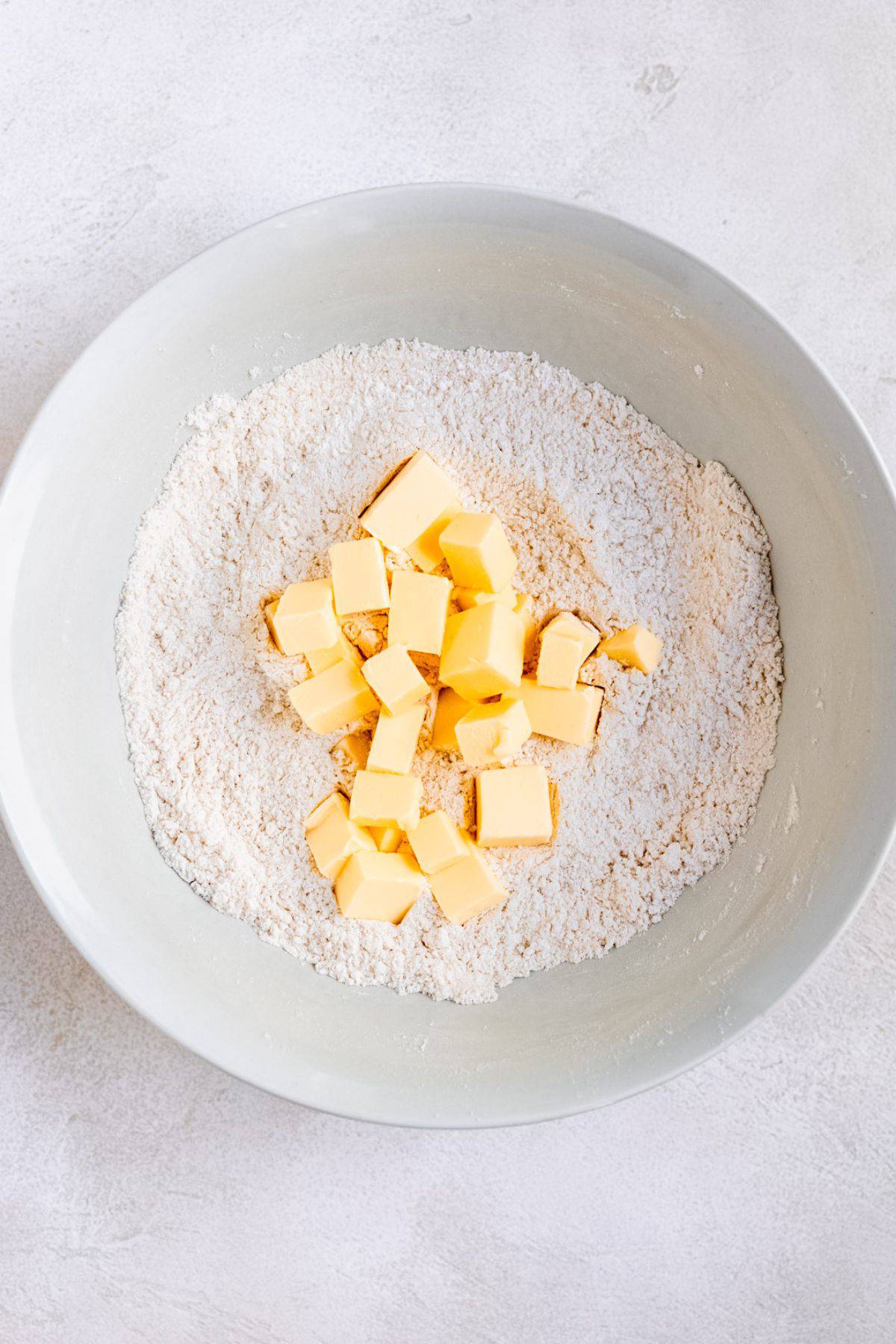 Preheat the oven and line your baking trays.
Mixing Flour and Butter: Using a pastry blender, fork, or your fingers, work the butter into the dry ingredients until the mixture resembles coarse crumbs. The goal is to coat the flour particles with fat, which contributes to the scone's flaky texture.

Visual Cue: The dough should resemble breadcrumbs.
Cheese and Optional Spices: Add grated cheddar and mustard powder.
Add Liquids: Make a well in the centre of the dry mixture and pour in the wet ingredients. Gently mix until just combined; overmixing can make the scones tough.

Top Tip: Avoid over-mixing to keep scones light and fluffy.

Shaping and Cutting: Turn the dough out onto a lightly floured surface.

Knead the dough gently 4-5 times to bring it together.
Either roll it out and cut it into shapes using a cookie cutter or simply form it into a round disc and cut it into wedges.

Baking: Brush tops with some milk and grated cheese before baking until golden brown.
💡 Top Tip For Fluffy Scones
Most scone recipes provide an estimated baking time. While this is a good guideline, ovens can vary, so start checking for doneness a few minutes before the earliest recommended time.
🍯 Storage
Fridge

Store in an airtight container for up to 2-3 days.

Freezer

Can be frozen for up to 3 months in a zippered freezer bag.

Reheat

If frozen, thaw for 20 minutes before baking. Best when slightly warmed before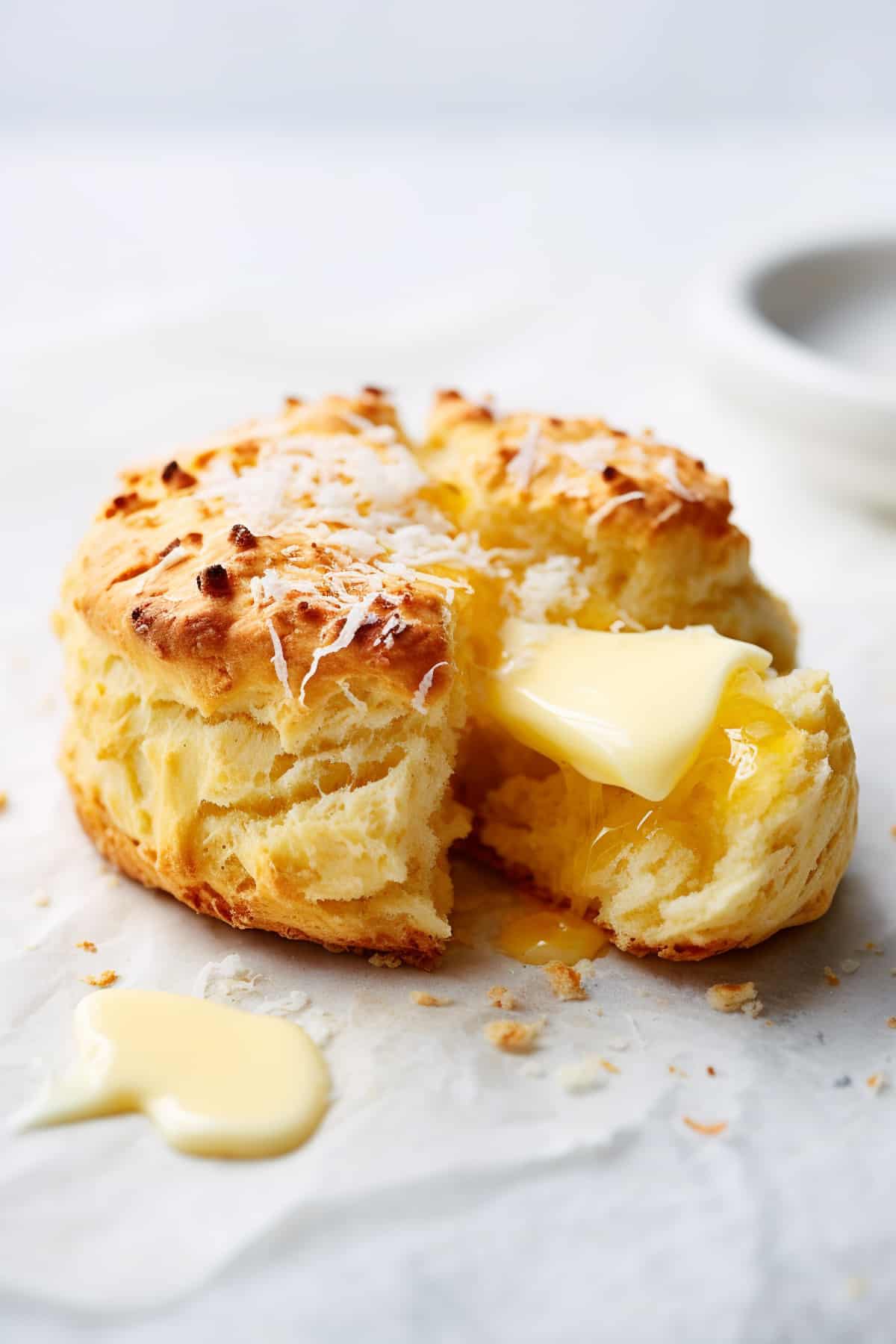 💡 Top Tips
Use cold butter and cold milk for the best texture.
Handle the dough minimally to avoid activating gluten which makes the scones hard.
Troubleshooting
Oops! What to Do If...
Hard and Heavy Scones: The scones turn out too dense or heavy, lacking the light and fluffy texture that is ideal.

Solution: Avoid overworking the dough, as this activates the gluten and leads to tougher scones. Mix the ingredients until just combined.

Uneven Rise: The scones rise unevenly, leading to a lopsided appearance.

Solution: Make sure your baking powder is fresh, and try to cut the scones using a sharp, straight-edged cutter. Also, ensure that the oven is preheated to the correct temperature for even cooking.

Lack of Flavor: The scones are bland or missing the rich, cheesy flavor.

Solution: Use a sharp or mature cheddar for more flavor. Adding a bit of mustard powder or a sprinkle of cayenne can also elevate the flavor profile.

Too Dry: The scones are too dry and crumbly.

Solution: Make sure to measure your ingredients accurately, and do not over-bake the scones. It might also help to brush the tops with a bit of milk for added moisture.

Soggy Bottoms: The base of the scones is too wet or soggy.

Solution: This could be due to over-moistening the dough or using too much cheese that releases moisture as it melts. Be mindful of your measurements, and consider adding a bit more flour if the dough seems too wet. Also, make sure to bake in a preheated oven.
❓FAQ
Can I Use Buttermilk?
Yes, absolutely! Buttermilk can add a tangier flavour and works well in this recipe.
Can These Scones Be Made Gluten-Free?
Yes, simply swap self-raising flour with a gluten-free alternative.
Can I Prepare the Scones Ahead of Time?
Absolutely, just freeze the cut scones and bake when needed.
What To Serve With Cheese Scones
These are my favourite soups to serve with these cheese scones:
If you tried this Recipe or any other recipe on my website, please let me know in the comments below. I love hearing from you. Also, please leave a star rating whilst you're there!
You can also follow along on Pinterest, Facebook, and Instagram and join our private Facebook Group Facebook group to share more recipe ideas and all your photos!
Need help with meal planning? You can find our (Aldi ingredients only) weekly meal plans here! Sign up to receive them free every week or take our quick meal planning course and use all these recipes to create your own meal plans.
You can also find more comfort food recipes using everyday ingredients over on our sister site Salted Mint.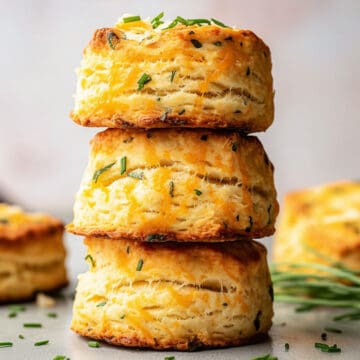 The Ultimate Cheese Scones
These savoury cheddar cheese scones are the perfect accompaniment to any meal, or on their own. The optional addition of mustard powder and cayenne pepper gives them a spicy kick. They're simple to make, deliciously flaky, and wonderfully cheesy.
Print
Pin
Rate
Ingredients
250

g

(

2

cups

)

Self-Raising Flour

75

g

(

2 ⅔

oz

)

Cold Butter

,

cubed

150

g

(

1 ¼

cups

)

Cheddar Cheese

,

grated *Use mild or strong cheese

125

ml

(

4 ¼

floz

)

Milk

1

(

1

)

Large Egg

½

teaspoon

(

½

teaspoon

)

Mustard Powder

,

optional

1

teaspoon

(

1

teaspoon

)

Baking Powder

¼

teaspoon

(

¼

teaspoon

)

Salt

Pinch

(

Pinch

)

of Cayenne Pepper

,

optional
Instructions
Preheat your oven to 220°C (425°F). Position your oven rack in the middle for even baking.

Line a baking sheet with parchment paper or a silicone baking mat.
Make the Scone Dough
In a large mixing bowl, sift together 250g self-raising flour, 1 teaspoon baking powder, ¼ teaspoon salt, and a pinch of cayenne pepper. If using mustard powder, sift it into the mixture for an extra hint of warmth and depth.

Add 75g of cold, cubed butter to the dry ingredients. Use a pastry blender, a fork, or your fingertips to work the butter into the flour mixture until it resembles coarse crumbs. Stir 150g of grated cheddar cheese into the crumbly flour mixture.

In a separate bowl, whisk together 125ml of milk and 1 large egg. Make a well in the centre of the dry ingredients and pour in the wet mixture.
Mix and Shape the Dough
Mix until just combined to form a sticky dough. Be careful not to overmix, as this will make the scones tough.

Turn the dough onto a lightly floured surface and knead gently a few times.

Shape the dough into a round disc about 2 cm thick. Use a round cookie cutter to cut out 8 scones, or simply cut the disc into 8 wedges.
Bake
Place the cut scones on the prepared baking sheet.

Optional: Brush the tops with a little milk for a shiny finish.

Bake for 15-20 minutes, or until the scones are golden brown on top. Remove from the oven and transfer to a wire rack to cool slightly.
Notes
If you don't have self-raising flour, you can make your own by adding 1 ½ teaspoons of baking powder for each cup of plain flour.
The colder the butter, the flakier your scones will be. Consider grating frozen butter into the flour mixture for even better results.
For a different flavour profile, consider adding herbs like rosemary or thyme to the dry mixture.
The scones are best enjoyed fresh but can be frozen for up to a month. To reheat, thaw and warm in an oven set at 180°C (350°F) for about 10 minutes.
Nutrition
Calories:
275
kcal
|
Carbohydrates:
24
g
|
Protein:
9
g
|
Fat:
16
g
|
Saturated Fat:
6
g
|
Polyunsaturated Fat:
3
g
|
Monounsaturated Fat:
5
g
|
Trans Fat:
0.003
g
|
Cholesterol:
41
mg
|
Sodium:
353
mg
|
Potassium:
82
mg
|
Fiber:
1
g
|
Sugar:
1
g
|
Vitamin A:
580
IU
|
Vitamin C:
0.03
mg
|
Calcium:
193
mg
|
Iron:
0.5
mg