Buttery, crumbly homemade shortbread layered with thick and rich caramel all topped with a silky layer of indulgent white chocolate. These white chocolate millionaire shortbread bars are luxurious but easy.
Everything about these white chocolate shortbread bars is homemade. But really easy. I've always been a fan of a traybake like these chocolate chunk cookie bars, or these 7 layer almond bars, and most importantly the famous Savvy Bites brownies! But you can see all the easy baking recipes right here!
But this millionaire shortbread is a little different. The classic buttery shortbread is there and so is the extra thick caramel. But this one is topped with luxurious white chocolate. It's familiar enough to be comforting but rich enough to feel even more luxurious than the original!
Jump to:
Why You'll Love This Recipe
Indulgent treat- These caramel white chocolate shortbread bars are perfect for valentines day!
Easy to make- No special equipment is required for these caramel bars. They are amazing for baking with kids!
Make it your own- See the variations below for all the ways that you can make these simple millionaire shortbreads your own!
Ingredients needed
It's hard to believe that these 6 simple ingredients turn into these rich and sweet millionaire shortbread bars, but that's all it takes! BTW- these are also commonly referred to as caramel shortbread, caramel squares, caramel slice, millionaire's shortbread, millionaire's slice, chocolate caramel shortbread, and Wellington squares!
And if you're not sure what these are they can be described as biscuit confectionery item composed of a shortbread biscuit base topped with caramel and milk chocolate, or white chocolate in our case!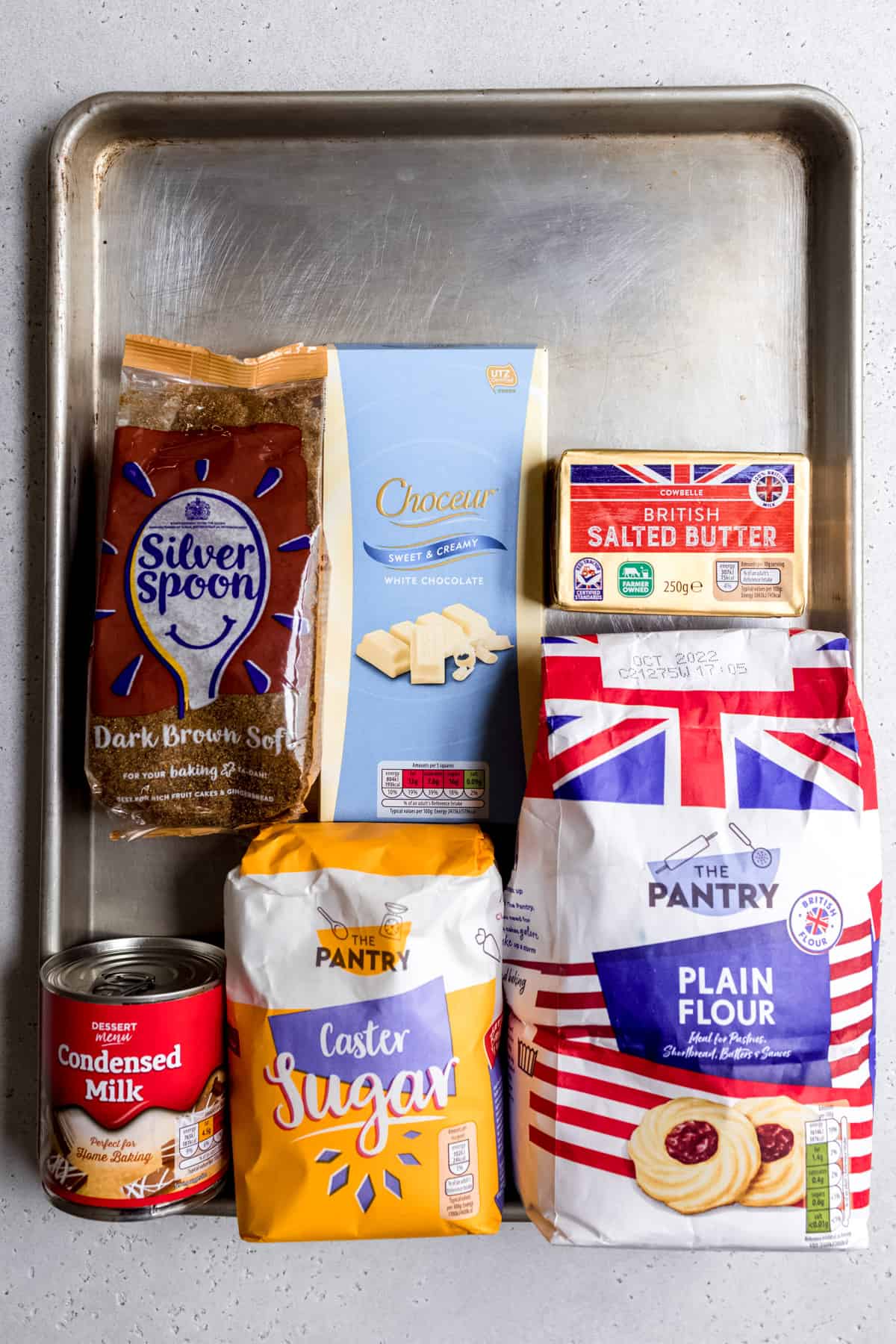 butter- salted or unsalted work. Personally, I use salted butter in all my baking.
caster sugar- you can use granulated here too
brown sugar- dark or light brown are great
plain flour
condensed milk
white chocolate- I've used the choceur white chocolate from Aldi. It's a little bit more costly than the most basic cooking chocolate, but its really creamy and melts really well.
See the recipe card for quantities.
Step By Step Instructions
Step 1 & 2- Making the shortbread
It's easiest if you use a food processor. Just add the cubed butter, flour and sugar the the bowl of your food processor and pulse until the mixture is crumbly like bread crumbs. *Be careful not to overmix.
If using your hands; mix the sugar and flour together and rub the cubed butter in with your fingertips.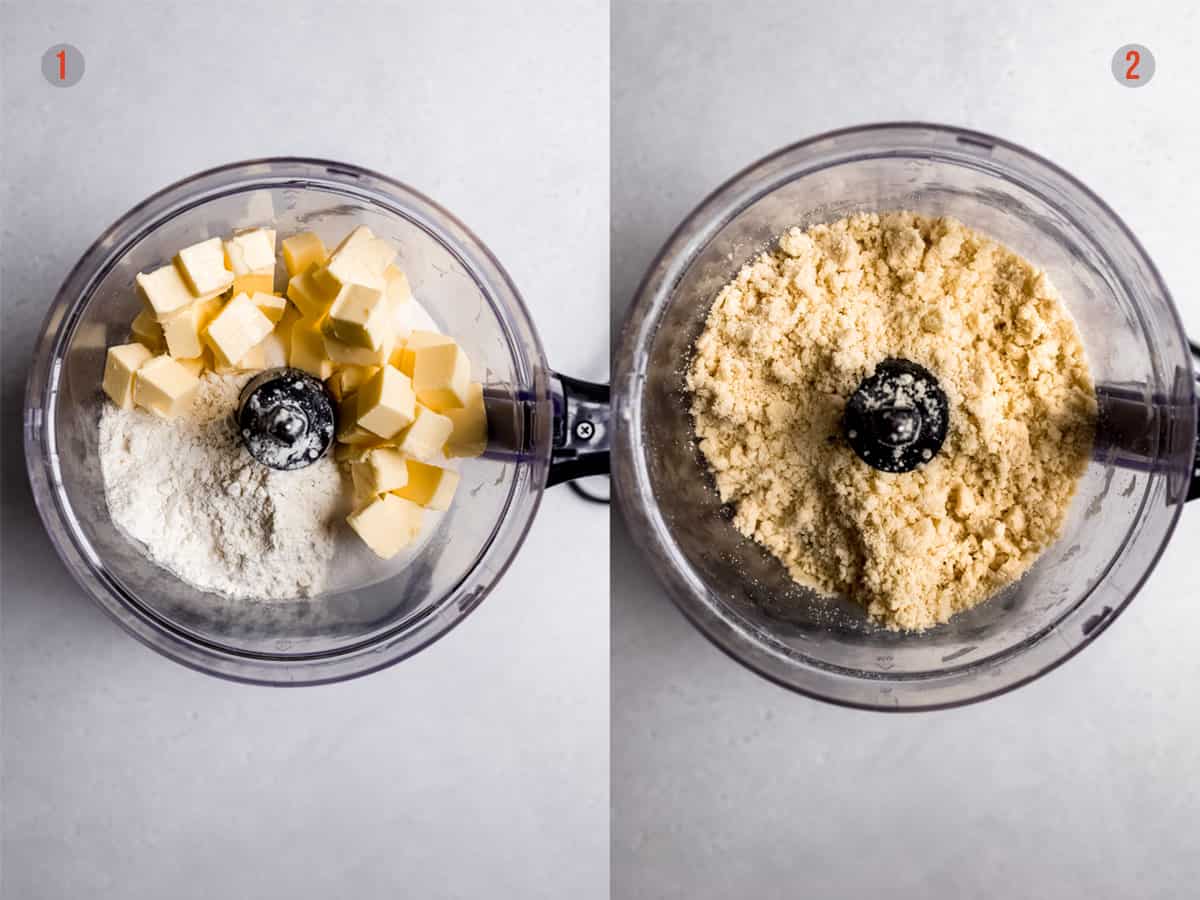 Step 3 & 4- Baking the shortbread
Place your crumbly shortbread base into the lined pan and using a spoon, or your fingers press the dough into the bottom of the pan.
Be sure to press the dough into the corners of the pan so you end up with nice square edges once baked.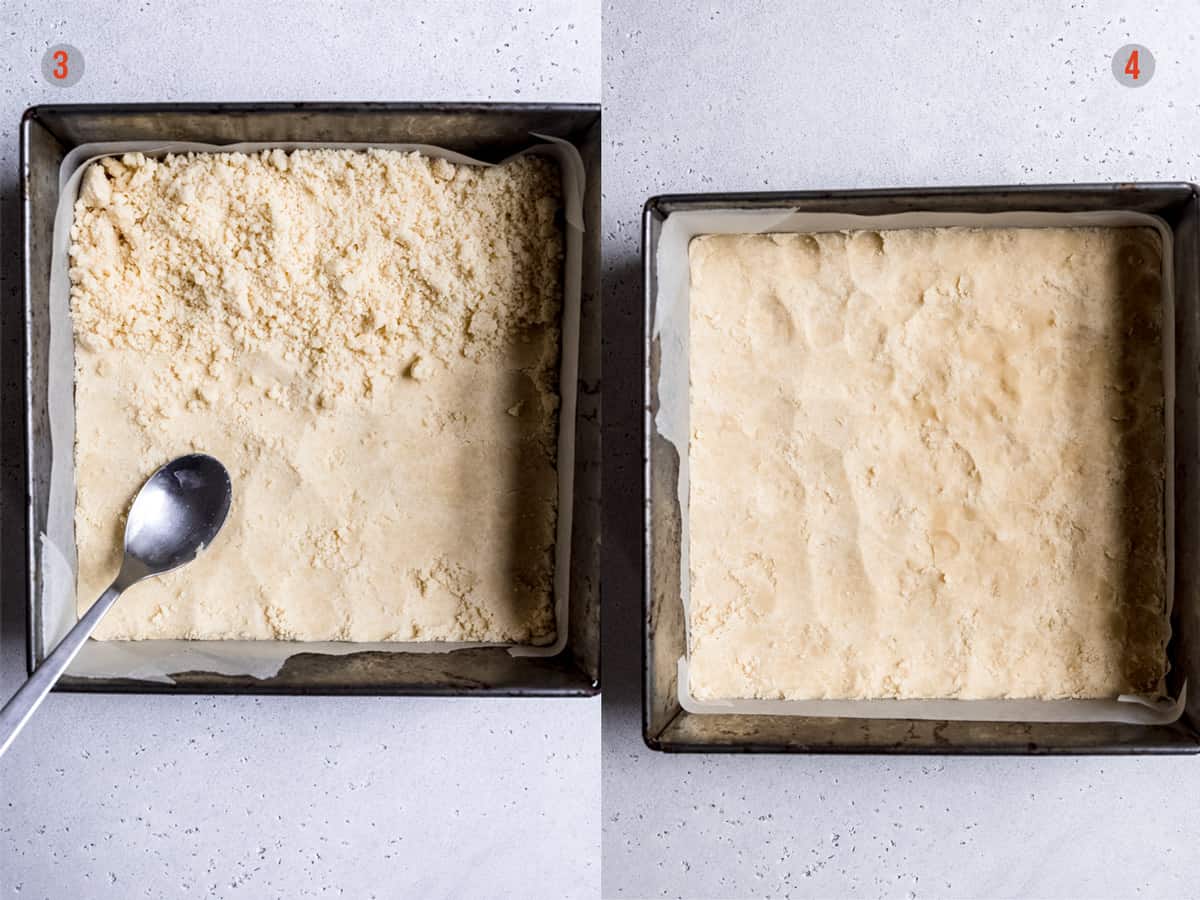 Step 5 & 6- Caramel
Add all the ingredients to the pan and melt the butter and sugar over low heat. Once melted, turn the heat up to high and boil for about 5-7 minutes whisking continuously so the caramel doesn't burn.
When the caramel is ready it will be darkened and thick enough to hold a ribbon when it's' drizzled on itself.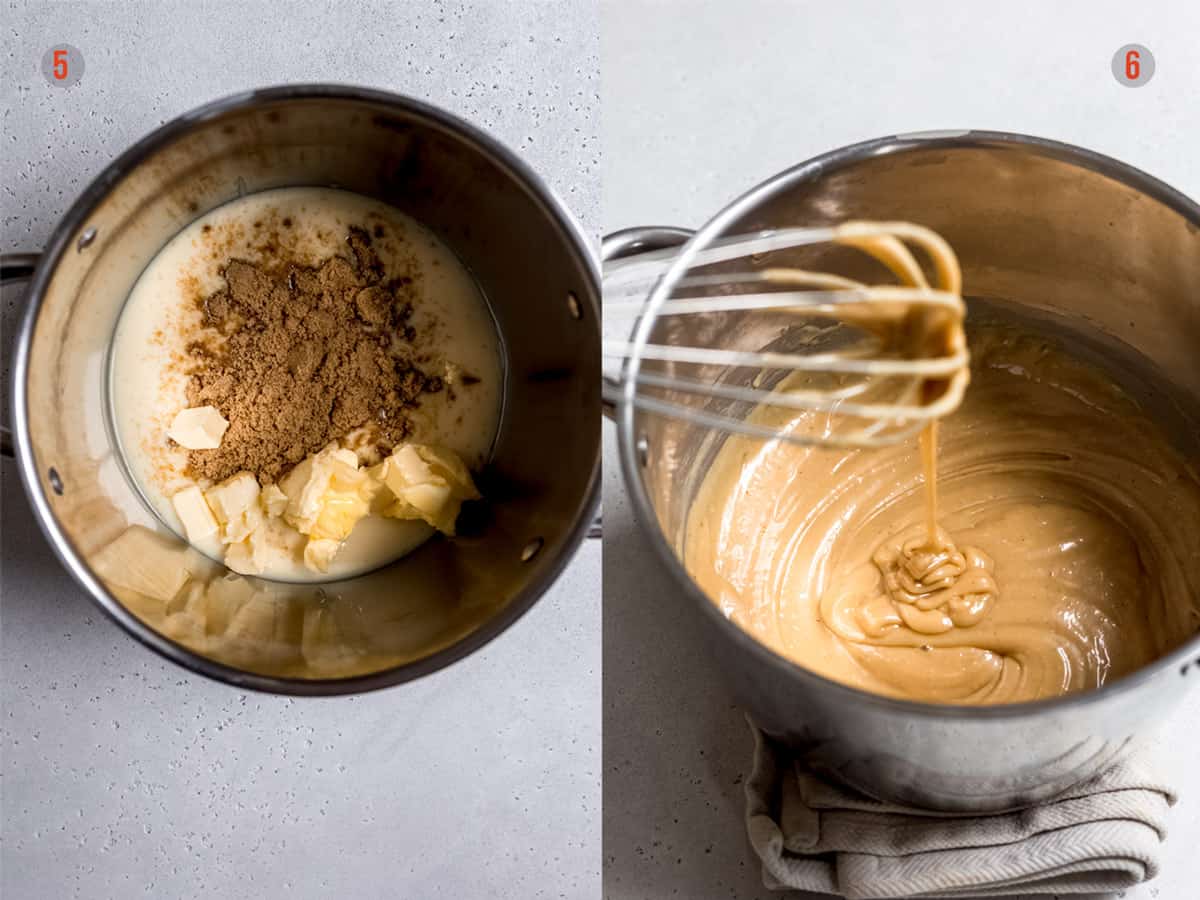 Step 7 & 8- Assembling
Pour the slightly cooled caramel over the golden baked shortbread base.
Use an offset pallet knife of the back of a spoon to spread the caramel and get a nice flat surface. Place in the fridge to set for 1 hour.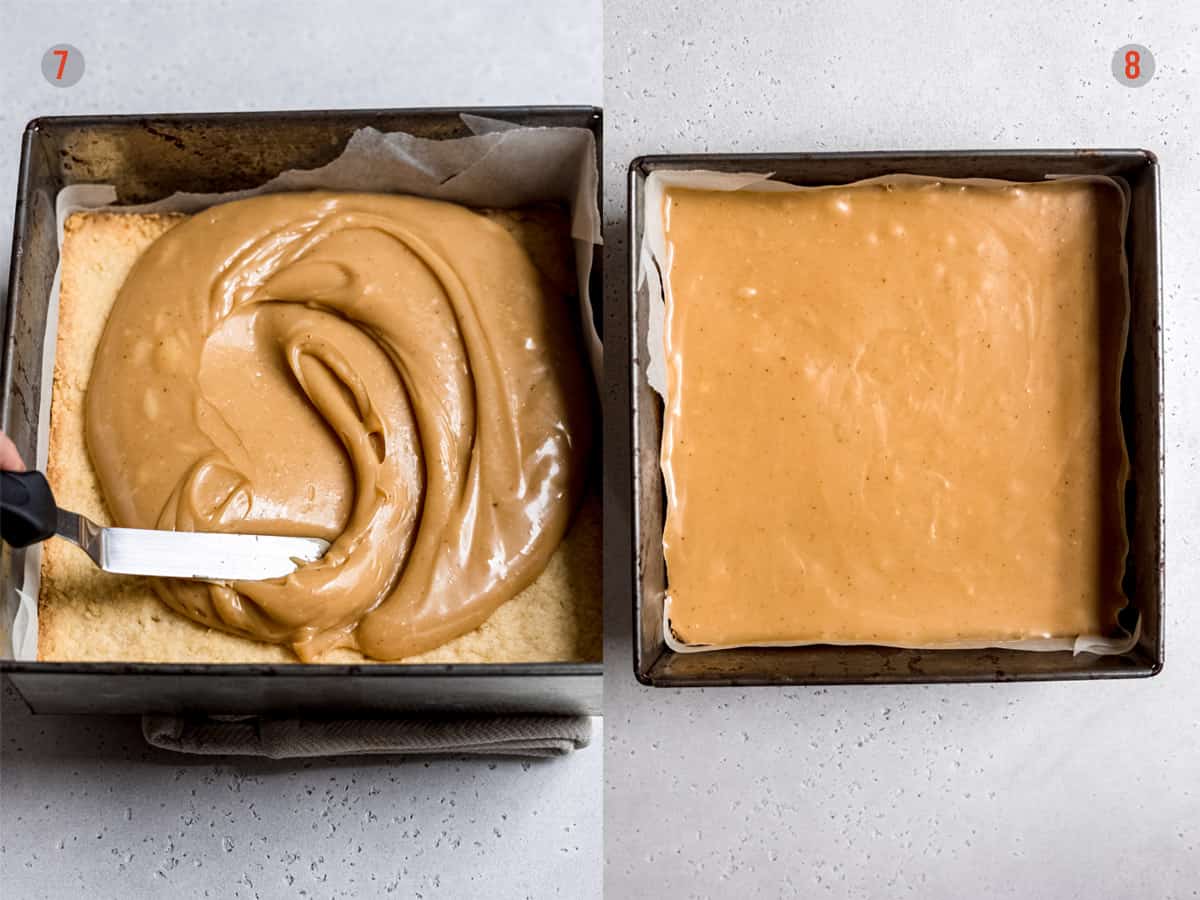 Step 7- Finishing the white chocolate millionaire shortbread bars!
Carefully melt the white chocolate and pour it over the set caramel.
Place back in the fridge for another 30-40 minutes until the white chocolate is set.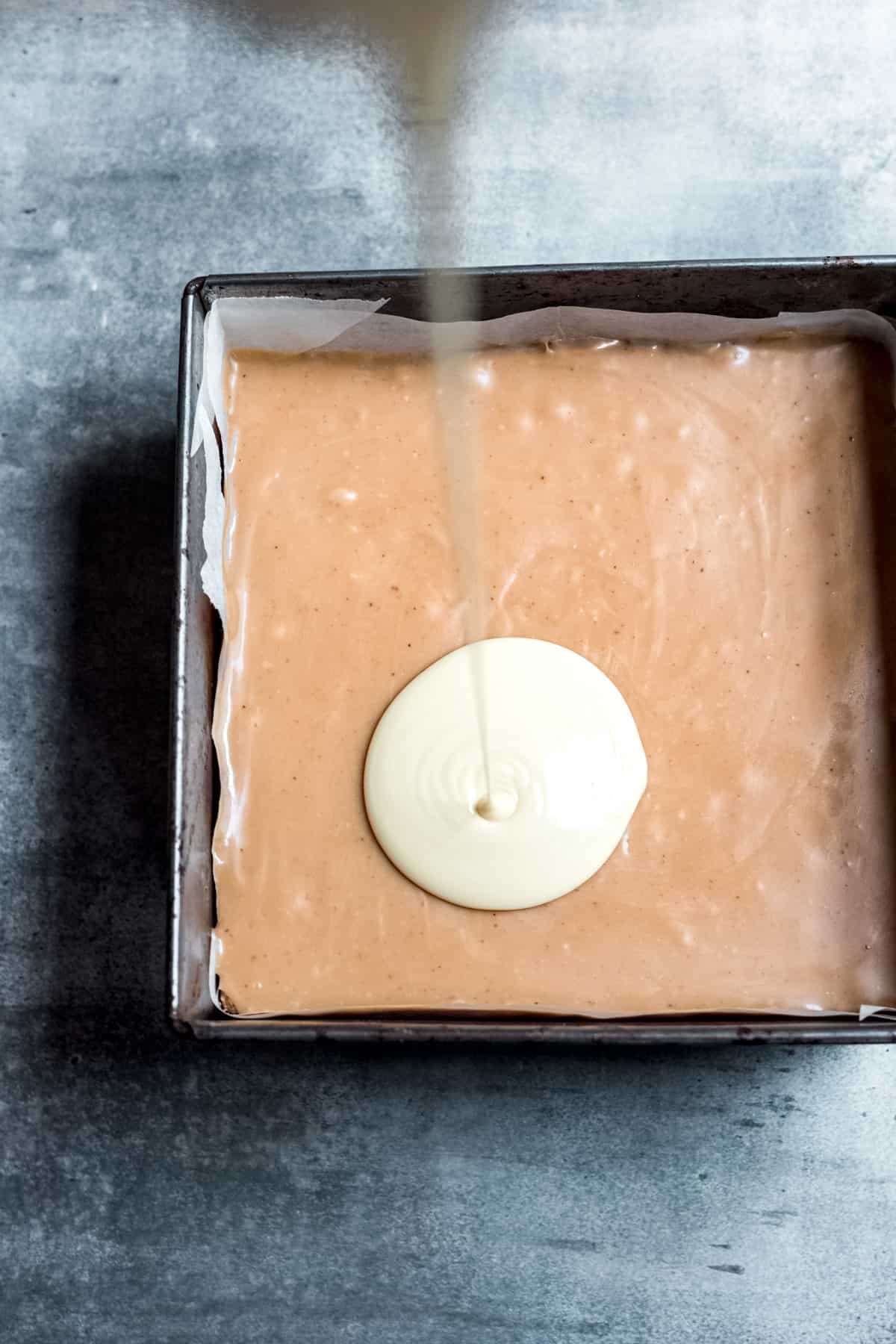 Recipe FAQ's
Why is my caramel too runny?
Caramel ends up too runny when it hasn't been cooked long enough. A great tip is to let the caramel cool for about 5 minutes before you pour it on the shortbread. If it seems too runny still just place the pan back on the heat and cook for a few more minutes.
How do I cut these white chocolate caramel bars without the chocolate cracking?
The secret to white chocolate caramel shortbread is to let the tray sit at room temperature for a couple of minutes so the white chocolate isn't so cold. And use a hot knife to carefully slice through the bars. Run a knife under hot water and use a towel to dry it off before slicing.
How many calories are in these bars?
Do you really want to know the answer to this question???
It's about 350 calories. But totally worth it!
Why are they called millionaire shortbread bars?
Because they are rich and indulgent. And the butter and chocolate used to be luxury items (they still are a little bit) and you had to be a millionaire to be able to afford them!
Substitutions
If you know how to make the recipe fit a certain diet, let the reader know here. Don't fake it - only provide guidance on topics you have actual experience with.
Sugar - you can use caster sugar in place of the brown sugar for the caramel. You will end up with a caramel that is paler in colour and a little bit sweeter than one made with brown sugar.
Butter - salted or unsalted butter are both great here. They both work and you will barely notice a difference.
Margarine - you can use margarine in place of the butter here, but I just don't find the texture or flavour the same. But the recipe will still work.
Variations
This is where you really get the place around with flavours and make these white chocolate shortbread your own!
Spices - add a ¼ teaspoon of cinnamon or nutmeg to the caramel mixture while it's cooking.
Orange - add the zest of an orange to the shortbread mix before baking and add a tablespoon of orange juice to the caramel while it bakes.
Salted caramel - add some sea salt to the caramel once its off the heat and starts too cool.
Nuts - sprinkle some chopped nuts- pecans or almonds work really well- on the top of the caramel before pouring the white chocolat over. Or sprinkle over the white chocolate before placing in the fridge to set.
Equipment
Equipment can have a big impact on how a recipe turns out. You don't need much for making these shortbread bars. A good baking tin and that's about all that's truly required. The food processor is very nice to have, but you can get similar results with your fingers and a little muscle!
Storage
What makes white chocolate millionaire shortbread so great is that it holds up really well in the fridge or freezer. And it stores well at room temperature for a couple of days.
freezer- wrap the cut bars in foil and freeze for up to 3 months
fridge- place in an airtight container
room temperature- in an airtight container for about 3 days
Top tips for perfect white chocolate millionaire shortbread!
Use a sharp hot knife to cut the shortbread bars.
Let the tray sit at room temperature for about 10 minutes before slicing to make sure that they cut cleanly.
These really are best served at room temperature. The texture is much better with the caramel being softer and the chocolate being silky. The flavours also come together better and stand out, especially if you've added any variations.
Need help with meal planning? You can find our (Aldi ingredients only) weekly meal plans here! Sign up to receive them free every week or take our quick meal planning course and grab the blank meal planner and use all these recipes to create your own meal plans. Follow along on Pinterest, Instagram and Facebook.

The Best And Easiest White Chocolate Millionaire Shortbread
Buttery shortbread, thick caramel and white chocolate make these dessert bars the perfect weekend baking treat.
Print
Pin
Rate
Ingredients
Shortbread
200

g

(

7

oz

)

butter

,

salted is fine

100

g

(

3 ½

oz

)

caster or granulated sugar

275

g

(

2

cups

)

plain flour
Caramel
200

g

(

7

oz

)

butter *see note 1

3

tablespoons

(

3

tablespoons

)

dark brown sugar *see note 2

397

g

(

1 ¼

cups

)

condensed milk

,

1 tin
white chocolate topping
300

g

(

2 ⅐

cups

)

white chocolate *see note 3
Instructions
Preheat the oven to 180ºc/ 160ºc fan. Line a 9 x 9 tin with greaseproof paper and set it aside.

In a food processor or by hand make the shortbread by mixing the sugar and flour together and rubbing in the butter. If you're using a food processor be sure to use the pulse setting so the shortbread dough doesn't overmix. The dough will be crumbly and look like breadcrumbs.

Press the dough into the lined tin and bake in the preheated oven for about 20 minutes until the shortbread is golden and slightly puffed. Set aside to cool. Meanwhile, make the caramel.
For the caramel
Place the condensed milk, brown sugar and butter in a medium saucepan over low heat to melt the butter. Once the butter is melted turn the heat up to medium-high and bring to a boil for about 5-7 minutes, whisking continuously so the sauce doesn't catch and burn. The caramel will start to thicken, darken and the bubbles will start to get bigger and the boiling will slow down.

Set the caramel aside to cool for about 5 minutes. Once it's cooled down slightly pour the caramel over the shortbread and spread evenly. Place in the fridge to set for about 1-2 hours. When it's set you will be able to gently touch the caramel without leaving a fingerprint.
For the white chocolate topping
Gently melt the white chocolate in a bowl in the microwave in 10-second intervals. Or you can set a glass or metal bowl over a pan of barely simmering water mixing until the chocolate has melted. Be sure the bottom of the bowl doesn't touch the water.
Notes
Butter- salted or unsalted butter are both fine in baking. I only stock one kind of butter and it's always salted. If you prefer to use unsalted that's absolutely fine, of course. It used to be that salt was added to butter to preserve it, but now it's more for flavour and it usually is less than 3%, so not very much. Brown sugar- you can use light brown sugar or caster sugar in this caramel I just like the way the dark brown sugar brings a hint of molasses to the caramel. It helps to offset the sweetness of the white chocolate. White chocolate- it's really important to melt white chocolate really slowly because it burns so easily, especially in the microwave. Take your time and stir it often.
Nutrition
Calories:
332
kcal
|
Carbohydrates:
42
g
|
Protein:
5
g
|
Fat:
17
g
|
Saturated Fat:
7
g
|
Polyunsaturated Fat:
3
g
|
Monounsaturated Fat:
7
g
|
Cholesterol:
12
mg
|
Sodium:
160
mg
|
Potassium:
168
mg
|
Fiber:
1
g
|
Sugar:
30
g
|
Vitamin A:
480
IU
|
Vitamin C:
1
mg
|
Calcium:
116
mg
|
Iron:
1
mg