This easy and delicious carrot and coriander soup is smooth, creamy and ready in just 30 minutes. Whether you're a seasoned chef or a cooking novice, you'll find this recipe straightforward and quick to prepare. It's excellent for making ahead or having as comforting leftovers, making it a great idea for budget meals.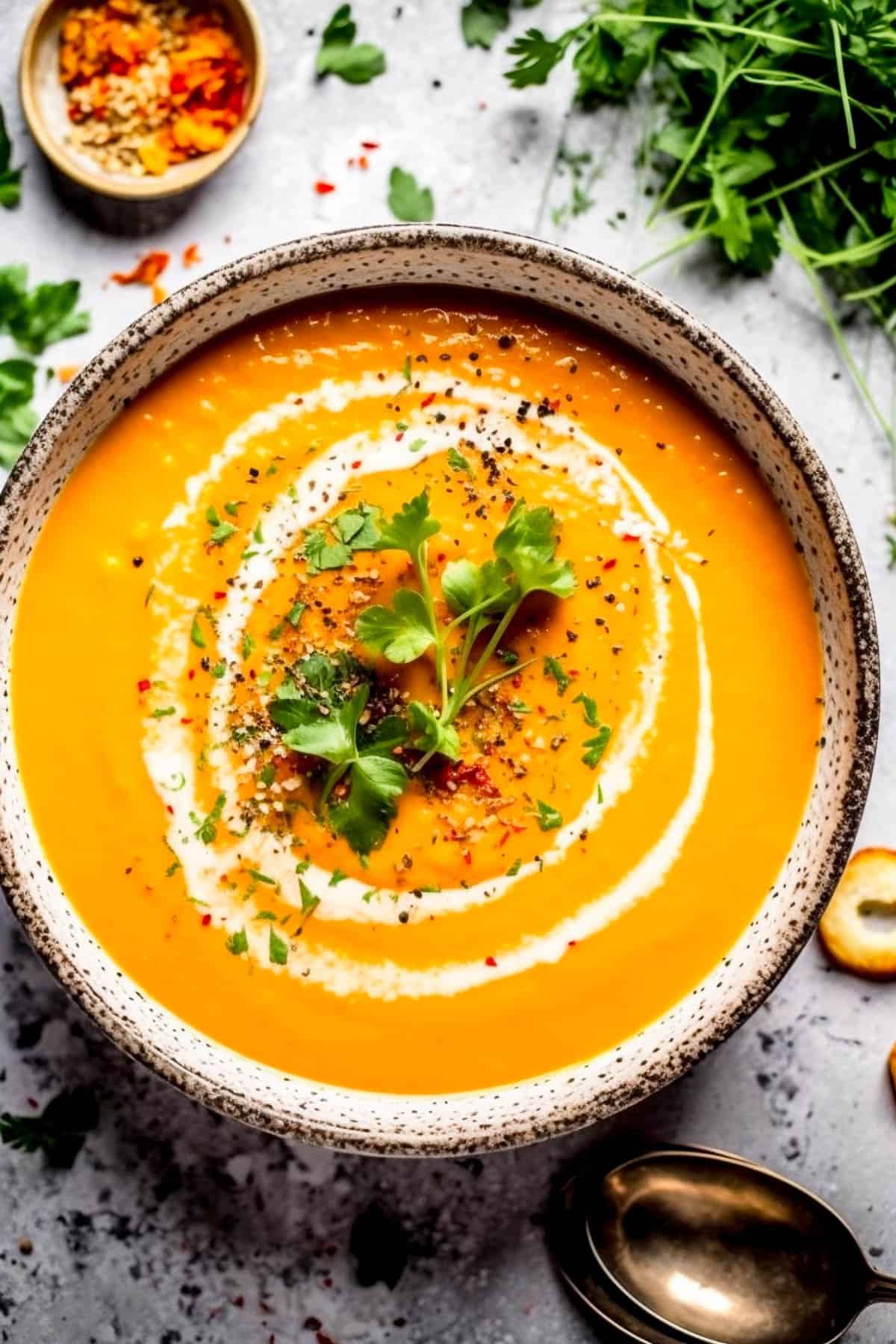 If you're a fan of this carrot and coriander soup and looking for more vegetarian ideas, try my Turkish lentil soup. Or make weeknight dinners hassle-free with this slow-cooker vegetable soup. These recipes are just as comforting and delicious—perfect for adding to your soup recipe collection!
Jump to:
⭐️ Why we LOVE carrot and coriander soup
Budget-Friendly: Uses simple and affordable ingredients.
Quick and Easy: Ready to serve in just 30 minutes, this soup is the queen of quick recipes.
Diet-Friendly: Naturally gluten-free and dairy-free, so everyone can dig in!
Kid-Approved: Deliciously passed the toughest taste tests.
Freezes Well: Perfect for meal-prepping and future cravings.
🧾 Ingredient notes and substitutions
Here, I provide an overview of the key ingredients and what you may want/ need to use as a substitute for dietary requirements, accessibility or preference. As always, the exact quantities can be found in the recipe card below.
Carrot: The show's star, offering sweetness and body to the soup.

Substitution: If you're out of carrots, you can also use sweet potatoes for a different but delicious twist.

Herbs & Spices (coriander and turmeric): Elevate the soup with its herbal and citrusy undertones.

Substitution: If you're not a fan of coriander, parsley can work as an alternative.

Vegetable Stock: Using a bouillon cube ensures a robust, flavorful base.

Substitution: Chicken or beef stock can be used for a different flavour profile.

Onions and Garlic: These foundational ingredients build depth and complexity in the flavour.

Substitution: Leeks or shallots can be used instead of onions. Garlic powder can be used if fresh garlic isn't available, but use sparingly.

Olive Oil: Beyond sautéing, it adds a touch of richness to the soup.

Substitution: Canola or vegetable oil can be used if olive oil is not on hand, but you'll lose some of that distinct flavour.

Diet-Friendly: All the core ingredients are naturally gluten-free and dairy-free.
📖 Variations
While having a "tried and true" go-to recipe is comforting, eating the same thing can get monotonous. I've listed some easy variations below to help you mix things up without the learning curve of an entirely new dish. This way, you can refresh your favourite meal whenever you need a change.
Spicy Edition: Add a pinch of cayenne pepper or a splash of hot sauce.
Creamy Twist: Stir in coconut milk or crème fraîche for a velvety texture.
👩🏻‍🍳 Carrot and Coriander Soup in 6 Simple Steps
Prep Ingredients: Peel and chop carrots; dice onions and mince garlic.

Helpful Tip: A sharp knife ensures even cuts and uniform cooking.

Sautéing: Heat olive oil and add onions, followed by garlic. Add the spices.
Boiling: Add carrots and vegetable broth, boil, then simmer.

Helpful Tip: Pre-warm your broth to expedite the cooking process.

Blending: Allow the soup to cool slightly, then blend until smooth.
Seasoning: Taste and adjust the seasoning. Add salt and pepper to taste.
Final Touch: Stir in freshly chopped coriander before serving. *If using coconut milk or cream, stir it in at this point.
⏱ Make-Ahead Guide for Carrot Soup
Freezing Basics:

Cool the soup to room temp and use airtight containers.
Portion into meal-sized amounts, leaving space at the top for expansion.

Thaw and Reheat:

Ideally, thaw in the fridge for 24 hours.
In a pinch, reheat from frozen on low heat, stirring as needed.
Note: Some ingredients might need a refresh post-freezing. Taste and adjust the seasoning and squeeze lemon or orange to brighten the flavour.

Finishing Touches:

If using dairy, add it during reheating to avoid texture changes after freezing.
Freshen flavours with herbs or lemon juice when reheating.
Always taste and adjust the seasoning post-thaw.
🍯 Storing and reheating leftovers
Fridge: Store in an airtight container for up to 5 days.
Freezer: Freeze portions in ziplock bags or airtight containers for up to 3 months.
Reheating: Thaw overnight in the fridge, then reheat on the stove until warm.
💡 Chef's Guide: Pro Tips for Recipe Success
Drawing from a decade in Michelin-starred kitchens and Cordon Bleu training, I'm sharing simple yet impactful tips for recipe success.
Avoid Over-Blending: Over-blending fresh coriander can turn your soup brown.
Creaminess Factor: Add creaminess with coconut milk, but do it after the soup is heated.
Spice Control: Add a chilli pepper during the sautéing stage for more heat.
❓Recipe FAQ's
Is this carrot and coriander soup vegan?
Yes, it is naturally vegan.
What does carrot and coriander soup taste like?
It has a naturally sweet and slightly herbal flavour.
Can I freeze this soup?
Absolutely, it freezes well for up to 3 months.
Can you use dried ground coriander instead of fresh in soup?
Some carrot and coriander soup recipes use dried ground coriander; others use fresh. This recipe uses both. The ground coriander brings a bit of a citrusy flavour, with a slight sweetness and a hint of earthiness reminiscent of curry powders. Fresh coriander brings a lemon pepper flavour. For some people, fresh coriander will taste like soap, but ground coriander will not.
Bread recipes to serve with soup
These are my favourite bread recipes to serve with this carrot and coriander soup:
More amazing vegetarian soup recipes
Looking for other recipes like this? Try these:
If you have tried this carrot and coriander soup or any other recipe on my website, please let me know in the comments below. I love hearing from you. Also, please leave a star rating while you're there!
You can also follow along on Pinterest, Facebook, and Instagram and join our private Facebook group to share more recipe ideas and all your photos!
Need help with meal planning? You can find our (Aldi ingredients only) weekly meal plans here! Sign up to receive them free every week, or take our quick meal planning course and use all these recipes to create your own meal plans.
You can also find more comfort food recipes using everyday ingredients on our sister site Salted Mint.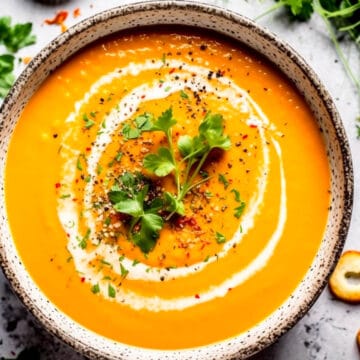 Easy Carrot and Coriander Soup
Carrot and coriander soup is a classic comfort food with a hint of earthiness and warmth. This simple, easy-to-make recipe is vegetarian, gluten-free, and dairy-free, perfect for everyone at the table. It comes together in just 30 minutes!
Print
Pin
Rate
Ingredients
600

g

(

1 ⅓

lb

)

Carrots

30

g

(

1 ⅘

cups

)

Fresh coriander

,

chopped

1

(

1

)

Onion

,

diced

2

(

2

)

Garlic cloves

,

minced

1

teaspoon

(

1

teaspoon

)

Ground coriander

½

teaspoon

(

½

teaspoon

)

Ground turmeric

2

tablespoon

(

2

tablespoon

)

Olive oil

750

ml

(

3

cups

)

Vegetable broth, made with a stock cube

Salt: To taste

Pepper: To taste
optional
200

ml

(

6 ¾

oz

)

Coconut milk
Instructions
Preparation:
Peel and chop the carrots into roughly equal sizes for even cooking. Dice the onion and mince the garlic. Roughly chop the fresh coriander leaves.
Cook the Aromatics:
Heat 2 tablespoon of olive oil in a large pot over medium heat. Add the diced onions and sauté until translucent (approximately 5 minutes). Add the minced garlic and sauté for another 1 minute.

Add the ground coriander and turmeric to the pot and stir. Cook for about 1 minute to allow the spices to release their flavour. Add the chopped carrots to the pot and stir to coat them with the spices.
Pour in the Broth:
Add 750ml of vegetable broth to the pot. Bring to a boil, then lower the heat to simmer. Cover and let it cook for 20-25 minutes or until the carrots are tender.
Blend:
Turn off the heat and use a hand blender to blend the soup until smooth. If using a countertop blender, cool the soup a bit before blending and return to the pot.
Season:
Add salt and pepper to taste. Stir in the chopped coriander.
Optional Creaminess:
For those who like a creamier texture, add 200 ml of coconut milk or cream and blend again briefly.
Serve Hot:
Ladle the soup into bowls and garnish with a few coriander leaves before serving.
Notes
Texture: The soup's thickness can be adjusted by adding more or less broth.
Herbs: Feel free to add more fresh coriander for a stronger flavour.
Storage: This soup stores well in the fridge for up to 4 days and can also be frozen for longer-term storage.
Creaminess: If you're using the optional coconut milk or cream, make sure to blend the soup again for a richer texture.
Nutrition
Calories:
581
kcal
|
Carbohydrates:
38
g
|
Protein:
8
g
|
Fat:
43
g
|
Saturated Fat:
7
g
|
Polyunsaturated Fat:
1
g
|
Monounsaturated Fat:
4
g
|
Sodium:
21325
mg
|
Potassium:
431
mg
|
Fiber:
6
g
|
Sugar:
14
g
|
Vitamin A:
16711
IU
|
Vitamin C:
8
mg
|
Calcium:
48
mg
|
Iron:
2
mg