This creamy one-pot broccoli gnocchi only uses 6 ingredients and takes 30 minutes! A creamy, cheesy vegetarian comfort food dinner that even meat lovers will love!
Back to school, autumn and shorter days all call for cheap, easy and quick dinners that are comforting, warming and still have some healthy aspect!
Gnocchi ticks all those boxes. Fluffy potato dumplings that can be paired up with classic Italian flavours like this spinach baked gnocchi, or bring some bold flavour like this chorizo gnocchi. But when time is short sometimes the classic fried gnocchi is all you need.
Jump to:
⭐️ Why You'll Love This Recipe
30 Minutes- This recipe takes 30 minutes (or less) from start to finish making it perfect for busy nights.
One pan- Nothing is more comforting than placing a hot pan on the table and letting everyone help themselves. Easy for serving and washing up.
Only 6 ingredients- When ingredients are in short supply and money is tight, this recipe delivers. It's a handful of very basic ingredients that you may already have anyway.
🧾 Ingredients
Lately, I've been trying to keep the cost of all the recipes to a minimum. And this one is no different. Just a short shopping list with a few basics are all you need.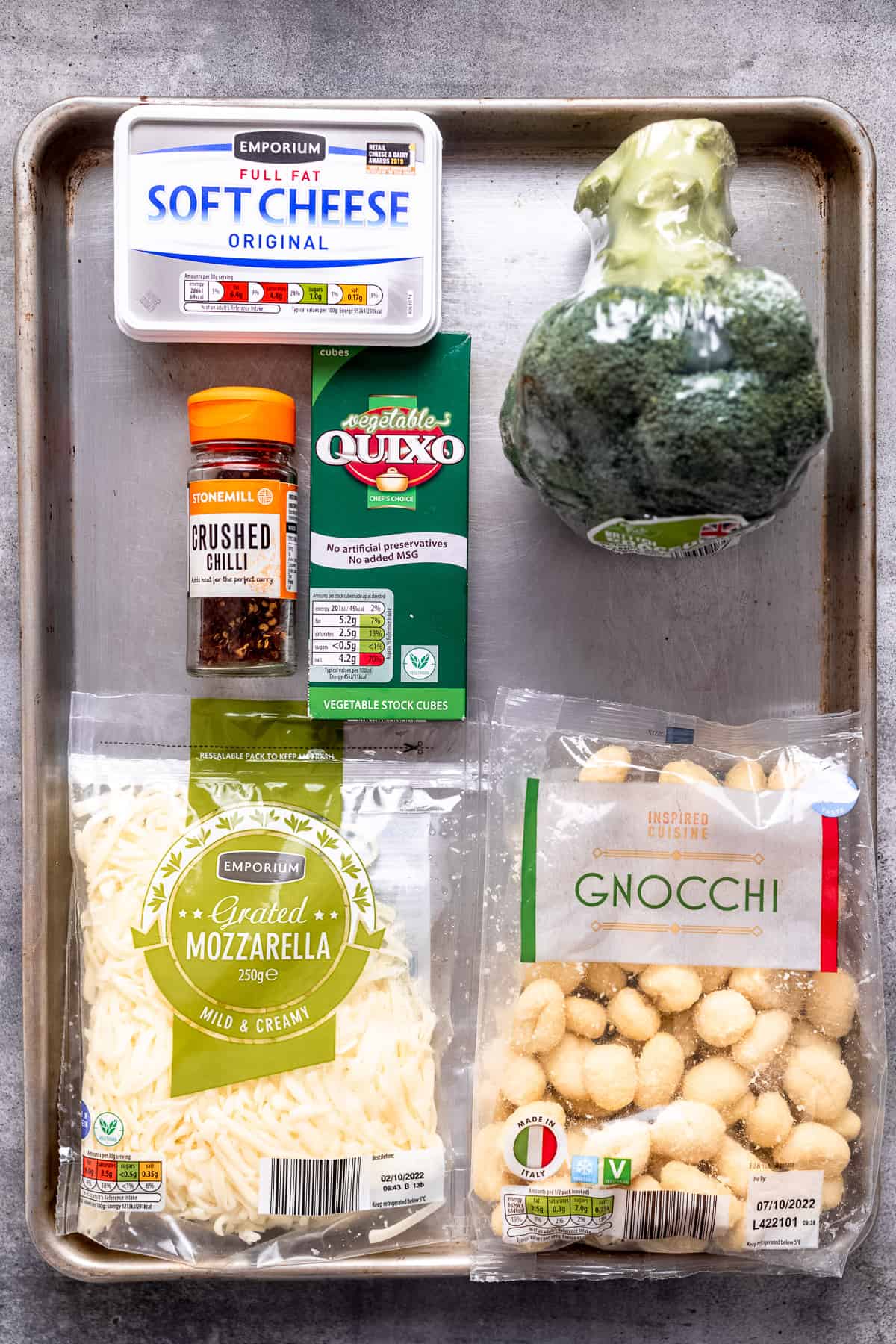 potato gnocchi- I've bought the refrigerated gnocchi simply because my Aldi didn't have any of the shelf-stable gnocchi in stock. This recipe works great with both varieties.
grated mozzarella cheese- You can buy cheddar and grate it yourself if you prefer and it does work out a little bit cheaper that way too. But I just really love the melting quality of mozzarella. *Fresh mozzarella doesn't melt the same way and is quite a bit more costly.
broccoli- This recipe uses a whole head of broccoli, but you can use half and save some for another recipe. Cauliflower also works well.
cream cheese- It forms the base of the sauce here. It does need to be full fat to make sure that the sauce doesn't split, but everything else in the recipe is healthy, so it's worth it!
vegetable stock- You can also use chicken stock here to add an extra boost of flavour as long as you're not vegetarian.
See recipe card for quantities.
📖 Substitutions & Variations
Lately, the recipes tend to be the most basic versions to keep the costs down and I'm listing some variations and additions for anyone who wants to add more but isn't sure what to add.
Protein - add in some leftover chicken or slice up a chicken breast to make it go further.
Veggies - baked gnocchi is amazing for adding in extra veggies like bell peppers, cauliflower and courgette (zucchini) or stir in some spinach.
Broccoli - try roasting the broccoli for adding a smoky flavour.
Lemon - a squeeze of lemon or lemon zest helps to lift all the flavours.
Pantry ingredients - sun-dried tomatoes, char-grilled peppers, and olives would all go really well into this cheesy baked gnocchi dinner.
gnocchi- If you happen to shop at other grocery stores you may find pumpkin or beetroot gnocchi to try.
👩🏻‍🍳 Broccoli gnocchi Step By Step
Step 1 & 2- blanching the broccoli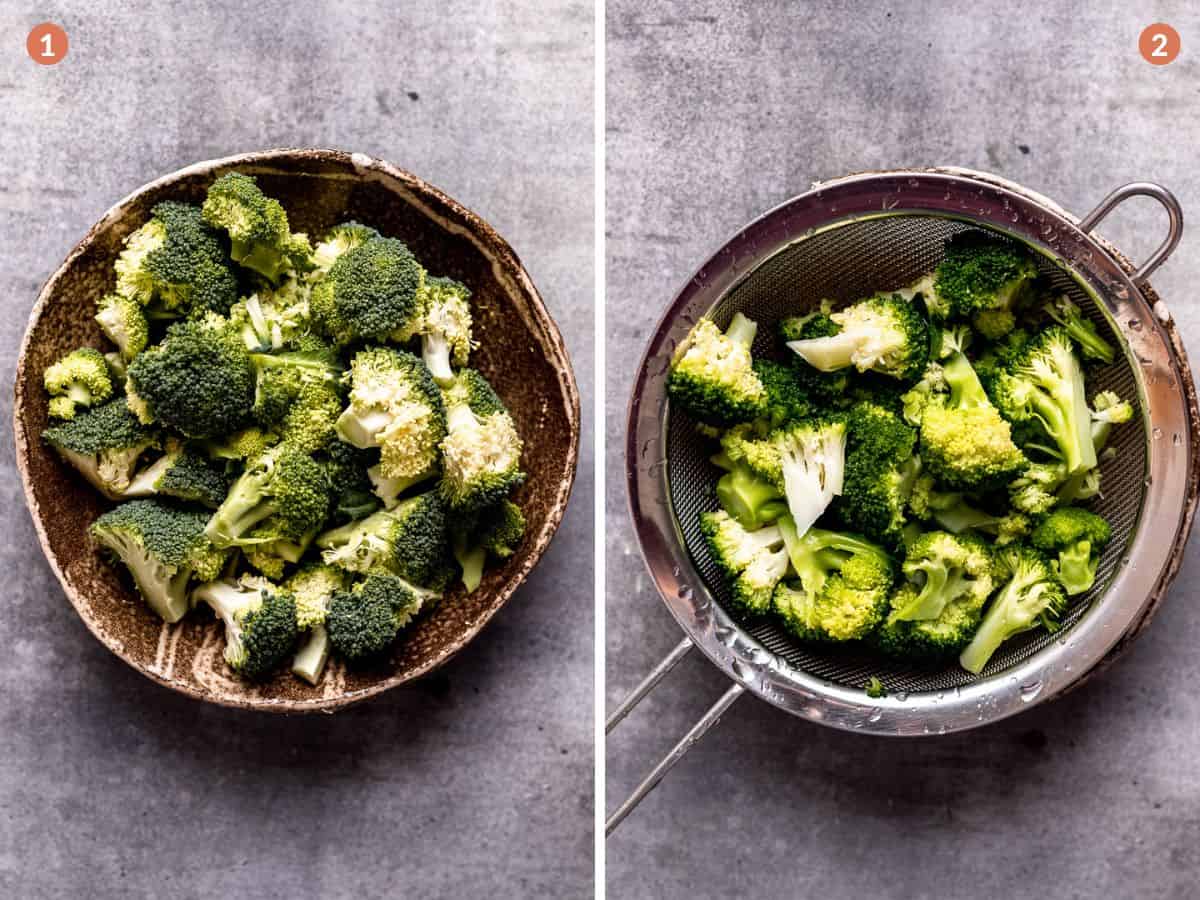 Cut the broccoli down into bite-sized florets. Discard the stalks. Bring some salted water to a boil and cook the trimmed broccoli until it's just tender. This should only take about 5 minutes.
Drain the broccoli (reserve about 300ml for the stock). Run the broccoli under cold water to stop the cooking process.
* You can steam the broccoli in a microwave if you want to.
** If you forget to save the water from the broccoli that's absolutely fine. Just pop the kettle on to boil.
Steps- 3 & 4 Cooking the gnocchi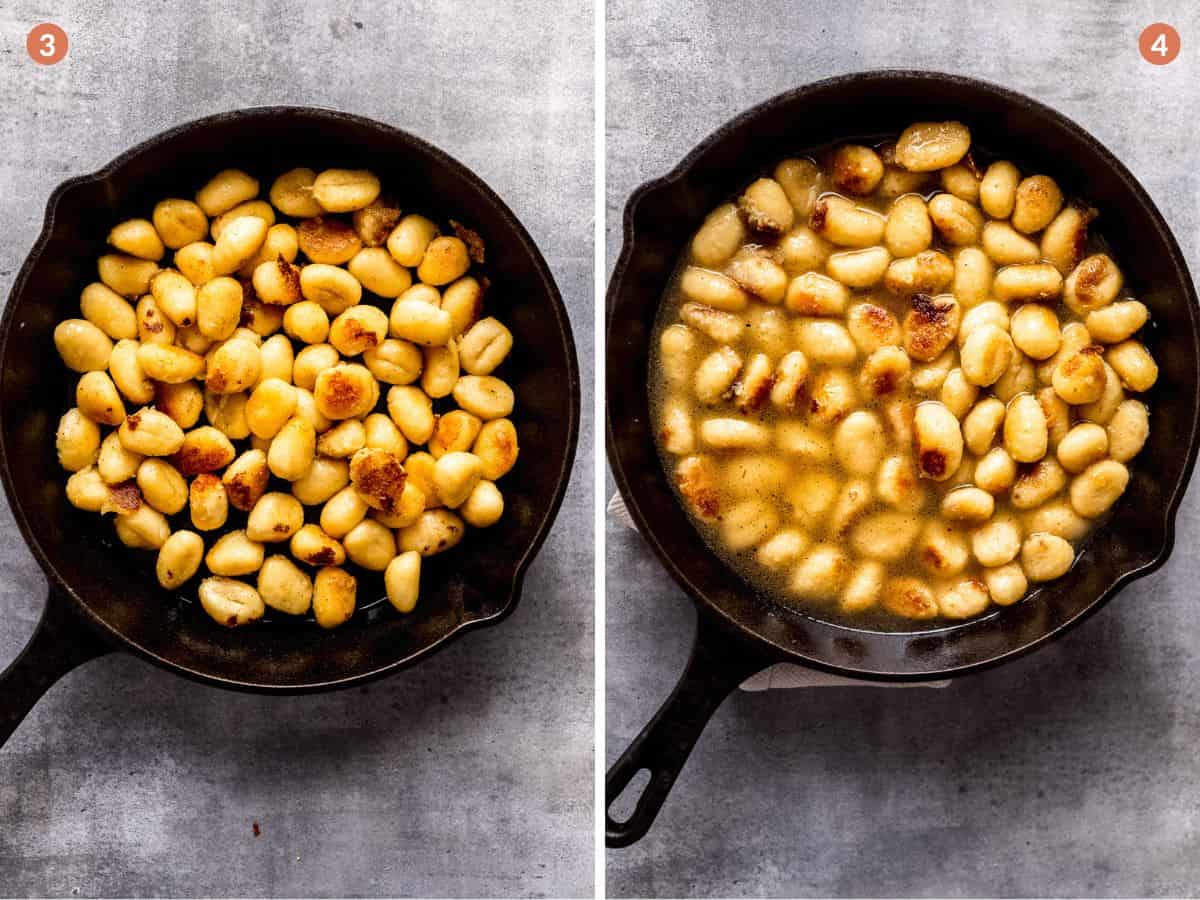 In a cast iron skillet or a deep frying pan heat a teaspoon of olive oil over medium heat. Once the oil is hot, add the gnocchi and gently fry until the outside of the dumplings is golden and crispy.
Pour in the stock made with a stock cube and the boiling water. Bring to a gentle simmer for about 3 minutes.
Steps 5 & 6- Making the creamy cheese sauce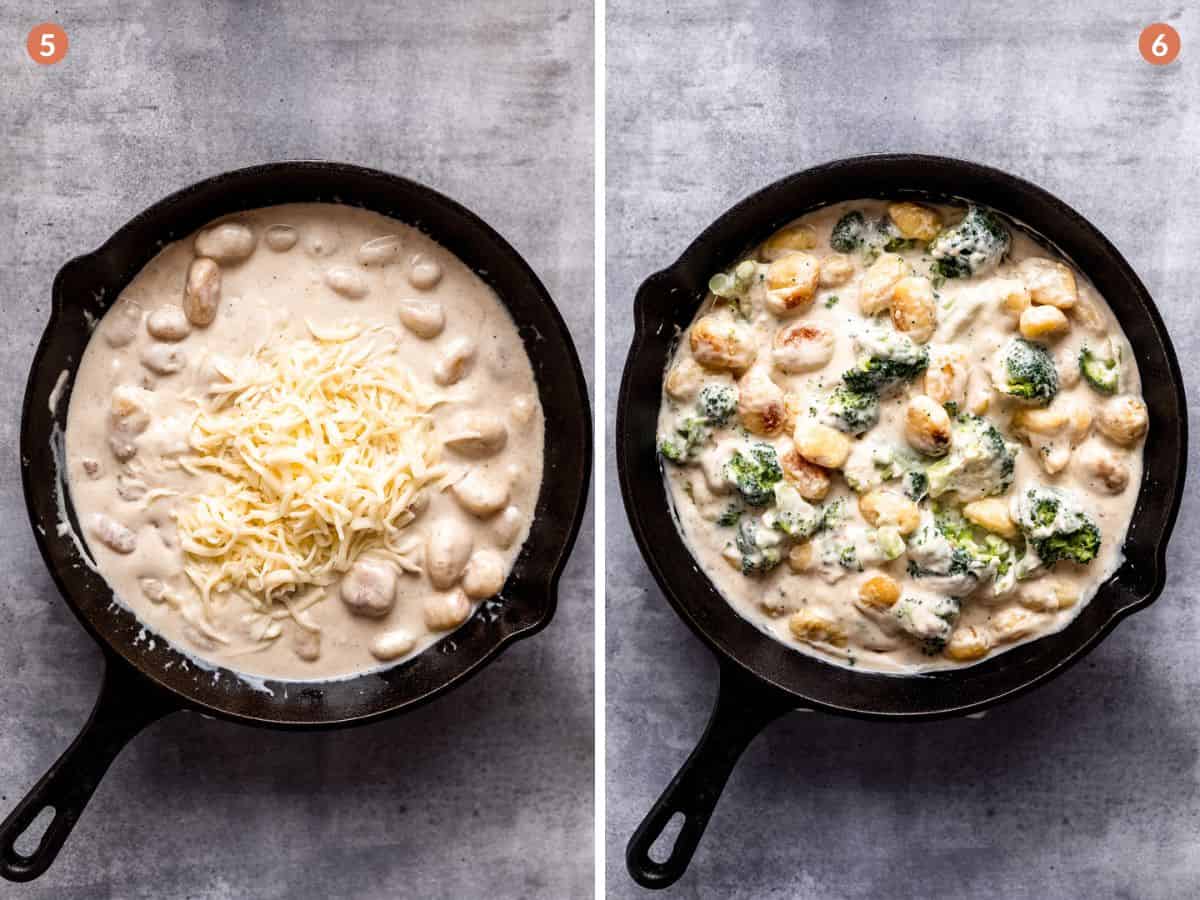 Remove the pan from the heat and stir the cream cheese into the sauce and let it melt in. Add the mozzarella and the broccoli and stir to coat.
Sprinkle with a little bit of extra mozzarella and place the skillet under the grill (broiler) until the cheese is golden, bubbling, and melted.
Remove from the oven, sprinkle with chili flakes (red pepper flakes) if desired, and serve this cheesy broccoli gnocchi bake straight from the pan.
🍯 Storage
From experience, I can confirm that this baked broccoli gnocchi stores and reheats like a dream the following day. Store in an airtight container for up to 3 days in the fridge.
Reheat
oven- preheat the oven to 160ºc fan and place the gnocchi in a bowl and cover with foil. Reheat for about 20 minutes until the cheese has melted and the gnocchi is hot.
microwave- place the broccoli gnocchi in a microwave-safe bowl and reheat on medium for 1-minute intervals, stirring occasionally until hot.
❓FAQ
Can I bake gnocchi without boiling it first?
This is by far the most asked question when people are cooking the gnocchi. Absolutely. You can bake it without boiling it first. And in many cases, that's actually preferable. When making most baked gnocchi recipes, the dumplings cook right in the sauce, meaning you can skip the boiling. I explain that in this recipe for pan-fried gnocchi.
Is store-bought gnocchi already cooked?
Usually, no not unless specified. Gnocchi is made up of potatoes (these are cooked before the gnocchi dough is made), and flour. Gnocchi is often boiled to cook it or baked to cook the flour part of the gnocchi. This only takes a couple of minutes.
How can you tell when gnocchi is cooked?
When boiling gnocchi, the dumplings are cooked when the rise to the surface of the water. This usually only takes about 3-5 minutes.
Take care to not over cook the gnocchi as it will turn mushy and soggy.
💡 Broccoli gnocchi top tip
🍋 With creamy sauces, the flavours can become quite subtle. A bit of lemon zest brings creamy, cheesy sauces to life. Highly recommend adding some to this cream cheese sauce.
30 Minute One Pan Broccoli Gnocchi
This creamy one-pot broccoli gnocchi only uses 6 ingredients and takes 30 minutes! Fluffy potato dumplings in a creamy sauce all baked with cheese. The perfect comfort dinner!
Print
Pin
Rate
Ingredients
500

g

bag shelf-stable gnocchi

1

tablespoon

olive oil

1

head broccoli

,

cut into florets

250

ml

vegetable stock

,

1 stock cube dissolved in 250ml boiling water

125

g

cream cheese

200

g

grated mozzarella
Instructions
Bring a pot of salted water to the boil and blanche the broccoli for about 3-5 minutes until tender but still retaining some texture. Drain and rinse under cold water and set aside.

In an oven safe dish heat the olive oil over medium heat until the oil shimmers, about 3 minutes. Add the gnocchi to the pan and toss in the oil and cook until the gnocchi is golden. This should only take about 2 minutes.

Pour in the vegetable stock and bring to a gentle simmer. Stir in the cream cheese until it's melted and the stock and cream cheese have formed a creamy sauce. Mix in half the mozzarella and mix until melted.

Add the tender broccoli into the pan and stir until everything is coated in the creamy cheese sauce. Scatter the remaining mozzarella over the top and place under the grill for about 5 minutes until the cheese is melted and golden and the sauce is simmering around the edges.

Sprinkle with some parmesan cheese if desired.
Notes
You can use chicken stock and add in leftover chicken if you have some.
Add mushrooms, courgette (zucchini), frozen peas, or sweetcorn to stretch this meal further and get extra veggies in.
Nutrition
Calories:
469
kcal
|
Carbohydrates:
59
g
|
Protein:
27
g
|
Fat:
16
g
|
Saturated Fat:
7
g
|
Polyunsaturated Fat:
1
g
|
Monounsaturated Fat:
5
g
|
Cholesterol:
41
mg
|
Sodium:
1192
mg
|
Potassium:
575
mg
|
Fiber:
8
g
|
Sugar:
5
g
|
Vitamin A:
1739
IU
|
Vitamin C:
136
mg
|
Calcium:
607
mg
|
Iron:
6
mg