This creamy simple spicy parsnip soup is made extra filling and hearty with croutons and chopped hazelnuts on top. It's healthy, naturally vegan and gluten-free! Start with a head of sweet and sticky roasted garlic, soft onions and earthy parsnips and end up with the most comforting parsnip soup.
January always feels like it should be soup month. I've got so many on the website. Some of them are chunky and full of texture and veggies like this slow cooker veggie soup, or this ham and lentil soup. Or creamy soups like this Turkish lentil soup, or healthy baked potato soup. Or the always very popular roasted tomato soup.
But let's discuss what's going on with this spicy parsnip and ginger soup. Yes! Ginger. That's where we get that spicy heat from. The texture of this soup is creamy and silky due to blending it well rather than adding cream or butter. The cinnamon and coriander bring a warm spiciness that brings out the earthy sweetness of the parsnips. A dream soup that only takes 30 minutes! I did put croutons on top of this soup, but the soup itself is gluten free. You can either use gluten free bread, or just skip the croutons altogther.
Jump to:
Why This Recipe Works
Just a few simple ingredients treated well create a truly impressive soup recipe
It's mildly spicy from the addition of ginger
The warm cinnamon and floral ground coriander really bring out and balance the sweetness of the parsnips
The roasted garlic adds a depth of flavour that ties everything together
The croutons, hazelnuts and chopped dates add another flavour and texture element that is simple but substantial
Ingredients needed
parsnips
garlic- roasted
onion
ginger
spices- cumin, ground cinnamon, ground coriander
vegetable stock
thyme
For serving- hazelnutes and chopped dates
See the recipe card for quantities.
Step By Step Instructions
Step 1 & 2
To make spicy parsnip soup we start by roasting the garlic. This can even be done ahead of time, up to 3 days before. Drizzle with some olive oil, thyme leaves and a sprinkle of sea salt.
Wrap in foil and roast for about 40 minutes until the garlic is soft, tender and very sweet and sticky.
Step 3 & 4
Heat a large Dutch oven or soup pot over medium heat with some olive oil. Sautee the onions with some thyme leaves until they're soft and translucent.
Add in the spices, fresh ginger and chopped parsnips. *Be sure to chop all the parsnips roughly the same size so that they cook at the same time. The number of parsnips you need will depend on the size, which seems to vary greatly. I only needed 2 for this recipe, but they were giant!
Step 5 & 6
Dissolve the stock cube in boiling water and pour it into the pot. Bring to a boil, then reduce the heat to a gentle simmer. Parsnips are quite a soft vegetable so they cook relatively quickly. They should be tender after about 15 minutes of gentle simmering.
Once the parsnips are tender use an immersion blender, food processor or an upright blender to blend the soup. Add in the cloves of roasted garlic and blend again checking for seasoning and consistency. I did add in some whole milk to get a creamier texture and loosen the soup, but you can use water or non dairy milk like oat or soy. A nut milk would be amazing in this soup!
Divide into bowl and top with the croutons, hazelnuts and chopped dates.
Hint: To get the cloves of garlic out, use a toothpick to stick into them and gently pull them out.
Recipe FAQ's
Do I have to roast the garlic first?
Well, no. Not really. You can add some fresh garlic into the onions at the beginning as you sautee them, but the soup will definitely lack a depth of flavour. If it's a time issue, I would highly recommend roasting the garlic when you have time and keep it in an airtight container in the fridge covered with a drizzle of olive oil. Roasted garlic will keep like this for up to 5 days.
What can I use instead of dates?
A great alternative to the dates would be some diced apple. The sweet tartness of an apple works so well with the creamy earthiness of the soup.
Can I roast the parsnips first?
Absolutely! You can denfintely roast them first. Just drizzle some olive oil or vegetable oil onto the chopped parsnips and bake an oven preheated to 180ºc. They should only take about 20 minutes to roast. Once they've roasted just carry on with the recipe as normal.
Substitutions & variations
This parsnip soup is truly a blank canvas for so many flavour combinations and profiles
Nuts - instead of hazelnuts on top try using walnuts and you can even crumble some blue cheese on top too.
Meat lovers

- fry up some crispy pieces of pancetta or bacon and crumble on top

Deluxe - to make this very indulgent, stir in some double (heavy) cream and serve with a slice of brie on top.
Kid friendly - I think this is already pretty kid friendly but if you want/need to get some extra veggies into them, add in a carrot and an apple
*A great kid friendly alternative is this roasted red pepper soup.
Equipment
You definitely do not need a lot of equipment for this making parsnip soup, but here are the exact items I used, so you know you can get the same result.
Storage
Spicy parsnip soup is a meal prep dream. It makes a very thick soup which can be frozen for up to 3 months. And as you defrost and heat up portions of it, you can let it down with some stock or milk to keep it the perfect consistency.
It lasts in the fridge for up to 4 days. This is the kind of soup that gets better with time as the flavours begin to marry and develop.
Top tips
When storing soup leftovers, be sure to allow to liquid to cool completely before covering and placing in the fridge or freezer.
Need help with meal planning? You can find our (Aldi ingredients only) weekly meal plans here! Sign up to receive them free every week or take our quick meal planning course and grab the blank meal planner and use all these recipes to create your own meal plans. Follow along on Pinterest, Instagram and Facebook.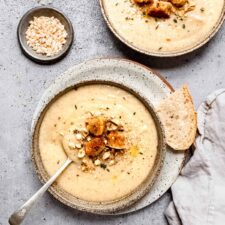 30 Minute Easy Creamy Spicy Parsnip Soup
Creamy spiced parsnip soup topped with hazelnuts and croutons with roasted garlic is the perfect easy soup recipe.
Print
Pin
Rate
Ingredients
1

(

1

)

head garlic

,

roasted *see notes

2

(

2

)

large parsnips

,

peeled and chopped

1

(

1

)

brown onion

,

sliced

2

(

2

)

sprigs thyme

,

leaves picked

2

tablespoons

(

2

tablespoons

)

vegetable oil

½

teaspoon

(

½

teaspoon

)

ground cumin

1

teaspoon

(

1

teaspoon

)

ground coriander

½

teaspoon

(

½

teaspoon

)

cinnamon

½

piece

(

½

piece

)

fresh ginger

,

grated

1-

(

1-

)

litre vegetable stock made with a stock cube

squeeze of ½ lemon or use ¼- ½ teaspoon cider vinegar *see notes

200-300

ml

(

6 ¾

floz

)

whole milk *see notes
For serving
croutons

toasted hazelnuts

chopped dates

thyme leaves
Instructions
Preheat the oven to 180ºc and cut the very top off the head of garlic. Place on a piece of foil and drizzle with olive oil and sprinkle with some salt. Wrap in the foil and roast in the oven for about 30-40 minutes until the garlic is pale golden and very soft.

While the garlic is roasting, heat the vegetable oil in a large heavy sauce pan over medium heat. Once the oil is hot, add in the sliced onions and sweat them until they're soft and translucent. Mix in the spices and the remaining thyme leaves and stir well.

Add the chopped parsnips to the pot and mix well to coat the parsnip in the spices. Pour the hot stock into the pan and bring to a boil. Turn the heat down and continue to simmer uncooked for about 15-20 minutes until the parsnips are soft.

Remove the roasted garlic from the oven and use a small knife or a toothpick to pull the cloves out of their sleeves and add to the pot. Using an immersion blender, blend the soup until it's creamy and smooth. It will be very very thick. Add in the lemon juice and the milk if using. Taste and adjust the seasoning.

For serving you can make croutons by frying some bread in some olive oil and adding in the chopped hazelnuts right at the end, or you can use shop-bought, or skip it altogether.
Notes
If you don't have time or don't feel like roasting the garlic, you can simple chop some cloves of garlic and add them to the pot with the onions, but the flavour will be more pronounced and not as sweet and rounded as with the roasted garlic.
Once you've blended the soup and tasted it, you'll more than likely think it needs lots of extra cumin, coriander and cinnamon but once you add the acid, it really lifts all the other flavours and balances everything out making the spices much more prominent and the pansies and roasted garlic truly standout- in a really good way! You can use a splash of cider vinegar instead of lemon if that's what you have. Just go very slow. Vinegar is stronger than lemon so you'll likely want to start with a small splash and go from there.
I added some milk at the end to get the consistency that I wanted. You could absolutely use water here for something a little lighter, or use cream for something richer and more indulgent. The milk was the perfect middle ground. If you use cream, you will lose a little bit of the flavour because the fat coats the mouth making your taste buds less sensitive.
The thickness of soups is a very personal preference. I like to make a soup so that once it's blended its very thick and can be thinned out according to your taste.
Nutrition
Calories:
66
kcal
|
Carbohydrates:
8
g
|
Protein:
1
g
|
Fat:
4
g
|
Saturated Fat:
1
g
|
Polyunsaturated Fat:
2
g
|
Monounsaturated Fat:
1
g
|
Trans Fat:
1
g
|
Cholesterol:
2
mg
|
Sodium:
13
mg
|
Potassium:
167
mg
|
Fiber:
2
g
|
Sugar:
3
g
|
Vitamin A:
44
IU
|
Vitamin C:
7
mg
|
Calcium:
41
mg
|
Iron:
1
mg