This stir fry is so easy to make. Tasty salmon, homemade teriyaki sauce, and vegetables come together in this effortless 30-minute dinner.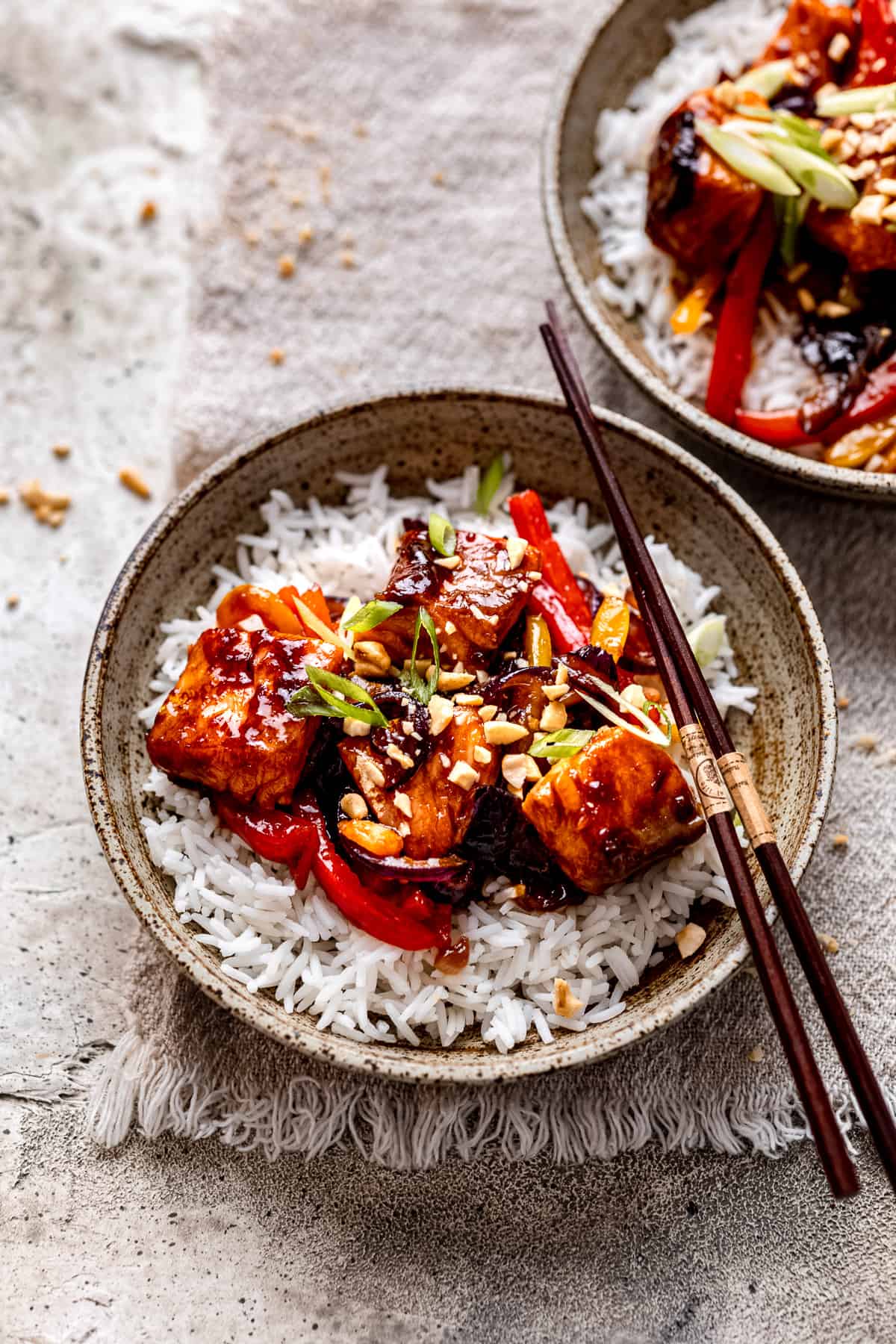 Loaded with healthy fats like omega-3's salmon is a really healthy fish. It can be a little bit pricey so this recipe is great for stretching the budget.
Adding extra veggies and rice for noodles, we can get 2 salmon fillets to feed 4 people.
This coconut curry salmon also uses an Asian sauce and this pan-fried salmon recipe gives you all the tips and tricks you need.
Jump to:
⭐️ Why You'll Love This Recipe
Quick and easy. This salmon stir fry is so easy to make. Taking only 30-40 minutes and most of that is the salmon in the marinade, meaning no work for you!
Homemade teriyaki sauce. The easy teriyaki sauce is homemade, so no added ingredients that you don't need. It doubles as the marinade for the salmon too. The sweet, sour, salty flavour of the teriyaki sauce pairs so well with the rich flavour and firm texture of salmon.
Budget-friendly. Using 2 fillets of salmon and loading up on vegetables means that we can stretch this meal to feed 4 people.
🧾 Ingredients
The ingredient list for salmon stir fry is pretty short. Lots of the items will be things that you either have in your cupboards already or items that you probably buy regularly.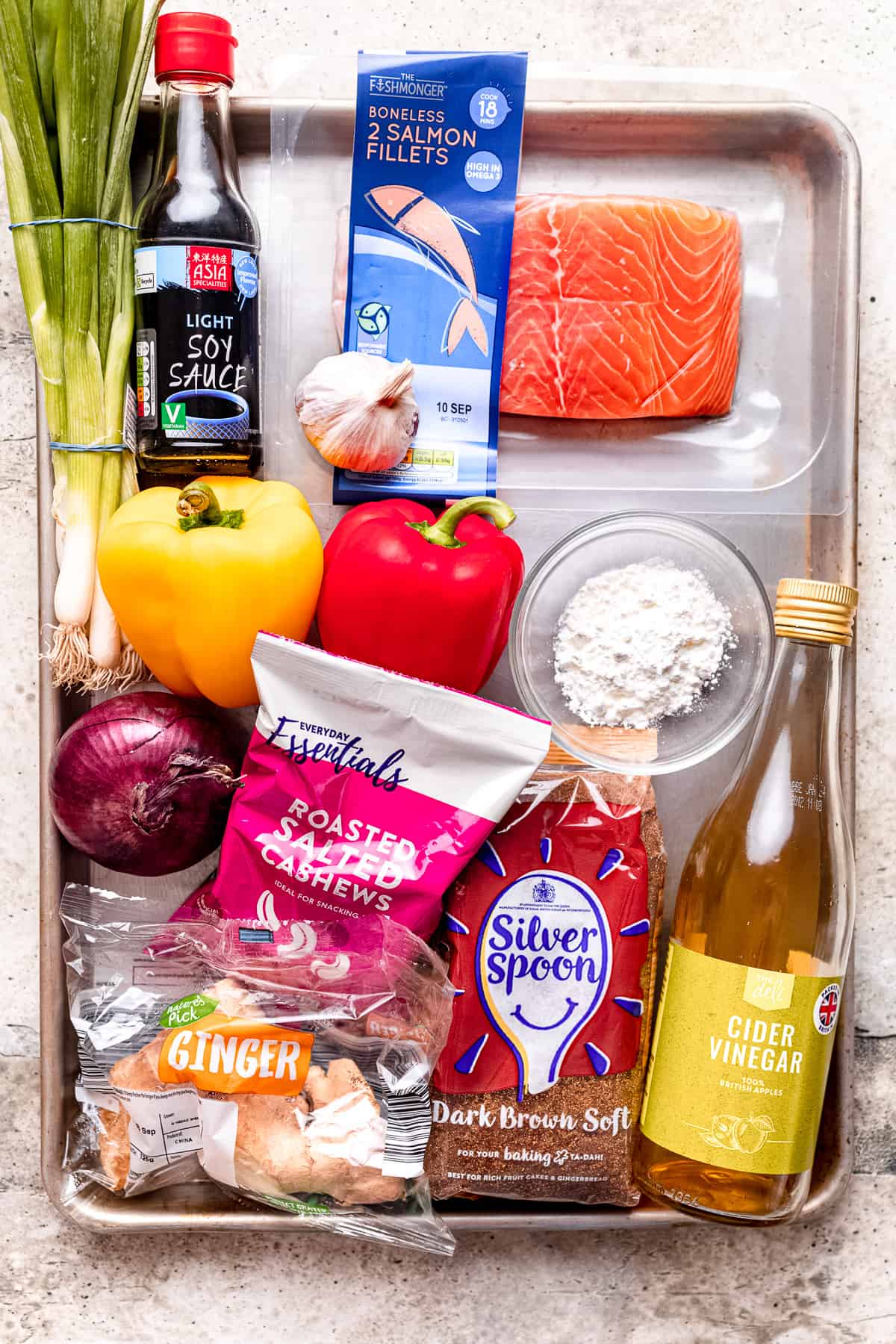 salmon fillets- Most salmon fillets are boneless but run your fingers over the surface of the fish just to be sure. And use a sharp knife to remove the skin.
bell peppers- Red, yellow and orange bell peppers are work well for this recipe. Green pepper tends to be a little bit too bitter for a stir fry.
red onion- Yellow onions also works for this recipe although they're not as sweet as red.
fresh ginger- You can use a little or a lot of ginger depending on how bold you like your stir fry flavours.
corn starch- This is to thicken the teriyaki sauce. In this recipe flour is not a substitute.
soy sauce- Light or dark are both great in teriyaki sauce. Dark has a richer flavour so your could cut the amount of time for marinading the salmon.
cider vinegar- I've used cider but any kind of white wine or regular distilled vinegar works here, too. The traditional is to use rice vinegar but we're making easy changes to this stir fry recipe.
dark brown sugar- I prefer the richness of dark brown sugar for a homemade teriyaki marinade, but light brown can be used also. Just skip the granulated or caster sugar which will make the sauce far too sweet.
green onions- I love green onions on top of a stir fry, but your can skip them if you choose to. Completely optional.
salted cashews- Bring a little bit of crunch to this salmon stir fry by topping with salted cashews or peanuts.
See recipe card for quantities.
📖 Substitutions & Variations
Stir fry is a great dinner for adding extra vegetables or making use of ingredients that you already have in order to keep to a budget.
Vegetables- in addition to the bell peppers there are so many vegetables you can add. Some favourites- mushrooms, pak choi, baby corns, broccoli and cauliflower
Rice - I've used basmati rice for this salmon stir fry, but you can use brown rice or noodles if your prefer.
Salmon

- if you find the flavour of sa

lmon not your taste you can substitute a milder firm white fish like sea bass.
👩🏻‍🍳 Salmon stir fry step by step
Step 1 & 2 Making the homemade teriyaki sauce
Combine all teriyaki ingredients in a medium-sized bowl and whisk well to combine. (Image 1)
If your salmon has that skin on, use a sharp knife to slice the skin off the fillets. Once you have a boneless and skinless fillet of salmon, cut into cubes. (Image 2)
Step 3 & 4 Marinating and frying the salmon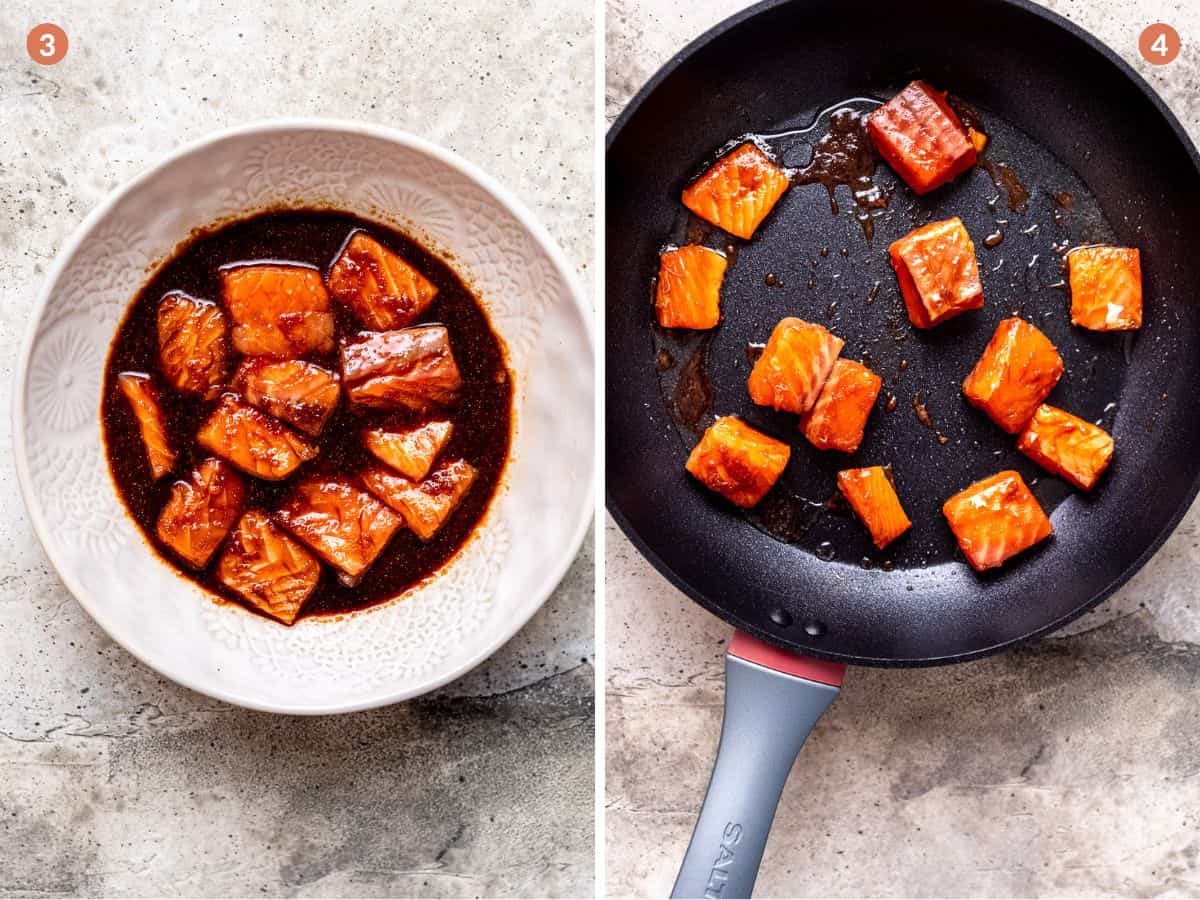 Once the salmon fillets have been cut into chunks, stir them into the Asian salmon marinade and leave aside for about 20-30 minutes while you slice the vegetables into matchsticks. (Image 3)
Heat a nonstick pan over medium heat. Remove the salmon from the marinade being sure to reserve all the sauce. Fry the salmon in the hot pan for about 2 minutes until the outside of the salmon is golden. Remove to a plate and set aside. (Image 4)
Step 5 & 6 Stir-frying the vegetables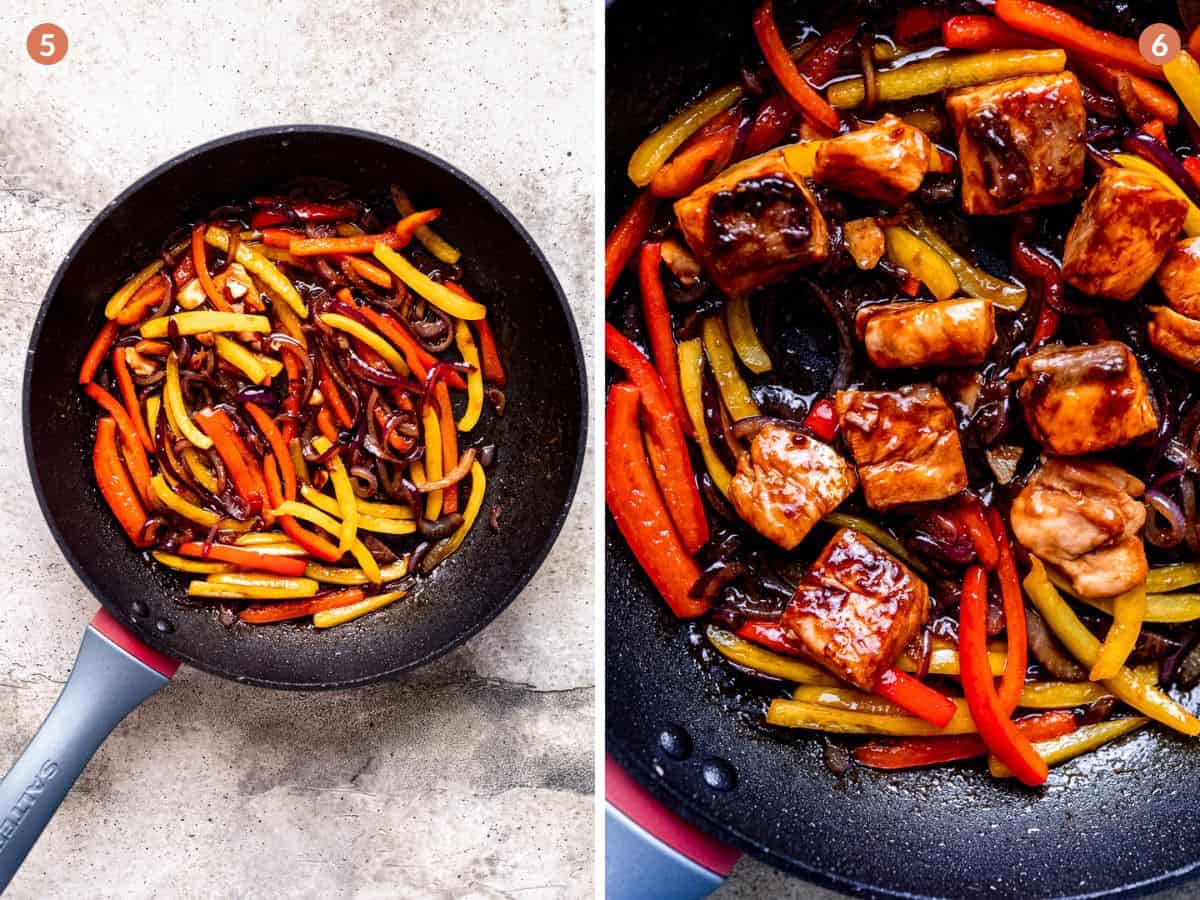 Add a splash of vegetable oil to the pan and saute the onions, for about 3 minutes until soft and starting to turn light golden. Add the ginger, garlic and sliced peppers and continue to saute for a further 2-3 minutes until the peppers are turning tender and the garlic and ginger are soft and fragrant. (Image 5)
Pour the reserved teriyaki sauce into the pan and continue to cook the vegetables and bring the sauce to a gentle simmer to thicken the sauce. Once the peppers are as tender as you like them, add the salmon back to the pan and stir to coat everything in the sauce. (Image 6)
How long should you cook salmon for?
So many people avoid cooking salmon and most fish in general because they're concerned about overcooking it and ending up with dry overcooked fish. But have no fear. I'm going to lay out some guidelines for you.
Salmon is a fish that can be cooked anywhere from medium rare to well done.
Stir-fried salmon (cubes/ chunks)- 3-5 minutes over medium-high heat until the outside of the salmon is golden and the inside is translucent.
Pan-fried salmon (fillets)- usually takes about 6 minutes per side depending on the thickness of the fillet. The internal temperature should reach 52ºc- 57ºc (125-134f). There will be white albumin visible on the surface of the salmon when it's cooked.
❓FAQ
How to pan fry salmon
Start with a teaspoon of vegetable oil in a non-stick pan and meat over medium-high. Once the pan is hot, place the fish flesh side down and press gently to ensure even contact with the pan. Cook for 3-5 minutes and use a thin spatula to flip the salmon so it's skin side down and cook for a further 3-4 minutes until the skin is crispy and the salmon is cooked.
Do you have to remove the salmon skin?
No. You definitely don't have to. Salmon skin can go very crispy when it's pan-fried or stir-fried and add great texture to a dish. I tend to remove the skin in a stir fry because the sauce will reduce the crispiness of the skin, but leave it on for pan frying fillets.
🍯 Storage
This teriyaki salmon stir fry does reheat really well. Due to it's firm texture salmon is fine to reheat the following day.
Leftovers can be kept in the fridge for 1 day in an airtight container.
Do not freeze leftovers.
Marinate the salmon for no more than 30 minutes otherwise the salt and acid start to cook the fish ruining the texture.
Make a double batch of the teriyaki sauce and save half for another dinner. The marinade can be frozen for up to 3 months.
Use a non-stick pan for this stir fry to ensure that the salmon doesn't stick to the pan.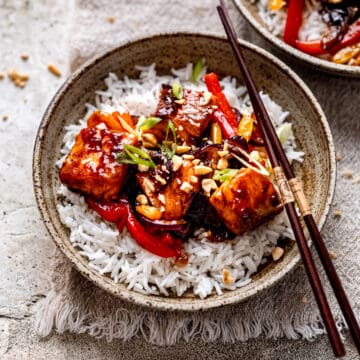 Ingredients
300-500

g

Salmon fillets

,

boneless skinless cut into 1 inch cubes

2

tablespoons

olive oil

2

bell peppers

,

red, orange or yellow, very thinly sliced

1

red onion

,

thinly sliced
For the teriyaki sauce
60

ml

light soy sauce

2

teaspoon

corn starch mixed with 1 ½ tablespoon water

2

teaspoon

vinegar- cider or white wine vinegars both work

2

tablespoons

dark brown sugar

,

or honey

2

large cloves garlic

,

minced

1

teaspoon

onion powder

¼

teaspoon

chili powder

½

teaspoon

ginger

,

minced
For serving
Basmati rice

Toasted cashews or roasted peanuts

Basil

Spring onions
Instructions
In a medium bowl whisk all the ingredients for the homemade teriyaki sauce. Place the cubed salmon into the bowl with the teriyaki marinade and set aside for 30 minutes while you prepare the vegetables.

Slice the peppers into long matchsticks, and thinly slice the mushrooms and onion. Heat a nonstick or cast iron skillet over medium high heat. Add the oil to the pan. Once the oil is hot it will shimmer and you can add in the salmon cubes and be sure to reserve the teriyaki sauce. Cook the salmon for about 2 minutes per side being careful to not break up the salmon.

Once the salmon is cooked remove it to a plate and add the vegetables into the hot pan. Stir fry the veggies for about 5 minutes until they're all tender. Pour the marinade into the pan and let the sauce come to a gentle simmer to thicken, about 1 minute.

When the teriyaki sauce has thickened add the salmon back into the pan and gently stir to coat in the sauce.

Serve the stir fry over fluffy rice (white or brown) and top with toasted cashews, basil, and spring onion.
Notes
It's important to cook the salmon first to ensure you have a clean pan so you get a great sear on the salmon. If you cook the vegetables before, it may cause the salmon to stick.
Let the marinade come to a gentle simmer to ensure that it thickens properly, but be sure to not let it simmer too long so it doesn't over-reduce.
Brown sugar- light or dark or honey work in this recipe.
*The nutrition information does not take into account the serving of rice.
Nutrition
Calories:
237
kcal
|
Carbohydrates:
15
g
|
Protein:
17
g
|
Fat:
12
g
|
Saturated Fat:
2
g
|
Polyunsaturated Fat:
3
g
|
Monounsaturated Fat:
7
g
|
Cholesterol:
41
mg
|
Sodium:
863
mg
|
Potassium:
587
mg
|
Fiber:
2
g
|
Sugar:
10
g
|
Vitamin A:
1931
IU
|
Vitamin C:
79
mg
|
Calcium:
33
mg
|
Iron:
1
mg
⭐️ Food safety
Cook to a minimum temperature of 165 °F (74 °C)
Do not use the same utensils on cooked food, that previously touched raw meat
Wash hands after touching raw meat
Don't leave food sitting out at room temperature for extended periods
Never leave cooking food unattended
Use oils with high smoking point to avoid harmful compounds
Always have good ventilation when using a gas stove