The BEST Butternut Squash and Sweet Potato Soup! AKA the only soup you're going to need this autumn. This should also actually be called "Super easy kinda spicy and really creamy roasted butternut squash and sweet potato soup". But let's keep it simple shall we?
And as always, all the ingredients for this recipe are available from Aldi UK. But as always these recipes ARE NOT in any way sponsored by Aldi. I've just really loved creating these recipes with affordable and simple ingredients and want to share them with you! Think of these as Aldi UK recipes from you BFF's kitchen. And because one-stop-shop rules! ♥
---
Roasted Butternut and Squash Sweet Potato Soup
Like this recipe? Pin it to your Soup pinboard!
Follow SavvyBites on Pinterest
---
How to make Roasted Butternut Squash and Sweet Potato Soup Step By Step
Step 1.
First up... Ingredients.
It's a short and sweet list today.
Butternut squash
Sweet potatoes
Onion (yellow or brown is best)
Garlic
Coconut milk (full fat)
Cumin
Chilli Flakes
Vegetable stock cube ( you can just use water here if you like)
Yes, salt and pepper and some olive or vegetable oil but I figure you'll give me those for free right? Because you've already got them in your larder or store cupboard!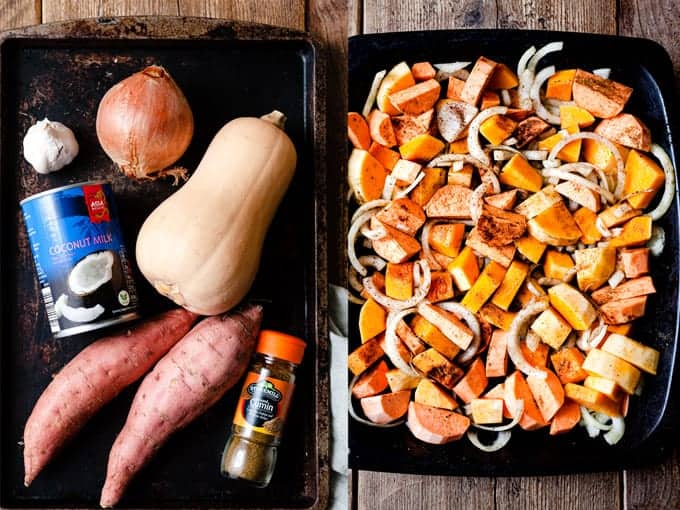 Step 2. Roasting.
Cut everything into Chunks. Drizzle with olive oil, toss with salt and pepper, sprinkle with cumin, chilli powder and cinnamon.
On to Step 3.
Told you. Easy.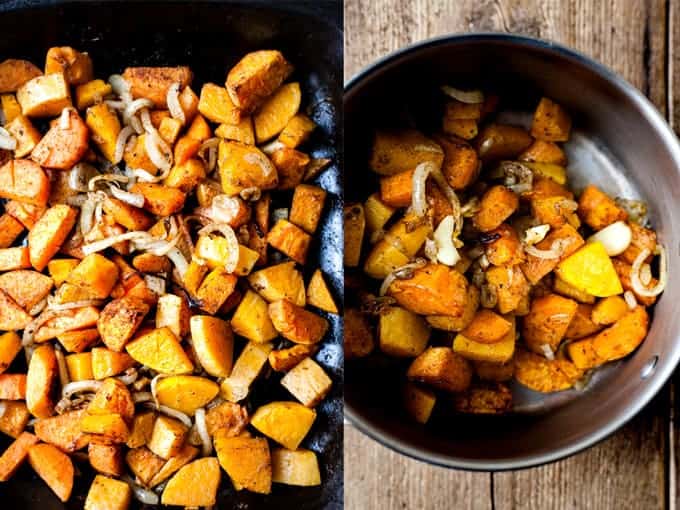 Step 3. Stock.
Once you've roasted everything on high and it's got lovely golden colour around the edges, you'll want to put it into a medium saucepan. Then add your stock or water and make sure it comes just above the veggies. It's okay to have some poking out the top of the stock. See photo below.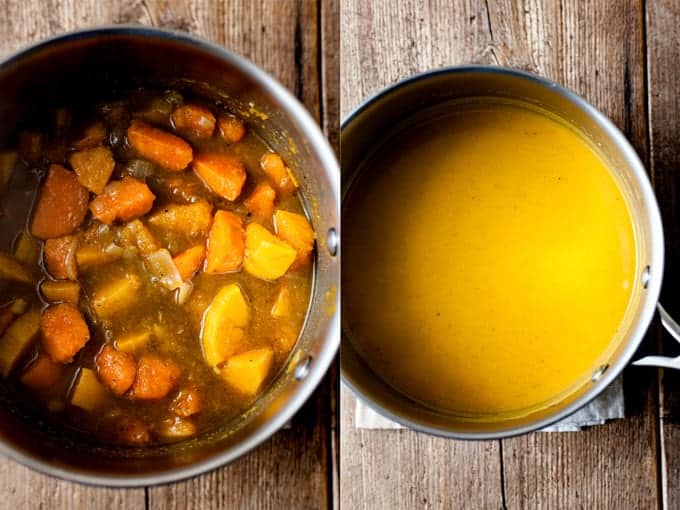 Step 4. Blending, spicing and finishing.
Yep. These are so quick and easy, they form the basis of one step!
Blend your soup to a creamy consistency. BUT please note, at this stage, you do not want to add too much liquid as we'll be adding in our coconut milk in a minute and we can always add more liquid, but we can't take it away. I know that sounds a bit bossy, but I just want your soup to be the perfect blend of thick, creamy, silky and coconutty all at the same time!
A Side Note on Blenders
To blend you can use an upright blender or an immersion (stick) blender. An upright blender is faster and will get you a smoother soup, but they can be on the pricey side if you don't already have one.
An immersion (stick) blender is cheap and will certainly do the job. Your soup may not be quite as smooth, but you'll have less washing up. Pro's and con's on both sides.
Once your soup is blended, add the coconut milk (reserve a couple of spoonfuls to swirl on the top) and whisk into the soup. This is where you can adjust the consistency. Add some more water if you feel it needs it.
Add the chilli flakes here. I like my soup with just a gentle hit of spice, so only add a teaspoon for the whole batch of soup, but if you like it spicier, then, by all means, be generous with that chilli!
Freezing Butternut Squash and Pumpkin Soup
Just do it! This recipe freezes like a dream so is perfect for batch cooking or meal prep situations!
And that's it soup master! You're done!
No judgement for dunking massive chunks of crusty bread into this soup. Go ahead. I support you! ♥
More Savvy Bites Quick and Simple Recipes ??
Tools used to make this Recipe Name
Print
Spicy Butternut Squash and Sweet Potato Soup
---
Description
The BEST Butternut Squash and Sweet Potato Soup! AKA the only soup you're going to need this autumn. This should also actually be called "Super easy kinda spicy and really creamy roasted butternut squash and sweet potato soup".
---
1

butternut squash

2

sweet potatoes

1

yellow onion

3

cloves garlic, peeled

2 tablespoons

olive oil

1

tin full fat coconut milk (reserve to tablespoons for serving)

1 teaspoon

ground cumin

½ tsp

cinnamon

¼ teaspoon

chilli powder

1 teaspoon

chilli flakes
---
Instructions
Preheat the oven to 190ºC.

Cut the squash and sweet potatoes into large chunks about 2 inches in size. Slice the onion into half moons. Place all the vegetables in a roasting tin and drizzle with 2 tablespoons of olive oil. Sprinkle over the cumin, chilli powder and cinnamon. Roast in the oven for about 30 minutes, until the vegetables are tender and golden around the edges.

Once the veggies are roasted, place them in a sauce pan and cover with water or vegetable stock. Bring to a boil quickly over a high heat. Make sure that all the vegetables are completely cooked by inserting a knife into them. Blend the soup. *See Notes on blending.

Add the coconut milk to the soup and whisk to combine. Add the chilli flakes and adjust seasoning. Also adjust consistency if desired by adding more water or vegetable stock.

Swirl the reserved coconut milk and top with the fresh chopped coriander.
Notes
Note 1. Blending. If using an upright blender, pour or ladle the veggies and stock carefully into the blender jug and blend on high for about 2 minutes. Be very careful. The soup will be very hot. Once blended, pour the soup back into the jug.
If using an immersion or stick blender, then leave the veggies in the pan and blend until smooth.
Category:

Soup

Method:

Boiling

Cuisine:

English
Keywords: vegan, roasted butternut squash, soup, freezer friendly
THANKS SO MUCH FOR READING AND COOKING ALONG WITH ME! IF YOU MAKE THIS RECIPE OR HAVE A QUESTION, I'D LOVE IT IF YOU LEFT A COMMENT AND A RATING. YOU CAN ALSO FOLLOW ALONG ON PINTEREST, FACEBOOK AND INSTAGRAM TO SEE WHAT WE'RE EATING, PINNING AND A LITTLE BEHIND THE SCENES TOO!