These oven-baked chicken goujons are bursting with tender chicken coated in a crispy, golden layer of breadcrumbs. Baked to perfection, these chicken goujons offer a healthier alternative to traditional fried ones, making them a guilt-free treat for everyone. The best part is their simplicity and quick cooking time, perfect for those busy weeknights when you crave something delicious but are pressed for time.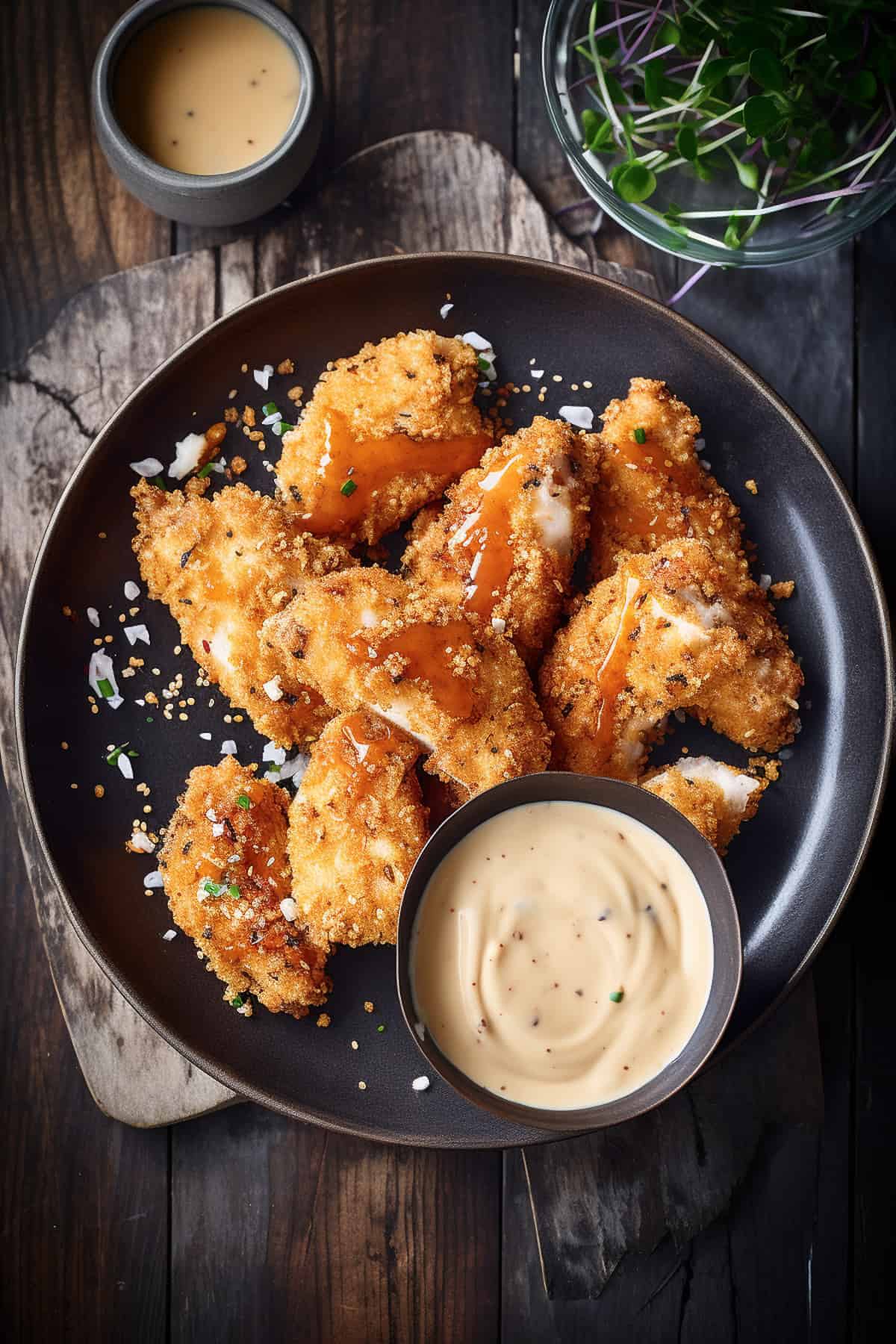 If you love these goujons you can take a look at some of our other freezer-friendly recipes. These crispy goujons also go really well with these sweet potato bites and this roasted tomato soup.
Jump to:
⭐️ Why You'll Love This Recipe
Healthier: Oven-baked means less oil and fewer calories than traditional fried versions. You don't have to compromise on taste while eating healthily!
Great for meal prep: Make a large batch, freeze, and have a ready-to-cook dish whenever you need it.
Kid-friendly: If you're trying to introduce healthier alternatives into your child's diet, this chicken goujon recipe is a good place to start. The familiar, child-friendly flavours will be a hit.
Versatile: These chicken goujons can be paired with various dipping sauces to make the meal more interesting. From sweet to tangy to spicy, the choices are endless!
🧾 Ingredients
Here's what you'll need:
Chicken breast strips: We use boneless, skinless chicken breasts cut into finger-width pieces for this recipe. They're lean, full of protein, and cook quickly.
Bread crumbs: I've used fresh breadcrumbs but if you can find panko breadcrumbs they work really well too. In fact, any breadcrumbs will do well.
Paprika and garlic salt: These spices add a burst of flavour to the chicken, enhancing the overall taste.
Cornflakes: Crushed cornflakes give the coating an extra crunch.
Egg: The binding agent that holds the breadcrumb and cornflake coating to the chicken.
See recipe card for quantities.
📖 Substitutions and variations
Variations:

To add some zing, consider adding grated Parmesan or spices like chili powder and red chilli flakes to the breadcrumb mixture.
Substitutions:

Chicken thighs are a great substitute if you run out of chicken breasts. For a gluten-free alternative, opt for gluten-free breadcrumbs.
👩🏻‍🍳 Step By Step
Preheat your oven or air fryer.

A hot oven or air fryer ensures your chicken cooks evenly and gets that perfect golden brown colour.

Prepare the coating.

Combine the panko crumbs, crushed cornflakes, garlic salt, and paprika in a bowl.

Coat the chicken.

Dip each chicken strip in flour, then egg, and coat them with the breadcrumb and cornflake mixture.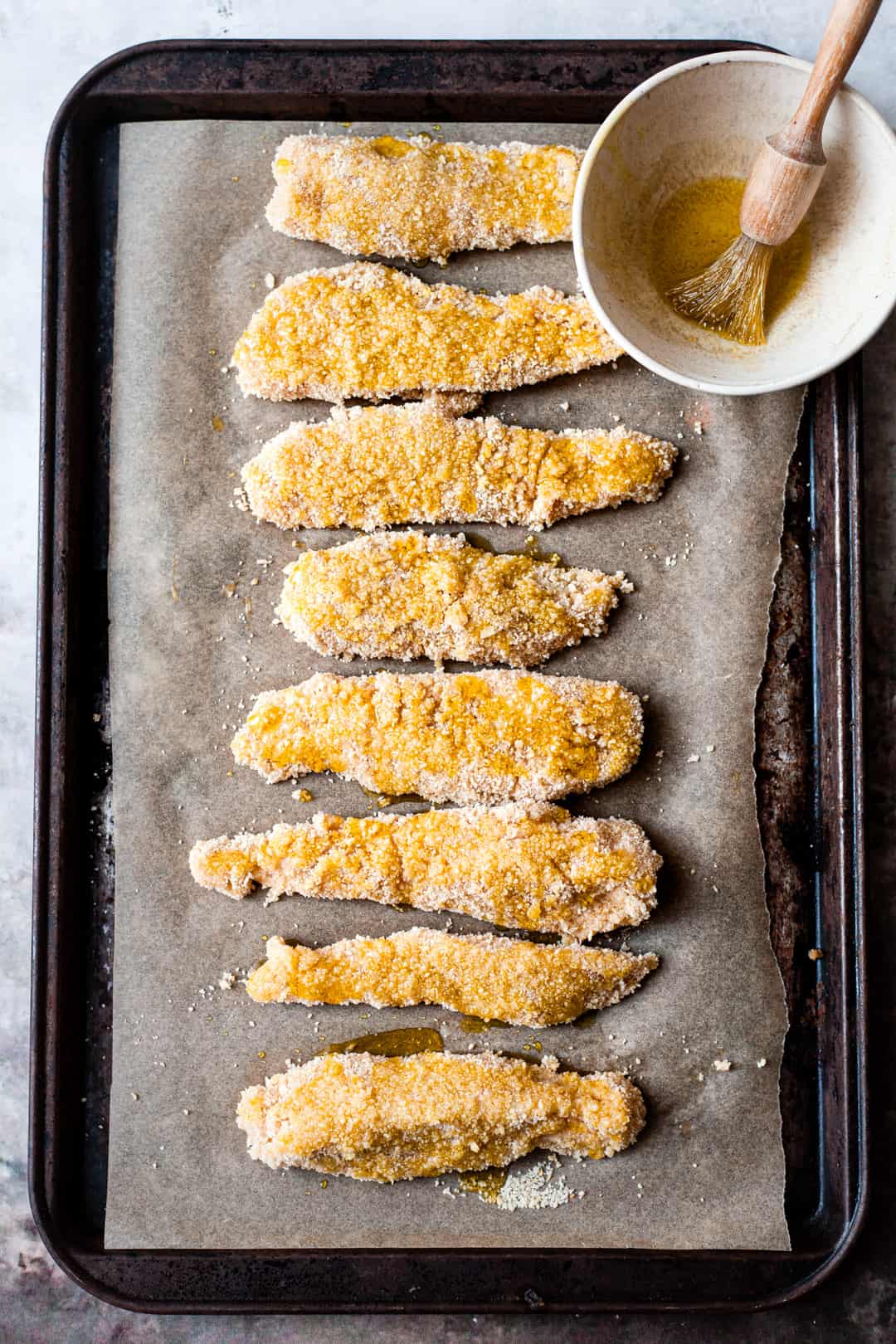 Arrange the chicken goujons.

Place the coated chicken goujons on a baking tray or air fryer basket. Ensure they do not overlap.

Cook.

Bake or air fry until the chicken goujons are cooked through and crispy.
💡 Top tip
When coating the chicken, use one hand for dipping in the egg and the other for the breadcrumb mixture. This prevents clumping on your fingertips.
Hint: Flavour infusion: For an extra boost of flavour, marinate your chicken strips before coating them. A simple marinade of olive oil, garlic, lemon juice, and your choice of herbs (such as rosemary or thyme) can elevate the taste of your chicken goujons.
🍯 Storage
Fridge: Leftovers can be stored in an airtight container in the refrigerator for up to 3 days.
Freezer: If you're into meal prepping, make a big batch, freeze the uncooked goujons on a tray, transfer them into a freezer bag or container, and you have a quick meal ready whenever you need it.
Reheat: Reheating these chicken goujons is easy; you can use either an air fryer or an oven for best results.
💡 Top tip
Avoid crowding your baking sheet or air fryer basket; the goujons need space to ensure proper heat circulation and even cooking.
Chicken goujon dipping sauces
What's a crispy, juicy chicken goujon without the perfect dipping sauce to match? Part of the fun of indulging in these succulent treats is exploring a world of flavours with different sauces. Here are a few options you can easily whip up at home.
Homemade Honey Mustard: This classic dip strikes the perfect balance between sweet and tangy. Mix together equal parts of honey, Dijon mustard, and mayonnaise. Add a splash of white vinegar and a pinch of salt for added flavour depth.
BBQ Sauce: If you're a fan of sweet and smoky, homemade BBQ sauce is a great match. Combine ketchup, brown sugar, apple cider vinegar, Worcestershire sauce, and a smoky spice like smoked paprika or chipotle. Heat on the stove until well combined.
Garlic Aioli: For garlic lovers, a creamy garlic aioli can elevate your chicken goujons. Blend fresh garlic, lemon juice, egg yolks, and olive oil until you reach a creamy consistency. Add salt and pepper to taste.
Sweet Chili Sauce: Add a spicy-sweet Asian twist to your goujons with a sweet chilli sauce. Available in most supermarkets, you can make it at home by simmering together rice vinegar, sugar, water, garlic, and crushed red chilli flakes.
❓FAQ
Are these chicken goujons healthy?
Yes, these oven-baked chicken goujons are healthier than their fried counterparts due to their lower oil content.
Can I make these goujons gluten-free?
Absolutely! Replace the panko breadcrumbs with gluten-free ones.
Can I use other types of meat for this recipe?
Yes, you can substitute chicken with other lean meats like turkey or fish. Just ensure they are cut into thin strips and adjust the cooking time accordingly.
Related
Looking for more incredible chicken recipes? Try these:
With these oven-baked chicken goujons, you don't have to sacrifice taste for health. They offer the best of both worlds, combining the flavorful goodness of chicken with a nutritious cooking method.
Ideal for both children and adults, these chicken goujons are sure to become a staple in your household. Happy cooking!
If you tried this Recipe or any other recipe on my website, please let me know in the comments below. I love hearing from you. Also, please leave a star rating whilst you're there!
You can also follow along on Pinterest, Facebook, and Instagram and join our private Facebook Group Facebook group to share more recipe ideas and all your photos!
Need help with meal planning? You can find our (Aldi ingredients only) weekly meal plans here! Sign up to receive them free every week or take our quick meal planning course and use all these recipes to create your own meal plans.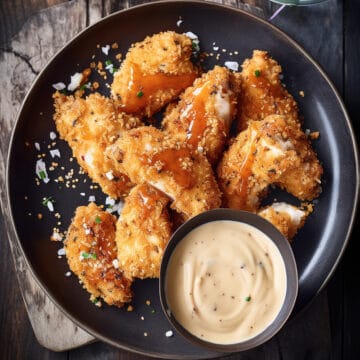 Crispy Oven Baked Chicken Goujons Recipe
These oven-baked chicken goujons are a crispy delight with a healthy twist. Breaded in a savoury coating, these juicy strips of chicken are perfect for a family dinner, a quick snack, or even a party appetizer. The recipe is designed for oven baking but includes air fryer instructions for an even crispier finish.
Print
Pin
Rate
Ingredients
500

grams

(

1

lb

)

of chicken breast

120

grams

(

1

cups

)

of breadcrumbs

,

panko or regular

60

grams

(

½

cups

)

of plain/all-purpose flour

2

large eggs

1

teaspoon

of paprika

Salt and pepper to taste

Olive oil for drizzling
Instructions
Preheat the oven to 200°C (390°F). Line a baking tray with parchment paper.

Cut the chicken breast into finger-width strips.

In one bowl, mix the flour, paprika, salt, and pepper.

In a second bowl, beat the eggs.

In a third bowl, place the breadcrumbs.

Coat each strip of chicken first in the flour mixture, then dip in the beaten egg, and finally, roll in the breadcrumbs.

Place the breaded chicken strips onto the lined baking tray. Drizzle with a little olive oil for extra crispness.

Bake in the preheated oven for about 20 minutes, or until golden and fully cooked through.
Air Fryer Instructions:
Preheat the air fryer to 180°C (350°F).

Arrange the breaded chicken strips in a single layer in the air fryer basket, ensuring they do not overlap.

Air fry for about 12 minutes, or until the goujons are golden and crispy. No need to turn them during cooking.
Notes
Helpful Notes:
Make sure the chicken is fully cooked through. The safest way to check is by using a meat thermometer – the internal temperature should reach 74°C (165°F).
For an extra flavour boost, consider marinating your chicken in a blend of olive oil, garlic, and herbs before coating.
Serve these delicious chicken goujons with your favourite homemade dips like honey mustard, BBQ sauce, garlic aioli, or sweet chilli sauce.
Nutrition
Calories:
347
kcal
|
Carbohydrates:
33
g
|
Protein:
35
g
|
Fat:
7
g
|
Saturated Fat:
2
g
|
Polyunsaturated Fat:
2
g
|
Monounsaturated Fat:
2
g
|
Trans Fat:
0.02
g
|
Cholesterol:
162
mg
|
Sodium:
396
mg
|
Potassium:
568
mg
|
Fiber:
2
g
|
Sugar:
2
g
|
Vitamin A:
156
IU
|
Vitamin C:
2
mg
|
Calcium:
76
mg
|
Iron:
3
mg