This rhubarb and strawberry crumble (also called a crisp!) is full of juicy fruit. Sweet strawberries and tart rhubarb baked to bubbling perfection under a golden brown sugar and buttery oat topping. The ultimate summer dessert.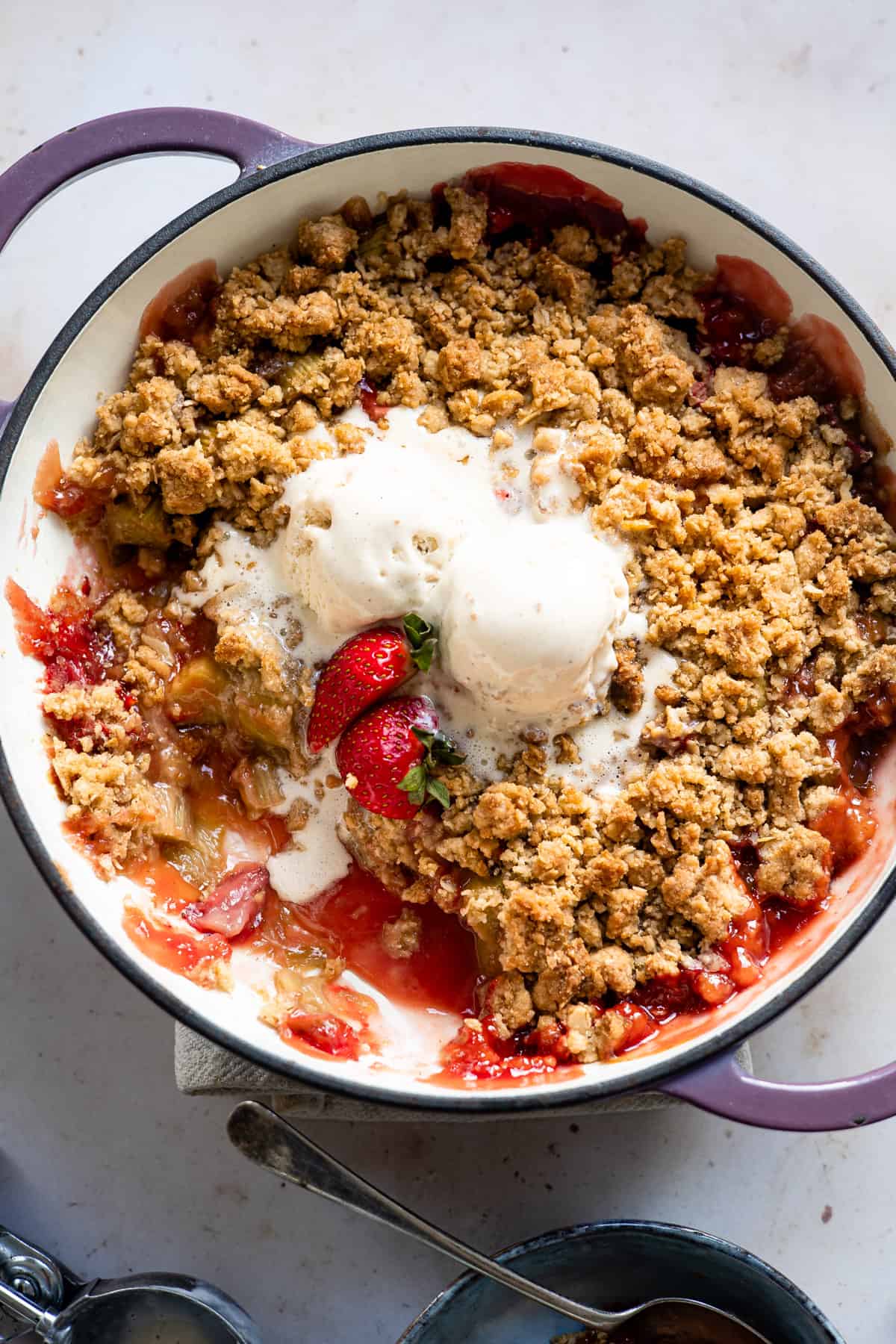 Fruit crumbles are a great way to use fruit that is a little bit bruised or over-ripe because they tend to be much juicier than just ripe or under-ripe fruit. Tossed with a little bit of white or brown sugar and a little bit of flour to thicken the juices a crumble is a truly old-fashioned summer dessert.
Jump to:
This crumble uses tart field rhubarb which is plentiful and cheap in the summer paired with strawberries. I have a fair few crumbles that you should try like this rhubarb and ginger crumble, this raspberry peach crumble, quick and easy fruit crumble, or this apple and pear crumble.
Why You'll Love This Recipe
The filling when baked turns the fruit to the most heavenly jammy texture. Paired with the buttery, crunchy oat topping, it's a match made in heaven.
You can make the filling in about 10 minutes with just some fruit, sugar and some flour.
The oat topping gets made in a food processor to keep it quick and easy.
It freezes easily and can be served for brunch or a dessert.
Ingredients needed
fresh strawberries- you can use frozen here too. *see notes for the amendments to make.
rhubarb- you don't need to peel the rhubarb. It is a fiberous but breaks down and softens significantly when baked.
cinnamon, vanilla and lemon zest- really helps to enhance the flavors of the fruit. They're both optional, but highly recommended.
caster sugar or granulated sugar
plain flour
rolled oats- you can also use quick cooking oats but they won't retain they're shape the same way as rolled oats.
butter- you can use salted or unsalted.
See the recipe card for quantities.
Step By Step Instructions
1 & 2
Start by preheating the oven. The first step in making any baked dessert. Then make the rhubarb and strawberry crumble filling by hulling and quartering the strawberries and cutting the rhubarb into 1.5cm pieces. Rhubarb breaks down a lot when baked, so there is no need to cut it in half length-wise.
Toss the cut fruit with flour and sugar. Set aside while you make the crumble topping. Sugar is hygroscopic which means that it pulls the moisture out of the fruit, so it will start to macerate and get very juicy. This will help give it a head start before the baking process.
3 & 4
Making the crumble topping is the easiest part. Place all the crumble ingredients in the bowl of a food processor and pulse to blend. You want to blend the crumble just enough for it to come together so that it still has large chunks in it.
Be sure to use cold butter so that it stays chunky. This will help the oat topping bake into large crispy chunks of buttery, brown sugar oat topping.
5 & 6
Place the fruit in an oven-safe baking dish or a cast-iron skillet. Give it all a good stir so the fruit is well mixed. Place the oat crumble on top and bake in the preheated oven for about 30-40 minutes until the fruit is jammy and the juice is bubbling up around the sides and the oat topping is golden.
When the crumble is baked remove it from the oven and let it stand for about 10 minutes before serving. It will be very hot!
Hint: place a baking tray in the bottom of the oven to catch any juices that bubble over. It will make clean up much easier.
Recipe: FAQ
What's the difference between a crisp, a crumble and a cobbler?
Crispy and crumble are interchangeable terms. They are both baked fruit desserts with a streusel-like topping consisting of flour, sugar, and butter. Oats are a common ingredient too, but not always. The term crisp is usually more popular in North America and crumble more often used in Europe.
A cobbler is a baked fruit dessert with a scone like topping that gets dropped over the fruit making it look like cobble stones.
Why is my crumble topping soggy?
It's possible that the crumble has been underbaked and hasn't had a chance to get crispy. Or perhaps the oven wasn't hot enough and the fruit juice was absorbed into the crumble mixture.
Thickening the fruit filling
A key part of a crumble is the jammy texture of the baked fruit. The amount of flour you use will determine how jammy it gets. If the fruit is very juicy you will need a little more flour. Or in the case of using frozen fruit which releases much more juice than fresh when baked.
Substitutions & Variations
Fruit crumbles are very adaptable and you can really create some variety.
Almonds or nuts - Add ground almonds, pistachios or pecans to the crumble topping.
Citrus - Add the zest of an orange or a lemon into the fruit mixture to brighten up the fruit. Orange works really well with rhubarb.
Gluten-free - Use gluten free flour and gluten-free oats instead of regular.
Crumble topping
The topping ratio of a fruit crumble is usually 1:3. But you can increase the amount of crumble if you like. I prefer a 1:1 really.
Crumble topping can sometimes end up more like a dough than a sandy crumble. Here are some top tips to help get that perfect texture.
Use cold cubed butter. It will blend into chunks easier rather than form a dough.
Use the pulse setting on your food processor. This prevents over blending.
If you're making the crumble ahead of time store the fruit and the topping separately otherwise the crumble will absorb the fruit juice and turn soggy.
What to serve with fruit crumble
vanilla ice cream
custard
whipped cream
heavy cream
clotted cream
Storage
Rhubarb and strawberry crumble will keep really well in the fridge for up to 3 days. Be sure to store it in an airtight container with a tight-fitting lid.
To freeze the crumble place it in a freezer-safe container and cover with foil. Freeze for up to 1 month.
Need help with meal planning? You can find our (Aldi ingredients only) weekly meal plans here! Sign up to receive them free every week or take our quick meal planning course and grab the blank meal planner and use all these recipes to create your own meal plans. Follow along on Pinterest, Instagram and Facebook.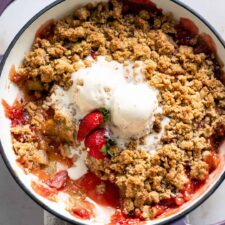 Old Fashioned Easy Rhubarb And Strawberry Crumble
Sweet strawberries and tart rhubarb baked to bubbling perfection under a golden brown sugar and buttery oat topping. The ultimate summer dessert. Great for feeding a crowd.
Print
Pin
Rate
Ingredients
500

g

(

3 2/7

cups

)

fresh strawberries

200

g

(

1 ½

cups

)

rhubarb

130

g

(

4 ⅗

oz

)

sugar

30

g

(

1

oz

)

plain flour

,

*See notes for frozen fruit

juice and zest of lemon

1

teaspoon

vanilla

½

teaspoon

cinnamon
Crumble topping
225

g

(

1 5/7

cups

)

plain flour

225

g

(

8

oz

)

butter

,

cold cut into cubes

125

g

(

1 ½

cups

)

rolled oats

,

*not quick-cooking- see notes

220

g

(

1

cups

)

demerara or caster sugar
Instructions
Preheat the oven to 175ºC or 350ºF

Cut the leafy tops off the stalks of rhubarb and wash well. Using a sharp knife cut the rhubarb into 1.5cm pieces and place into a medium bowl.

Remove the green leafy tops from the strawberries and cut them into quarters. If the strawberries are small, just cut them in half. Place them in the bowl with the pieces of rhubarb.

Stir the fruit with sugar and flour. The flour is what helps to thicken all the fruit juice as the crumble bakes.

Add the cinnamon, lemon zest, and vanilla to the bowl and stir well to combine everything. Set the bowl aside while you make the crumble topping.
To make the crumble topping
Add the oats, butter, sugar, and flour to a food processor and pulse until thick crumble forms. *See notes

Place the fruit in an oven-safe dish. About a 2l capacity is the size you'll need. Once the fruit is evenly spread over the dish, place the crumble on top to cover the fruit. This recipe makes a lot of crumble topping so, you can freeze some of it for making crumble at a later date.

Bake in the preheated oven for about 30 minutes, until the fruit is soft and juicy and bubbling up around the edges and the crumble topping is golden and crisp. Let cool for a few minutes before topping with vanilla ice cream.
Notes
Be sure to use the pulse setting so that you still end up with larger chunks of the oats. This is why we avoid a quick oats situation. They're already too finely processed.
Be sure that the butter is cold before you get started.
Preheat the oven before placing the crumble in to bake.
If using frozen fruit, add an extra 10 grams of plain flour to the fruit and bake from frozen.
Nutrition
Calories:
516
kcal
|
Carbohydrates:
115
g
|
Protein:
9
g
|
Fat:
3
g
|
Saturated Fat:
1
g
|
Polyunsaturated Fat:
1
g
|
Monounsaturated Fat:
1
g
|
Cholesterol:
4
mg
|
Sodium:
44
mg
|
Potassium:
396
mg
|
Fiber:
6
g
|
Sugar:
65
g
|
Vitamin A:
106
IU
|
Vitamin C:
52
mg
|
Calcium:
103
mg
|
Iron:
3
mg