Rhubarb and ginger crumble is the perfect old fashioned dessert. It's easy and comforting and quick to make. A buttery oat topping piled over a skillet of soft juicy fruit baked until golden and bubbling. Perfect with a scoop of vanilla ice cream.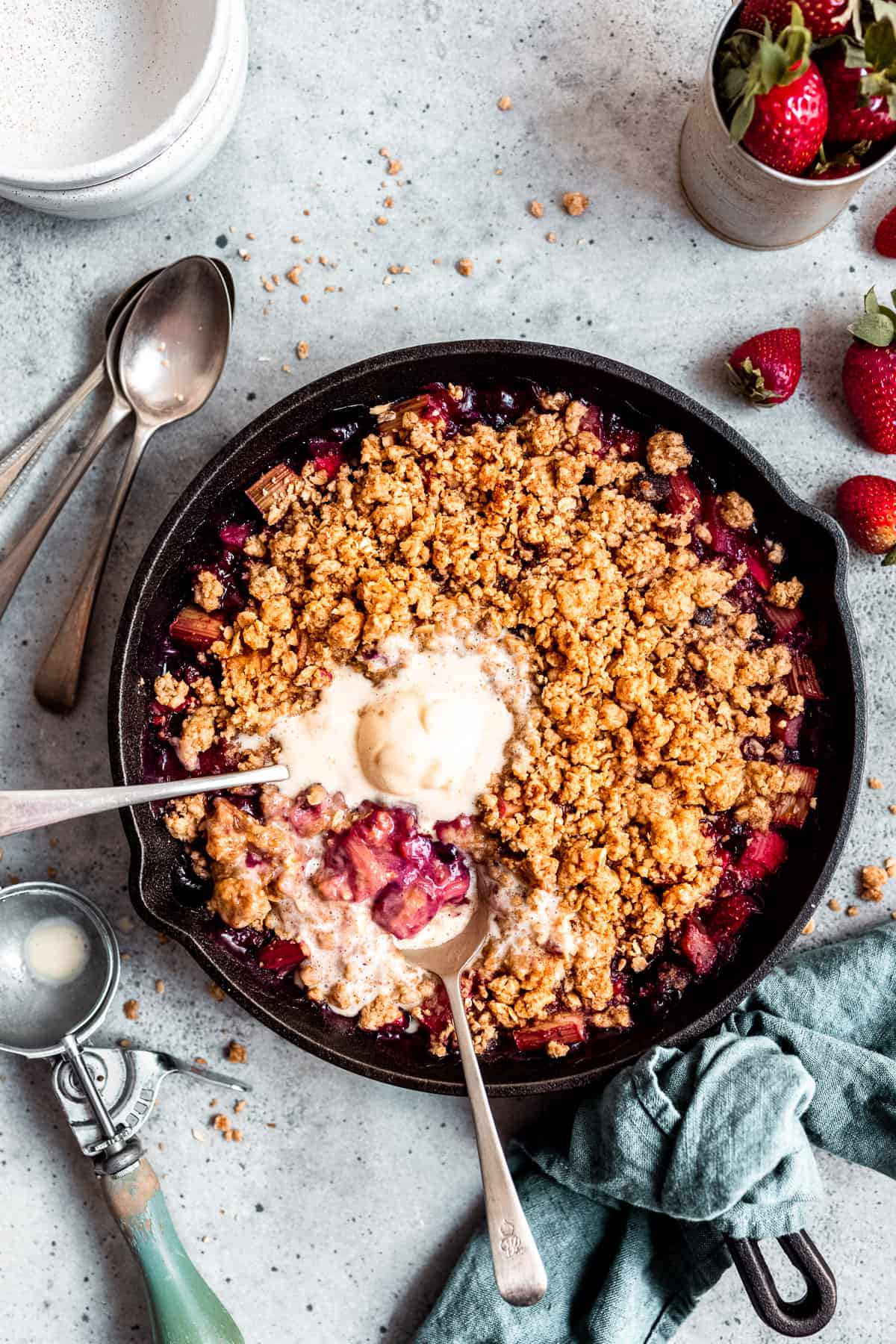 It's no secret that a crumble (or a crisp) is the ultimate comfort food and the perfect way to use up almost any kind of fruit, especially fruit that is past its prime. You can make it ahead and freeze it either before or after baking and everyone loves it!
We're such big fans of simple rustic desserts like crumble that there are a few recipes I think you should try. Like this pear crumble, this ultimate fruit crumble, or this raspberry peach fruit crumble.
Jump to:
This rhubarb and ginger fruit crumble makes the best of rhubarb season by giving it our full attention! I've made this crumble with early season outdoor rhubarb, meaning it's a bit more tender than late season, but holds up better than the indoor grown stalks of forced rhubarb.
And the ginger in this recipe isn't the stem ginger that many recipes call for, but rather fresh ginger that gives a gorgeous bite to our buttery oat topping.
Why This Recipe Works
Rhubarb and ginger are a natural pairing. And the fresh ginger gives a brightness and bite that isn't present in candied ginger.
The addition of orange juice and zest really help to bring all the flavours together.
This crumble is great for making ahead of time and freezing either before or after you bake it.
Ingredients needed
rhubarb
frozen fruit- any type of berries will work
fresh strawberries- they go perfect with rhubarb
fresh ginger
plain (all-purpose) flour
light or dark brown sugar
caster or granulated sugar
rolled oats- quick cooking can work for this recipe, but your topping will be a little bit powdery because of the texture of quick cooking oats. You can learn more about the difference here.
butter
orange juice and zest
See the recipe card for quantities.
Step By Step Instructions
Step 1 & 2
Start by trimming the rhubarb. Cut the top and tail off and then cut into 1 inch long pieces. *This size helps the rhubarb to keep it's shape and not breakdown too much while baking. Mix the rhubarb in a bowl with the caster (granulated) sugar and the flour.
Mix the remaining fruit with the fresh ginger and the juice and zest of the orange. Toss well to make sure all the fruit is coated. Leave the fruit to sit and macerate while you make the crumble topping.
Step 3 & 4
To make the crumble topping simply place all the crumble ingredients in the bowl of a food processor and pulse until the mixture is just combined and resembles coarse breadcrumbs.
Use a spatula to scrape the bottom of the food processor to make sure all the flour has incorporated.
Step 5
Preheat the oven and place all the fruit in an oven safe dish or a cast iron skillet.
Spoon the crumble topping on to the fruit and bake in the oven for about 20 minutes. You'll know the crumble is baked with the oat topping is golden and the fruit is tender and the fruit juice is bubbling up around the edges of the baking dish.
Hint: use a good mix of red fruits that will compliment the rhubarb and cut some of the acidity. Strawberries and black forest fruits are always good choices.
Recipe: FAQ
I have leftover crumble topping. What should I do with it?
I absolutely love the oat topping so tend to put alot on top of my crumbles. If you prefer a little less and end up with extra topping, place it in a container or freezer bag and store in the freezer for up to 3 months.
* You can use the crumble topping sprinkled over muffins or cake (like this apple crumble cake) before baking too.
Can I use lemon instead of the orange?
You sure can. I find the sweetness of the orange compliments the sour acidity of the rhubarb and the bite of the ginger perfectly. But a lemon will also work here too. Just taste the after the lemon has been added. It may need another pinch or two of sugar.
Can I use dairy free spread (margarine) instead of butter?
Absolutely. Just be very careful when pulsing the crumble ingredients because margarine is much softer than butter and will blend very quickly. Take care to not over blend.
Can I serve it with something besides ice cream?
Definitely! Some serving ideas are clotted cream, fresh pouring cream or some custard. All of these go perfectly with crumble. Vanilla ice cream just happens to be one of the more popular serving ideas.
Substitutions & Variations
dairy free - as mentioned above, to make this crumble dairy free use a margarine or dairy free spread.
gluten-free - use gluten free flour and oats
indulgent - add some white chocolate chips to the crumble mix just before baking.
Equipment
This rhubarb and ginger crumble doesn't require much in the way of equipment.
I've used a food processor, but you can easily use your finger tips to rub the butter into the flour and sugar. Just be sure to not over mix.
A microplane really comes in handy for this recipe to grate the fresh ginger.
Cast iron skillet for baking the crumble. I have this exact set of three and absolutely love it!
Storage
Baked crumble freezes like a dream! You have a few options with this. Divide the baked crumble into airtight containers and freeze for up to 3 months.
Freeze the whole baked crumble for up to 3 months.
Freeze the unbaked crumble for up to 3 months.
The oat topping can also be made ahead and stored separately in the freezer.
I don't recommend storing the unbaked rhubarb and ginger crumble in the fridge for overnight because the crumble topping will go soggy and start to absorb all the juices from the fruit.
This will happen to crumble that has been baked and it stored in the fridge too. But it's so good to heat that up for breakfast. It's like the most indulgent oatmeal ever!
Top tips
Keep the rhubarb in 1 inch pieces. Having it retain its shape and some texture while baking really does make a huge difference to the whole dessert.
You can sprinkle some ground ginger into the crumble topping to bring some extra bite to the whole dish.
Need help with meal planning? You can find our (Aldi ingredients only) weekly meal plans here! Sign up to receive them free every week or take our quick meal planning course and grab the blank meal planner and use all these recipes to create your own meal plans. Follow along on Pinterest, Instagram and Facebook.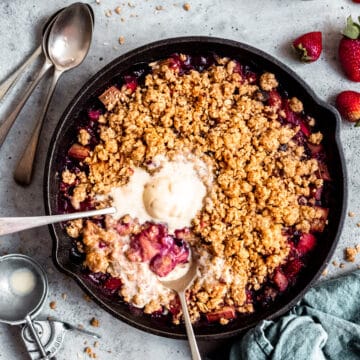 Homemade Rhubarb and Ginger Crumble
Rhubarb and ginger crumble is the perfect old-fashioned dessert. Buttery oats, brown sugar and ginger are baked until golden over soft and juicy fruit. Perfect served warm with vanilla ice. cream.,
Print
Pin
Rate
Ingredients
450

g

rhubarb

,

chopped

100

g

fresh strawberries

,

hulled and cut in half

200

g

frozen fruit *see notes

2

tablespoons

fresh ginger

,

grated

1

orange

,

zest, and juice *see notes

30

g

plain flour

100

g

caster sugar
For the crumble topping
225

g

plain flour

225

g

cold butter

,

cubed

125

g

rolled oats- old fashioned *see notes

100

g

caster sugar

100

g

light brown sugar

1

teaspoon

ground ginger
Vanilla ice cream for serving
Instructions
Preheat the oven to 160ºC fan or 180ºC conventional (350F)

Wash and trim the rhubarb into ½ inch pieces and place in a medium bowl. Add frozen fruit to the bowl along with the fresh ginger, orange juice, zest, plain flour, and sugar. Toss everything well.

Add the fresh strawberries to the bowl and stir well to coat all the fruit in the dry ingredients. Place the fruit in an oven-safe baking dish or a cast-iron skillet.

To make the crumble topping place all the ingredients in the bowl of a food processor and pulse until the mixture resembles chunky breadcrumbs. Place the mixture on top of the fruit and bake in the preheated oven for about 25-30 minutes until the fruit is soft and bubbling up around the sides of the dish.

Remove from the oven and let cool for about 5 minutes before dishing into bowls and topping with scoops of vanilla ice cream.
Notes
For the frozen fruit, I recommend fruits of the forest or summer fruits. But any fruit mix that is red berry-based would be great. Or you could use frozen strawberries. I just really like the variety of a fruit mix.
There is no need to thaw the frozen fruit beforehand.
I've used orange here because it goes so well with rhubarb and ginger, but you can use lemon juice and zest too. Either work really well.
It's really important to use old-fashioned rolled oats here, rather than quick cooking. Old fashioned oats are the whole oat and have a great texture. Quick-cooking oats result in a more powdery crumble topping.
Make ahead and freeze- Baked crumble freezes really well for up to 3 months and is great in the fridge for 3 days. I don't recommend assembling the crumble and storing it in the fridge before baking. The topping will go quite soggy and not crisp up when it's baked. But you can store unbaked crumble in the freezer for up to 3 months. Simply defrost for a few hours on the work top and bake as instructed.
Nutrition
Calories:
555
kcal
|
Carbohydrates:
80
g
|
Protein:
7
g
|
Fat:
24
g
|
Saturated Fat:
5
g
|
Polyunsaturated Fat:
6
g
|
Monounsaturated Fat:
11
g
|
Sodium:
273
mg
|
Potassium:
379
mg
|
Fiber:
5
g
|
Sugar:
41
g
|
Vitamin A:
1105
IU
|
Vitamin C:
35
mg
|
Calcium:
93
mg
|
Iron:
3
mg