This easy homemade fruit crumble is the perfect dessert for any occasion. It's made with simple ingredients that you probably already have on hand, and it's so easy to make that even a beginner can do it. The fruit can be any type that you like, and the crumble topping is made with a mix of flour, sugar, and butter. The crumble is baked until golden brown and bubbly, and it's served warm with a scoop of ice cream, whipped cream, or custard.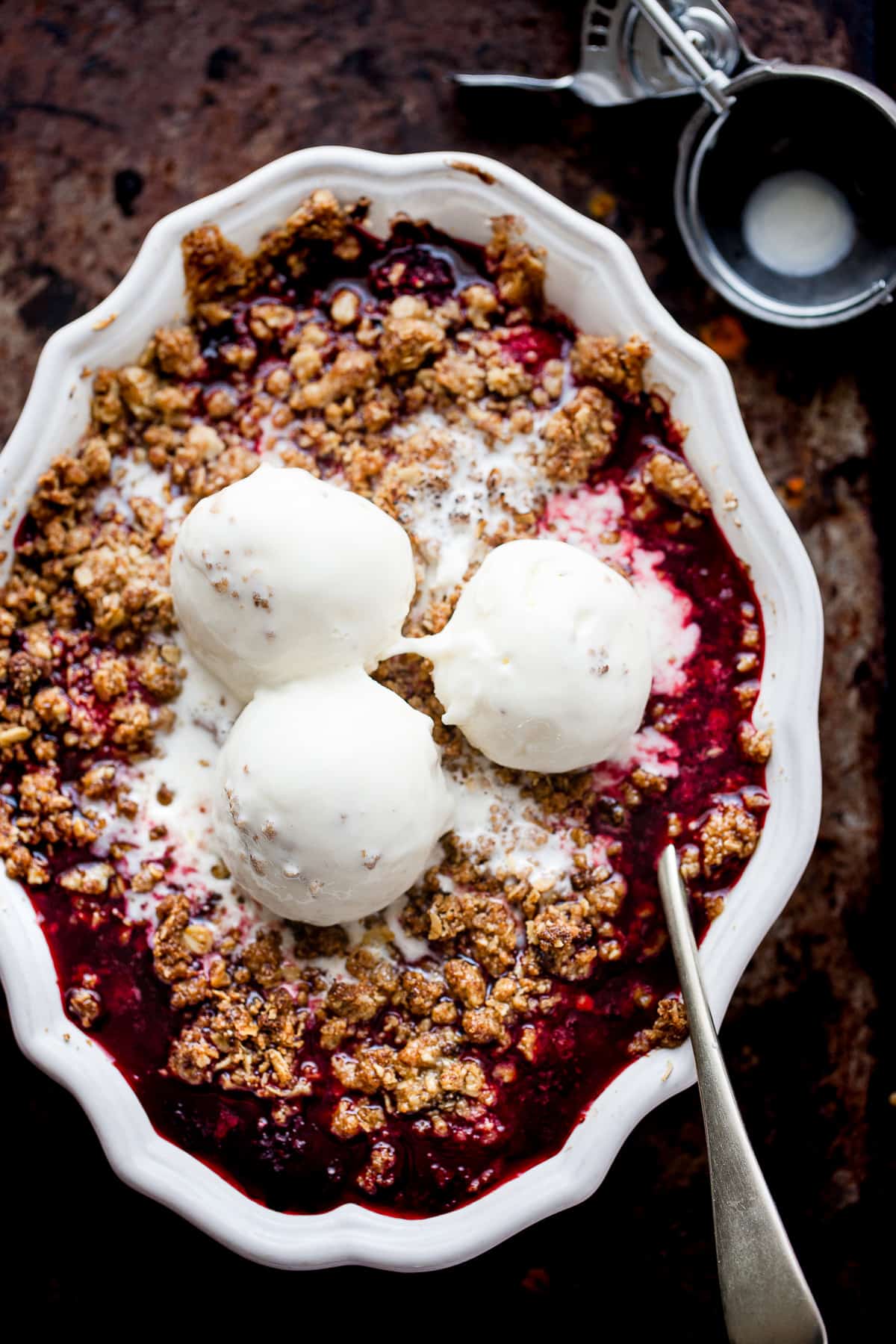 Being that baked fruit desserts are so simple to make and so versatile, this website has a large collection of seasonal crumbles that you will absolutely love. This apple and blackberry crumble is jammy and the perfect autumn dessert.
Or try the peach and raspberry crumble in the summer. Some other favourites are the strawberry rhubarb crumble (a true British classic), rhubarb and ginger crumble, or the apple and strawberry crumble.
If you have your favourite fruit mix, you can simply use this incredibly easy buttery crunchy crumble topping recipe and create your own fruit crumble mix.
Jump to:
⭐️ Why You'll Love This Fruit Crumble
It's easy to make. It's a simple dessert that can be made with just a few ingredients. The fruit can be any type that you like, and the crumble topping is made with a mix of flour, sugar, butter, and sometimes oats. *It's also great for making in advance! *See storage instructions for how.
It's versatile. You can use almost any type of fruit (see some ideas below). You can also use different types of flour and sugar, to create different flavour profiles.
It's delicious. The combination of the sweet fruit and the crunchy crumble topping is pretty hard to beat. Fruit crumble is the perfect dessert for a summer picnic or a winter night by the fire.
It's customizable. You can customize fruit crumble to your own taste by adding different ingredients to the fruit or the crumble topping. For example, you could add nuts, chocolate chips, or spices to the crumble topping.
It's a crowd-pleaser. A great dessert for any occasion, it's easy to make a large batch for a big crowd.
🧾 Ingredients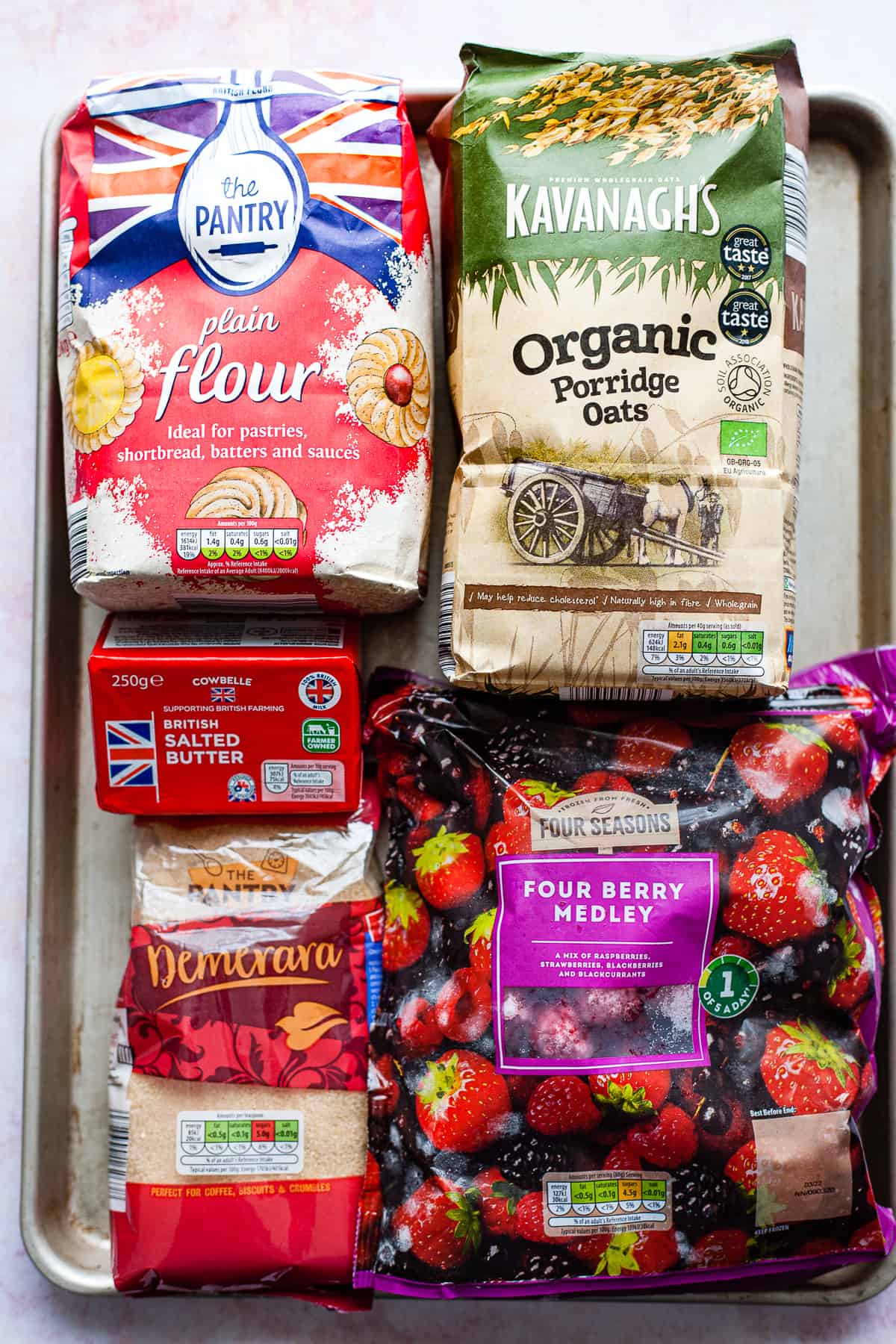 Fruit- You can use fresh or frozen fruit when making crumble. *This is a great way to use up bruised or over-ripe very juicy fruit. My personal preference is to use frozen fruit because it's usually cheaper and more convenient.
Flour- This helps to thicken any of the juices that come out of the fruit and it's also used for the crumble topping. *Use gluten-free flour if required.
Sugar- You can use caster, granulated or demerara (brown) sugar in a fruit crumble. Brown sugar will give the crumble a little bit of extra depth.
Oats- Rolled oats or porridge oats are the best option when making crumble topping. It's best to skip the quick-cooking oats. They're milled too fine and become almost "dusty" in the crumble topping.
Butter- salted or unsalted is fine here. I always use salted, but whatever you have on hand will be perfect.
👩🏻‍🍳 How to make the perfect fruit crumble in 4 easy steps
Fruit Filling

Preparation of the fruit (peeling, slicing, etc.)
Mixing the fruit with sugar, flour and spices
Adding any additional flavourings (lemon juice, vanilla extract, etc.)
Crumble Topping (in a food processor or by hand)

Combining flour, oats, sugar, and spices
Incorporating butter into the dry ingredients
Alternative options for the crumble topping (gluten-free, vegan, etc.)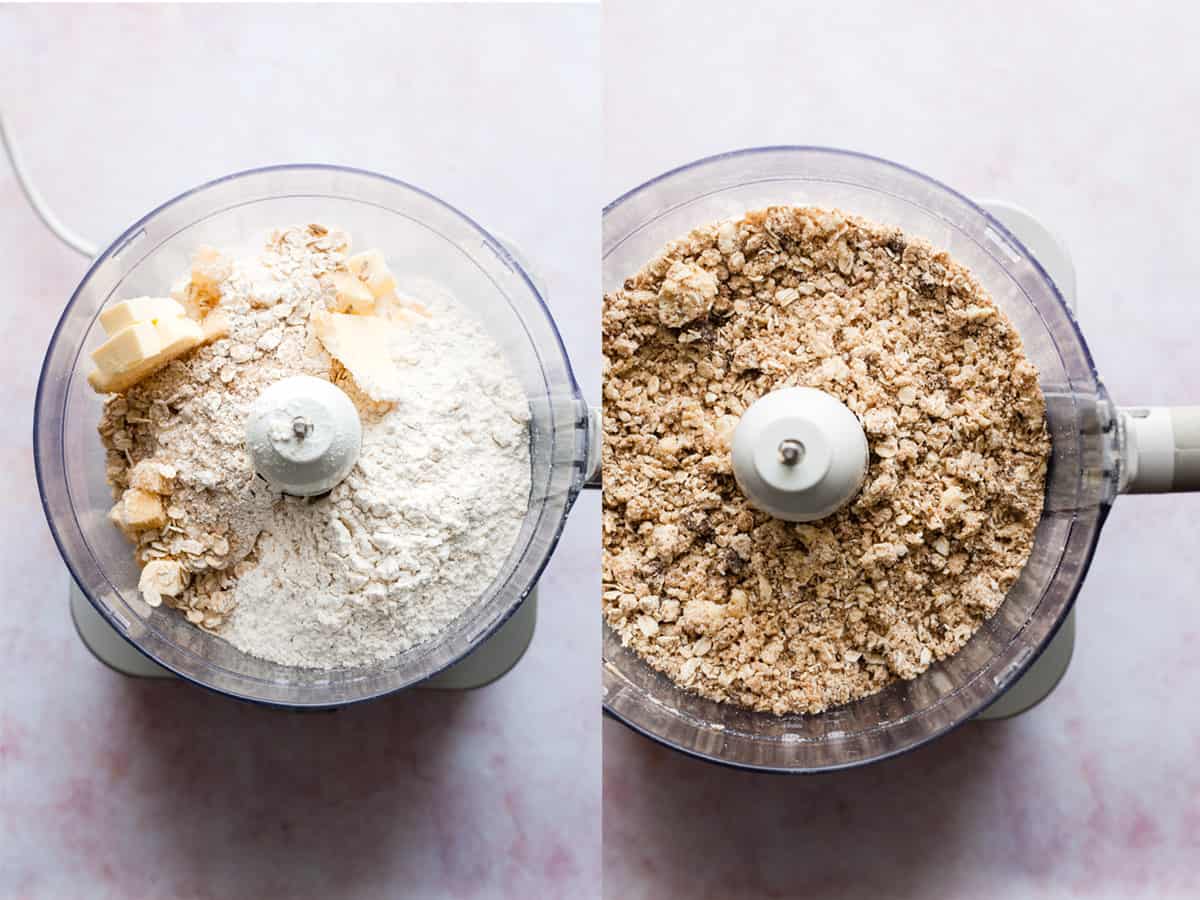 Assembling the Crumble

Choosing the baking dish (ceramic or glass are best)
Layering the fruit filling in the dish
Sprinkling the crumble topping evenly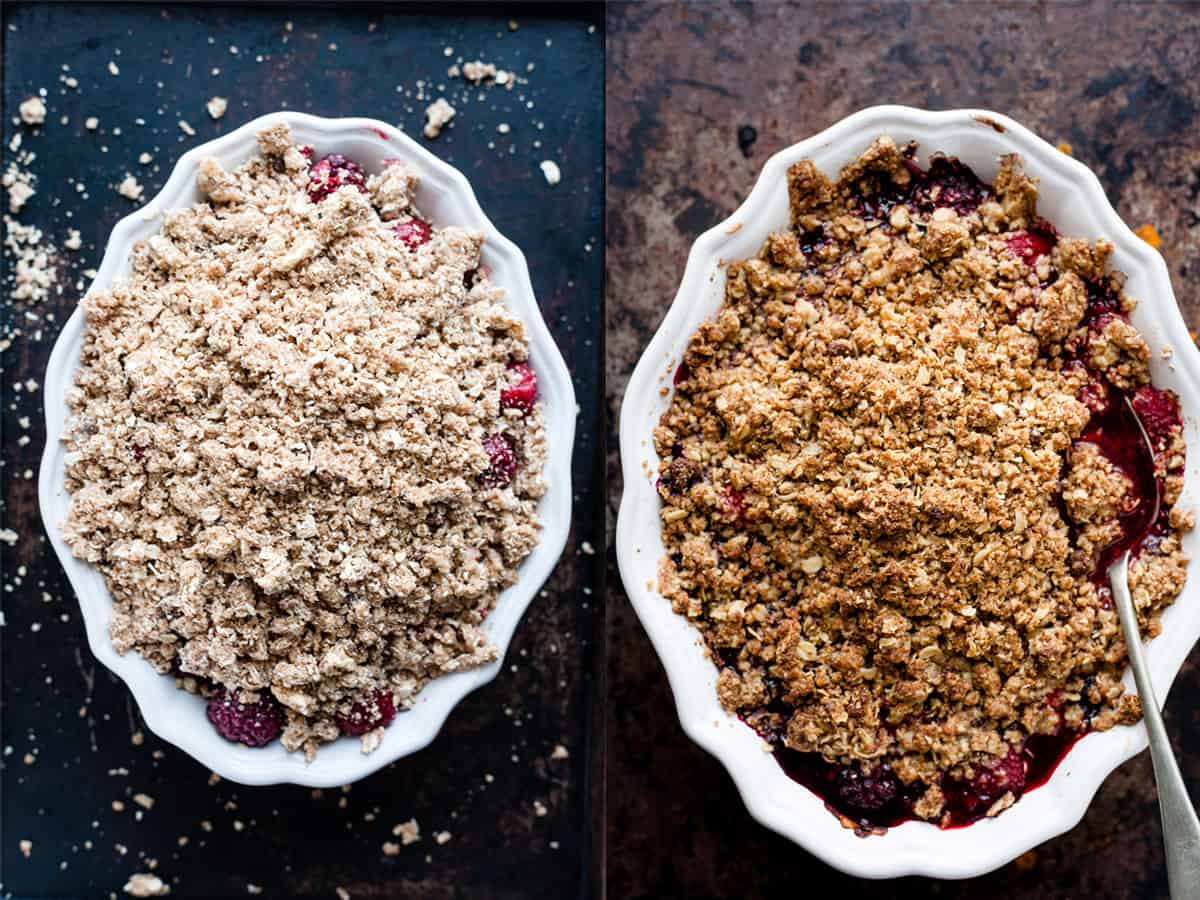 Baking the Crumble

Setting the oven temperature and preheating
Time and temperature guidelines for baking
Signs of doneness to look for
Tips for avoiding burnt or undercooked crumble
🍓Tips for using fresh or frozen fruit
Don't thaw frozen fruit before using.
Frozen fruit will produce more juice than fresh.
Use less flour for fresh fruit because it's not as juicy.
Peeling fresh apples- personal choice sometimes I do, sometimes I don't!
No need to peel peaches. The skins are so soft and tender.
💡 Top tip
If the fruit is too tart: add a little bit of extra sugar to the fruit before baking. You can also add a pinch of salt, which will help to balance out the tartness.
📖 Substitutions & Variations
Gluten-free - use regular gluten-free flour and gluten-free oats
Dairy-free - use dairy free butter in the crumble topping instead of butter
Variations
Spices- cinnamon, nutmeg, allspice, mixed spice
Fruits to use- apples, pears, berries, plums, peaches, nectarines cherries, apricots, plums, blackberries, raspberries blueberries, strawberries, rhubarb, currants, gooseberries cranberries, figs, dates, apricots, peaches, nectarines, cherries
Nuts- walnuts, hazelnuts, almonds: add any of these to the oat crumble topping
🍯 Storage
Storage: After baking, allow the fruit crumble to cool completely at room temperature. Once cooled, cover the baking dish tightly with plastic wrap or transfer individual servings to airtight containers. Store the crumble in the fridge for up to 3-4 days.
Freezing: If you want to freeze the crumble, ensure it has cooled completely. For best results, freeze it before baking. Wrap the unbaked crumble tightly with plastic wrap and then aluminum foil to prevent freezer burn. It can be frozen for up to 3 months.
Reheating: To reheat the refrigerated crumble, preheat the oven to 350°F (175°C). Remove the plastic wrap and cover the baking dish with foil. Bake for about 15-20 minutes or until heated through. For individual servings, transfer them to an oven-safe dish, cover with foil, and heat for 10-15 minutes. Check the center of the fruit crumble to ensure it's heated evenly.
If reheating from frozen: Preheat the oven to 350°F (175°C). Remove any plastic wrap but leave the aluminum foil on. Place the frozen fruit crumble directly in the oven. Bake for approximately 50-60 minutes or until the fruit is bubbling and the crumble topping is golden brown. Allow it to cool slightly before serving. *Remove the foil for the last 15 minutes of baking to ensure the topping goes golden brown.
❓FAQ
Can I use frozen fruit for fruit crumble?
Absolutely! In fact, it's often preferable to fresh fruit because it's usually cheaper and available year-round.
Can I make fruit crumble in advance and reheat it?
This is the perfect make-ahead dessert because it keeps so well and reheats beautifully.
Can I substitute the sugar with a healthier alternative?
For the crumble topping you can use coconut sugar instead. For the fruit mix it's best to either reduce the sugar and add in some honey or maple syrup, or use coconut sugar here too. Not only does the sugar add sweetness, but it contributes to the texture too, so eliminating it totally will result in a crumble that just won't be as satisfying.
More Baking with fruit
If you tried this Recipe or any other recipe on my website, please let me know in the comments below. I love hearing from you. Also, please leave a star rating whilst you're there!
You can also follow along on Pinterest, Facebook, and Instagram and join our private Facebook Group Facebook group to share more recipe ideas and all your photos!
Quick and Easy Fruit Crumble Recipe
Fruit crumble is the perfect year-round baked fruit dessert. Great for feeding a large group or portion up for 1-2 people. That crunchy golden oat crumble will have everyone going back for seconds.
Print
Pin
Rate
Ingredients
For the fruit filling
650

g

(

4

cups

)

mixed frozen berries

130

g

(

⅗

cups

)

demerara or caster sugar

30

g

(

¼

cups

)

plain flour
For the topping
225

g

(

1 5/7

cups

)

plain flour

225

g

(

1

cups

)

butter

,

cold cut into cubes

125

g

(

1 ½

cups

)

rolled oats

,

not quick cooking

250

g

(

1 ⅕

cups

)

demerara or caster sugar
Instructions
Preheat the oven to 160ºC.

Stir the fruit with the demerara sugar and the flour. The flour is what helps to thicken all the fruit juice as the crumble bakes. *See notes on using fresh fruit

Simply add the oats, butter, sugar and flour to a food processor and pulse until a thick crumble forms. *See notes

Place the fruit in an oven safe dish. About a 2l capacity is the size you'll need. Once the fruit is evenly spread over the dish, place the crumble on top to cover the fruit. This recipe makes a lot of crumble topping so, you can freeze some of it for making crumble at a later date.

Bake in the preheated oven for about 30 minutes, until the fruit is soft and juicy and the crumble topping is golden and crisp. Let cool for a few minutes before topping with vanilla ice cream.
Notes
Add any spices or nuts to the crumble topping while mixing it and to the fruit filling before baking.
If the topping is too dry add a little more butter to the topping. You can also add a tablespoon or two of milk or cream.
Nutrition
Calories:
480
kcal
|
Carbohydrates:
74
g
|
Protein:
5
g
|
Fat:
20
g
|
Saturated Fat:
12
g
|
Polyunsaturated Fat:
1
g
|
Monounsaturated Fat:
5
g
|
Trans Fat:
1
g
|
Cholesterol:
48
mg
|
Sodium:
147
mg
|
Potassium:
169
mg
|
Fiber:
5
g
|
Sugar:
43
g
|
Vitamin A:
606
IU
|
Vitamin C:
2
mg
|
Calcium:
34
mg
|
Iron:
2
mg