These juicy, tender Thai meatballs are bursting with bold, exotic flavours. The perfect balance of spicy, sweet, and savoury, with a hint of lemongrass and coriander, create depth and complexity while still keeping this a 30-minute dinner.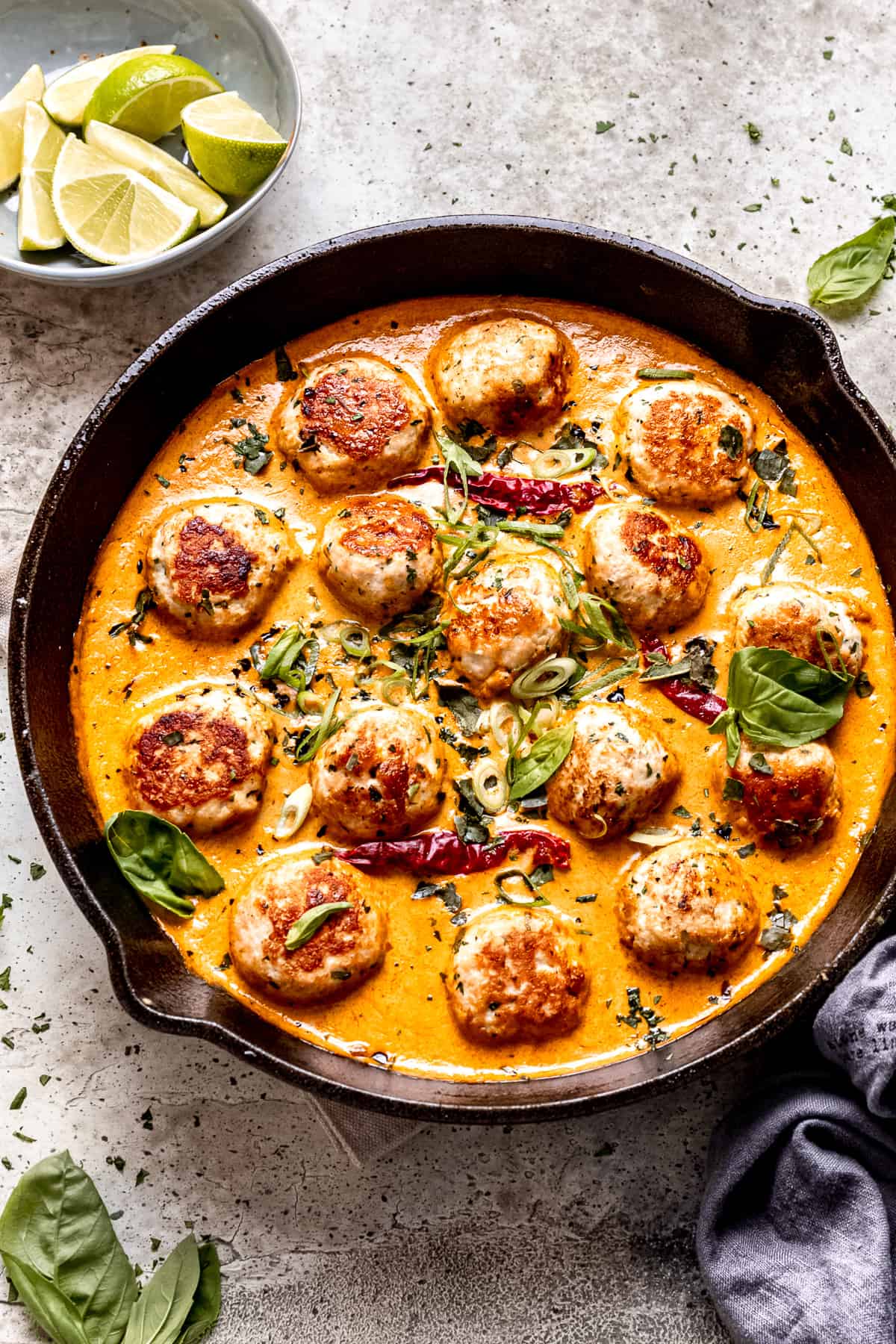 Meatballs are a great 30-minute dinner because they cook quickly and deliver lots of flavour. You can check out these Asian meatballs or these meatballs in tomato sauce, for something different.
And if it's more Thai flavours you need then this Thai chicken soup or the Thai prawn curry will be just what you need!
Jump to:
⭐️ Why these Thai meatballs should be on your dinner menu
The lean minced turkey stays moist because they're cooked in fragrant Thai red curry sauce.
These meatballs only take 30 minutes to make.
You can make these as spicy or as mild as you like.
Turkey meatballs can be made ahead of time and frozen until you need them.
🧾 Ingredients for making Thai meatballs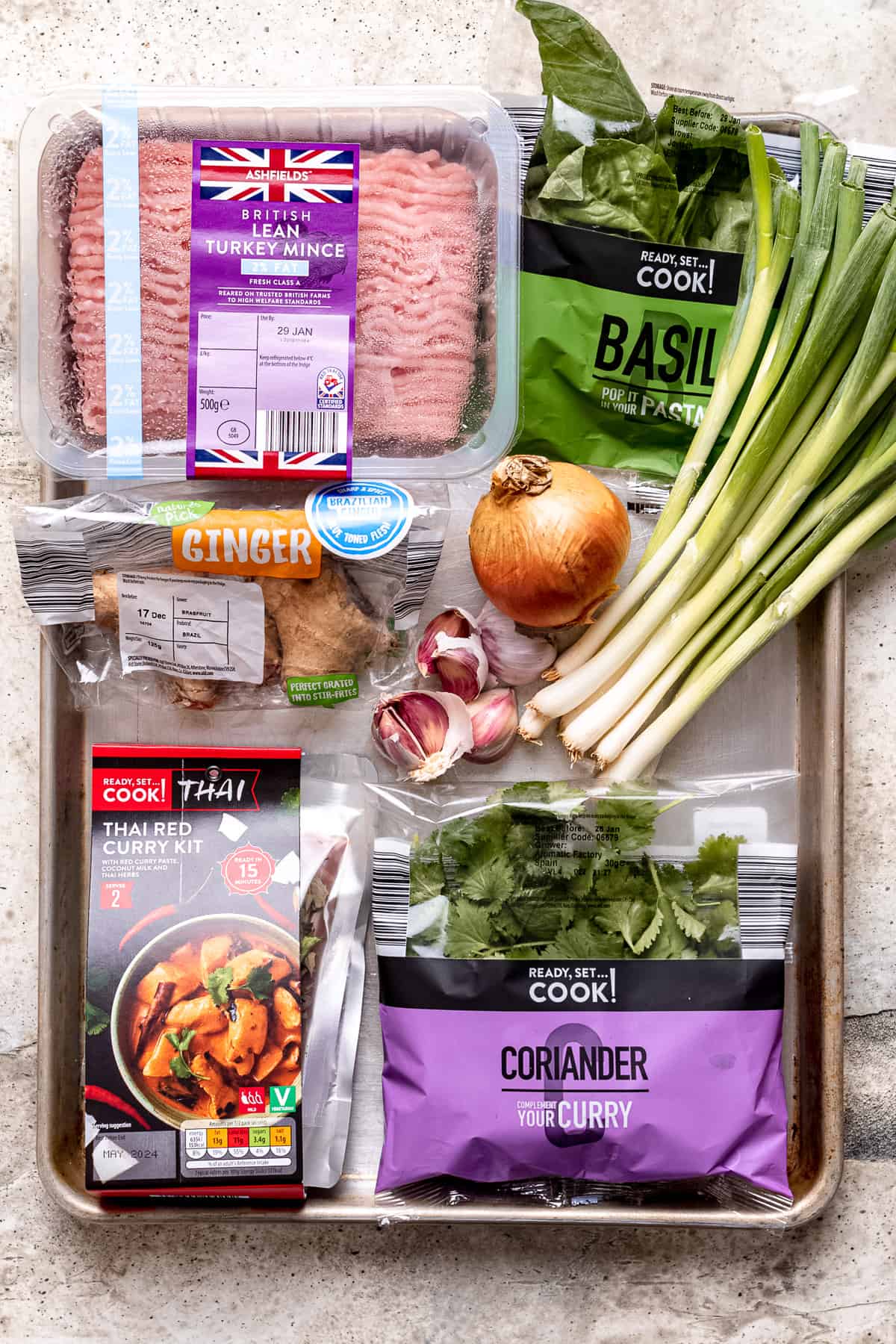 Lean minced turkey- works so well in this recipe because the mild flavour of the turkey doesn't compete with the bold flavour of the Thai broth.
Thai red curry paste- the spiciest of the three curry pastes. Green being the mildest, followed by yellow then red.
Fresh garlic and ginger- I've added these to the meatball mixture rather than the sauce to give lots of flavour to the turkey which is very mild tasting.
Coconut milk- it's creamy and cools down the spice of the Thai curry paste.
Herbs- basil and coriander pair perfectly with Thai flavours and lean turkey mince.
See recipe card for quantities.
📖 Substitutions & Variations
Turkey mince- you can use pork, chicken, or even tofu to keep it vegetarian.
Thai curry paste- you can use yellow or green curry paste if you want a milder flavour.
🧂Seasoning a recipe
I never specify the amount of salt in a recipe because it's completely subjective to your personal taste and possible health requirements, but here are some general guidelines.
Start with a small amount of seasoning and taste as you go. It's always easier to add more seasoning than it is to try to fix a dish that is overly seasoned. *If you are accidentally heavy-handed with the salt, try adding some lemon juice to balance it out.
Balance the flavours. A good dish will have a balance of sweet, sour, salty, and bitter flavours.
Be mindful of the proportions of the ingredients. If a dish has a lot of strong-flavoured ingredients, you may need to use less seasoning. *This Thai red curry sauce has lots of bold flavour and you will need much less salt than many other dishes.
Consider the cooking method. Different cooking methods can affect how much seasoning a dish needs. For example, grilling or roasting tends to bring out the natural flavours of ingredients, so you may need to use less seasoning and a moist cooking method (like this gnocchi recipe) will require more seasoning.
👩🏻‍🍳 Step By Step
1 & 2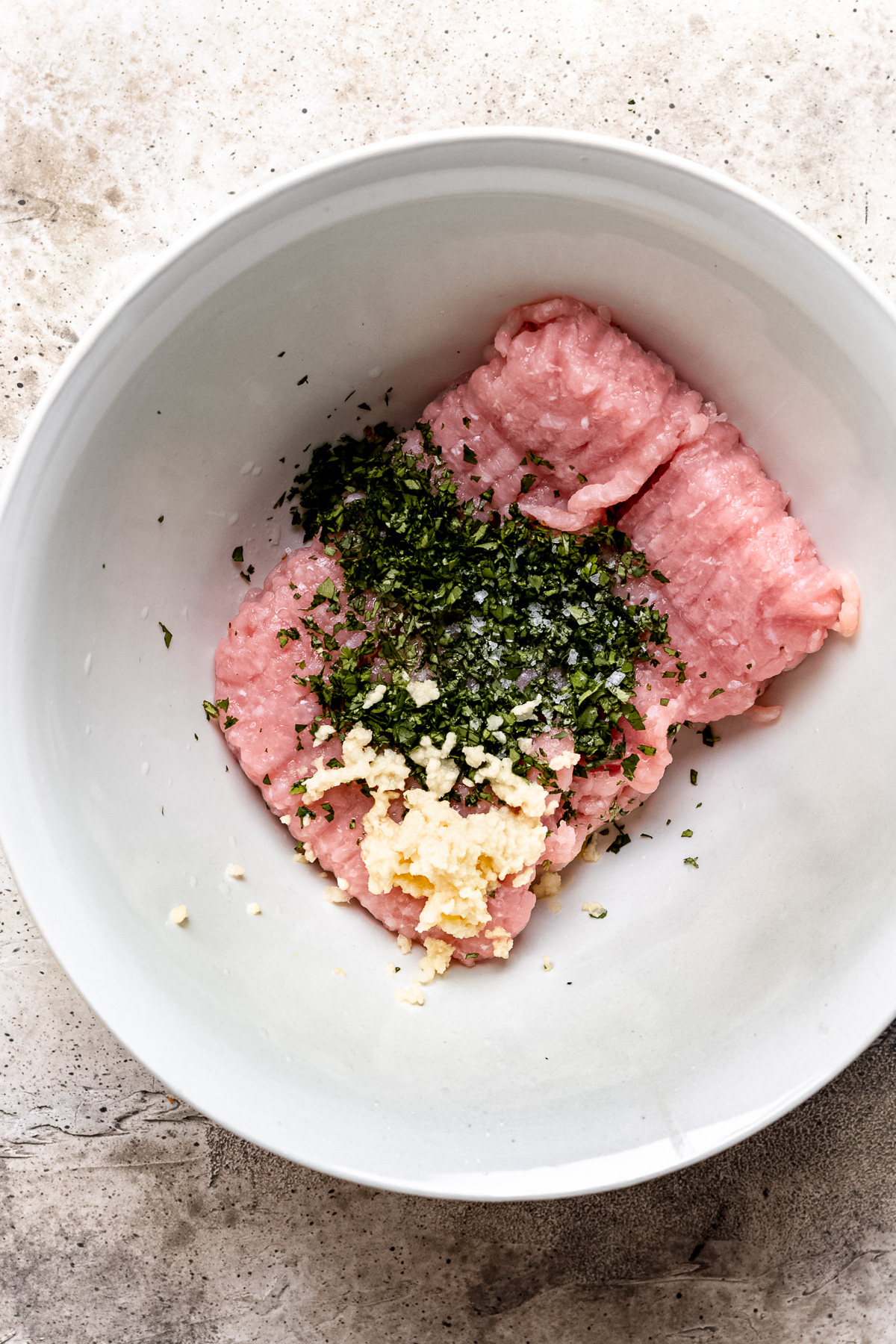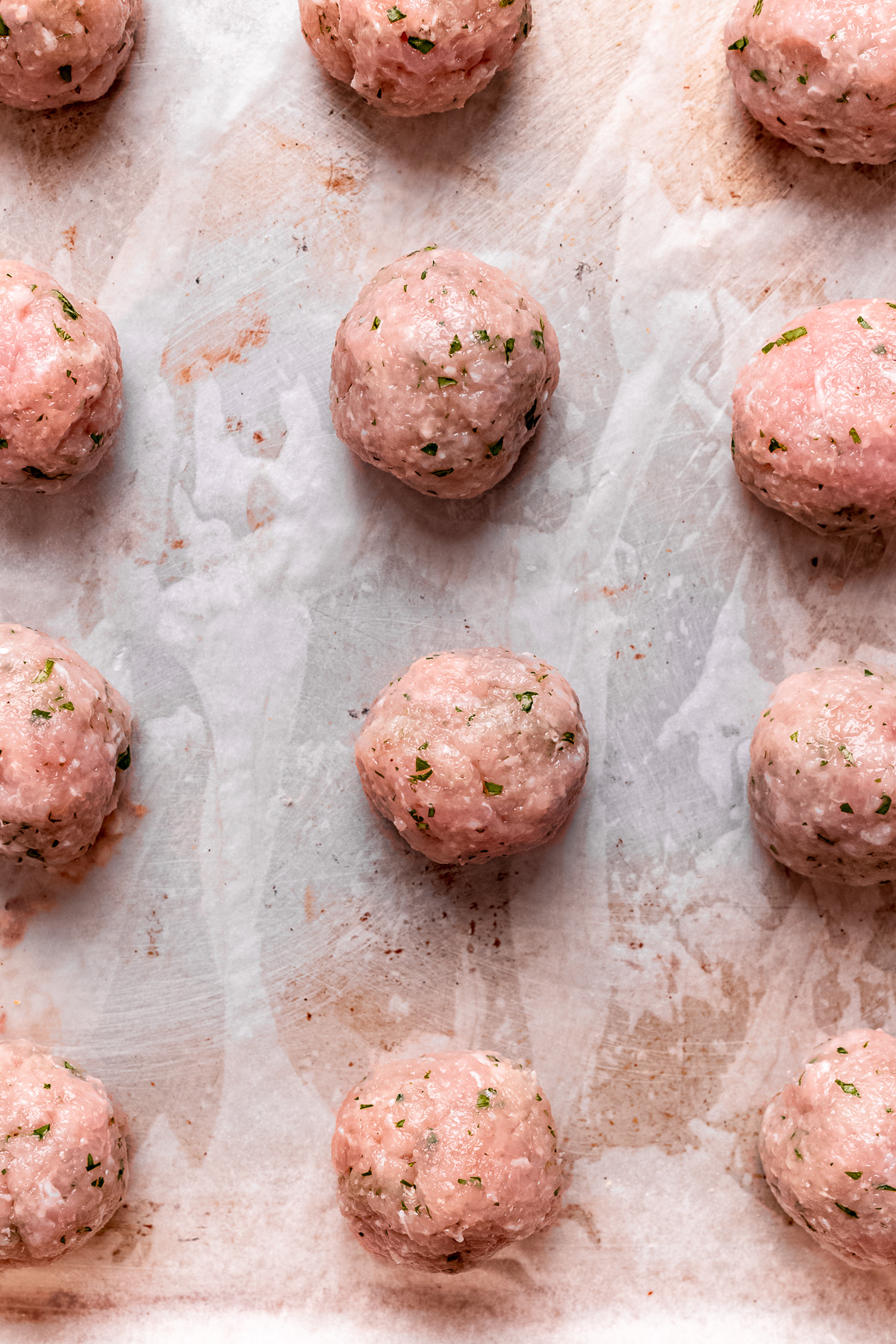 Use mince turkey or chicken for a leaner option or a mix of ground pork and beef for a richer flavour. Use fresh herbs and spices, to mix into the meatballs.
Mix the ingredients well to ensure that the flavours are evenly distributed throughout the meatballs. Use your hands to form the meatballs, as this will help to create a more even texture.
When forming meatballs, wet your hands with cold water first so that the meat doesn't stick.
3 & 4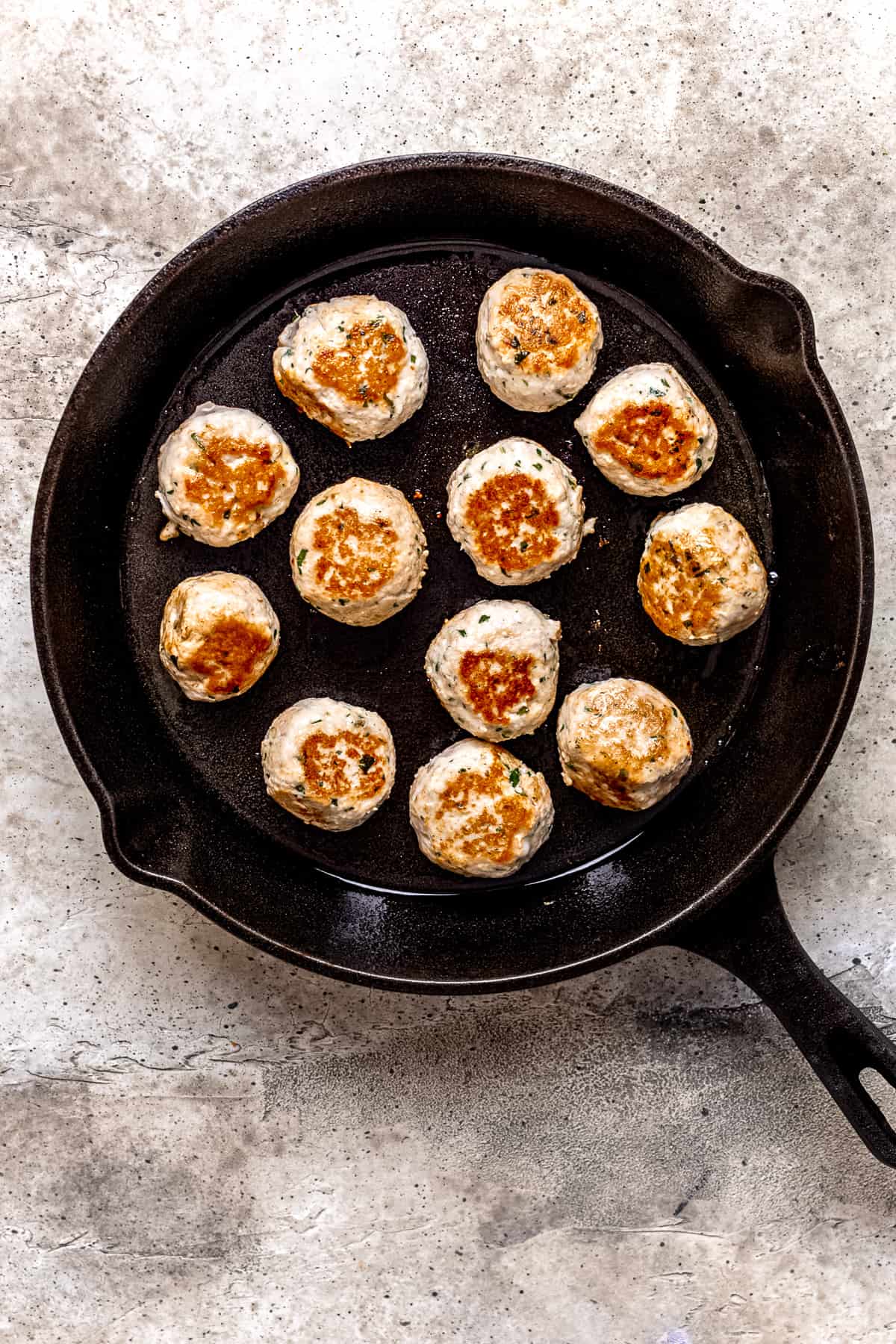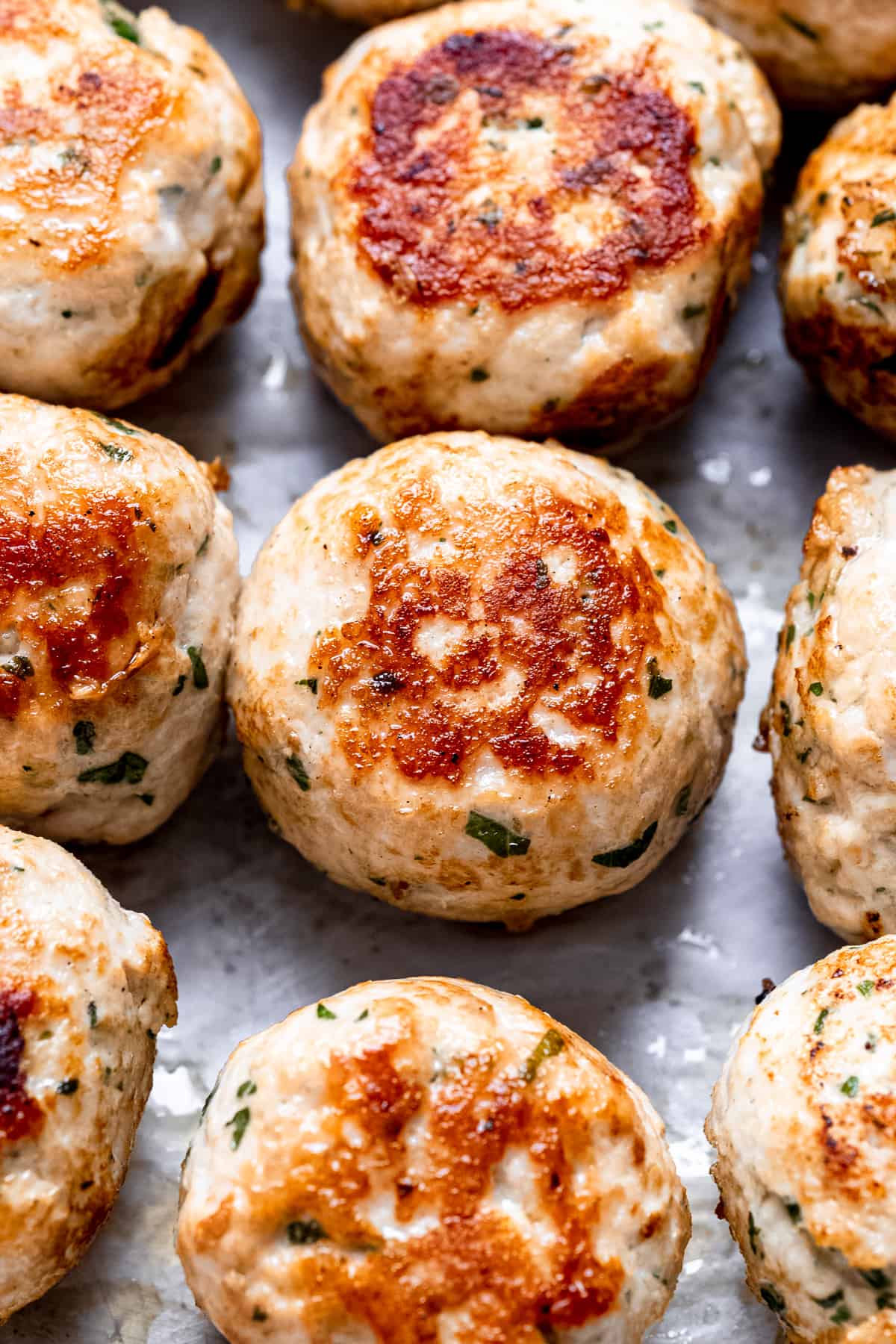 Cook the meatballs in a skillet or bake them in the oven to get a nice crispy crust on the outside.
The meatballs don't have to be cooked all the way through at this stage. They'll finish cooking in the red curry sauce.
5 & 6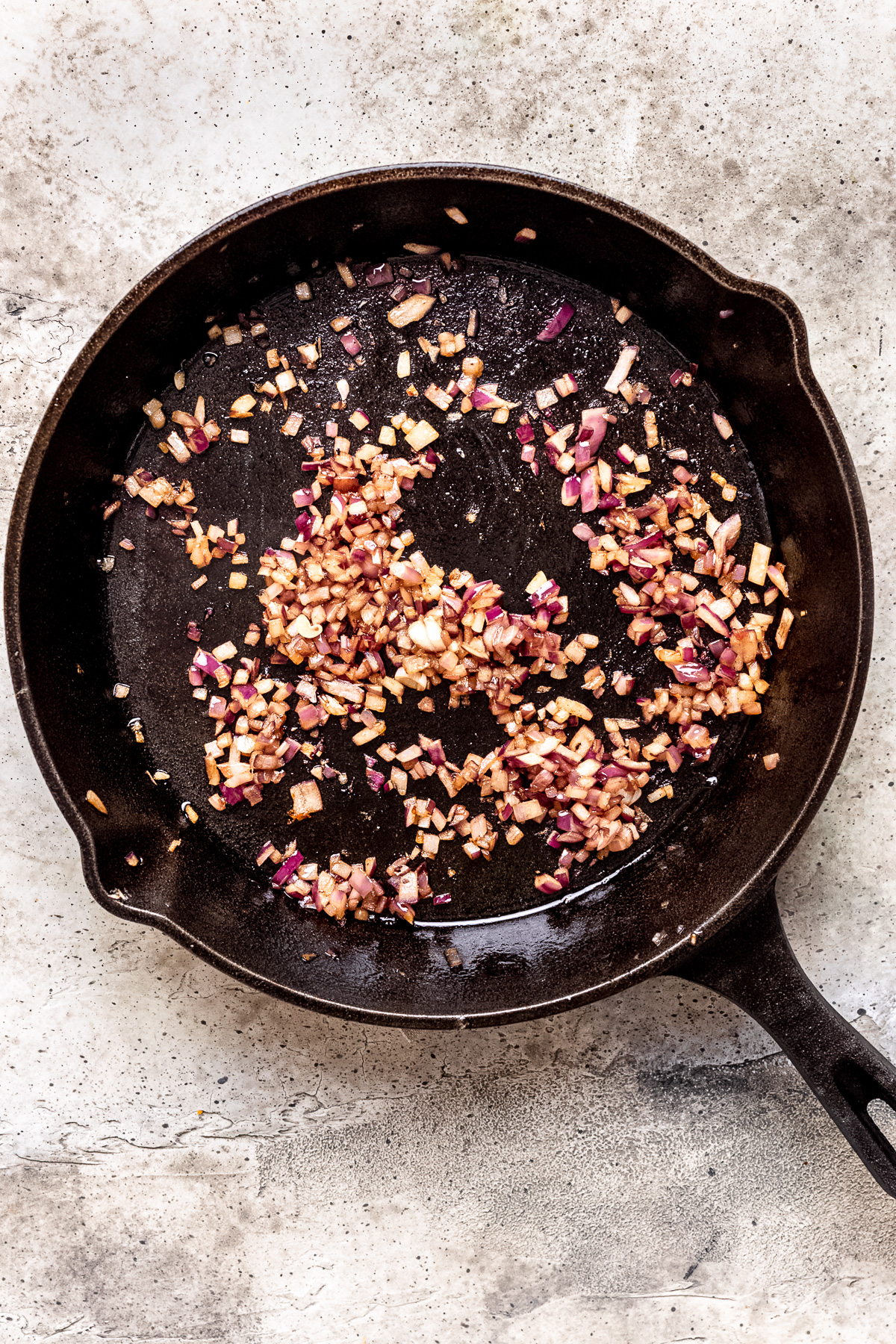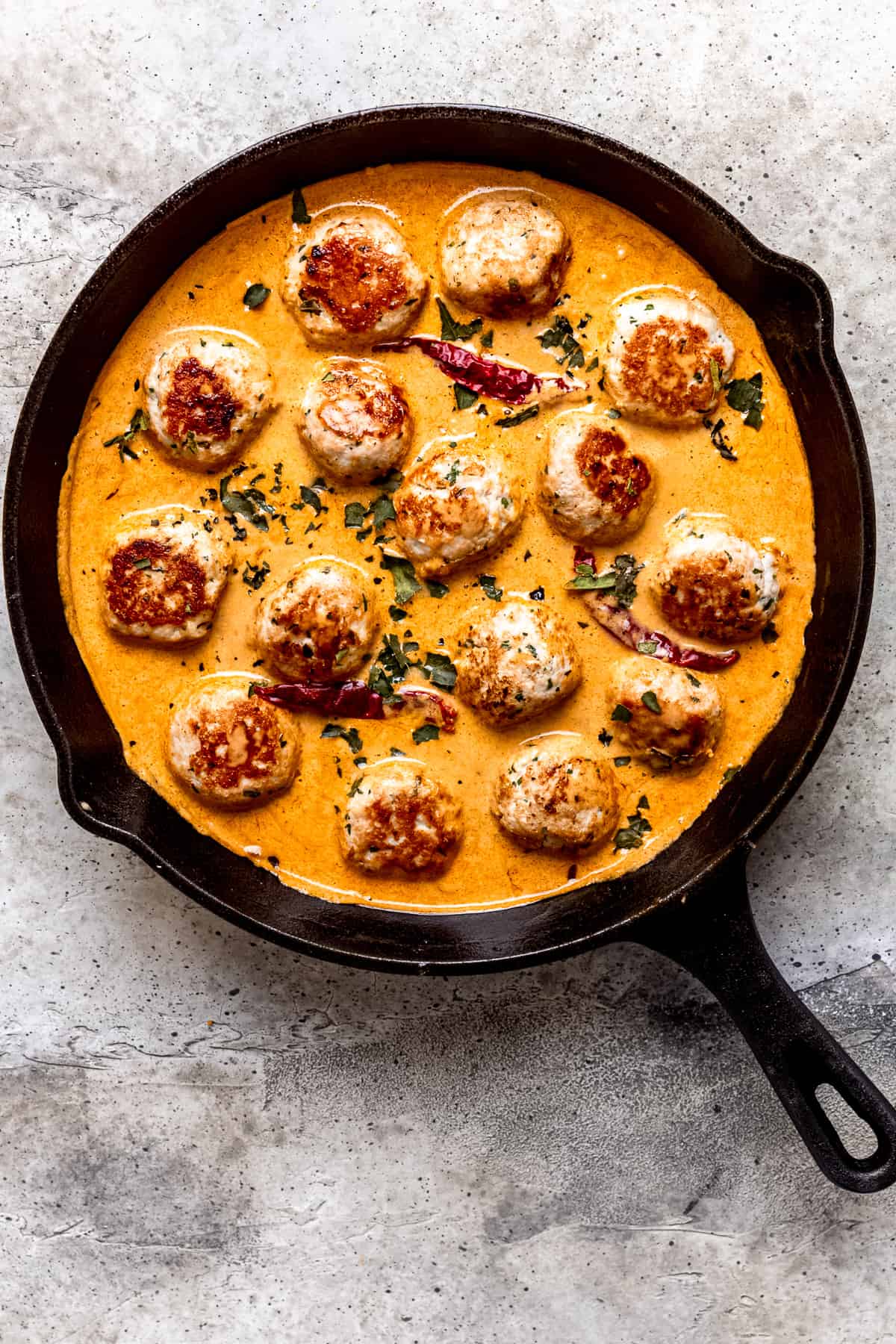 Sauté the diced onion until soft and translucent.
Stir in the curry paste and coconut milk and add the meatballs back to the pan. Bring the sauce to a gentle simmer and let the meatballs cook in the sauce for about 10-15 minutes until cooked through.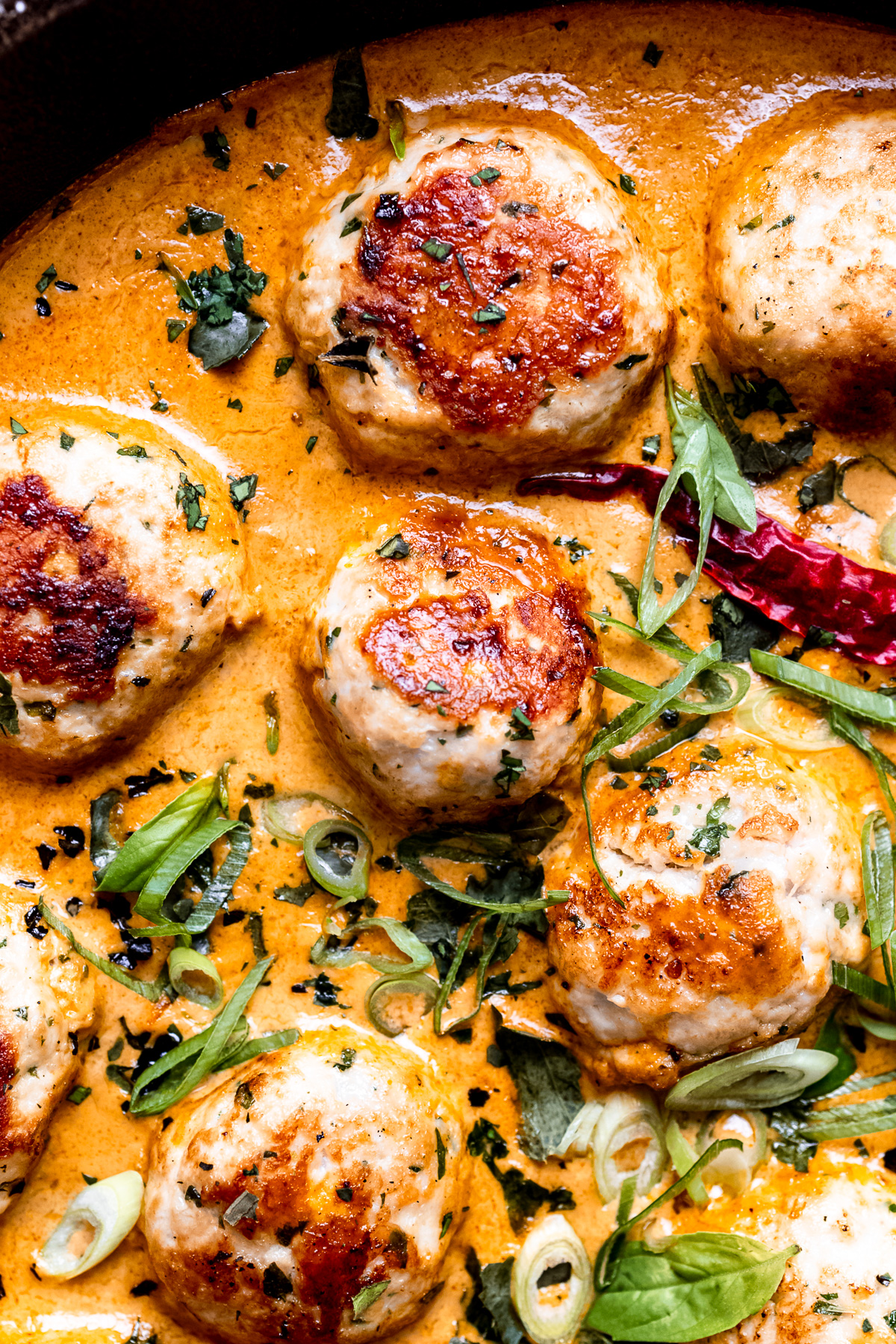 🍯 Storage
Fridge- The cooked meatballs and sauce will keep in the fridge for 3 days, in an airtight container.
Freezer- you can make the meatballs and store them in the freezer before cooking them, in an airtight container or freezer-safe bag.
Reheat- Place the meatballs in a small pan or microwave-safe bowl and reheat gently until hot. *Poultry can become rubbery if reheated too quickly.
❓FAQ
Can I make Thai meatballs with minced beef or pork instead of turkey?
Yes, you can use ground beef or pork in place of turkey or chicken. It will add a richer flavour to the meatballs. Or make them vegetarian or vegan by using plant-based protein sources like Quorn, tofu, tempeh, or seitan and adjusting or omitting the fish sauce.
Can I make the meatballs ahead of time?
Yes, you can make the meatballs ahead of time and store them in the refrigerator for up to 2 days before cooking them.
Can I freeze Thai meatballs?
Yes, you can freeze the uncooked meatballs for up to 2 months. Just make sure to thaw them before cooking.
How long do Thai meatballs take to cook?
It typically takes about 15-20 minutes to cook Thai meatballs, depending on the cooking method used. They are truly best when they've been seared in a pan before being cooked in Thai red curry sauce.
What can I serve with Thai meatballs?
Thai meatballs are best served with steamed rice, or noodles and a side of vegetables, or in a bowl of soup.
If you tried this Recipe or any other recipe on my website, please let me know in the comments below. I love hearing from you. Also, please leave a star rating whilst you're there!
You can also follow along on Pinterest, Facebook, and Instagram and join our private Facebook Group Facebook group to share more recipe ideas and all your photos!
The BEST Easy Thai Red Curry Meatballs
These juicy, tender Thai meatballs are bursting with bold, exotic flavours. The perfect balance of spicy, sweet, and savoury, with a hint of lemongrass and coriander. And they're ready in 30 minutes!
Print
Pin
Rate
Ingredients
500

g

(

2

cups

)

turkey mince (ground turkey)

½

bunch

(

½

bunch

)

coriander (cilantro)

,

chopped

3

(

3

)

garlic cloves

,

grated or minced

2

tablespoons

(

2

tablespoons

)

fresh ginger

,

minced

2

tablespoons

(

2

tablespoons

)

oil

,

for searing the meatballs
For the sauce
1

(

1

)

small brown onion

,

finely diced

100

g

(

3 ½

oz

)

Thai red curry paste

400

g

(

1 ⅔

cups

)

tin full fat coconut milk

juice of 1 lime

½

bunch

(

½

bunch

)

bunch fresh basil

,

chopped

½

bunch

(

½

bunch

)

bunch fresh coriander

,

chopped

½

teaspoon

(

½

teaspoon

)

chili flakes

,

optional

3

(

3

)

spring onions

,

finely sliced
Instructions
To make the meatballs, mix the turkey mince, fresh garlic and ginger in a medium bowl. Mix in the chopped coriander.

Use a tablespoon to scoop the measure out the meatballs. Roll them with damp hands and place them on a lined baking tray while you continue to roll them.

Heat the oil in a medium nonstick skillet. Once the oil is hot, add the meatballs and sear on all sides until the meatballs are golden. Remove them to a plate while you make the red curry sauce.

Sauce

To make the curry sauce, drain all but 1 tablespoon of oil from the pan. Add the diced onion to the pan and cook for about 5 minutes until the onions are soft and translucent. Add the Thai red curry paste to the pan and use a whisk to stir it around the pan. Pour the coconut milk into the pan and use a whisk to stir into the curry paste until smooth sauce forms. *Add in the chilli flakes for extra heat.

Bring the sauce to a simmer and add the meatballs back to the sauce. Cook the meatballs for a further 15-20 minutes or until they are cooked through. Stir in the fresh basil, chopped coriander and top with sliced spring onions.
Notes
Serve these meatballs over rice or with noodles or roasted veggies. Top with the chopped coriander and some chilli flakes.

Turkey meatballs should be cooked to an internal temperature of 74C or 165F.
The calories and nutritional info listed is for meatballs and sauce only. Doesn't include noodles or rice.
Nutrition
Calories:
166
kcal
|
Carbohydrates:
3
g
|
Protein:
9
g
|
Fat:
14
g
|
Saturated Fat:
8
g
|
Polyunsaturated Fat:
2
g
|
Monounsaturated Fat:
3
g
|
Trans Fat:
1
g
|
Cholesterol:
31
mg
|
Sodium:
119
mg
|
Potassium:
176
mg
|
Fiber:
1
g
|
Sugar:
2
g
|
Vitamin A:
1430
IU
|
Vitamin C:
2
mg
|
Calcium:
31
mg
|
Iron:
2
mg