This crispy chili beef is an amazing fakeaway recipe. Tender strips of shredded beef enveloped in a crispy golden batter coated in a sweet and spicy sticky sauce. Made with dried red chilies, garlic, and ginger, this is an easy 15-minute dinner that will satisfy even your pickiest eater. You will love the spicy, savoury, and crispy texture of these crispy beef chili noodles.
LInks-
Jump to:
⭐️ 4 Great reasons to make this crispy shredded chilli beef:
Flavour: This easy Asian beef combines the savoury taste of beef the spiciness of dried red chilies, fresh ginger, and rich tangy sauce. It balances flavour so well, making it very satisfying.
Texture: The crispy batter coating provides a crunchy texture contrast to the tender strips of beef.
Versatility: The chili sauce can be easily modified for extra heat or toned down for a milder flavour.
Ease of Preparation: Crispy chilli beef can be easily prepared in a wok or frying pan, making it great for home cooking your favourite takeout.
🧾 Ingredients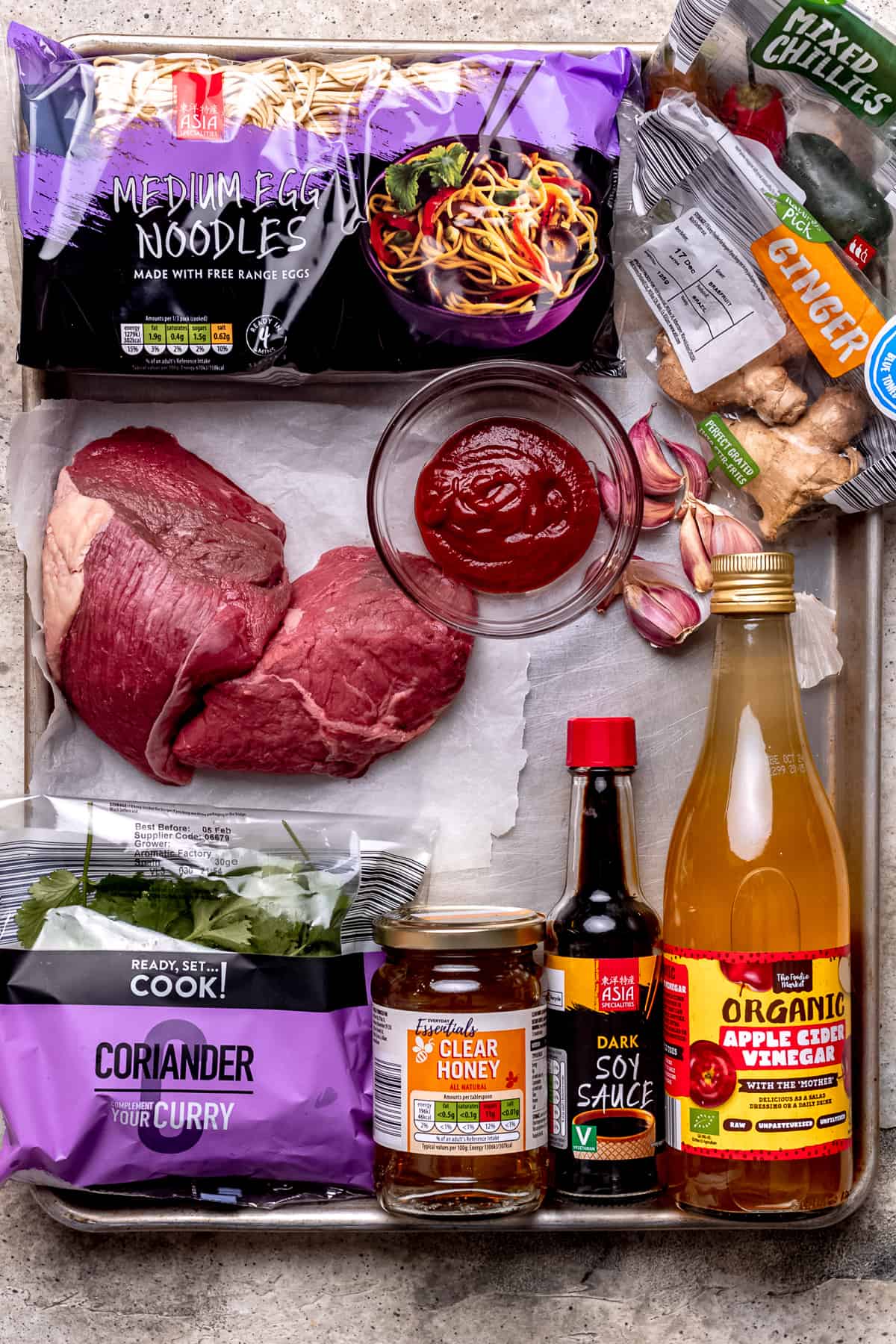 Beef: Thinly sliced beef, such as sirloin or flank steak, is used for this dish.
Dry batter: A mixture of cornstarch, and baking powder, is used to create a dry batter for coating the beef.
Seasonings: Dried red chillies, garlic, ginger, and soy sauce are commonly used to add flavour to the dish.
Oil: Vegetable oil or peanut oil is used for frying the beef to achieve a crispy texture.
Vegetables: Bell peppers, and onion, are often added to the dish for a crunchy texture and to add more flavour. These are the basic ingredients for Crispy Chilli Beef.
*Dry batter dehydrates the food surface making it brown more easily. This works well for something like beef and chicken when you want a very crispy result. Coating the meat in flour or starch before frying makes it easier to crisp and brown it.
See recipe card for quantities.
🧂Seasoning a recipe
I never specify the amount of salt in a recipe because it's completely subjective to your personal taste and possible health requirements, but here are some general guidelines.
Start with a small amount of seasoning and taste as you go. It's always easier to add more seasoning than it is to try to fix a dish that is overly seasoned. *If you are accidentally heavy-handed with the salt, try adding some lemon juice to balance it out.
Balance the flavours. A good dish will have a balance of sweet, sour, salty, and bitter flavours.
Be mindful of the proportions of the ingredients. If a dish has a lot of strong-flavoured ingredients, you may need to use less seasoning.
Consider the cooking method. Different cooking methods can affect how much seasoning a dish needs. For example, grilling or roasting tends to bring out the natural flavours of ingredients, so you may need to use less seasoning and a moist cooking method (like this gnocchi recipe) will require more seasoning.
👩🏻‍🍳 How to make sticky crispy chilli beef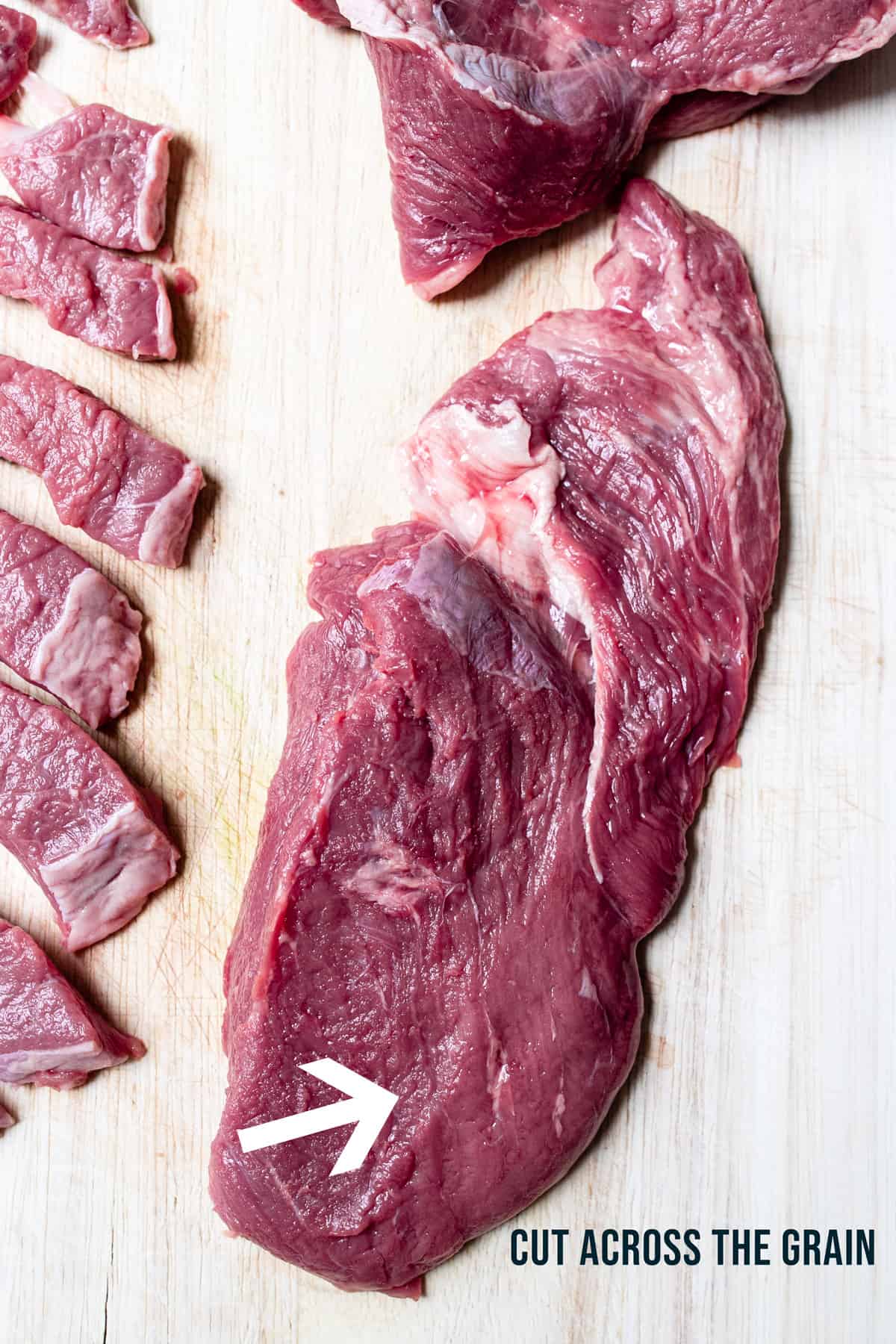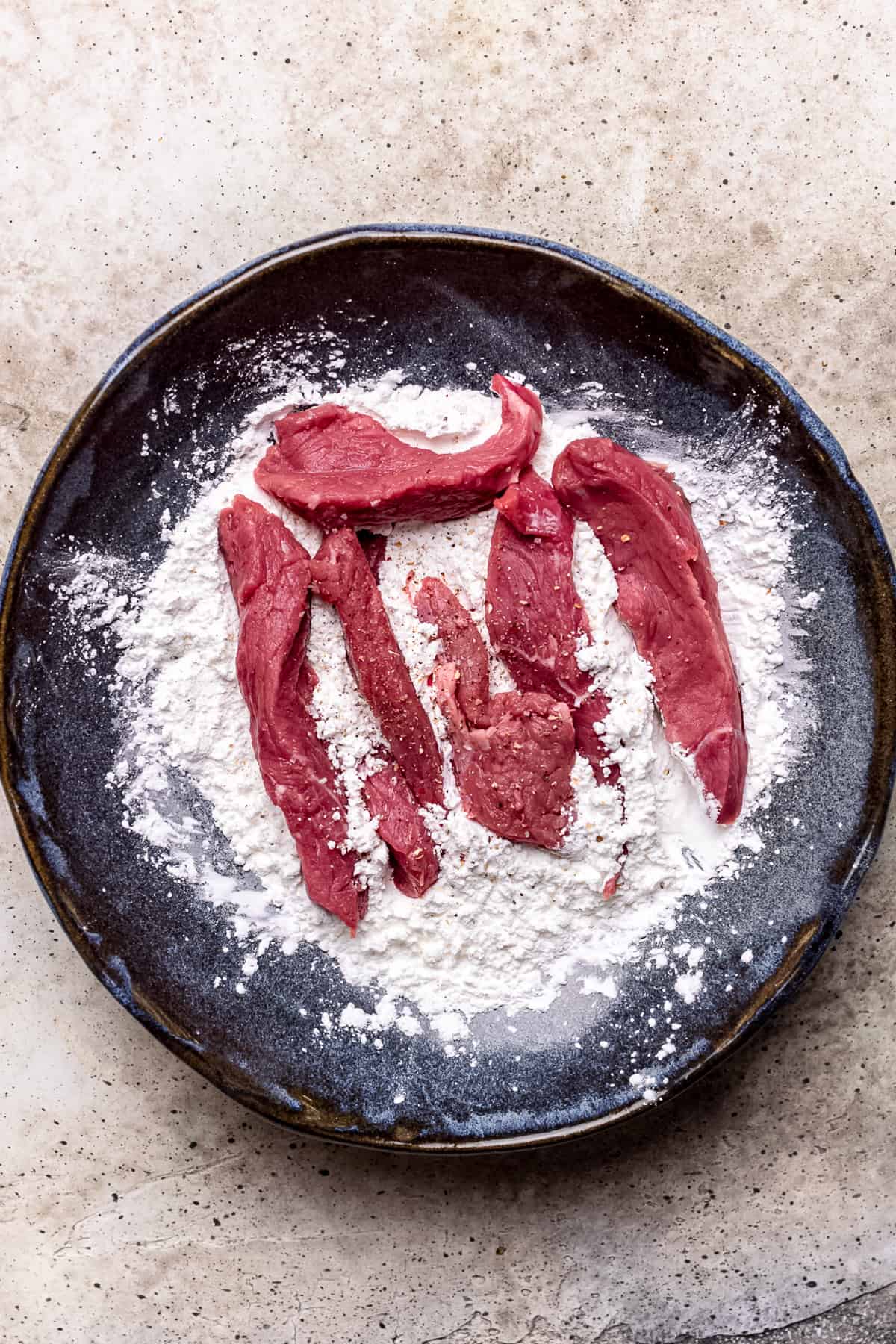 Cut the beef: Cut the beef into thin, bite-sized pieces being sure to cut across the grain to ensure tender beef.
Prepare the batter: In a separate bowl, mix together the cornstarch, baking powder, and season with salt and pepper.
Coat the beef: Dip each piece of beef into the cornstarch to coat it evenly.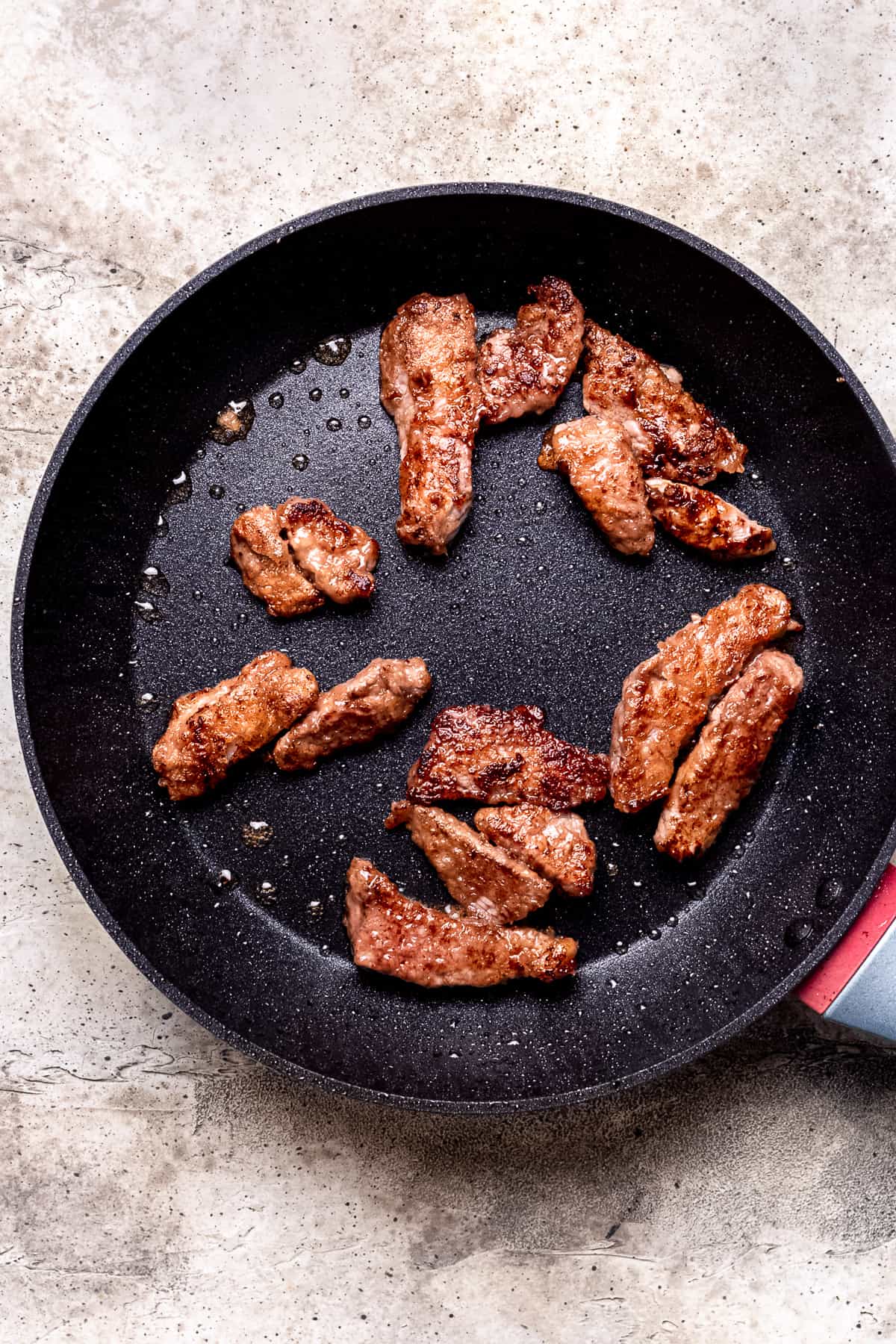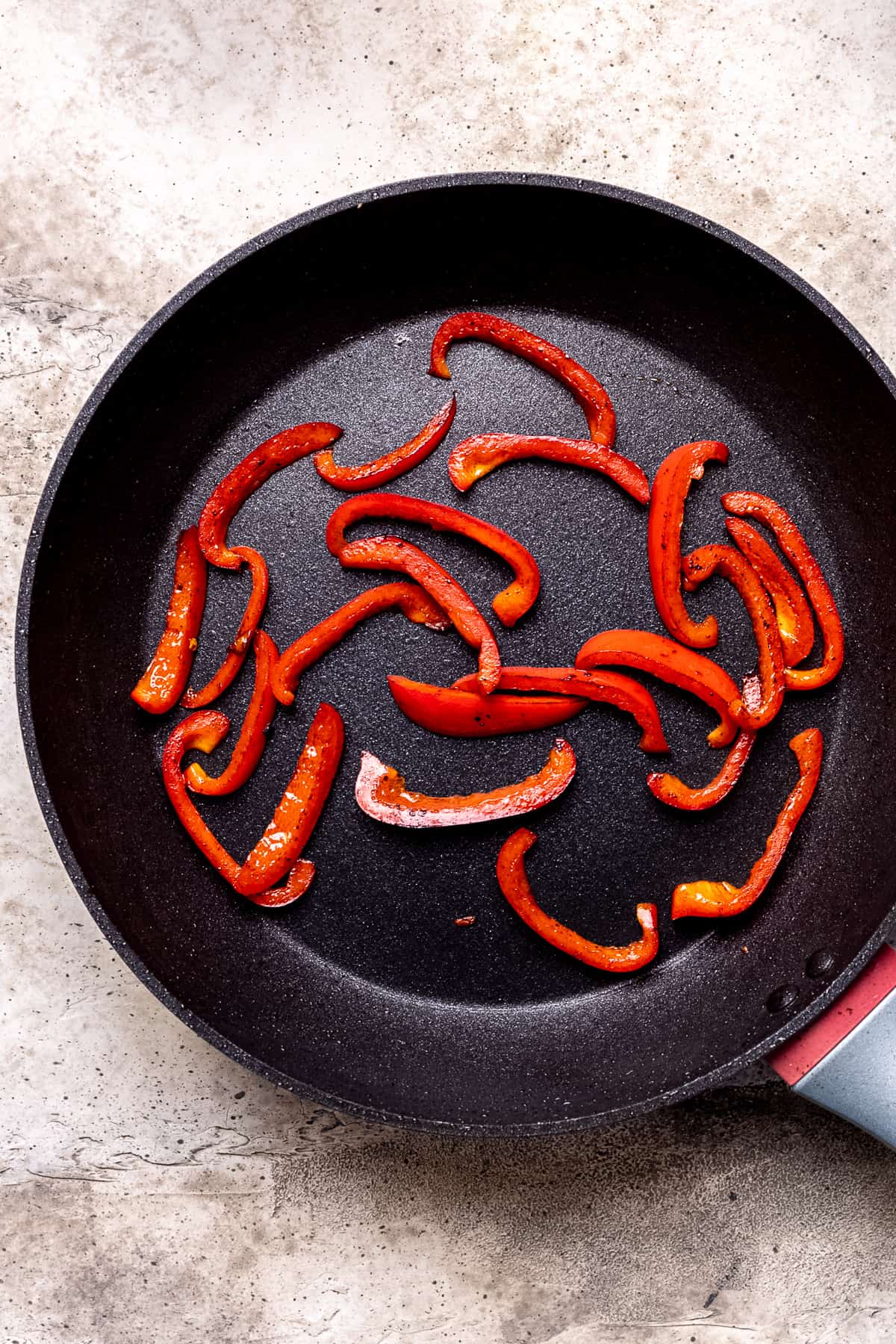 Heat the oil: Heat vegetable oil in a large frying pan or wok over high heat.
Fry the beef: Carefully add the floured beef to the hot oil and fry until golden brown and crispy, about 3-4 minutes. Remove the beef from the oil and drain on a paper towel-lined plate.
Stir-fry the vegetables: In the same pan, stir-fry the red bell peppers, for about 2-3 minutes, until they start to soften slightly.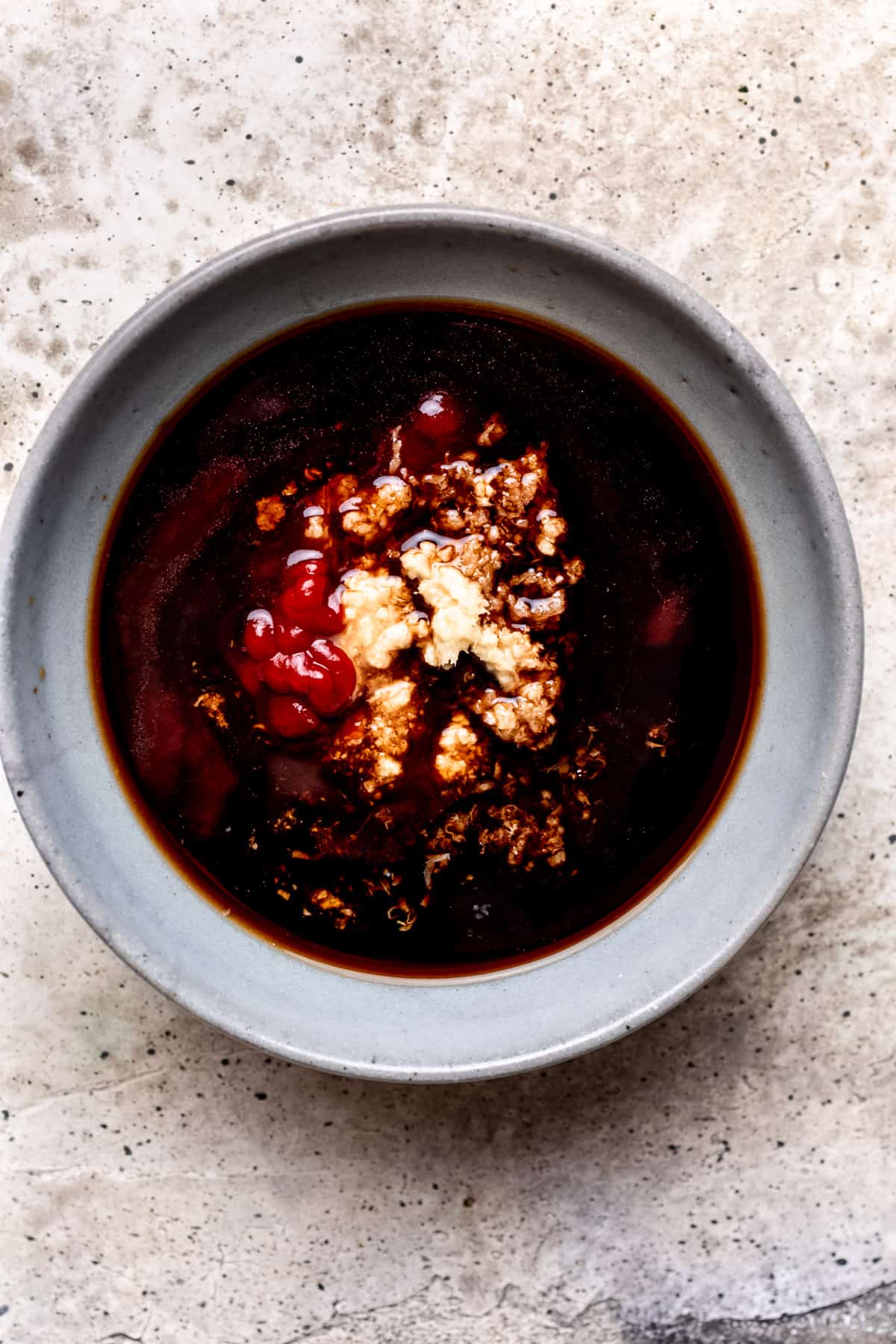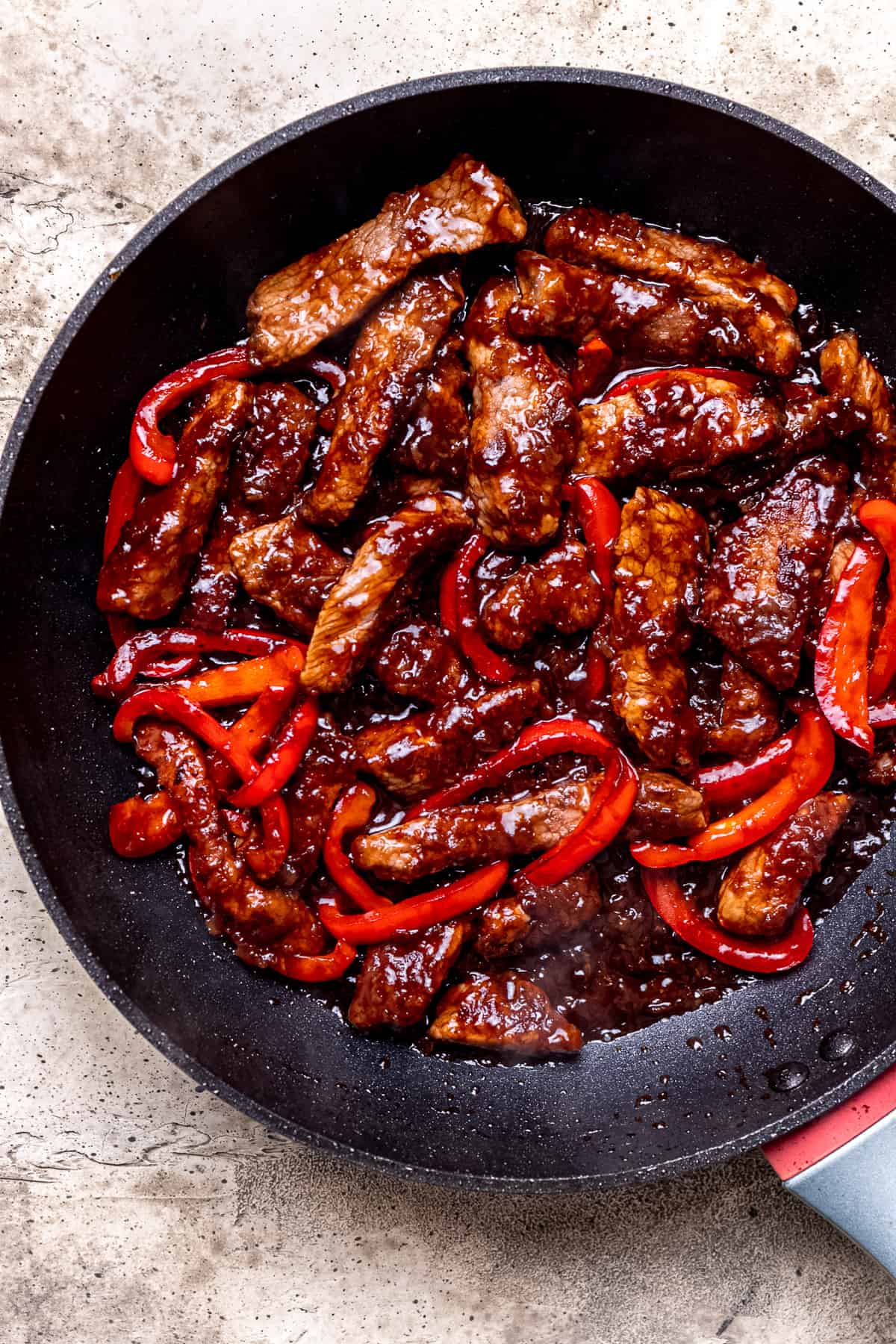 Make the sauce: In a small bowl, mix together the soy sauce, ketchup, cider vinegar, honey and ginger, and garlic.
Combine everything: Return the fried beef to the pan with the peppers and add the sauce. Toss everything together until the sauce is heated through and thickened, about 1-2 minutes.
Serve: Serve the Crispy Chilli Beef hot with steamed noodles or rice.
💡Top tips for making the best crispy chilli beef
Make a dry batter: To achieve a crispy texture, use a batter made of cornstarch, and a small amount of baking powder to make the beef light and crispy.
Use a high-heat oil: Use a high-heat oil, such as vegetable or peanut oil, for frying the beef to ensure a crispy texture.
Don't overcrowd the pan: When frying the beef, don't overcrowd the pan as this will cause the temperature of the oil to drop and the beef to become soggy.
Stir-fry the vegetables: Add the vegetables to the pan after the beef has been fried to maintain their crunchiness and bright colour.
Adjust the heat: Adjust the heat as necessary during the cooking process to ensure that the beef is crispy and evenly cooked.
Serve hot: Serve the Crispy Chilli Beef immediately after cooking to enjoy its best texture and flavour. By following these tips, you can make the best Crispy Chilli Beef and enjoy its savoury, spicy, and crispy flavour and texture.
🍯 Storage
Shredded crispy chilli beef is best served when it's made, but if you do have leftovers you can store them in the fridge for up to 3 days.
To reheat- use a nonstick pan over medium-high heat to get the beef crispy.
❓FAQ
Can I use other cuts of beef for this dish?
Yes, other cuts of beef such as round steak or rib-eye can be used, but they may have a different texture compared to the traditional cuts like sirloin or flank steak.
How can I adjust the spiciness level of the dish?
The spiciness level of the dish can be adjusted by using more or fewer dried red chillies, or by using different types of chillies with different heat levels.
Can I make the dish in advance?
The dish is best made and served immediately for the best texture and flavour, but leftovers can be stored in the refrigerator and reheated in the oven or a pan to restore their crispiness.
If you tried this Recipe or any other recipe on my website, please let me know in the comments below. I love hearing from you. Also, please leave a star rating whilst you're there!
You can also follow along on Pinterest, Facebook, and Instagram and join our private Facebook Group Facebook group to share more recipe ideas and all your photos!
30 Minute Easy Crispy Chilli Beef
Skip takeaway and pan sear your own crispy chilli beef. Crispy seared beef is tossed in a homemade sticky & sweet ginger chilli sauce. Ready in 15 minutes.
Print
Pin
Rate
Ingredients
500

g

(

1

pound

)

sirloin cut into thin strips against the grain

100

g

(

3 ½

oz

)

cornstarch

2

teaspoons

baking powder (bicarb of soda)

salt and pepper to taste
For the sauce
2

tablespoons

(

2

tablespoons

)

dark soy sauce

6

tablespoons

(

6

tablespoons

)

ketchup

4

tablespoons

(

4

tablespoons

)

cider

,

or white vinegar

5

tablespoons

(

5

tablespoons

)

honey

2

teaspoons

(

2

teaspoons

)

fresh ginger

,

grated

3

cloves

(

3

cloves

)

garlic

,

minced

½

(

½

)

red chilli pepper

,

finely minced
Instructions
Slice your sirloin thinly going across the grain of the beef. This ensures the beef stays tender while it's being fried.

Toss the beef with some seasoned cornstarch. Just place the cornstarch in a bowl along with the bicarb of soda and season with salt and pepper.

Once all the strips of sirloin have been tossed in the cornflour, you'll want to get a skillet over high heat. Use a non stick skillet.

Once the skillet is hot, add about a tablespoon of oil and let that warm up. Carefully place the sirloin into the hot pan and leave to brown on one side. This will only take a minute or two. The oil in the pan and the fat from the steak may spit and splash a little, so do be careful.

Once the first side is browned, stir the beef and brown the other sides.

When the beef is brown and crispy, remove it to a bowl or a plate while you mix the sauce. Or you can mix the sauce before getting started.

To Make the Sauce *See notes

To make the sauce simply place all the ingredients in a bowl or measuring jug and stir well.

Once the sauce is mixed, pour it into the hot skillet and bring it up to a boil. It will thicken very quickly, so don't let it bubble for more than about 30 seconds to a minute. Add the beef back into the pan and stir to coat in the sauce.

Serve over noodles or rice and with rocket or broccoli.
Notes
1- How to freeze crispy chilli beef
Kind of! Okay. If you're looking to freeze this after making it, then you can, but your beef will go a little soggy as it will have sat in the sauce and lost it's crispy coating. If you're looking to meal prep this then yes!
2- To meal prep Crispy Chilli Beef
Slice the fresh beef and freeze it immediately, in a freezer bag or container clearly labeled.
Mix the sauce right away and freeze it alongside the beef. Again, store than in a freezer bag or container labeled as chilli beef sauce.
When it comes time to make this, simply defrost the beef and the sauce in the fridge and carry on with coating the beef in the cornstarch and cooking according to the recipe.
3- Sauce
The sauce makes quite a large batch to ensure that you have enough to coat the beef and drizzle over the noodles or rice afterward. If you prefer less sauce, make half the recipe.
3- What to do with leftovers
Leftovers keep perfectly in the fridge for about 3 days. You'll lose the crispy coating on the beef, but it will still be insanely delicious and the perfect thing to have for lunch during the week.
Nutrition
Calories:
766
kcal
|
Carbohydrates:
106
g
|
Protein:
58
g
|
Fat:
12
g
|
Saturated Fat:
4
g
|
Polyunsaturated Fat:
1
g
|
Monounsaturated Fat:
5
g
|
Cholesterol:
153
mg
|
Sodium:
1587
mg
|
Potassium:
1136
mg
|
Fiber:
1
g
|
Sugar:
55
g
|
Vitamin A:
342
IU
|
Vitamin C:
20
mg
|
Calcium:
97
mg
|
Iron:
5
mg