Indulge in this Indian-style lamb curry, my delicious take on Rogan Josh with tender lamb in a rich, tomato sauce, spiced just right. It's the perfect comfort food, flavourful but not too spicy, with options to add more spice if you like. This easy curry only takes 20 minutes to prep and can be made either in a slow cooker or on the stovetop. It's a must-try for a cozy, satisfying meal.
While this curry is not a traditional rogan josh, in that I use coconut milk and soy sauce for more umami flavour, it's completely delicious.
If you're in the mood to explore more incredible curries try making this cozy coconut chicken curry, or this 30 minute pork curry. My cauliflower curry is perfect for vegetarians. And homemade naan bread is a must. My version only uses 2 ingredients and takes only 15 minutes to make. And please don't forget the fluffy pilau rice that is the perfect accompaniment to this slow cooked curry.
Jump to:
⭐️ Why this Indian-style lamb curry is a must-try recipe!
Cozy Comfort Dish: Ideal for chilly nights, offering warmth and comfort with its hearty spices.
Approachable introduction to lamb: Often overlooked, lamb shines in this recipe, making it a standout choice for an easy and delicious meal. Another great recipe is my slow-cooker lamb tagine!
Flexible cooking options: Suitable for both stovetop and slow cooker, this tomato-based curry is completely adaptable.
Budget-friendly: Using cost-effective leg of lamb and pantry spices, this curry is perfect for batch cooking on a tight budget.
🧾 Essential lamb curry ingredients
In this section, I've outlined the key ingredients and why they're essential in the recipe. For precise measurements, refer to the recipe card at the bottom of the page.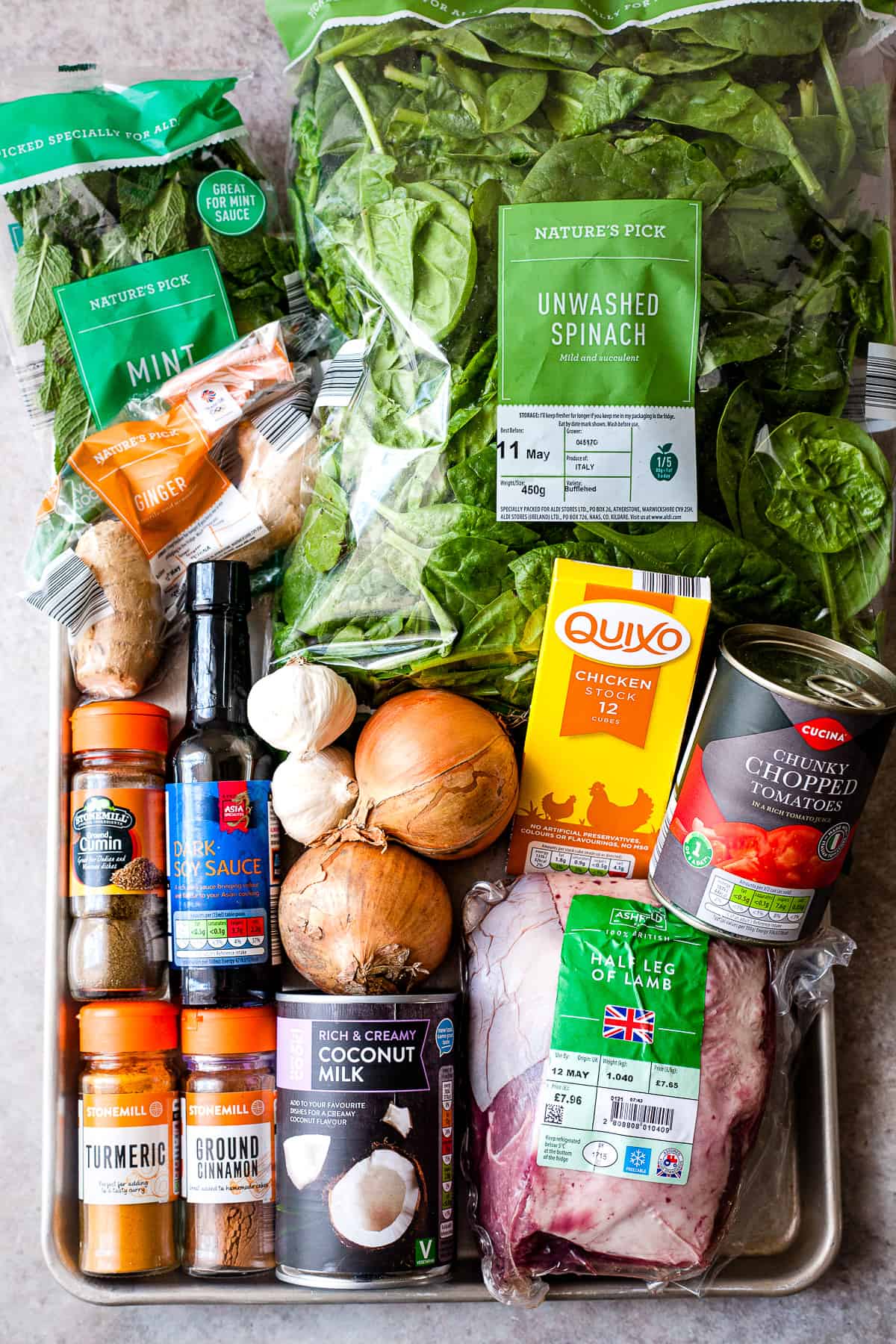 Aromatics:

Brown onions, garlic, and ginger: These ingredients are blended into a smooth pulp, forming a fragrant base that infuses the entire dish with foundational flavours. The onions offer sweetness, garlic adds depth, and ginger brings a subtle spiciness.

Spices:

Ground cinnamon, curry powder, ground cumin, turmeric: This blend of traditional Indian spices is key to achieving the authentic taste of Indian-style curry. Cinnamon adds a hint of warmth, curry powder for complexity, cumin for earthiness, and turmeric for colour and a mild flavour.

Sauce base:

Tinned chopped tomatoes, chicken stock: The tomatoes provide acidity and body to the sauce, while the chicken stock enriches the overall flavour. Together, they form a savoury and robust sauce that complements the lamb.

Creaminess and umami:

Coconut milk, dark soy sauce: Coconut milk brings a creamy, slightly sweet dimension, softening the spice's heat. The dark soy sauce contributes a rich umami flavour and deepens the sauce's colour. *These are optional ingredients. You can skip them and have a traditional josh, but they add such a bold twist to this curry.

Main protein:

Leg of lamb: Diced leg of lamb is ideal for slow cooking, becoming tender and absorbing the sauce's flavours. It's a substantial ingredient that makes the curry hearty and satisfying. *Substitute stewing beef if you prefer.

Fresh greens:

Spinach: Added towards the end, spinach introduces a fresh element and a contrasting colour to the rich curry. It wilts quickly, integrating smoothly into the dish.
👩🏻‍🍳 Slow-cooked curry in 4 easy steps (stove-top)
Start by Blending the Aromatics:

In a blender, combine onions, garlic, and ginger.
Blend until smooth to create a flavorful base. This should take about 2-3 minutes on the high setting of your food processor. Add this to your pan with 1 tablespoon of olive oil and let the puree start to brown. This will take about 15 minutes. Ensure the mixture is evenly pureed to ensure consistent flavour throughout the curry.

Brown the Lamb:

Add the diced lamb to the puree and start to brown it.
Sear the lamb until each piece has a golden-brown crust. This process should take about 10 minutes- don't rush it. Browning in batches may be necessary to avoid overcrowding the pan, which ensures even browning and optimal flavour development.
Simmer with Spices:

To the browned lamb, add cumin, curry powder, and turmeric.
Let it cook gently, allowing the spices to permeate the meat. Allow about 5 minutes for this process. Keep the heat low to medium to prevent the spices from burning while they infuse their flavours.

Add Finishing Touches:

Stir in coconut milk for a creamy texture and dark soy sauce for an umami kick. *Add extra stock if you're going for a more traditional curry. Cover the pot and let the curry gently simmer for about 1- 1 ½ hours.
Add fresh spinach at the end, letting it wilt in the warm curry. The spinach should be added last to retain its colour and texture.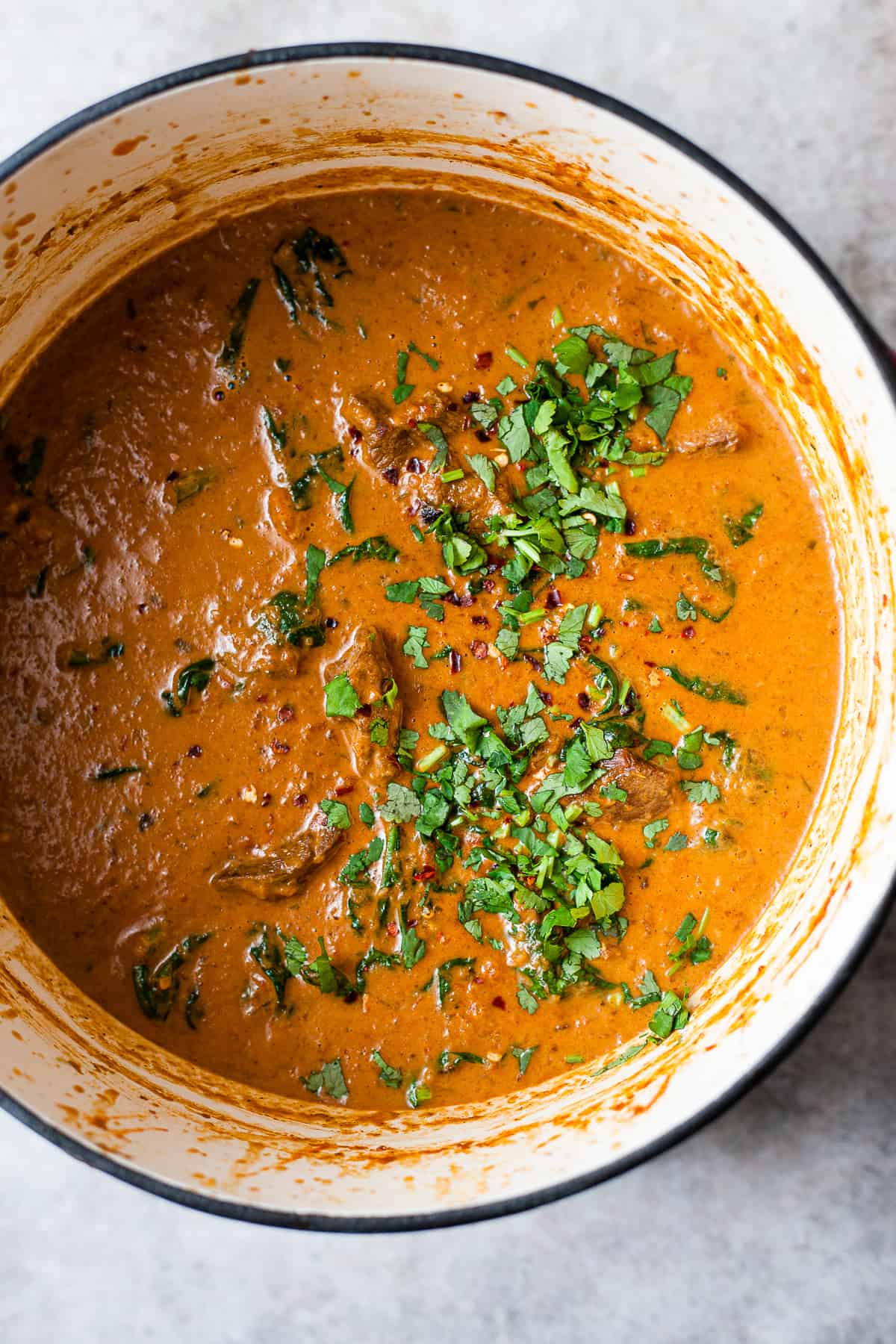 💭 How to achieve meltingly tender lamb
Right cut matters: Starting with the leg of lamb is key. This cut is ideal for slow cooking, as it tenderizes beautifully without falling apart. The leg of lamb has the perfect balance of fat and connective tissue that breaks down over time, contributing to the tenderness.
Size consistency: Cut the lamb into uniform pieces. This ensures even cooking, so all pieces become equally tender.
Browning is crucial: Don't skip the browning step. Searing the lamb on all sides caramelizes the surface, which not only adds depth of flavor but also helps to lock in juices, making the meat more tender.
Low and slow: Whether using a stovetop or a slow cooker, a gentle, low-temperature cooking method is essential. Slow cooking allows the connective tissues in the meat to break down gradually without toughening the muscle fibers, resulting in tender lamb.
Simmer, Don't Boil: When the curry is cooking, it should be at a gentle simmer. Boiling can toughen the meat, so adjust the heat as needed to maintain a slow simmer.
Patience Pays Off: Allow the curry to cook for the recommended time. Rushing the process won't give the lamb enough time to become tender.
🫕 Slow cooker method
Transfer to Slow Cooker:

After browning the lamb, transfer it to the slow cooker.
Add the blended aromatics and the spices (cumin, curry powder, and turmeric) to the slow cooker. Ensure everything is well combined for even flavoring.

Slow Cook the Curry:

Cook on low for 6-7 hours or on high for 3-4 hours. This slow cooking process allows the lamb to become incredibly tender and the flavors to meld beautifully. Avoid opening the lid frequently as it lets heat escape and can extend the cooking time.

Add Final Ingredients:

Stir in the coconut milk and soy sauce during the last 30 minutes of cooking. Add the spinach just before serving, allowing it to wilt from the heat of the curry. Adding these ingredients late retains their texture and flavor.
🍯 Storing and reheating leftovers
In the Fridge:

Pop your leftover lamb curry into an airtight container and it'll be good in the fridge for up to 3 days. It's a great way to enjoy your curry again without any fuss!

In the Freezer:

If you've got more leftovers than you can handle right now, just freeze them. Place the curry in a freezer-safe container and it can stay frozen for up to 3 months. Perfect for those days when you need a quick and easy meal.

Thawing:

When you're ready to revisit your curry, thaw it in the fridge overnight if it's been frozen. It's the safest way to bring it back to temperature without any risk.

Reheating:

To reheat, just warm it up in a pot over medium heat until it's hot all the way through. If it feels a bit thick, add a splash of water or stock to loosen it up. You can also reheat it in the microwave, just make sure to stir it halfway through to evenly warm it up.
💡 Chef's Guide: essential pro tips for perfect lamb curry
Drawing from a decade in Michelin-starred kitchens and Cordon Bleu training, I'm sharing simple yet impactful tips for recipe success.
Balance Your Spices: A key to great curry lies in the balance of spices. Start with the recipe's measurements, but don't hesitate to adjust slightly to your taste. Spices like cumin and curry powder bloom in heat, so gently toast them in the pan before adding liquids for a more profound flavour.
Low and Slow is the Way to Go: Patience pays off when cooking curry. A slow, gentle simmer allows flavours to meld and the lamb to become tender without drying out. Rushing this process can lead to tougher meat and underdeveloped flavours.
Searing is Crucial: Don't skimp on browning the lamb. This process develops complex flavours and adds a richness to the curry that can't be achieved otherwise. Ensure to get a good, even sear on all sides of the lamb pieces.
Rest Before Serving: Let the curry sit for a few minutes off the heat before serving. This resting period allows the flavors to settle and intensify, making your first bite even more delicious.
❓FAQ's
What is the secret to perfect curry?
The secret to a perfect curry is layering flavors. Start with a base of aromatics like onions, garlic, and ginger, then build up the flavors with a blend of spices. Cooking each element properly, ensuring meats are well-seared and spices are perfectly toasted, adds depth. The final key is patience – allowing your curry to simmer and develop its flavors over time.
How do you add depth to a curry?
To add depth to a curry, focus on the foundational elements. Use a variety of spices and ensure they are fresh. Toasting the spices before adding them can release their full aroma and flavor. Incorporating ingredients like caramelized onions, tomato paste, or a splash of coconut milk can also add layers of flavor. Lastly, a bit of acidity, like a squeeze of lime or a dash of tamarind, can brighten the flavors and add complexity.
Is leg or shoulder better for lamb curry, especially if it's being slow-cooked?
For slow-cooked lamb curry, the leg is often the preferred choice. It's leaner and holds its shape during cooking, offering a tender yet firm texture. The leg absorbs flavours well and provides a pleasing consistency, ideal for those who enjoy distinct pieces of meat in their curry. While the shoulder becomes very soft and can fall apart, the leg maintains a satisfying balance between tenderness and structure.
What to serve with this lamb curry
These are my favourite sides to serve with this rogan josh:
More simple curry recipes
Looking for other recipes like this? Try these:
Enjoyed this recipe? Share your thoughts and star rating in the comments – I'd love to hear from you!
For more recipe ideas, follow us on Pinterest, Facebook, and Instagram, and join our exclusive Facebook group.
For meal planning assistance, check out our weekly Aldi-only meal plans, free for subscribers. Or, learn to craft your own plans with our quick meal planning course featuring these recipes.
Craving more comfort food? Visit our sister site, Salted Mint, for easy, delicious recipes with everyday ingredients.
Indian-Style Slow-Cooked Lamb Curry
Indulge in the rich, aromatic flavours of our Indian-style slow-cooked lamb curry. Perfectly spiced and meltingly tender, this dish combines succulent lamb with a vibrant tomato-based sauce infused with a harmonious blend of traditional spices. Ideal for a comforting dinner or a special occasion, this curry is all about bold flavours and slow-cooked perfection.
Print
Pin
Rate
Ingredients
2

brown onions

,

roughly chopped

4-6

cloves

garlic

,

peeled

1-

inch

piece of ginger

,

peeled and roughly chopped

400

ml

tin chopped tomatoes

400

ml

chicken stock

,

made with one stock cube mixed with boiling water

½

teaspoon

ground cinnamon

½

teaspoon

curry powder

1

teaspoon

ground cumin

½

teaspoon

turmeric

400

ml

coconut milk

2

tablespoons

dark soy sauce

750

g

leg of lamb

,

diced

Spinach

,

a couple of handfuls

1

bunch

fresh coriander

,

chopped
For serving (Optional)
100

g

Greek yoghurt

6

naan bread (homemade or shop bought)
Instructions
Prepare the Base: In a food processor, combine onions, garlic, and ginger with 250ml of water. Blend until smooth. Transfer to a large pot.

Cook the Base: Simmer the mixture on low heat for 15 minutes with the lid on. Remove the lid, add a tablespoon of vegetable oil, and increase the heat to medium-high. Cook until it turns a deep golden brown.

Brown the Lamb: Add lamb to the pot, stirring well to coat with the onion mixture. Cook until the lamb starts to color (about 8-10 minutes).

Add Spices and Liquids: Add tinned tomatoes, chicken stock, cinnamon, curry powder, cumin, and turmeric. Bring to a boil, then reduce to a simmer. Cover and cook for 45 minutes, stirring occasionally.

Final Touches: Stir in coconut milk and soy sauce once the lamb is tender. Bring it back to a simmer. Turn off the heat, add spinach, cover, and let sit for 5 minutes to wilt the spinach. Top with the fresh chopped coriander and serve over rice with naan bread.
Slow Cooker Method:
Prepare and Cook the Base: Follow steps 1 and 2 of the stovetop method. Once the base is golden brown, transfer it to the slow cooker.

Combine Ingredients: Add the lamb, tinned tomatoes, chicken stock, and spices to the slow cooker.

Slow Cook: Cook on low for 6-7 hours or on high for 3-4 hours, until the lamb is tender.

Add Final Ingredients: Stir in coconut milk, soy sauce, and spinach. Cover and let sit for an additional 10 minutes before topping with fresh chopped coriander serving.
Notes
Spice Adjustments: Feel free to adjust the spice levels to suit your taste. Adding a bit more curry powder or cumin can enhance the flavour.
Serving Suggestions: This curry pairs wonderfully with basmati rice or naan bread.
Storage: Leftover curry can be stored in the refrigerator for up to 3 days and reheated gently on the stovetop.
Nutrition
Calories:
286
kcal
|
Carbohydrates:
12
g
|
Protein:
21
g
|
Fat:
18
g
|
Saturated Fat:
14
g
|
Polyunsaturated Fat:
1
g
|
Monounsaturated Fat:
2
g
|
Cholesterol:
52
mg
|
Sodium:
593
mg
|
Potassium:
654
mg
|
Fiber:
2
g
|
Sugar:
4
g
|
Vitamin A:
89
IU
|
Vitamin C:
10
mg
|
Calcium:
58
mg
|
Iron:
5
mg