This slow cooker bolognese recipe will be your new go-to. Rich, healthy tomato sauce, tender meat that melts in your mouth and all of that happens with no effort because the slow cooker does it all.
This bolognese is a little different from the usual "dump and run" slow cooker recipes. When you put everything in the slow cooker at the same time, you end up with a bolognese that doesn't have a lot of complex flavour or texture.
So, I've created this recipe for us! Even though we're taking a little extra time to brown the meat and the onions, your active time for this recipe is only about 15 minutes. Ans when you taste it you'll be so happy you took the extra few minutes.
Traditional spaghetti bolognese is the type of sauce that usually simmers on the stove for hours. And if it's on the stove, that means you need to be there to watch it. With this recipe, you can have everything ready and leave it in the slow cooker all day letting the slow cooker work its magic.
---
Slow Cooker Bolognese
Like this recipe? Pin it to your Pasta or Dinner pinboard!
Follow SavvyBites on Pinterest
---
Jump to:
Ingredients needed
Beef and pork mince mix

- This mix is traditional for bolognese and Aldi sells it already mixed. But, it's fine to use just all beef or all pork.

Carrots, onions & garlic

- A very traditional combo for making many sauces. You can add celery into this combo too. I skip it because I'm a little sensitive, but it is a traditional
ingredient.

Crushed tomatoes & tomato paste

- You can use smooth passata instead of the crushed tomatoes if you prefer a smoother texture.

Red wine

- Brings a gorgeous rich flavour and the acid from the wine helps to tenderise the meat. If you prefer to skip the wine, just use extra beef stock.

Beef stock (made with a stock cube)

- The beef stock brings a robust beef flavour and boosts the flavour of the meat.

Dried basil, oregano, chilli flakes & cinnamon

- All of these herbs and spices are typical of a bolognese. You might think the cinnamon is a little weird but go with me here. It balances the flavour of the tomatoes. Think about chocolate in chilli. Same principle.

Grana Padano (parmesan) and parsley

- for serving.
Step by step how-to
If you have a slow cooker that is hob safe then you can put it straight on the stove. I have the Morphy Richards Sear and Stew and it is amazing! If you don't have a slow cooker that can go on the hob, use a large skillet.
Add a drop of olive oil to the pan and place on the heat. Cook the mince in the pan until it is very deep golden brown and crispy. This adds so much flavour to the sauce. I can't stress enough how important this part is. The meat absorbs the moisture when the wine, stock and tomatoes are added. So you get meltingly tender meat, but with all the flavour of a deep brown sear. *Okay. Here's the deal. There will be fat that cooks out of the meat. I don't drain it off. I let it all mix into the sauce and add to the flavour and the texture. Once that fat is stirred into the whole sauce, it's not that much. But if you prefer you can drain the fat off.
Stir the carrot and onion to the meat and cook for about 5 minutes. The onions will start to colour from the brown bits in the pan and the meat. Add in the garlic and cook for another 2 minutes.
Now, once you've let that meat brown, that's all the hard work done. Now you can stir in the herbs and spices, wine, stock, tomato paste and crushed tomatoes. Set the slow cooker to high and cook for 2-3 hours or for 7-8 on low.
If you have the time, then this sauce really does benefit from a long slow cook (7 hours) but if you only have a few hours, then 2-3 hours is amazing.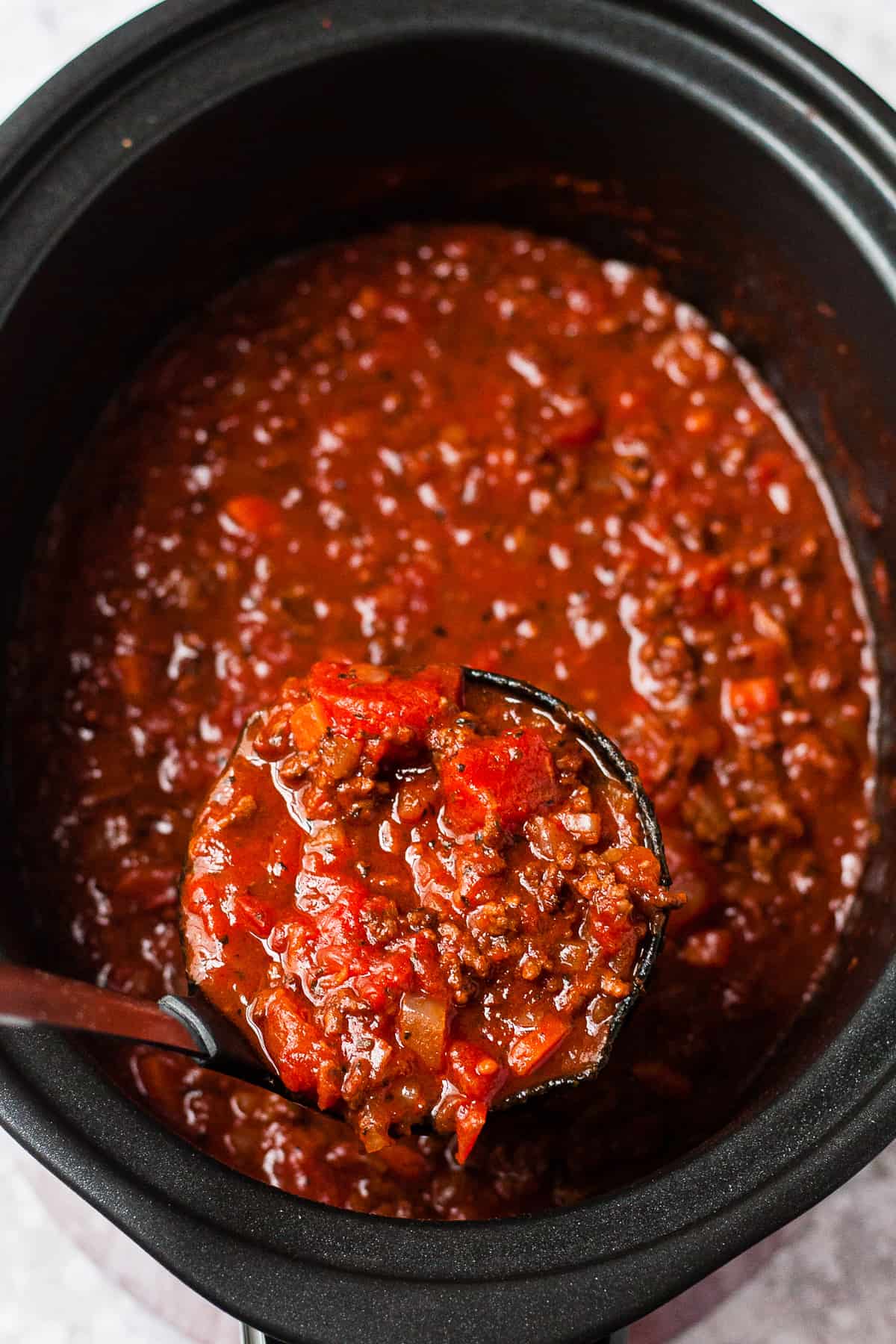 Storing, freezing and reheating bolognese
One of the best parts of bolognese sauce is the leftovers! And this recipe not only gets better the next day but makes enough for a few dinners.
Storing

- Let the sauce cool completely and spoon into freezer bags or containers. Store in the fridge for up to 3 days.

Freezing

- The sauce is amazing for keeping in the freezer for a quick dinner. The best way to freeze it is to spoon it into a large freezer bag and lay it flat. Doing it this way takes up less room in your freezer and it freezes the sauce faster than in a container.

Reheating

- Defrost in the fridge overnight, or on the worktop for a few hours. I prefer to heat the sauce in a pan on the stove rather than in the microwave. No risk of saucy messes and it lets me taste the sauce and season it accordingly. When the sauce has been frozen and reheated, it usually needs to have more salt and other seasonings added.
Serving bolognese
The traditional way is obviously with spaghetti or pappardelle, but if you're on a low carb diet then courgette noodles or steamed veggies work so well with this sauce. Or polenta. Aldi doesn't sell polenta, however, they do have couscous and quinoa. So, those could be a great alternative to regular pasta.
I am nothing else, if not a pasta person. So, it's the perfect way to start Aldi Slow Cooker Recipes week! ♡
More Slow Cooker Recipes Coming Soon...
Tools used to make this Slow Cooker Bolognese
Slow Cooker Bolognese Recipe
Slow cooker bolognese! Rich, hearty and so delicious. AMAZING on gnocchi, pasta, polenta, rice, potatoes, and more. The perfect bolognese!
Print
Pin
Rate
Ingredients
2

tablespoon

(

2

tablespoon

)

olive oil

1

(

1

)

yellow onion

,

finely chopped

6

cloves

(

6

cloves

)

garlic

,

minced

1

(

1

)

small carrot

500

g

(

2

cups

)

mixed beef & pork

125

ml

(

4 ¼

floz

)

red wine

2 x

400g

(

2

)

tins crushed tomatoes

250

ml

(

1

cups

)

beef stock

4

tablespoons

(

4

tablespoons

)

tomato puree

2

teaspoons

(

2

teaspoons

)

dried oregano

2

teaspoons

(

2

teaspoons

)

dried basil

½

teaspoon

(

½

teaspoon

)

sugar

½

teaspoon

(

½

teaspoon

)

cinnamon

For serving

½

(

½

)

bunch parsley

,

chopped

50

g

(

1 ¾

oz

)

parmesan cheese

Pasta
Instructions
Heat 1 tablespoon of oil in a large skillet (or the bowl of your slow cooker, if it's stovetop friendly) Brown beef and pork mixture, breaking it apart with a wooden spoon. Cook until the meat is very deep golden brown. *See notes for an explanation. Transfer to a 3-5 litre slow cooker bowl, if using a skillet.

Heat the second tablespoon of olive oil in a large skillet or pan over medium-high heat. Sauté onion and carrot until softened. Add the garlic and cook until fragrant (about 1 minute).

To the slow cooker bowl, add in the crushed tomatoes, beef stock, tomato paste, oregano, basil, and cinnamon. Cover and cook on low for 6-7 hours, or high for 3-4 hours. Add in the chopped parsley before serving.

In the last 15 minutes of cooking time, boil pasta in salted water following packet instructions.

Drain, and drizzle with a drop of olive oil. Toss the pasta with the bolognese and sprinkle with the cheese and parsley.
Notes
Note 1- Cook the mince in the pan until it is very deep golden brown and crispy. Don't fear. It doesn't stay crispy. Adding the tomatoes and stock soften the meat and the long cooking time creates meltingly tender meat. This adds so much flavour to the sauce. I can't stress enough how important this part is.
Nutrition
Calories:
167
kcal
|
Carbohydrates:
4
g
|
Protein:
9
g
|
Fat:
12
g
|
Saturated Fat:
4
g
|
Polyunsaturated Fat:
1
g
|
Monounsaturated Fat:
6
g
|
Trans Fat:
1
g
|
Cholesterol:
32
mg
|
Sodium:
142
mg
|
Potassium:
237
mg
|
Fiber:
1
g
|
Sugar:
1
g
|
Vitamin A:
921
IU
|
Vitamin C:
2
mg
|
Calcium:
77
mg
|
Iron:
1
mg
THANKS SO MUCH FOR READING AND COOKING ALONG WITH ME! IF YOU MAKE THIS RECIPE OR HAVE A QUESTION, I'D LOVE IT IF YOU LEFT A COMMENT AND A RATING. YOU CAN ALSO FOLLOW ALONG ON PINTEREST, FACEBOOK AND INSTAGRAM TO SEE WHAT WE'RE EATING, PINNING AND A LITTLE BEHIND THE SCENES TOO!