Ever wanted to enjoy restaurant-quality naan bread in the comfort of your own home? Say no more! We have a simple 2 ingredient naan bread recipe that will make you a master naan maker in no time. We're here to guide you through this straightforward recipe, packed with useful tips and tricks, that requires no advanced cooking skills.
If you're a fan of Indian cuisine, you might want to check out my other posts on Coconut Curry and Homemade Red Lentil Dhal which make great pairings with this Naan bread. *See the bottom of this post for all our Indian favourites.
Jump to:
⭐️ Why You'll Love This Easy Naan Bread
Super Simple: Just two main ingredients, plus a sprinkle of salt for taste.
Texture: This naan bread is incredibly fluffy and chewy.
Super Simple: Just two main ingredients, plus a sprinkle of salt for taste.
Versatile: Pair it with dips, curries, or even make pizza out of it!
Quick to make: Only requires 10 minutes of actual cooking time.
🧾 Basic Naan Ingredients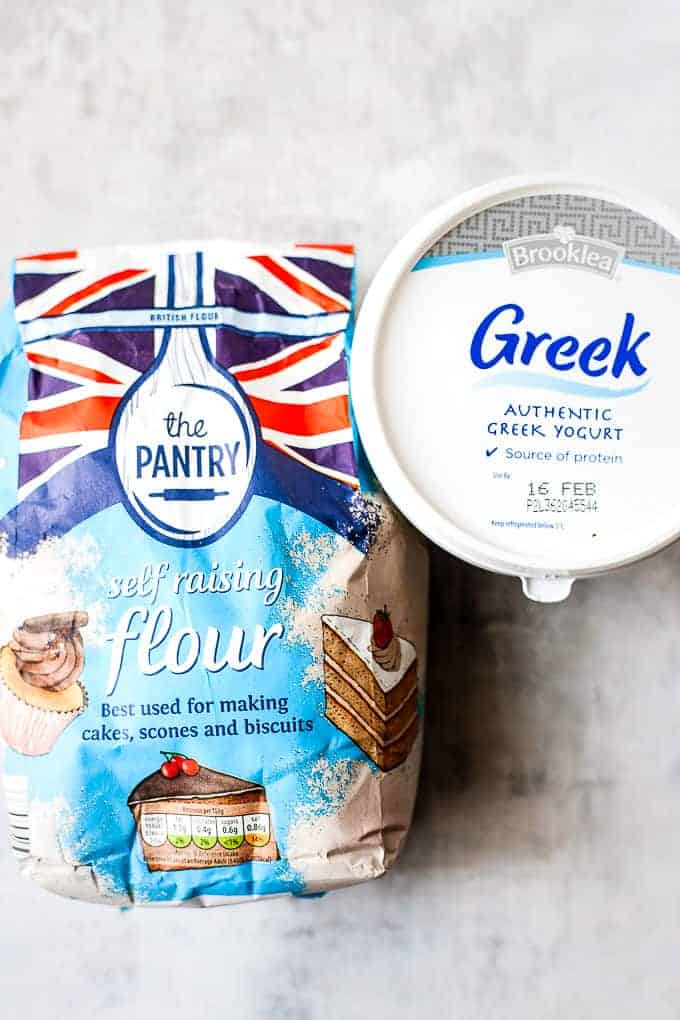 Self-Rising Flour: The base ingredient of our Naan Bread, providing its characteristic fluffy texture. *See our tip for making your own self-raising flour.
Yoghurt: This ingredient lends the bread a slightly tangy flavour, balancing the overall taste.
Salt: A sprinkle to season and enhance the flavours of the bread.
See recipe card for quantities.
📖 Substitutions & Variations
Variations

Cheesy Naan: For a delectable twist, add a layer of melty cheese, such as Monterey Jack or Swiss, between two layers of naan dough before cooking.

Substitutions

Self-raising flour: If you don't have self-rising flour, you can make your own by combining all-purpose flour with baking powder and salt.
Vegan version: substitute the yoghurt with a non-dairy yoghurt alternative.
👩🏻‍🍳 Making naan bread in 4 easy steps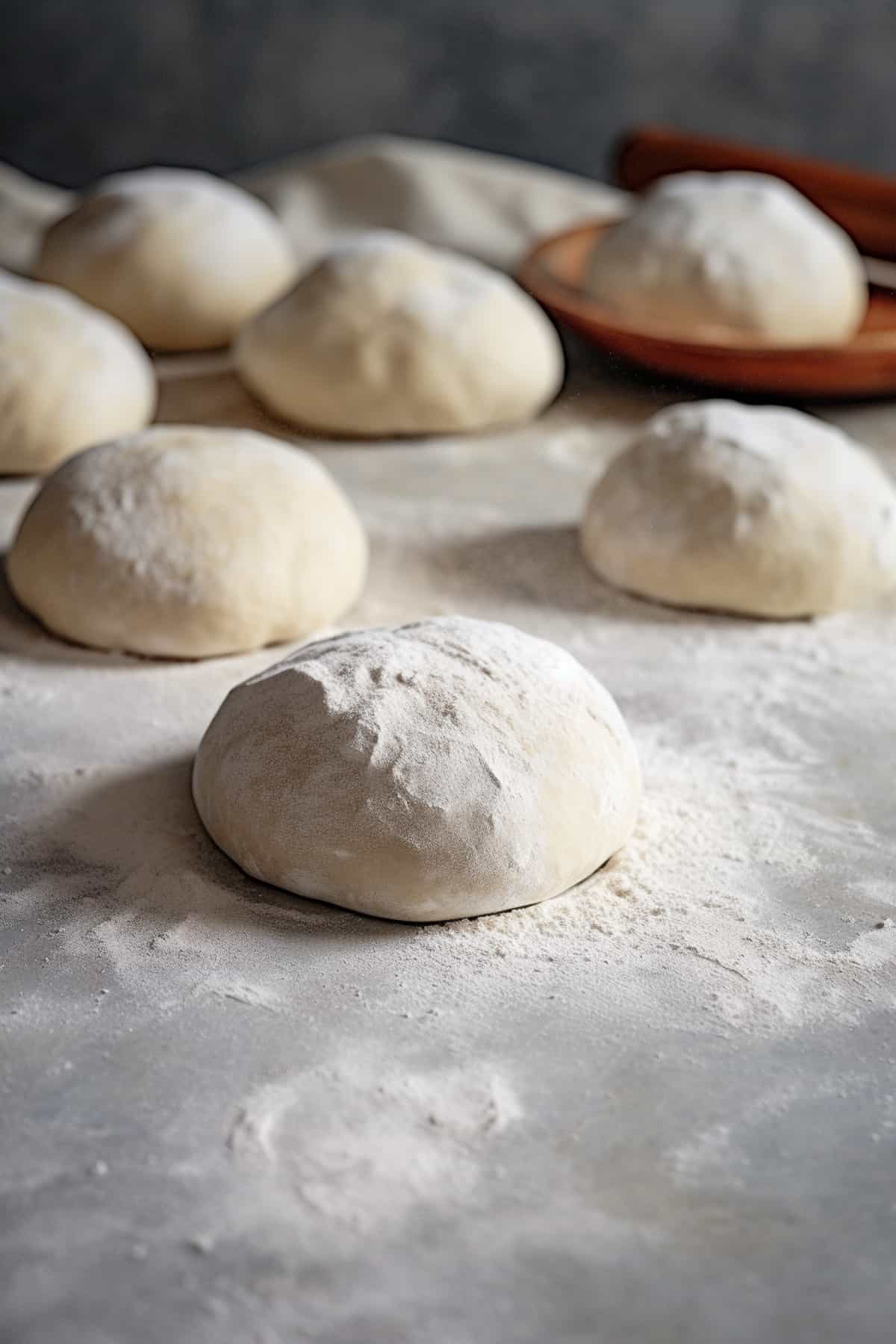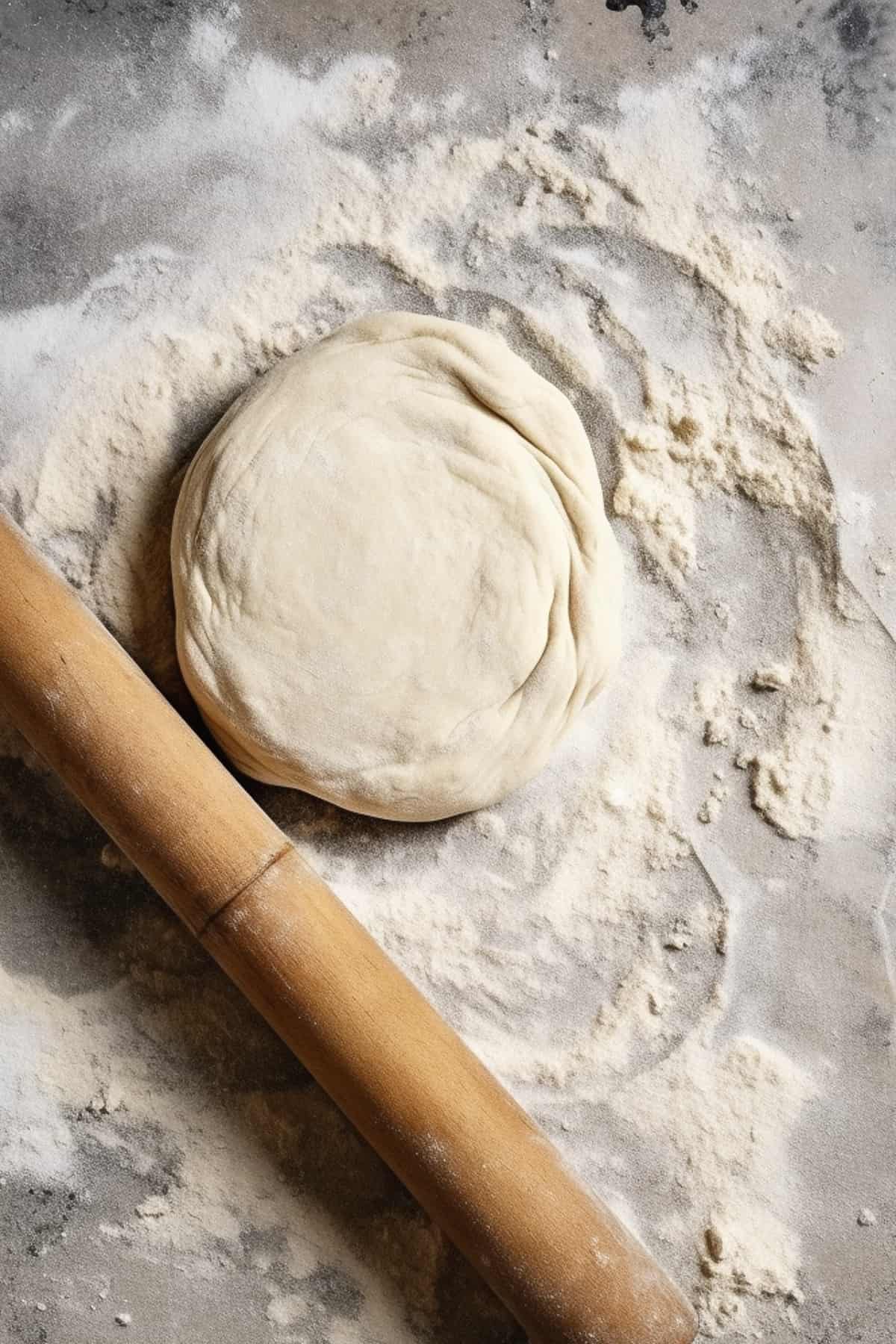 Combine the ingredients: In a large bowl, mix the self-rising flour, yoghurt, and salt until a dough forms.
Divide the dough: Once combined, divide the dough into equal-sized balls.
Roll the dough: Use a rolling pin to flatten each ball into a naan shape. The thickness should be approximately 3-5mm for optimal cooking.
Cook the Naan: In a heated skillet, cook each naan until golden brown on each side.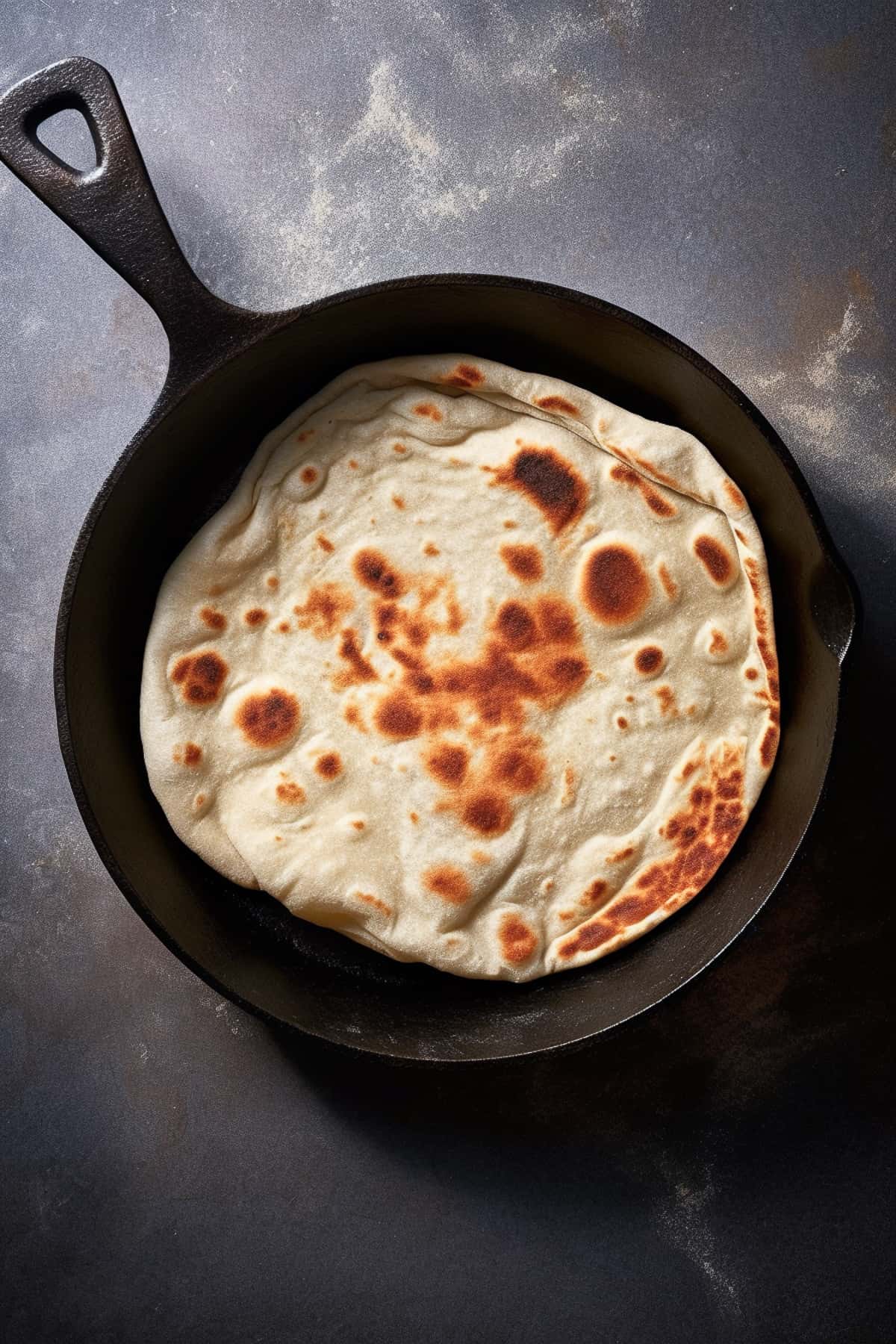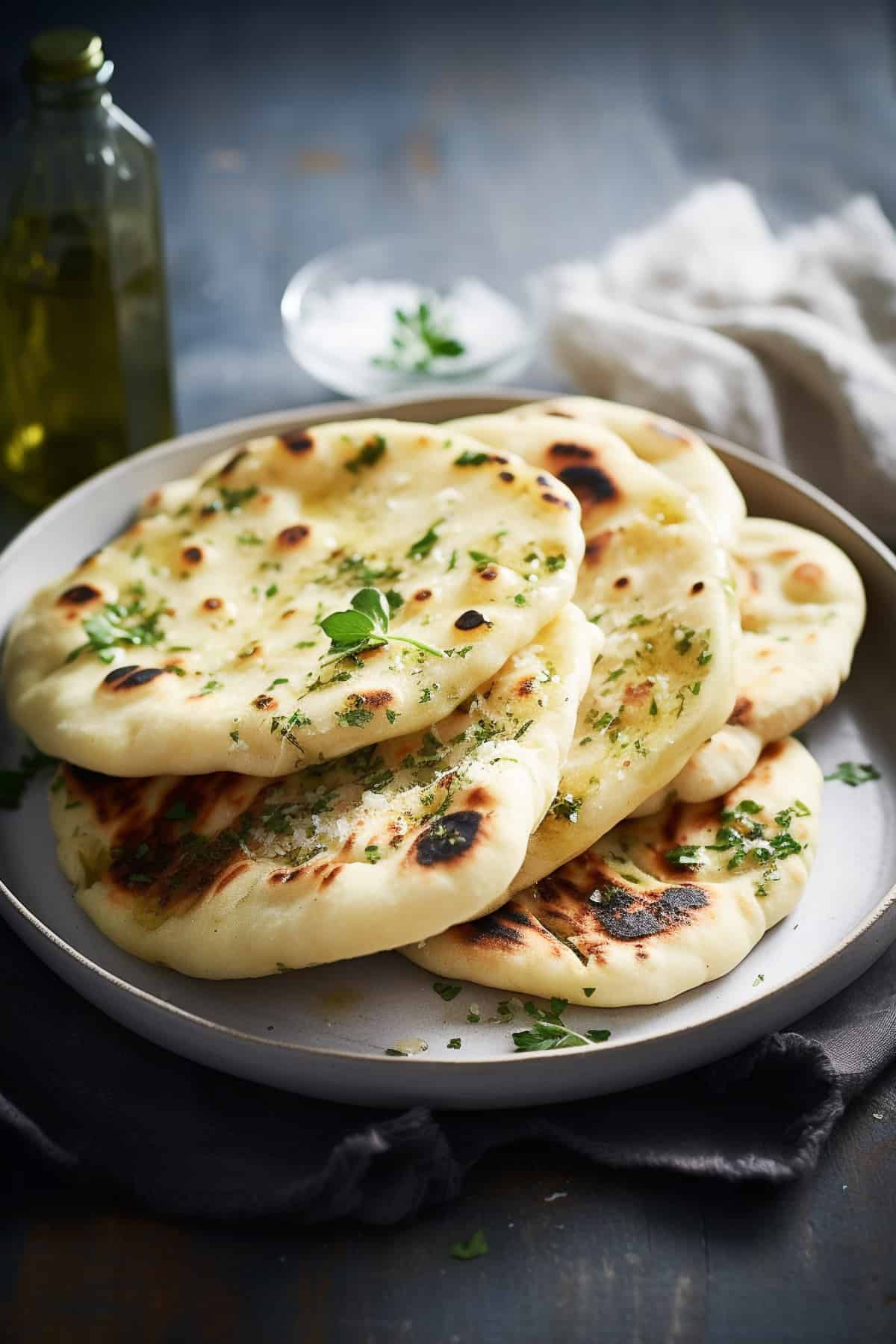 Can you use natural yoghurt instead of Greek yoghurt?
You can certainly use natural yoghurt in naan bread. Greek yoghurt is often recommended due to its thicker texture and higher protein content. The key is to use a yoghurt that is not too thin or runny, as this can affect the dough's consistency. If your natural yoghurt is on the runnier side, you may need to adjust the amount of flour to get the right dough consistency. Remember, the end goal is a dough that is soft, pliable, and not overly sticky.
💭 Naan Bread vs Pita Bread
Both pita and naan are soft, leavened flatbreads, but their textures and uses vary. Naan, made with yoghurt, is thicker and softer with a tangy flavour and chewy texture, while pita, made simply with flour, water, yeast, and salt, is thinner and ideal for stuffing due to its pocket-like structure. Naan is typically served with curries in Indian cuisine, while pita is often filled with ingredients like falafel or hummus in Mediterranean and Middle Eastern dishes.
🍯 Storage
Although homemade naan bread is best enjoyed fresh, you can store it, if you need to.
Fridge: Naan can be stored in the refrigerator in an airtight container for up to a week.
Freezer: For longer storage, naan can be frozen for up to 2 months. Thaw overnight in the refrigerator before reheating.
Reheat: To reheat, warm on a skillet over low heat or in an oven preheated to 350°F (175°C) until heated through.
💡 Top tip
Brush the freshly cooked naan with ghee or melted butter. This final touch infuses your homemade naan bread with an additional layer of tantalizing flavour.
❓FAQ
Can I make this recipe gluten-free?
Yes, you can substitute self-rising flour with a gluten-free alternative. Just be aware that the texture may differ slightly.
How can I make my naan bread more flavorful?
Feel free to customize your naan by adding seasonings to the dough such as garlic or fresh herbs. Brushing the cooked naan with melted butter or ghee can also add more flavour.
Can naan bread be used for sandwiches?
Yes, indeed! Naan bread's soft and pliable texture and unique flavour make it an excellent choice for wraps, sandwiches, and even flatbread pizzas. Its versatility allows it to pair well with a wide variety of fillings and toppings.
Can I make naan bread without a cast-iron skillet or tandoor?
Yes, you can make naan bread without a cast-iron skillet or tandoor. You can use any heavy-bottomed skillet or frying pan you have on hand. Additionally, naan can also be baked in a regular oven preheated to the highest possible temperature.

Why is my naan bread not puffing up?
The puffing of naan bread is caused by steam building up in the dough as it cooks. If your naan bread is not puffing up, it may be because your pan or oven isn't hot enough. The dough needs a high temperature to create enough steam to puff up. The dough might also be too thick, making it difficult for the naan to puff. Try rolling your dough thinner next time.
The Best Curry Recipes for Naan Bread
The best curry recipes to pair with your homemade naan bread:
If you tried this Recipe or any other recipe on my website, please let me know in the comments below. I love hearing from you. Also, please leave a star rating whilst you're there!
You can also follow along on Pinterest, Facebook, and Instagram and join our private Facebook Group Facebook group to share more recipe ideas and all your photos!
Need help with meal planning? You can find our (Aldi ingredients only) weekly meal plans here! Sign up to receive them free every week or take our quick meal planning course and use all these recipes to create your own meal plans.
You can also find more comfort food recipes using everyday ingredients over on our sister site Salted Mint.
Quick & Easy Homemade Naan Bread (No Yeast)
Embrace the joy of homemade bread with our quick and easy 2 Ingredient Naan Bread recipe. With just self-rising flour and yoghurt, you'll create soft and fluffy naan that rivals any restaurant. With no yeast or eggs, this recipe simplifies the process without compromising on taste.
Print
Pin
Rate
Ingredients
250

grams

self-rising flour

,

plus extra for dusting

250

grams

yoghurt

,

plain, unsweetened

½

teaspoon

salt
Instructions
Prepare and knead the Dough
In a mixing bowl, combine the self-rising flour, salt and yogurt. Mix together until a dough forms.

Transfer the dough onto a surface dusted with some flour. Knead the dough until it's smooth, about 5-7 minutes.
Shape the Dough
Divide the dough into six equal portions. Roll each portion out into the classic oval naan shape, about 1 cm thick.
Cook the Naan
Heat a cast-iron skillet or non-stick frying pan over medium-high heat. Cook each naan until it's golden brown on both sides, about 2-3 minutes per side.
Serving homemade Naan
Once cooked, you can brush each naan with some melted butter or ghee (optional but recommended). Serve warm and enjoy!
Notes
If you don't have self-rising flour, you can make your own by mixing together 1 cup (125 grams) of plain/ all-purpose flour, 1 ½ teaspoons (7.5 ml) baking powder, and ¼ teaspoon (1.25 ml) salt.
You can also add some flavour to your naan by adding spices like garlic, and cumin, or herbs like chopped coriander to the dough.
Store leftover naan bread in a bread bin or airtight container at room temperature for 2-3 days, or freeze for more extended storage. To reheat, sprinkle water over the naan and heat it in the oven or stovetop.
If you have leftover dough, you can refrigerate it for up to 3 days or freeze it for up to a month. When you're ready to make more naan, just thaw the dough, divide it, and roll it out before cooking.
If you'd like to make cheesy naan, add a small amount of your favourite cheese to the centre of the dough before rolling it out. Cook as directed. Enjoy a delicious, gooey, cheesy naan!
Nutrition
Calories:
176
kcal
|
Carbohydrates:
32
g
|
Protein:
6
g
|
Fat:
2
g
|
Saturated Fat:
1
g
|
Polyunsaturated Fat:
0.3
g
|
Monounsaturated Fat:
0.4
g
|
Cholesterol:
5
mg
|
Sodium:
413
mg
|
Potassium:
106
mg
|
Fiber:
1
g
|
Sugar:
2
g
|
Vitamin A:
42
IU
|
Vitamin C:
0.2
mg
|
Calcium:
57
mg
|
Iron:
0.4
mg