These healthy flapjacks are soft and chewy and full of dried fruit and protein-packed nuts. Made with whole oats, honey or maple syrup and baked until golden brown and chewy. These flapjacks are great for baking with kids and are amazing as snacks and in lunch boxes! Perfect for any novice or beginner baker, these simple flapjacks take less than 1 hour to make.
These healthy flapjacks are an adaptation of my chocolate flapjacks that are so popular!
Why you'll love these flapjacks! They're part of the easy baking recipes so you may find more simple treats to add to your baking list!
Jump to:
⭐️ Why You'll Love These Homemade Flapjacks
Healthy: Nutritious and fibre-rich, oat flapjacks are an amazing healthy treat.
Easy to Make: This oat tray bake is a quick and convenient recipe for busy lifestyles.
Versatility: Customizable with various ingredients to suit individual preferences, you can add in cinnamon, or vanilla, use honey, and add in any combination of nuts, seeds, and dried fruit.
Great Snack Option: Satisfying, portable, and guilt-free for any time of day. These chewy oat squares make a great breakfast on the go!
🧾 Ingredients needed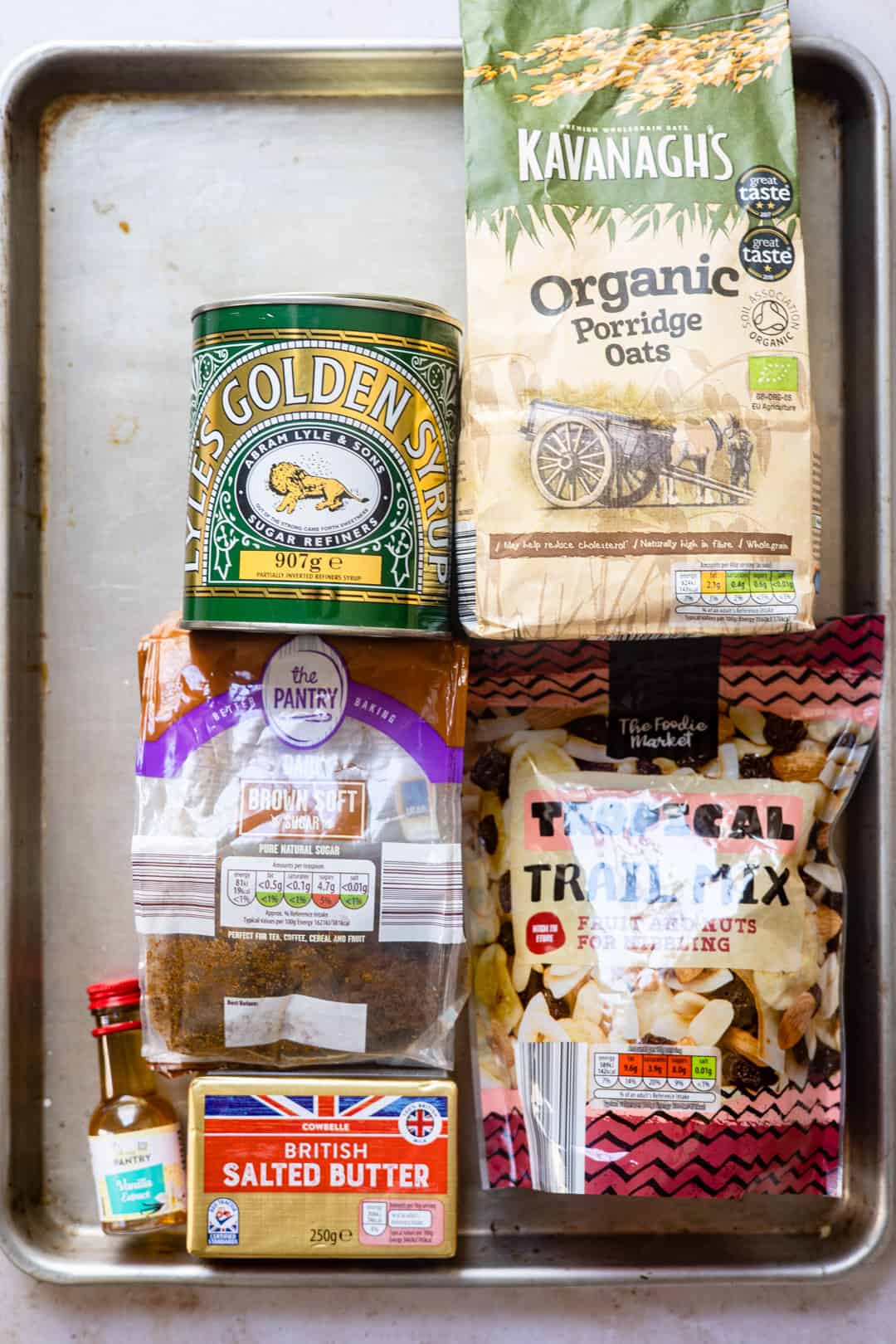 All you need are 6 whole food ingredients for making these super simple flapjacks. Most will probably be ingredients that you already have on hand.
Rolled oats

/ porridge oats- really important to use rolled oats rather than quick-cooking oats. They're wider and flatter. Quick cooking tends to be a little bit dusty, and may result in a
Butter (salted or unsalted)- you can use margarine rather than butter for a dairy-free option. They hold the bars together.
Brown sugar- A little bit of brown sugar brings everything together and it's less refined than white sugar.
Golden syrup- you can use honey or maple syrup in place of the golden syrup, but it's only a couple of tablespoons in the whole mixture.
Trail mix- Any kind of fruit and nut mix will work here. I've used the tropical mix because I love the dried banana and the coconut, but you can use dried cranberry and walnuts.
Vanilla (optional)- completely optional, but adds a lovely hint of sweetness and compliments the tropical flavours.
Sea salt (optional)- you only need a pinch, but if you're using salted butter you can omit the salt altogether.
👩🏻‍🍳 Making chewy flapjacks step by step
Step 1 & 2
Before you start making the flapjack mix, line a square (20cm -8inch) baking tin with nonstick baking paper and preheat the oven to 160ºC.
In a medium saucepan heat the butter, brown sugar and golden syrup or honey over low heat until everything is melted and well incorporated.
💡 Top tips
The lower temperature of 160ºC helps to keep the flapjacks very soft and chewy. A higher temperature will dry them out and they will go hard once cooled.
Be sure to line the baking pan with non-stick baking paper to ensure the flapjacks don't stick to the pan.
Be sure to not over-bake the flapjacks. They will end up dry and crumbly.
Step 3 & 4
Add the rolled oats to the pan and stir until the oats are completely coated in the butter and syrup mix. Stir in the trail mix or dried fruit and nuts.
Pour the flapjack mixture into the pan and firmly press down into all corners. Bake in the preheated oven until the top of the oats are golden and just starting to crisp around the edges. Remove from the oven and let cool completely in the tin before slicing.
📖 Substitutions & Variations
Flapjacks are a very simple recipe but there are still some ways you can adapt them to get the perfect chewy oat bar.
Vegan or dairy free - use non-dairy butter or margarine instead of butter
Gluten-free - use gluten-free oats instead of regular for anyone with celiac or gluten intolerance.
Honey - you can use honey with a tablespoon of peanut butter instead of the golden syrup. Because honey is more viscose than syrup the peanut butter helps to bind the oats together.
Flavour twists - add cinnamon or mixed spice, or apricots and almonds instead of trail mix.
❓FAQs
How can you cut flapjacks without them falling apart?
Let them cool completely in the tin. Even place them in the fridge overnight to set and use a clean serrated knife to cut through the squares.
How long do these flapjacks last?
They'll last at least a week either at room temperature or in the fridge, but either way, they should be placed in an airtight container for storage.
Are flapjacks healthier than cake?
They generally tend to be healthier than cakes due to ingredients like oats and healthier sweeteners. Cakes often contain refined flour, sugar, and unhealthy fats. However, it's important to remember that even though they are healthier, they should still be considered a treat and consumed accordingly.
Why are my flapjacks crumbly instead of chewy?
They will turn out crumbly if your oven is set too high or the flapjacks are over-baked. Use a slightly lower temperature to ensure that they bake up moist and chewy.
🍯 Storage tips for keeping flapjacks fresh
Room temperature: Allow the flapjacks to cool completely then slice into squares.

Flapjacks can be stored at room temperature for a short period of time, but they will start to dry out after a few days.
Place them in an airtight container or a resealable plastic bag.
Fridge: Flapjacks can be stored in an airtight container in the fridge for up to 10 days.

They will keep their shape and texture better if they are refrigerated.
Portion them into squares and place in an airtight container.

Freezer: These oat squares can also be frozen for up to 3 months.

To freeze them slice into individual pieces and wrap tightly in plastic wrap or a freezer bag.
When you are ready to eat the flapjacks, thaw them overnight in the fridge and then bring them to room temperature before serving.
This is the easiest healthy flapjack recipe that you'll find. Only 6 ingredients required and about 35 minutes to make. They're a classic for having with tea or as an on-the-go breakfast or snack option. The options are truly endless when you start to play around with the ingredients, adding in maple syrup or honey and using different combinations of dried fruit and nuts.
more easy healthy baking recipes
Tools used
If you tried these healthy flapjacks or any other recipe on my website, please let me know in the comments below. I love hearing from you. Also, please leave a star rating whilst you're there!
You can also follow along on Pinterest, Facebook, and Instagram and join our private Facebook Group Facebook group to share more recipe ideas and all your photos!
Easy Healthy Flapjacks
These soft and chewy flap jacks are loaded with healthy trail mix for the best easy baked snack.
Print
Pin
Rate
Ingredients
315

g

(

3 ⅔

cups

)

jumbo rolled oats

150

g

(

5 2/7

oz

)

butter

150

g

(

5 2/7

oz

)

light brown sugar

3-4

tablespoons

(

3

tablespoons

)

golden syrup *see notes

125

g

(

4 ⅖

oz

)

trail mix

1

teaspoon

(

1

teaspoon

)

vanilla extract

,

optional
Instructions
Preheat the oven to 160ºc and line a 9x9 inch (22cm) square tin. *You can use a 8 inch (20cm) square tin too. Just be sure to add an extra 2-5 minutes of baking time to account for the thicker bars.

Weight the butter, golden syrup and brown sugar into a saucepan. Place over medium heat until everything is melted and whisk well to make sure the butter and melted sugar are all well incorporated.

Pour the butter syrup mixture over the oats and mix well. Stir in the trail mix and stir to evenly distribute.

Once the oats are completely covered in the buttery syrup (they'll all have a "wet" look to them) press them into a square tin lined with baking paper.

Bake in the preheated oven for about 15-20 minutes. They top of the bars will turn golden brown and the edges will look set and the middle will appear slightly soft still. Remove the flapjacks from the oven and leave them to cool completely in the tin. If they're too warm when you cut them they'll break apart and won't cut into squares.

Once completely cooled cut into 16 squares.
Notes
There is a range in the golden syrup depending on how soft and chewy you like your flapjack. More syrup means a softer bar.

Use honey or maple syrup in place of the golden syrup.
Use any kind of dried fruit and nut mix instead of the trail mix.
Using rolled oats will give you a lovely chewy bar whereas quick-cooking oats will result in a crumbly bar.
Store in an airtight container for up to 1 week either in the fridge or at room temperature.
Nutrition
Calories:
153
kcal
|
Carbohydrates:
32
g
|
Protein:
3
g
|
Fat:
2
g
|
Saturated Fat:
1
g
|
Polyunsaturated Fat:
1
g
|
Monounsaturated Fat:
1
g
|
Cholesterol:
1
mg
|
Sodium:
16
mg
|
Potassium:
161
mg
|
Fiber:
3
g
|
Sugar:
13
g
|
Vitamin A:
15
IU
|
Vitamin C:
1
mg
|
Calcium:
31
mg
|
Iron:
1
mg