Healthy meal plans on a budget. That's what this Aldi meal planner is all about. This is a flexible 7 day meal planner to take the guesswork out of making dinner. All the ingredients are from Aldi because I'm a big believer in a one-stop-shop and staying on a budget. The FREE plan includes the recipes and an itemised shopping list to make it all really easy!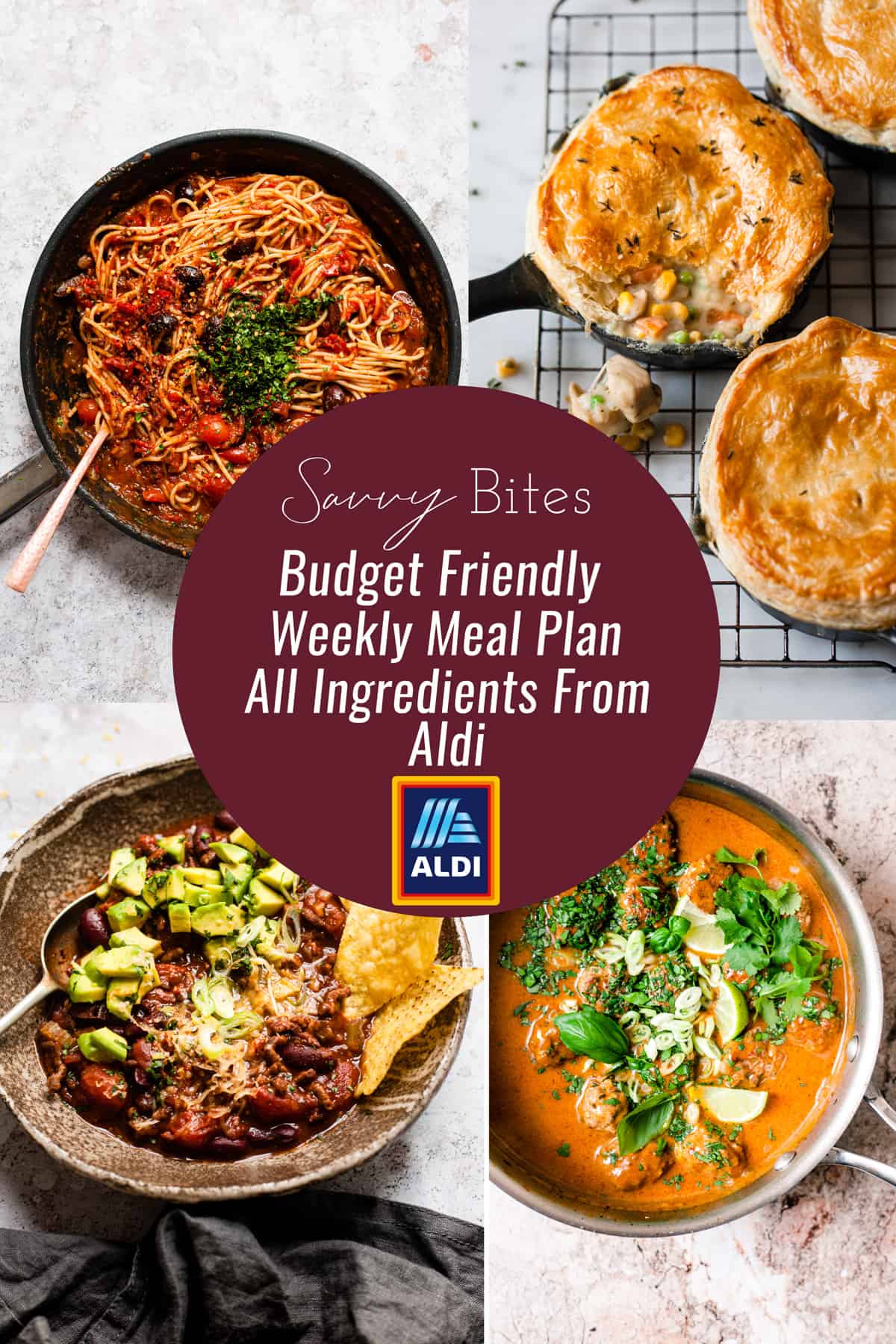 These recipes are focused on being simple, thrifty (i.e., cheap), pantry- and leftover-friendly. These recipes are comforting but still healthy. You can check out my other meal plans or these £25 meal plans. And the 30-minute meal plan is a very popular one!
Why Aldi
As a frequent shopper and enthusiast, I've never worked for Aldi, but I admire their approach to grocery. Previously, I'd shop primarily at Aldi and then visit other stores for extra items, which was time-consuming and costly. Using my chef skills, I decided to craft recipes exclusively with Aldi ingredients, leading to the creation of popular Aldi-exclusive meal plans.
About the budget meal plans
Growing up in a budget-conscious single-parent home taught me the importance of economical shopping and zero waste. These experiences have equipped me with skills in budget management and resourcefulness, especially valuable in today's times. My meal plans focus on simplicity, affordability, and easy-to-find ingredients, aiming to assist those new to budget meal planning with Aldi.
The recipes
How to use the meal plans
All these meals are designed to serve a family of 4. Some recipes make enough leftovers for two nights or lunch the next day. While I truly believe there is no one size fits all meal plan, I did my best to come up with something that appeals to almost everyone.
Getting Started:
Review the Recipes: Start by looking over this week's meal plan. Get familiar with the recipes and the cooking processes involved.
Check Your Pantry: Before heading to Aldi, check your pantry for staples you already have. It's a great way to avoid buying duplicates and save money.
Print the Shopping List: Our itemized shopping list is your best friend. It categorizes ingredients by type (produce, dairy, etc.), making your Aldi shopping trip efficient and hassle-free.
Prep Ahead: Identify any meal components you can prepare in advance. Chopping veggies or marinating meats ahead can save you precious time during busy weeknights.
During the Week:
Follow the Recipes: Each recipe comes with easy-to-follow steps. Don't worry if you're new to cooking – these are beginner-friendly!
Storing Leftovers: Our tip sheet includes advice on how to properly store and reheat leftovers, ensuring nothing goes to waste.
Be Flexible: Feel free to swap meals based on your schedule or cravings. Our plan is designed for flexibility!
End of the Week:
Review and Reflect: What worked well? What didn't? Your feedback is valuable for future planning.
Share Your Experience: Join our Facebook Group and share your thoughts, photos, and tips with our community of budget-savvy cooks.
Meal plan FAQs
Are the recipes suitable for beginners?
Absolutely! Our recipes are designed to be straightforward and easy to follow. Whether a kitchen novice or a seasoned cook, you'll find these recipes manageable and delicious.
Can I mix and match recipes from different meal plans?
Absolutely! Feel free to mix and match recipes to suit your taste and needs. Each meal plan is designed to be flexible for just that reason.
Can I substitute ingredients in the recipes if I have dietary restrictions or preferences?
Absolutely! Our meal plans are designed to be flexible. Feel free to substitute ingredients for dietary restrictions (like gluten-free or vegan options) or personal taste preferences. We encourage creativity in the kitchen, and all the recipes have notes on such substitutions and variations.
How do I adjust the recipes to cater to different serving sizes?
Our recipes are typically designed for approximately 4 adults, but they can be easily scaled up or down using the adjustable servings toggle on the recipe cards. If you need specific advice or guidance, leave a comment or question below the recipe and I'll get right back to you.
Are these meal plans suitable for beginners in the kitchen?
Yes, they are! Whether you're a kitchen novice or a seasoned cook, our meal plans are created with straightforward instructions and practical tips, making them accessible for cooks of all skill levels.
For more recipe ideas, follow us on Pinterest, Facebook, and Instagram, and join our exclusive Facebook group.
For meal planning assistance, check out our weekly Aldi-only meal plans, free for subscribers. Or, learn to craft your own plans with our quick meal planning course featuring these recipes.
Craving more comfort food? Visit our sister site, Salted Mint, for easy, delicious recipes with everyday ingredients.