Thirty minute meal plans on a budget! That's what this Aldi meal planner is all about. This is a flexible 7 day meal planner to take the guesswork out of making dinner. All the ingredients are from Aldi because I'm a big believer in a one-stop-shop and staying on a budget. The FREE plan includes the recipes and an itemised shopping list to make it all really easy!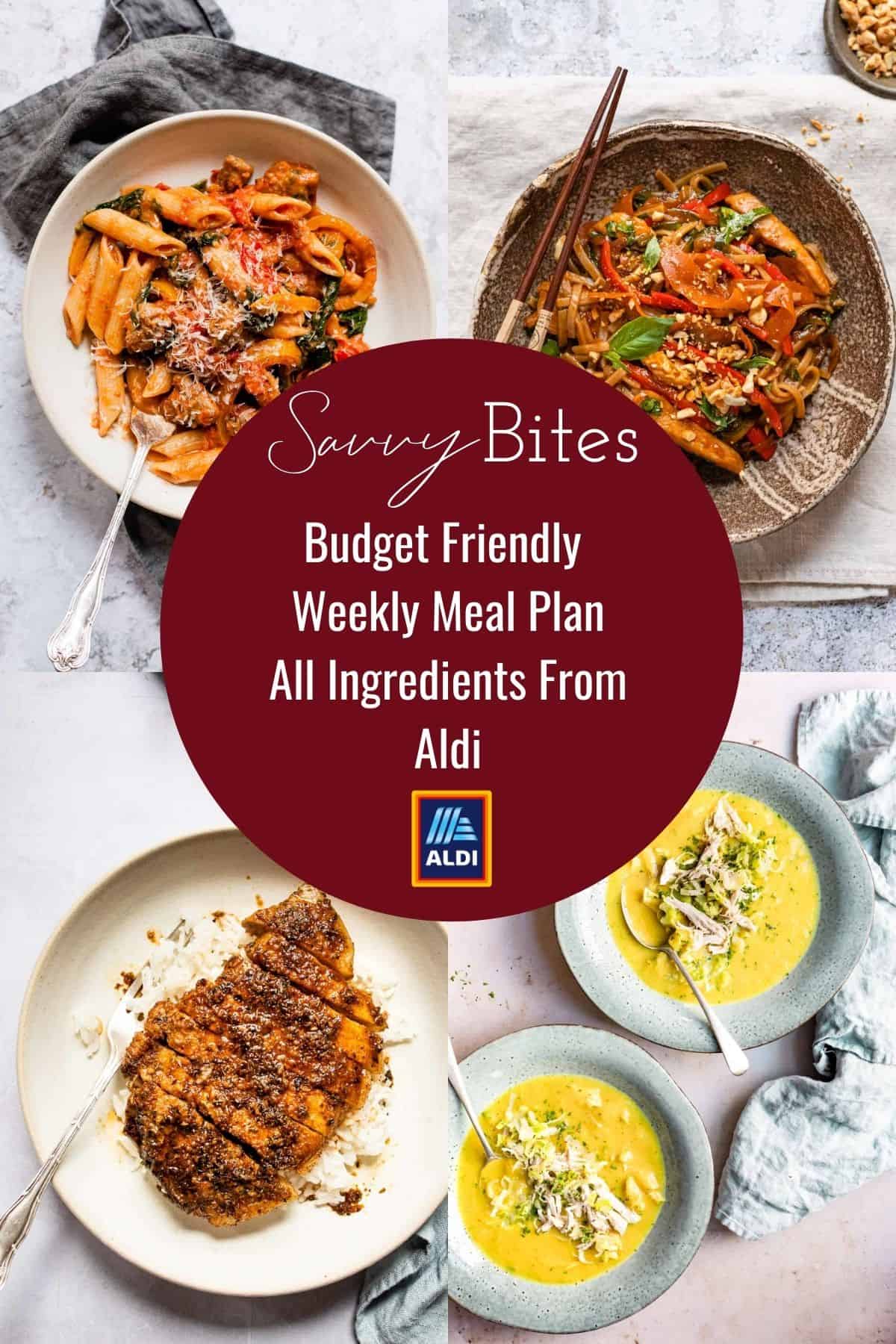 About the Aldi budget meal plan
The positive response to exclusively using Aldi products for my cooking has been fantastic. Seeing my family enjoy the easy, delicious recipes inspired me to share them with a wider audience. Additionally, responding to requests, I've expanded into creating various meal plans.
Every week, I create a healthy meal plan, filled with straightforward, tasty dinners. These plans include handy meal prep tips to set you up for the week, as well as advice on optimising leftovers to minimise waste. In line with the growing awareness around food waste, it's vital we consume mindfully for both economic and environmental reasons, without compromising on flavour and creativity.
To cater to different needs and interests, I've developed specialised meal plans:
For those on a budget, check out our £25 Meal Plans, where economising doesn't mean sacrificing quality or taste.
If you're a fan of set-and-forget meals, our Slow Cooker Meal Plan offers slow-cooked convenience and comfort.
And, of course, our general Meal Plans provide a variety of recipes that balance health, taste, and creativity.
The Details of The Aldi Meal Planner:
Every free meal plan includes:
Weekly menu recipes with direct links.
Printable grocery list.
Printable menu plan.
Even if you don't follow the plan to the letter, use it as a source of dinner inspiration. First-time Aldi shoppers might need a few visits to familiarise themselves with the store layout. Regulars know the allure of the Aldi middle aisle – beware of unexpected purchases!
Pantry Staples: For those new to meal planning or this website, here are my essential pantry items:
Olive oil, brown and white rice (or basmati).
Various tinned beans (black, kidney, chickpeas).
Light and dark soy sauce.
Small flour tortillas for chips or wraps.
Affordable coconut oil (also great for skincare).
Tinned tomatoes or passata.
Aldi's smooth peanut butter rivals high-end brands.
I generally avoid pre-prepared or convenience foods, as Aldi's fresh ingredients make healthier and tastier homemade comfort food. However, keeping a premade lasagna in the freezer for emergencies is practical.
Fresh Food Favourites: Aldi's low prices and quality are especially noticeable in:
Fresh vegetables, fruits, and whole foods.
Ground beef (mince), chicken breasts.
Grape tomatoes, green onions.
Feta cheese, cottage cheese or Greek yogurt (varies weekly).
Sour cream or creme fraiche.
Cheese selection varies according to the week's meal plan.
The Budget Meal Planner Recipes
For more recipe ideas, follow us on Pinterest, Facebook, and Instagram, and join our exclusive Facebook group.
For meal planning assistance, check out our weekly Aldi-only meal plans, free for subscribers. Or, learn to craft your own plans with our quick meal planning course featuring these recipes.
Craving more comfort food? Visit our sister site, Salted Mint, for easy, delicious recipes with everyday ingredients.