This tomato mascarpone pasta is an easy, one-pan 30-minute pasta recipe that is a luscious and decadent dish. Rich, creamy mascarpone cheese perfectly balances the sweet and tangy tomatoes. Silky, al dente pasta is then tossed with the velvety creamy tomato sauce, creating the perfect one-pot dinner.
This easy one-pot pasta is part of week 2 of the £25 Aldi meal plan. If you need some incredibly easy, delicious, and affordable meals then you can check out week one of the meal plan.
This ricotta and spinach pasta was a very popular one from last week. Another pasta favourite you will want to check out is this easy Cajun pasta or this one pan chorizo gnocchi bake.
Jump to:
⭐️ What you need to know about this tomato mascarpone pasta
The pasta cooks right in the mascarpone tomato sauce so you only need one pan and about 25 minutes.
This is a creamy tomato pasta sauce that starts off basic and lets you add endless variations depending on what you have on hand and who you're feeding.
You only need a handful of ingredients.
🧾 Key ingredients for tomato mascarpone sauce
Tinned tomatoes- tinned tomatoes is great for this recipe because the quality and flavour are consistent unlike fresh tomatoes that are seasonal.
Full fat mascarpone cheese- this is what gives the sauce it's richness and silky texture.
Lemon juice- rich creamy sauces really benefit from adding lemon juice. The acid helps to cut through the rich creaminess of the mascarpone and lift the flavour of the tomatoes.
Pasta- with creamy tomato sauces I prefer a long thin pasta like spaghetti but you can easily use penne, rigatoni, or other short pasta.
Parmesan- Add parmesan at the end of cooking so that it melts into the sauce. It adds a nutty, salty flavour to the sauce as well as helps to thicken it. It's a classic Italian hard cheese that has a rich umami flavour and brings depth and complexity to basic pasta sauce.
See recipe card for quantities.
📖 Substitutions & Variations
There are endless options when it comes to this creamy tomato pasta. I've left it vegetarian, but you can easily add in some meat if you like. See below for some of my favourite ways to change up this one pot pasta.
passata - if you prefer a smooth sauce you can just substitute the tin of cherry tomatoes for a carton of passata. It won't have the same sweetness as cherry tomatoes so you may want to add a pinch of sugar, depending on your taste.
sun-dried tomatoes - are a great way to bring a rich, sweet, and tangy concentrated tomato flavour to any homemade tomato sauce.
grilled chicken - you can use leftover roast chicken or buy some pre-grilled chicken to make this really quick and easy.
gluten-free pasta - whole grain or brown pasta also works well in this pasta dish. Just be sure to extend your cooking time by a few minutes.
🧂Seasoning a recipe
I never specify the amount of salt in a recipe because it's completely subjective to your personal taste and possible health requirements, but here are some general guidelines.
Start with a small amount of seasoning and taste as you go. It's always easier to add more seasoning than it is to try to fix a dish that is overly seasoned. *If you are accidentally heavy-handed with the salt, try adding some lemon juice to balance it out.
Balance the flavours. A good dish will have a balance of sweet, sour, salty, and bitter flavours. For this pasta, much of the sweetness comes from the cherry tomatoes.
Be mindful of the proportions of the ingredients. If a dish has a lot of strong-flavoured ingredients, you may need to use less seasoning. Creamy sauces like this mascarpone sauce will usually require a little more seasoning. *Using a stock cube is a great way to add more seasoning without directly adding salt.
Consider the cooking method. Different cooking methods can affect how much seasoning a dish needs. For example, grilling or roasting tends to bring out the natural flavours of ingredients, so you may need to use less seasoning and a moist cooking method (like this one-pot sauce and pasta) will require more seasoning.
👩🏻‍🍳 Step By Step
1 & 2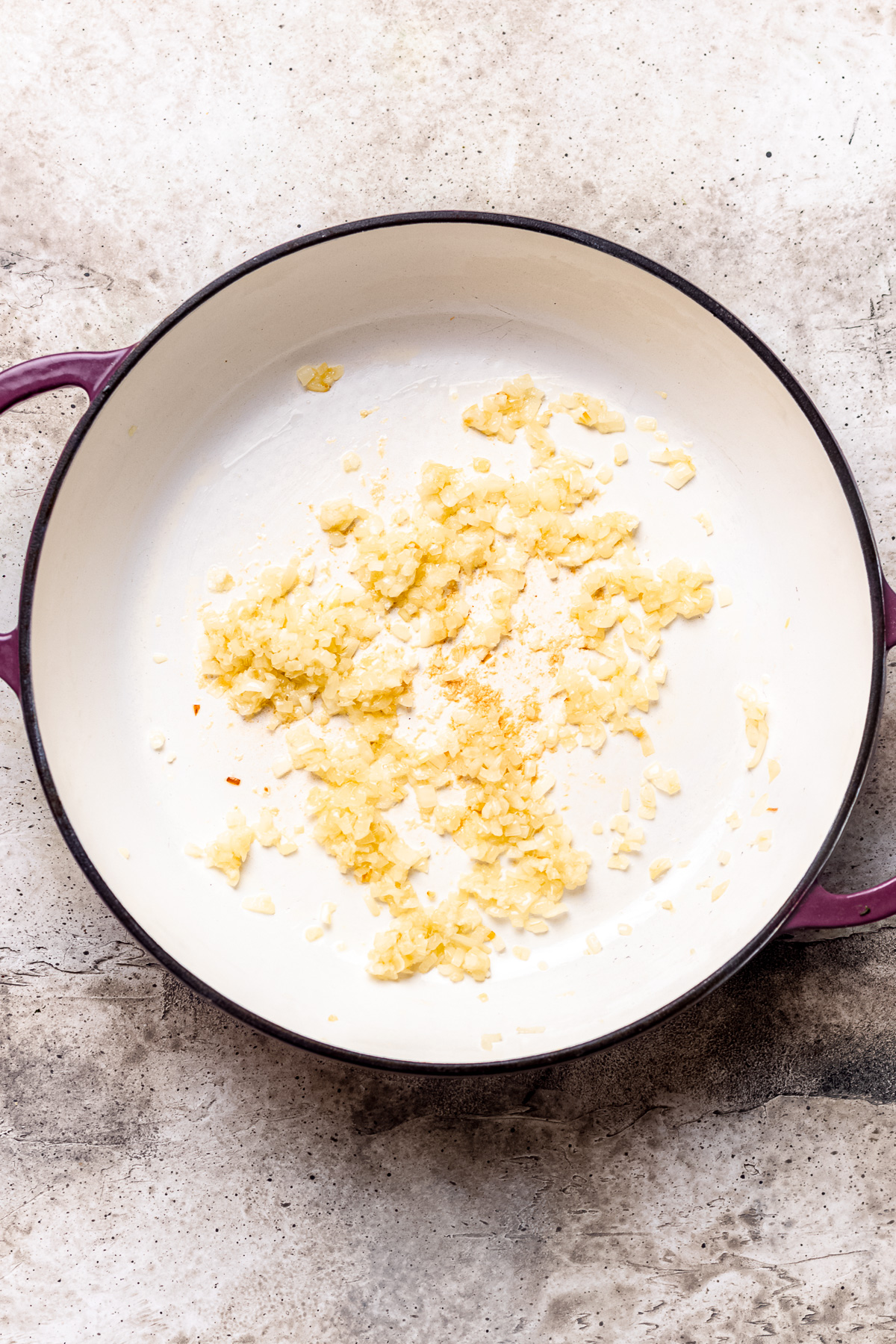 Soften the onions- heat some olive or vegetable oil over medium heat and add in the onion. Let them sauté for a few minutes and add in the garlic. Let the garlic soften until it's fragrant. *Add in some of your favourite dried herbs.
Add in the tomatoes- tinned cherry tomatoes, chopped tomatoes or smooth passata are all great choices for any tomato-based sauce.
3 & 4
Pour in the vegetable stock- it adds so much more flavour than using water. Let everything come to a gentle simmer.
Add in the spaghetti- *as the pasta starts to soften push the noodles into the pan so that they are covered in liquid.
* You can freeze leftover mascarpone or you can make this easy one-pan lasagna.
5 & 6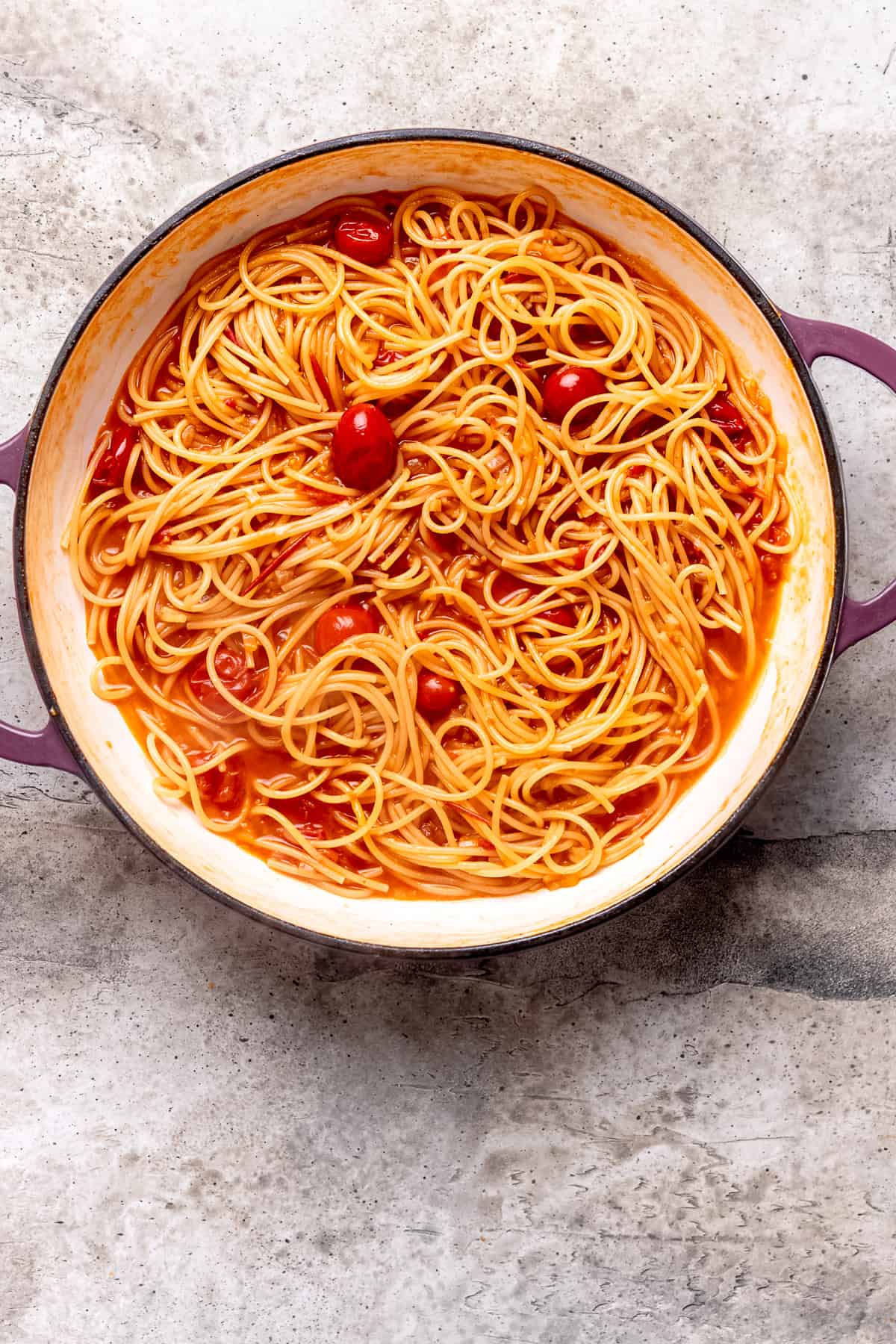 Cooking the pasta- continue to cook the pasta in the simmering sauce for about 12 minutes, until it's al dente. You'll need to stir the pasta a few times to prevent it from sticking together. *If the pasta starts to look dry add in some more boiling water in 200ml increments.
Finishing the pasta- remove the pan from the heat and add the mascarpone and spinach to the pasta. Cover the pan with a tight-fitting lid for about 10 minutes to let the heat from the pasta wilt the spinach and melt the mascarpone. Once the spinach is wilted give the pasta and sauce a really good mix to make the sauce creamy and coat the pasta. Add a squeeze of lemon and divide between bowls and serve with parmesan cheese.
🍅 How to make the perfect creamy tomato sauce
Start with a flavourful base- when garlic and onions are softened they release their sugars and oils which caramelize and help to create a rich flavour. This also softens them so they blend well if you're making a smooth sauce.
Add in the tomatoes- tinned chopped tomatoes or smooth passata are both great choices for any tomato-based sauce.
Stir in some aromatics- dried herbs get added early in the cooking process to allow them time to soften up and release they're flavour. Fresh herbs get saved for adding at the end. Use dried thyme, oregano, basil and mixed Italian herbs to bring out the flavour of the tomatoes and garlic.
Simmer- let the sauce simmer on medium-low heat for about 20 minutes to let the flavours blend together.
Taste and adjust the seasoning- add in some more salt, pepper, extra herbs and some lemon juice to balance the sauce.
Stir in dairy- Cheese or cream should be whisked in during the last few minutes of cooking so that it can gently melt into the sauce. *Adding them early will result in a sauce that is too thick and claggy.
⭐️ 3 secrets to incredible one pot pasta
Start with the right amount of liquid: Because the pasta cooks right in sauce, and isn't being drained, its important to make sure you use the correct amount of liquid. * Using vegetable of chicken stock, along with a tin of chopped or cherry tomatoes adds so much flavour and forms the base of the sauce for any one pot pasta. *If the pan starts to look like there isn't enough sauce add some water.
Choose the right pasta: Long thin pasta noodles are usually the best choice because they cook quickly and evenly. Short pasta like penne and rigatoni will also work, they just take a little longer and will require more cooking liquid.
Keep the pasta moving: As the pasta cooks it releases starch that thickens the sauce. As you stir more sauce is released creating the perfect sauce-to-pasta ratio.
🍯 Storage
Fridge- this creamy tomato pasta will last for 3 days in the fridge in an airtight container.
Reheat- in the microwave in 30-second intervals or in a pan on the stove top. Both methods will require a splash of water to help loosen the sauce. It thickens up as it cools.
Freezer- this recipe isn't suitable for freezing.
❓FAQ
Can I make this mascarpone tomato sauce on its own?
Absolutely. The amendments are in the recipe card at the bottom. All you will need to do is adjust the amount of stock you add to the recipe.
Will fresh tomatoes work instead of tinned?
They sure will. You can use about 2 cups of fresh chopped tomatoes instead of a tin.
2 cups of fresh chopped tomatoes = 14.5 ounces = 400g.
You don't need to bother peeling the tomatoes first. If they have a thicker skin simply simmer the sauce a little bit longer to soften them.
Can I add other vegetables to the sauce?
Absolutely. You can add other vegetables like bell peppers, courgette (zucchini), and mushrooms to this sauce. Sauté them with the garlic and onions before adding the tomatoes.
Can I use cream instead of mascarpone?
Yes, but the flavour and texture will be slightly different. Mascarpone cheese is creamier and has a more delicate flavour than heavy cream, double cream, or whipping cream.
If you tried this Recipe or any other recipe on my website, please let me know in the comments below. I love hearing from you. Also, please leave a star rating whilst you're there!
You can also follow along on Pinterest, Facebook, and Instagram and join our private Facebook Group Facebook group to share more recipe ideas and all your photos!
Need help with meal planning? You can find our (Aldi ingredients only) weekly meal plans here! Sign up to receive them free every week or take our quick meal planning course and use all these recipes to create your own meal plans.
Easy Creamy One Pot Tomato Mascarpone Sauce and Pasta
The tomato mascarpone pasta is an easy, one-pan 30-minute pasta recipe that is a luscious and decadent dish. Rich, creamy mascarpone cheese perfectly balances the sweet and tangy tomatoes.
Print
Pin
Rate
Ingredients
500

g

spaghetti *see notes

1

tablespoon

olive oil

1

brown onion

,

diced

3

cloves

garlic

,

minced

400

g

tin cherry tomatoes *see notes

1

vegetable stock cube or stock pot dissolved in 600ml boiling water

Juice of 1 lemon

75

g

mascarpone *see notes

300

g

spinach

,

rinsed

25

g

parmesan
Instructions
In a large shallow pan with high sides heat the olive oil over medium heat. Once the oil is hot, it will shimmer, add the diced onion and garlic to the pan and gently cook for about 5 minutes until the onions are soft and translucent and the garlic is fragrant.

Pour in the tinned tomatoes and vegetable stock and taste and adjust the seasoning. Add the spaghetti to the pan, ensuring the noodles are submerged in the stock, and simmer for about 12-15 minutes uncovered until the pasta is cooked and the liquid has thickened to a sauce. If the pasta starts to look dry, add some hot water to the pan in 200ml increments.

Stir the pasta and sauce a few times during the cooking process so that the pasta doesn't stick to the bottom of the pan and the noodles don't stick to each other. Continue to cook the pasta until it is al dente.

Remove the pan from the heat and stir in the mascarpone and spinach. Cover the pan with a tight-fitting lid and let the spinach wilt into the sauce for 5-7 minutes. Remove the lid and stir the pasta, add the lemon juice, adjust the seasoning, and divide between bowls. Top with shredded parmesan and serve.
Notes
You can use whole-grain pasta instead of white pasta.
Chopped or crushed tomatoes can be used instead of cherry tomatoes.
Because this is a one-pot recipe the spaghetti-to-liquid ratio has been measured to make sure this recipe works. Using another type of pasta may require more liquid and will take longer to cook.
Remove the pan from the heat before stirring in the mascarpone to prevent the sauce from splitting.
Nutrition
Calories:
671
kcal
|
Carbohydrates:
107
g
|
Protein:
24
g
|
Fat:
16
g
|
Saturated Fat:
7
g
|
Polyunsaturated Fat:
1
g
|
Monounsaturated Fat:
3
g
|
Cholesterol:
23
mg
|
Sodium:
481
mg
|
Potassium:
1045
mg
|
Fiber:
8
g
|
Sugar:
9
g
|
Vitamin A:
7560
IU
|
Vitamin C:
33
mg
|
Calcium:
245
mg
|
Iron:
5
mg