This rich and decadent easy chocolate brownie recipe will definitely satisfy your sweet tooth! These fudgy homemade brownies from scratch will become your go-to recipe! Whether you're a seasoned baker or a newbie in the kitchen, this recipe is so easy to follow and delivers deliciously decadent results every time. With rich chocolate flavour and a melt-in-your-mouth chewy texture, these brownies are perfect for any occasion - from casual weeknight desserts to fancy dinner parties.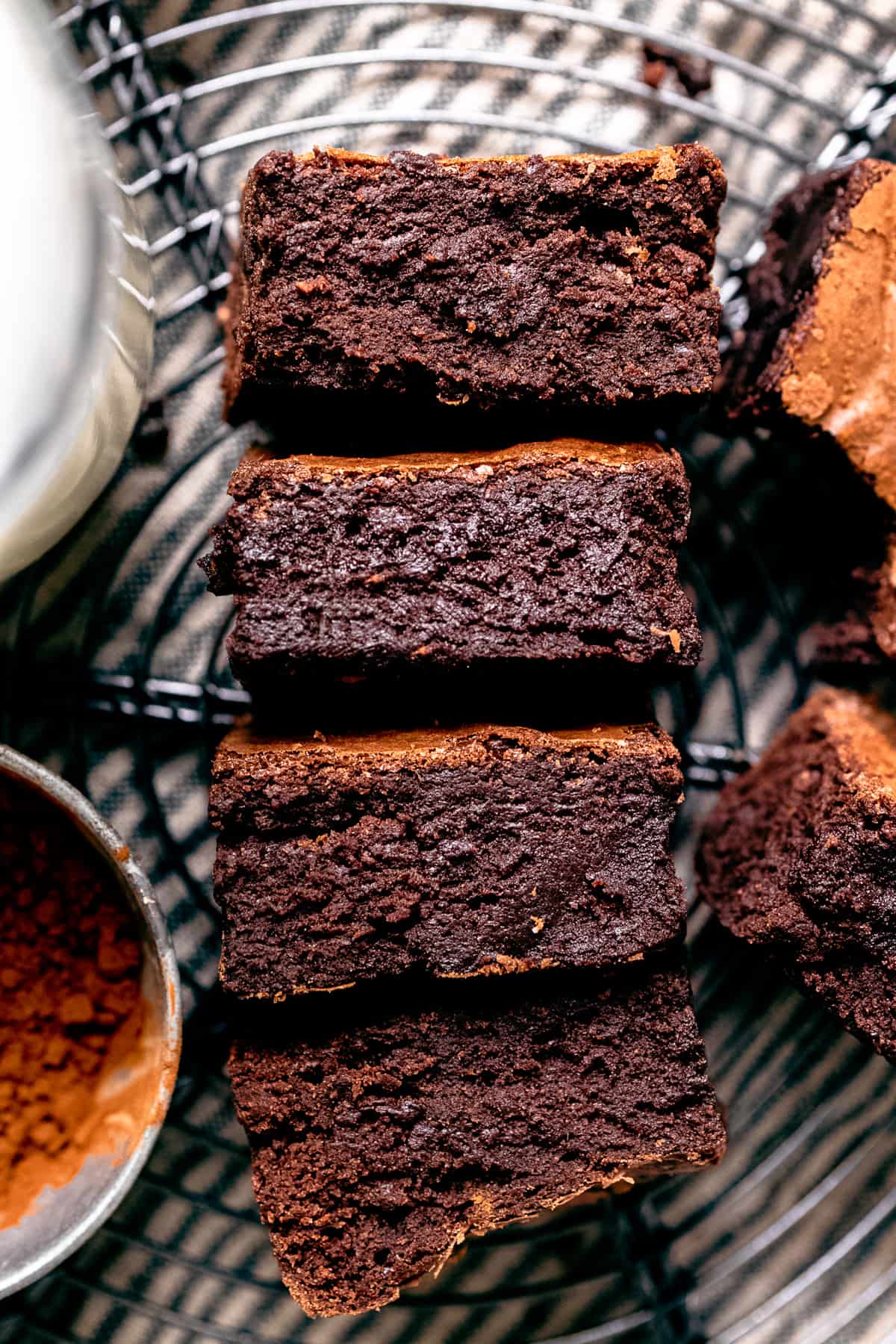 These dark chocolate brownies are one of the most popular on the website, but we do also love white chocolate blondies, biscoff blondies, and for something deep and rich, these pecan brownies are always such a great option.
Jump to:
⭐️ Why you need to make homemade brownies!
They're delicious: Homemade brownies are rich, chocolatey, and oh-so-delicious. You can customize them to your liking by adjusting the sweetness, adding nuts or other mix-ins, or even experimenting with different types of chocolate.
They're easy to make: With a few simple ingredients and some basic baking tools, you can whip up a batch of homemade brownies in no time. Plus, making your own brownies allows you to control the ingredients and avoid any additives or preservatives found in store-bought or box-mix versions.
They're a crowd-pleaser: Whether you're hosting a party or just treating your family to a special dessert, homemade brownies are always a hit. They're a classic treat that everyone loves, and they're perfect for sharing with friends and loved ones.
🧾 Ingredients needed to make the fudgiest brownies
Simple everyday ingredients for making the absolute best brownies ever!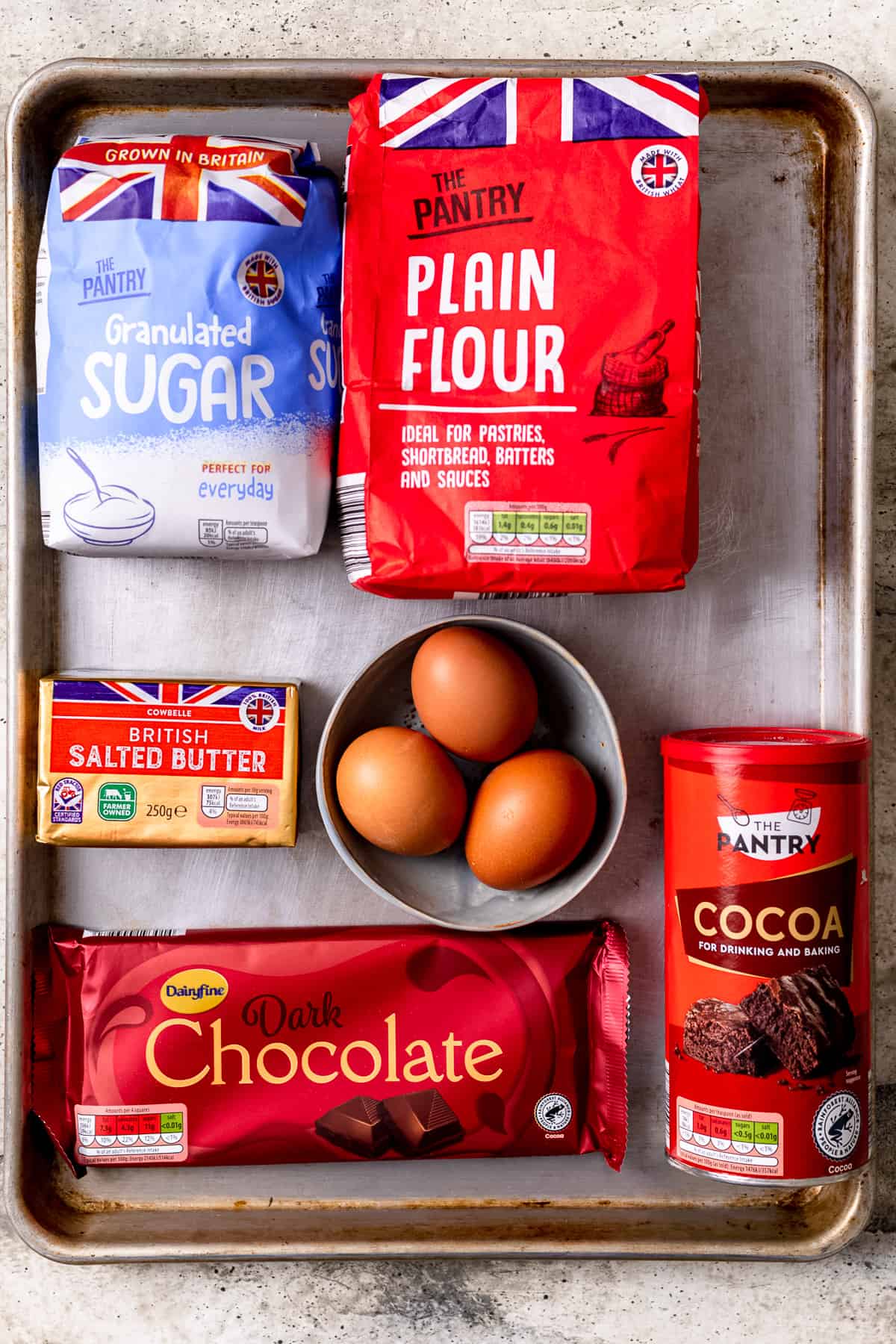 chocolate- dark chocolate: preferably use dark chocolate meant for eating rather than cooking chocolate. It will be better quality giving you a much better brownie.
cocoa powder- sifted
butter (salted or unsalted)- I prefer using salted butter in my baking recipes, but you can use unsalted if you like.
plain flour (all-purpose)- sifted
large eggs- room temperature
caster or granulated sugar
See recipe card for quantities.
👩🏻‍🍳 Making the perfect homemade brownies- step by step
Preparing the pan
Before you begin baking, preheat your oven to 160ºC or 325ºF. Line your baking pan with baking parchment paper. Use a 9x9 inch (23cm) square baking pan.
Melting the chocolate and preparing the ingredients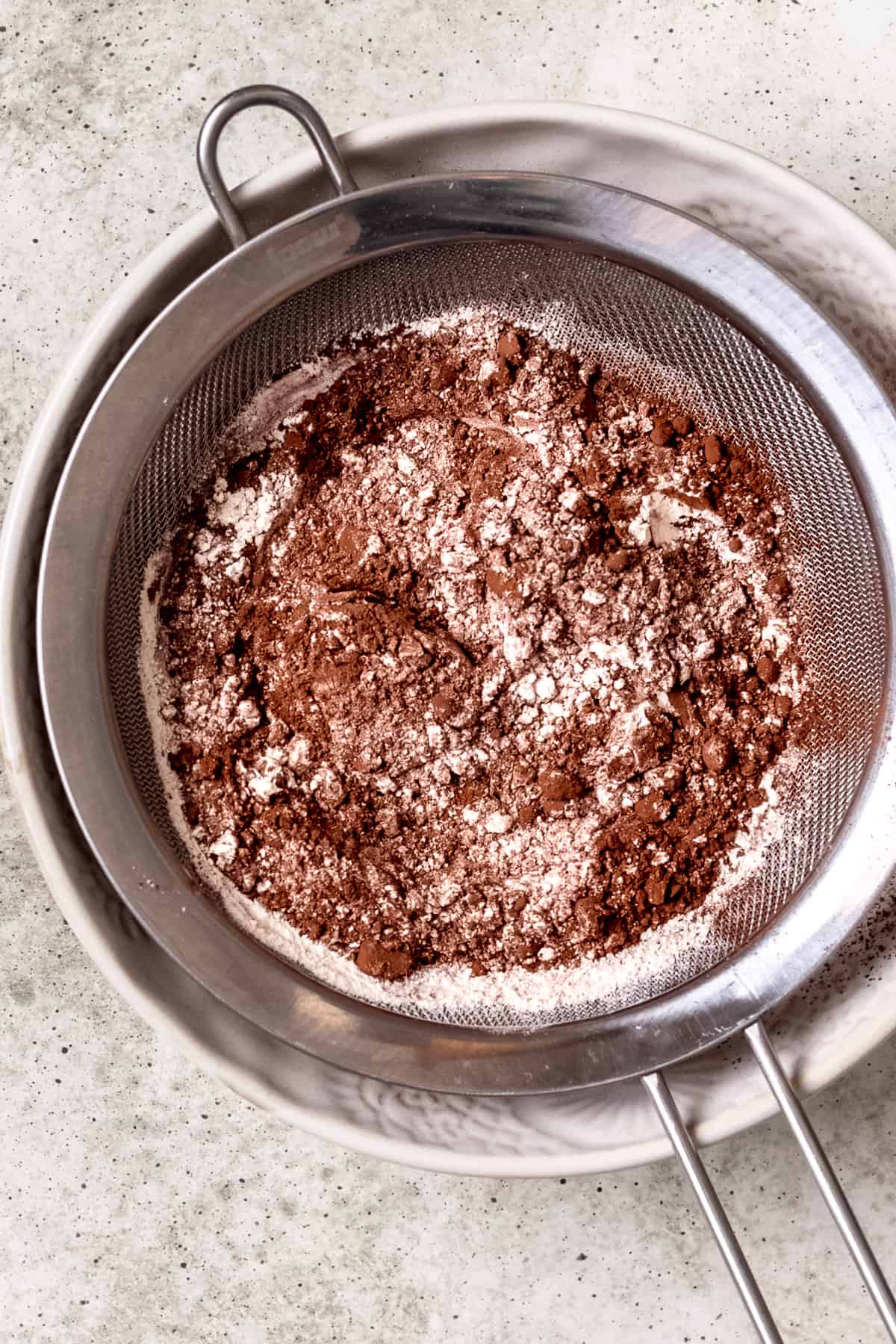 Weigh the chocolate and butter into a bowl and gently melt in the microwave on medium heat being sure to stir every 1 minute.
Weigh the flour and cocoa powder and sift into a mixing bowl.
While the chocolate is melting use an electric hand whisk or a stand mixer to whip the eggs and sugar until they are light and fluffy. The mixture will have bubbles on the top and be able to hold ribbons on the surface. *This should take about 5 minutes.
Once the eggs are whipped slowly pour the melted chocolate and butter into the eggs and use a hand whisk to fold in the chocolate.
Mixing the batter
Once the chocolate, butter, eggs and sugar are all mixed, slowly and gently fold in the flour. *Mix until just combined. Over-mixing will knock the air out of the batter and the result will be a tough brownie.
Spoon the batter evenly into the lined baking pan being sure to spread the batter into the corners.
📖 Variations
There are so many ways to change up this brownie recipe. Here are some favourites:
sea salt- add a pinch to enhance the flavour of the chocolate and balance out the sweetness. This will give you a very rich sophisticated brownie.
Triple chocolate- Add chocolate chunks of chocolate chips to the batter before baking. This will give you pools of melted chocolate throughout the brownies.
Cinnamon- Adding a pinch of cinnamon (or even some chilli flakes) will add a dramatic complexity to the flavour.
📖 Unique Twist: Adding Coffee Flavours
Why coffee and chocolate make a perfect pair:
The bitter, earthy notes of coffee complement the rich, sweet flavours of chocolate, resulting in a delectable richness with a depth, unlike any other tray bake.
Step-by-step instructions for adding coffee flavors
Here are some step-by-step instructions for adding coffee to your brownie recipe:
Brew a strong cup of coffee or espresso in 2 tablespoons of boiling water.
Let the coffee cool to room temperature.
Add the cooled coffee to the egg and sugar mixture.
Adjust the amount of coffee to your taste preferences, adding more or less depending on how pronounced you want the coffee flavor to be.
Adding a pinch of salt will help to enhance and balance the flavors.
🍫Perfect Texture: Tips for Fudgy Brownies
How to achieve the perfect balance of fudgy and chewy
Creating the perfect fudgy texture in brownies requires a delicate balance of ingredients and baking techniques. Here are some tips and tricks to help you achieve the ultimate fudgy brownie:
Use a combination of melted chocolate and cocoa powder to achieve a deep, rich chocolate flavour.
Use real butter instead of oil for a denser, more moist texture.
Don't overmix the batter - mix the ingredients until just combined to avoid developing too much gluten, which can lead to a tougher texture.
Bake the brownies at a slightly lower temperature (around 325-350°F) for a longer period of time to help the center cook through without drying out the edges.
Use a toothpick or skewer to test for doneness, and remove the brownies from the oven as soon as moist crumbs cling to the tester.
🥡 Storage
Let the brownies cool completely before cutting them into squares to store at room temperature for up to 3 days.
Freezer- wrap the brownies in plastic wrap or in a freezer-safe bag and store in the freezer for up to 3 months.
Thaw- remove the brownies from the freezer and let stand at room temperature for a couple of hours before serving.
💡Top tip
Be sure to use a metal baking tin. Glass, pyrex, ceramic or any other style of baking pan will not produce a fudgy and chewy brownie.
💭 FAQ
Why are my brownies dry?
Could be a couple of reasons- 1. they are over-baked and dried out while in the oven. 2. The batter has been over-mixed and too much gluten has developed creating a dry texture.
Do I have to bake these brownies at a lower temperature?
YES! Baking brownies at too high of a temperature can cause them to become dry and cakey while baking them at too low of a temperature can result in undercooked and gooey brownies. I've experimented a tonne with this and other brownie recipes and lower and slower really is better.
If you tried these easy chocolate brownies or any other recipe on my website, please let me know in the comments below. I love hearing from you. Also, please leave a star rating whilst you're there!
You can also follow along on Pinterest, Facebook, and Instagram and join our private Facebook Group Facebook group to share more recipe ideas and all your photos!
Need help with meal planning? You can find our (Aldi ingredients only) weekly meal plans here! Sign up to receive them free every week or take our quick meal planning course and use all these recipes to create your own meal plans.
More brownie recipes
Try these other incredible brownie recipes:
The Easiest Chocolate Brownies
These easy homemade brownies are sure to be a hit. Made with creamy dark chocolate and rich cocoa powder, these brownies are fudgy, chewy, and perfect for any occasion. So gather your ingredients and get baking!
Print
Pin
Rate
Ingredients
3

(

3

)

eggs

225

g

(

1

cup

)

caster sugar

225

g

(

1

cup

)

butter

225

g

(

1

cup

)

dark chocolate

60

g

(

½

cups

)

plain flour

45

g

(

¼

cups

)

cocoa powder
Instructions
Preheat the oven to 160ºC fan (325ºF). Line a 9x9 (23cm) metal baking pan with nonstick baking paper.
Mixing the brownie batter
Melt the butter and the chocolate together in a bowl set over a simmering pan of water or in the microwave on medium setting, in 30-second intervals. Be sure to stir between each interval.

While the chocolate and butter are melting, place the eggs and sugar in a medium mixing bowl and use an electric hand whisk or the bowl of a stand mixer fitted with the whisk attachment. Whisk on high until fluffy and pale in colour. You can use an electric hand whisk if you don't have a stand mixer.

Once the chocolate and butter are melted and the eggs are whisked, gently pour the chocolate mixture into the eggs. *Be sure the chocolate mixture is barely warm not hot. Use a hand whisk to gently fold the two mixtures together.
Baking brownies and checking for doneness
Once the chocolate is incorporated, sieve the cocoa powder and flour into the chocolate mixture and fold in until just combined. Pour the brownie batter into the prepared baking tin and bake in the preheated oven for about 10 minutes. Turn the pan around and bake for another 6-8 minutes.

Once the brownies are baked, the top will be shiny and crackly and will appear set. Remove the brownies from the oven and leave them to cool in the tin for at least 1 hour before slicing them into squares.
Notes
Cut the brownies, using a hot dry knife, and wipe it clean before each slice. That will ensure each brownie has clean edges.
Store any leftover brownies in an airtight container for up to 3 days in the fridge or in the freezer for up to 3 months.
Serve them warm with vanilla ice cream and chocolate sauce for an easy dessert.
Nutrition
Calories:
271
kcal
|
Carbohydrates:
25
g
|
Protein:
3
g
|
Fat:
19
g
|
Saturated Fat:
11
g
|
Polyunsaturated Fat:
1
g
|
Monounsaturated Fat:
5
g
|
Trans Fat:
0.5
g
|
Cholesterol:
61
mg
|
Sodium:
106
mg
|
Potassium:
162
mg
|
Fiber:
3
g
|
Sugar:
18
g
|
Vitamin A:
401
IU
|
Calcium:
23
mg
|
Iron:
2
mg