This easy orange drizzle cake is made up of a light and fluffy buttery sponge with lots of orange zest, soaked in orange syrup with a bright orange drizzle to top it all off. It's a fresh and light loaf cake perfect for weekend baking.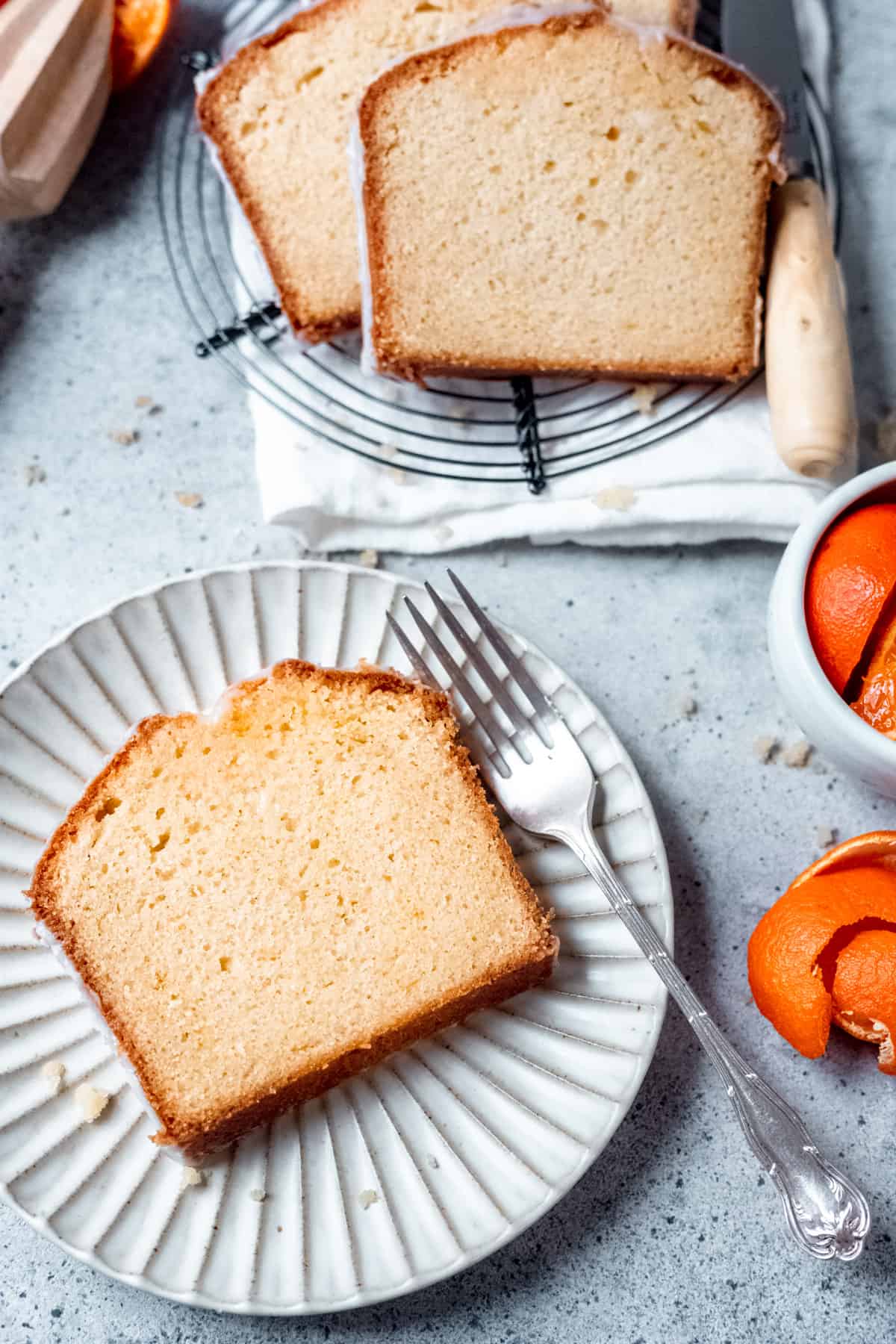 Loaf cakes are such a great way to get your baking fix in with no real focus or skill required. I find baking cakes this way relaxing and the result is always simple and satisfying. There are a lot of loaf cakes on Savvy Bites and they are always popular and requested. So, with citrus season in full swing, I thought I would bring this orange drizzle loaf cake to the table.
But you can check out the other loaves like this lemon drizzle, blueberry lemon drizzle, and chocolate banana loaf.
This orange has a slightly stick texture due to the orange soaking syrup, but you can absolutely skip that part if you prefer a cake that has a more delicate crumb. It's light and buttery, and that drizzle is made with a splash of yoghurt to tone down the sweetness from the icing sugar glaze.
Jump to:
Why You'll Love This Recipe
This loaf gets made all in one bowl.
Has a very short ingredient list.
It's full of zesty orange flavour.
To turn this into an orange tea cake you can skip the glaze and it will still be absolutely gorgeous.
The orange soaking syrup keeps the cake moist for a week.
It makes a great treat with tea, a lovely addition to the breakfast table and is great for packing in your bag for a little snack midday.
Ingredients needed
plain flour- you can use self raising and skip the baking powder.
baking powder
caster sugar- granulated is fine here too
eggs- large, fresh, free range and room temperature
butter- room temperture and soft
fresh oranges
For the glaze
icing sugar- sifted
orange juice
Greek or natural yogurt- full fat or fat free is absolutely fine
See the recipe card for quantities.
Step By Step Instructions
Step 1 & 2
*Like all good baking start by preheating the oven and lining your baking tin. It's so important to make sure these things are ready before your start as the chemistry of baking is very precise.
Start by creaming the butter and sugar together until they're light and fluffy. Use a stand mixer or an electric hand whisk. All the recipes on SB are made with an electric hand whisk but if you have a stand mixer then please use it. I just don't have one.
Add in the eggs one at a time whisking after each addition and scraping down the sides as required.
Step 3 & 4
Once the eggs have been added you should have a very light and fluffy cake batter. If it feels a little bit stiff (this can happen if the eggs are a little small or the butter is a little colder) add in a tablespoon or two of milk. Not much more than that, otherwise the ratio of the batter gets thrown off.
Gently mix in the orange zest with a wooden spoon or spatula. Using the hand whisk at this point will over mix the cake batter. Also at this point, if the batter looks slightly split, don't worry. It comes together once the flour is added.
Step 5 & 6
Sift the flour and baking powder into the bowl and gently stir to combine. Smooth the batter into the prepared baking tin and bake in the preheated oven.
Once the loaf cake is baked the top with be slightly domed with that crack down the centre. The colour will be a deep golden brown and a toothpick will come out with a few moist crumbs sticking to it.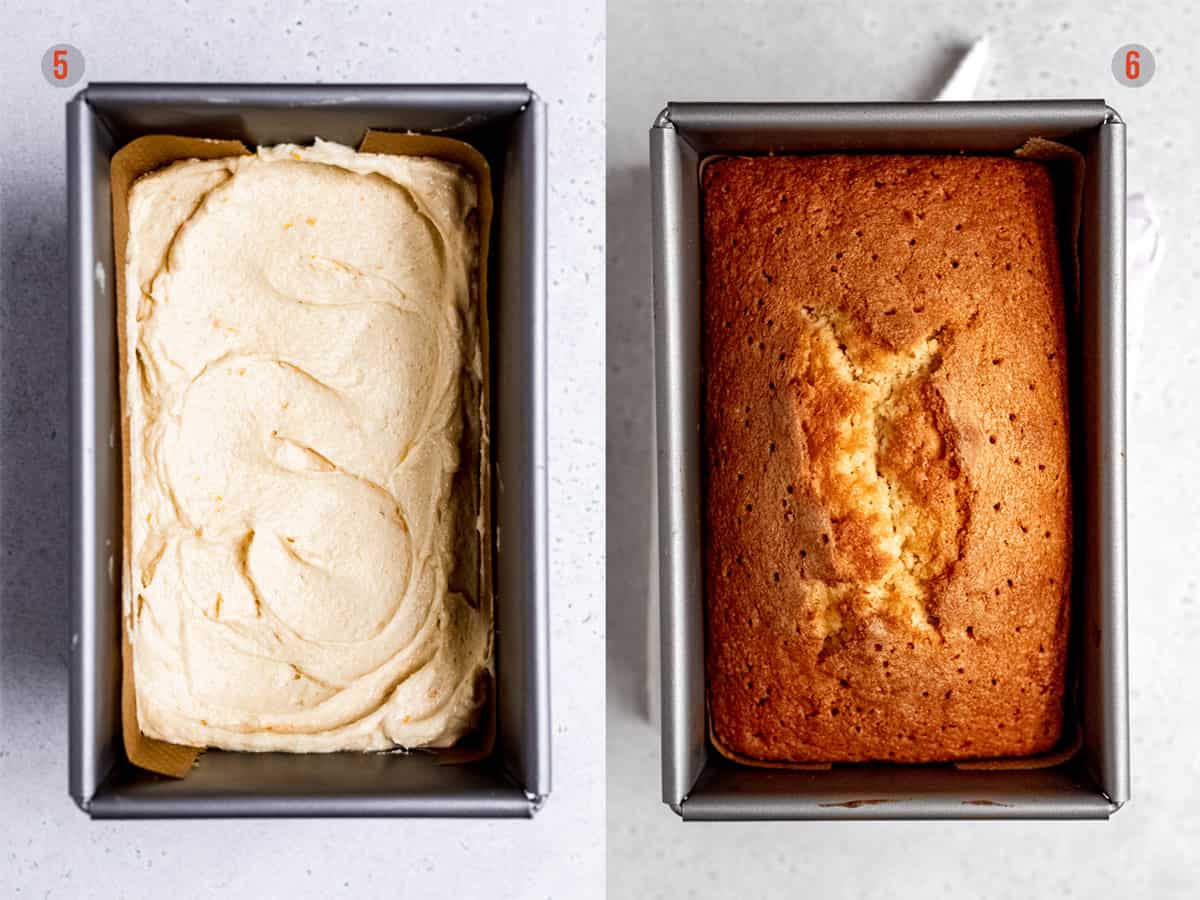 Soaking syrup
Once the cake is out of the oven and before it has cooled use the toothpick to poke holes in the cake and pour the soaking syrup over. Wrap in plastic wrap for about 2 hours.
The soaking syrup is simply fresh-squeezed orange juice and caster sugar whisked together in a bowl. No need to heat them to dissolve or anything. Just whisk together, pour over the cake and cover for a few hours while the syrup sinks in and the cake cools.
Hint: Be sure to preheat your oven and prepare your baking pan before you start baking. Read through the ingredients and be sure you have everything you need.
Recipe FAQ's
What if my eggs and butter are cold?
You can warm up eggs by placing them in a bowl of warm water for a few minutes and letting them warm up. Be sure the water isn't too hot.
For the butter, you can gently warm in the microwave on a low setting until it starts to soften and warm up. You can also place a bowl of butter over a pan of warm water. This has the potential to melt the butter so you need to keep an eye on it.
How do I know when this orange drizzle cake is done?
The best way to see if any cake is baked is to use a thermometer. The second best is to look for all the visual clues.
1. The top of the cake looks "set" and has a golden brown colour.
2. Cake is gently and slightly starting to pull away from the sides of the pan.
3. A toothpick comes out with only a few moist crumbs.
Can I skip the soaking syrup?
You sure can! I like the soaking syrup because it creates a very moist sticky style of cake. But if you prefer a crumb that is more light and tender, then, by all means, skip the syrup.
Substitutions and Variations
This orange drizzle cake is a blank canvas for putting your own spin on it or adapting it how you need to.
Gluten free - you can use a gluten free flour blend. Aldi doesn't sell gluten free flour, but something like Dove's Farm would work.
Citrus - if you find straight up orange drizzle a little too sweet and you love the bite from a lemon drizzle feel free to add some lemon into the mix. Or even try a lemon lime drizzle cake. You can also use tangerines, clementines or satsumas if you like.
Dairy free - you can make this orange drizzle using soft margarine instead of butter if you're dairy free and skip the yogurt in the glaze.
Equipment
Equipment can have a big impact on how a recipe turns out. I don't use a lot of equipment and it doesn't need to be expensive, but it does have to work well.
For this orange loaf cake, I used-
2 pound loaf tin- this tin comes in a twin pack and they are amazing!
Electric hand whisk- I've had this one for years and it is amazing!
Storage
Because of the soaking syrup, this cake stays moist for about 8 days. Not that it will be around that long. But you can store this loaf in the fridge for about 5 days, at room temperature for about 3 and it will freeze well for 6 months.
Need help with meal planning? You can find our (Aldi ingredients only) weekly meal plans here! Sign up to receive them free every week or take our quick meal planning course and grab the blank meal planner and use all these recipes to create your own meal plans. Follow along on Pinterest, Instagram and Facebook.

The Best Easy Orange Drizzle Cake
A light and fluffy orang drizzle cake that is perfect for afternoon tea or even for brunch. A soaking syrup and drizzle glaze ensure and soft moist cake for days.
Print
Pin
Rate
Ingredients
225

(

225

)

butter

,

softened

200

g

(

7

oz

)

caster sugar

4

(

4

)

eggs

2

tablespoons

(

2

tablespoons

)

vegetable oil

225

g

(

1 5/7

cups

)

plain flour

2 ¼

teaspoons

(

2 ¼

teaspoons

)

baking powder

3

tablespoons

(

3

tablespoons

)

orange zest or the zest of a whole orange

For the soaking syrup

juice of 1 orange

85

g

(

3

oz

)

caster sugar
For the icing
100

g

(

3 ½

oz

)

icing sugar

2

tablespoon

(

2

tablespoon

)

orange juice

2

teaspoons

(

2

teaspoons

)

yoghurt
Instructions
Preheat the oven to 160ºC and line a 2 lb loaf tin with baking paper.

Cream the butter, oil and sugar until light, fluffy and pale in colour.

Beat in the eggs one at a time, blending after each addition and scraping the sides of the bowl as needed. Sift in the flour and baking powder and add in the orange zest. Gently combine being careful not to over mix.

Pour into the prepared loaf tin and bake for about 30- 40 minutes. The cake will be golden on top and a toothpick will come out with moist crumbs. When the orange cake comes out, leave it in the tin and poke some holes with a toothpick. Pour the soaking syrup over the cake evenly, cover and leave to soak for about 2 hours while the cake cools.

Remove from the tin to a cooling rack and drizzle with the icing. Leave the to set for about 30 more minutes until the icing has firmed up a little and is no longer gooey to touch.
To make the soaking syrup
Whisk the orange juice and the caster sugar in a bowl.
To make the glaze icing
Whisk all the ingredients together. Add more juice or icing sugar to achieve your desired consistency.
Notes
Storage: room temperature 4 days, fridge 8 days, freezer 6 months. Before baking: read through the recipe, make sure all of your ingredients are at room temperature, preheat the oven and prepare your baking tray. Flour: if using self-raising flour, skip the baking powder Butter: if using margarine a straight substitution will work. No need to adjust the measurement.
Nutrition
Calories:
298
kcal
|
Carbohydrates:
58
g
|
Protein:
5
g
|
Fat:
5
g
|
Saturated Fat:
1
g
|
Polyunsaturated Fat:
2
g
|
Monounsaturated Fat:
1
g
|
Trans Fat:
1
g
|
Cholesterol:
68
mg
|
Sodium:
147
mg
|
Potassium:
89
mg
|
Fiber:
1
g
|
Sugar:
40
g
|
Vitamin A:
141
IU
|
Vitamin C:
2
mg
|
Calcium:
95
mg
|
Iron:
1
mg